Class 1 News
Summer 2018
First, a few pictures from the very end of last term, when we had our own Great Fire of London. As you can see, the fire fighters did their best, but Pudding Lane could not be saved. Fortunately, Samuel Tiggys lived at a safe distance!
Spring Term 2018
8th February 2018
All kinds of exciting things have been happening in Class 1 this half term. Our outdoor area is being developed- the new play equipment is in the process of being installed and we hope to be spending more and more time outside as the weather (hopefully!) improves.
We've thought about quite a few different career possibilities, but have particularly focussed on catering. We heard that a new zoo, the Enchanted Zoo, was being planned by local architecture firm Archibricks, and we decided to apply for the catering contract. This involved us in a whole range of activities- market research, menu planning, designing logos, working out seating plans, writing restaurant reviews and producing adveritsing posters. We even baked flapjacks to offer as free samples to the Enchanted Zoo directors. This all culminated in an exhibition to pitch for the contract. At the time of writing we are still awaiting the result of this, but we are hopeful!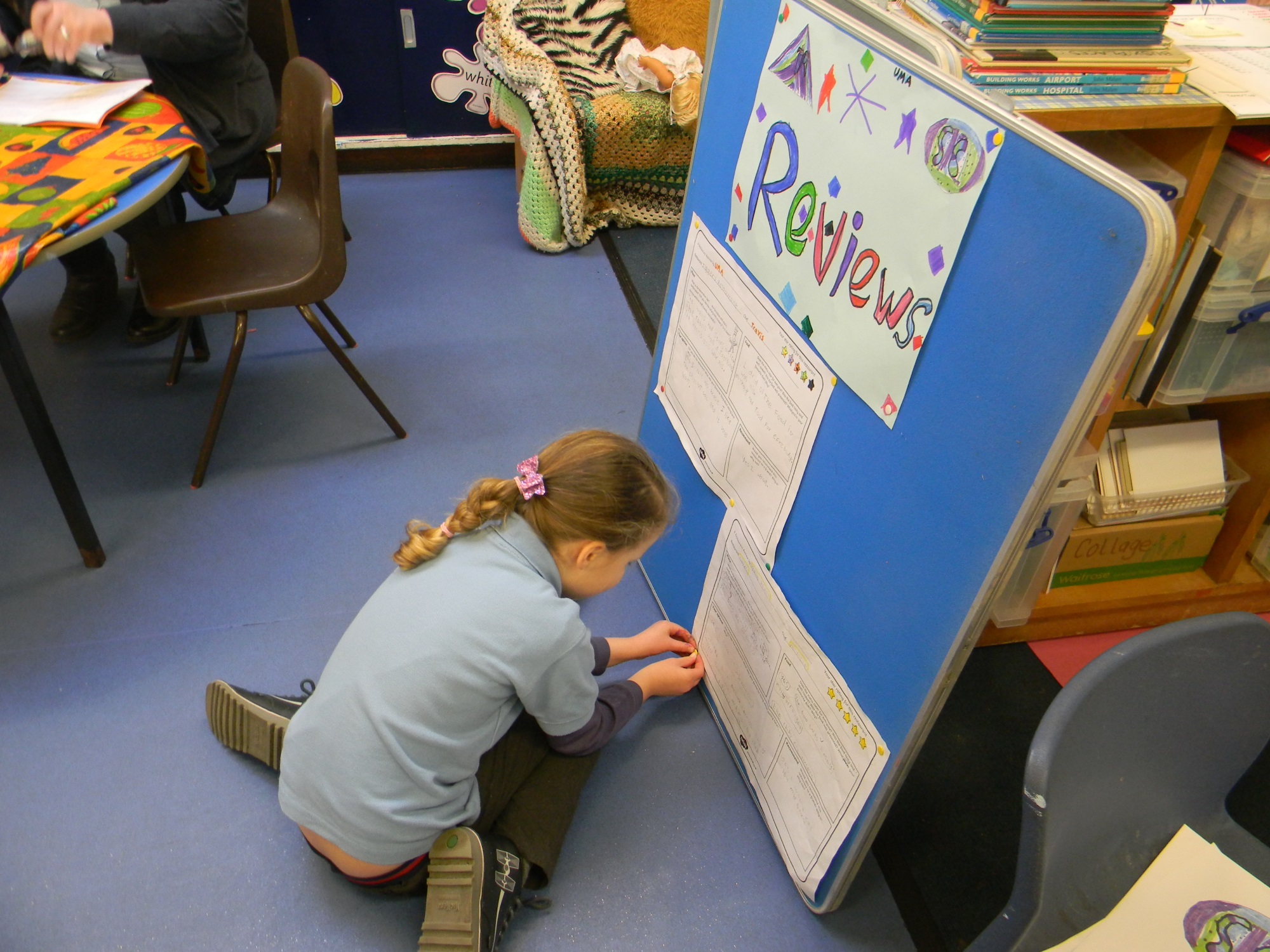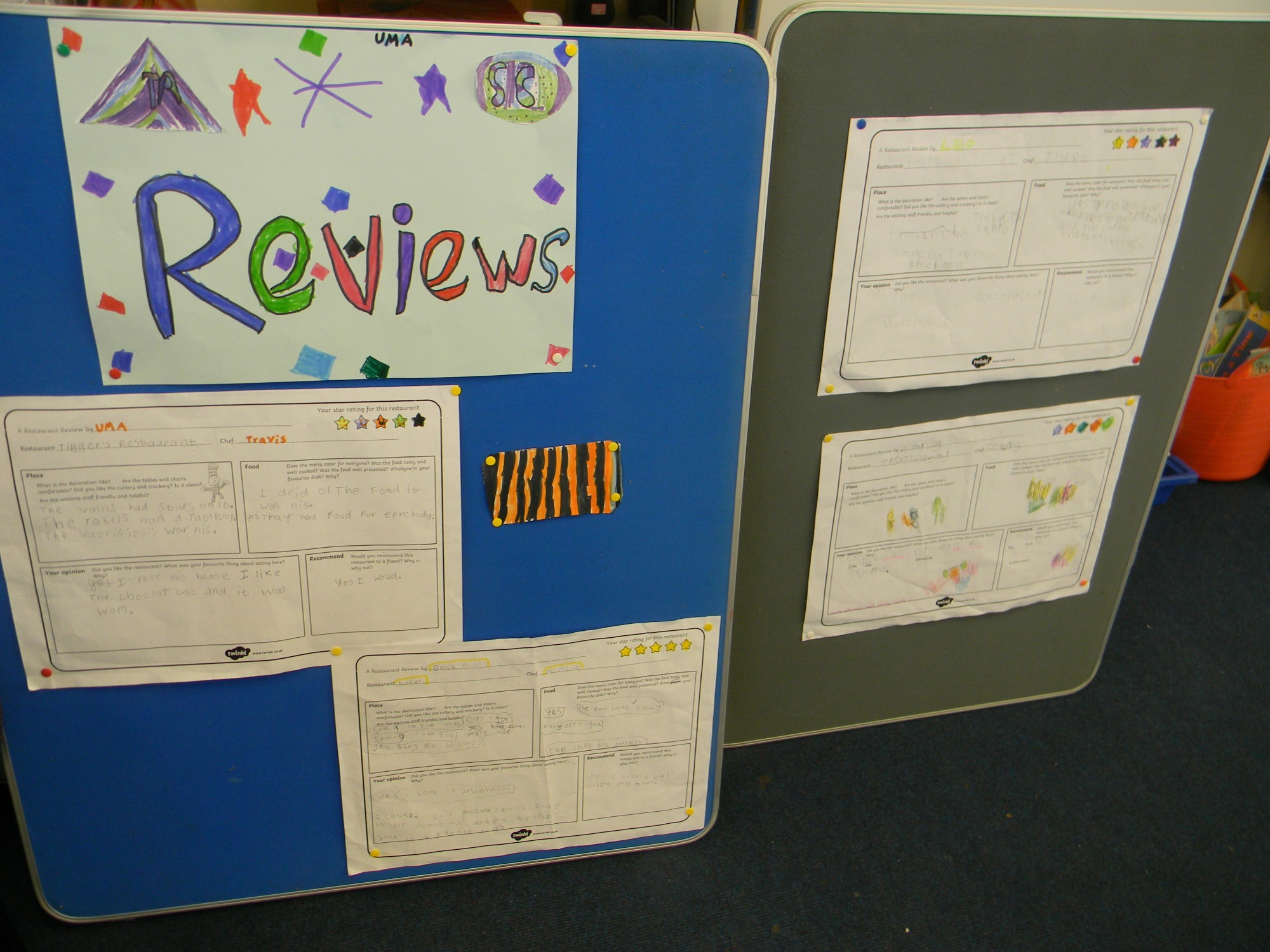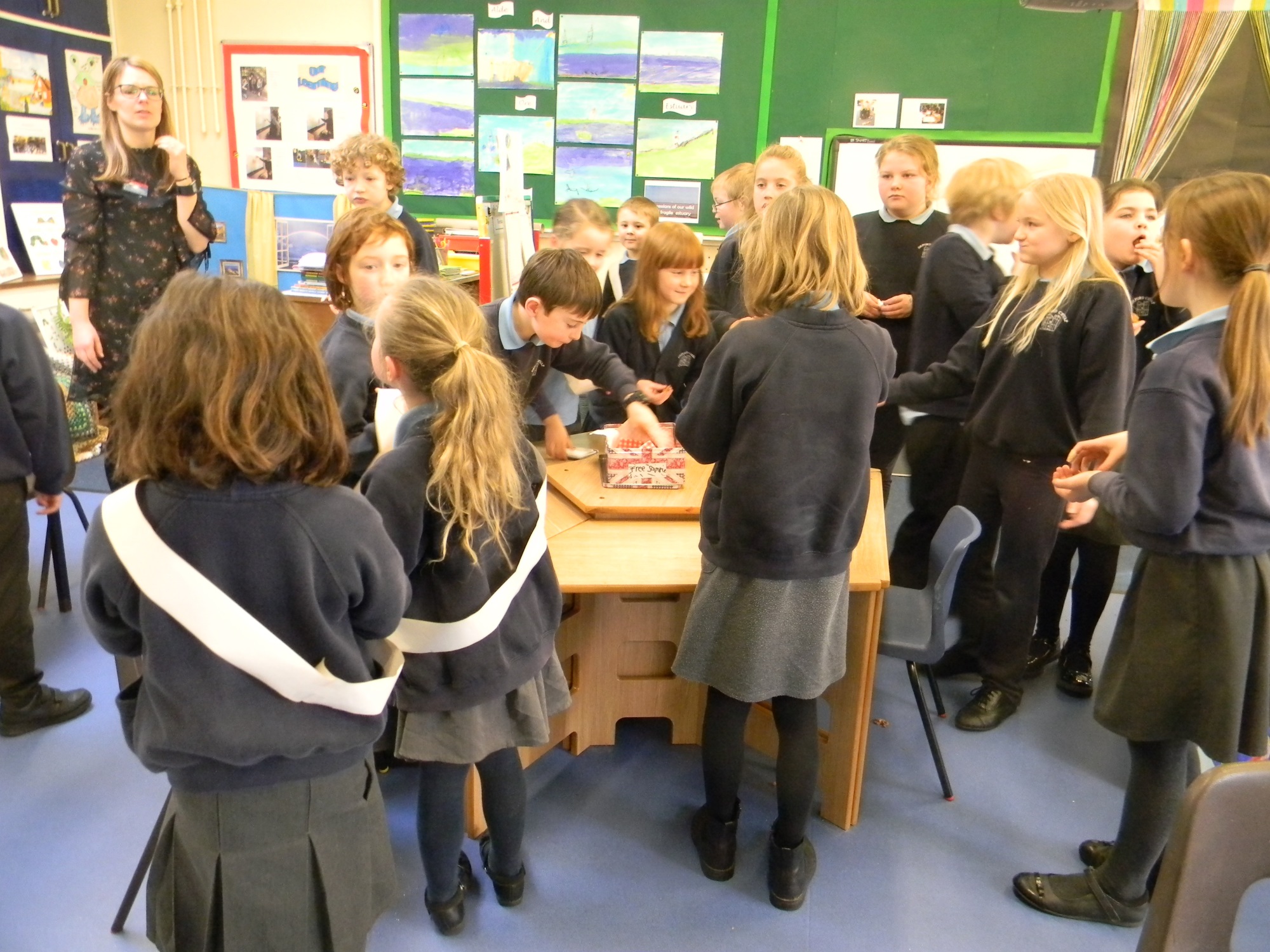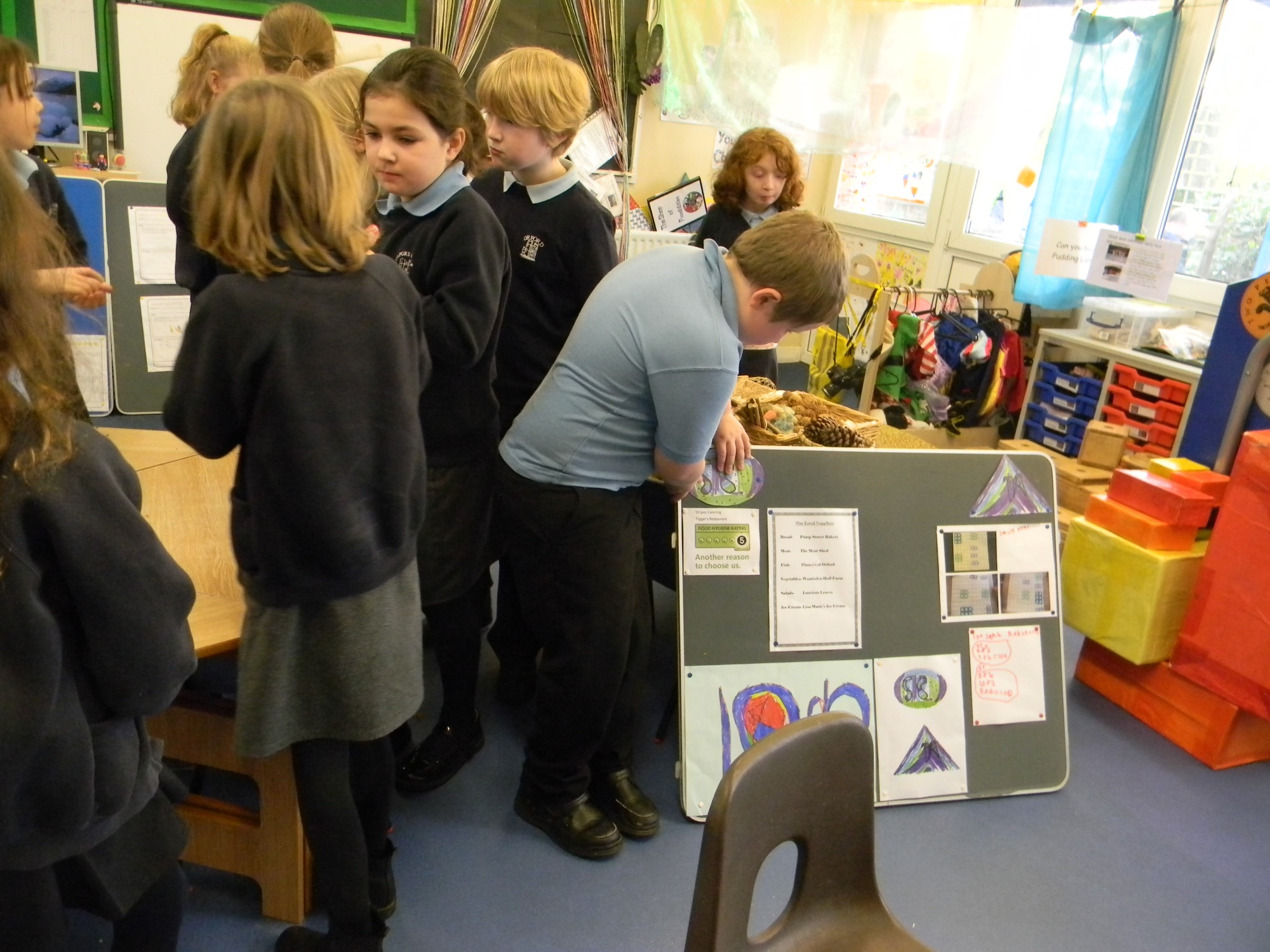 Preparing the display Restaurant reviews Giving out free samples Enchanted Zoo directors view the exhibition
12th January 2018
Welcome back!
We've been settling into some new routines, with Mrs Wells teaching Year 2 four mornings a week.
Reception and Year 1 have been using the book 'You Choose' by Nick Sharratt and Pippa Goodhart to explore all kinds of possiblilities- "If you could go anywhere, where would you go?", "What sort of home would you like?", "What would you put inside it?"
We have had some great discussions and practised writing our ideas in sentences.
Autumn Term 2017
Wednesday 6th September
Welcome to all our new starters and welcome back to all Year 1 and 2 children.
We hope you all had a fantastic summer and look forward to hearing the children's exciting summer news!
If you have any questions please come and ask. We are here to help.
Friday 22nd September
Class 1 had a fabulous day at Bewilderwood on Tuesday. Take a look at our photos: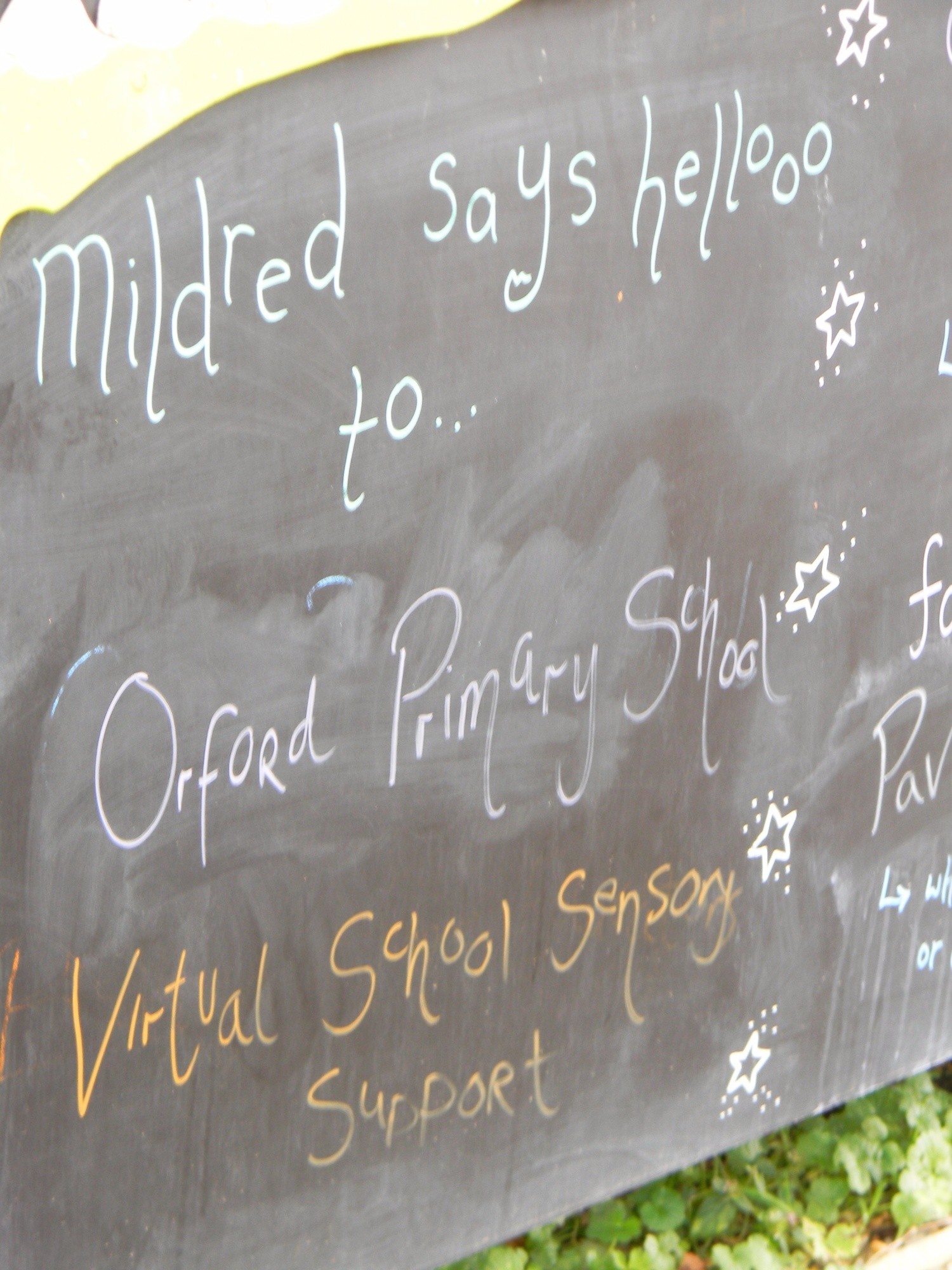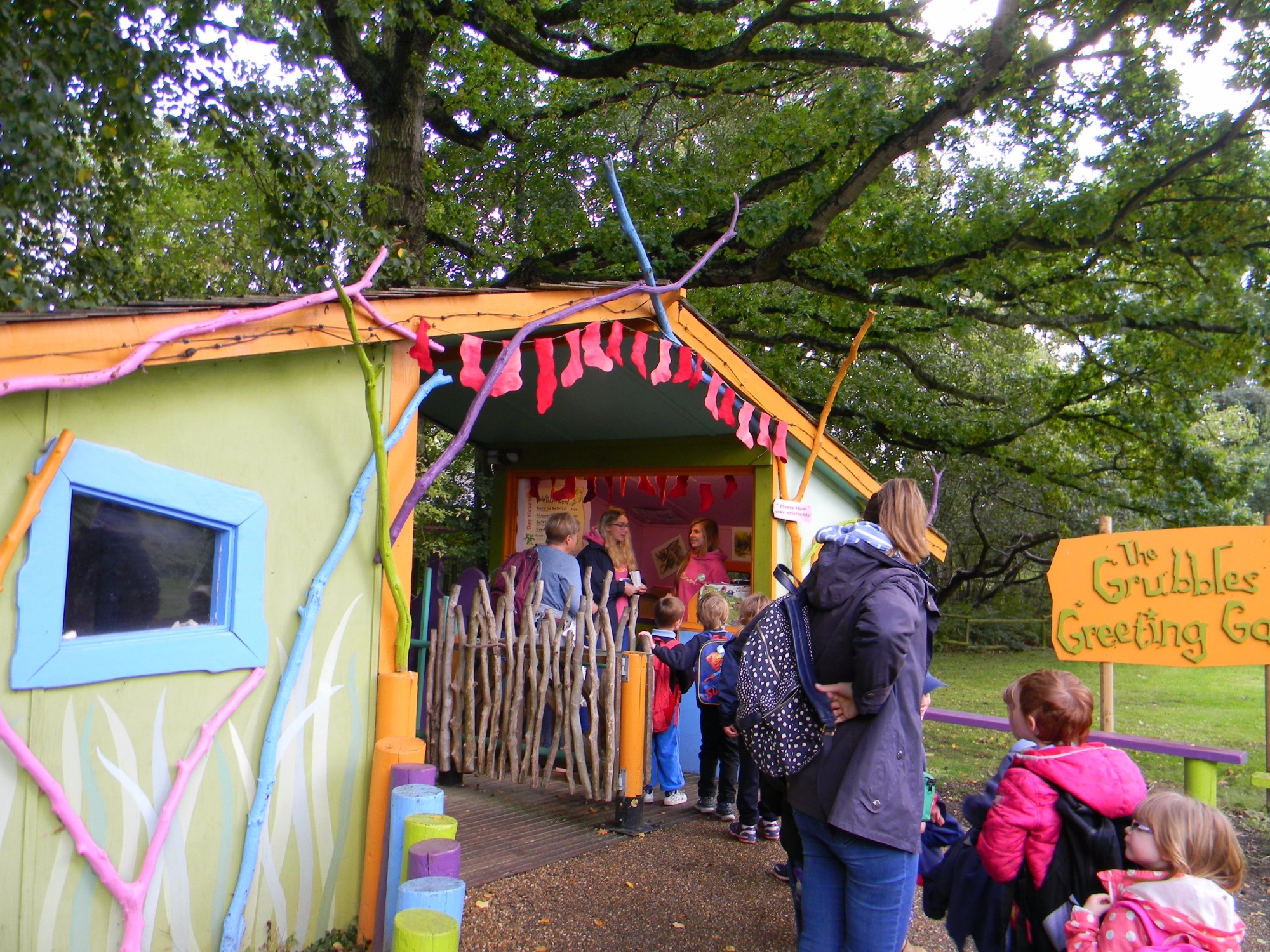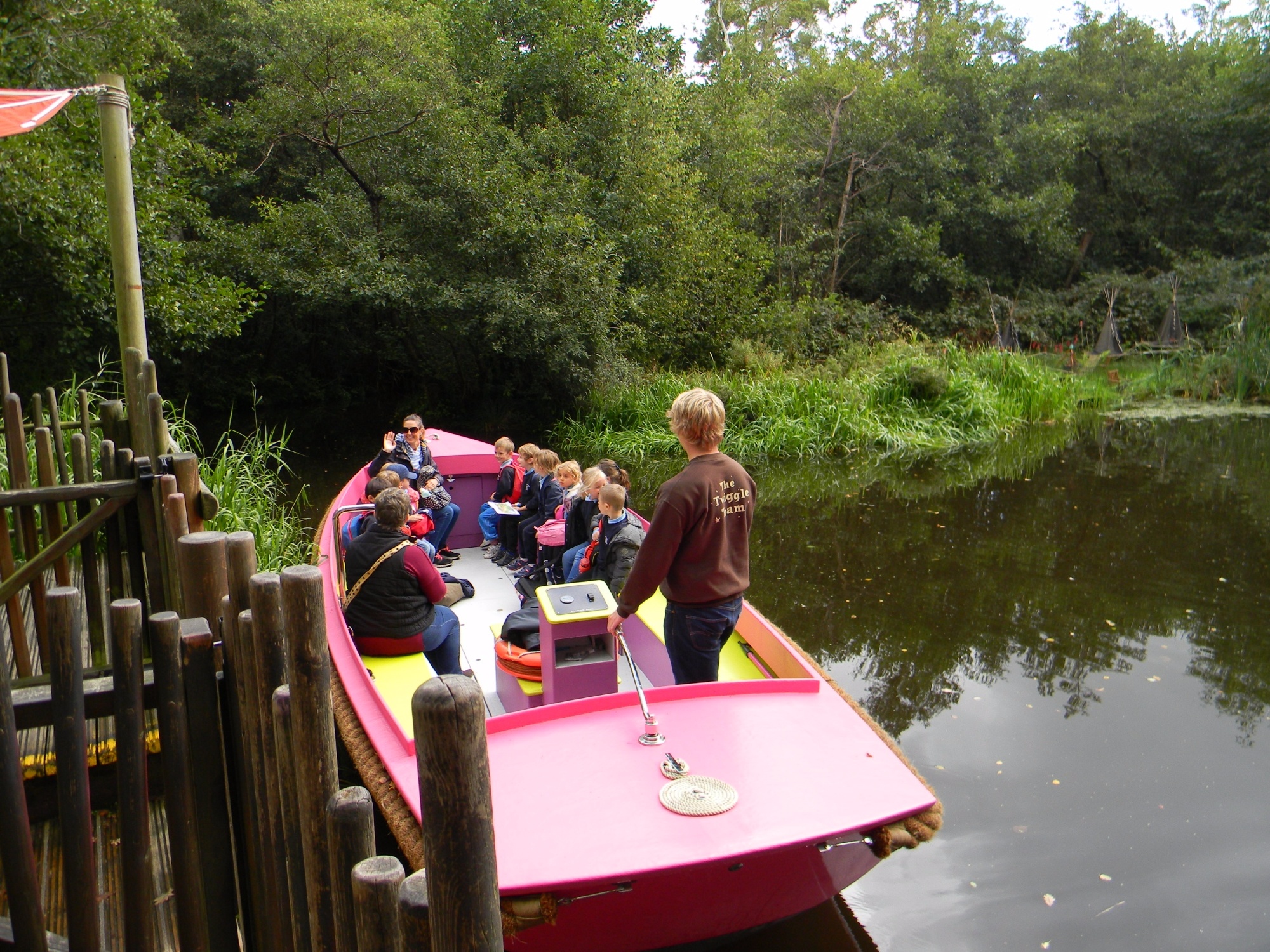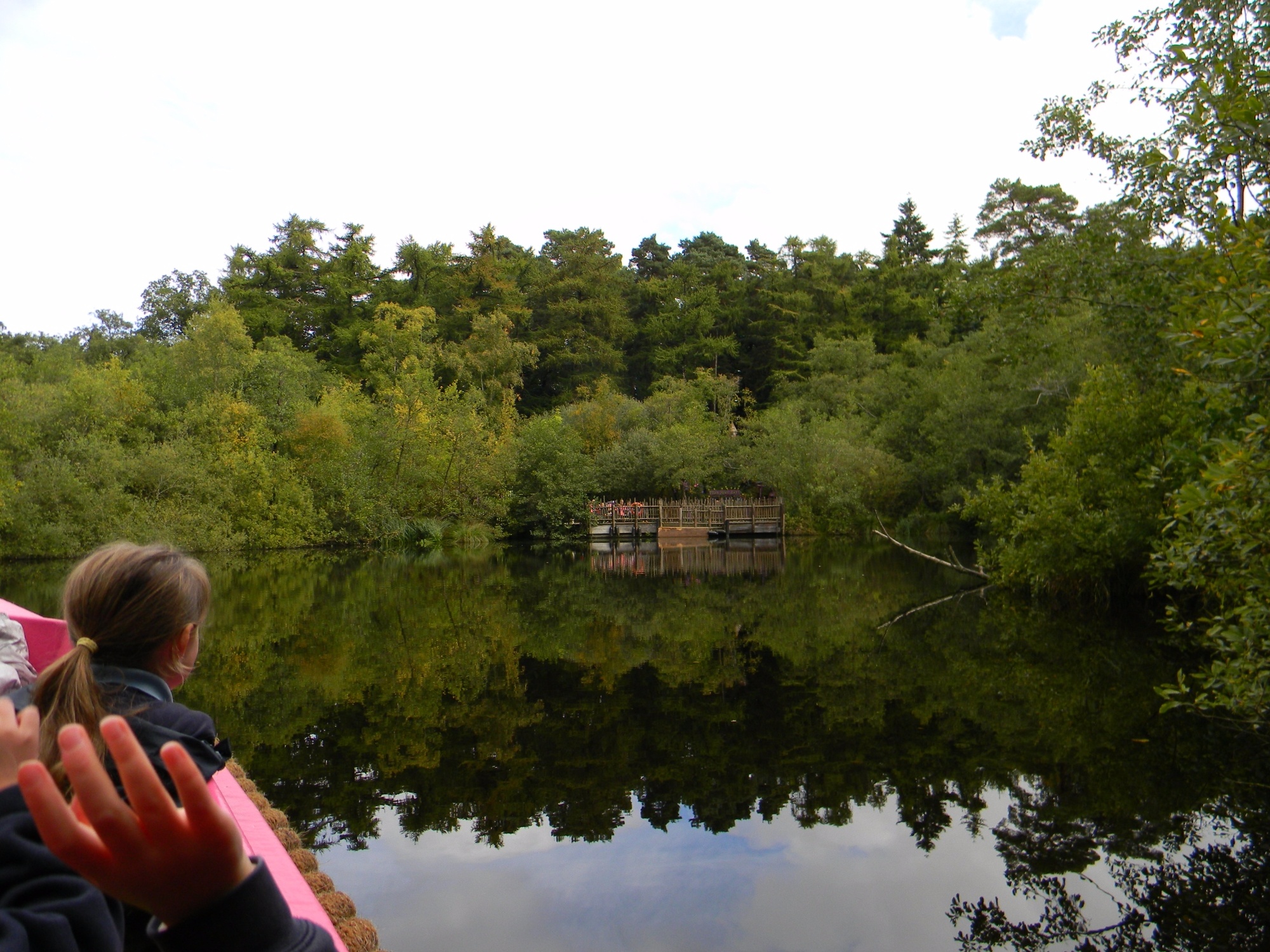 We travelled along the Dismal Dyke to the Scaaary Lake, where we met Mildred the Crocklebog (fortunately she's a vegetarian!)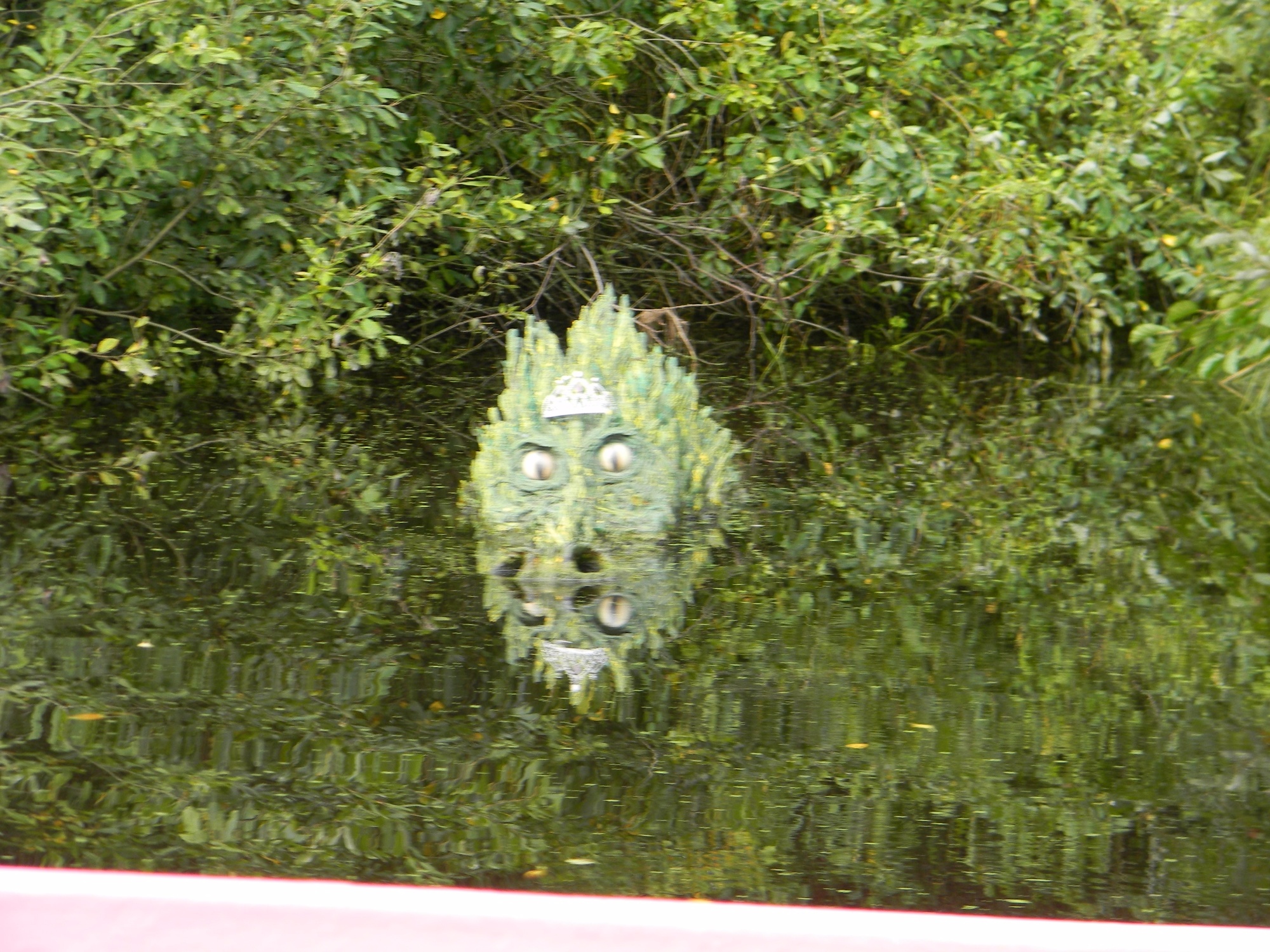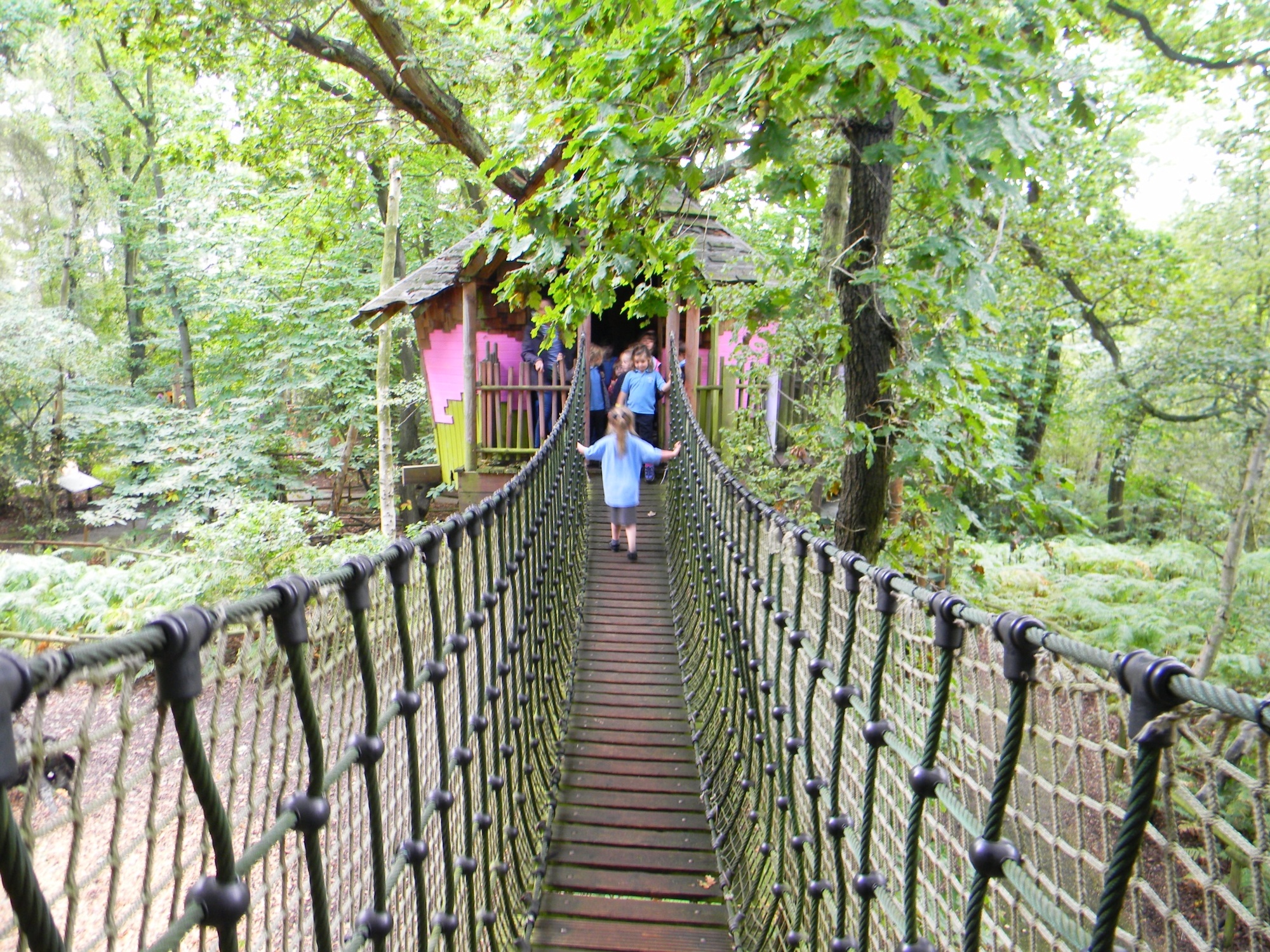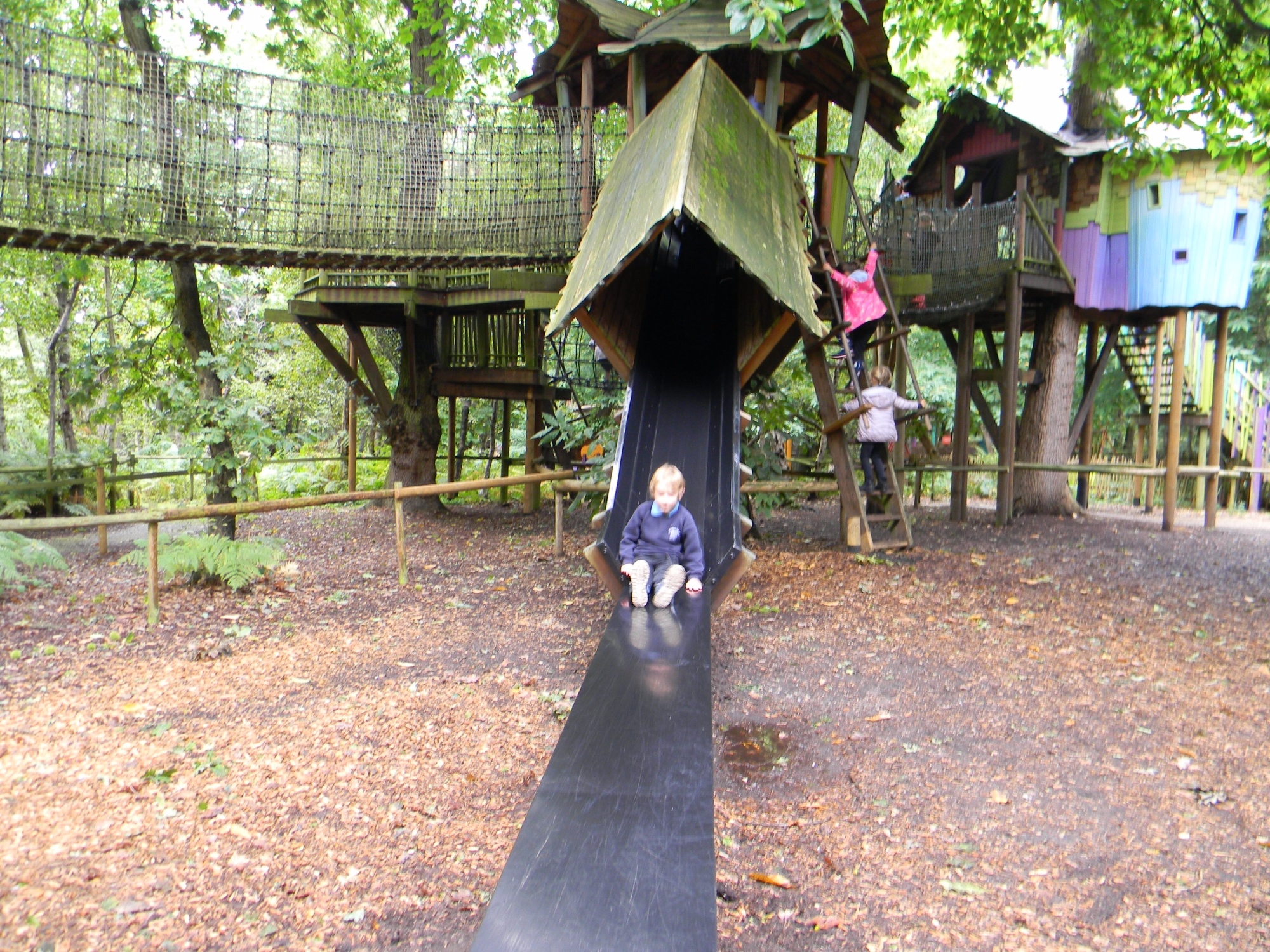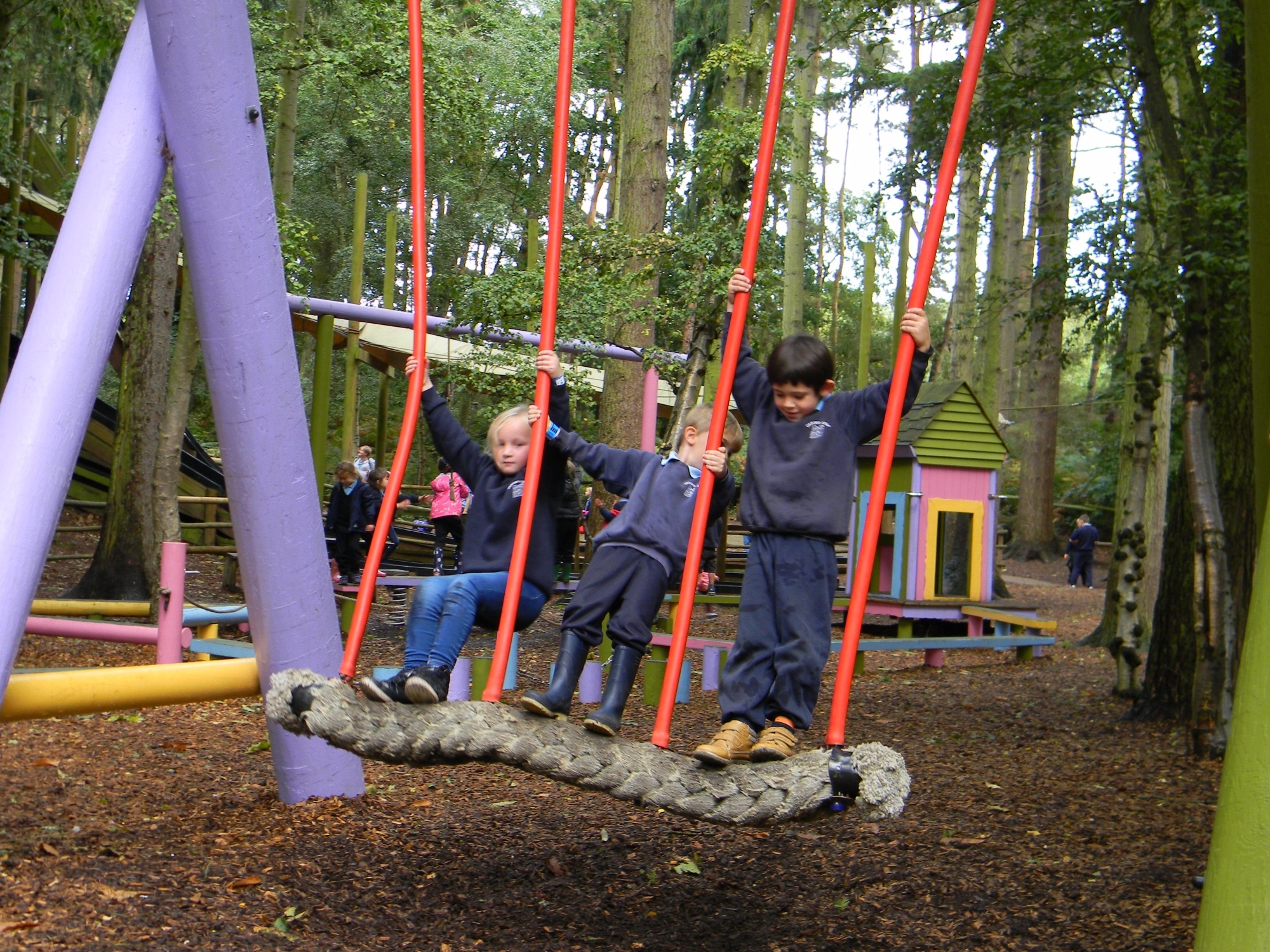 We loved exploring in the forest, crossing bridges, sliding down slopes and whizzing down zip wires.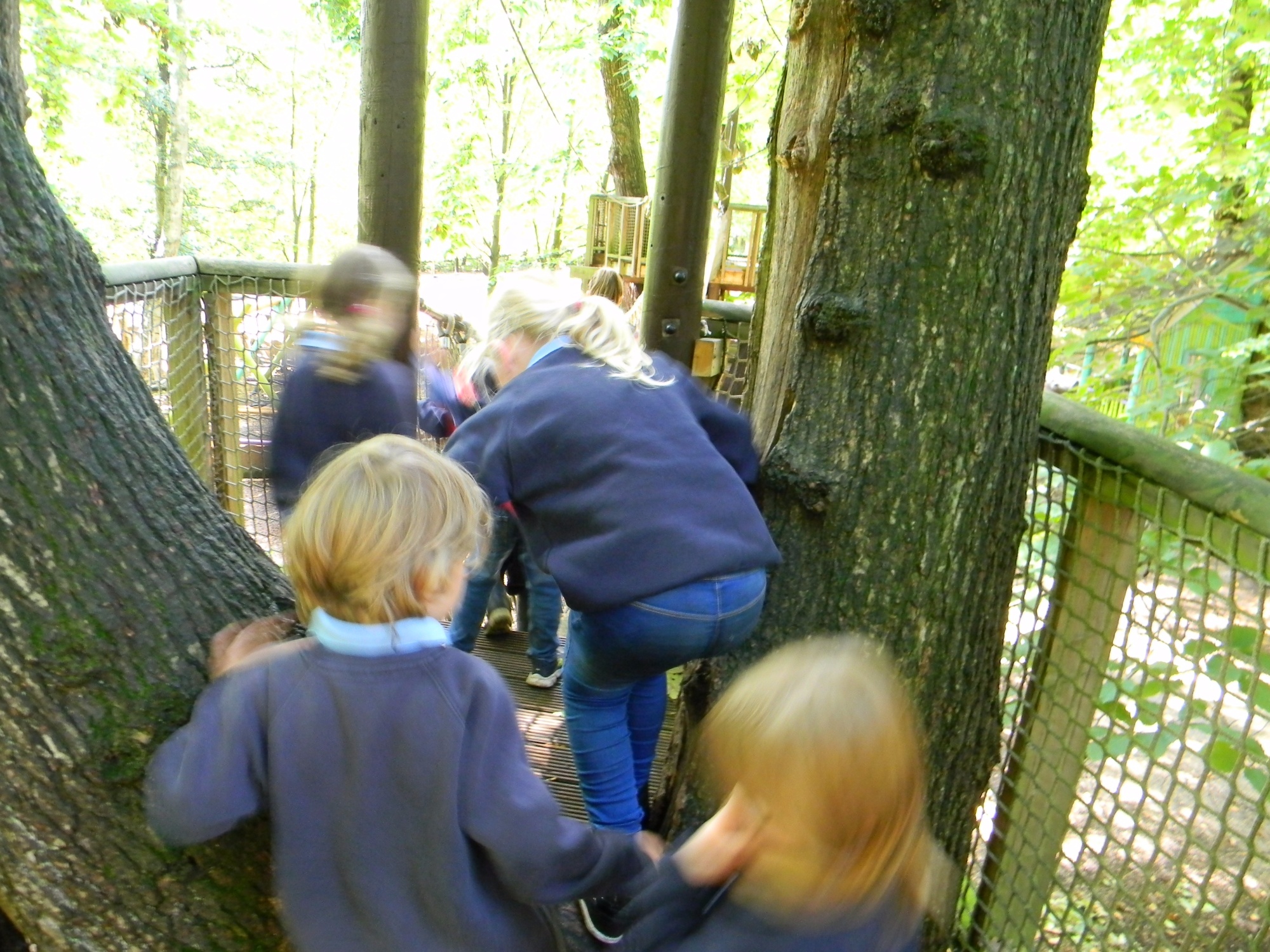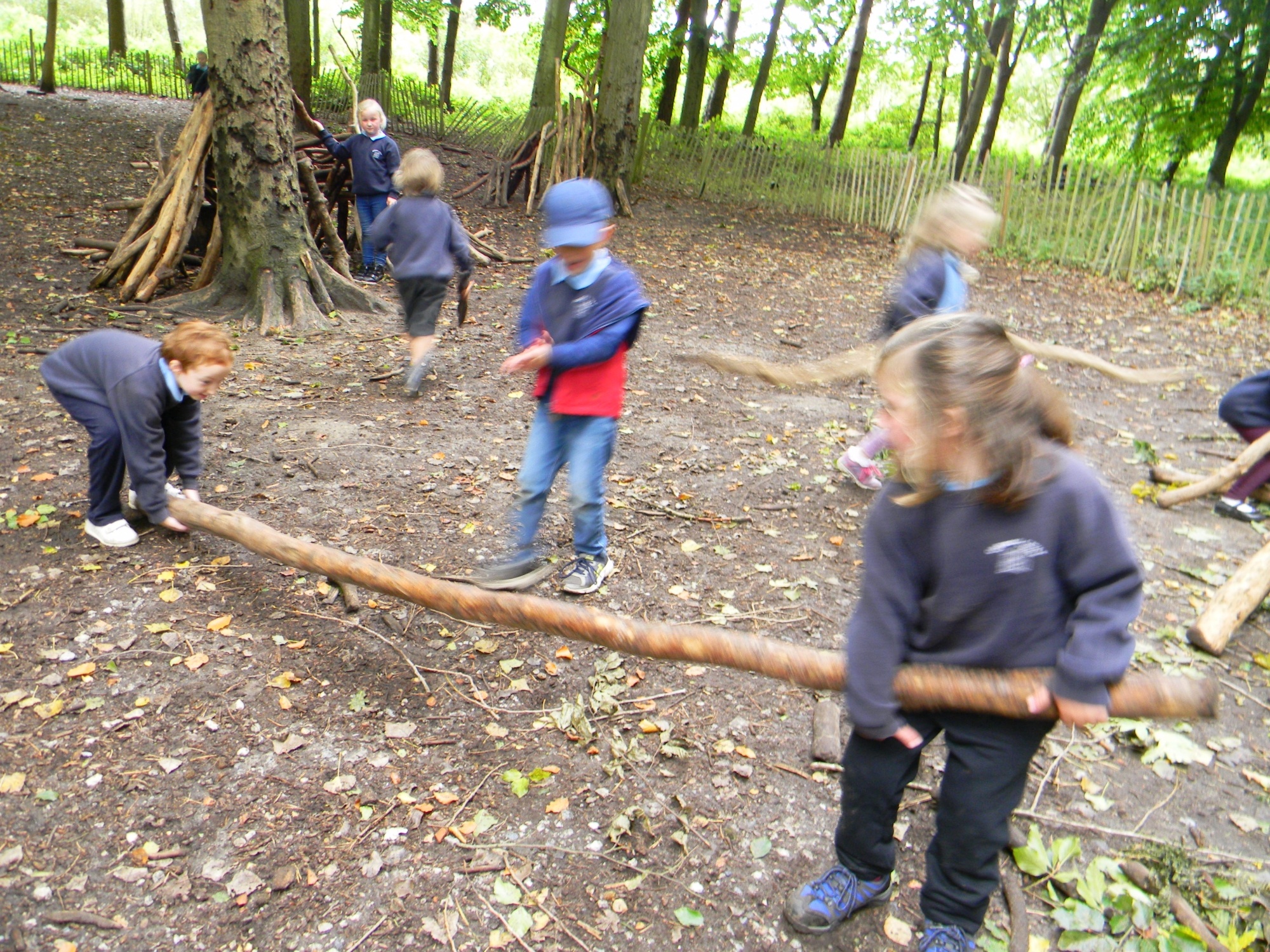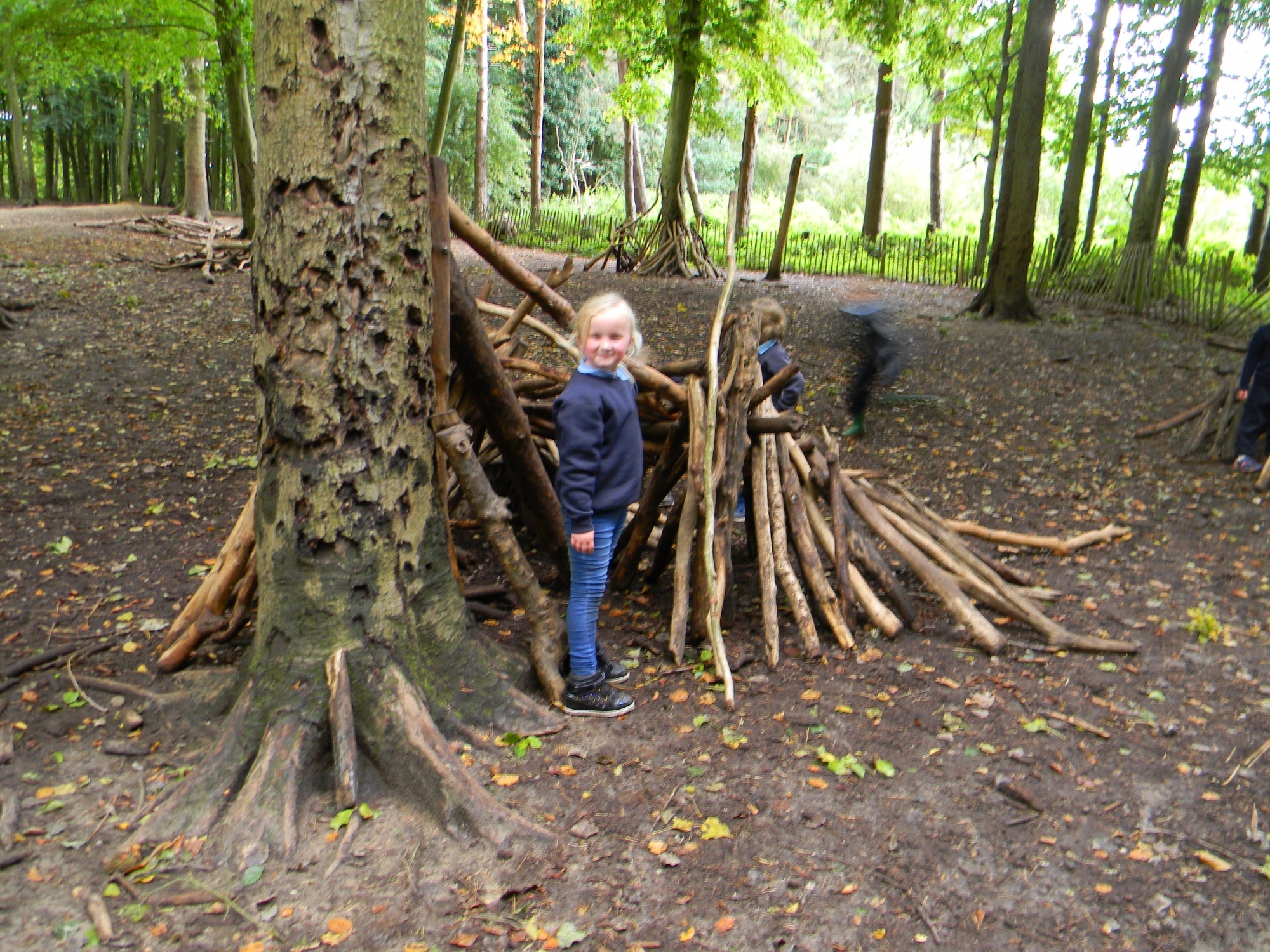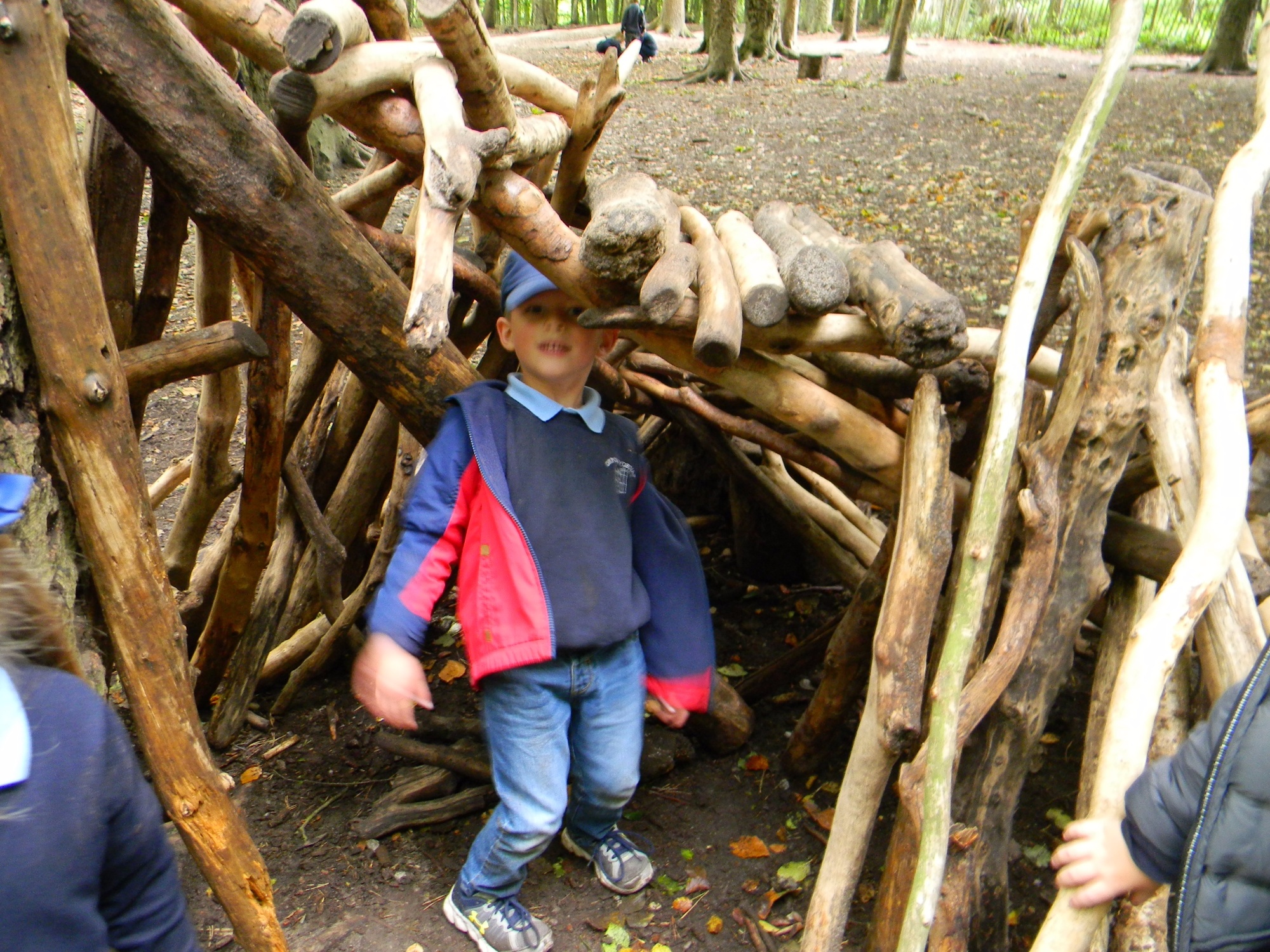 We showed cooperation and resilience building dens.
Now we have lots of ideas to help us on our Quest- to Fairyland and Beyond...
Friday 28th September
It's been another busy week in Class 1. in Maths we've been learning about comparing numbers using the < > and = signs. We remember which the ways the arrows go by thinking of them as crocodiles. The greedy crocodile always has his mouth open to eat the bigger number!
We've been learning about setting the scene for a story, using our experiences of Bewilderwood to help us. Here are a few quotes from our writing:
"The story is set in a deep, dark forest...the bark on the trees has spider's webs on it." Willa
"It is in the morning...woodpeckers are drumming on pretty trees." Rebecca
"I can see fruit hanging from trees. I can smell flowers." Leo
"The sky was pitch black...when I went outside I saw some animals snuggling up for bedtime." Cecily
"The story starts in a bright green meadow. It is midday. The cows are mooing while eating the grass...I can see a wonderful long view." Ella
"I can see some purple flowers growing. I can hear birds singing." James
Next week we will be thinking about the characters in our stories.
Friday 6th October
We have busy in Art for the past couple of weeks creating pictures to reflect our responses to our wonderful surroundings in the Alde/Ore Estuary. We have used a wax relief technique using a limited palette of estuary colours in wax crayon with a wash of Brusho. All our pictures, along with those from the other classes and other local schools will be on display in Orford Town Hall next weekend, but here are just a few to whet your appetite!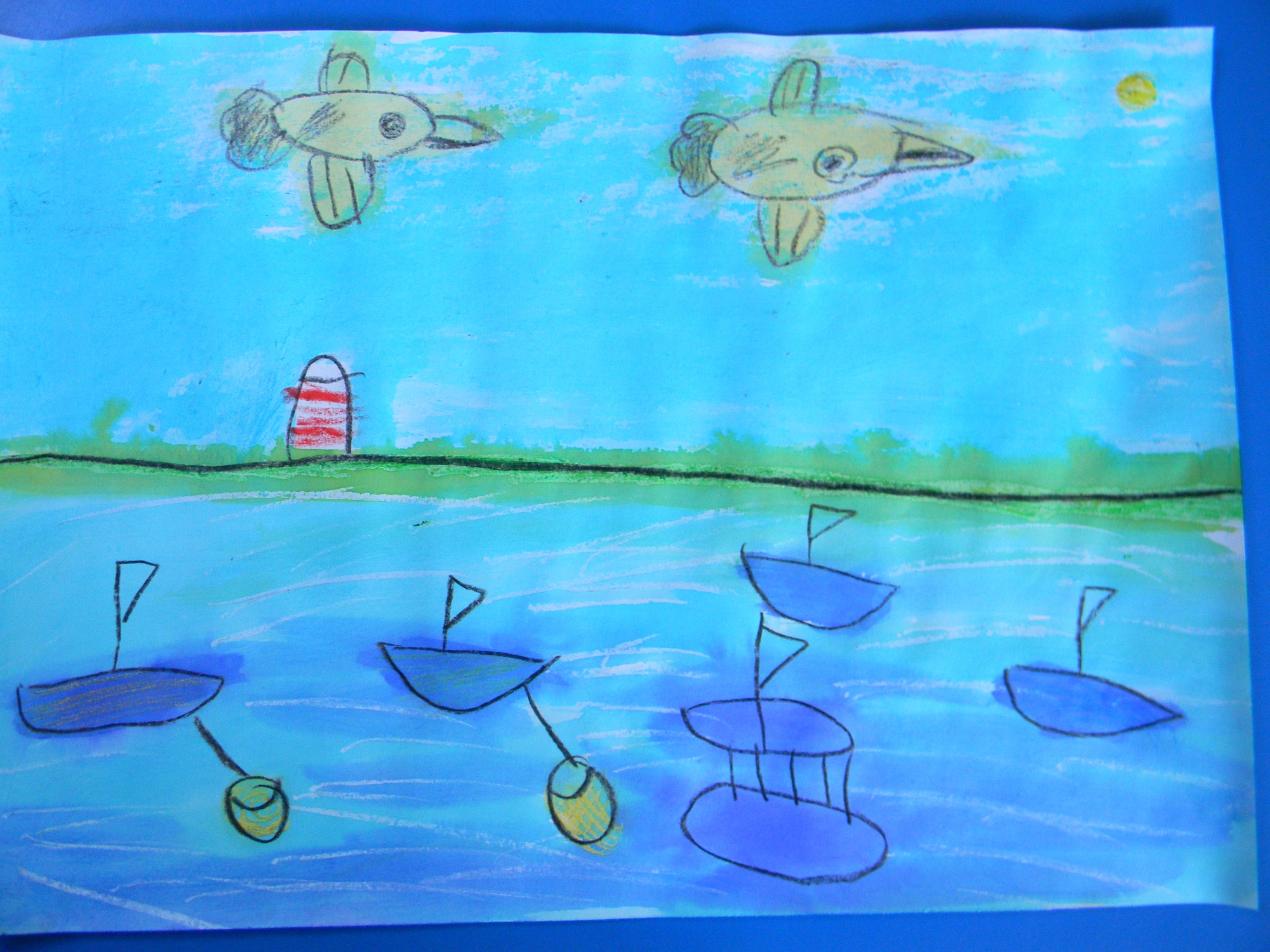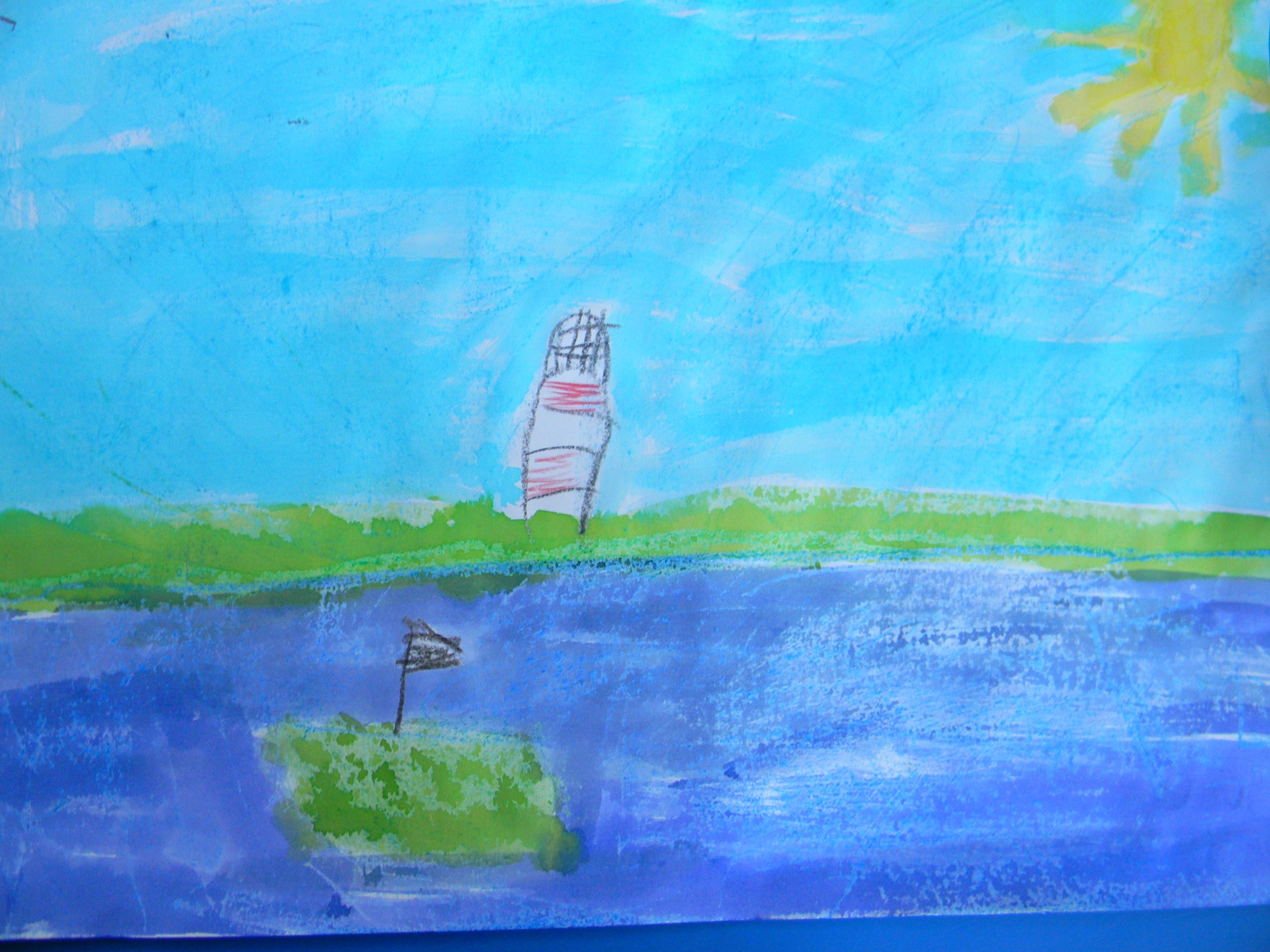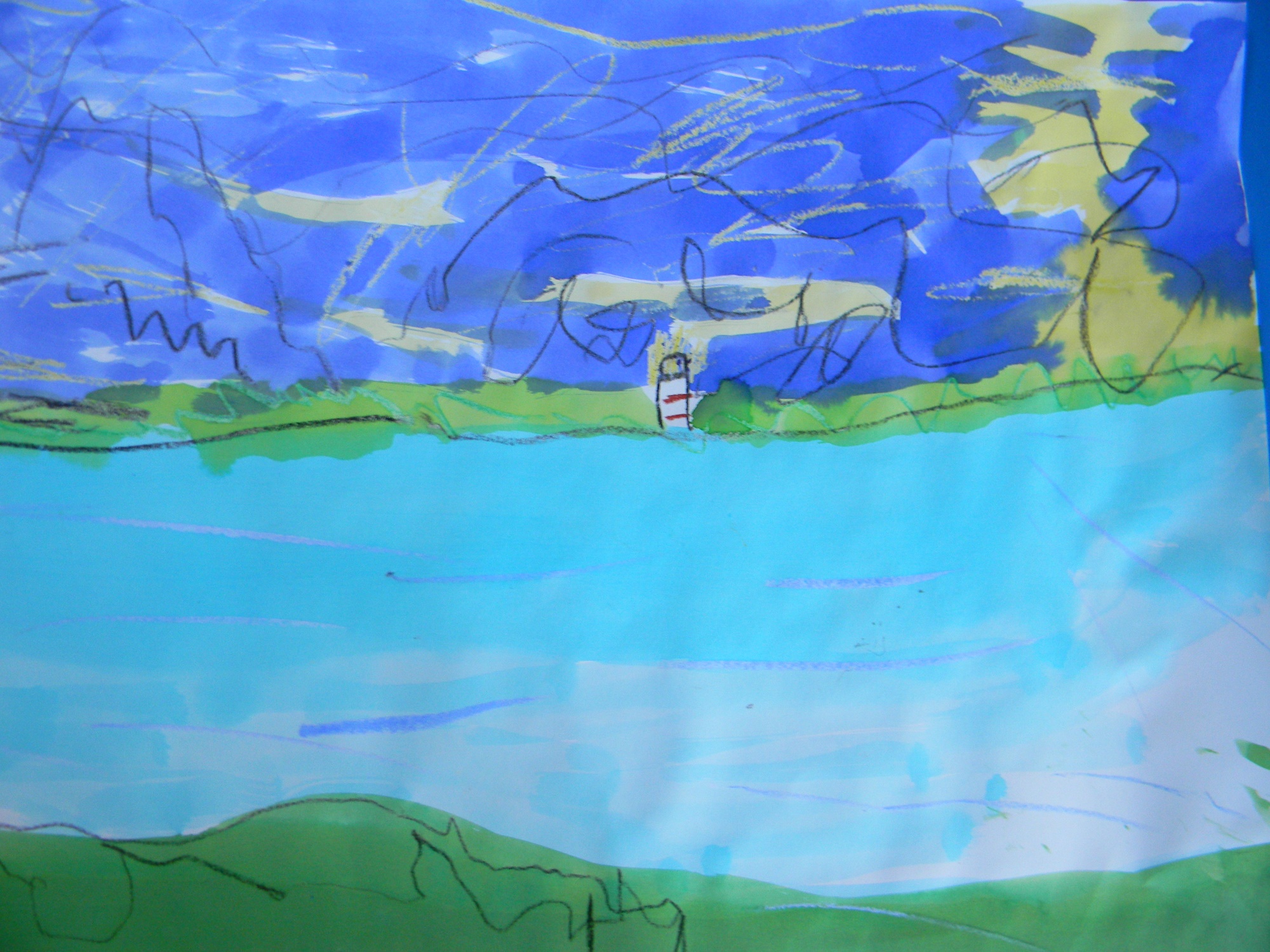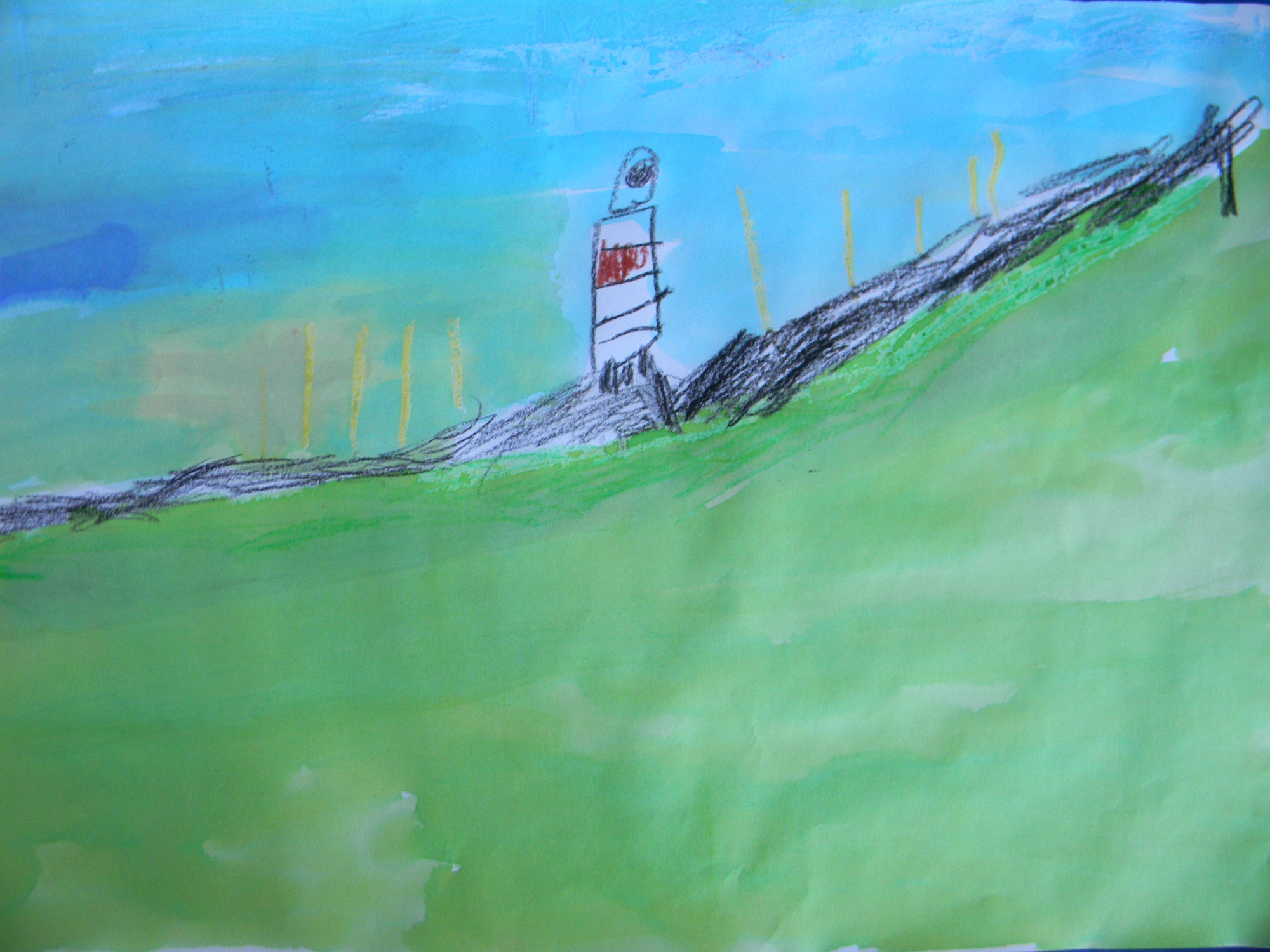 Friday 13th October
We've had another busy week in Class 1. Thank you to Mrs Wells and Miss Cannon who worked hard last weekend to tidy up our outside Play Area. We've got ideas to improve and develop this area over the next few months- we'll keep you posted!
In the classroom we now have a fairy arch complete with sparkly leaves and lights to lead us into the world of make-believe. This was based on an archway we saw at Bewilderwood. We had great fun with the glitter and sequins as we created the leaves.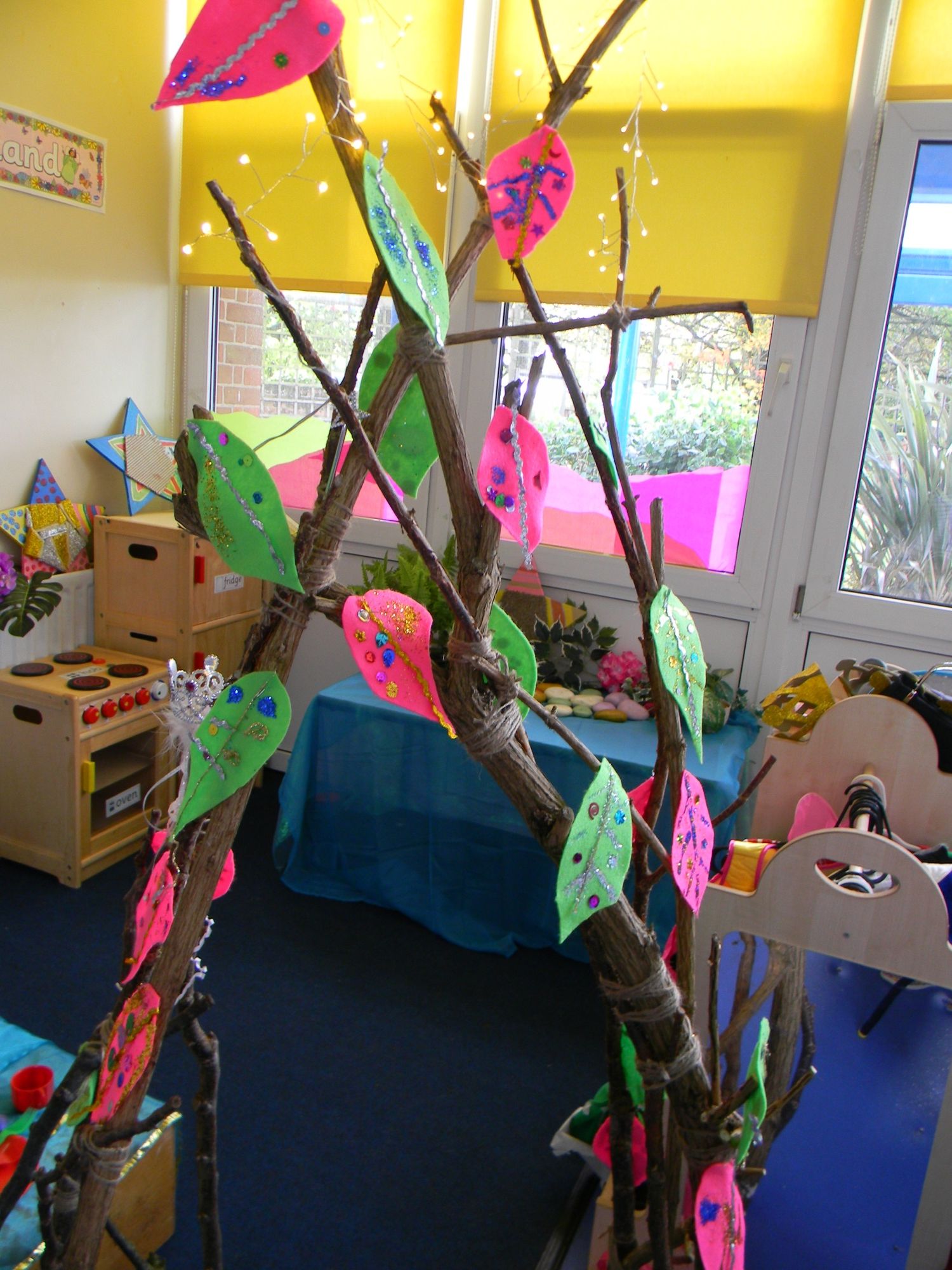 Friday 10th November
We've been thinking about poetry for the last couple of weeks. We have thought about rhyming words and we have been learning a poem by Rose Fyleman called 'Summer Morning'. (This might sound a bit strange in November, but it was chosen because it is about a little girl meeting fairies 'On every branch of every tree', so it fits in with our Fairyland theme). The poem is written in rhyming couplets, so once we'd got the idea of rhyming, we decided to have a go at our own poems. We all started with the same first line and then worked in small groups to create our Fairyland Poems. Here are a few of them:-
In fairyland we walked one day,
But then we started to run away,
When the sun was shining down,
And the fairies were fluttering around,
Once there was a fairy dressed in pink,
That gave us a little wink.
Cecily, Bella & Mimsie
In fairyland I walked one day,
And found a sparkling magic bay,
Suddenly I grew crimson wings,
Then I saw the fairy kings,
I spotted a multi-coloured bear,
Floating through the light blue air.
Ella, Jazmine & Saskia
In fairyland I walked one day,
And ran off down the willow way,
Lots of butterflies flew by me,
Bees buzzed by me, they were very busy,
It was oh! so trembling bright,
I saw a sparkly castle, it was light.
Uma
In fairyland I walked one day,
And found a sparkling magic bay,
I saw a magical fairy queen-it was the best,
And I was trembling, then I had a rest.
I saw a black and white fairy cat,
It had a fairy hat.
Rebecca & Martha
In fairyland i walked one day,
And ran off down the willow way,
I heard Cinderella talking,
In the sparkling castle walking.
Jamie
Summer Term 2017
This term Class 1 are learning about different aspects of change. In Science they have started to find out about the life cycles of different creatures. In History we hope to find out about how aspects of our local area have changed over time, presenting our findings as our own museum. We already have lots of exciting plans of how to do this...watch this space to find out more!
5th May
The Awesome Orford History Museum has started to receive accessions. So far we have 4 artefacts. We have also started to do some research so that we will have interesting information in our museum.
We hope to visit Ipswich Museum on Friday 19th May- more details about this next week.
In maths we are all getting much more confident with the Mastery approach. There has been lots of deep thinking and reasoning about measuring this week.
Spring Term- The Journey Continues...
14th March 2017
Class 1 are continuing to produce exciting work about the Rainforest. They have planned, researched and designed fact file posters about rainforest creatures. Examples of some of these are below.
They have also explored different types of poetry on a rainforest theme. Some of these used rhyme while others used exciting descriptive language.
In the Rainforest
By Ella
The leaves are shaggy,
This is an emerald tree.
It's calm and clear,
It's like a honey bee.
There's a river and a waterfall,
And animals for one and all,
There are windy lakes
And trees full of snakes,
A branch is like a serpentine
And lime green vine,
The waterfall is clear,
The animals drink then they come near.
There are nice and springy plants
And your wishes come with chants.
The first column.
Rainforest
By Ollie
The rainforest is full
Of mossy trees
And zigzag leaves,
Jagged cliffs,
Arched branches,
Calm streams,
And rushing rivers.
Serpents with scales that shine in the sun,
Serpentine vines
And golden flowers,
It's full of beauty and emerald leaves,
Pouring waterfall,
Gigantic mountains.
e second column.
Rainforest
By Lucy
The trees are tall,
The trees are green and brown,
Blowy and bumpy trees,
They are so colourful,
They are so beautiful,
The plants are very beautiful,
Lots of animals live there.
Rainforest
By Archie
In the rainforest there are rough trees
And beautiful animals,
The mountains are
Rocky and fascinating!
The fungi are squishy and poisonous,
It looks steamy and calm,
It looks rocky and still,
It looks ferny and sharp,
It looks long and pretty.
Spring Term 2017
This term the journey continues! Inspired by Where the forest meets the sea by Jeannie Baker and Explorer Zoe, Class 1 have climbed aboard their trusty hot air balloon and travelled to the tropical rainforest to learn about this amazing but fragile ecosystem. They also hope to visit the nearby coral reef in our mini-submarine. This week they are finding out about rainforest animals and will be producing fact files about them.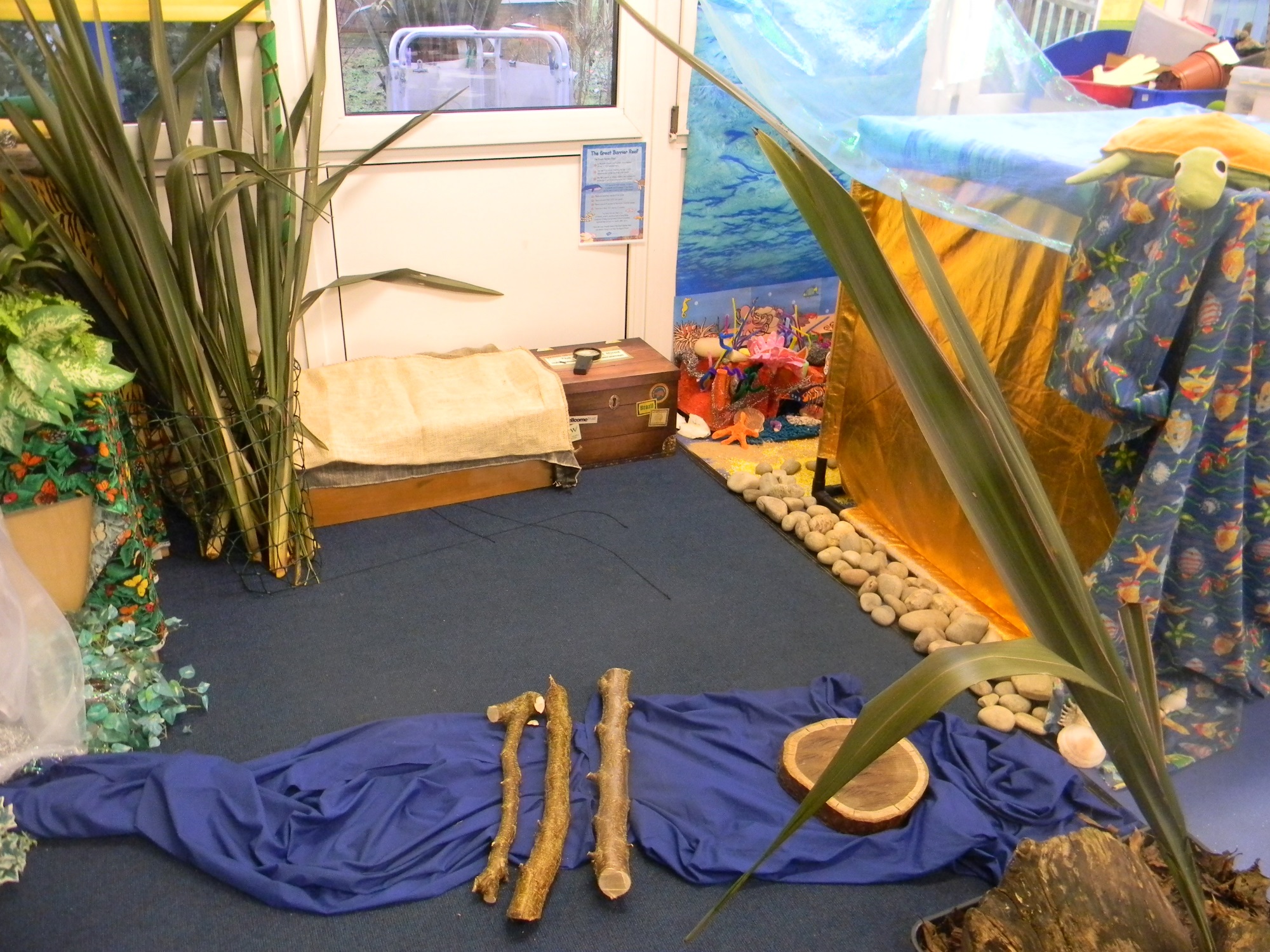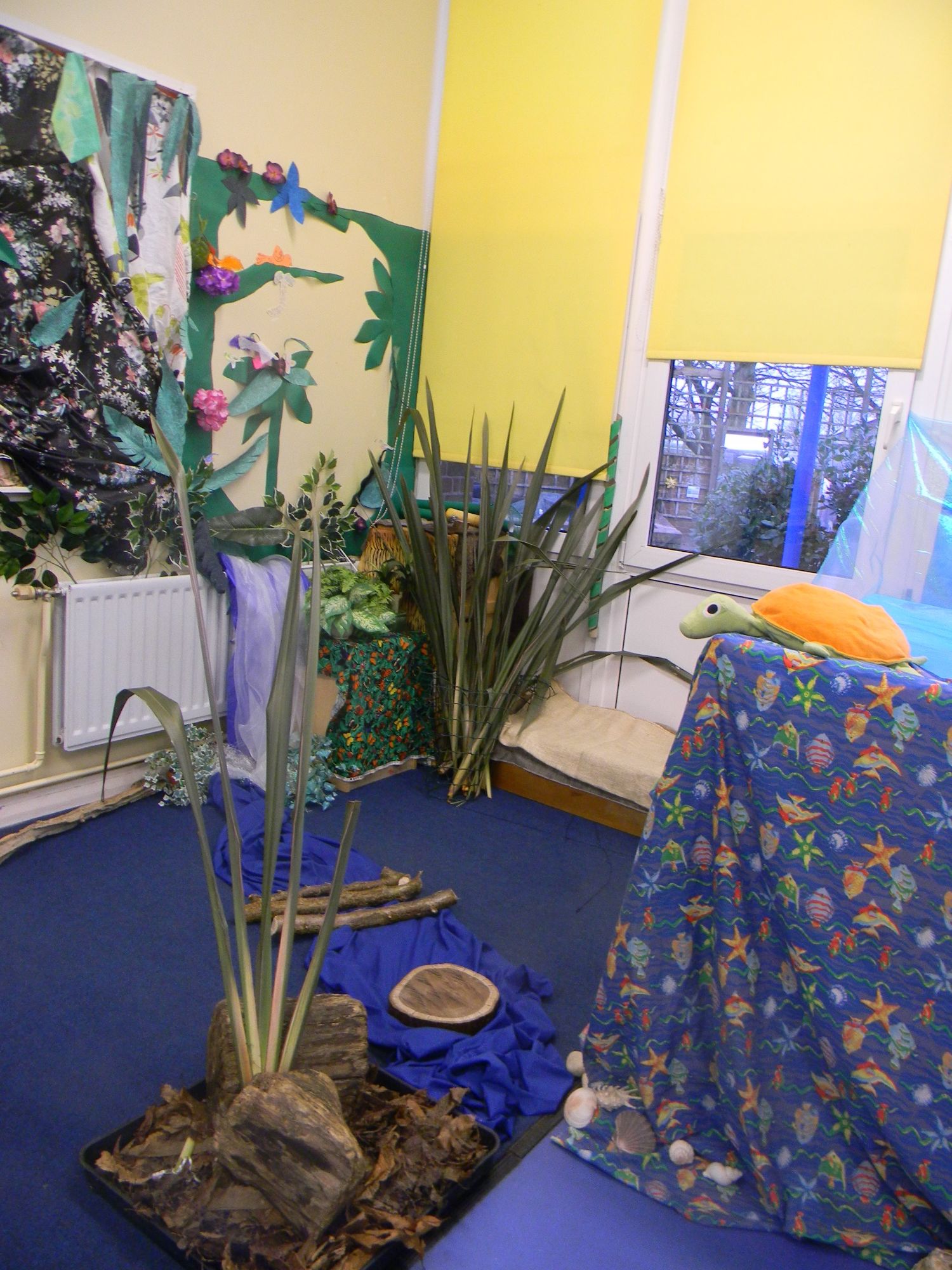 Autumn Term- The Journey Starts Here...
In Class 1 we are enjoying exploring the British Isles. We've set up our own Travel Agency run by the Reception c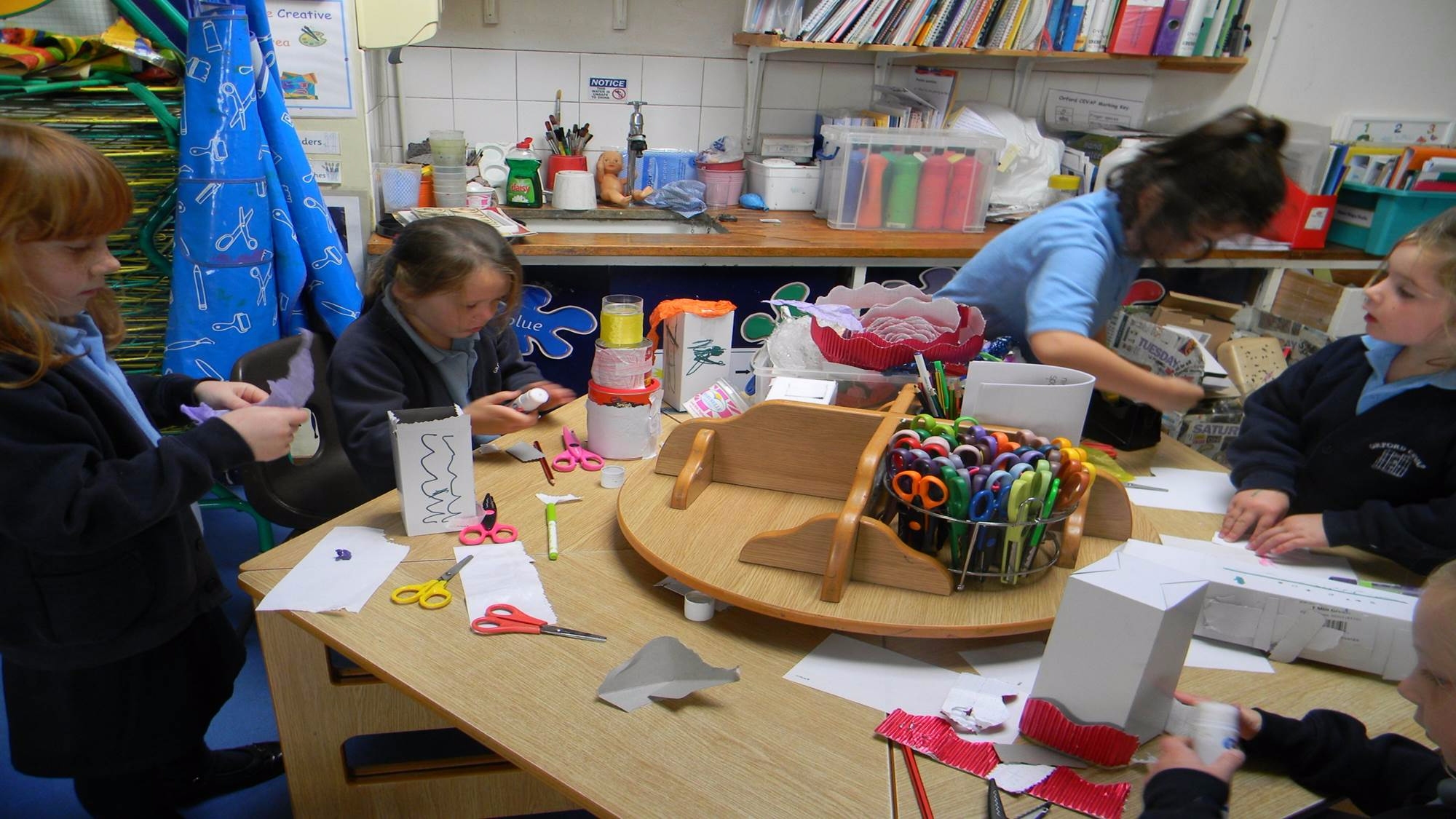 hildren. In Year 1 and 2 we have become Tour Guides for some of the most important sites in London. We then moved on to Scotland where we've loved finding out about the natural and human features of that exciting country. We've also enjoyed 'visiting' the fictional Scottish island of Struay, where we've helped Katie Morag celebrate the 200th anniversary of Blue Eye lighthouse through posters, invitations, stories, models and even songs.