Easter Newsletter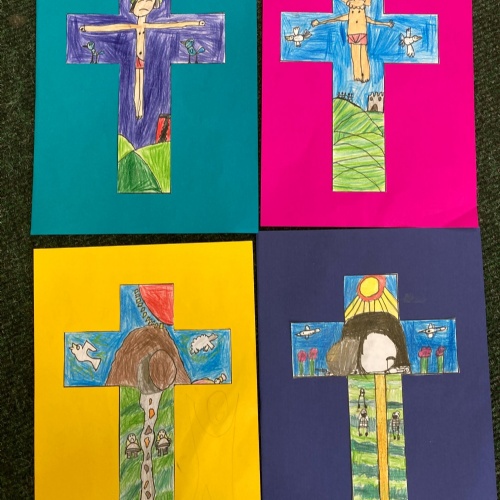 Please find the Easter Newsletter at the bottom of the page.
Also sent out today were the end of term notices:
Easter Holiday Events:
Fun Tennis Day
Saturday 1st April
8am-6pm
Free entry - play a game, or just have a go at hitting a tennis ball! Open to all ages, stay as long as you want.
Easter Egg Hunt raising funds for OSLOF
On the Rec Saturday 8th April 10am-12pm
£2 Orford School Children, £3 everyone else
10:30am prompt start
Teddy tombola and refreshments available
FREE Family Fun Cricket Day on the rec (application form attached, or can be collected from Orford Stores)
On the Rec - Wednesday April 12th 11.00 -2.00
The Coaching Team from Sudbourne Cricket Club are supervising some fun cricket themed games for 5-11 year olds and for the under 5's there are outdoor activities. This will be followed by a baked spud and bean lunch for all participants. Children will need a responsible adult with them.
For further information please contact Caroline Gill caroline@tropic.org.uk or tel
07799655825.
The Art Station, Saxmundham. Both days are for children aged between 7 – 13yrs
Monday 3rd April: 10 am to 4.30pm – Animation with Lewis Wickwar, lunch, 1:30 pm – Dance East
Tuesday 4th April: 10 am -4.30pm – A day of music video making Lewis Wickwar,
Price: £25* for each day *or FREE for children in receipt of Free School Meals, please contact us via info@theartstation.uk to book in.
To book please go to our website: https://theartstation.uk/event/easter-holiday-activity-days/
Sailing
Orford Sailing Club will be organising weekly taster sailing sessions for the school starting on Wednesday 31st May at 5pm.
No experience is needed but you should be able to swim without a floatation device and confident in water. We hope you will join us. For more information please contact
sheenamargaretbarrow@gmail.com
Or 01394 450737
Dates for Summer Term
Monday 17th April - PD day for staff

Tuesday 18th April - Children return to school. No cooking for the first week.

Monday 1st May - Bank Holiday

Monday 8th May - Bank Holiday

Monday 22nd and Tuesday 23rd May - Bikeability for Y5 and 6. You will need a suitable bike, with no stabilisers and working brakes/gears.

Tuesday 23rd May - Class 1 and 2 trip to Orford Castle. More information to follow.

Half term - 29th May to 3rd June
Friday 16th and Saturday 17th June - Arts Award Club Rust and Stardust Performance

Thursday 20th July - Y6 Leaver's Service in Church 1:30pm

Friday 21st July - Last day of the school year