C1 Blog News Archive
Friday 7th October

The children in Class 1 have had a great week.
They have enjoyed exploring the Beebots further by giving them specific instructions to reach a destination, making their own square for a class Beebot mat and even pretending to be a Beebot in the garden and following instructions from their friends.
Y1 and Rec put in a super performance at the Harvest service and sung their songs beautifully.
This week in Maths Y1 have been representing numbers in different ways whilst Nursery and Reception children have been identifying numbers and learning to count accurately.
Class 1 loved having visitors in our class today, during the open morning and enjoyed showing off their learning.
Have a great weekend. We will see you on Monday.
Friday 30th September

Class 1 have been working on counting with 1:1 correspondence this week. We have been counting lots of different objects and exploring the best methods to ensure we count accurately.
We have loved learning all about babies this week. We enjoyed sharing our baby photos and talking about things we can do now that we couldn't when we were babies. We looked at what a baby needs and how we could help a family with a new baby. The children created 'Welcome to the world' cards and enjoyed listening to the story 'There's a house inside my mummy'.
Phew! What a busy week!
Friday 23rd September

We have had a great time learning all about The Little Red Hen this week. We listened to the story, learnt to retell the story using actions, created story maps and used our story maps to help us write our own version of the story. We also learnt a song for our sharing assembly and performed it beautifully.
Great work Class 1!
Friday 16th September

This week the children have been learning how to sort objects using different criteria in Maths. In Literacy and PSED we have been learning about all different kinds of families. The children have enjoyed talking about their own families and finding out about similarities and differences between their family and others.
Have a lovely weekend.
Friday 9th September 2022

Welcome to a brand-new school year in Class 1. The children in Class 1 have had a busy first week of term and have spent lots of time exploring our new learning areas. They were very tired by the end of the week but have all settled in well and were still full of smiles as they left to enjoy their weekend. We hope you all have a restful weekend, and we look forward to seeing you all on Monday.
---
Class 1 News 2021-22
Wednesday 6th July

Another packed few weeks in Class One. Sports day was last Tuesday, it was the first sports day for many of our Nursery children and they all joined in with great enthusiasm. The older children participated in lots of events, had lots of fun and showed us what good sports they are. This week we have been continuing with our space theme. We have been busy learning to sing 'Zoom, zoom, zoom, we're going to the moon', ready for our 150 years celebrations on Friday. Nursery children made 2D shape rockets and wrote the letters of their names on the rectangles. Reception and Year 1 have been continuing with their animal topic in science and have learning about carnivores, omnivores and herbivores.
Wednesday 18th May

This week we have been continuing our 'transport' theme. Our book of the week is 'The Little Red Train to the Rescue', so we have been focusing on trains and boats. Nursery children have been using 2D shapes to make boats, singing songs such as Row, row, row the boat and playing outside in the water. The older children have been retelling the story using small world, writing about story events using time connectives and learning about trains past and present. In maths this week Reception and Year 1 children have been subtracting using different methods.
Wednesday 16th March
It's science week! We've had a very busy week undertaking fun experiments. This year's science week theme is 'growth'. On Monday we observed two different kinds of plants, making lists of similarities and differences that we found. The children then did some observational drawings of the two plants. This morning we grew our own rainbows. This was a really fun experiment where we used kitchen towel, felt pens and water. The kitchen towel was cut out to resemble a shape of a rainbow, children then coloured the bottom 2 cm's of the towel in rainbow colours. We then put the towels in water and watched the rainbow growing in front of our eyes. You are invited to the Science week assembly on Friday where the children will tell you more about the experiments undertaken this week. We hope to see you there!
Wednesday 16th February

The children in Class 1 have had another couple of busy weeks taking part in lots of fun activities. Our focus story this week has been Guess How Much I Love You. Year 1's have been writing letters to Big Nut Brown Hare telling him how much they love him., Reception and Nursery children have been acting the story out using story props. In maths this week Nursery and Reception have been looking at and making their own repeating patterns. Year 1 have been learning to count in 2's, 5's and 10's.
Wednesday 17th January

Wow! What a busy few days we've had. It's been another Gruffalo kind of week here in Class 1. This week Year 1 have been reading and writing recipes, Reception and Nursery children have been busy in the kitchen making the Gruffalo's favourite food - Scrambled Snake, Roasted Fox and Owl ice cream.
Wednesday 12th January

Another packed few days in class 1. This week we have been reading and acting out the story of 'The Gruffalo'. The children have made Gruffalo faces out of paper plates and have written Gruffalo descriptions using 'and' as a joining word. We have made a Gruffalo habitat in the tuff tray, which the children have thoroughly enjoyed exploring. We have lots more Gruffalo activities planned for the end of the week, which we are very excited about.
Great work Class 1!
Wednesday 23rd September
It's been another busy few days in Class 1. We have been thinking about ourselves and our families. In science, we have been finding out about how we are different. We have painted self-portraits and talked about our emotions. The outdoor area has been very popular this week with children building obstacle courses and using the wheeled toys.
---
Friday 3rd September
Looking forward to seeing you all on Monday.
Friday 19th March

Another packed week for Class 1 this week. We learnt about Christopher Columbus' fleet of sailing ships and made our own out of paper. We 'waterproofed' our ships using wax crayons and sailed them in races in the water tray. All children loved seeing their ships sail and float on the water. This week class one have also been learning different methods to represent 2-digit numbers in Maths and have written some truly revolting recipes like Roald Dahl in Literacy.
Well done Class 1!
Friday 12th March

Welcome back to all of the children and well done to all families for supporting them during home learning.
The children are so pleased to be back together and have settled back in really well. We have had a busy first week back in school and have participated in lots of activities to give the children a chance to talk about their experiences during lockdown and share their feelings and emotions. These have included Thrive activities such as; discussing and drawing things that make me happy and creating a string 'spider web' of to show that even though we were apart we were all 'connected' by the activities and experiences we had whilst we were learning at home e.g. cooking, playing at the park, helping mummy and daddy and playing in the snow.
We were very lucky to all make it back to school in time for Science Week which was fantastic fun. Class 1 thoroughly enjoyed being virtual spectators of Class 3's science fair and we all had our own personal favourites, well done Class 3! Meanwhile in Class 1 we became scientists ourselves and explored sieves; what they are and how they can be used. Miss Cannon challenged us to create a sieve which would separate rice from pasta. All children had fantastic ideas and worked well together as a group. On Friday afternoon we grew our own rainbows and made raisins dance. We are very proud of our little scientists who were not only able to conduct the experiments but could use scientific vocabulary to explain what they noticed.
Great work Class 1. Enjoy your well-earned weekend :)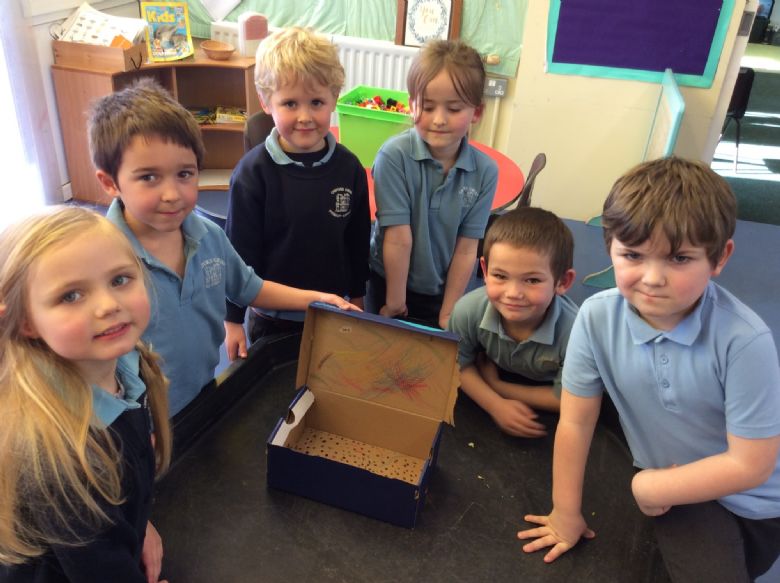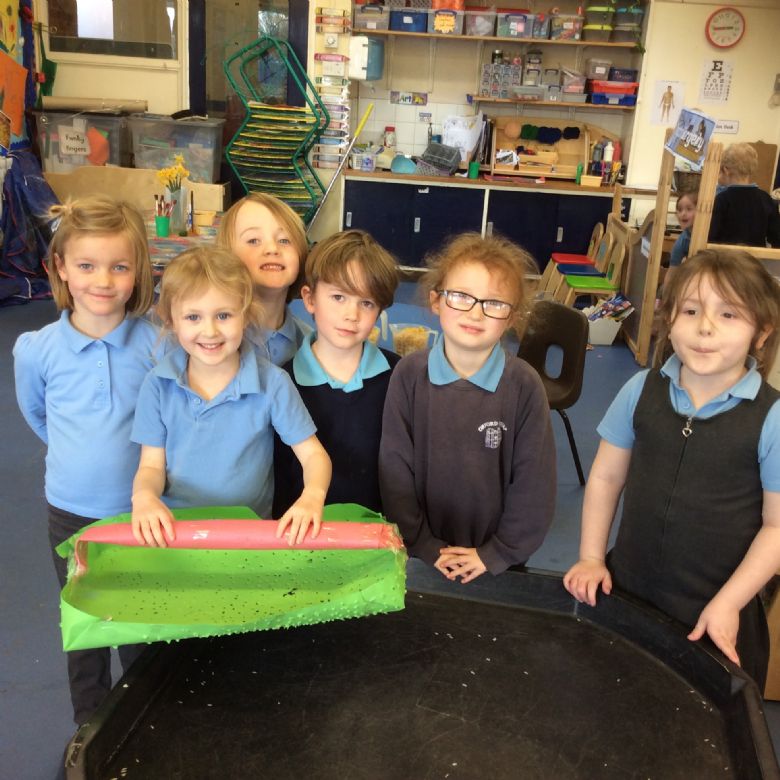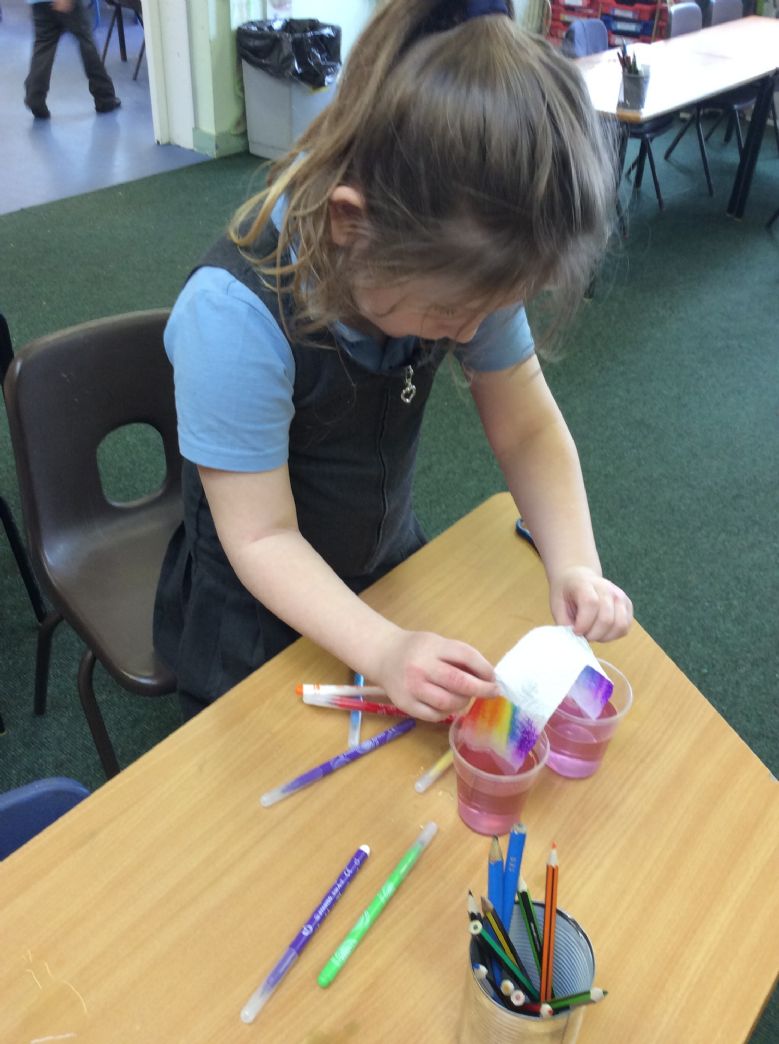 Friday 18th December
The children in Class 1 have had a fantastically busy couple of weeks but have had lots of fun too. They put the finishing touches to their nativity and we hope you enjoy watching it with them. We have created Christmas pictures out of shapes in Maths and played lots of games of musical statues where the children were DJs on the last day.

We wish you all a very Merry Christmas and a Happy New Year. See you in January.
Friday 4th December

Another fantastic week in Class 1. We had amazing fun creating reindeer out of sticks and Christmas trees out of wool for our Christmas craft afternoon on Monday. The children were great at selecting the best materials to make sturdy bridges for the three Billy goats gruff. We have been adding by counting on and subtracting by counting back in Maths. All children have been fantastic during rehearsals for the Nativity so we just wanted to say a big thank you to parents for helping your children to learn their lines. They all spoke clearly and loudly.
Have a lovely weekend.
Friday 20th November

Class 1 have had a great week this week. We have been learning about Travel and Transport in History and created a timeline for when the first vehicles were invented.
This week we have been reading 'Can't you sleep Little Bear?' and the children made paper lanterns to help Little Bear sleep. We also received a letter from Big Bear asking us to write him a set of step-by-step instructions so that he could make his own lantern.
Please could you help your child to practice the words to 'Away in a manger' and 'We wish you a merry Christmas' for our nativity?
Thank you.
Have a great weekend everyone.
Friday 13th November

This week Class 1 have been thinking about Remembrance Day. On Tuesday we shared a Remembrance assembly with Reverend Giles. All children listened very carefully and were still and respectful during the two minute silence. After this we created some fantastic poppy pictures using pastels to represent what peace feels like.

We have started our new story about light and dark called 'Night Monkey, Day Monkey' and the children have enjoyed learning about speech bubbles and nouns.

This week we have also started our Nativity. You will receive song words home to learn with your children next week and hopefully rehearsals will progress nicely over the next couple of weeks.
Have a great weekend.
Friday 23rd October

Well done everyone for making it to the end of your first half term in the new school year. Thank you for all of your hard work. We have certainly been busy bees over the past 8 weeks and you have really impressed us with your effort and attitude to learning. We have learnt about fairytales and autobiographies in Literacy and have even written our own. We have been learning place value and addition and subtraction in Maths. We have learnt about the seasons and weather in Science and Geography and even become weather forecasters using a script and props (videos to follow!) In Computing we have become experts in using Beebots and we have competed in virtual cross country and cricket events with other schools during PE! Phew what a lot of information has been learnt this term already. Have a fantastic, well-deserved half term holiday and come back rested and ready to learn in November.
5th October 2020
Today, we visited the local church as part of our RE learning!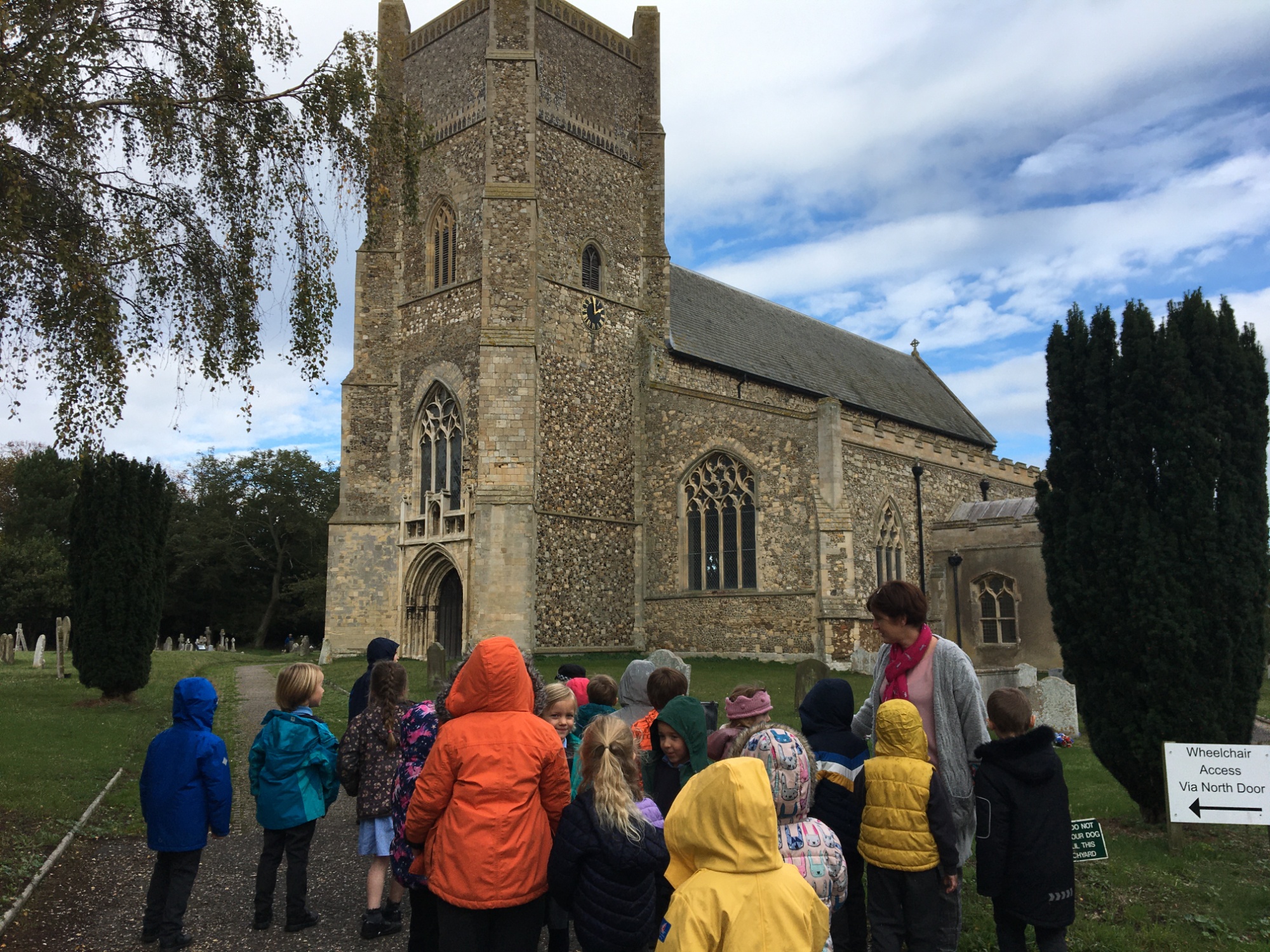 We got to see the fantastic harvest pictures we painted last week up on display and Rev Giles (along with Reggie the dog and Benedict the vicar bear) very kindly showed us around all the parts of the church including the lectern, the font and the altar. Can you spot George?!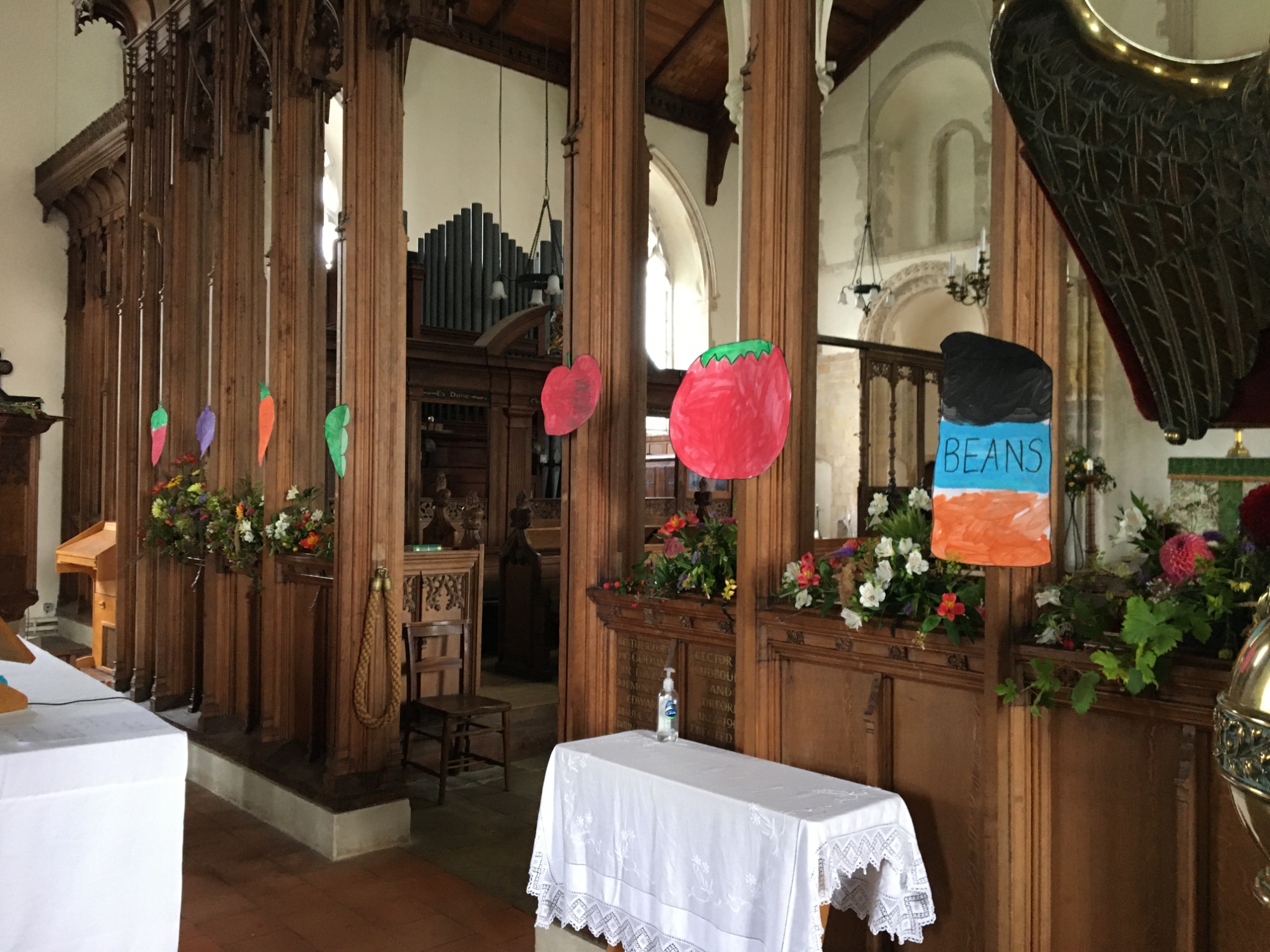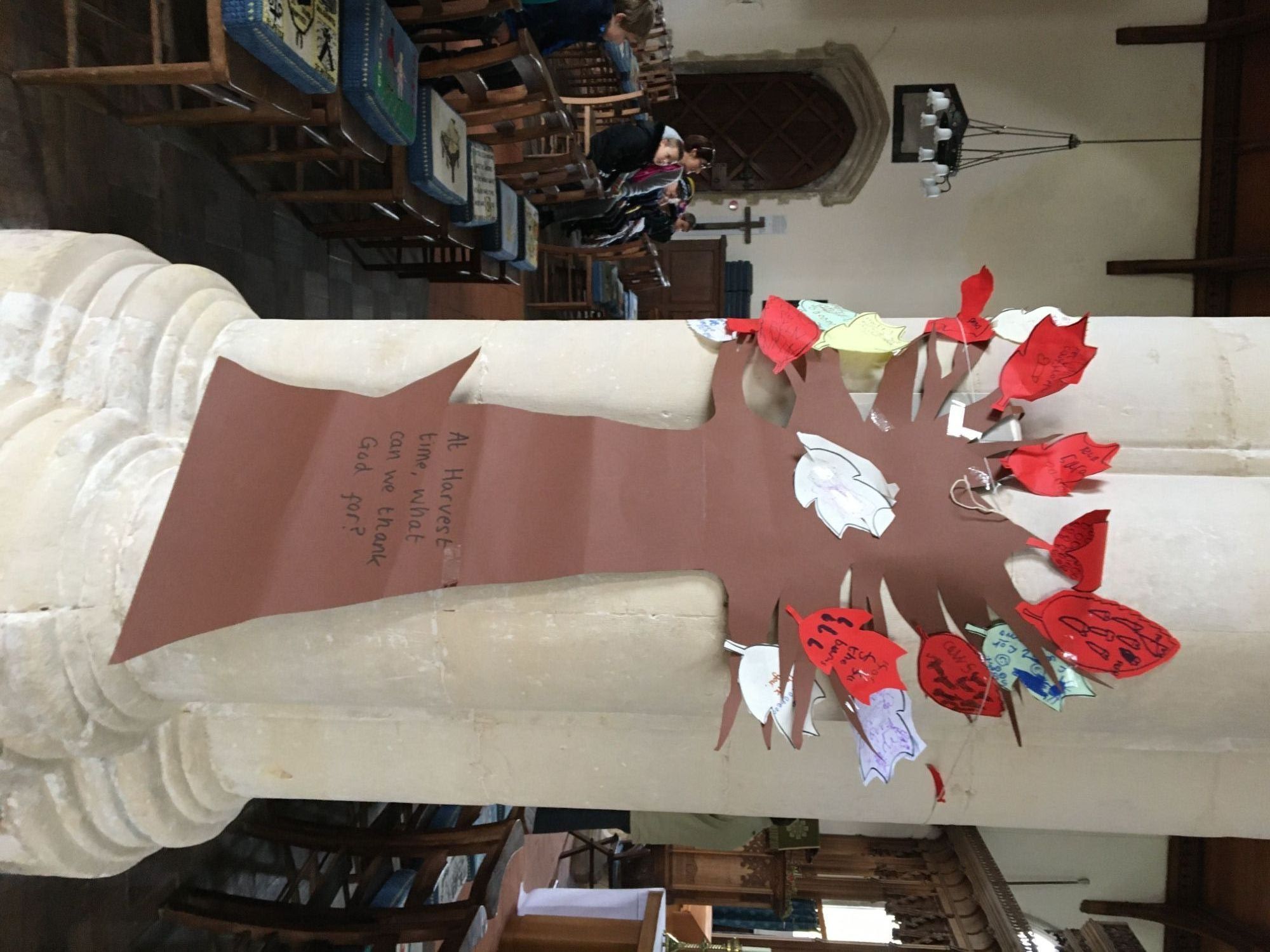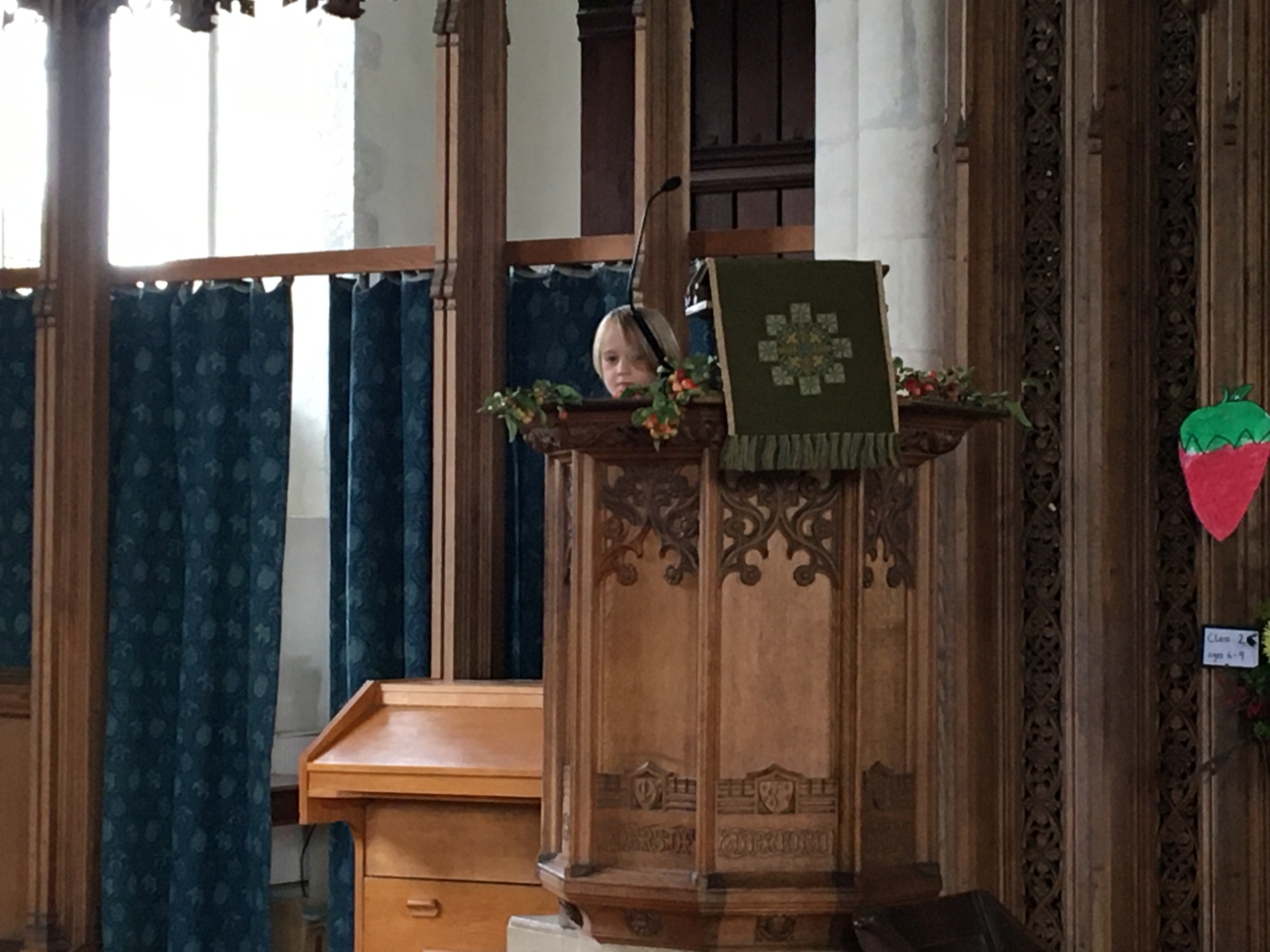 We were fantastic at spotting crosses and pictures of Jesus, and asked some very interesting questions about the secret doors and windows in the old part of the building.
Overall a super trip to enhance our RE learning! Thank you to Claire (George and Isla's mum) for coming with us!
Friday 18th September

Another busy week in Class 1 this week. We have been learning about Jack and the Beanstalk. We have created story maps and used the story maps to write our own stories. We also looked at an alternative version 'Jack and the baked beanstalk'. The children compared and contrasted this version with the original. Reception children have had lots of fun measuring with giants feet whilst the rest of the children have been busy counting in twos! The outdoor construction area has been very popular this week and a large number of the class have chosen to spend lots of their learning time here, making planes, boats and cars. Enjoy the sunshine.
Friday 11th September

We have had a great first full week in school and the children have already been incredibly busy bees. We have been thinking a lot about ourselves and our families this week and about what makes us all unique and special. We have been talking and writing about a time we remember whilst not at school and all children shared fun and positive memories. Class 1 have created houses and filled them with drawings of their favourite people and they used black pens to draw self portraits which have been made into a display for our wall (photo to follow). Phew what a busy week! Have a great weekend.
Friday 4th September

Welcome back to a brand new school year in Class 1 and a huge welcome to all of our new children and their families. We are so happy to have you all in the classroom again. All of the children are settling well and have enjoyed exploring our new learning areas over the past couple of days. Have a relaxing weekend.