Class 1 News Archive (pre 2020)
Friday 23rd October 2020

Well done everyone for making it to the end of your first half term in the new school year. Thank you for all of your hard work. We have certainly been busy bees over the past 8 weeks and you have really impressed us with your effort and attitude to learning. We have learnt about fairytales and autobiographies in Literacy and have even written our own. We have been learning place value and addition and subtraction in Maths. We have learnt about the seasons and weather in Science and Geography and even become weather forecasters using a script and props (videos to follow!) In Computing we have become experts in using Beebots and we have competed in virtual cross country and cricket events with other schools during PE! Phew what a lot of information has been learnt this term already. Have a fantastic, well-deserved half term holiday and come back rested and ready to learn in November.
Friday 18th September 2020

Another busy week in Class 1 this week. We have been learning about Jack and the Beanstalk. We have created story maps and used the story maps to write our own stories. We also looked at an alternative version 'Jack and the baked beanstalk'. The children compared and contrasted this version with the original. Reception children have had lots of fun measuring with giants feet whilst the rest of the children have been busy counting in twos! The outdoor construction area has been very popular this week and a large number of the class have chosen to spend lots of their learning time here, making planes, boats and cars. Enjoy the sunshine.
Friday 11th September 2020

We have had a great first full week in school and the children have already been incredibly busy bees. We have been thinking a lot about ourselves and our families this week and about what makes us all unique and special. We have been talking and writing about a time we remember whilst not at school and all children shared fun and positive memories. Class 1 have created houses and filled them with drawings of their favourite people and they used black pens to draw self portraits which have been made into a display for our wall (photo to follow). Phew what a busy week! Have a great weekend.
Friday 4th September 2020

Welcome back to a brand new school year in Class 1 and a huge welcome to all of our new children and their families. We are so happy to have you all in the classroom again. All of the children are settling well and have enjoyed exploring our new learning areas over the past couple of days. Have a relaxing weekend.
Thursday 16th April 2020

Good Afternoon Class 1 we miss seeing your cheeky, smiley faces every day. We hope you are enjoying a safe and restful Easter break. Most of our communication after the Easter holidays will be through Tapestry, the online learning journal. We have had a fantastic response from families so far and it has been wonderful to see all the amazing things you have been learning at home. If you haven't yet had the chance please upload regular observations and photographs to Tapestry and we will use these to support you and your children whilst learning at home.
We are very lucky within our class to have existing knowledge of using Tapestry for our youngest children so if you feel you could offer help please reach out to families who are not yet familiar with the platform and help us to stay as connected as possible throughout these challenging times.
If you have any comments, questions, queries or concerns please email us and we will get back to you as soon as possible. Stay safe and enjoy the rest of your Easter. Mrs Nicholls and Mrs Marriott
Friday 29th November 2019
Class 1 have been doing lots of writing practise this week. We have been enjoying reading 'The Adventures of Mr Toad' from Wind in the Willows. We have laughed at all the trouble he gets himself in and it inspired us to write our own adventures for Mr Toad. We created finger puppets and riverbank scenery to retell our tales and worked on our scissor control. Year 1 have been using planning frames to plan our stories before writing them and Reception children have been busy writing letters to Mr Toad. We are enjoying creating masterpieces at the messy table and writing notes to our friends so next week we will be looking at 'The Jolly Postman' to write some more letters and continue our literacy fairytale topic. We have also been singing our little hearts out whilst practising our Nativity songs! Have a great weekend.
Friday 8th November 2019

We have had a great time learning about and creating our own versions of fireworks. Class 1 have created chalk pictures and programmed the Beebots to create interesting patterns just like fireworks. We have been learning about how to give and follow detailed instructions including 'How to make a jam sandwich' and 'How to build a house for the Three Little Pigs'. In Maths Year 1 are working on learning their number bonds to 10 and 20 and in Reading they are learning to instantly recognise their rocket words to improve the fluency of their reading. Please help them to practise these skills at home. Reception children are learning to be more independent in all areas whilst at school so please regularly encourage and practise these skills at home.
Friday 4th October 2019

It has been another busy week in Class 1. We have been using the story 'Mr Gumpy's Outing' to learn our literacy and really enjoyed creating animal masks to act out the story in our role-play rowing boat. Reception children have been estimating amounts of objects in Maths and counting them carefully whilst Year 1 have been learning the symbols for 'greater than' and 'less than' we then made our own snappy crocodiles to help us remember! We have loved making even more noise whilst exploring different instruments and using them to create sound of different volumes. Phew! Have a great weekend.
Friday 20th September 2019

The children in Class 1 have had an exciting and jam-packed start to the school year and are all settling in well. This week we have been doing lots of learning about 'Goldilocks and the three bears'. We have read the story, retold the story, changed the story and written our own versions, including our own characters. In DT we have been helping Goldilocks to make it up to Baby Bear by creating a 'New chair for Baby Bear' using different types of construction materials.
Friday 10th May 2019
Well done to everyone who guessed our secret homework word this week. It was 'emergency', because we have been learning about hospitals. We have had lots of fun in our own role play area, which has been a hospital. We have also made our own skeletons.
We will see you at home time, when we will have a new secret word for you to guess.
Friday 3rd May 2019
Hello,
We have been trying really hard to use our secret word at home this week. Lots of people at home have been trying to guess what it was. Our word of the week last week was 'skeleton'. Well done if you guessed it correctly. We chose this word because we read 'Funny Bones' and the main characters are skeletons.
We have chosen a new word for this week. Please talk to us. Can you guess what our secret word is?
We are going to do some exploring to help make our learning fun now.
See you later,
Class 1
Friday 26th April 2019
Hello,
Today, Class 1 are writing their very first post on our class page, as part of their computing learning. We wanted to let you know about our secret homework.
Every week, we are going to have a special, secret word of the week. Our job is to use it as many times as we can when chatting to people at home. We will try to use it as much as possible, but we won't tell you the word, until you guess it correctly. It is secret because your job is to guess what it is.
We will write to you on here to tell you what the word of the week was every Friday.
Every Friday, we will have a new word starting from today.
We will write to you again next week.
We will see you all at 3 o'clock, at home-time today.
Friday 29th March 2019
As part of our learning this week, we have been reading the book 'Tom and the Island of Dinosaurs'. The children especially enjoyed the volcano and dinosaurs in the story. If you would like to read it and discuss the story at home, then please use the link below to access a video of the story.
https://www.youtube.com/watch?v=zD5eRBLvm9Y
As well as writing letters to the characters in the book, the children also all made a story map in pairs, which they used to retell the story. THe children worked well together and managed to include some story language, like 'one day'.
Do you recognise any of the parts of the story in this story map?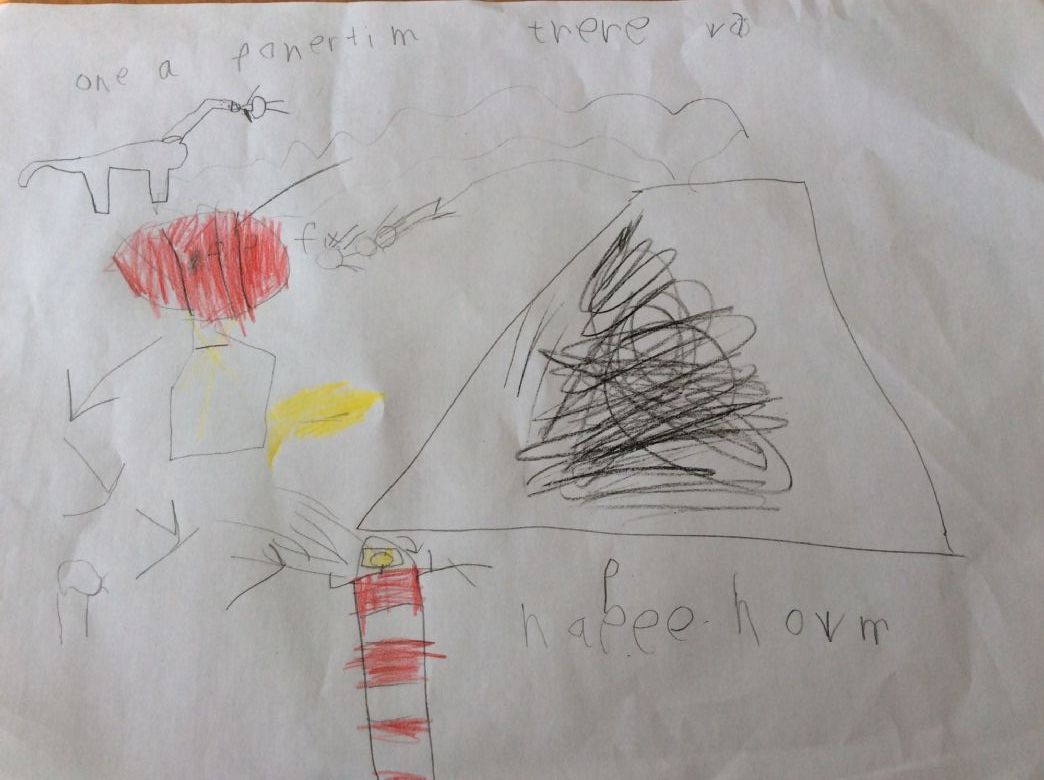 Friday 22nd March 2019
This week, the children have chosen to set up a cafe. They have chosen everything from what it sells and the prices, to the name of the cafe (The Hungry Monster). Children have really enjoyed exploring in it and have been using some great mathematical language relating to money. Some children have also been recognising coins and working out how to buy items.
'That's 20p please,' asked Millie.
Lily then looked around the classroom for a 20p piece and brought it back to pay for it.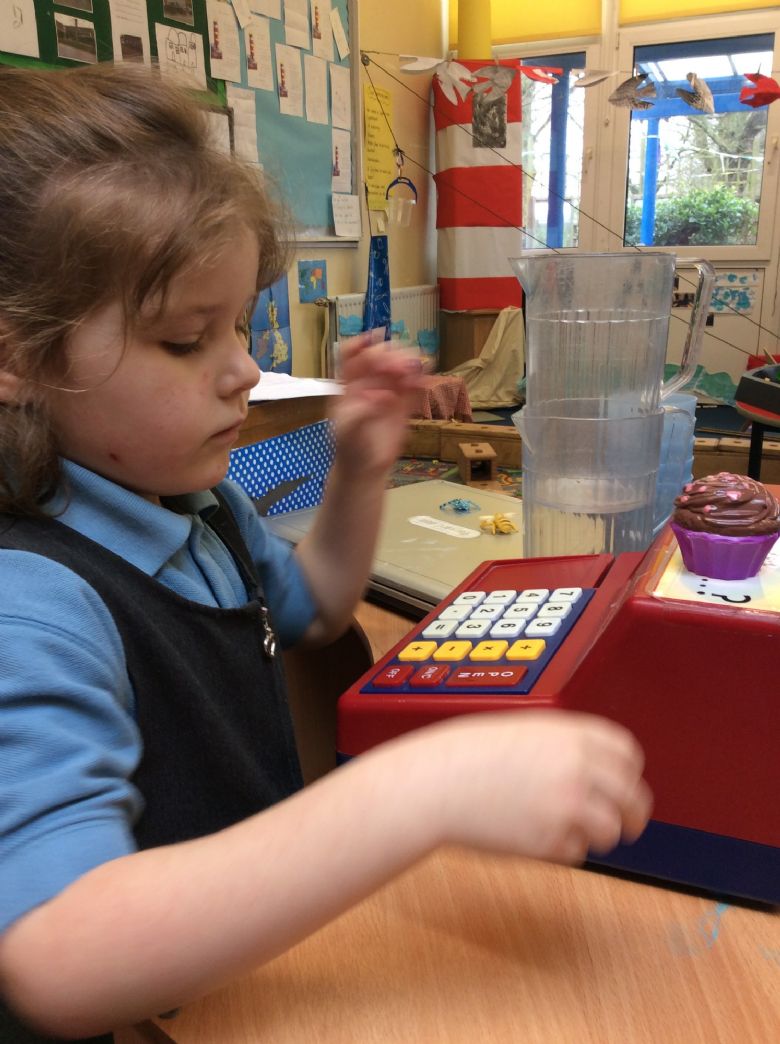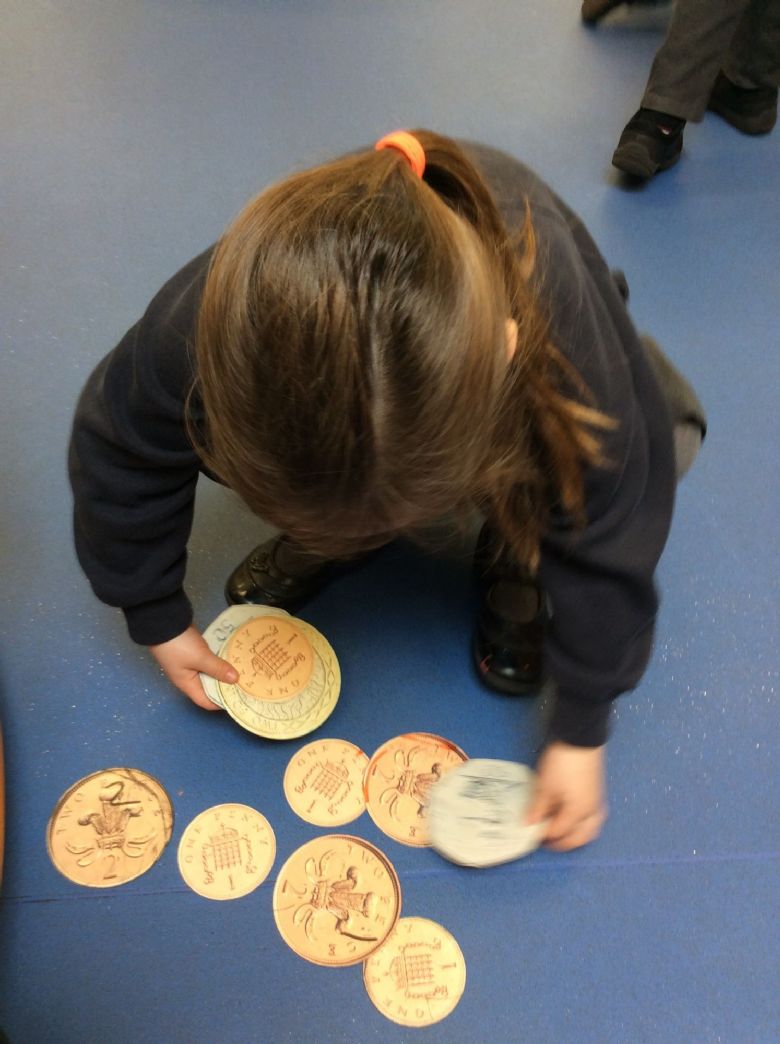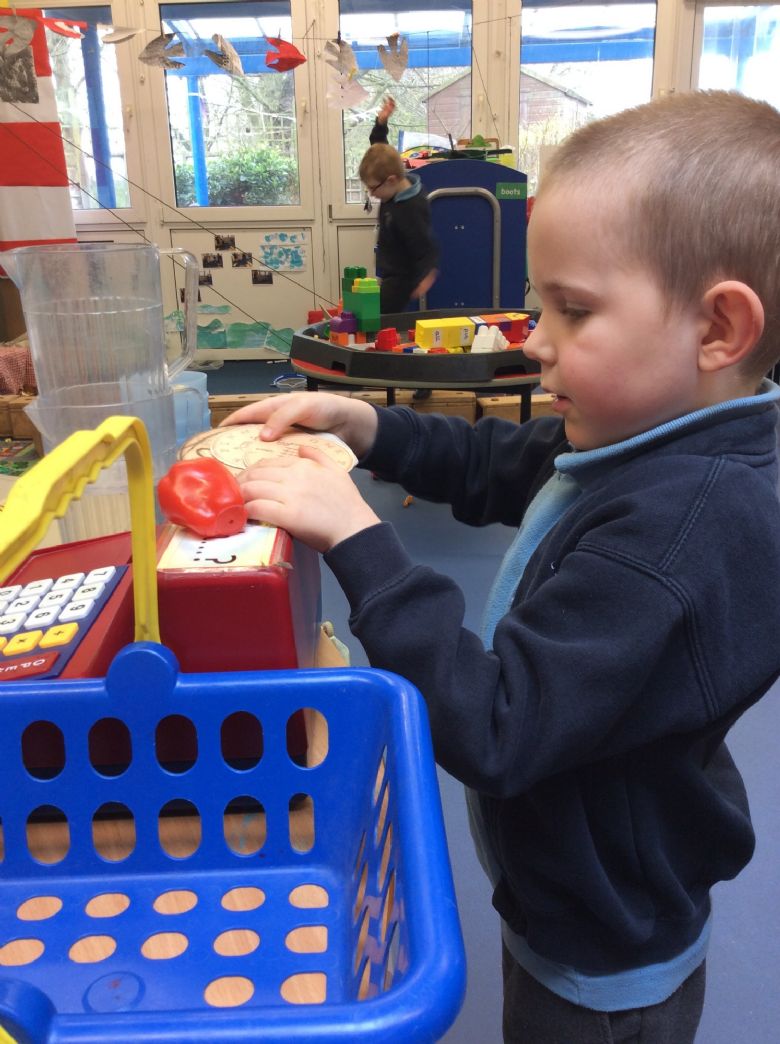 Friday 15th March 2019
We have had a wonderful and inspiring Science Week!
The children have all enjoyed experiments both within our class and as a whole school. They developed their scientific thinking skills and thought carefully about how to make adaptations to design and choose appropriate materials.
As a class, we did two investigations to solve problems.
Boat Design
The children were given a range of materials and had to design a boat with the aim of transporting three people across some water. They thought carefully about which materials to select and were very reflective and honest about the outcome of their design when we tested them in our water tray.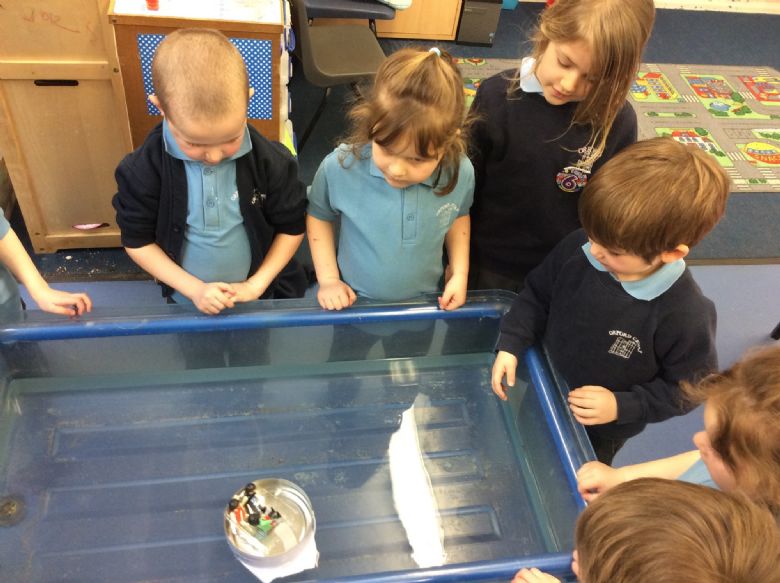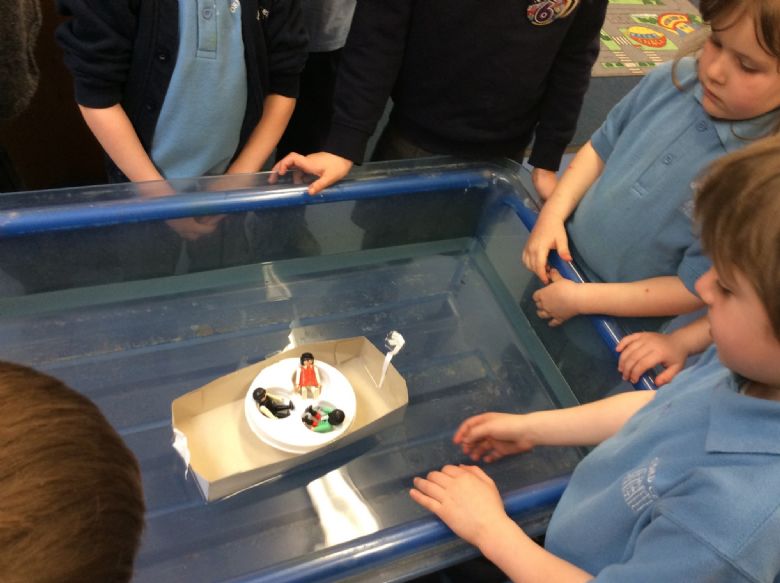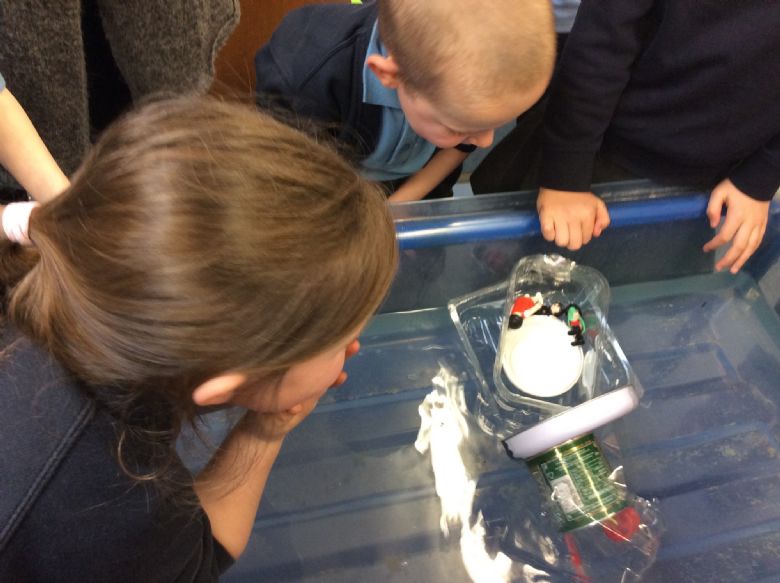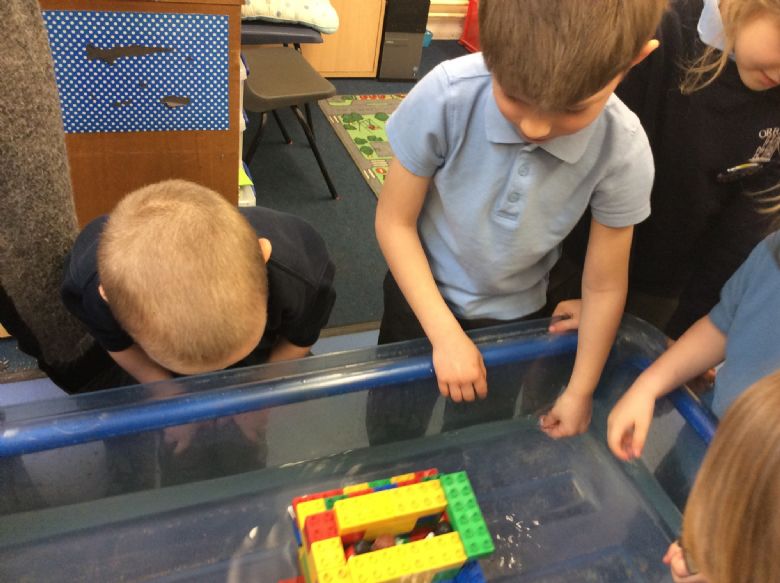 Making a Pulley System
After reading 'The Lighthouse Keeper's Lunch', the children were inspired by the pulley system that Mrs Grindling used to get Mr Grindling's lunch across to the lighthouse. They were given the aim of creating their own pulley systems that would transport food safely. The children showed great problem solving skills when they needed to make adaptations to their design in order to make it work.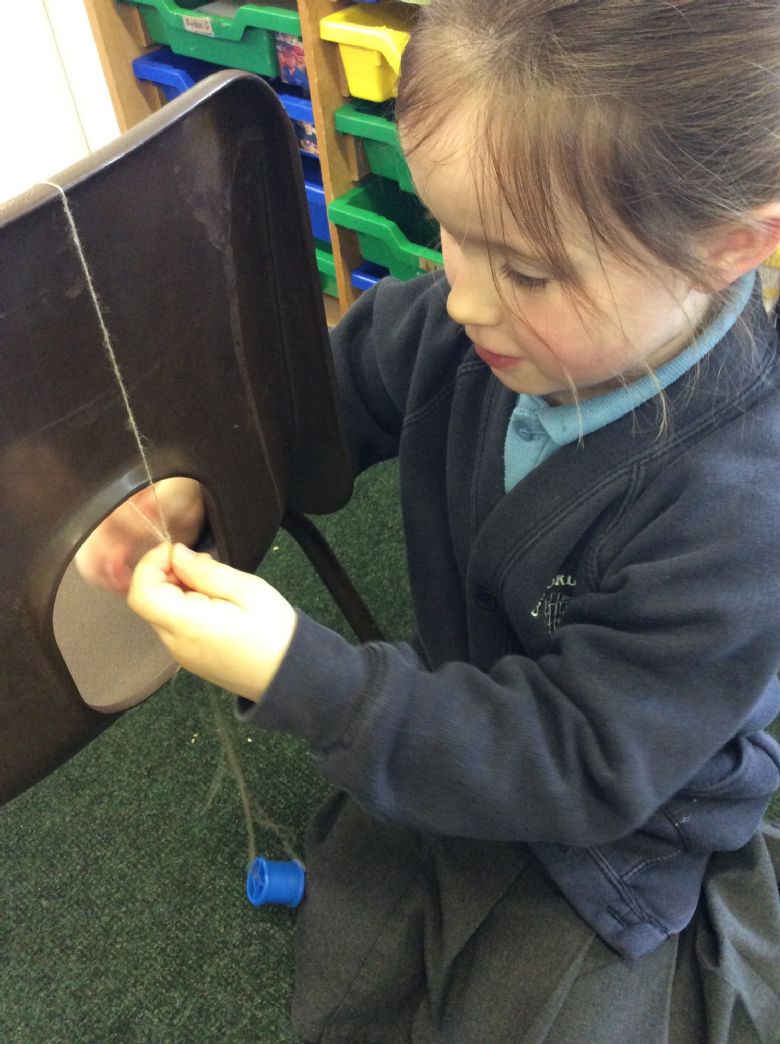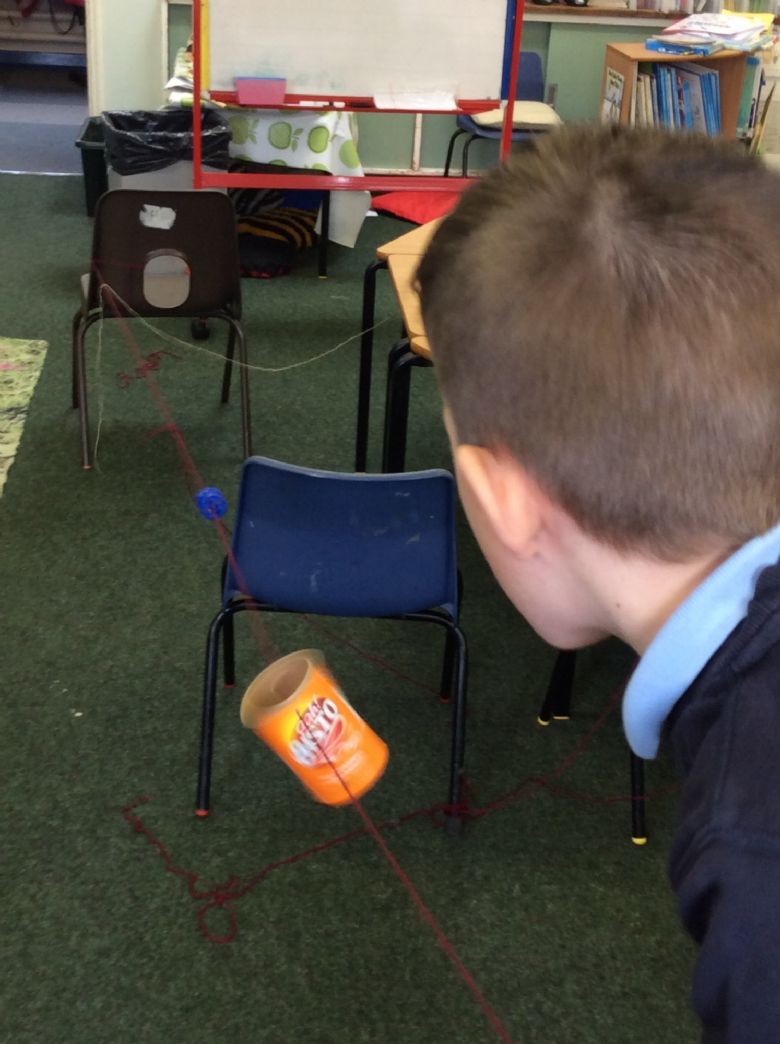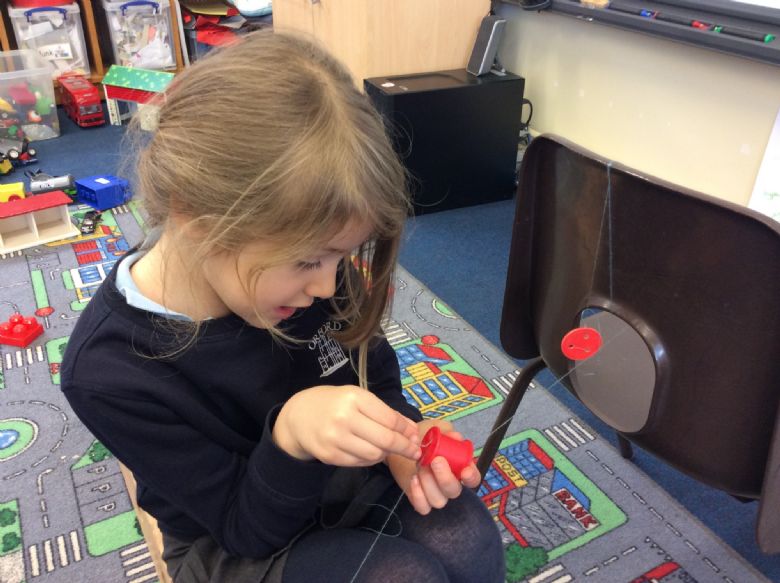 Thursday 28th February 2019
Our maths focus this week has been all about time. So far, we have learnt all about naming and writing the days of the week and months of the year. To help us recall the months of the year, we played 'What's the Time Mr Wolf?', but with the months of the year rather than hours. After a few tries, the children became much more confident at saying the months of the year as they stepped forward towards Mr Wolf.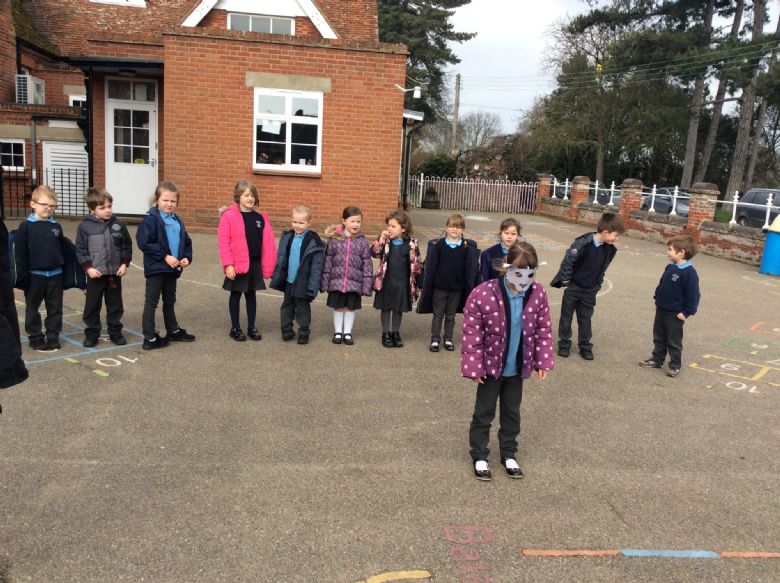 We also started to think about the different things that we do in different months. Why not discuss what you do as a family in different months at home? You could talk about special celebrations.
Friday 8th February 2019
Following on from children using their design skills last week, today, Year 1 started making textile representations of different buildings in Orford. They explored the textures and colours of different fabrics and made design choices about which would be most suitable for different elements of their image. They will finish them off next week and evaluate them against their design, to see if they can make any improvements.
Do you recognise any of these buildings?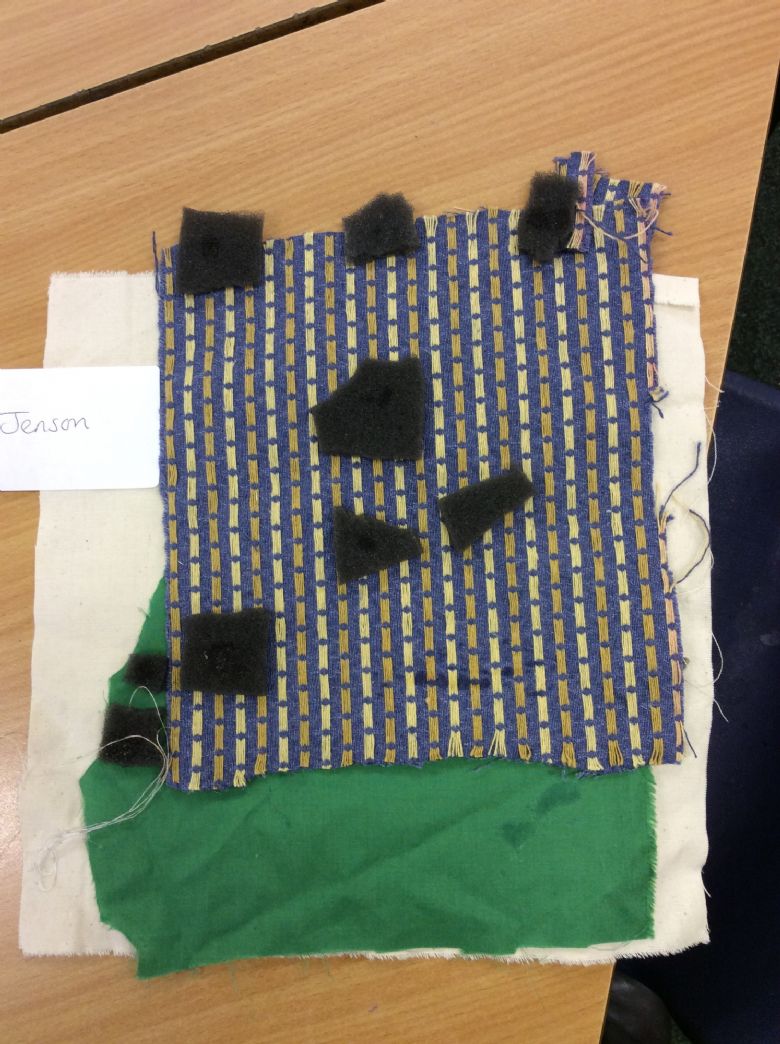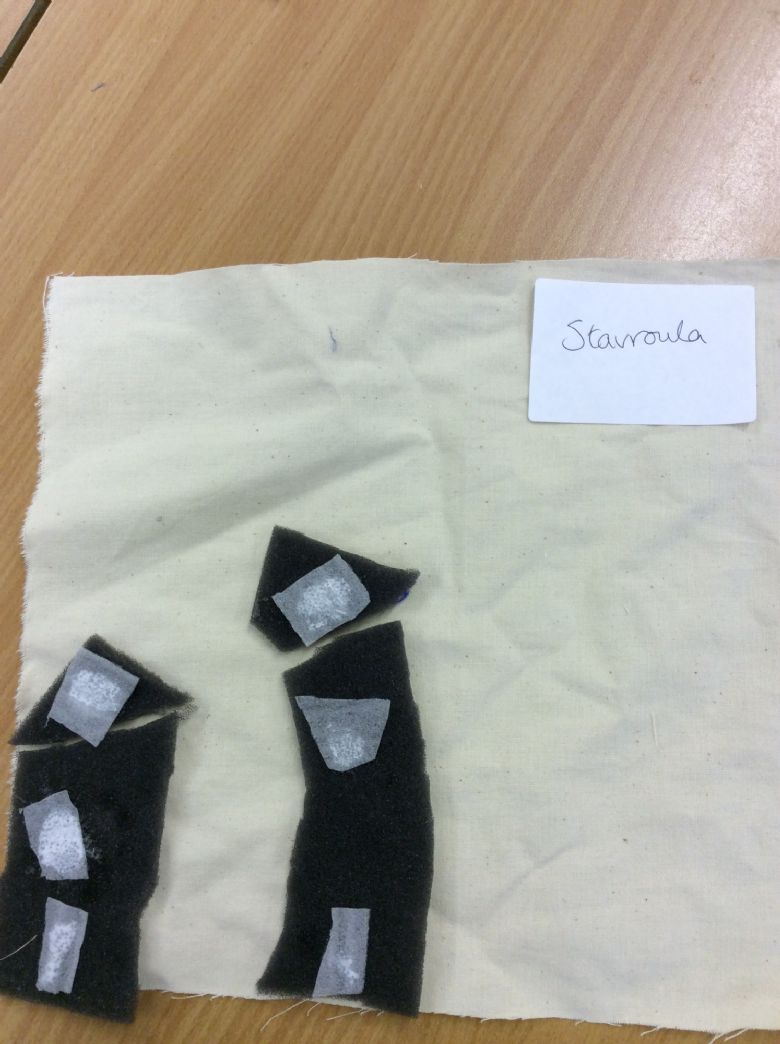 Friday 1st February 2019
This week, children in Class 1 have been learning about capacity in maths; they have been using words like 'empty', 'full' and 'half full' to describe amounts and have been experimenting with different ways to measure capacity. We used our counting skills to count how many scoops of sand fitted into different containers.
'We need to put something in it' (to measure capacity) - Lily
Today, children in reception applied their skills by making play-dough, ensuring that they were measuring accurately. This also helped to develop their fine motor skills, as they had to kneed it to make it soft and silky.
Friday 25th January 2019
As part of our art learning this half term, we have been studying the work of Andy Goldsworthy. This afternoon, we spent some time looking at his sculptures and discussing them.
'I like that the snow will disappear' - Alexander
'I don't like the round hole because we don't know what is inside' - Jasmine
'It looks like a snake' - Phillip
Using inspiration from Andy Goldsworthy, the children then went outside and collected natural materials to use to make their own sculptures. Here are some of our pieces.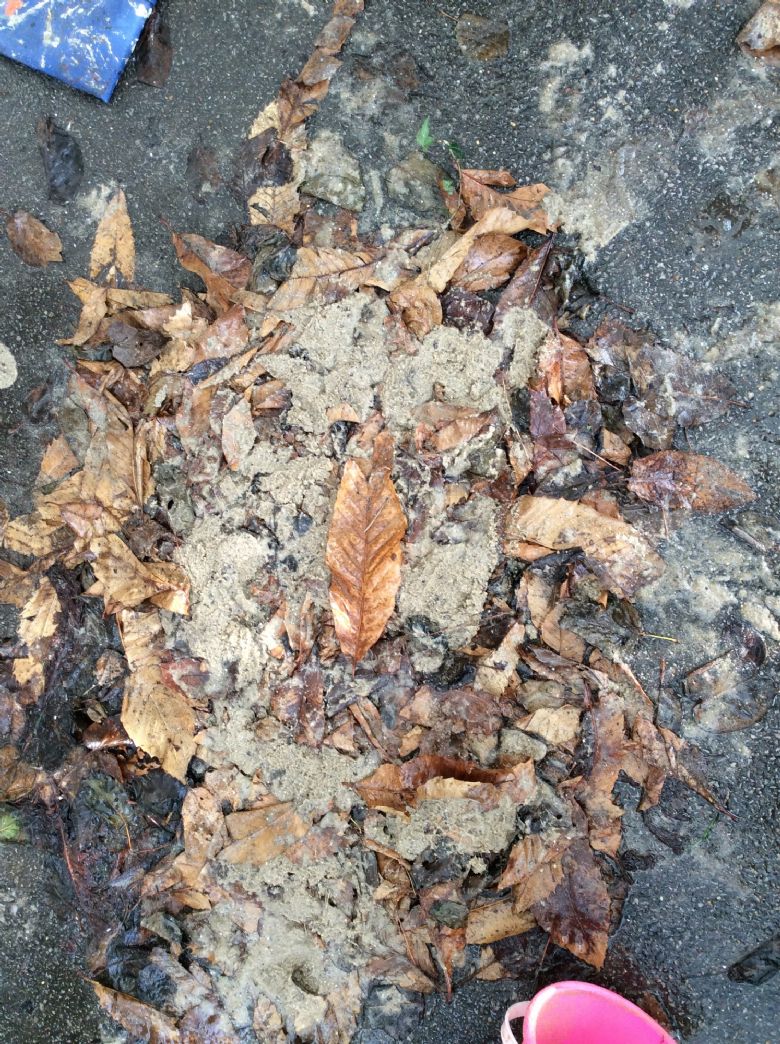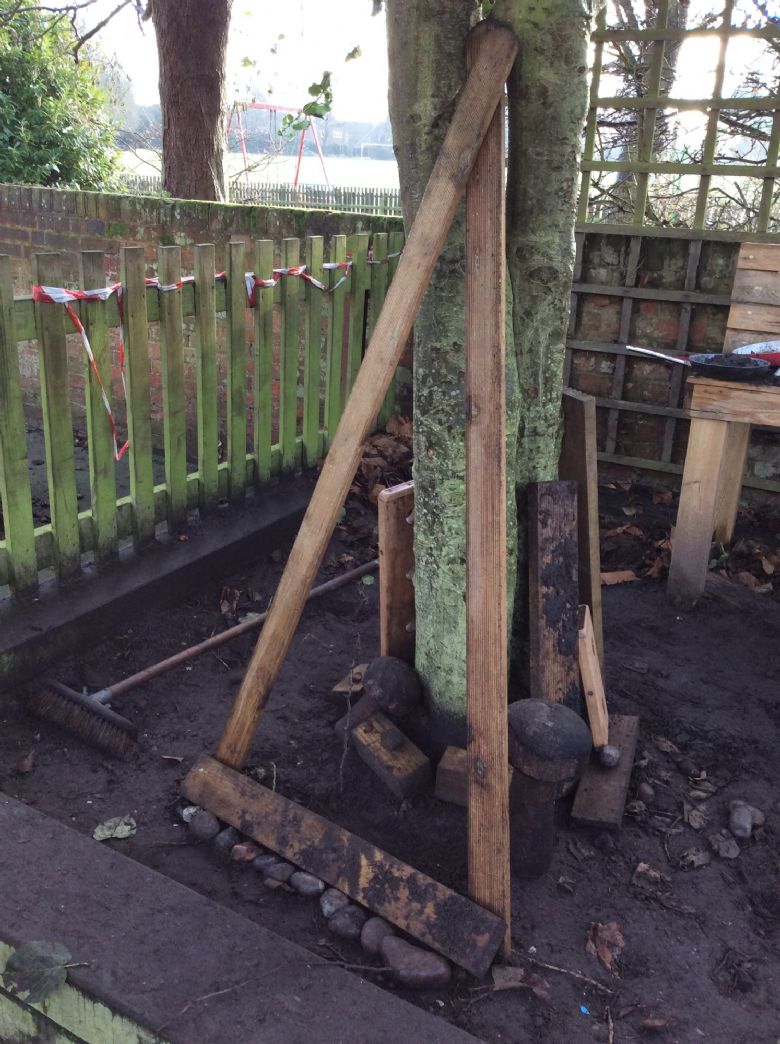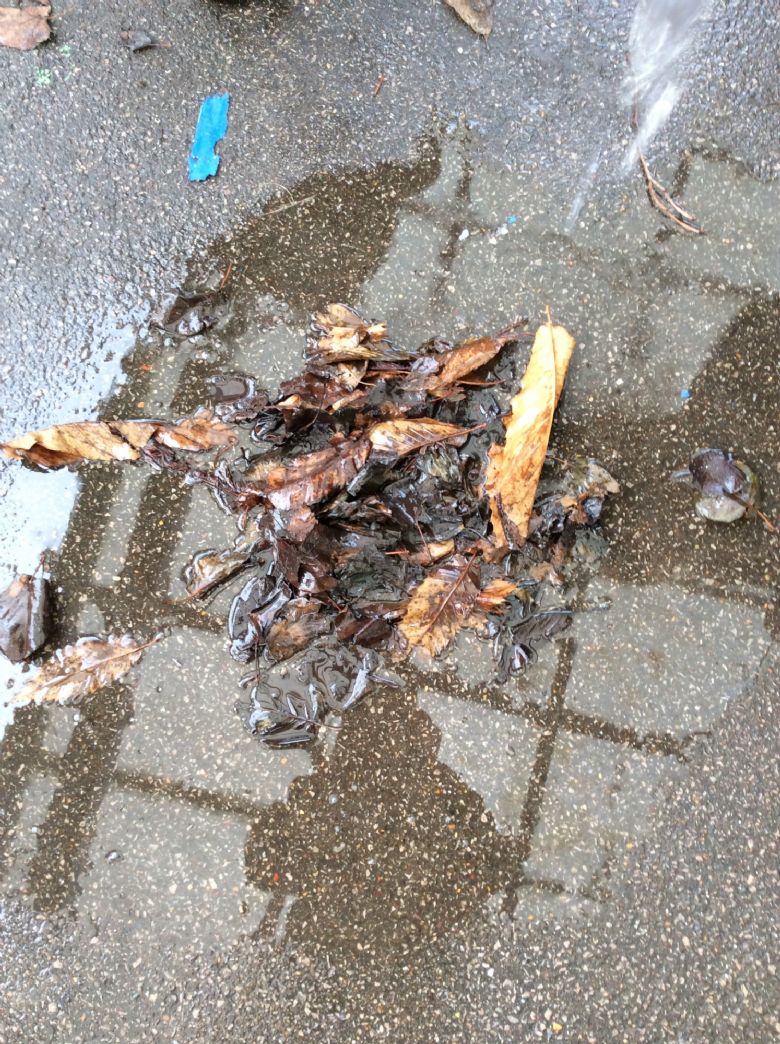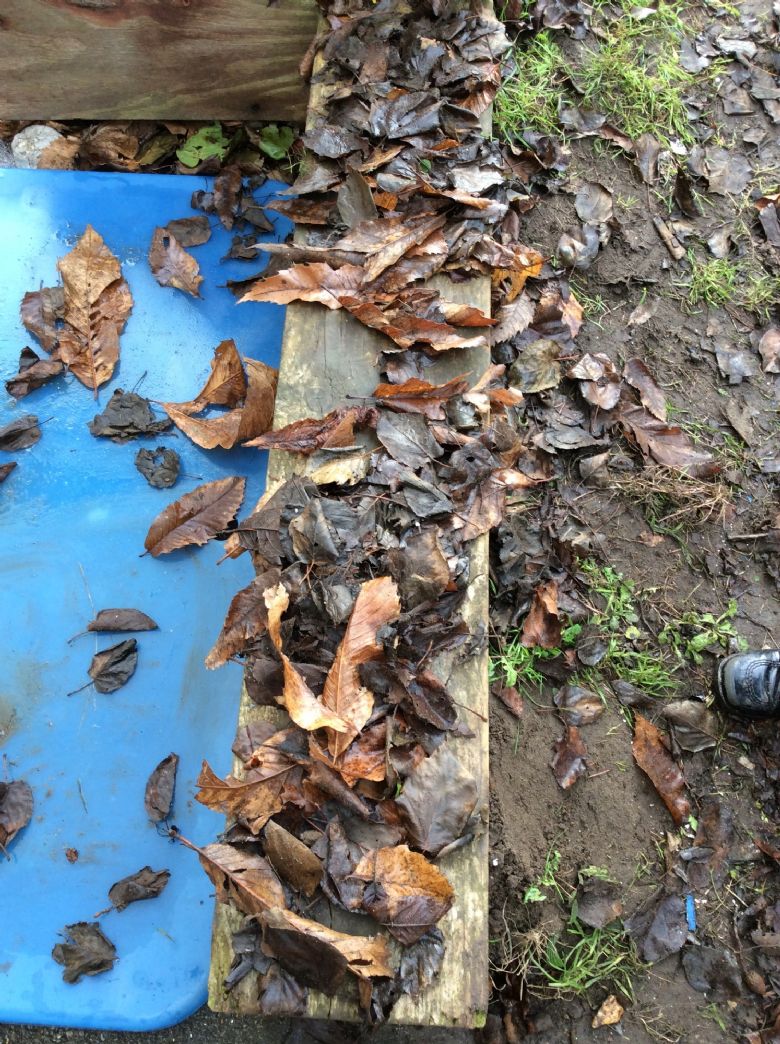 We are looking forward to our next frosty morning, so that we can create some more art that will disappear.
Thursday 17th January 2019
This week, the children have enjoyed learning in role as architects. Today, they were set a challenge by their first client, who had certain requirements about the dimensions of their house. The children used Lego to build models of the house and applied their knowledge about measure and their skills of using a ruler accurately to ensure that that their models met the brief. They also had to use their number knowledge and understanding of the terms 'more than' and 'less than',
Here are some pictures of the architects at work.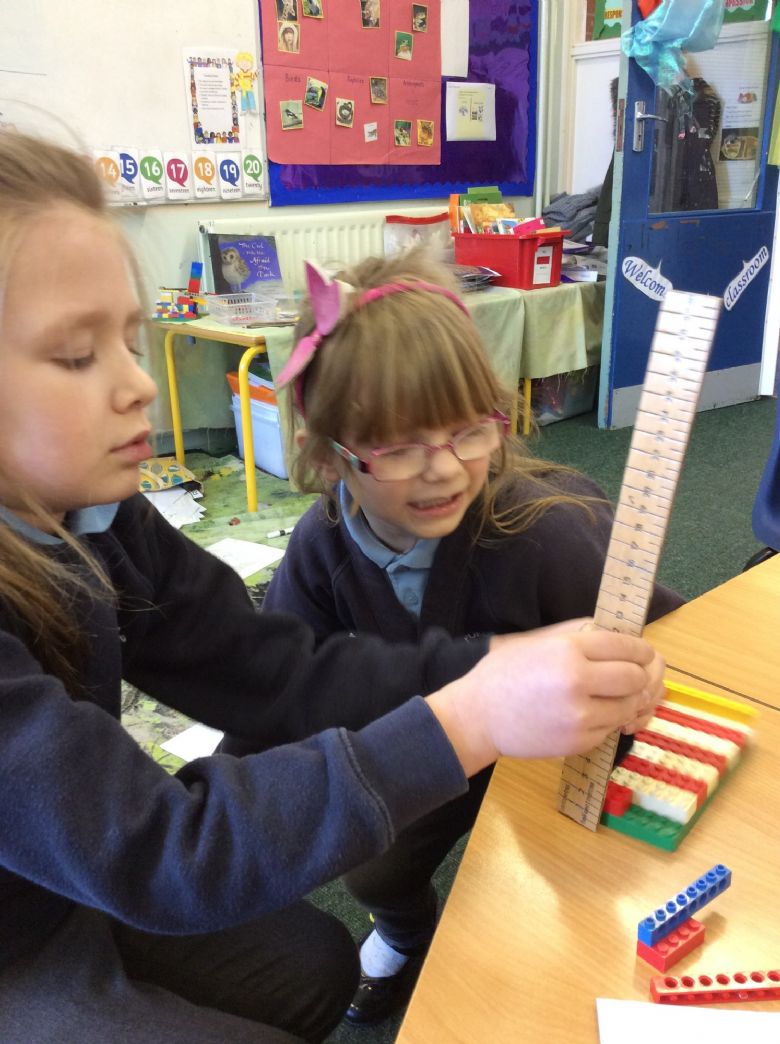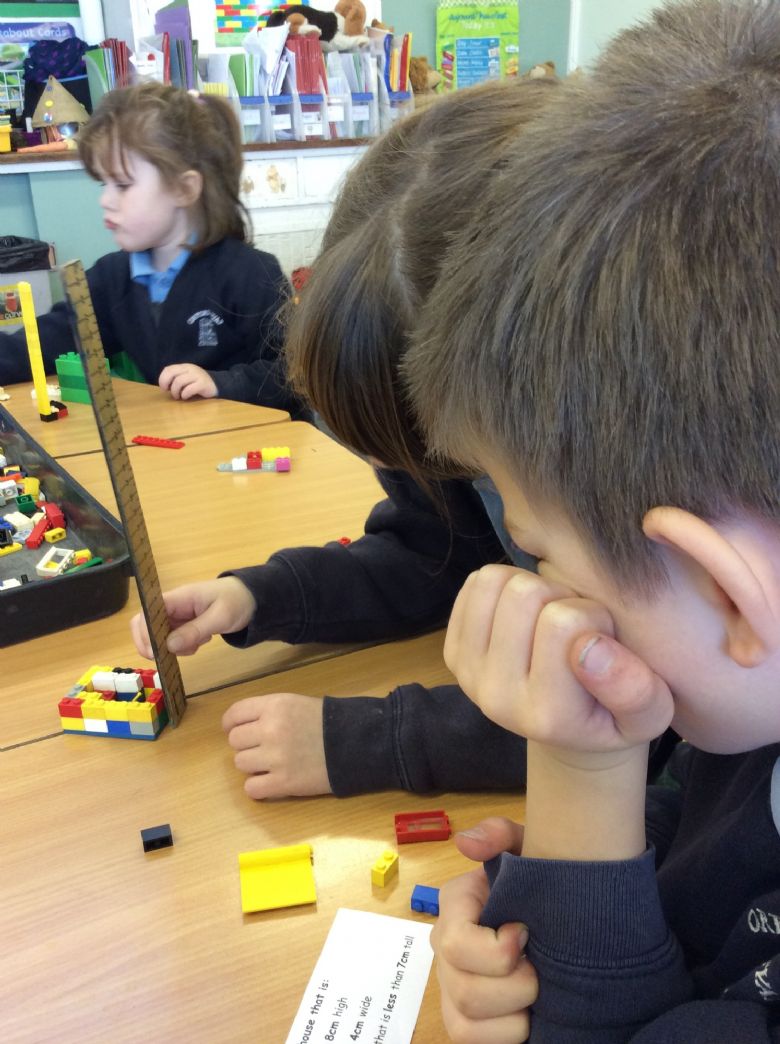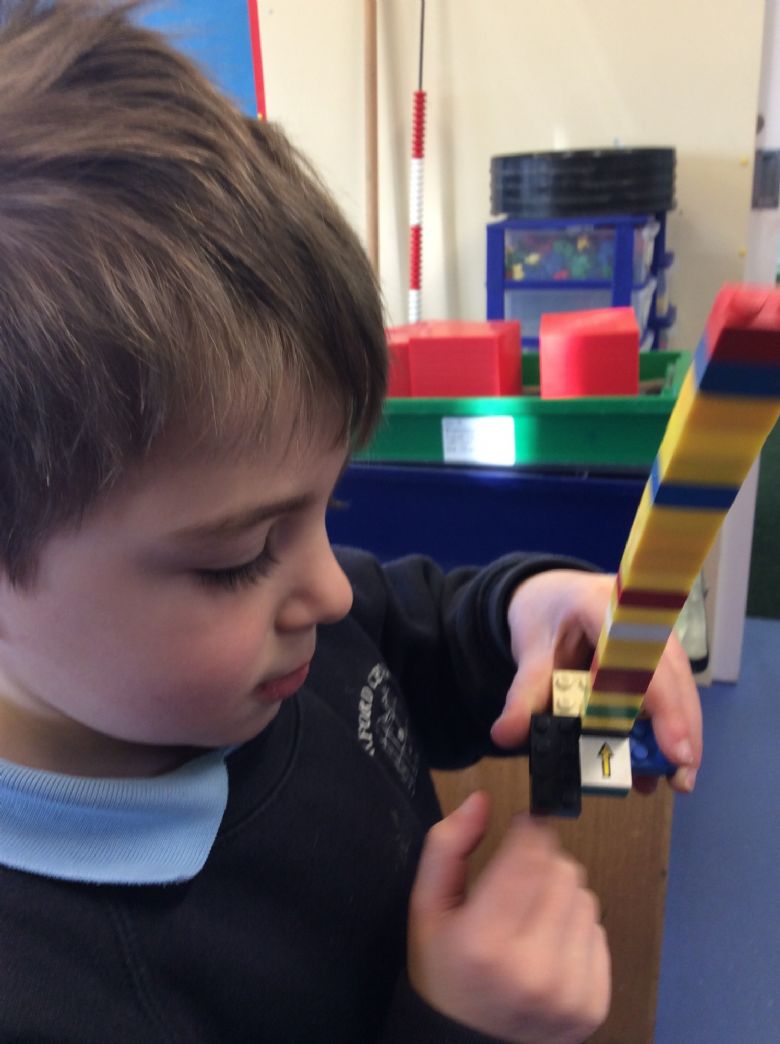 Thursday 10th January 2019
Welcome back to school!
This term, we have been challenged by Class 2 to design a home in Orford for people new to the area. As Architects, we will need to develop lots of skills, such as fieldwork, accurate drawing and creativity, as well as improving our knowledge about the local environment. We are really excited by the challenge.
Today, we went out on a walk around parts of Orford to observe and discuss buildings that are already here. Some of the buildings were lived in, and some were not, and some were old, some were new and some were even being updated and having new parts added to them.
Thursday 13th December
Today, the children in Class 1 did their first Big Write session. This writing hopes to support the children to enjoy their writing and to celebrate the successes and achievements that they have made so far this year. It felt very festive in class, as we listened to carols whilst writing the Christmas story. It was made into more of an occasion by using special pencils and golden paper.
The children all did really well showing off their skills and I am sure that once they have finished the important editing stage tomorrow, their stories will be magical.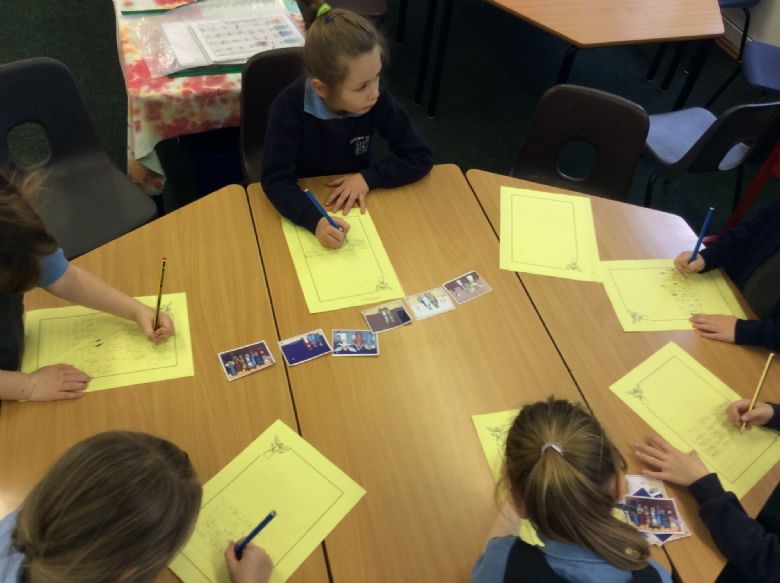 Thursday 29th November
The children across Class 1 have been working really hard on their phonics learning.
Year 1 have been applying their phonics skills to writing a diary in role as an astronaut and revising some of the phonemes that they have found more challenging. They have also been playing games with high frequency words to help them to learn to read and write them - look out for our new rocket word display, which will help them include these skills in their writing even more. Please remember to practise these at home regularly.
It's an exciting time for reception children, as some children are starting to read and write for the first time. Today, children used play-dough to make some of the phonemes that they have been learning and were also able to link them to words.
'T is for Tuesday' - Libby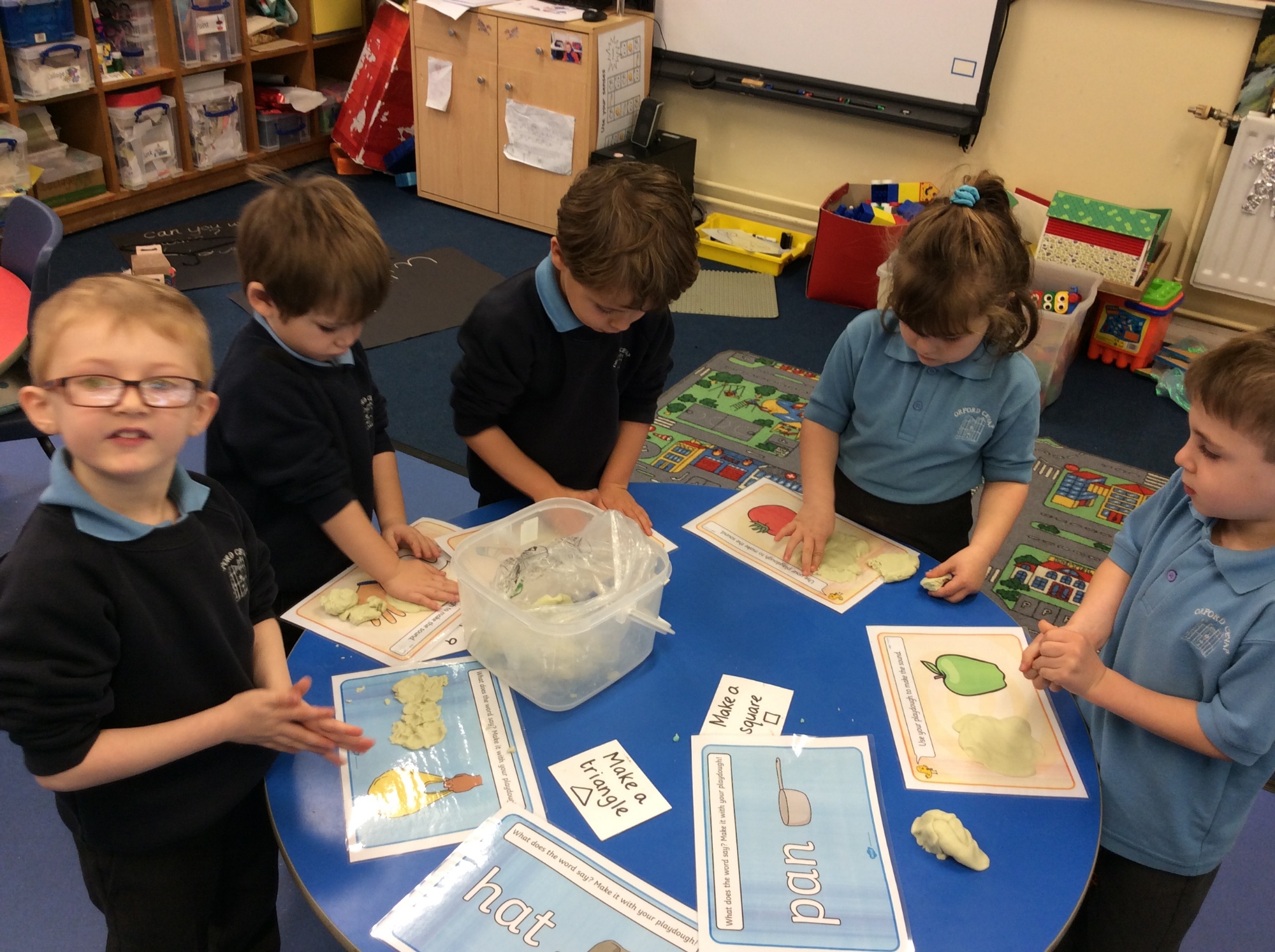 Tuesday 13th November
It was a lovely sunny morning for our Forest School adventures. The children spent a lot of time exploring the Forest School area, bug hunting, bird watching and shelter building. The highlight of the morning for most of the children was learning how to use a hand drill.
Friday 9th November
This afternoon, class 1 took part in some activities for Remembrance Day. Please click here (or go to Class 2's page) to see the write up.
Friday 5th October

Yesterday was National Poetry Day. We celebrated in Class 1 by exploring the poem 'Pants' by Giles Andreae and Nick Sharratt. We found the video really entertaining and then thought about which adjectives we could use to make our own funny poem. Year 1 made mind maps of different adjectives, while reception designed their own pants and described them. We wrote our own class poem, inspired by 'Pants' and then shared it in assembly today. We were pleased that other people were entertained by our poem too.
Class 1's Poem:
Pants
Sparkly pants,
Space pants,
Frillly bunny pants,
Princess pants,
Shape pants,
Money patterned funnier pants,
Clippy pants,
Robot pants,
Disco pants,
Light up pants and starry pants.
Here is a link to the original poem:
Friday 14th September

Today, Class 1 visited our school library to explore the books there. All of the children enjoyed browsing through the wide selection of books that we have and found texts that interested them. We know how important reading can be in supporting different areas of learning, so it is great that the children are developing their love of books.
"I like the words in my book," Zac.
"Curl up in your favourite chair," Libby.
All children in Class 1 have a reading book and reading record to take home; it is important that they read as often as possible at home with an adult - ideally every day. When you read at home with your child, please log it in their reading record. Both their reading book and reading record should be in school every day. Together, we look forwards to supporting Class 1 to explore and develop their love of reading.