Class 2 Archive (pre 2020)
Autumn 2020

11th September
We have had such a fantastic first week back, everybody has worked super hard and we've made a great start to our year of learning together. Take a look at our new display - we're on here with one of our ambitions for the end of this academic year and there is such a wide range, from getting pen licences to using the computer more to being better at sport! Homework and instructions were sent home today and is due on Monday. I know that's a tight turnaround but we need to allow time for the books to be cleaned before they're marked. Thank you for your support with this!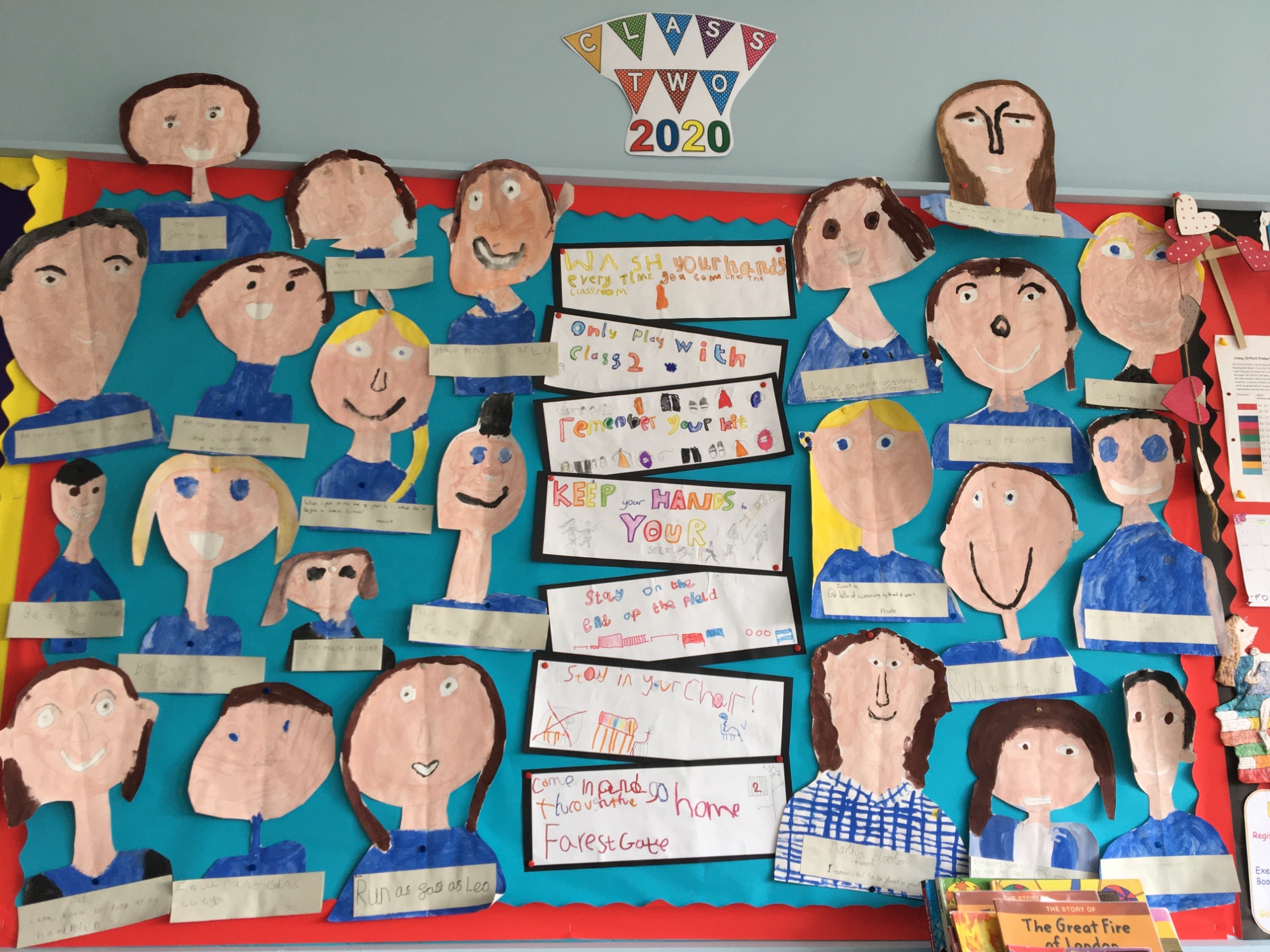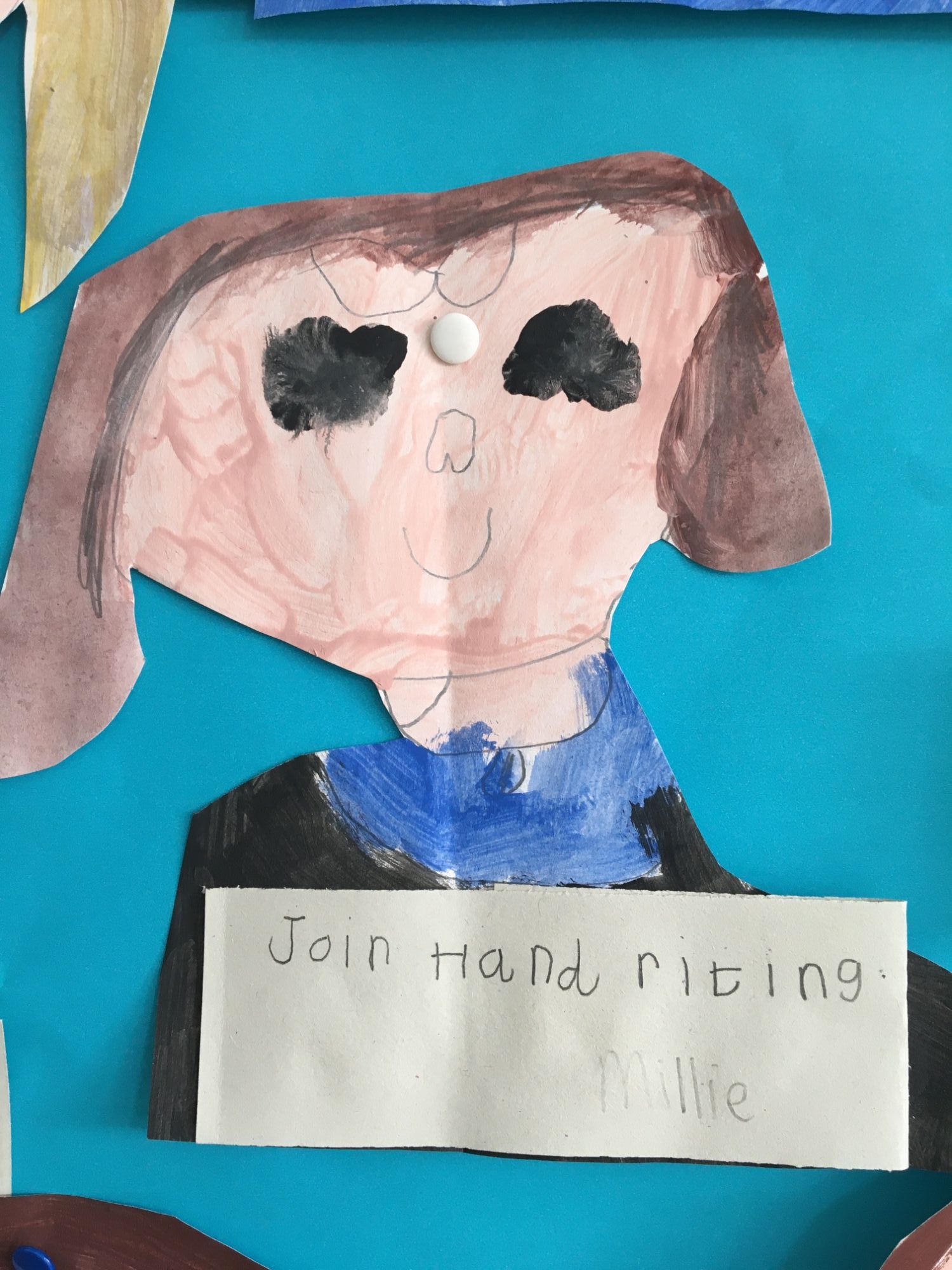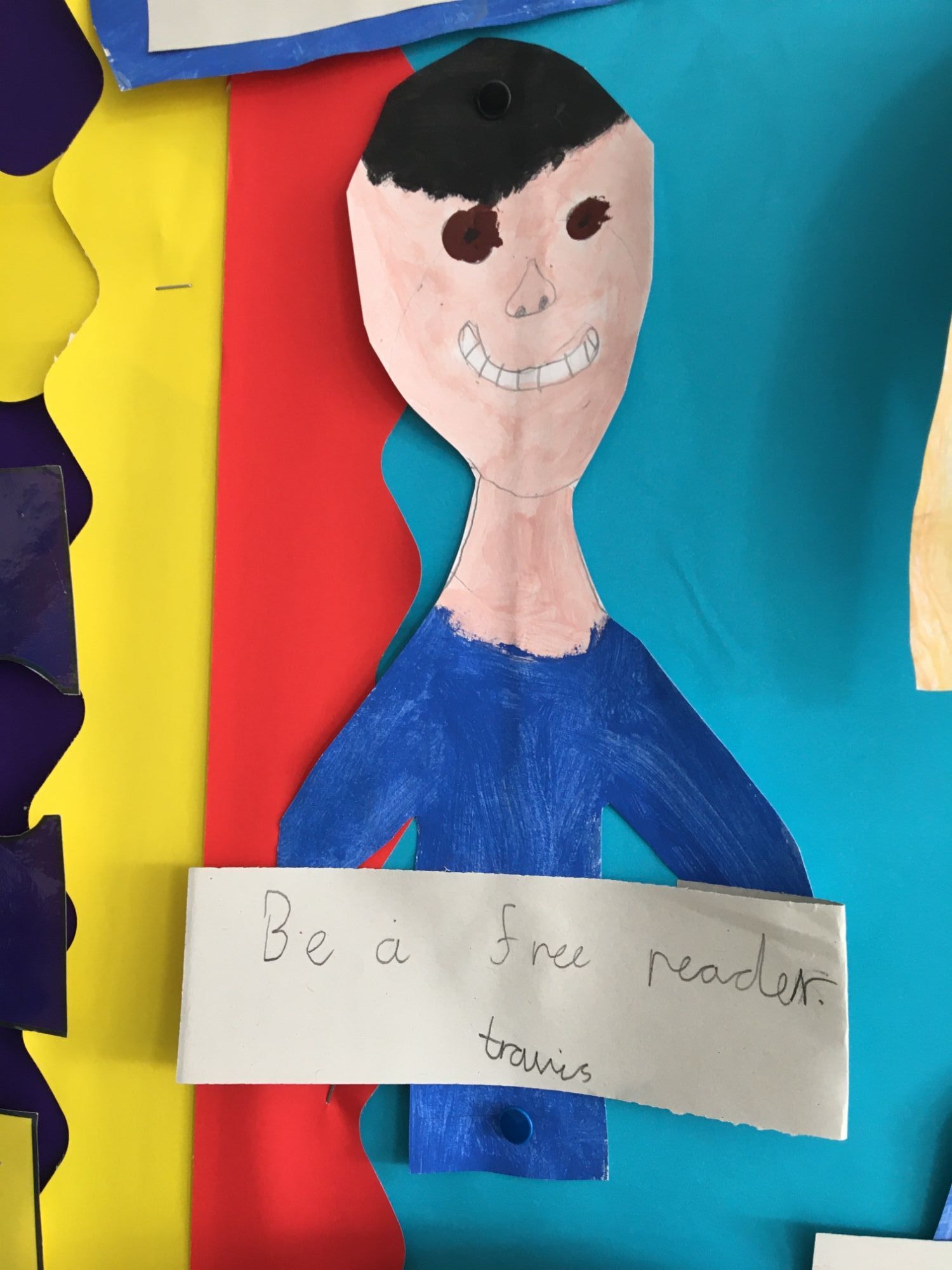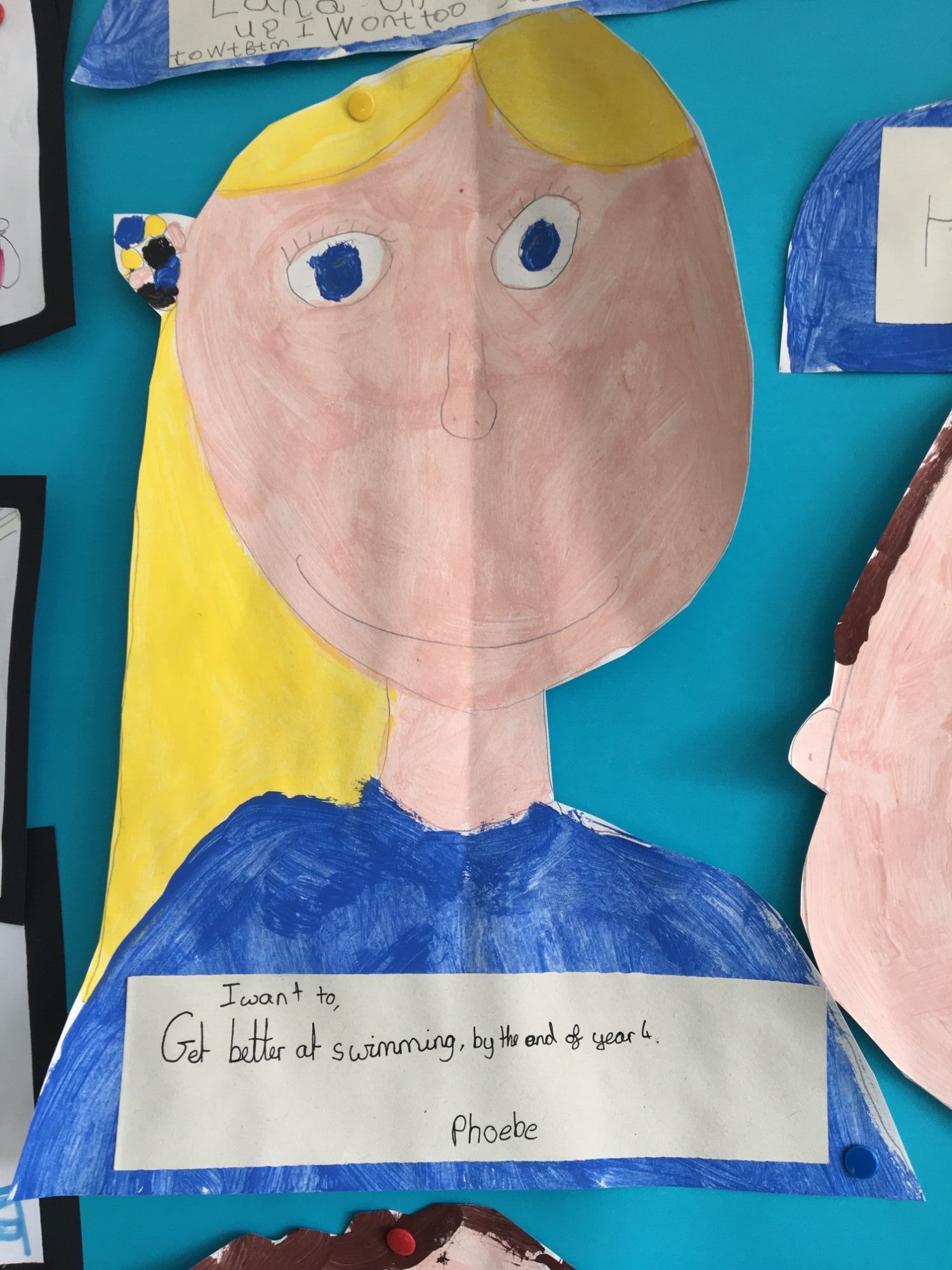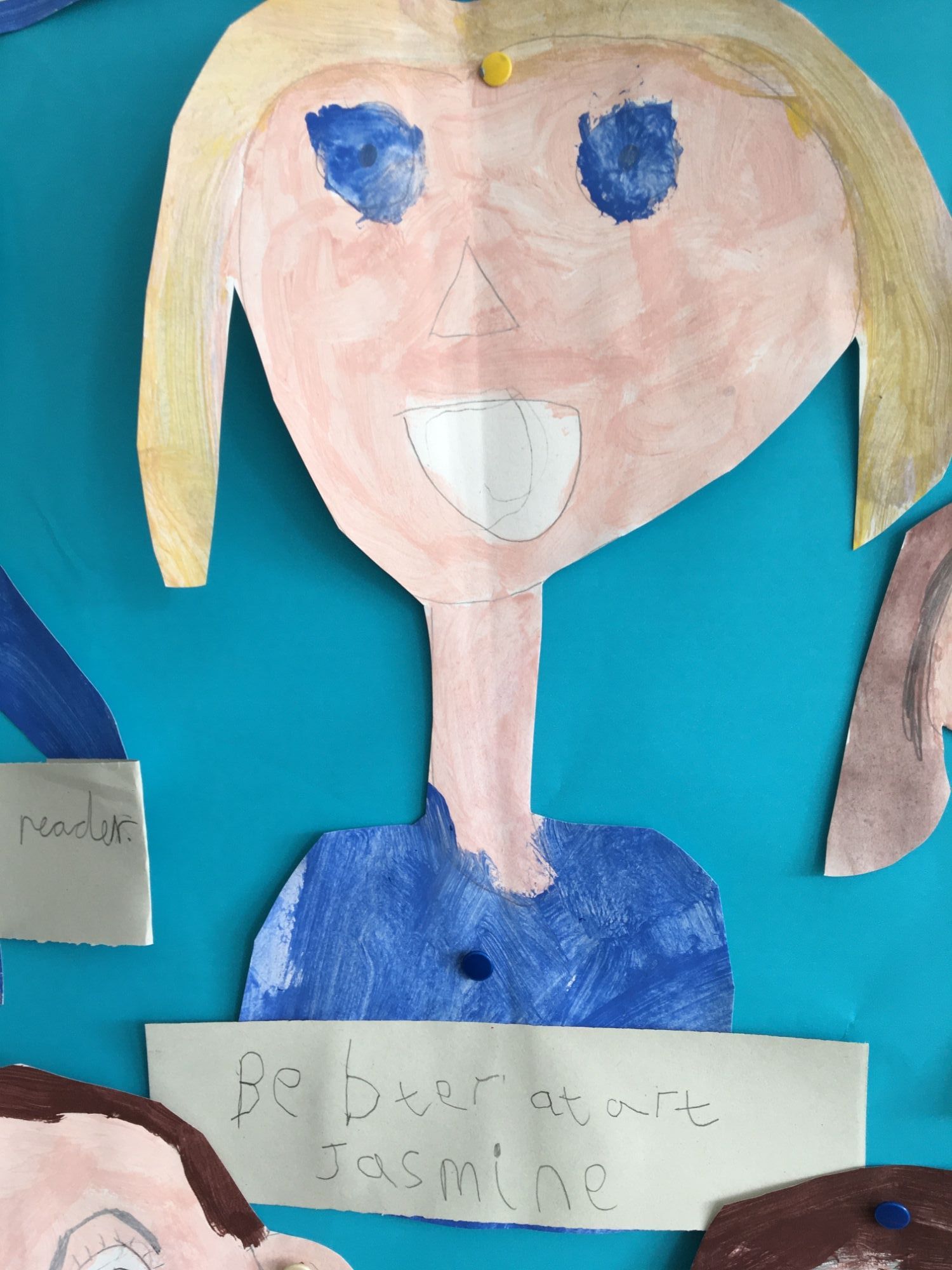 3rd September
Welcome back class 2! We have had a great first day back, but it has been very busy! If the conversation is not naturally flowing at home, here are some questions to ask your child about today:
Which colour table are you sat on this year? Do you remember who sits with you?
How did you decorate your tray?
Tell me where (and what?) you played at lunchtime
What's the new 'Chill Out' table?
Please look on the "curriculum overview" page to see the letter about our learning this term, it includes an important notices section - it is imperative you read this.
As ever, if you have any questions please feel free to email or ask at the end of the school day outside the gate. At the moment due to social distancing measures it is not possible to take face to face queries first thing in the morning.
Science Week 2020
Please see the main news page for all updates, but here is the video of our parents workshop:
Spring 2020

12th march
Today, we looked at the work of Henri Matisse and in particular his 'Jazz' pieces. We had a go at recreating our own positive and negative images... how cool do they look?!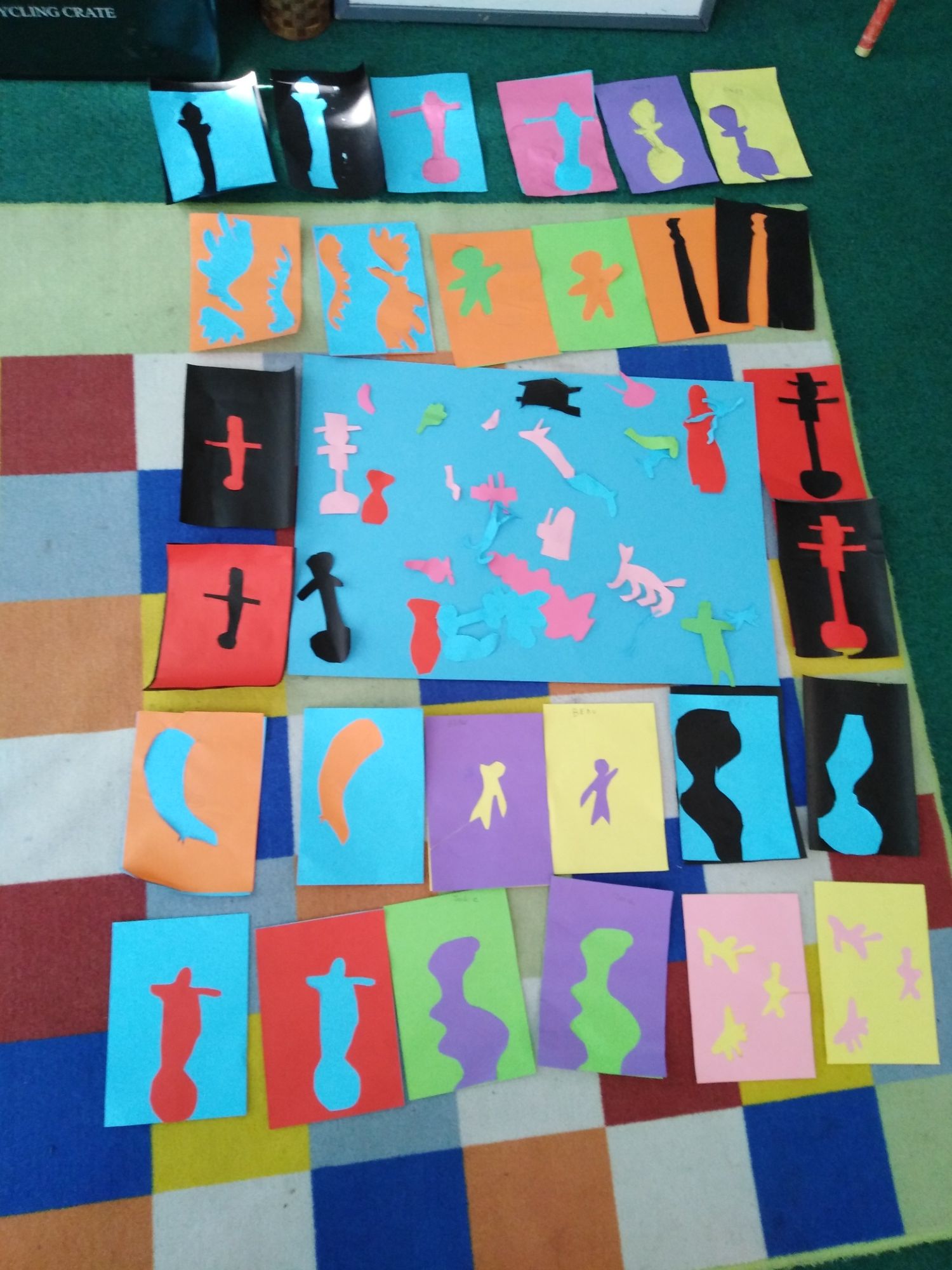 28th February
We have had a very busy first week back at school, but most excitingly, our Suffolk Farming School competition model is coming together. The hive is completely constructed, painted and labelled and we have constructed our bee, which is now waiting to be papier mache-ed and painted. If you are in/around school for some of the world book day events next week, please come down and have a look.
13th February
Another day, and another surprise! Today, we had a visit (again linked to the Suffolk Farming Schools events) from Farmer Tim - Bella's dad! He brought his tractor in and spoke to all the children about the crops grown around the village and how the tractor helps with this process. Please click on 'photos around our school' under the home tab to see all that we got up to. One of our whole class photos should appear in the East Anglian Daily Times tomorrow - keep eyes peeled!!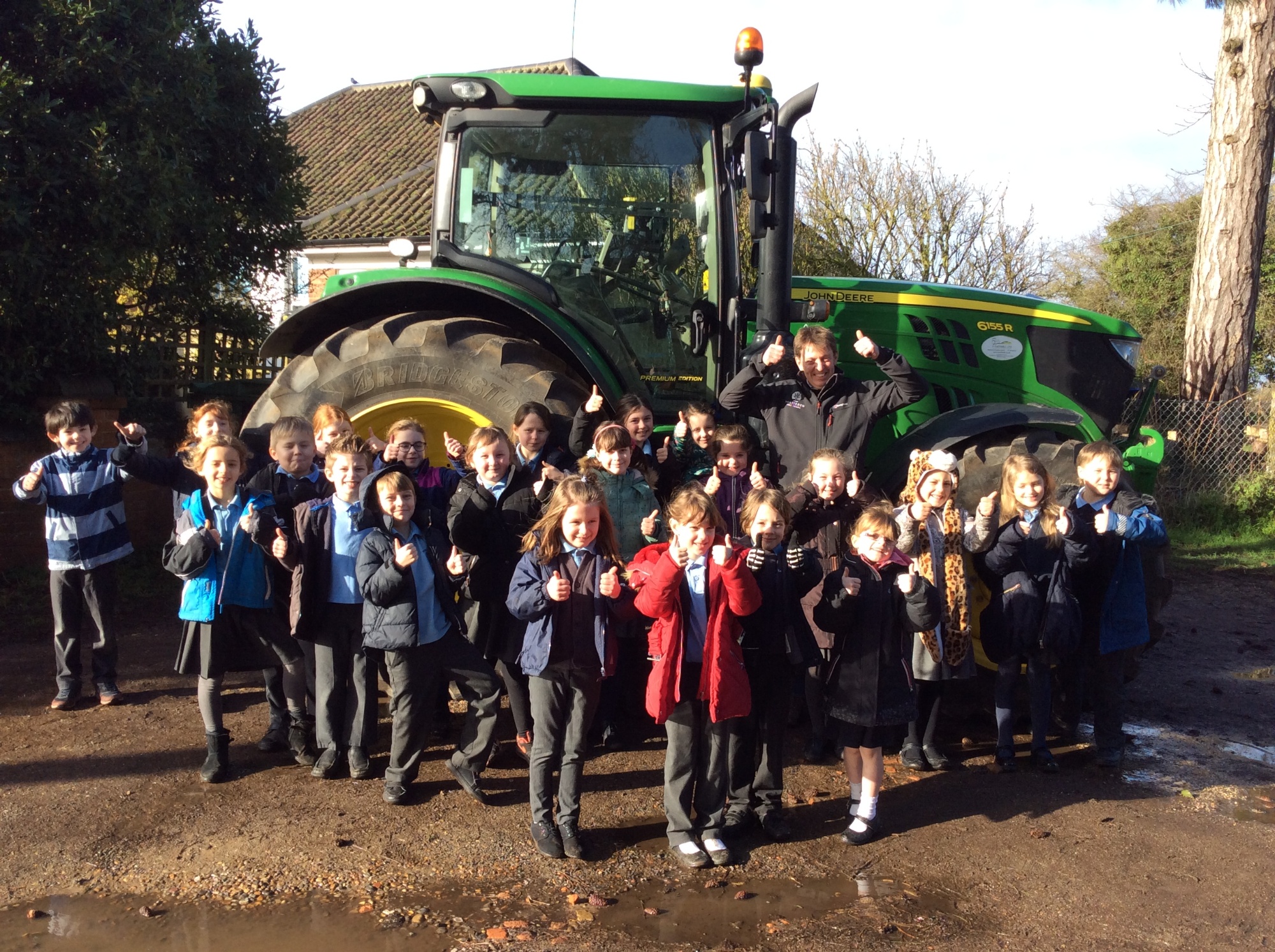 11th February
Today was national safer internet day. We had a really interesting quiz in class where we had to guess if these people really were who they said they were, and whether it would be ok to add them as friends or allow them to join in our online games. Some were really tricky, for example: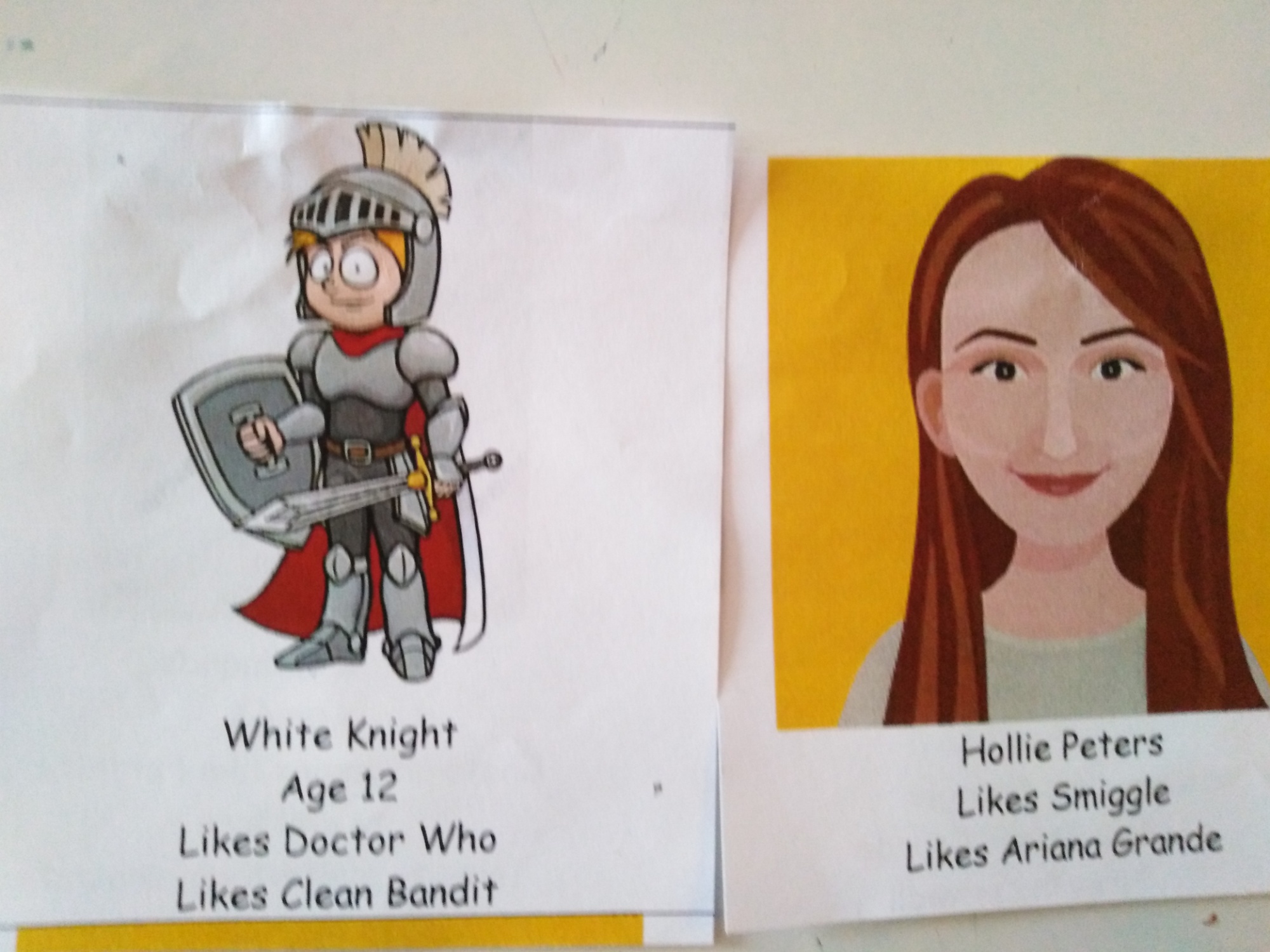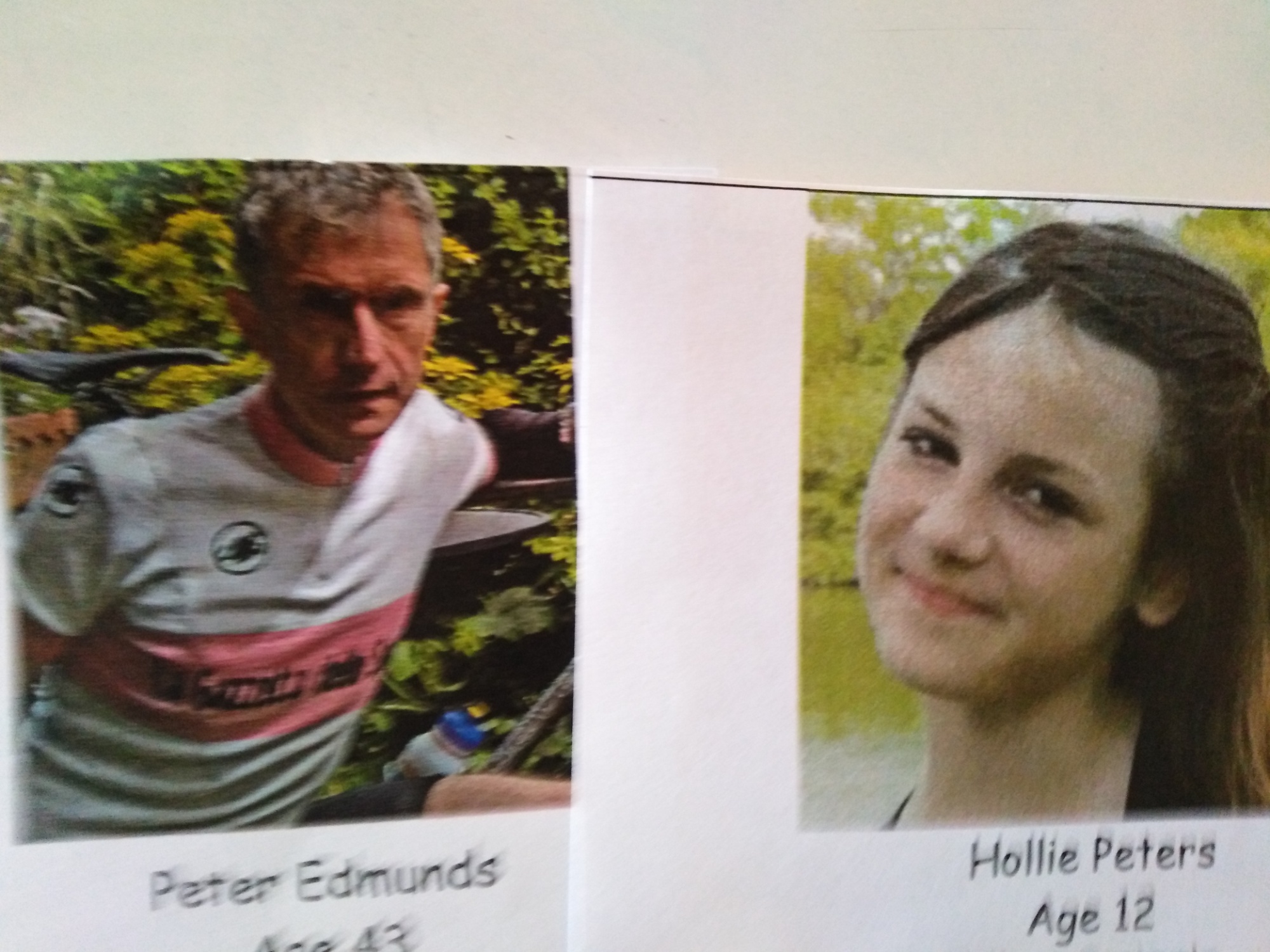 Everybody was very sensible with their decision making and only agreed to add the person who we knew in real life. We then had a go at making our own safe, unrecognisable avatars which we have made into a bunting to go on display around the school.
10th February
Today was the first day of many little surprises this week - we had a visitor come and talk to us from the Leiston Bee Keeping Association about how to look after bees; the jobs bees do and why they are so important to our lives... all helping us with our Suffolk Farming Schools competition entry (which we started painting and building this afternoon - exciting!) And if you are wondering who the mystery bee keeper sidekick is - Dylan!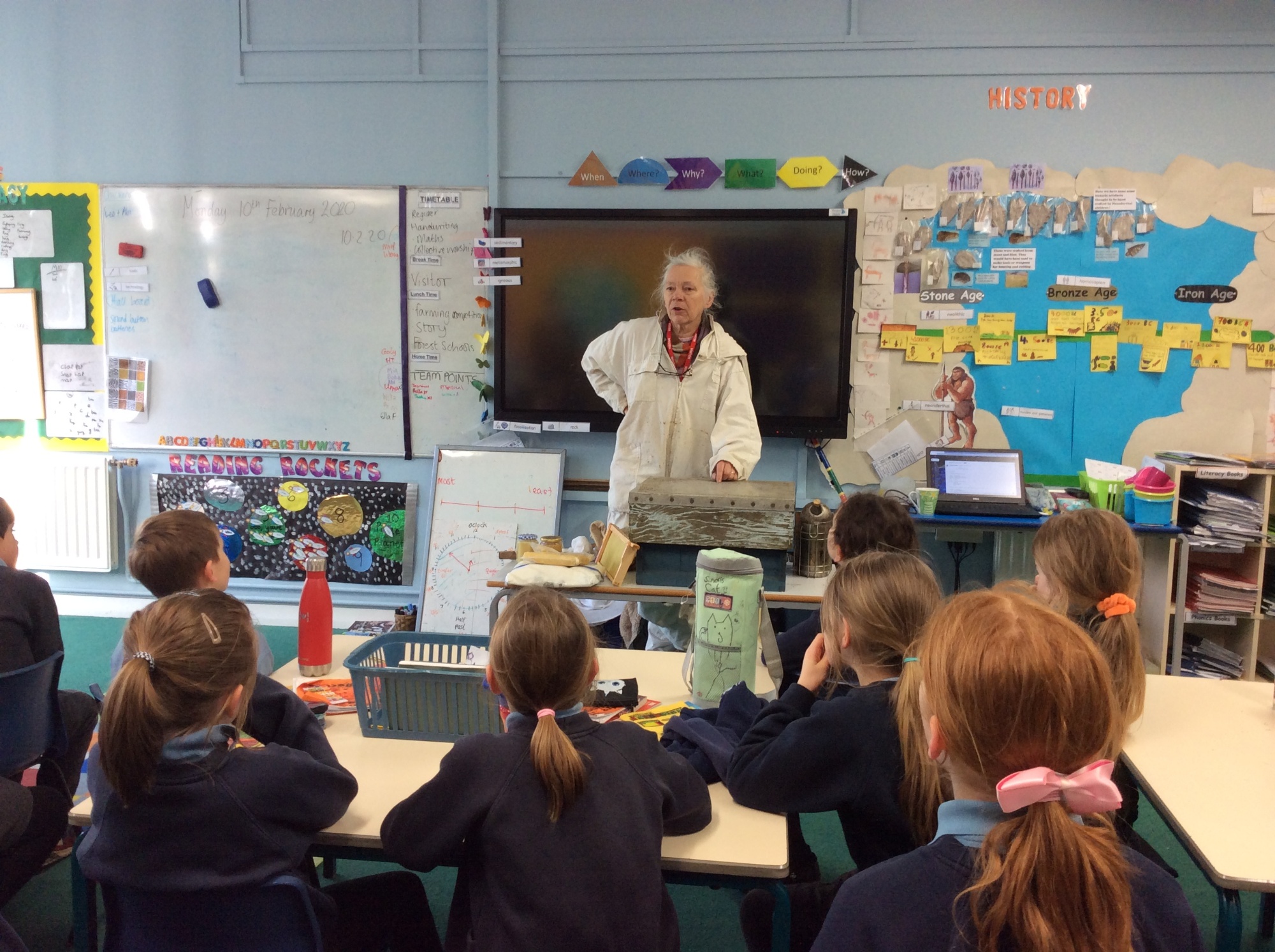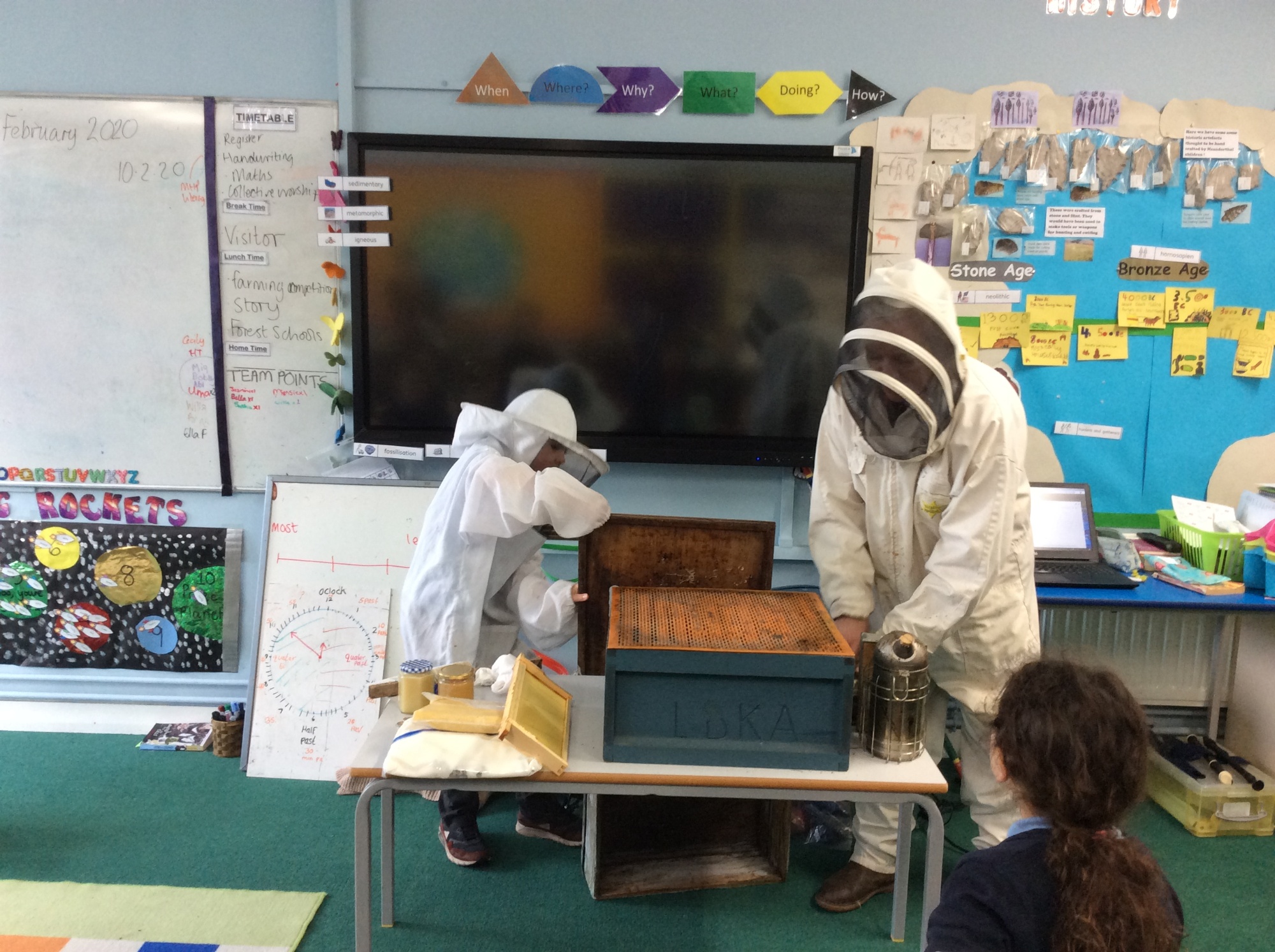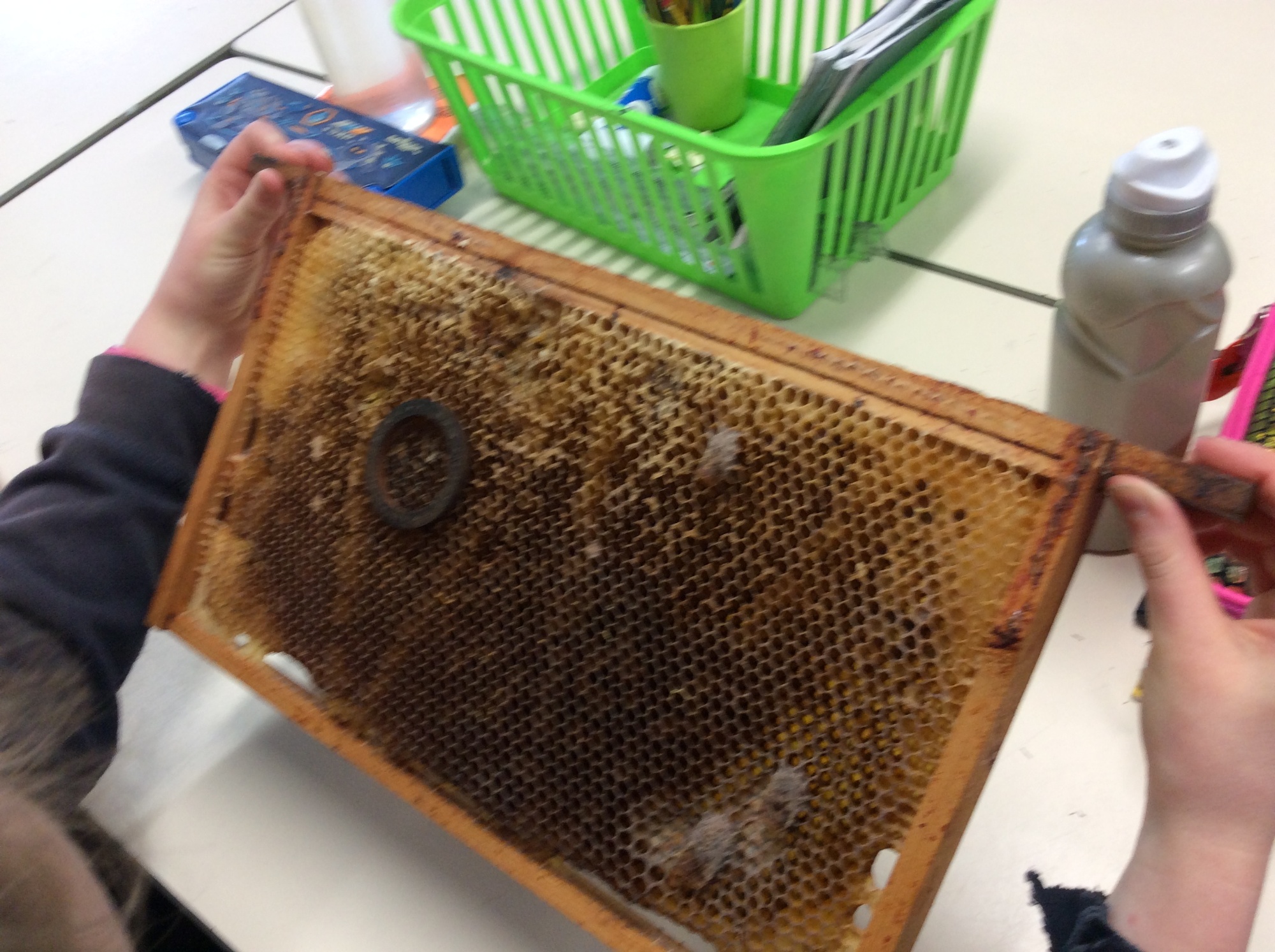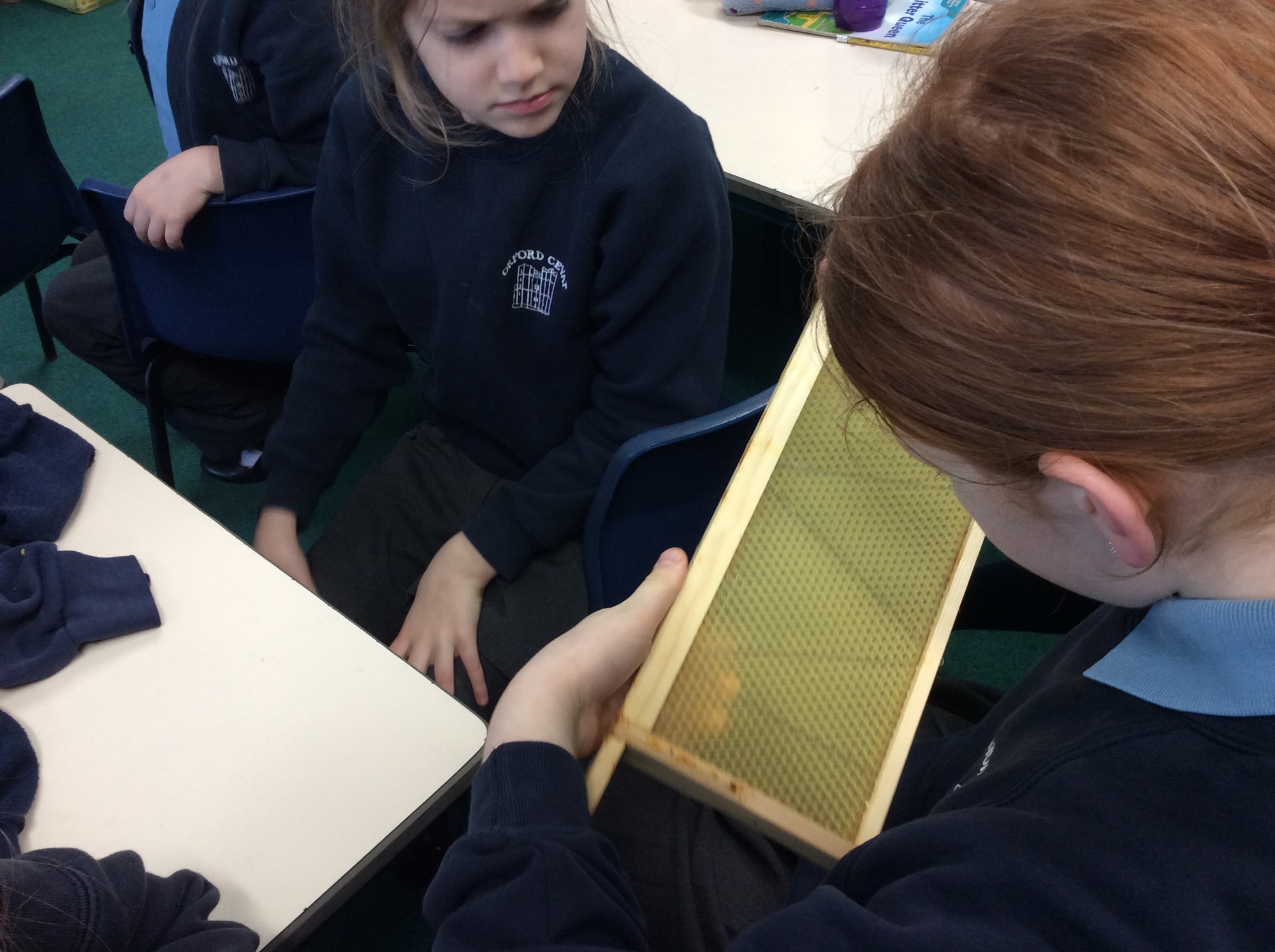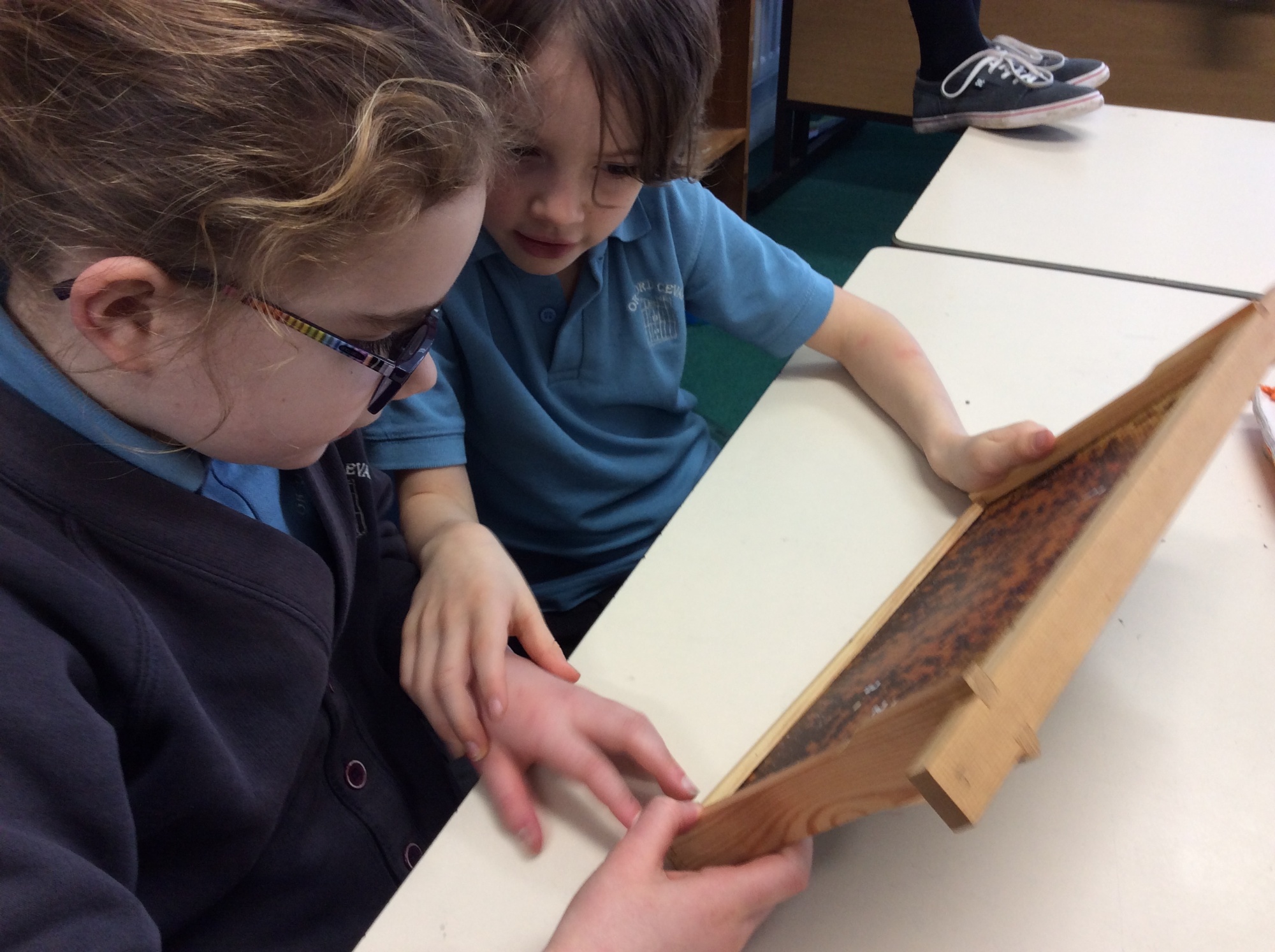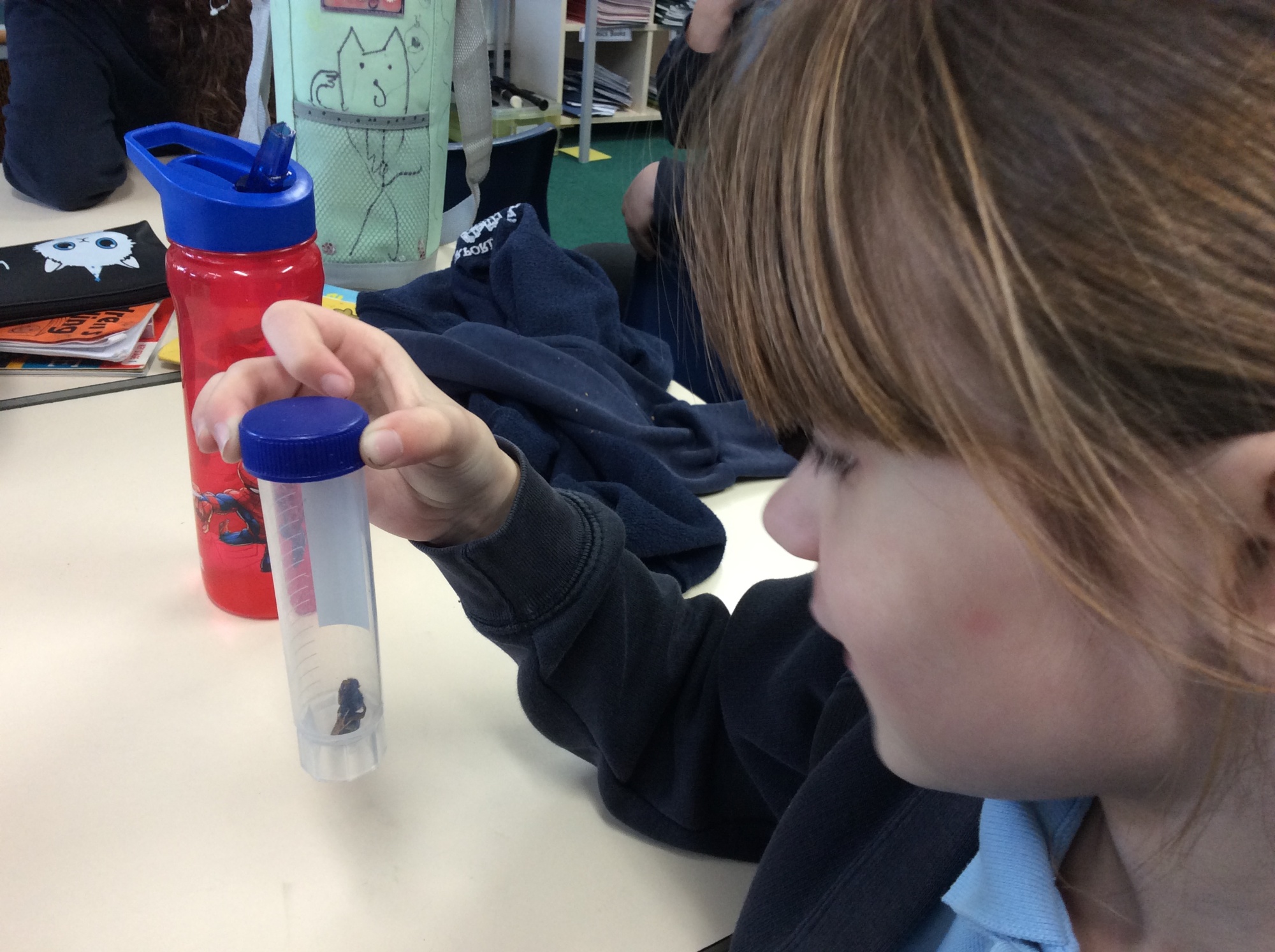 31st January
Thank you to all the parents and carers who have sent things in for our Suffolk Farming Project, we are going to begin working towards our model over the coming weeks.
Please watch the video of our dance/PE work from the past few weeks...
We had to make a Neanderthal dance with a jump, an action, a travel and one extra group move.
Uma and Phoebe
We had the choice to make each movement in unison or canon.
Saskia
Unison is when you do the same thing at the same time and canon is when you do the same things at different times.
Mimsie
We had to make sure it was in time with the music, we started with the same foot and did the same thing.
Bella
8th January
Welcome back everybody! I hope you all had an enjoyable rest.
Please see the curriculum overview page for a link to everything we are learning about this term.
This Friday, excitingly, we will also begin our work learning the recorder. If your child would like to bring in their own from home, they are more than welcome, but we have plenty in school if not.
Autumn 2019

19th December
Today was our first day in our new, larger clasroom - it's fantastic!!
We hope you all have a wonderful Christmas. Just to add to the festive cheer, Class 2 will be learning the recorder after Christmas. We have plenty in school but if they would like to purchase/bring in their own they ,may.
Also, if you have any old, large shirts around the house, please could you donate them for art aprons? Thank you!
See you in the new year!
12th December
We have two things to share with you today. First some beautiful nativity artwork we did this afternoon: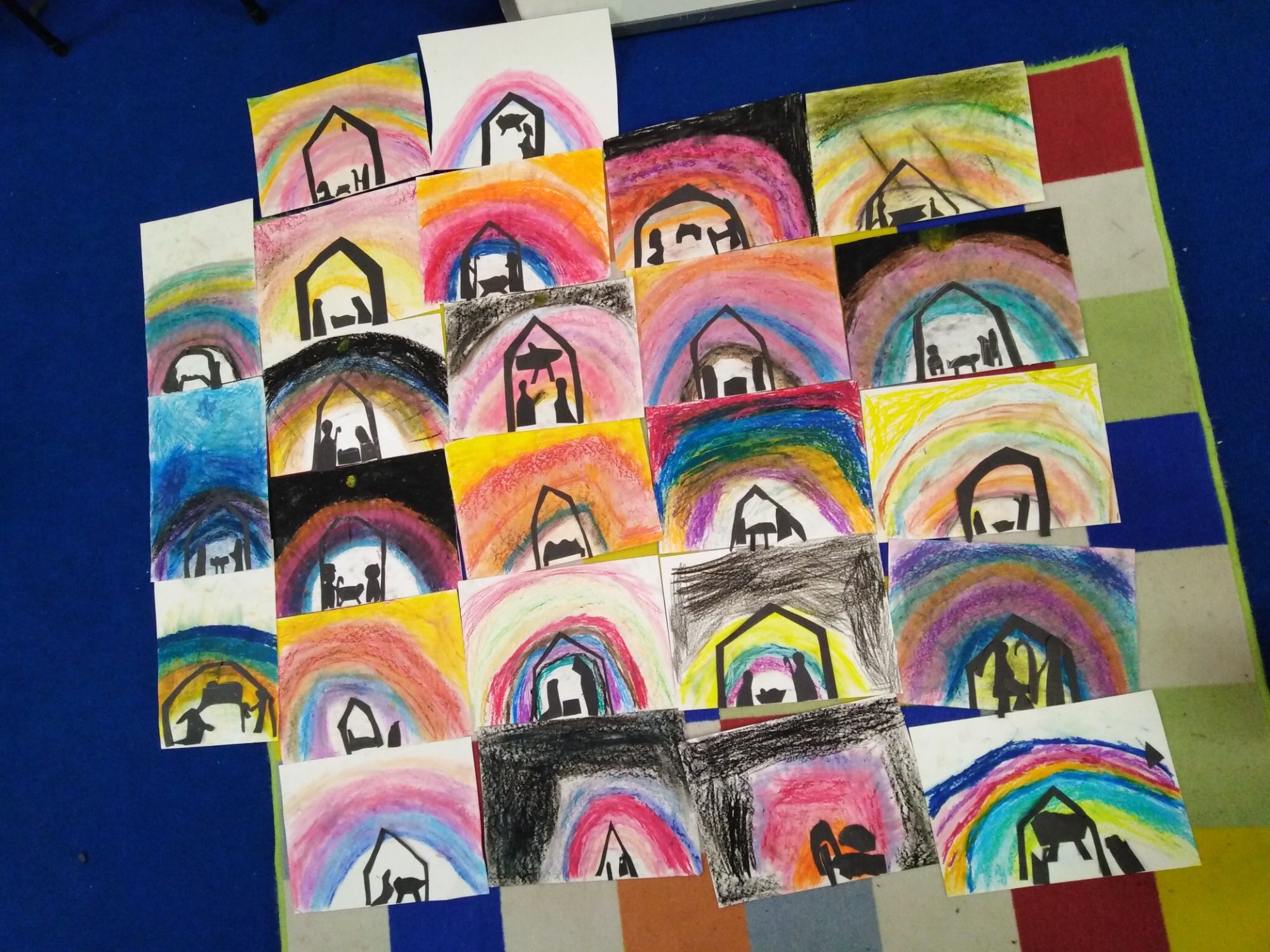 And also, our long awaited kite testing day!
As you know, we made our own kites at the beginning of term and have also written some information leaflets about how to construct a kite. Lucky for us, Monday was a dry and windy day - perfect for kite flying!! Rather than share lots of photos, we have a video.... (you may have to view on the website for it to work rather than the app).
7th December
Morning all! We all had such a fantastic time at the school sleepover last night! We started off with a super dinner of pizza, pasta and salad (you'll be pleased to know there was NO leftover salad but some leftover pizza) before starting our first big game: HIDE AND SEEK! We had the whole run of the school after hours - can you work out where these cheeky children were hiding? Willa definitely chose the cleverest place, although Rebecca stayed hiding the longest - she could keep so still and very quiet that even Miss Cannon couldn't find her!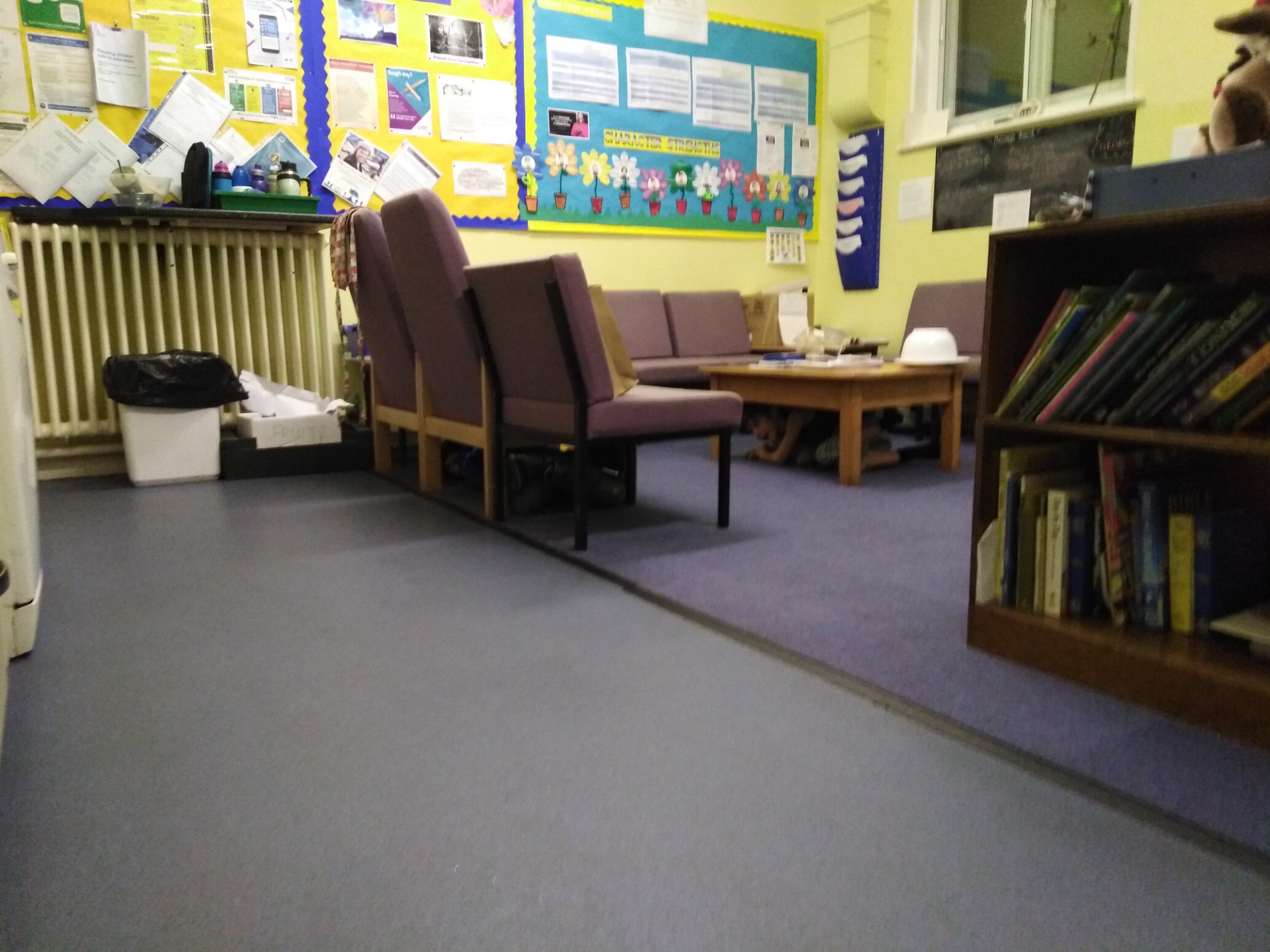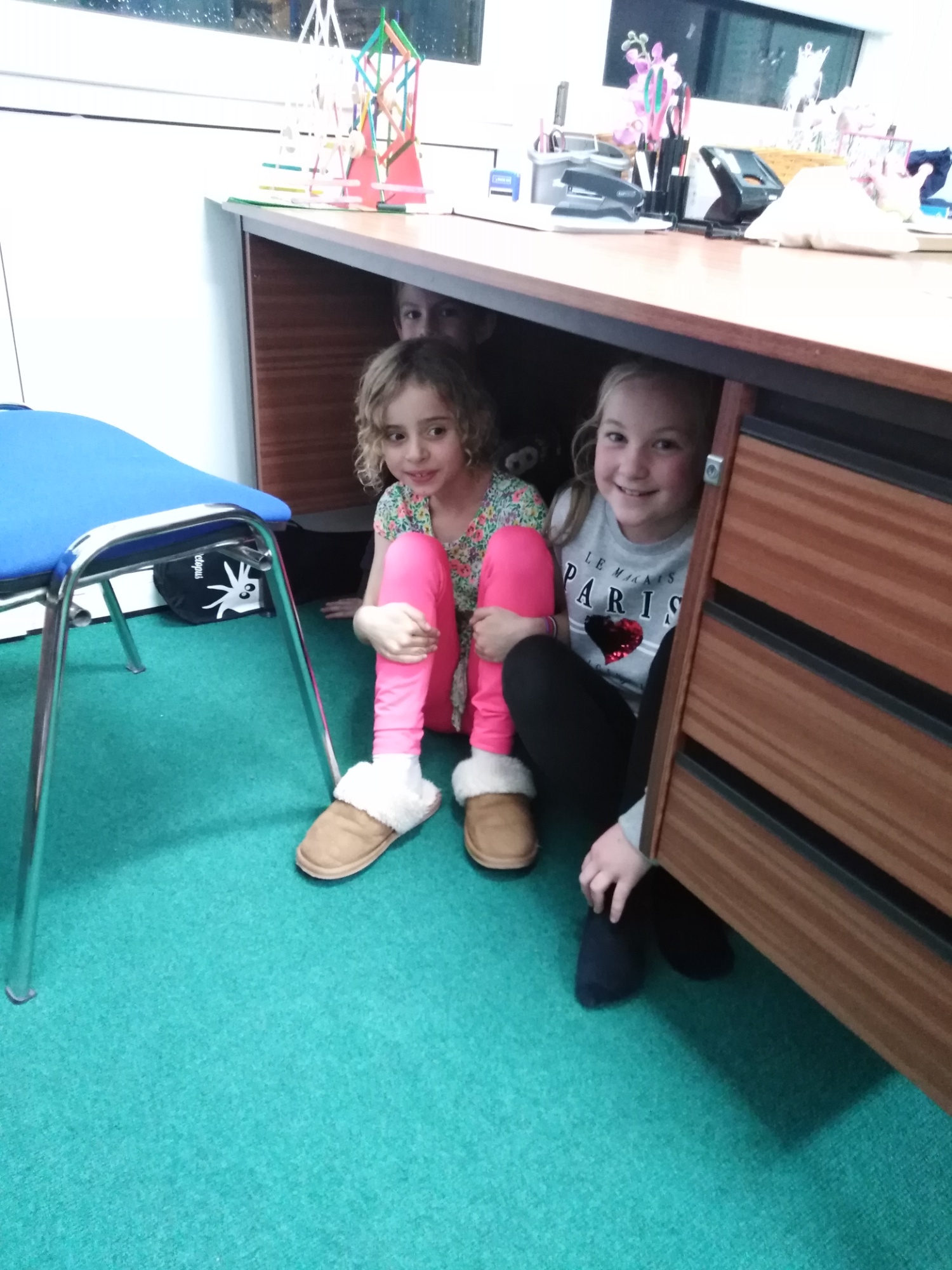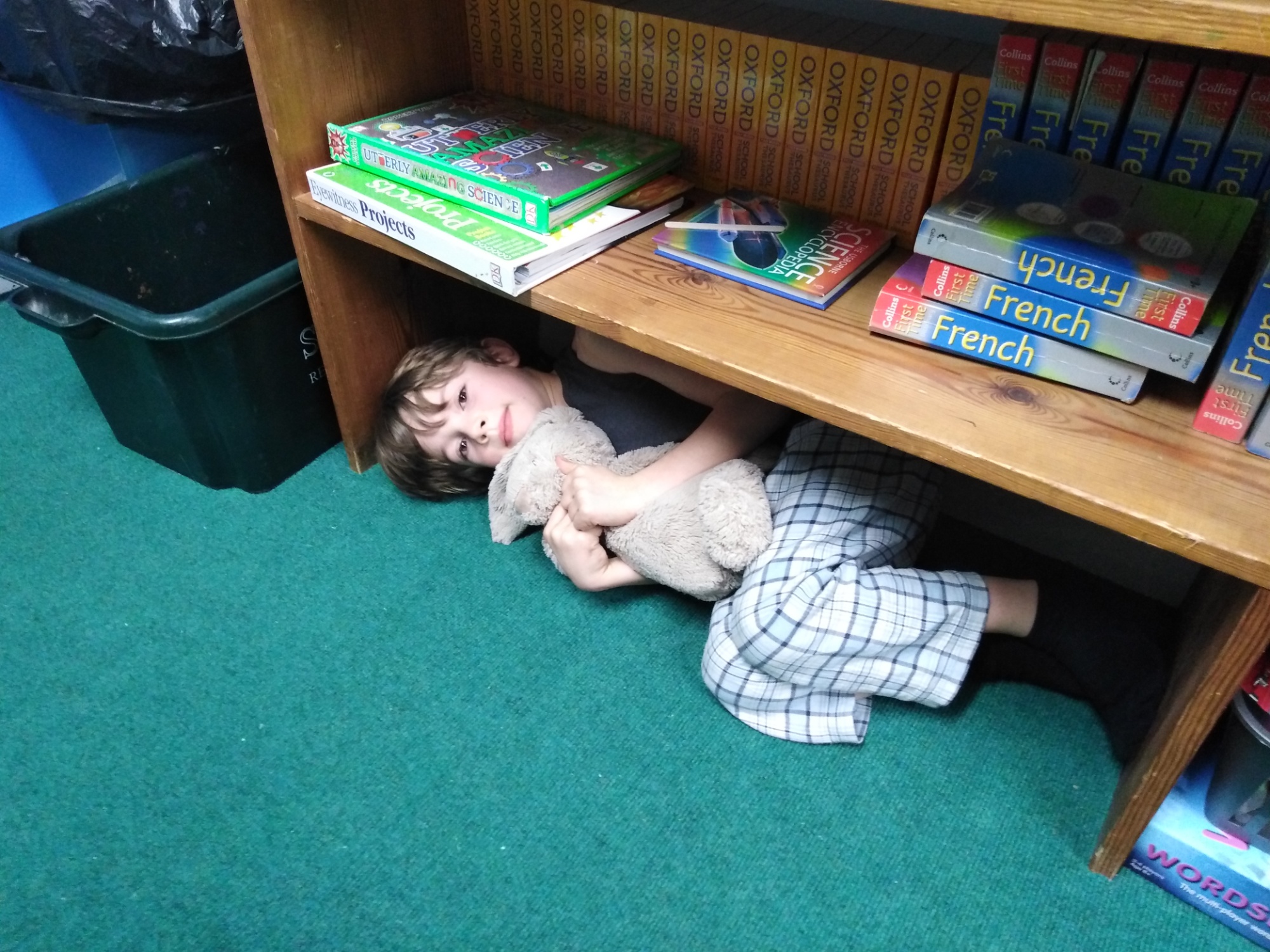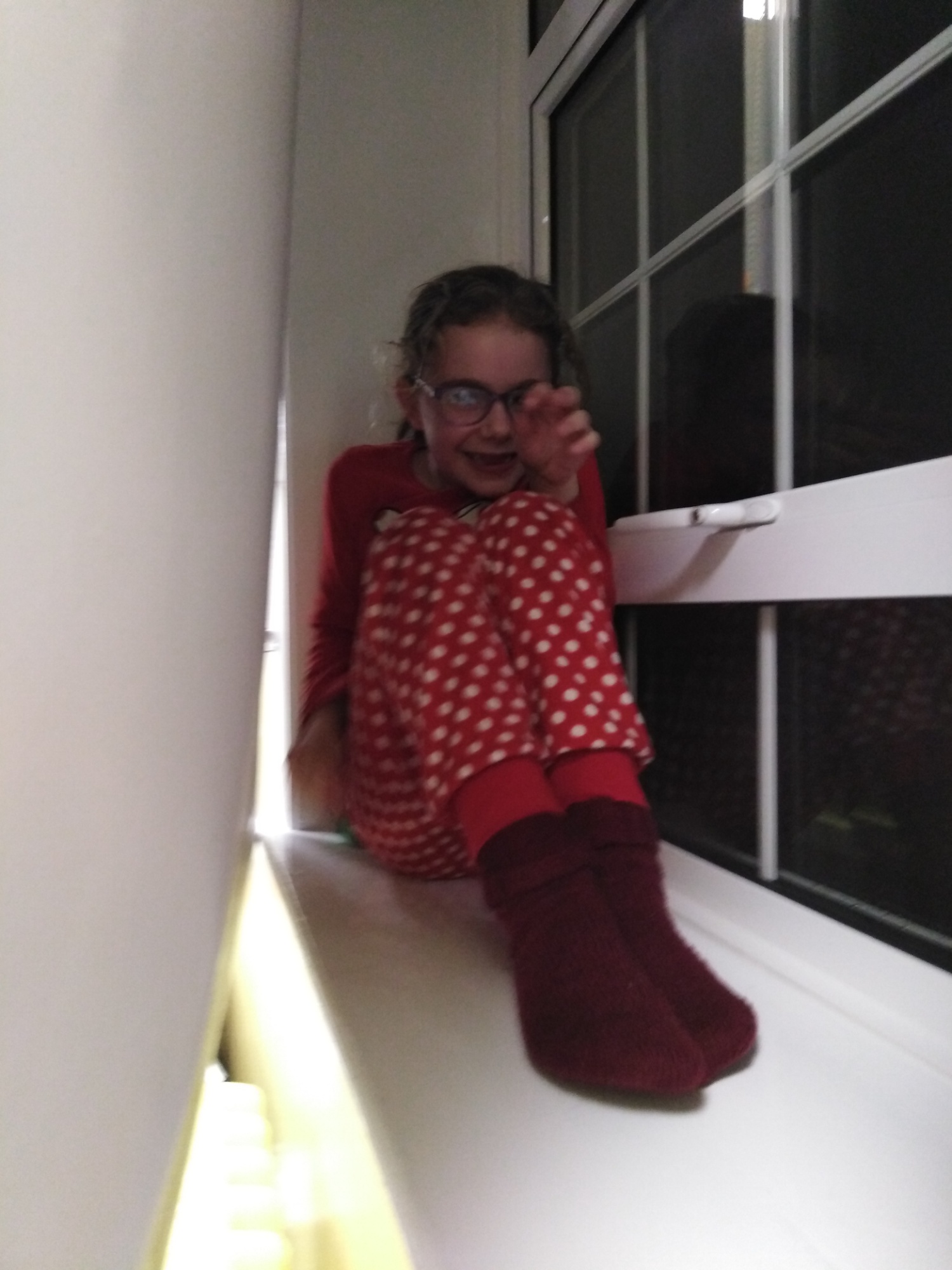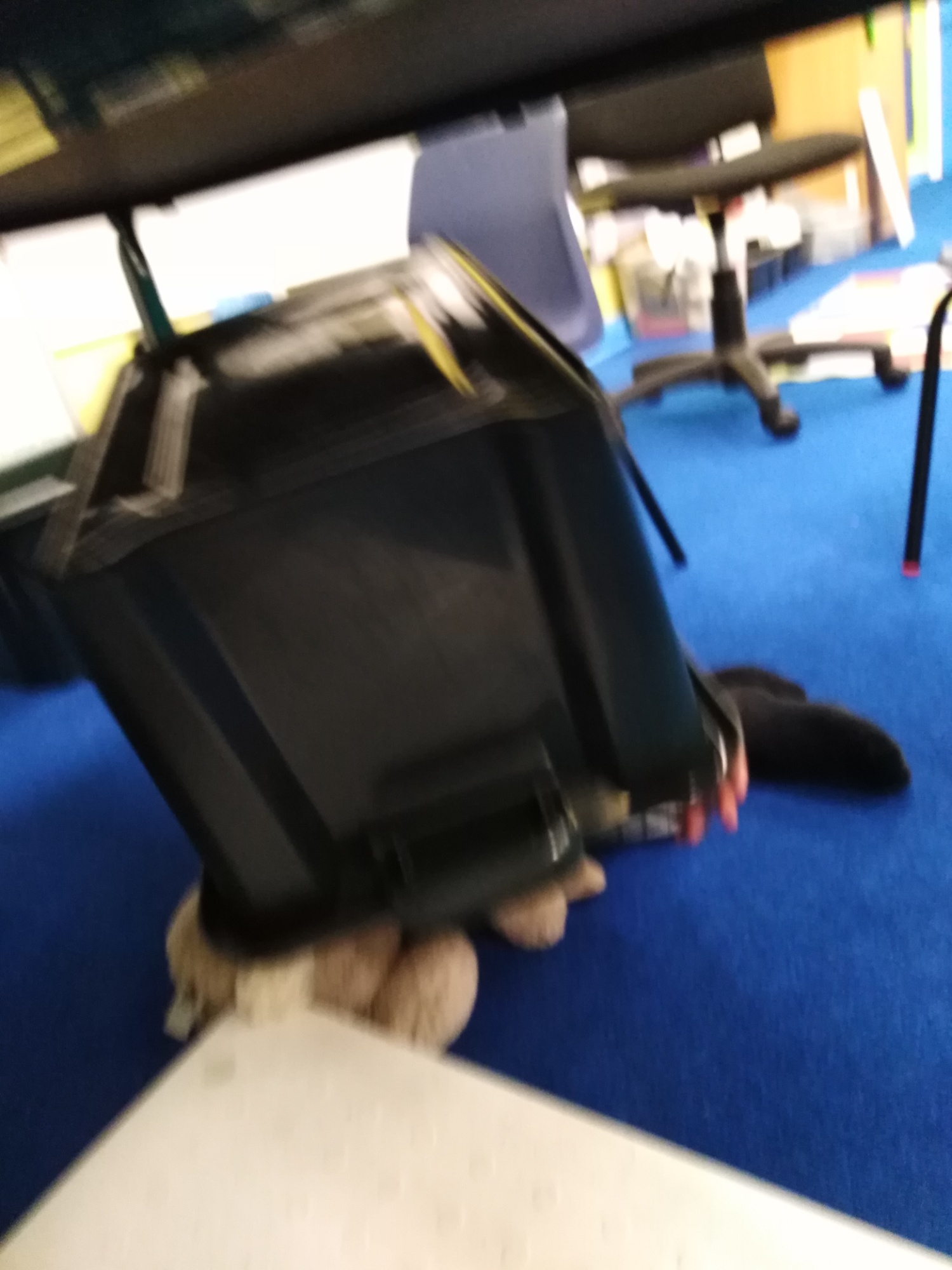 Once we were all tired out, we had some ice cream in the hall when..... we could hear bells...? Jingle bells...? Outside the teaching kitchen. It was St Nicholas night after all (which Phoebe and Dylan know all about), but he wouldn't visit little old Orford would he?! Oh yes he would - and he left us a big box of traditional treats to take home with us! ( Thank you St Nikki-las ;) )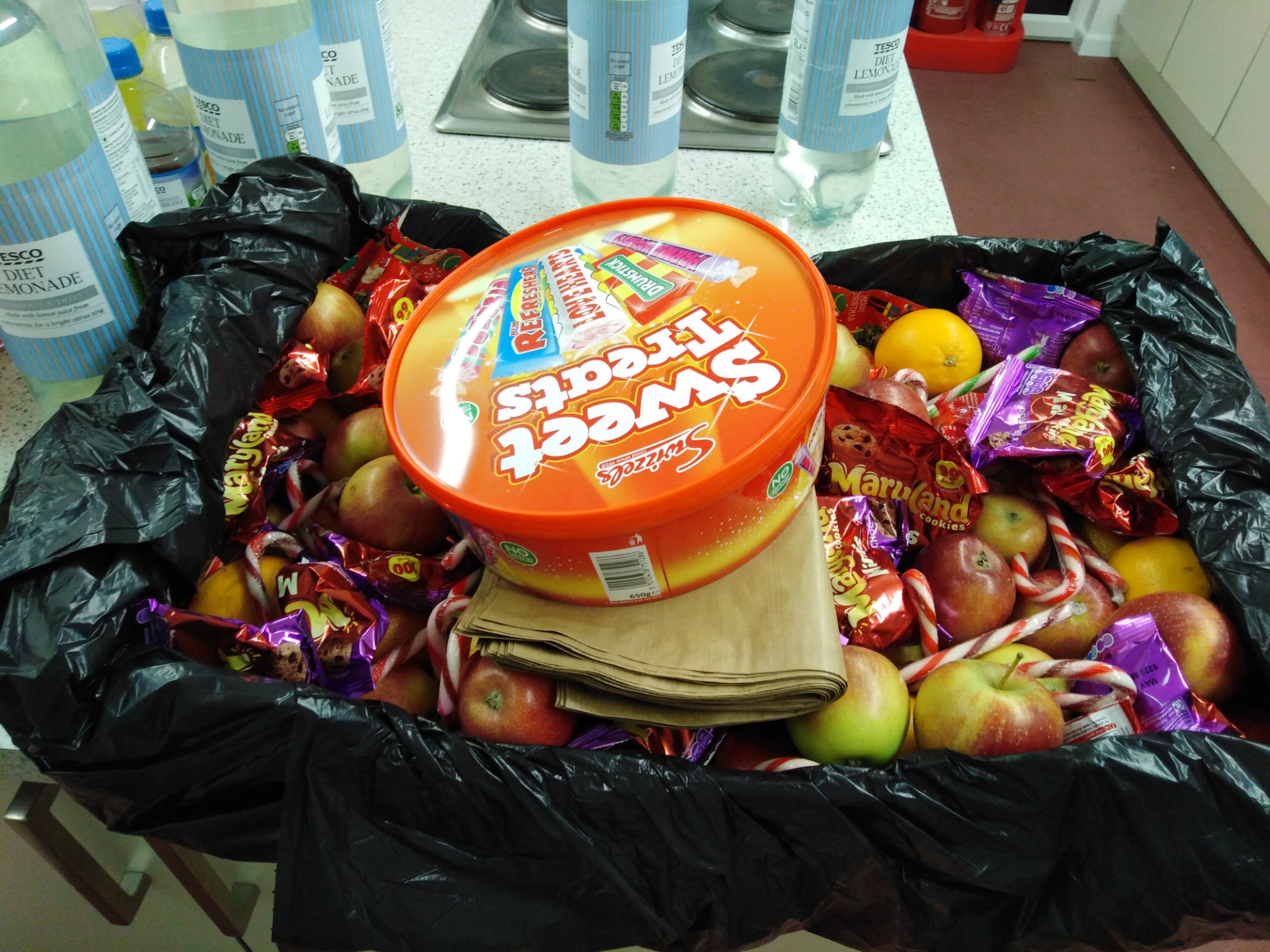 It was starting to get really late, so it was time for movie with popcorn and Jamie's birthday cakes! (Thank you to Jamie's mum). Although he sadly couldn't make it, Travis had chosen our movie - Wreck-it-Ralph 2 - which we all enjoyed. Mrs Smy and Miss Cannon had a well deserved sit down at this point.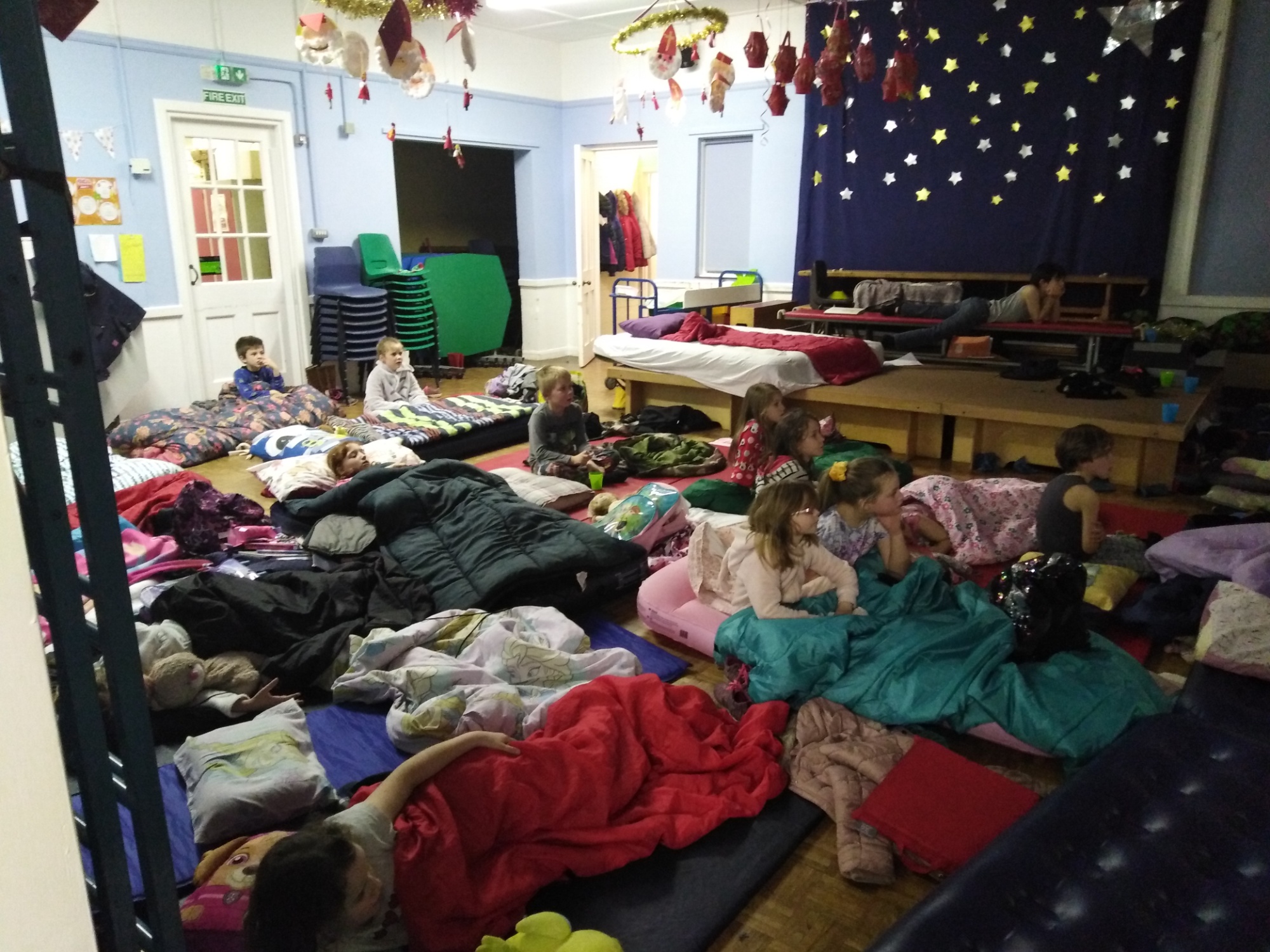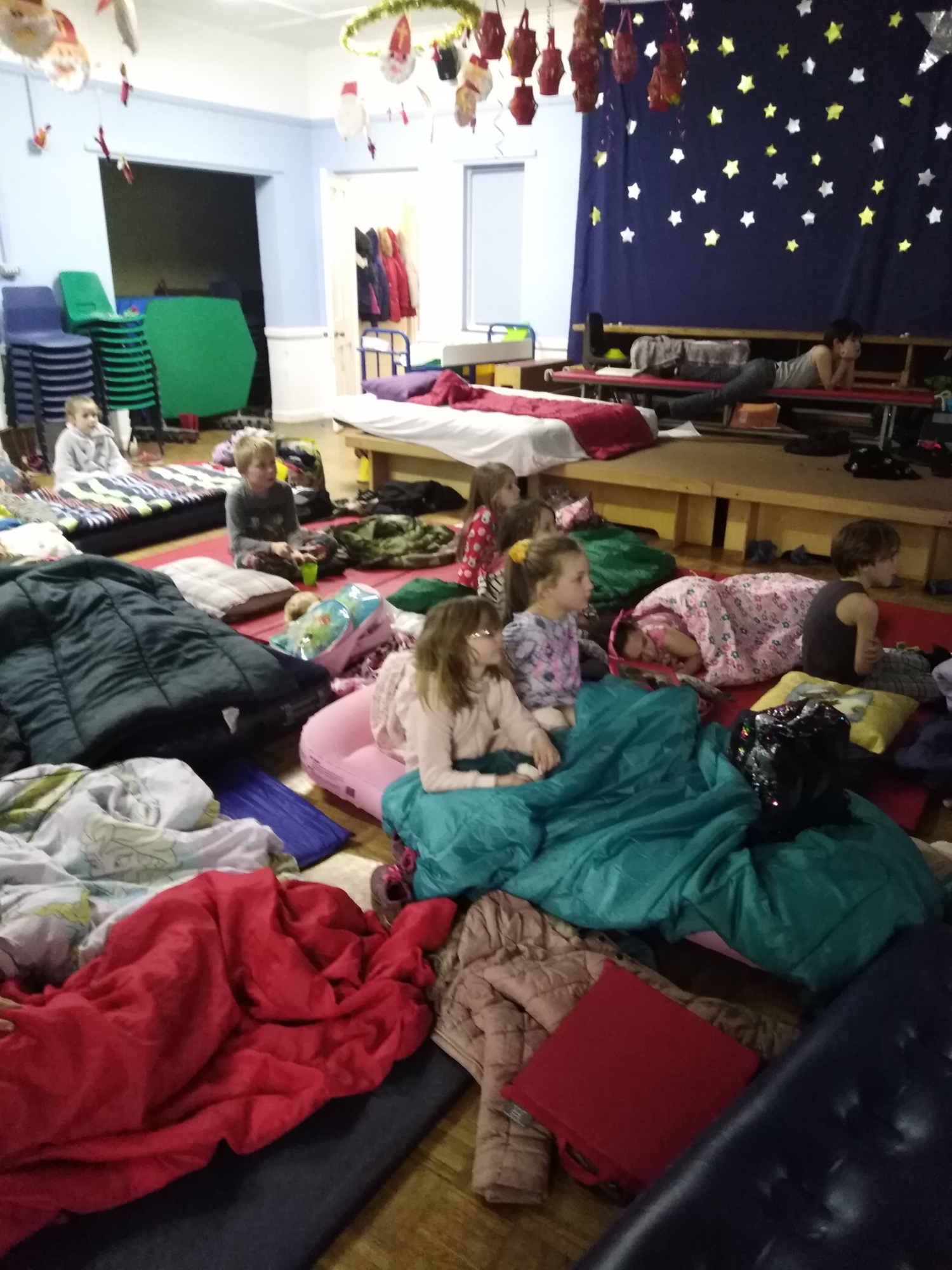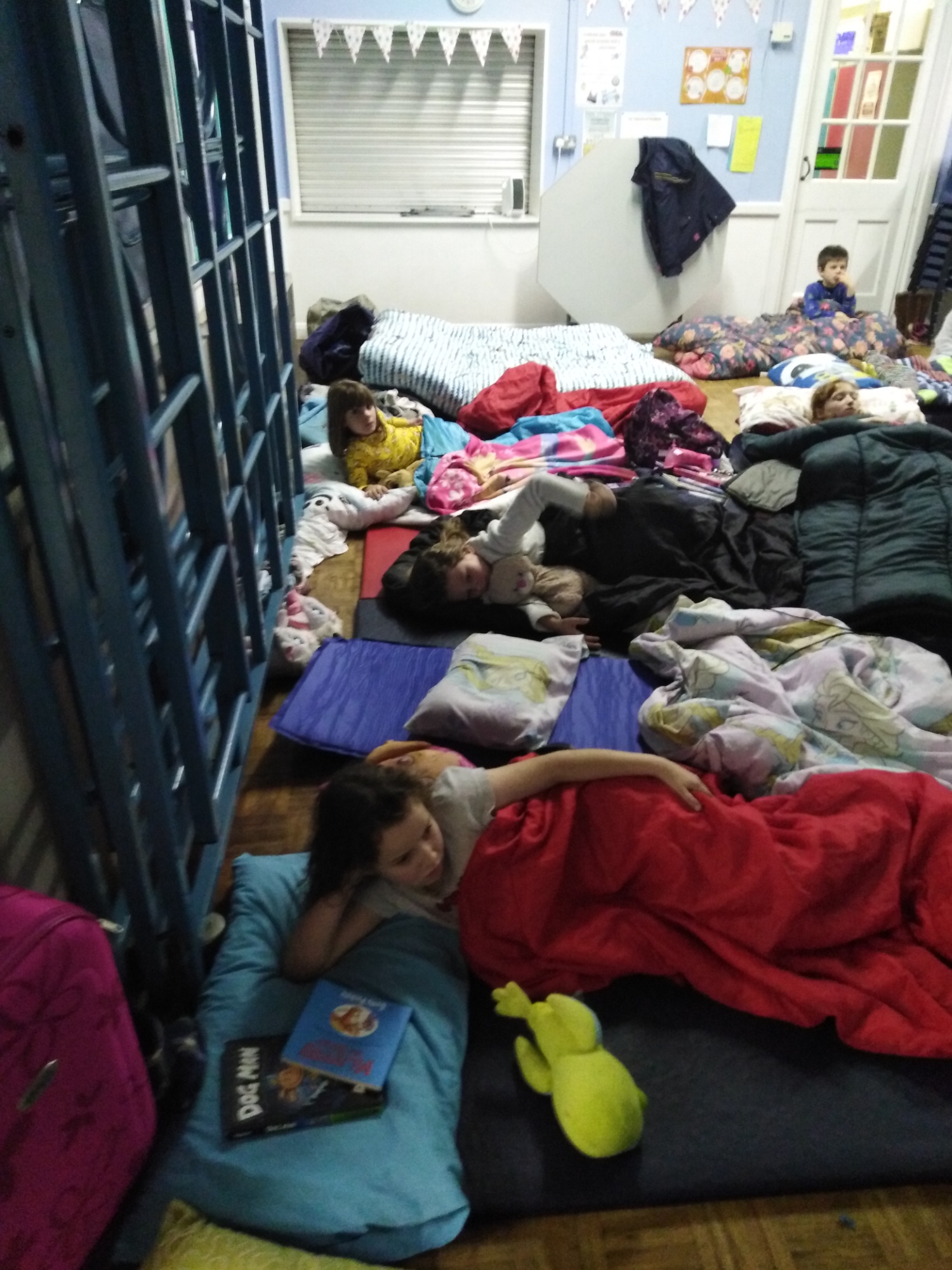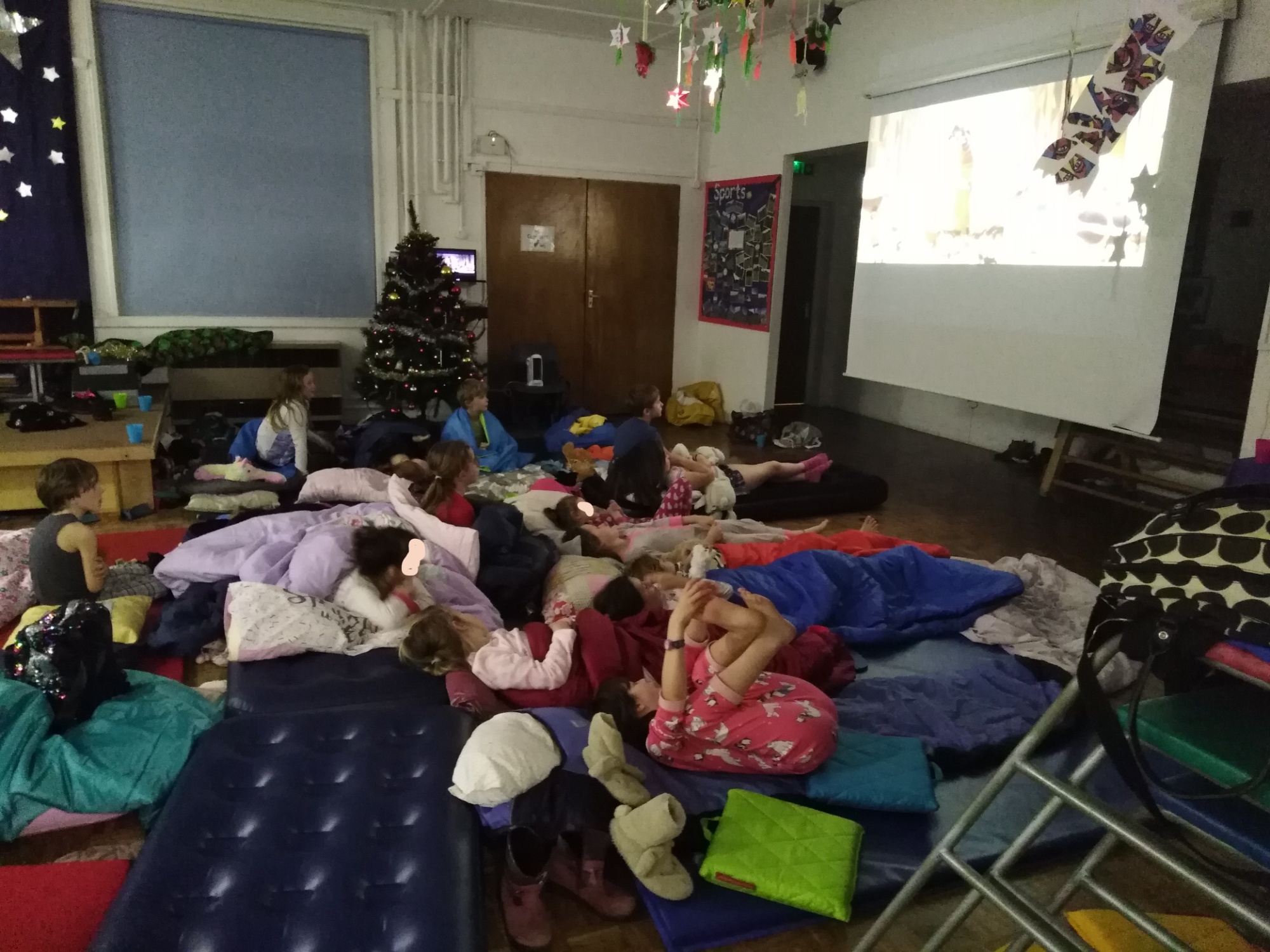 After all the excitement, it was very late, so we brushed teeth, went to the toilet and had lights out - year 2 fell asleep instantly; year 4 girls stayed up EVEN LATER for a gossip (yes, we heard what you were talking about girlies!) and eventually, everyone was asleep. This photo was about 2 in the morning...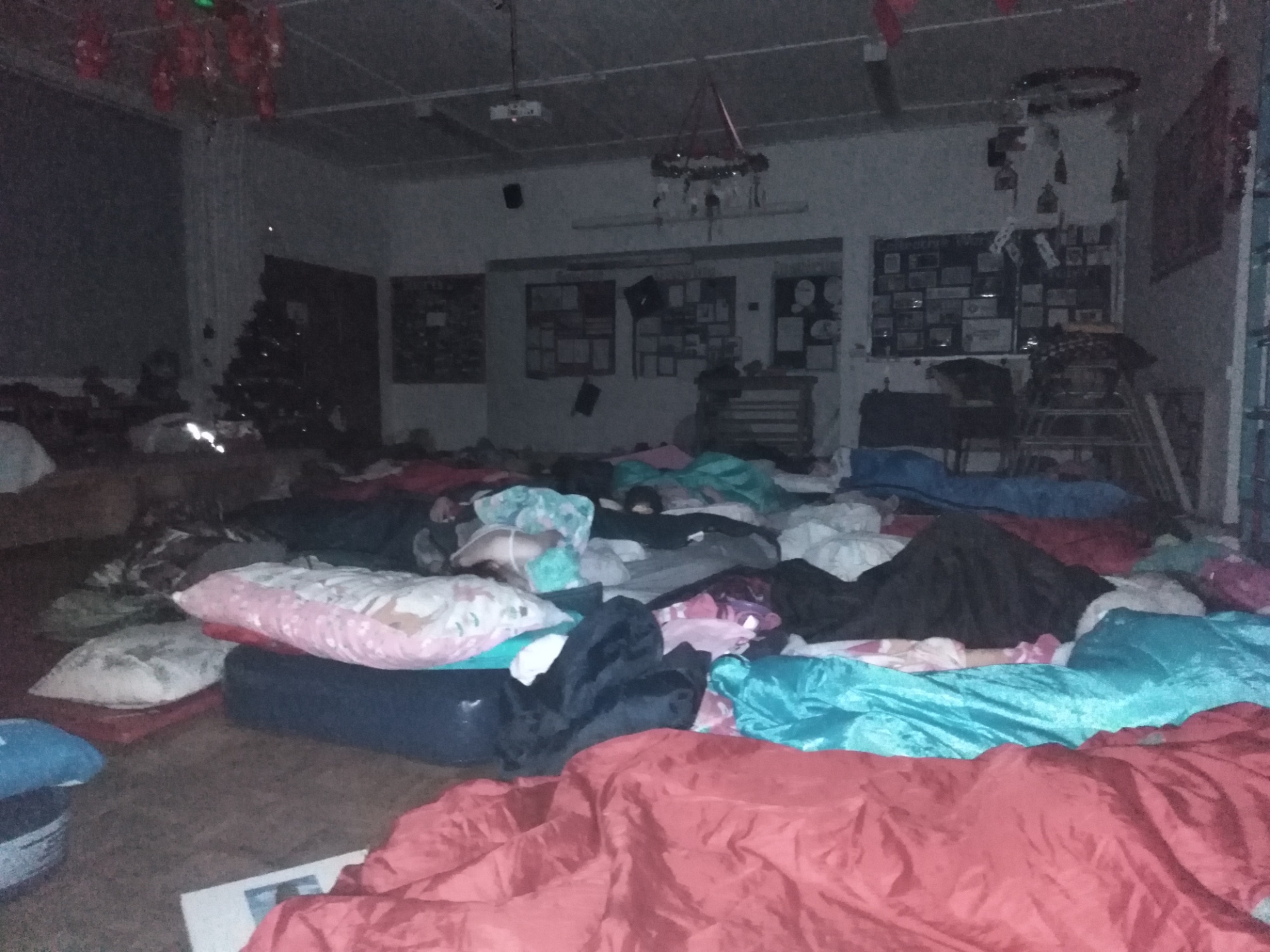 Now, we assumed that everyone stayed in bed all night, but have since found some empty packets of smarties, and a few stray sweets hiding around the hall and library.... think there might have been some secret midnight feasts! At least no one was going to go home hungry!
This morning was tidying up and breakfast time. For many of the children it was their first or second time ever sleeping away from home, which is a huge achievement, so very well done, we are really proud of you. Everyone was impeccably behaved and made it so much fun. What a super start to the festive season in class 2!! There was some lost property - please take a look in the picture below and see if any of it is yours!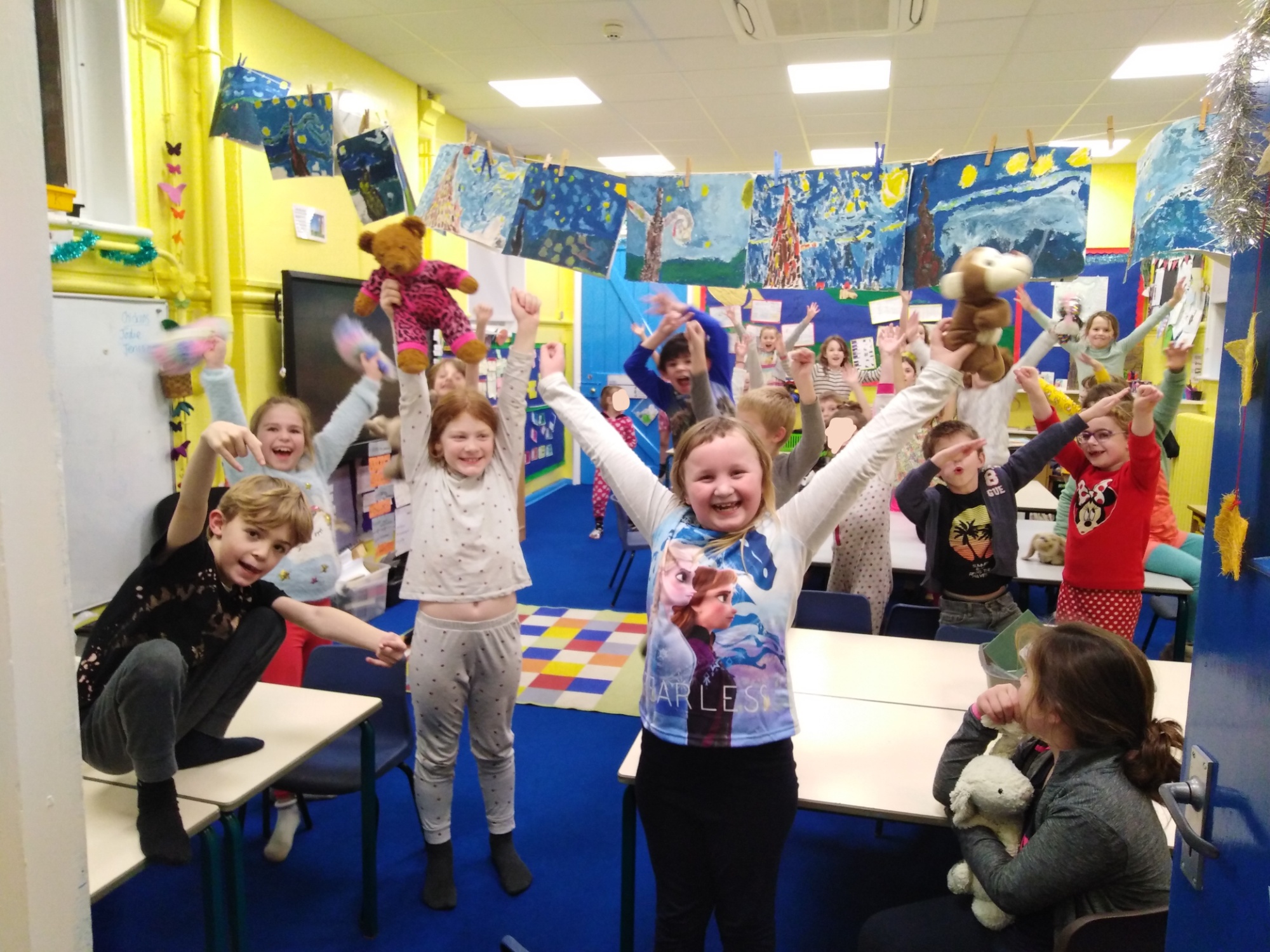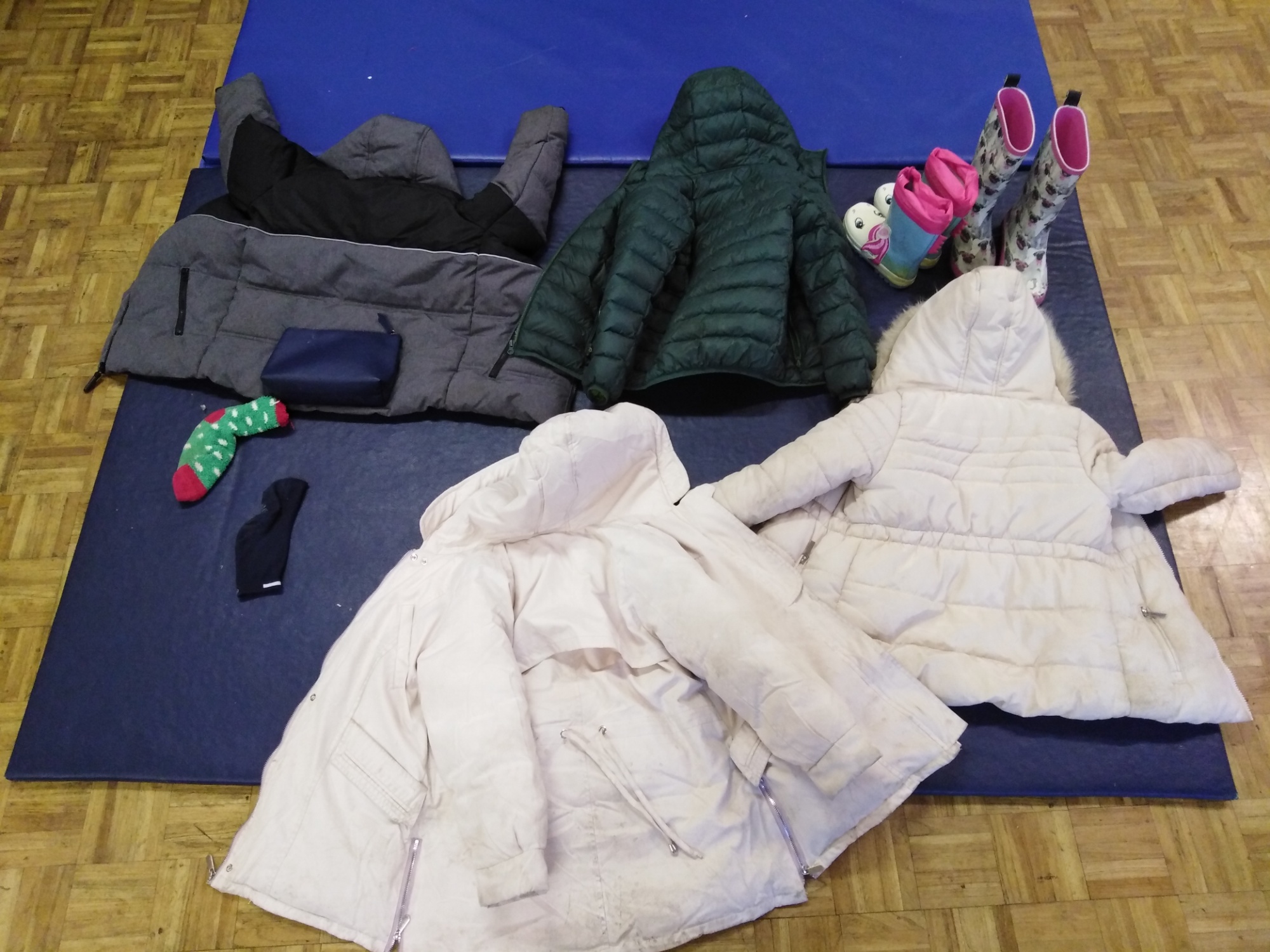 3rd December
The SLEEPOVER is this week!! (We're all a bit excited!!)
Just a few reminders...
There are about 6 children who haven't paid yet - please please double check parent pay today
Miss Cannon has spare kit lists if needed. An extra request - can air beds already be inflated please if you are bringing one?
Torches are a must have - especially if you want the toilet in the middle of the night!
No more than 1 sensibly sized teddy bear each please! It's already going to be quite cosy! (That includes Miss Cannon and Mrs Smy!)
Arrive at school (canteen end please - the gate will be open!) between 6.15 and 6.30pm, collection from 8.15 Saturday morning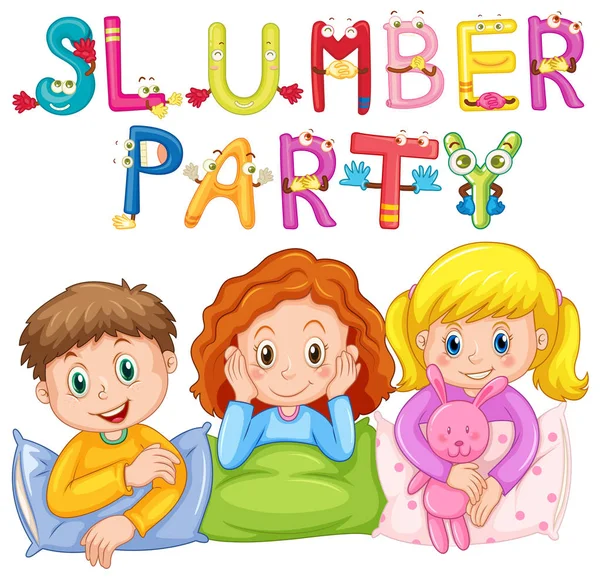 19th November
HUGE congratulations to the 5 girls who represented Orford at the U9s girls football tournament today.
They played 7 matches against big Ipswich schools and won 6! They were amazingly resilient, getting up every time they tripped, got stuck in tackling the ball and were not afraid to have a go at shooting.
We are SO proud of you!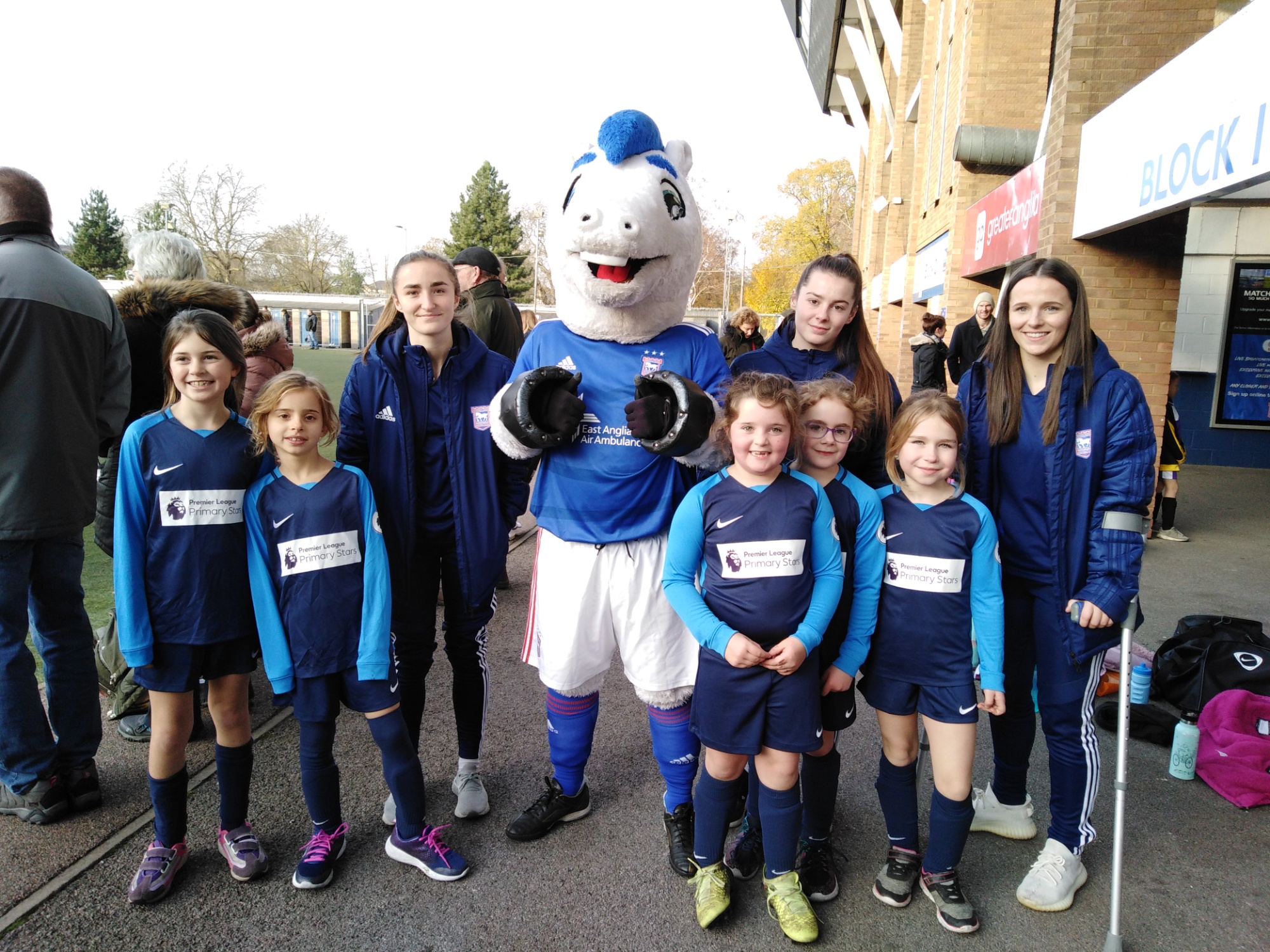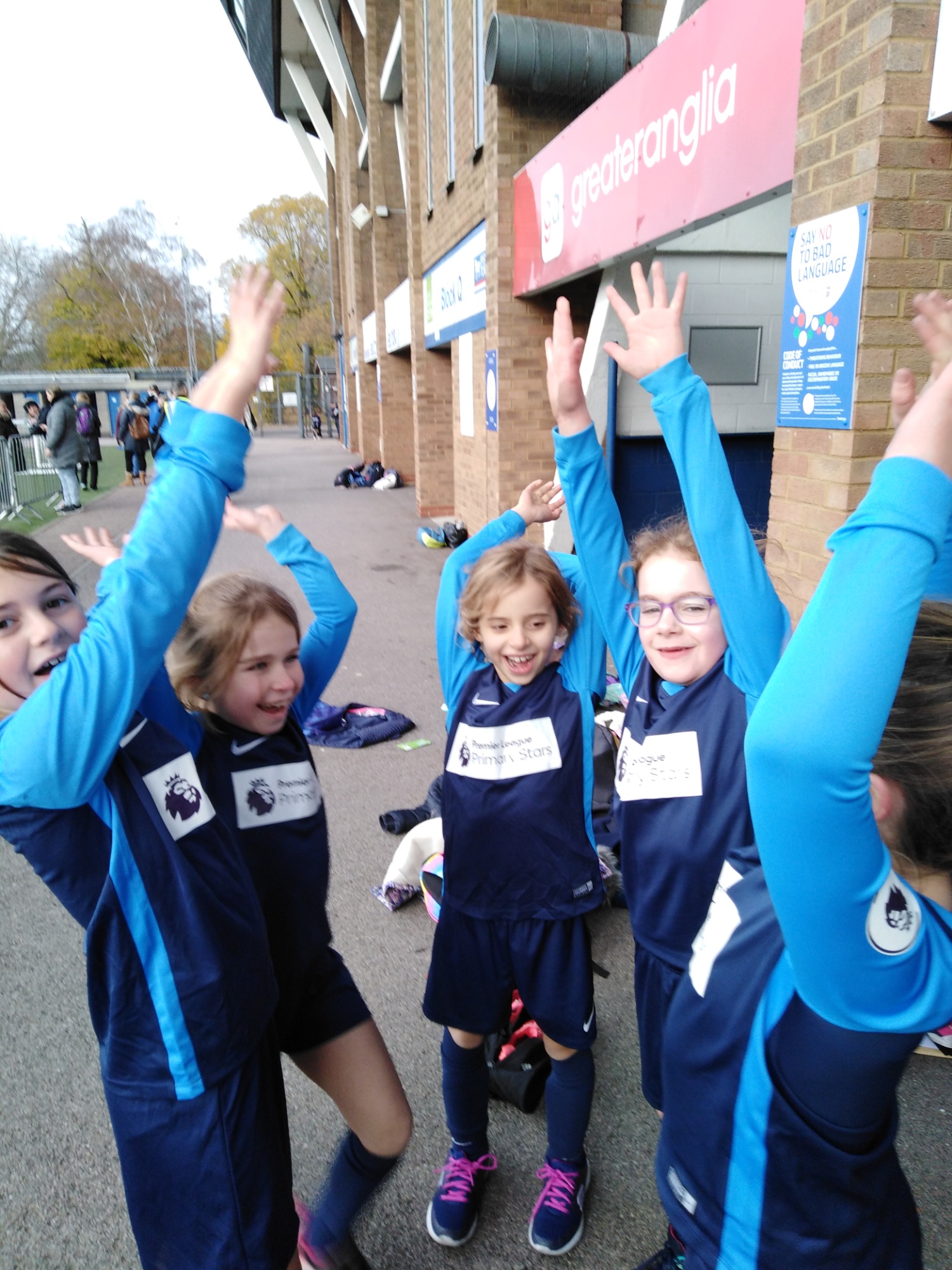 Extra bonus was being allowed to sit in the main stadium and meet some female Ipswich Town players.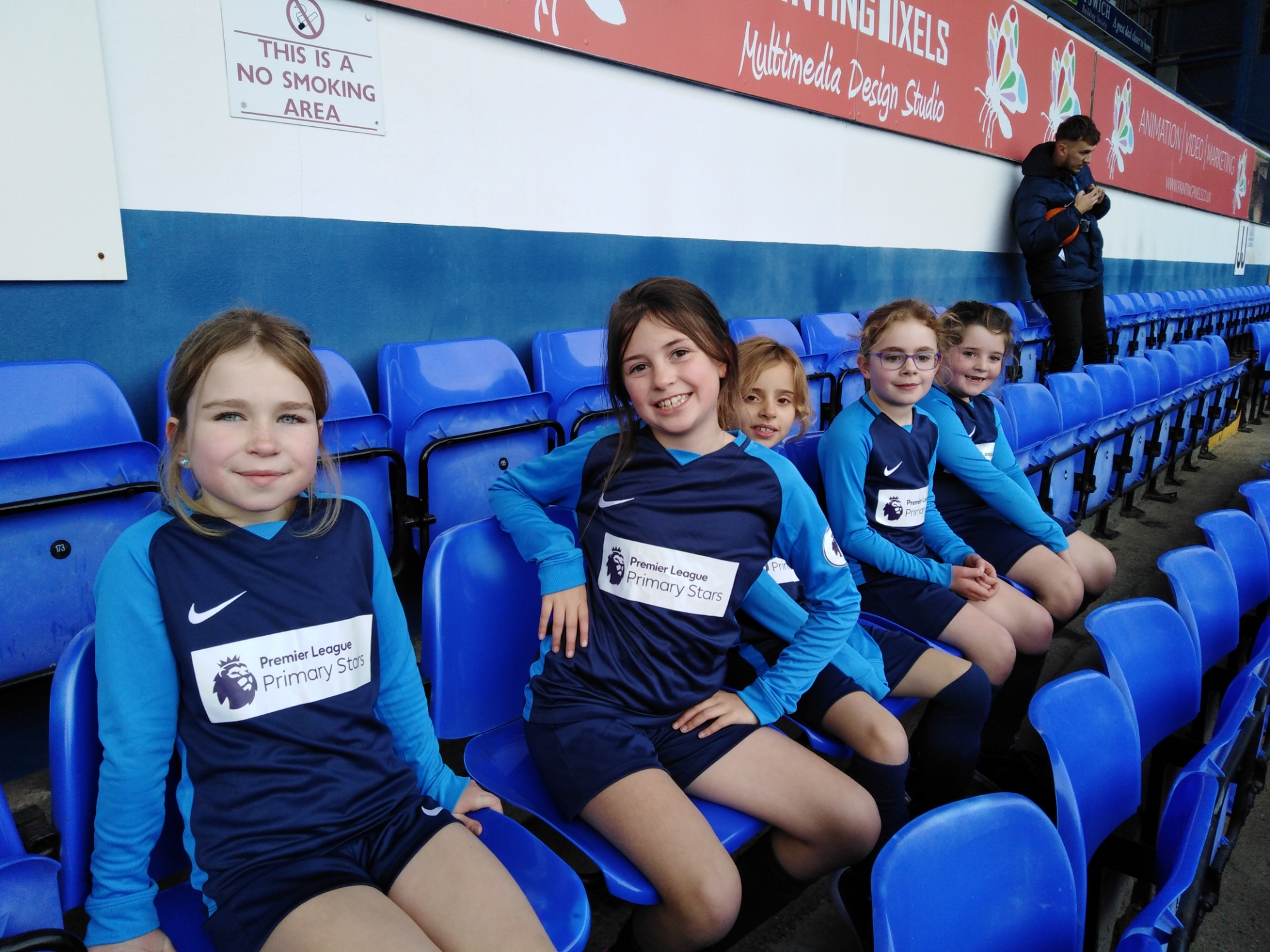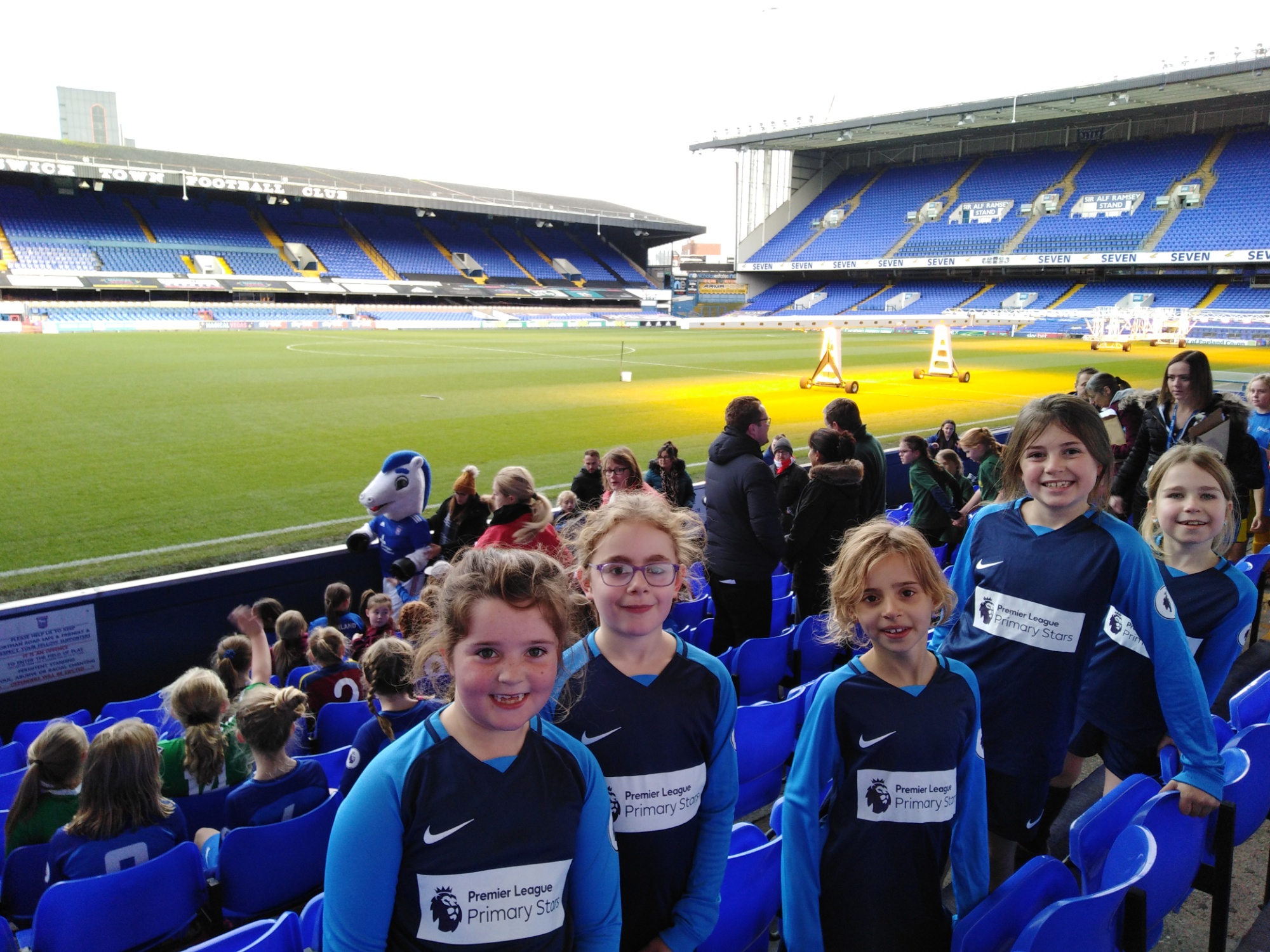 Thank you to Ella's mum for helping out :)
13th November - EXCITING NEWS!!!!!
Next Wednesday we are being interviewed for BBC Radio Suffolk about our lighthouse trip! All to go towards a programme about Suffolk Lighthouses.
If you have any queries, or specifically would NOT like your child to take part, please speak to me in person before the day.
8th November
Class 2 have had a very creative week - we have begun our D&T project (making kites) and had to be very careful measuring, sawing and securing our wooden frames together. Next week we are going to finish adding our fabric coverings then wait for a windy day so we can test them!!!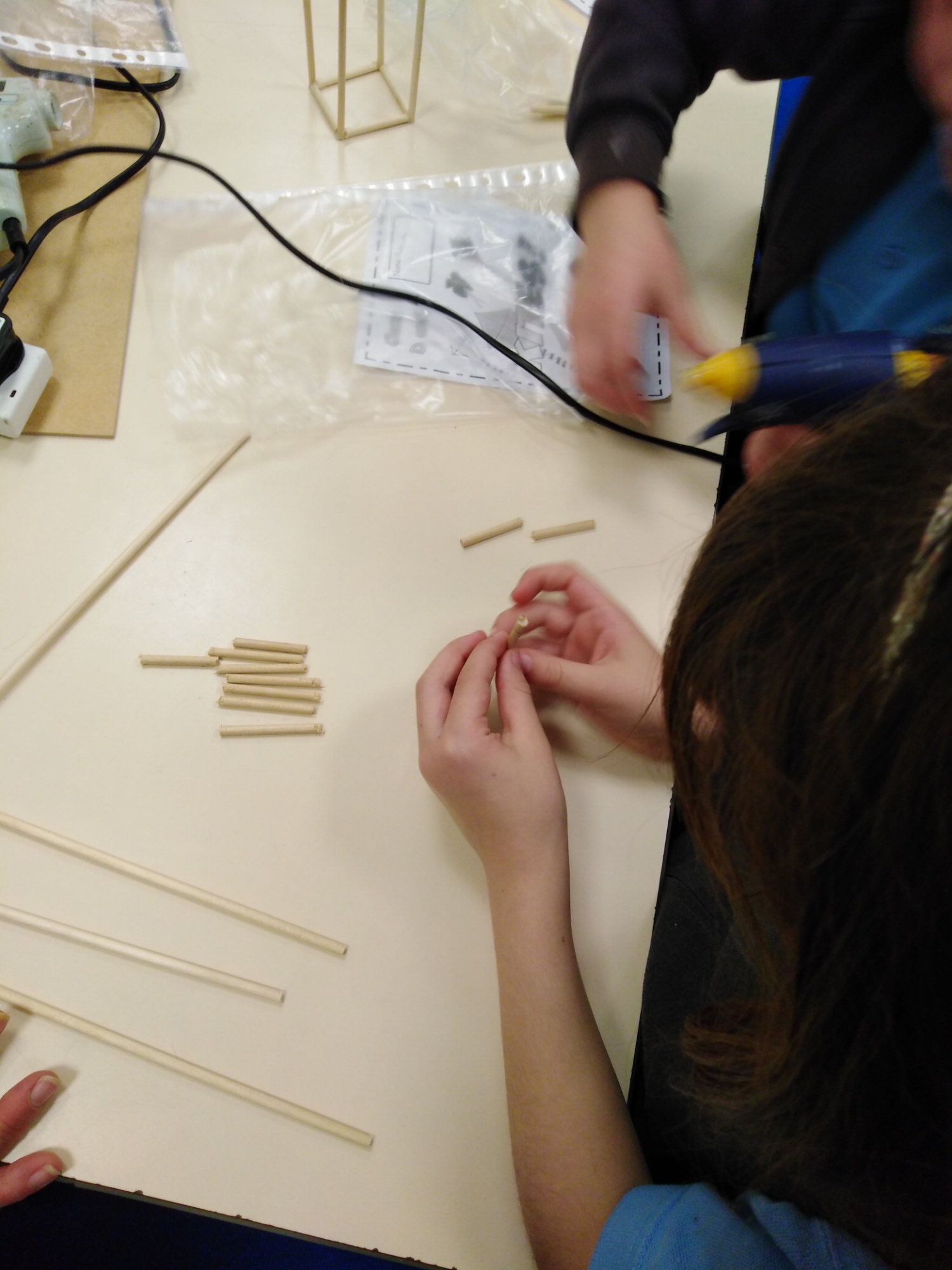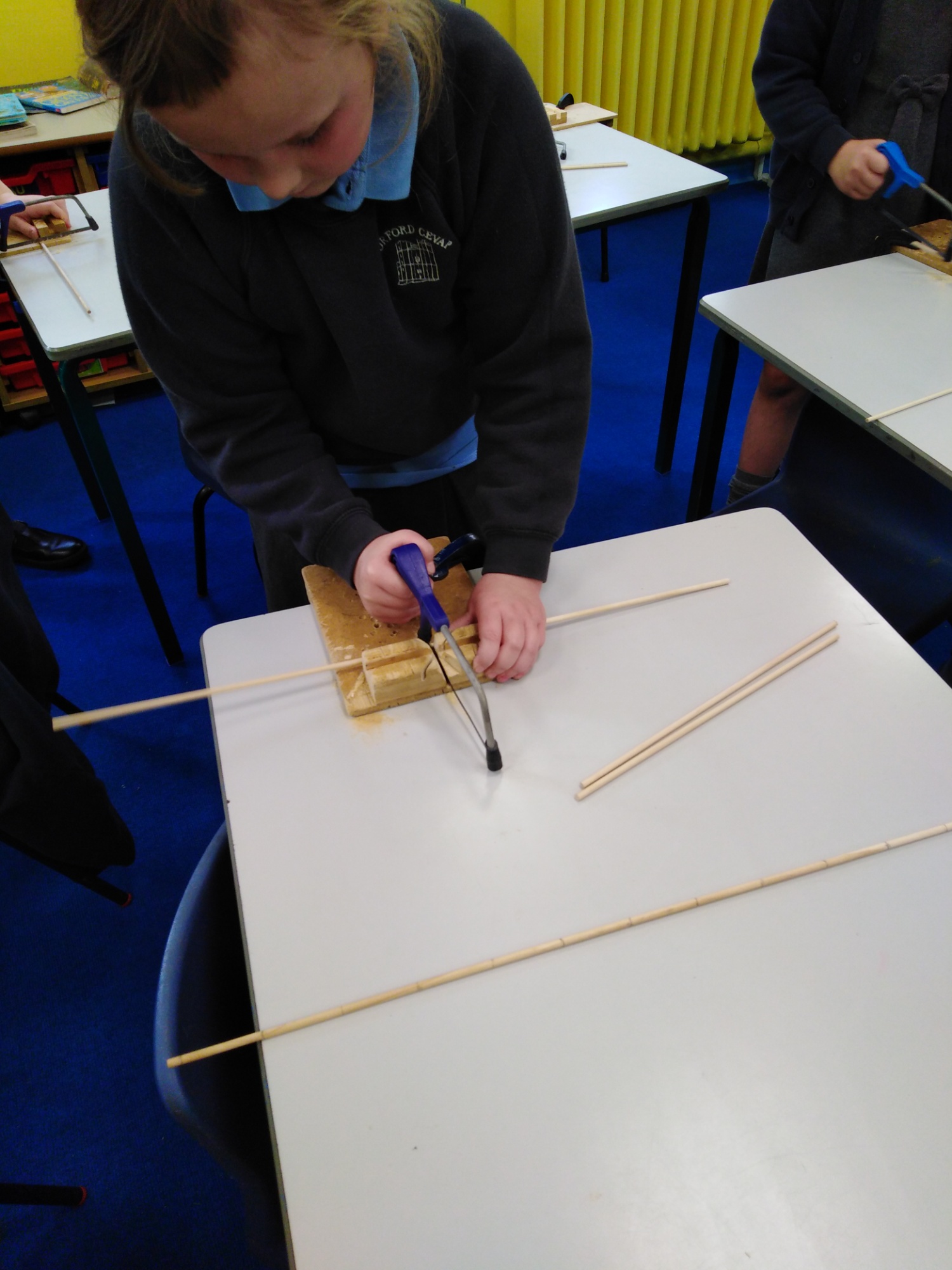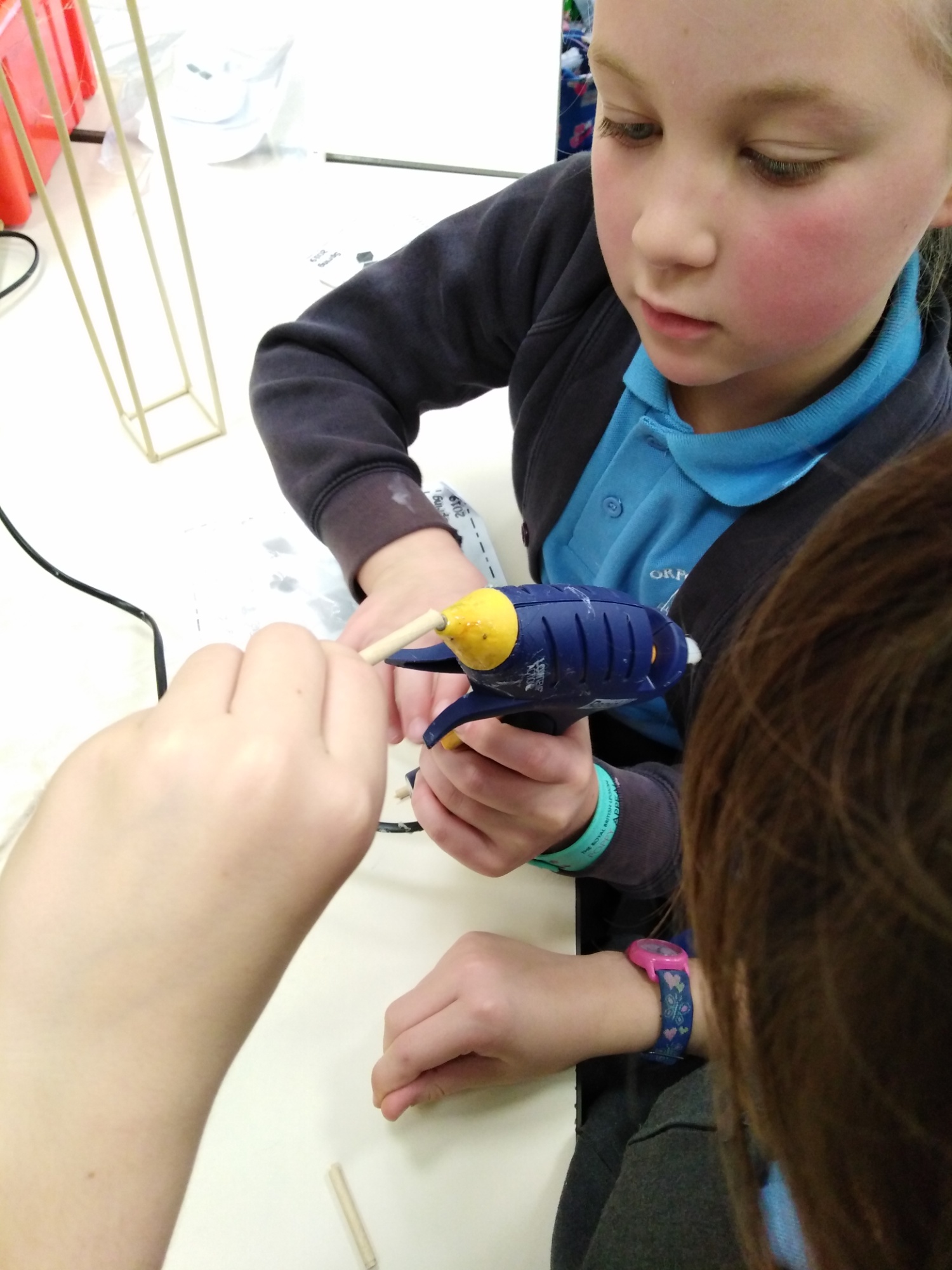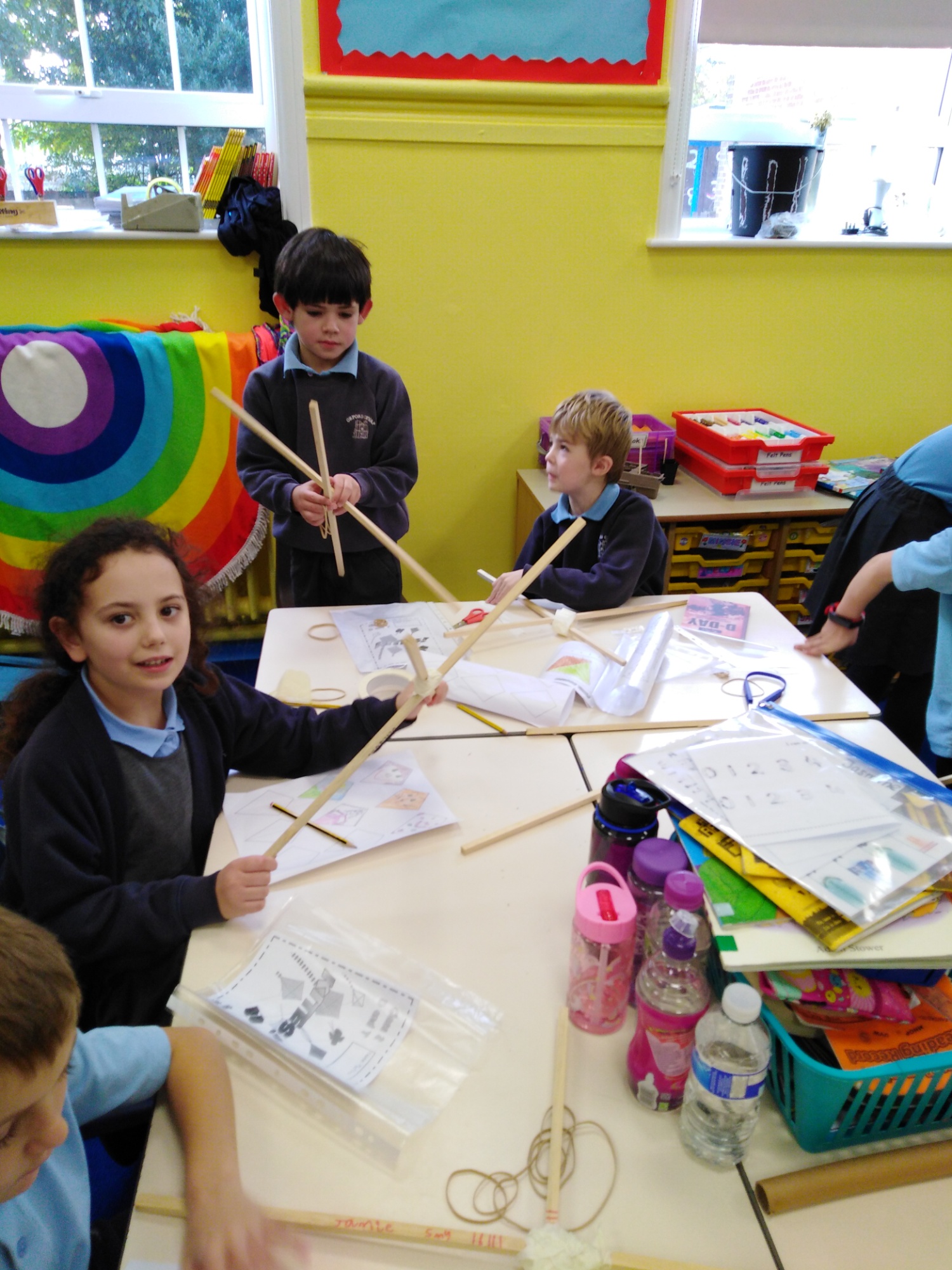 Today, we also worked on our Van Gogh 'Starry Starry Night' images. It was really hard using thick paint and trying to paint using lots of little lines like the artist, but they're looking really good and will be ready for display next week!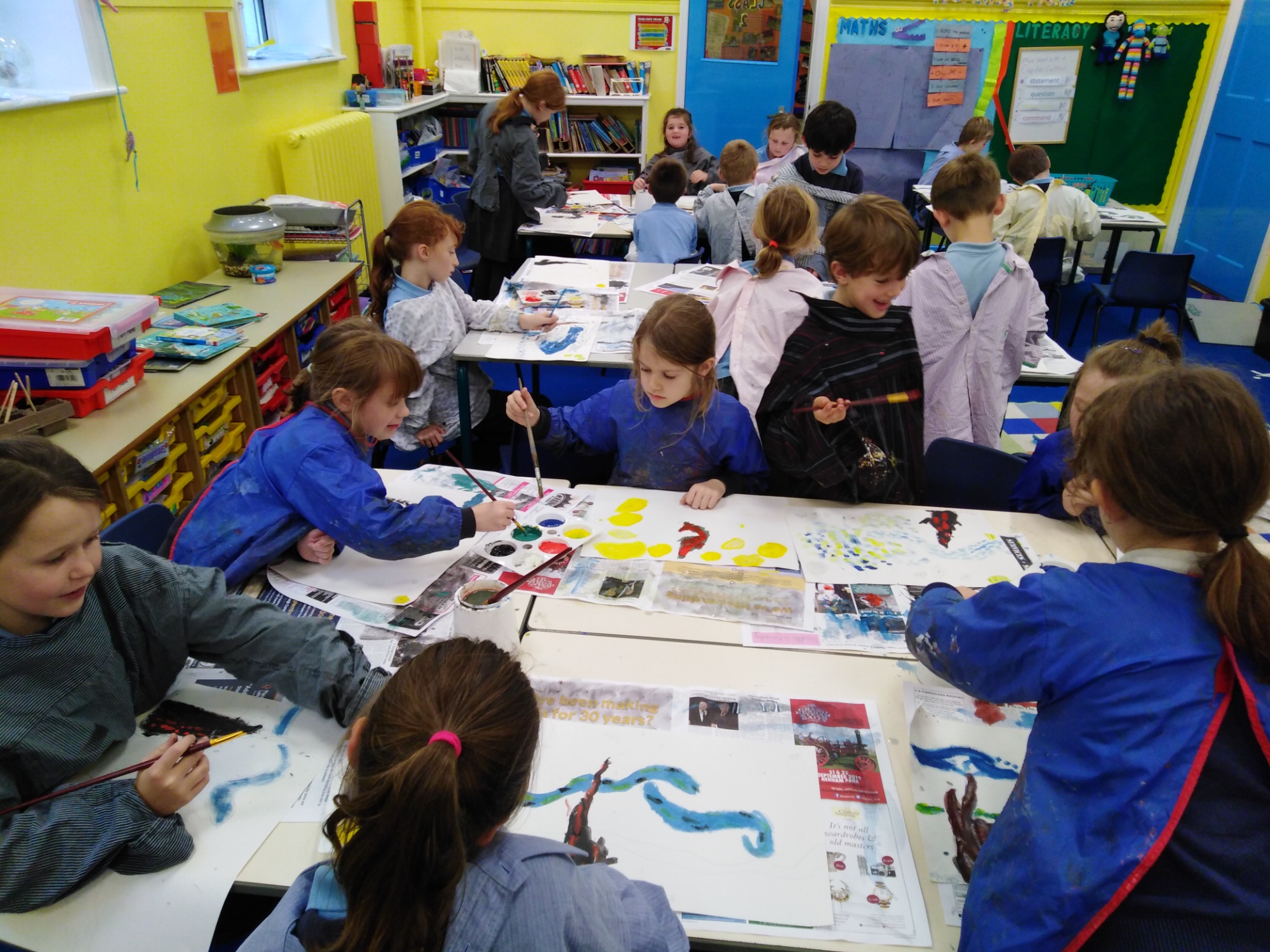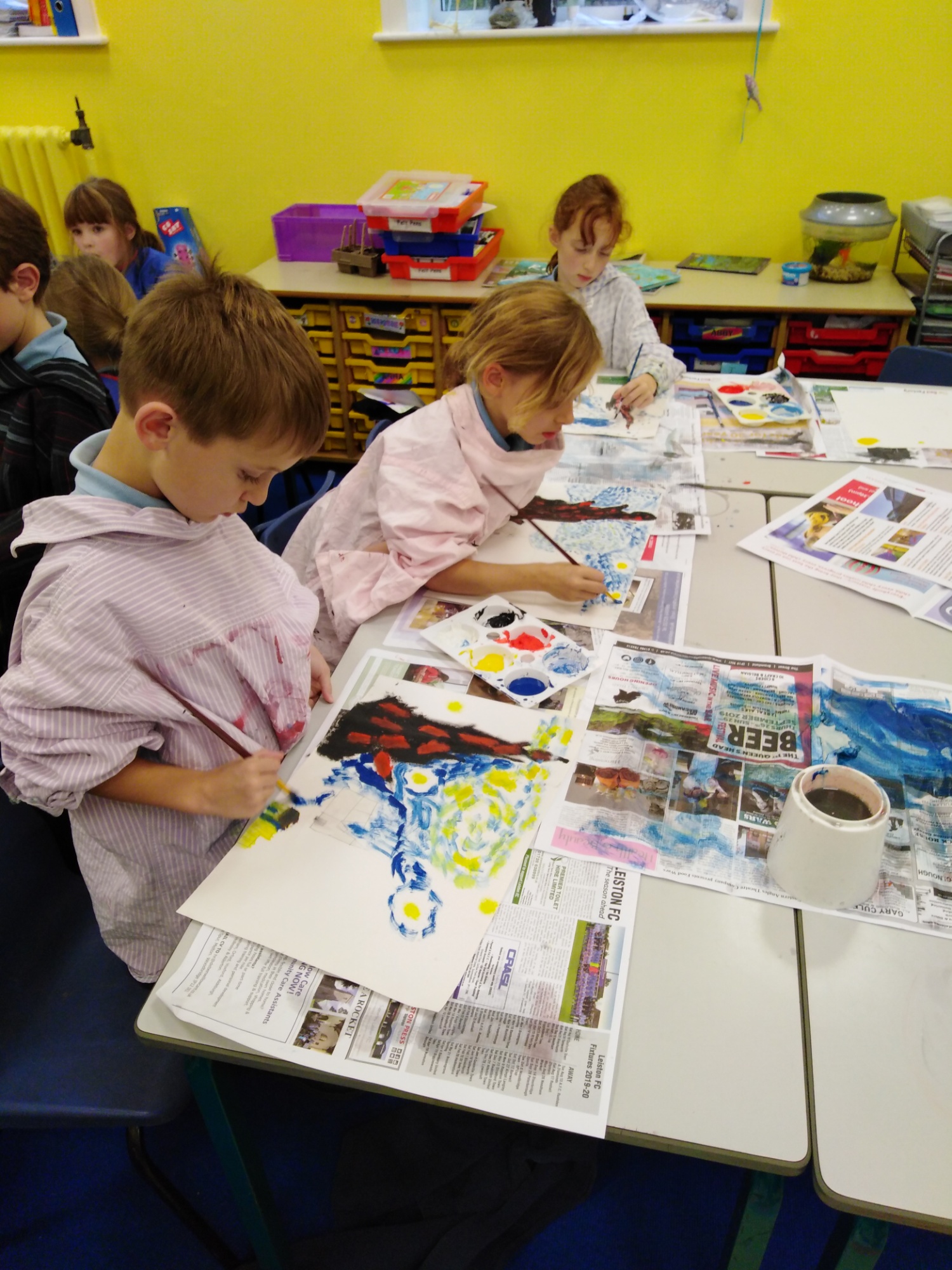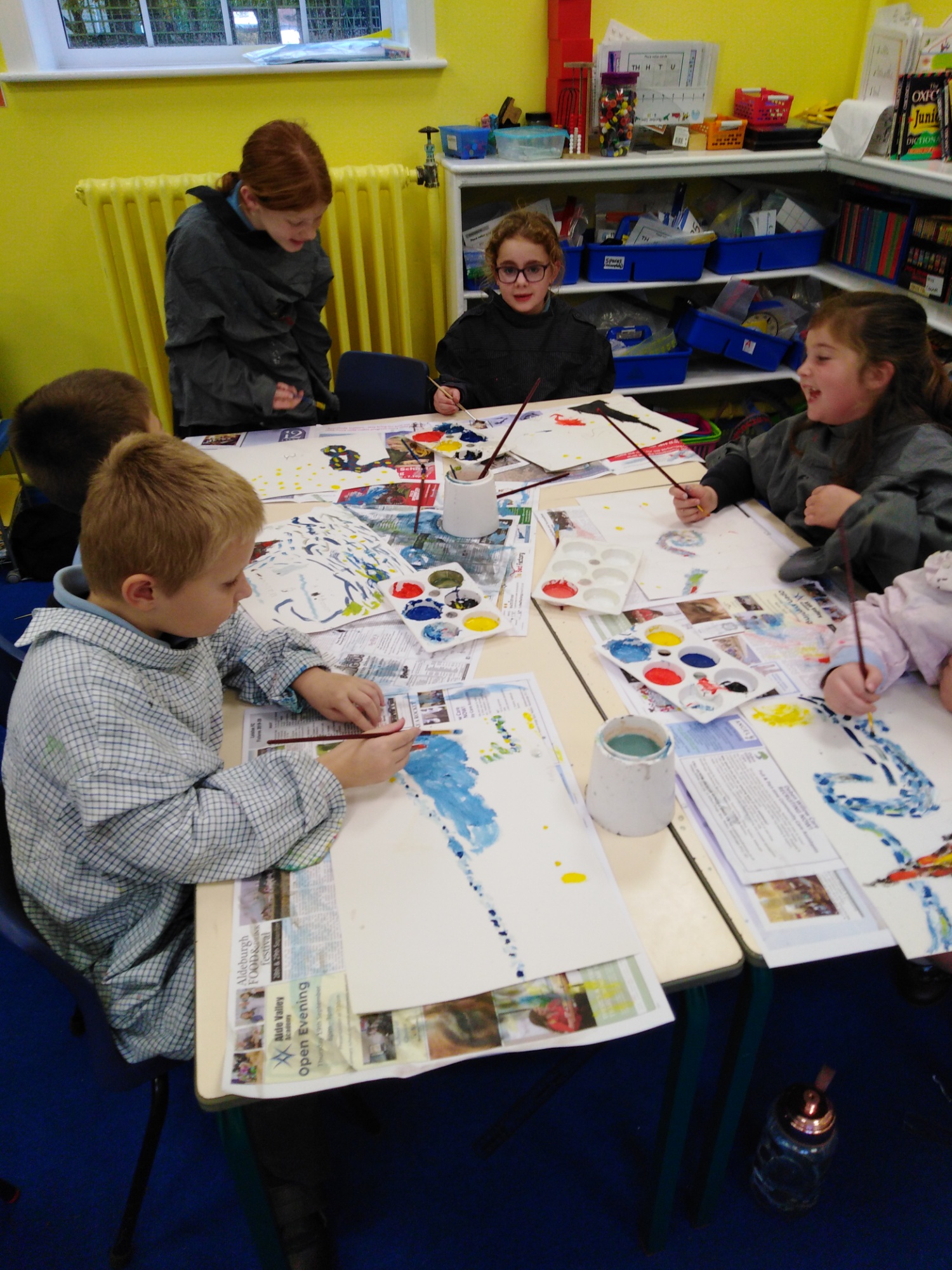 31st October
What a superb trip (the BEST ever - heard from some of the year 4s!).
We arrived on the quay just on time to take the boat over to Orford Ness when we were told that we had to take a detour before going to the lighthouse.... the RSPB had caught a Kingfisher we could see!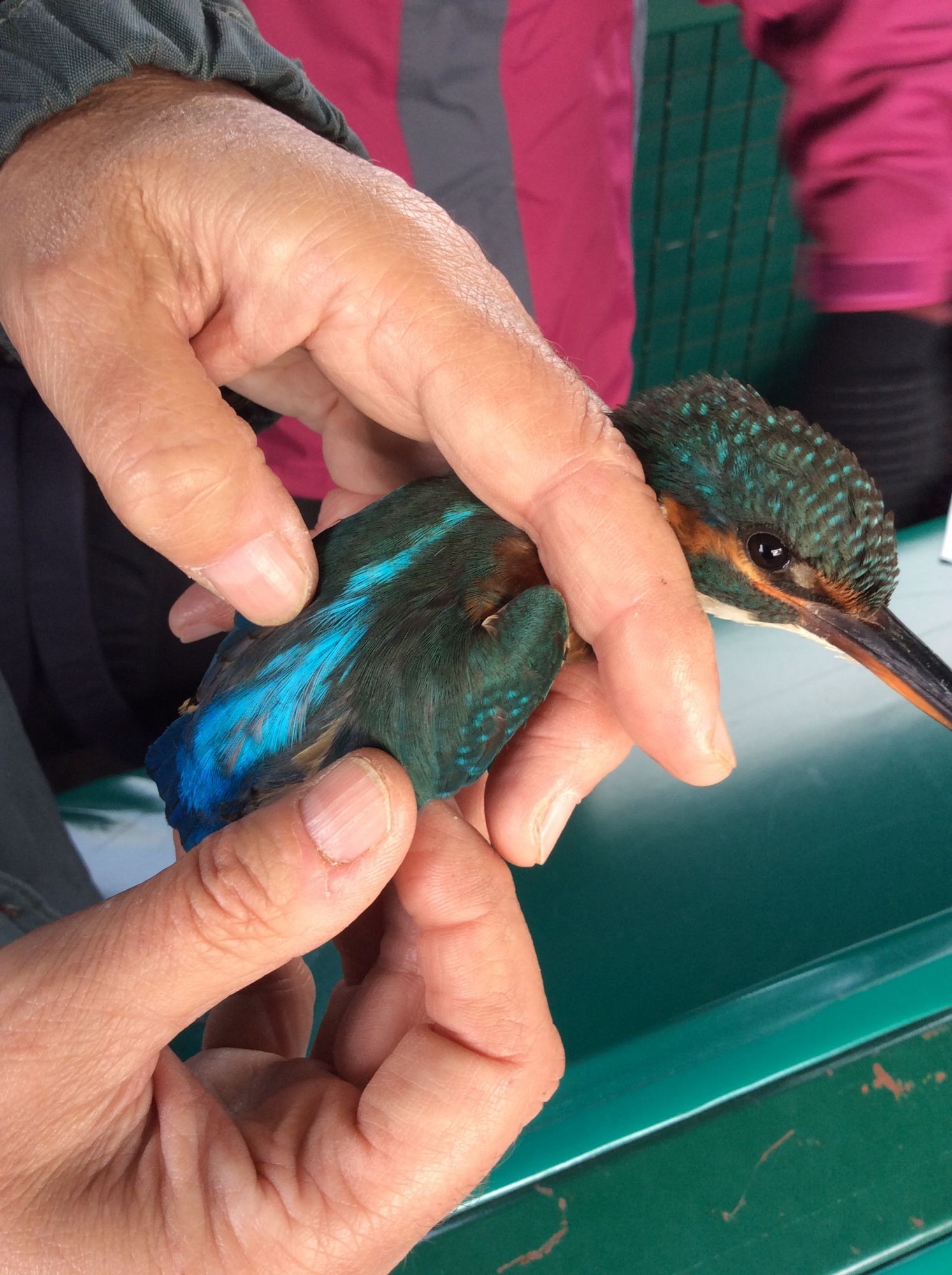 Next it was time to get in the trailer and head for the footpath to the lighthouse, it was nearly 1km walk but we were so excited and busy collecting things for our worksheet we didn't really notice. Once we got to the lighthouse we split into 2 groups - one went straight to the top of the lighthouse whilst one got to go and visit the cellars!! We also managed to join up around the whole lighthouse using 26 children and 3 adults!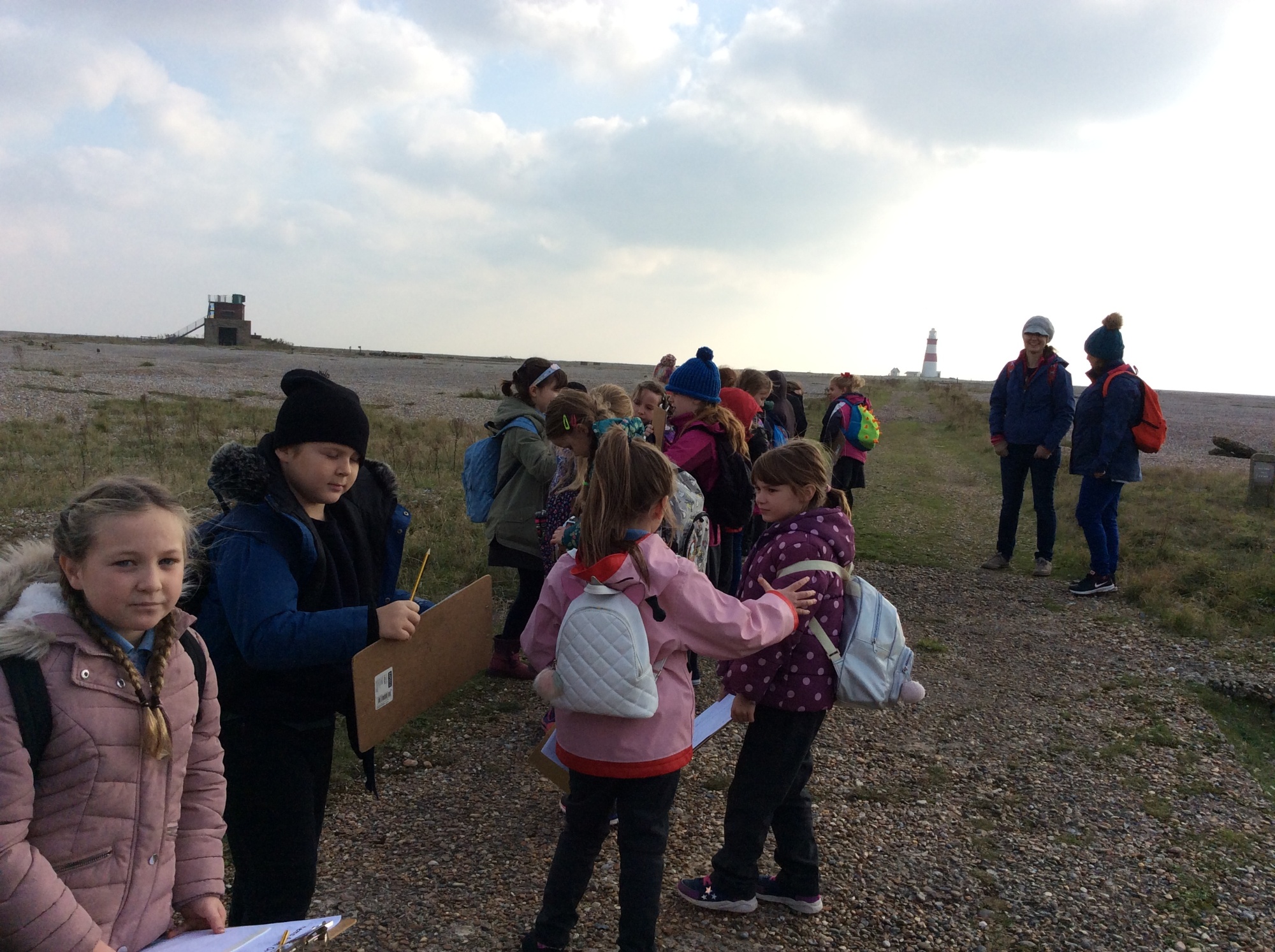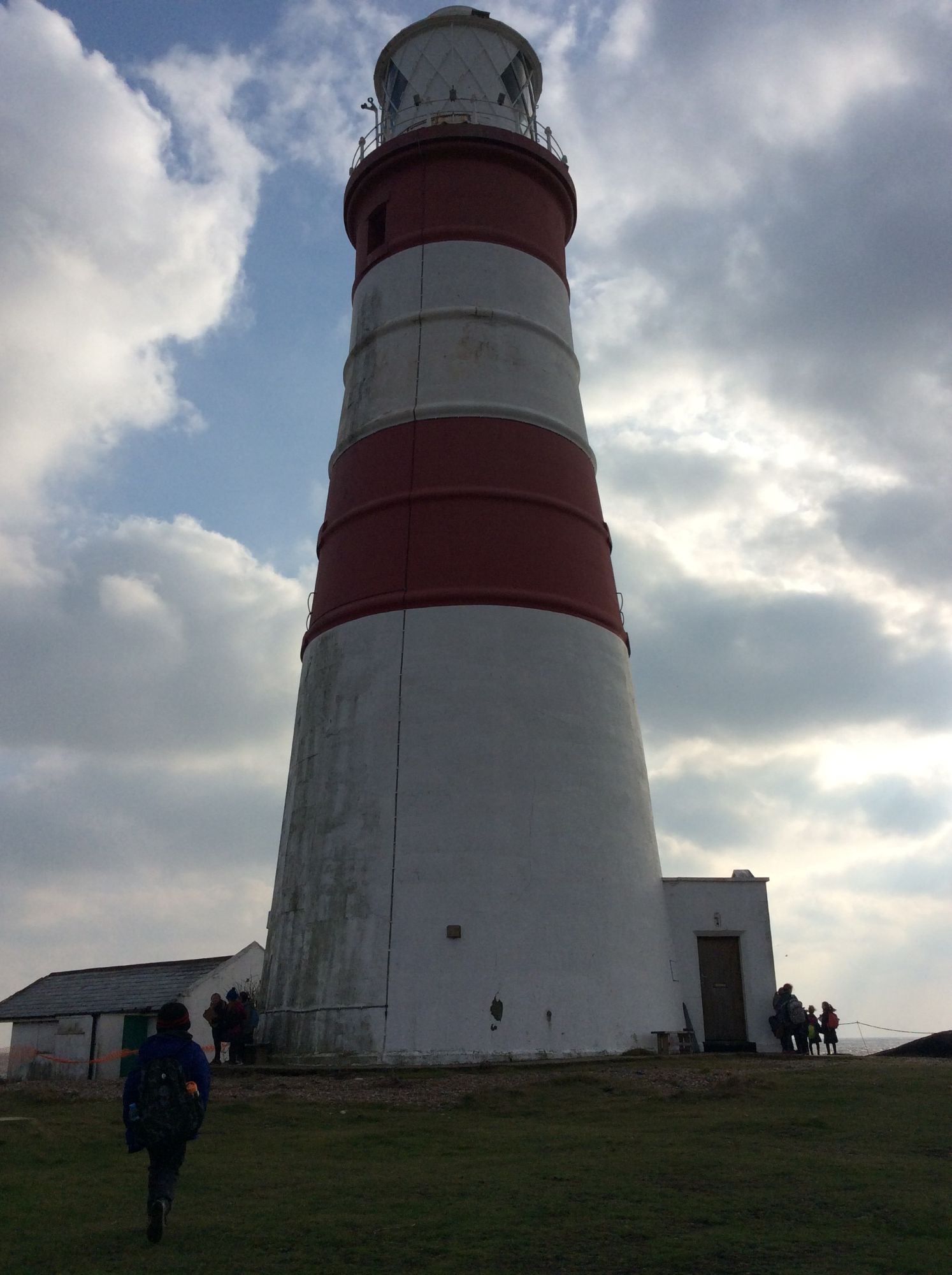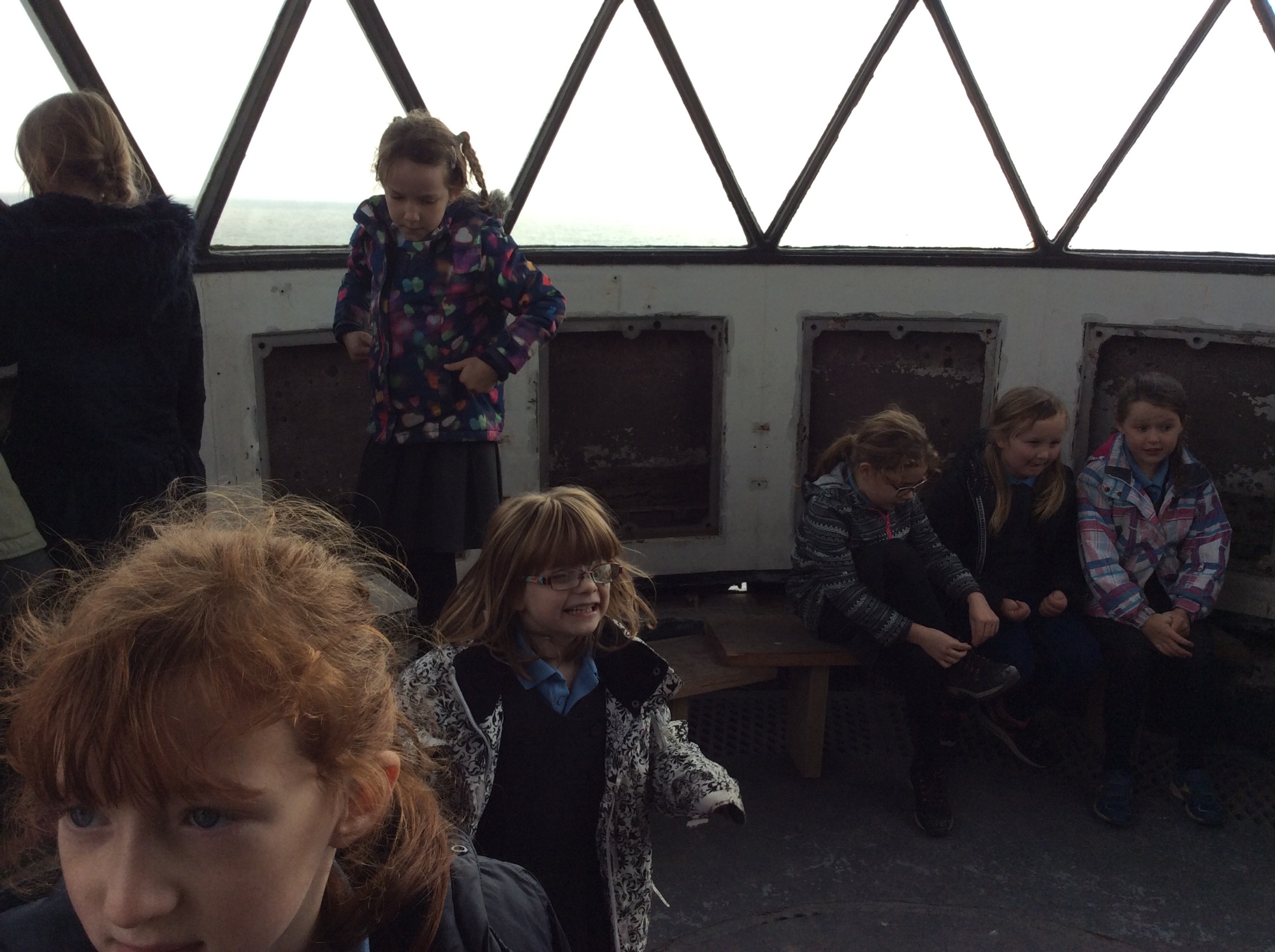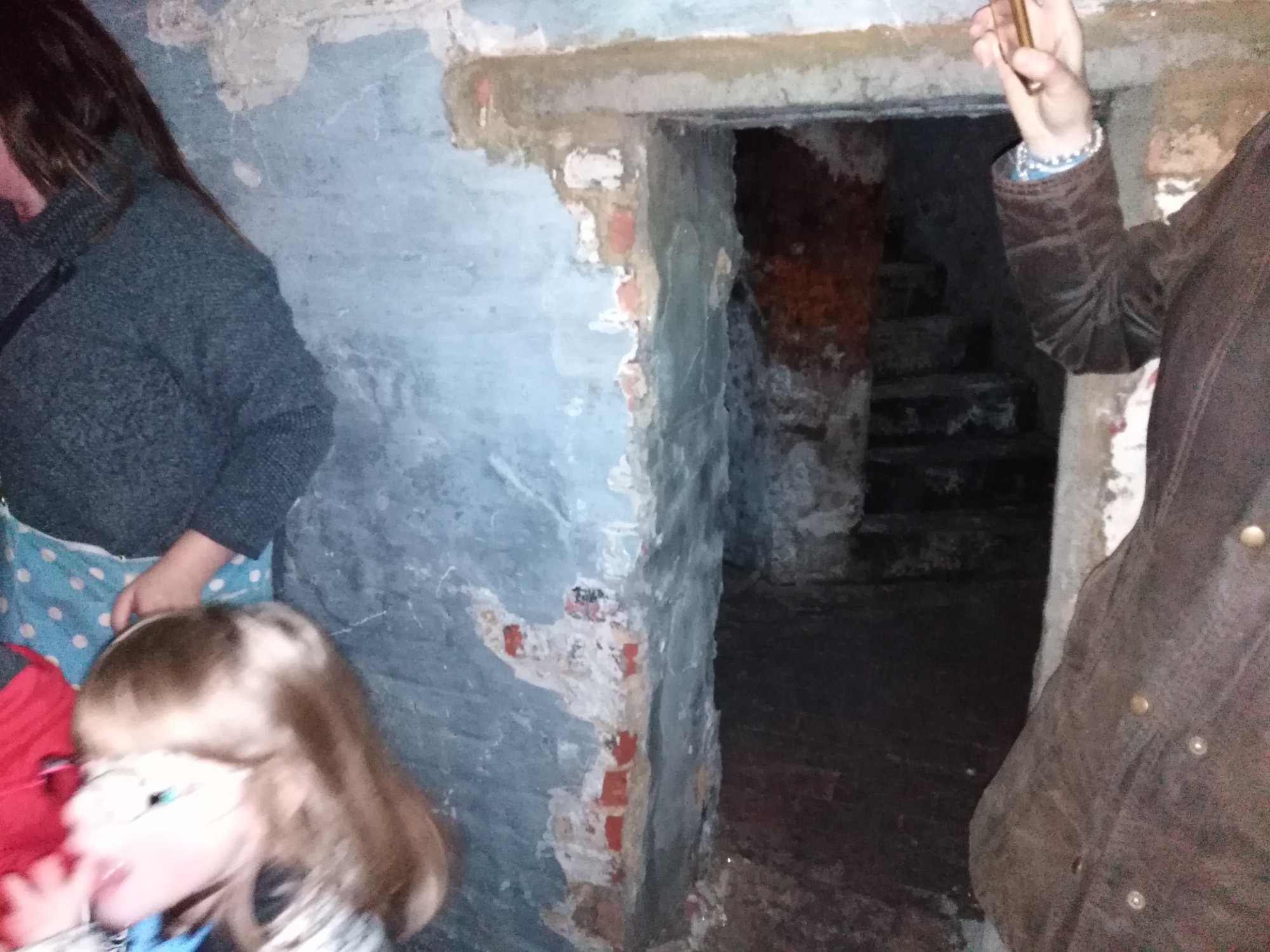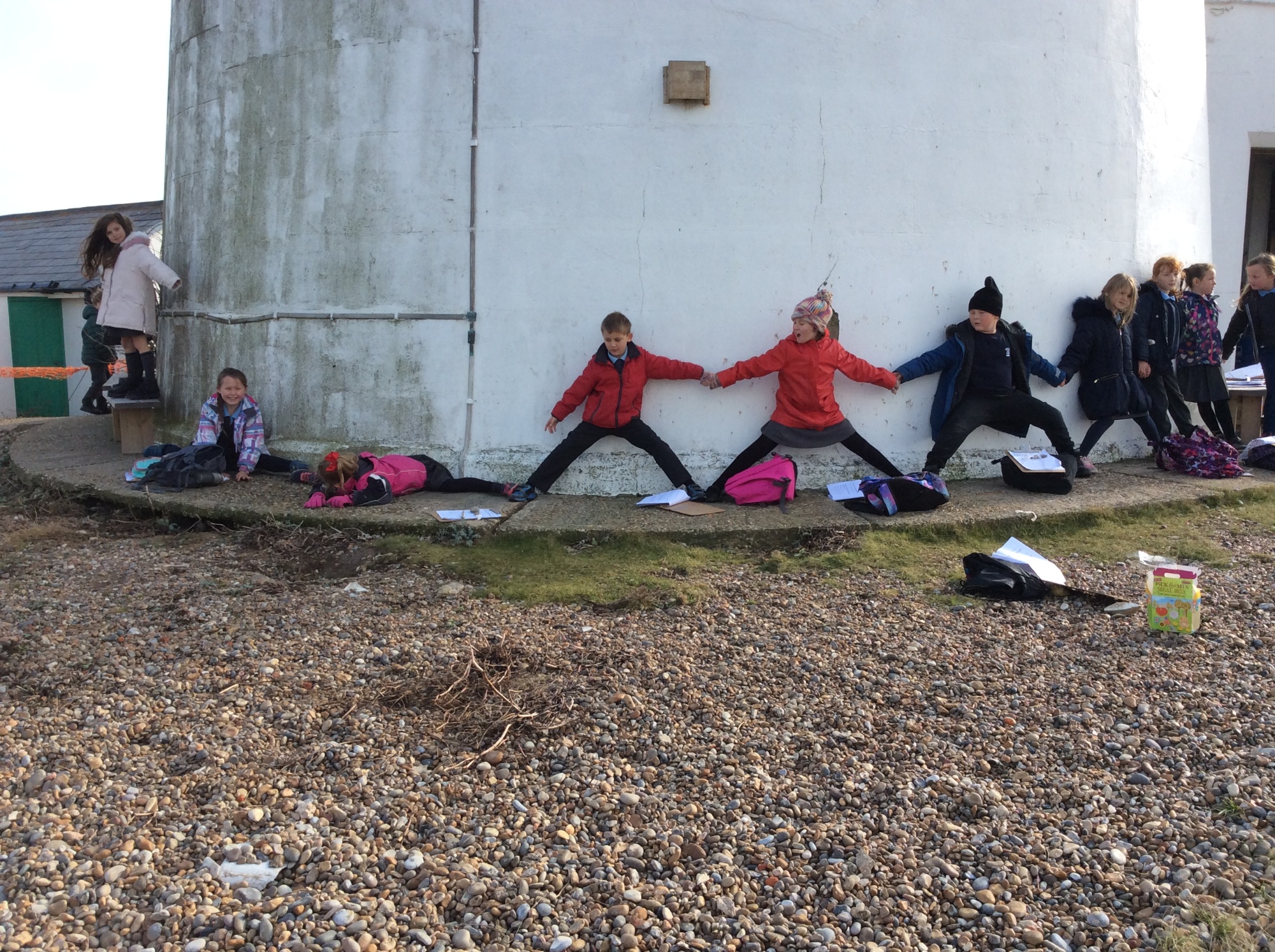 Class 2's fun facts about Orford lighthouse:
There are 102 steps to the top (Bella)
The lightbulbs changed from oil to gas to LED (Mimsie)
You can see Aldeburgh from the top (Emily)
It was built in 1792 (Jenson)
After a brief lunch and loo stop, we were once again on the National Trust trailer which took us past where the public are normally allowed right up to the pagodas where bombs were tested during the cold war. We also got to look inside laboratory 1 which had a 6m deep pit for detonating bombs before seeing a nuclear missile shell in the new exhibition.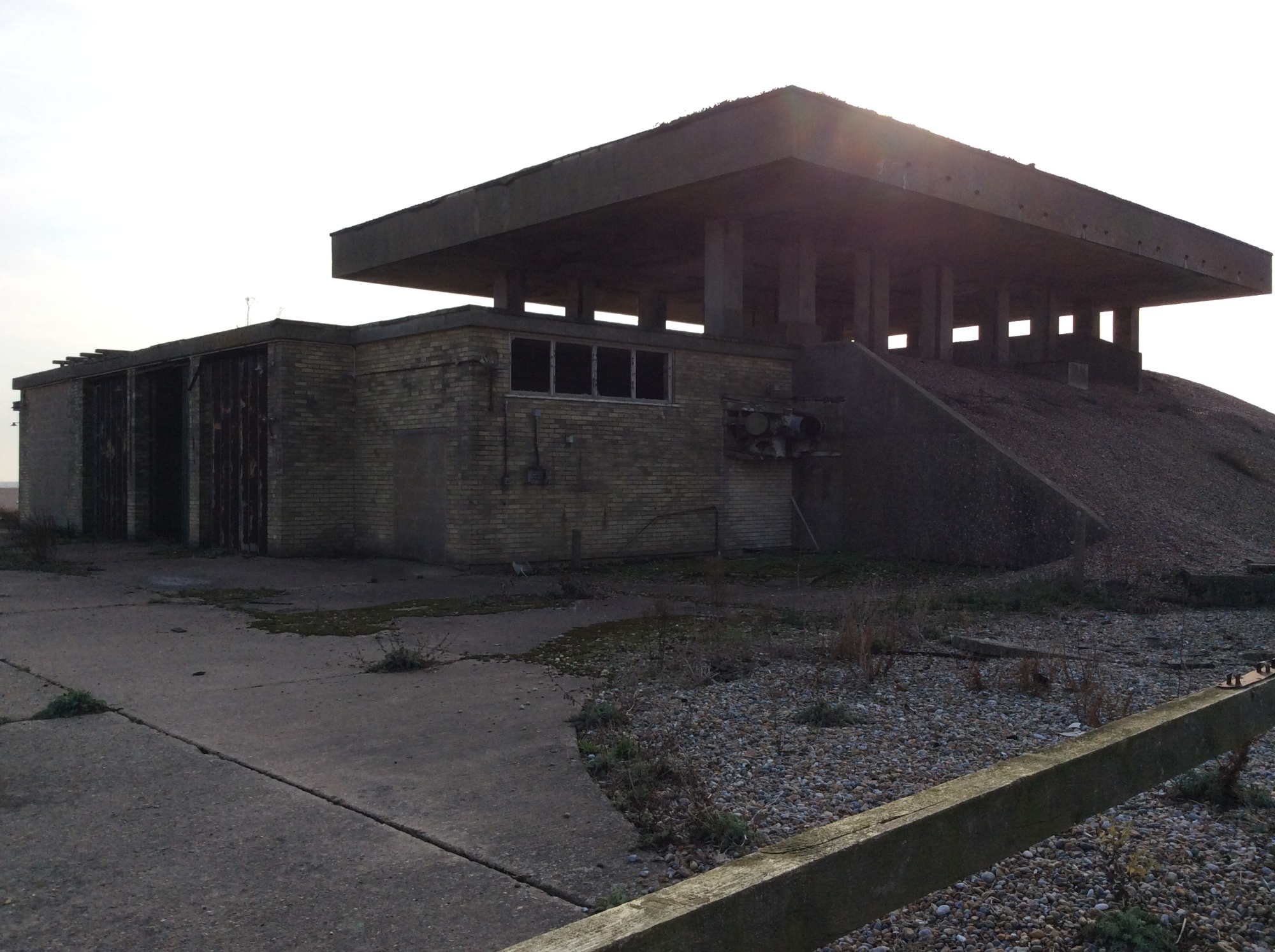 Thank you so so much to Mike and Lydia Finney, Mark Thacker and the National trust plus our parent helpers for making it so successful!
All the photos of the day are in the gallery (click here if you are reading on a computer).
17th October
PLEASE check parentpay this evening - we are going on an exciting visit to Orford Lighthouse on Thursday 31st October and permission needs to be sent back ASAP.
For the trip please ensure your child has:
A school jumper and their coat
A healthy snack
Sufficient drinking water for the day (there is nowhere to refill water bottles)
A packed lunch (if your child is in Year 2 or in receipt of free school meals and you would like to office to arrange a packed lunch, please tell us by Tuesday 29 th October )
Comfortable shoes/trainers (we are doing a lot of walking, so this is imperative!)
We also need one more adult to help out on the day - ideally not scared of heights. If you are available, please speak to Miss Cannon or Mrs Smy.
11th October
Well... what a strange week! After being flooded out of our classroom, we relocated to the hall, and actually have had LOTS of fun! We still managed to get all our normal lessons in, and became experts in shifting furniture at the same time!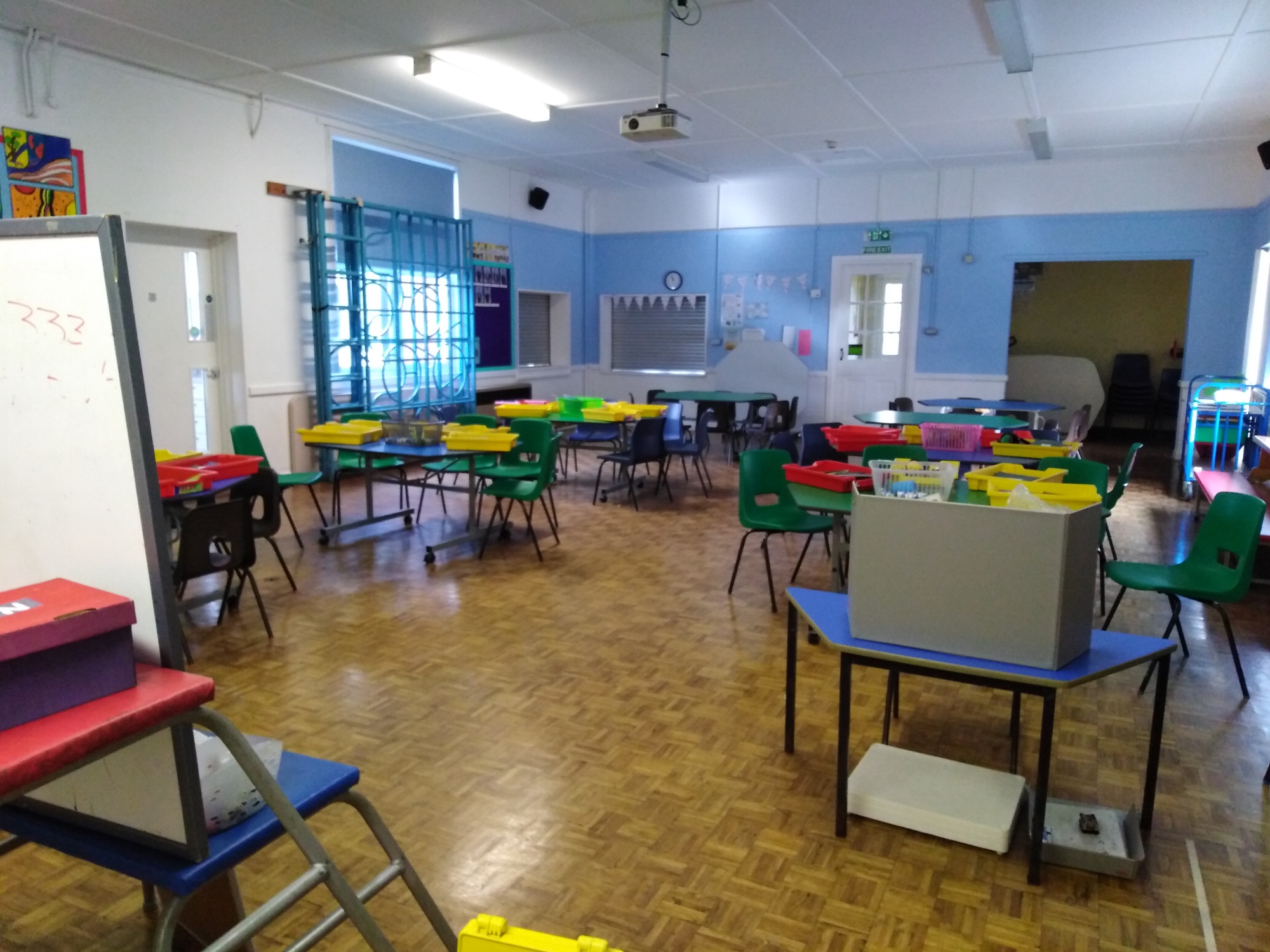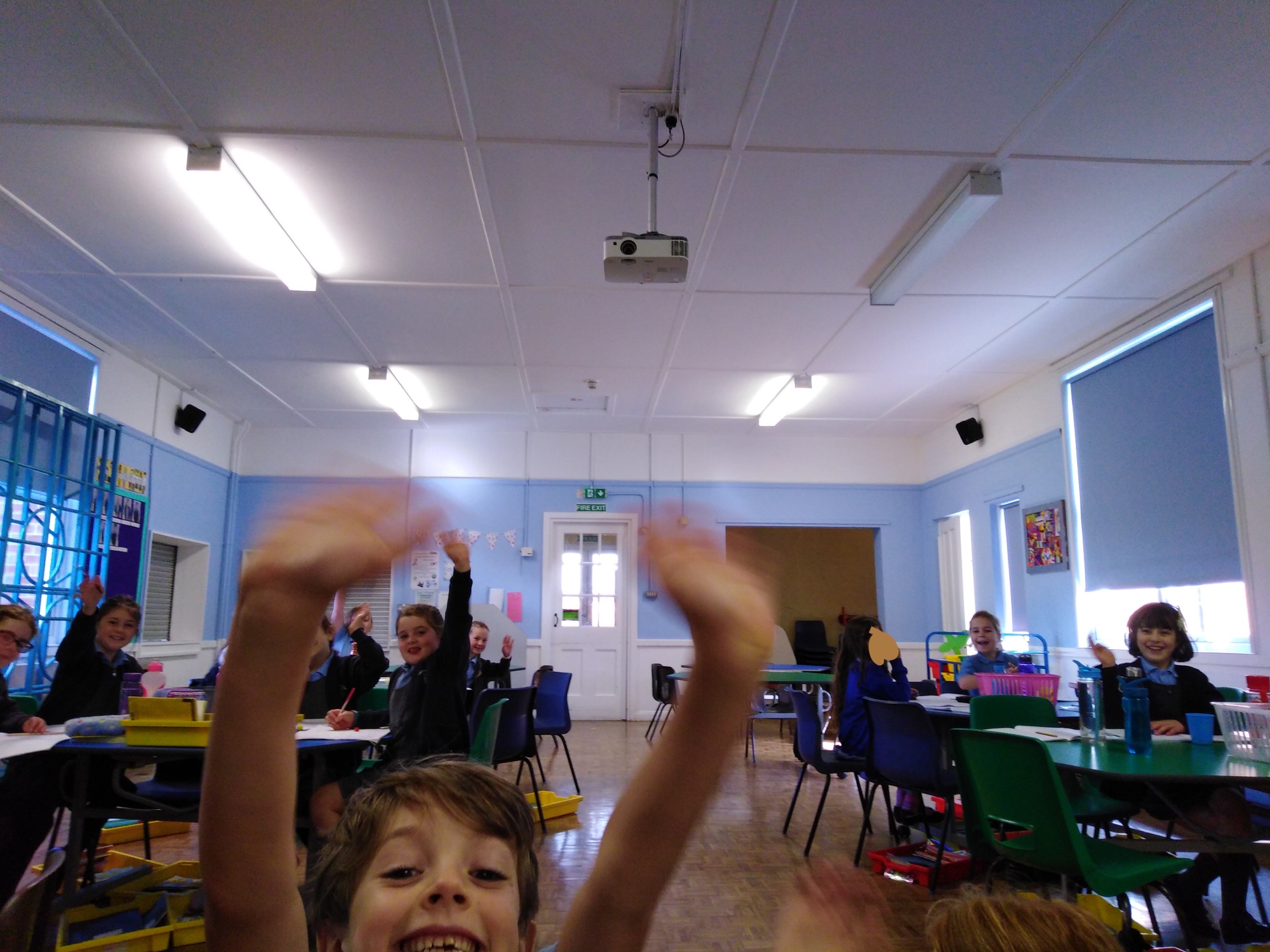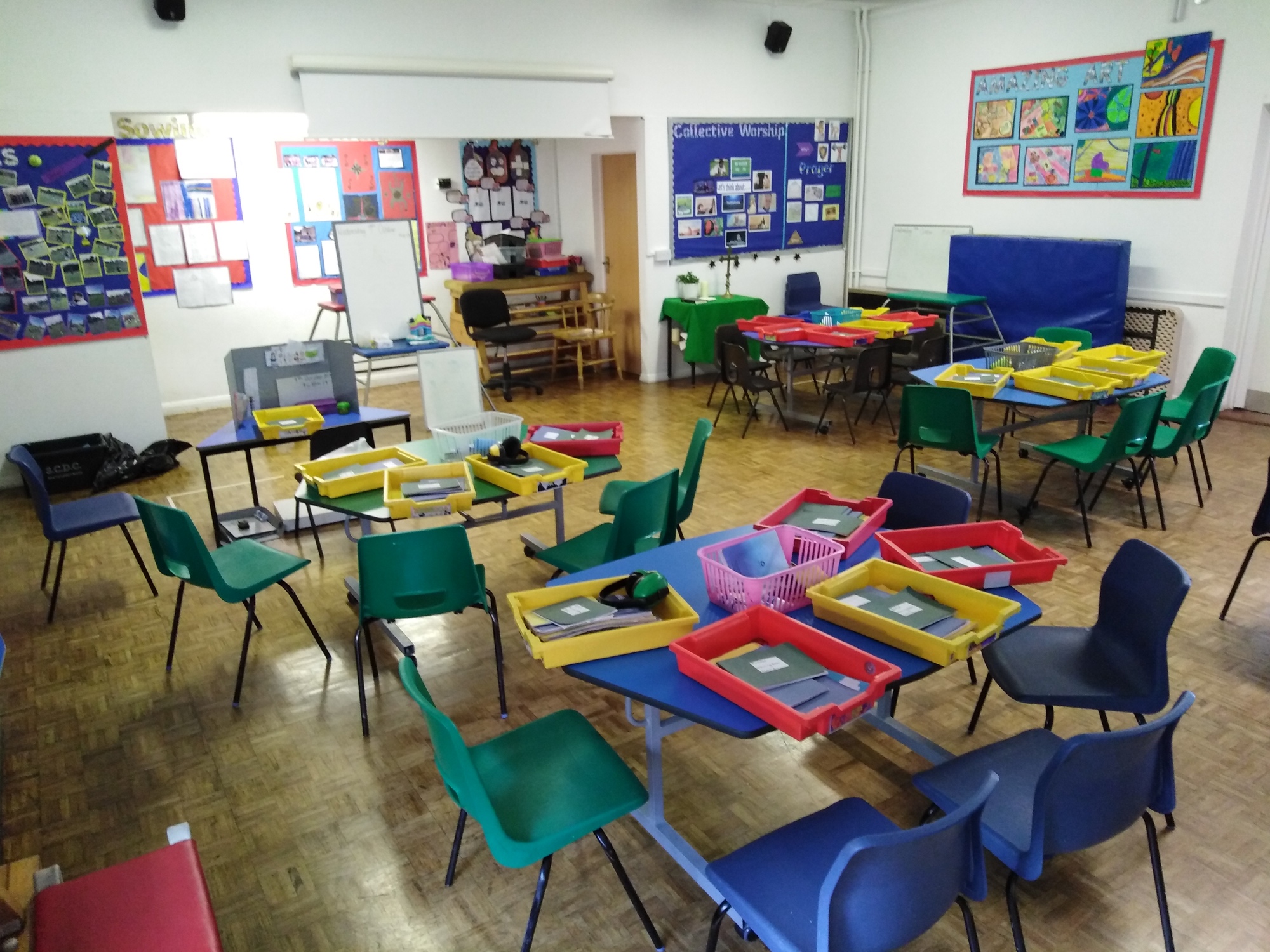 Luckily, the experts have been in and said our classroom is safe to go back into, so we will be there Monday. Homework will also be sent home Monday, due THURSDAY instead.
A huge well done to all the children - they have not let any of this phase them and have worked brilliantly amongst all the changes, we are very proud of their conduct!
4th October
This week we were really lucky to have Janet Bishop (one of our governors and the lay reader at St Bartholomew's) talk to us as part of our RE about prayer and reconciliation.
She shared with us the prayer parts of the service which take place in Chillesford and Orford churches, as well as what happens in Catholic churches - we had great fun acting out the 'confession box' - Jazmine was particularly pleased to be the priest who had the ability to forgive!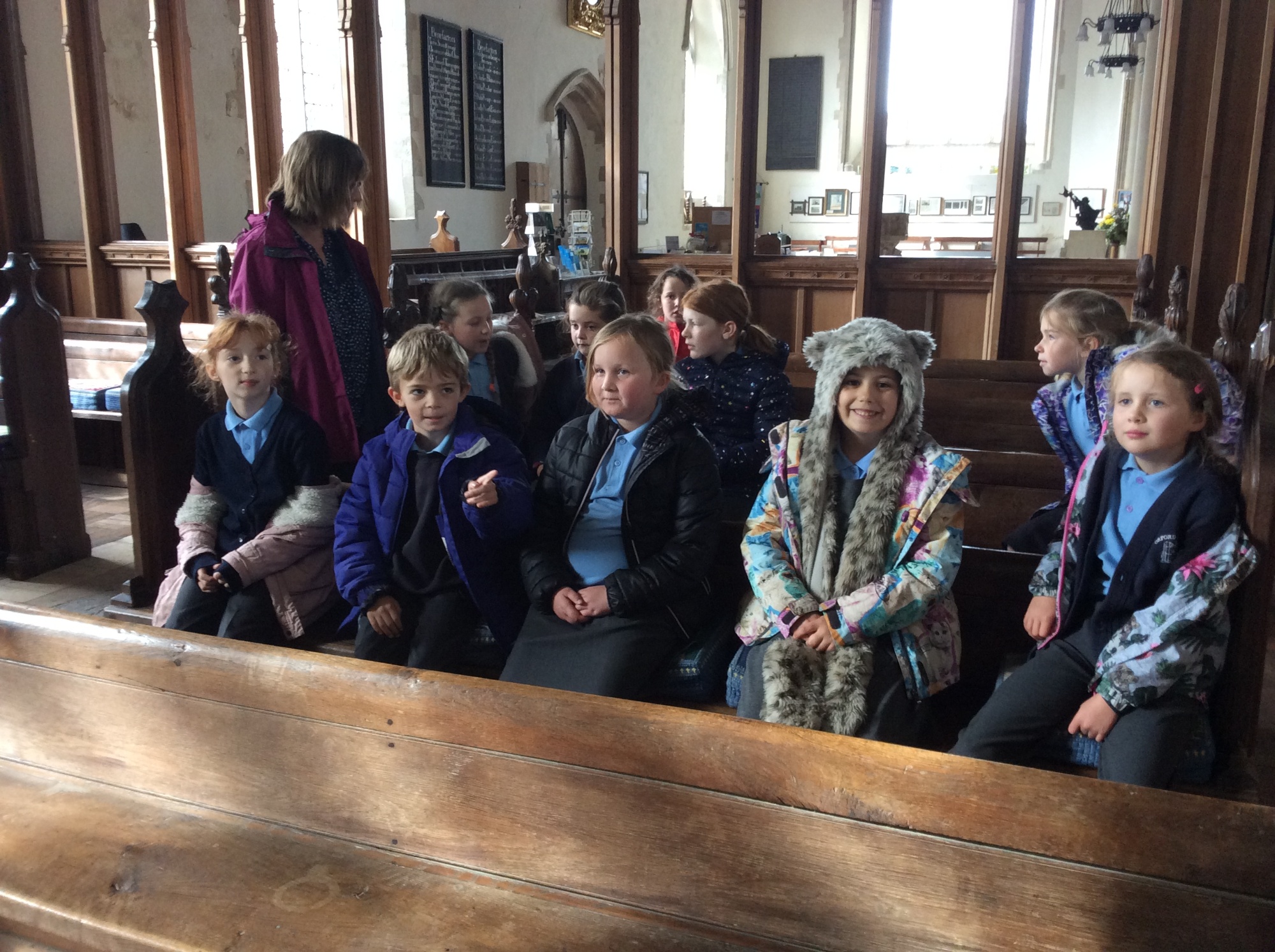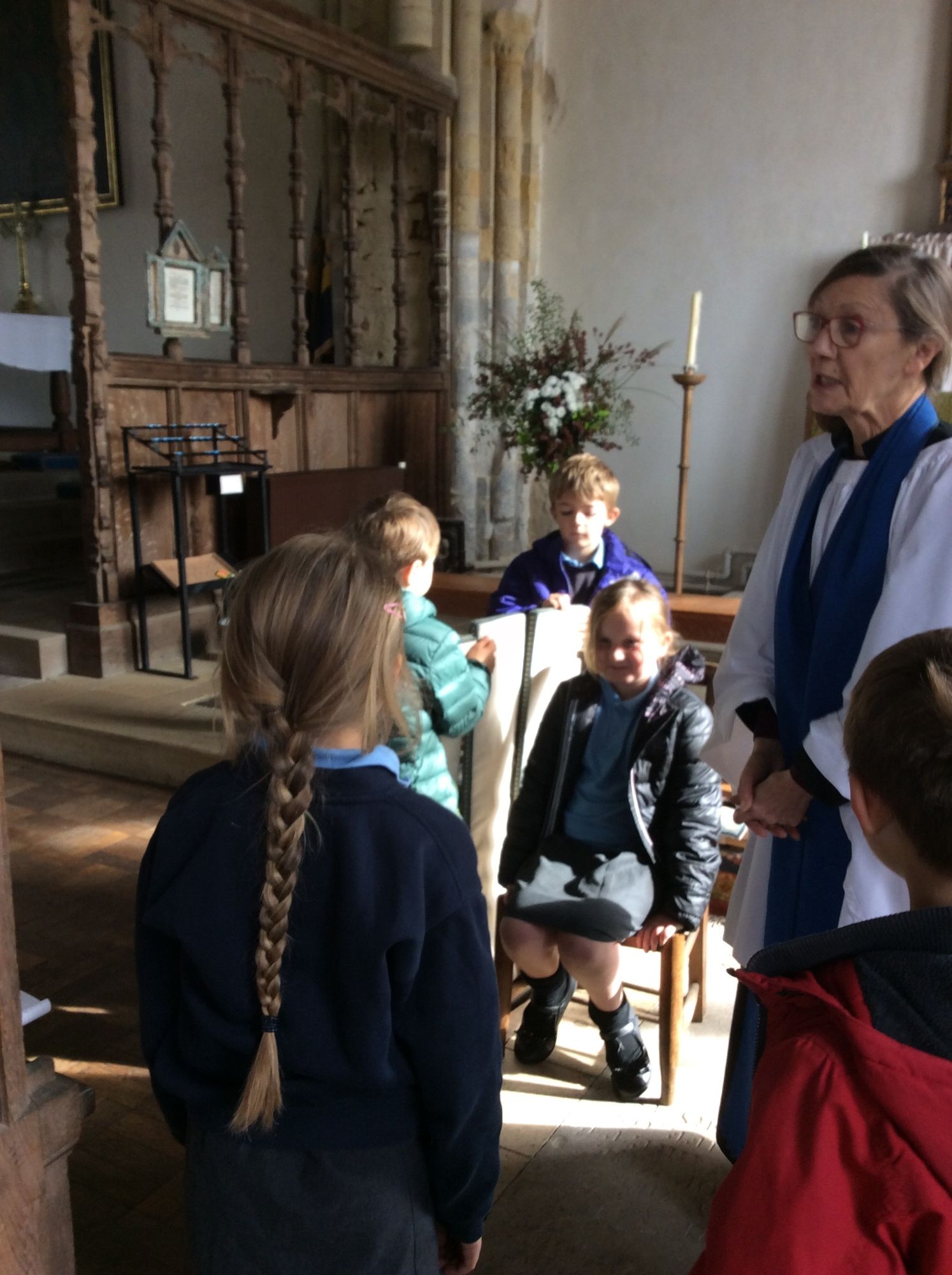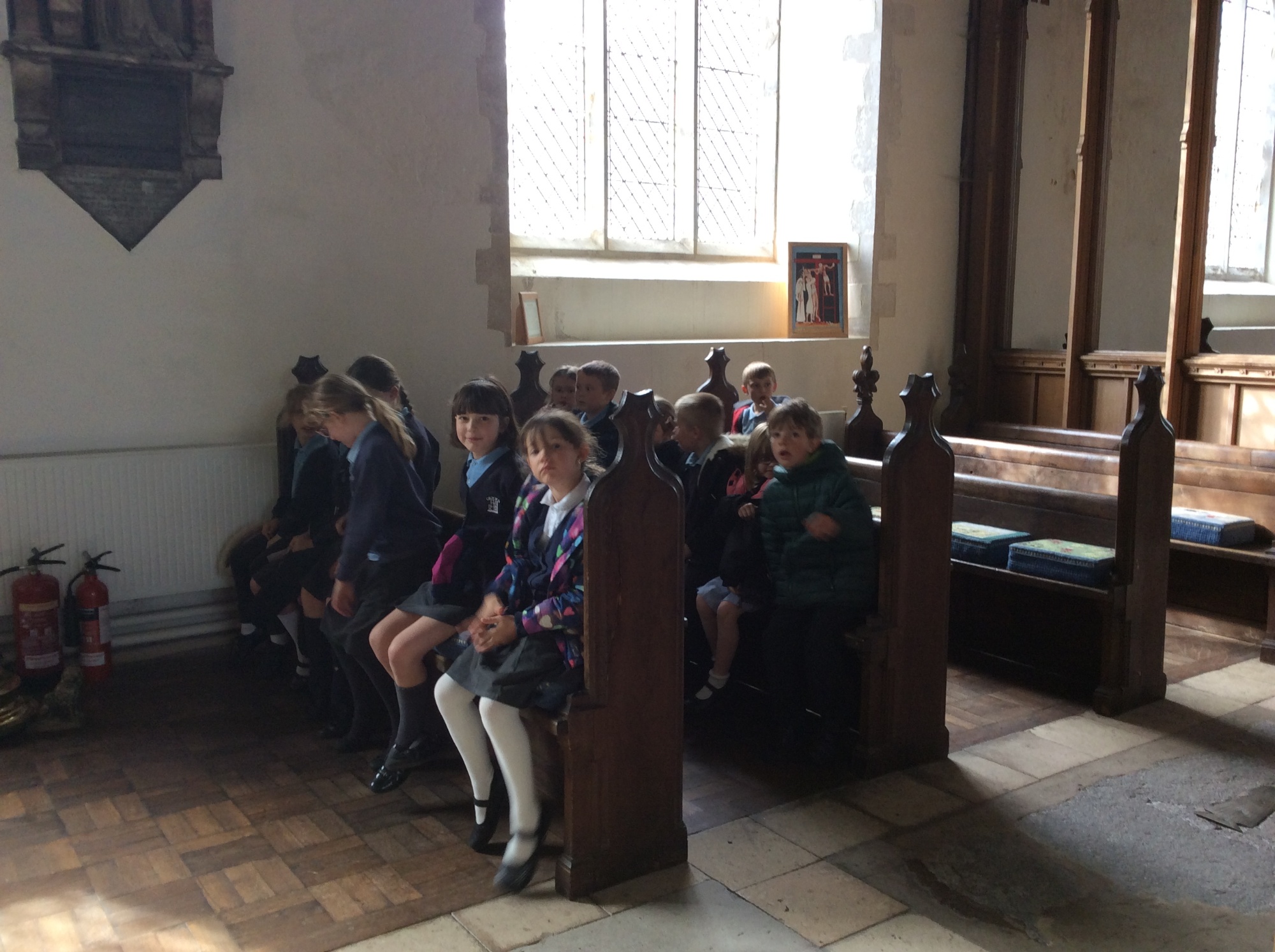 27th September
Please check in book bags for homework books and reading records - there are 5TP up for grabs for all homework completed and handed in on time and reading should be done 4 x per week, for which there is a separate prize system. This week, very few children managed all of this. Our homework is minimal and helps develop essential skills they use in the classroom across the curriculum.
20th September
In Art, we have begun looking at the work of Vincent Van Gogh - did you know that he used to draw all of his pictures before painting? We spent last week observing and copying his drawing style - he used a lot of different lines for effect, some straight, some curvy, some cross hatched.
This week, we were given one of his paintings chopped up and had to recreate that part EXACTLY - size, shape, position etc. We then put our finished products back together to make the original picture... how do you think we did? (Apologies for upside down 's' - Miss Cannon was writing upside down!)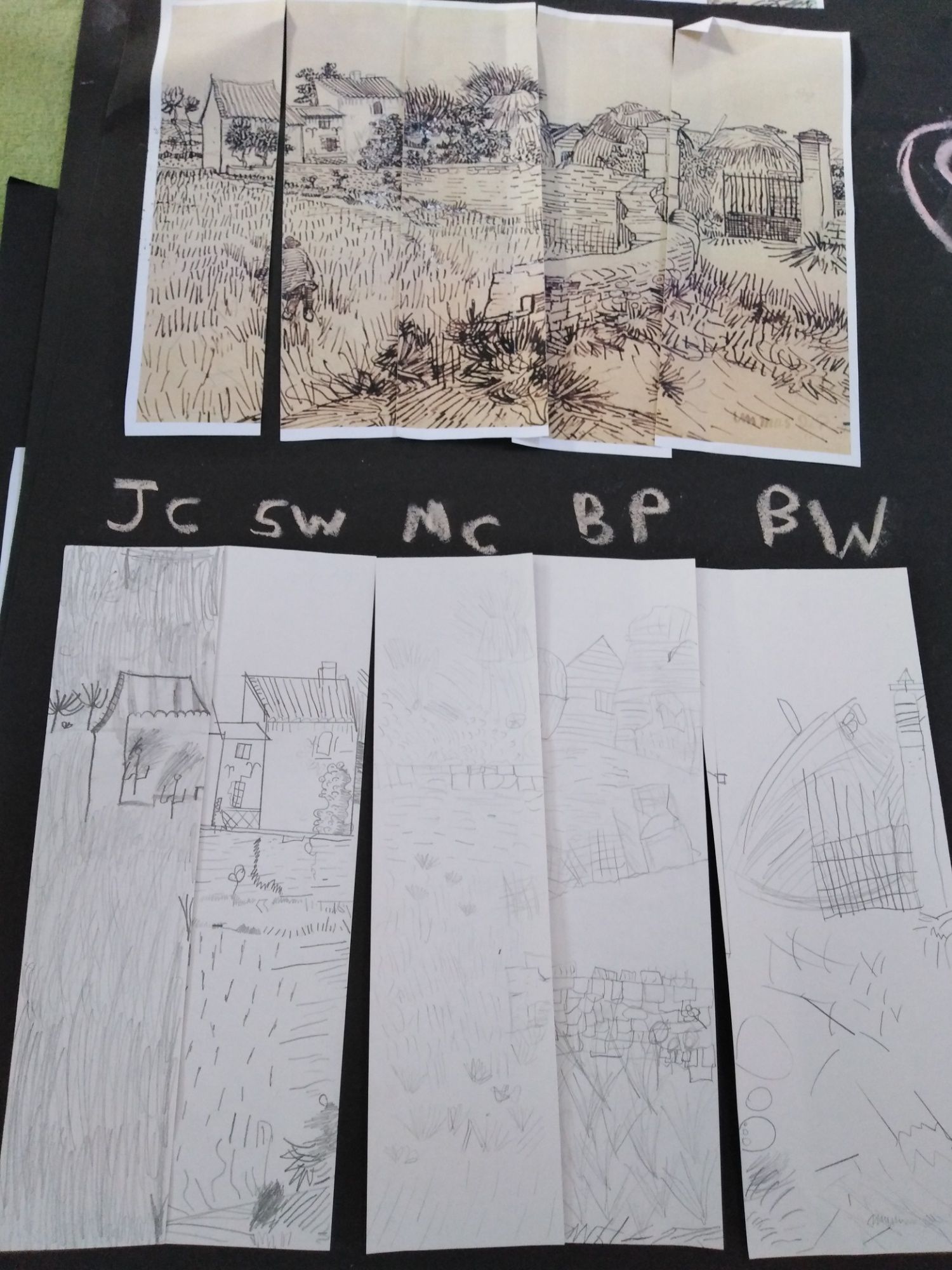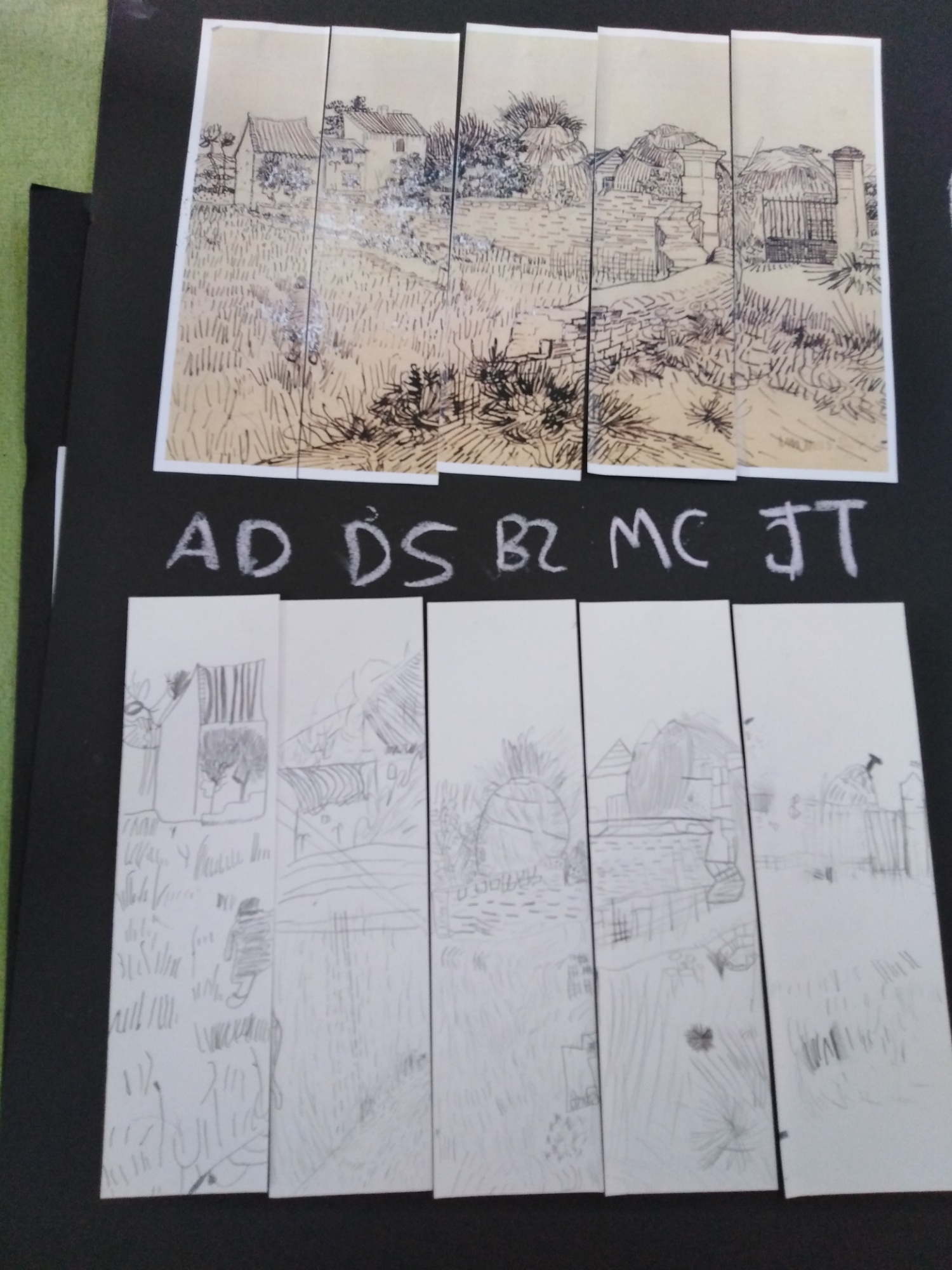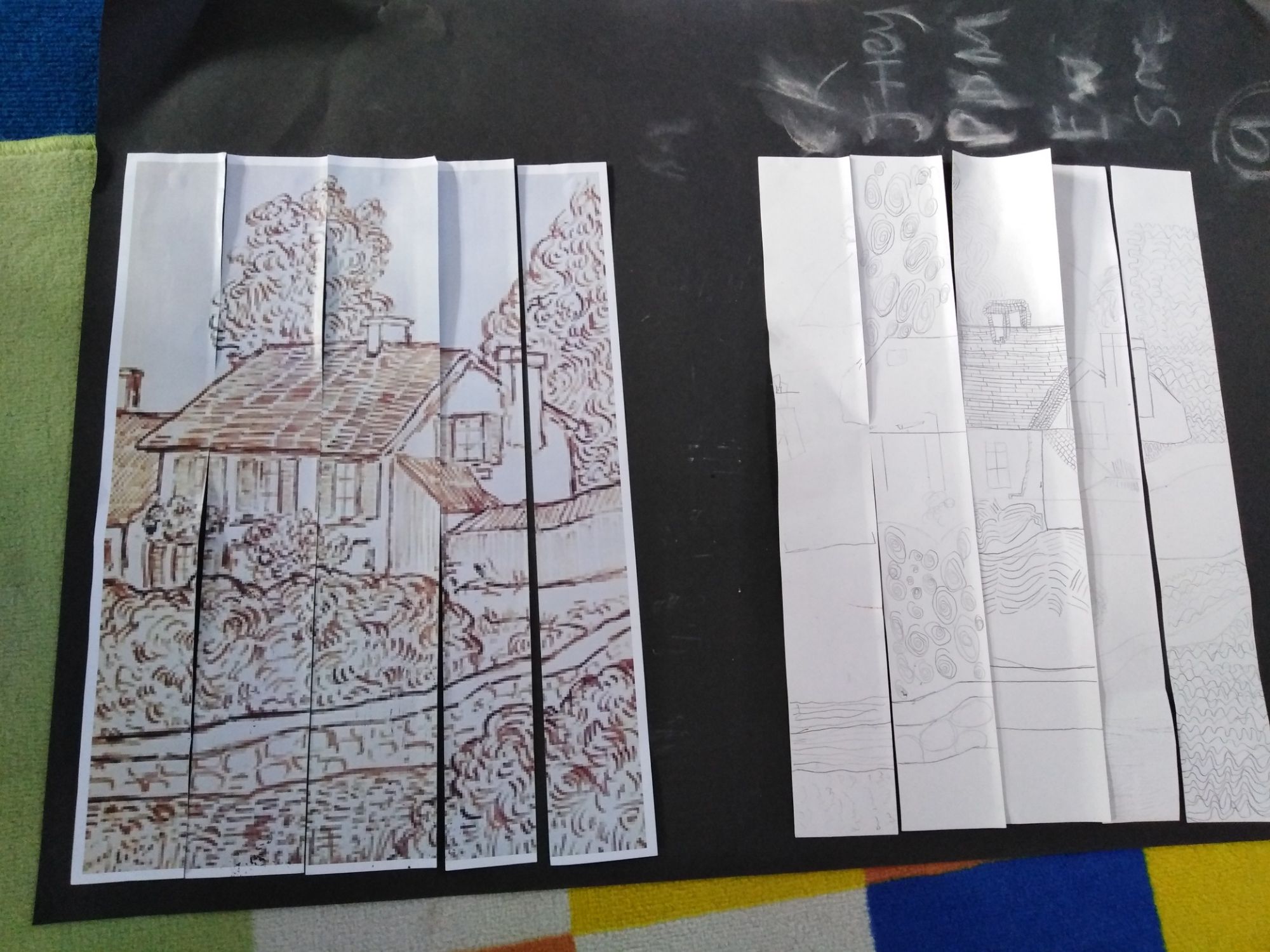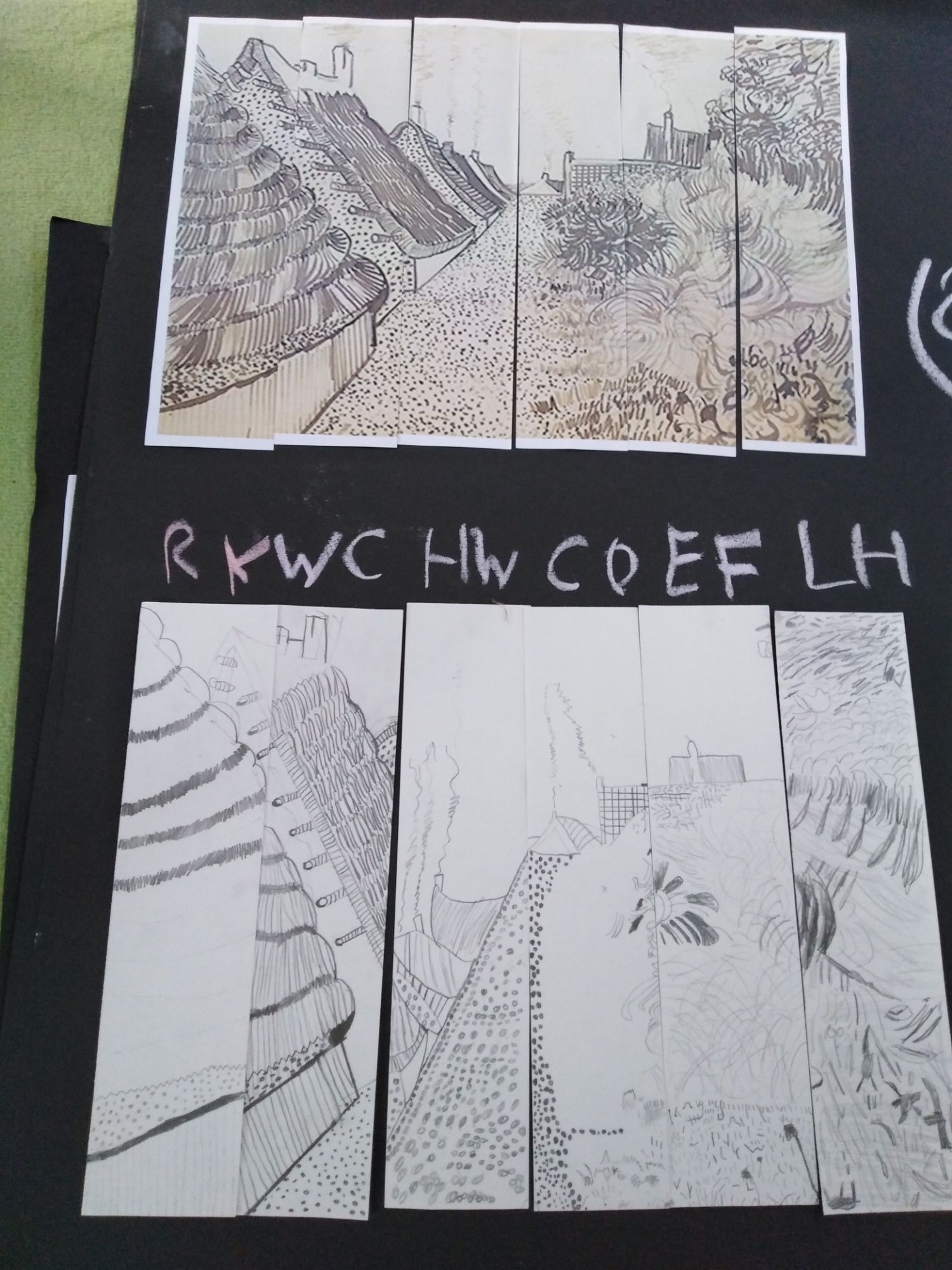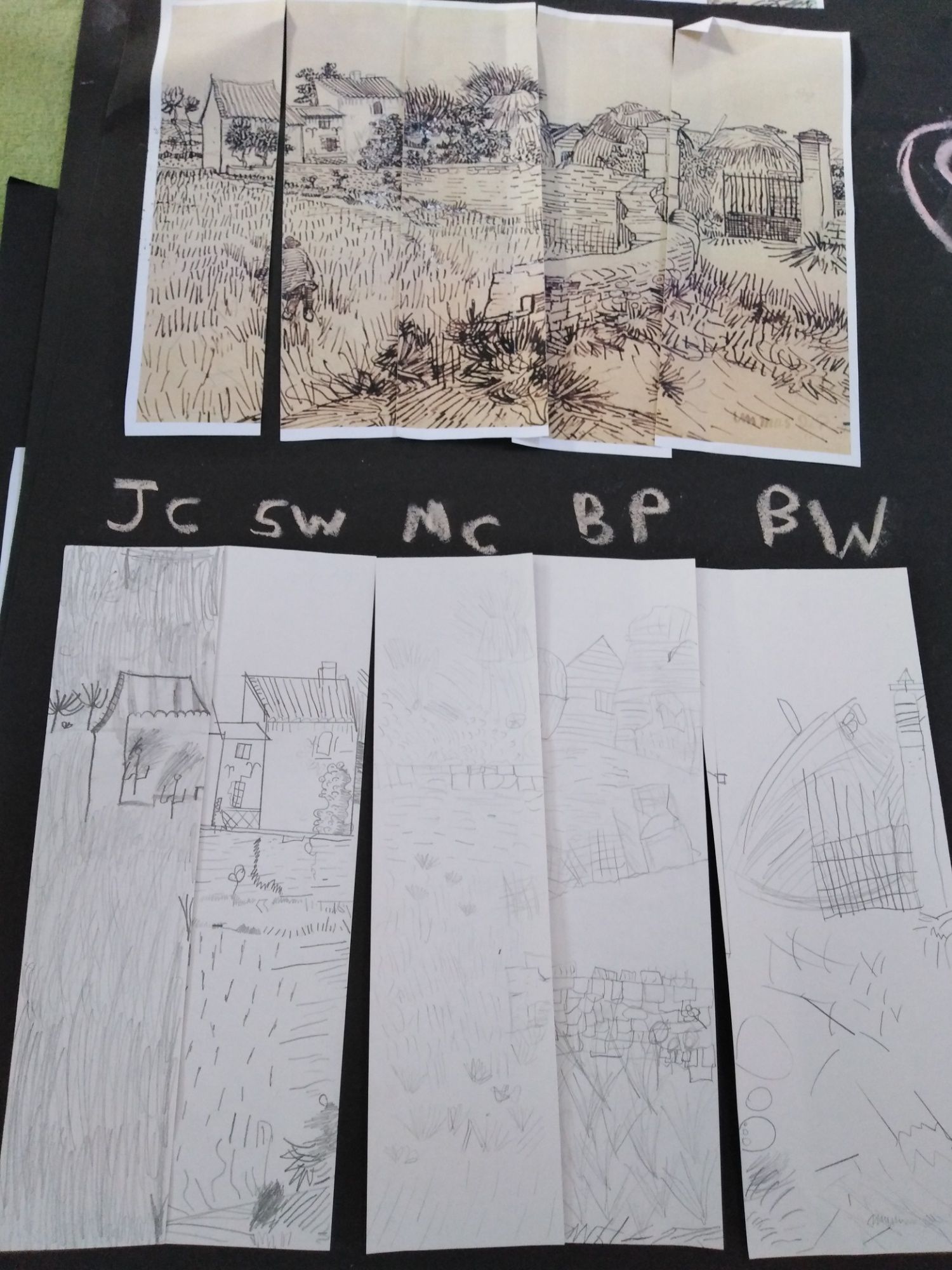 13th September
This Tuesday, we went down to the Quay to learn more about the River Ore (thank you to all the mums who helped out!). We found out that Orford Ness was a spit and the river is actually called the Alde further up by Aldeburgh and Snape.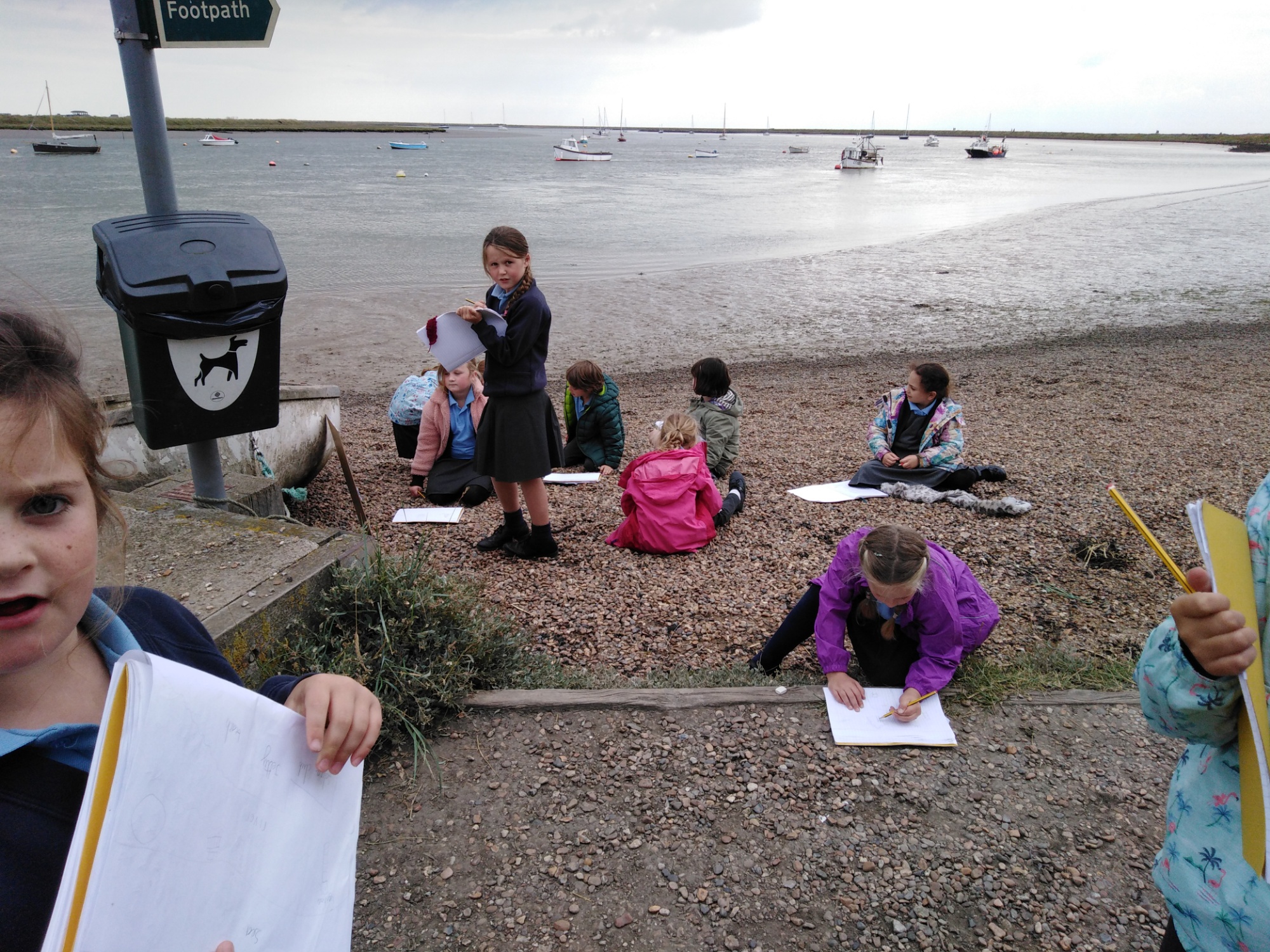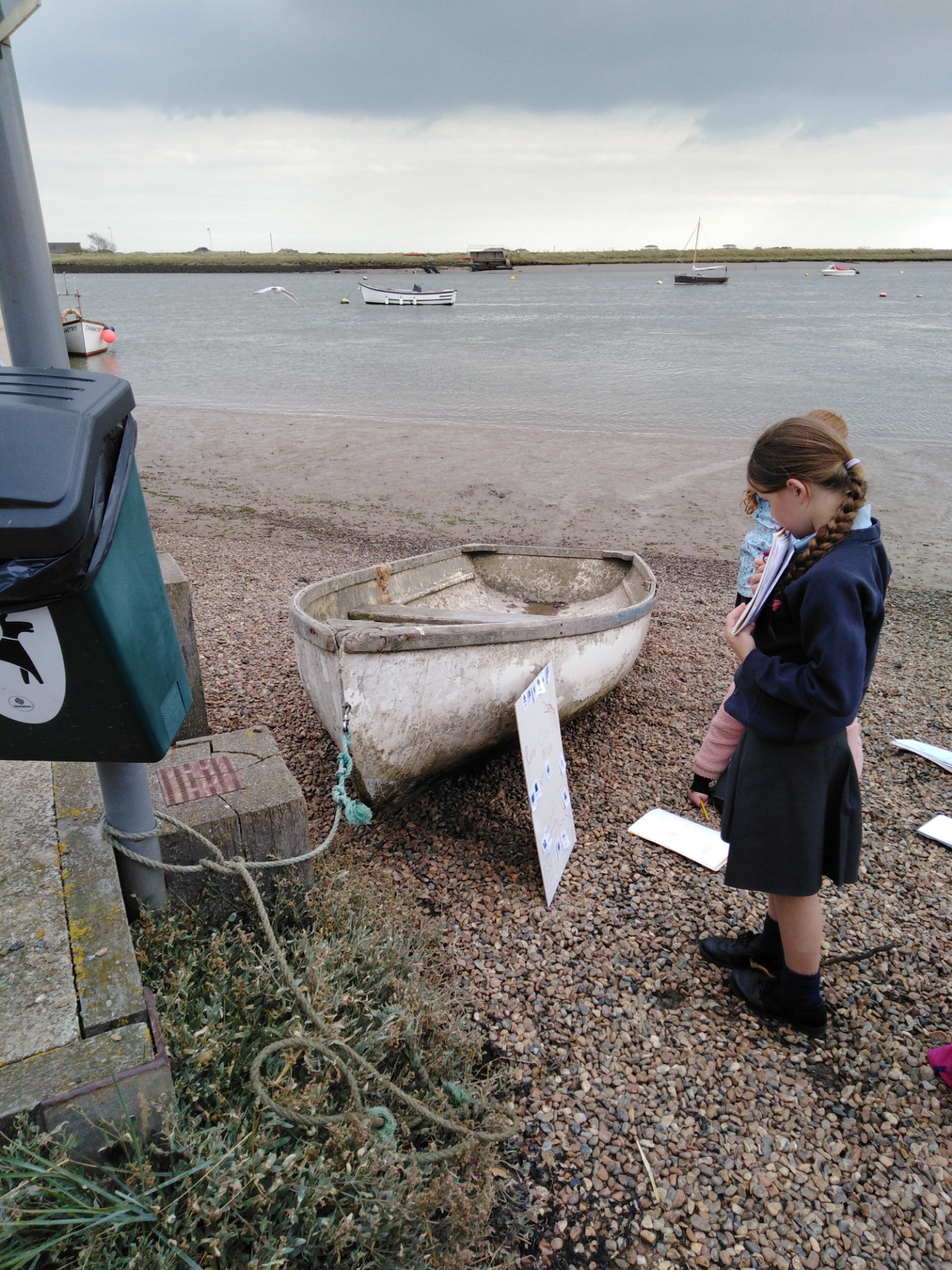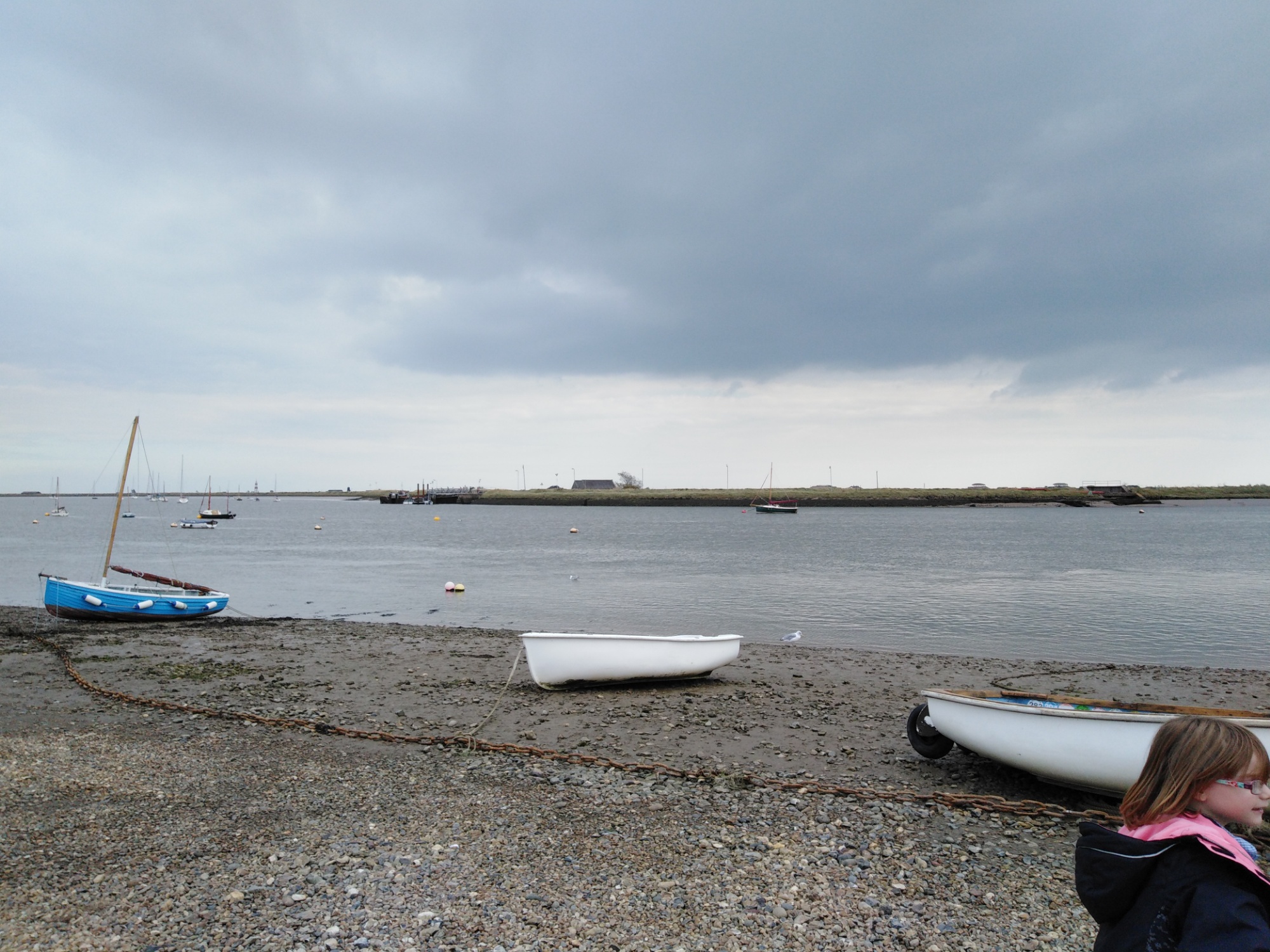 We started drawing pictures of the area (or maps if we were in year 3 and 4) and had to locate 12 different things, including the lighthouse, the sea, shingle, the jetty, pagodas and Havergate Island. Back at school, we added colour and had to distinguish between the human and physical features. Here are some finished ones: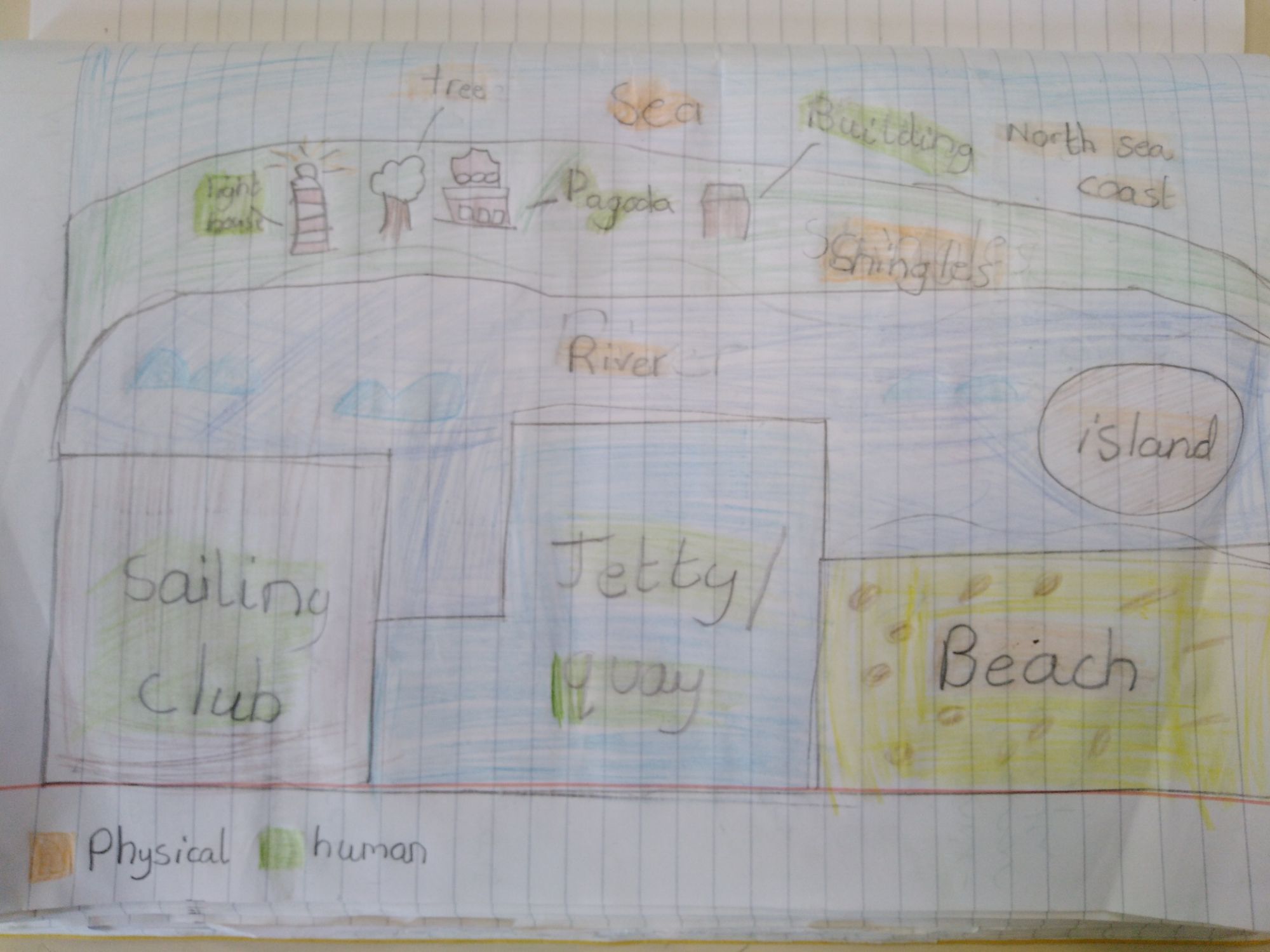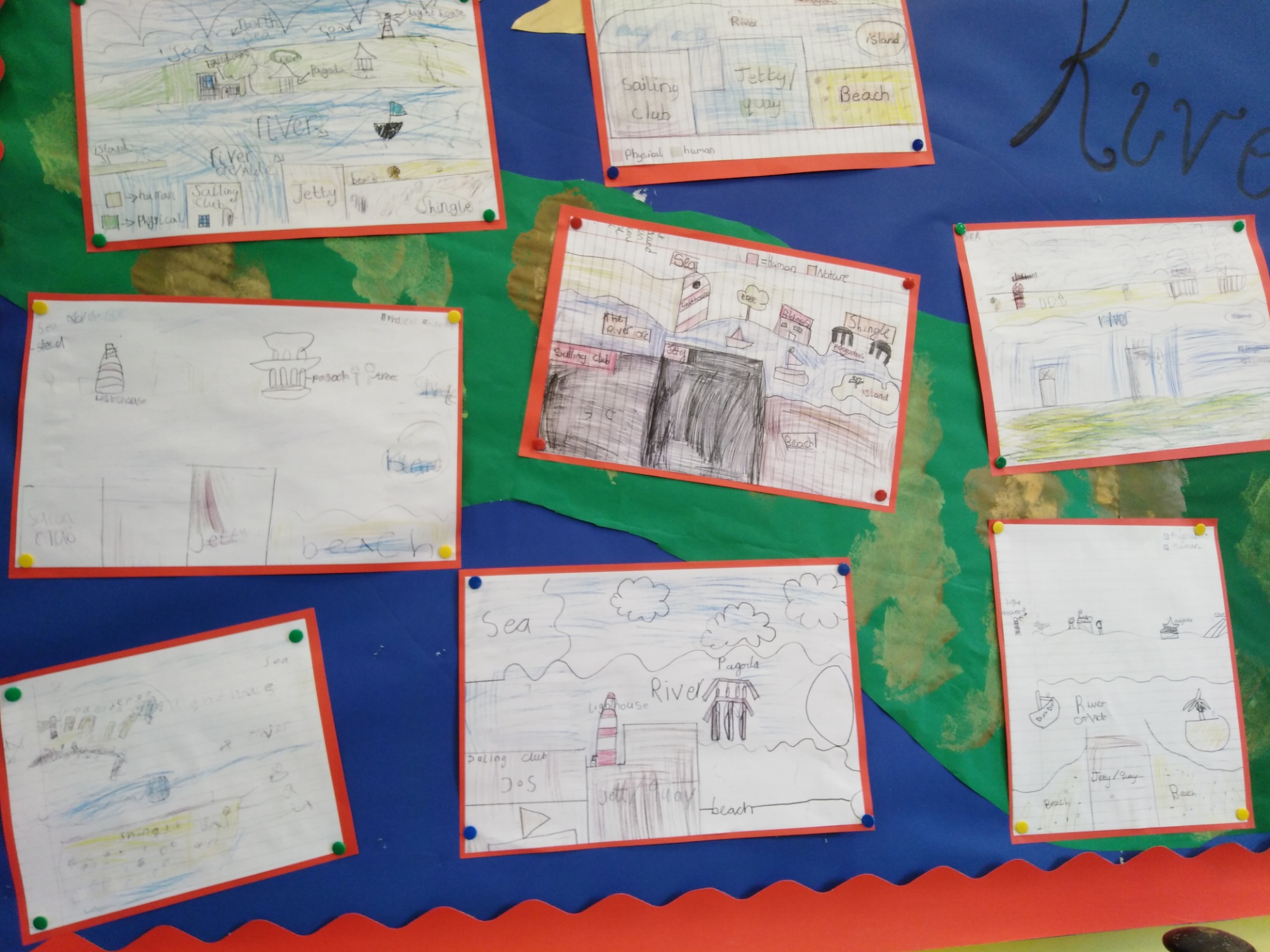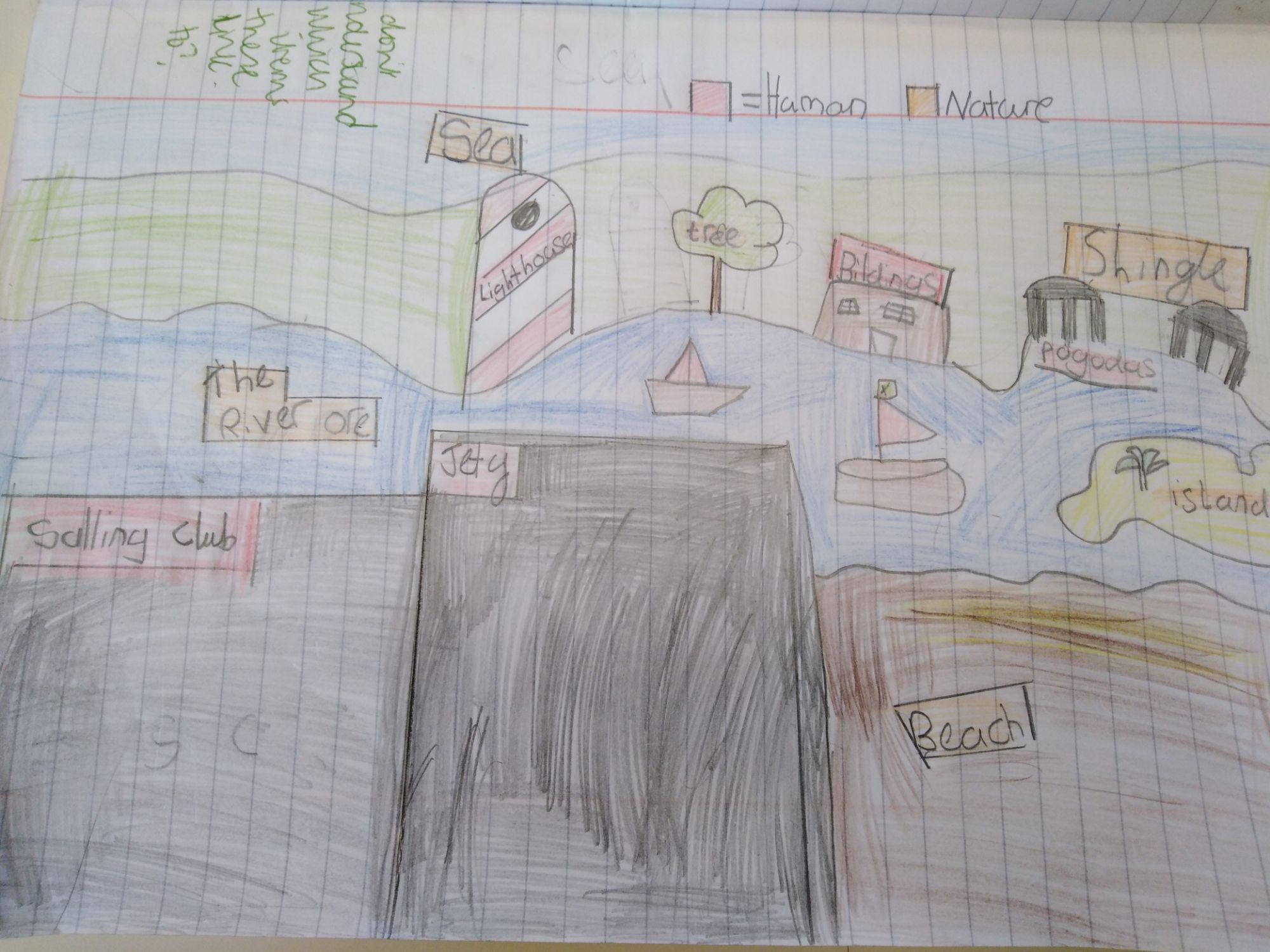 Please check bags for homework books - they were sent home today with homework in, due Wednesday. Please also ensure you are reading at least 4 times per week with your child and noting it in their reading record. Thank you.
4th September
Welcome back everybody!! We've had a super fun and busy day making things for display in the front entrance and reading our new class book - The Steampunk Pirates.
Please look in your child's bag for a letter about Forest Schools (and Maths in Motion if your child is in year 4!) and also click here for this term's overview letter which has information on everything we will be learning about.
Summer 2 2019
8th July
Today, we held a debate, in the House of Forest Schools (we decided we couldn't get to the house of commons and back in time for 3pm!). The title of the debate was Which was the most important legacy left by the Romans?
There were 8 teams overall, with items including calendars, fruits and vegetables, bath houses, wine(!), reading and writing, London, bathhouses etc. and each group had to present their reasons why their item was the most important, both in the Roman times and for us now. There were some compelling arguments before it went to a vote.
In joint 5th place, with 0 votes: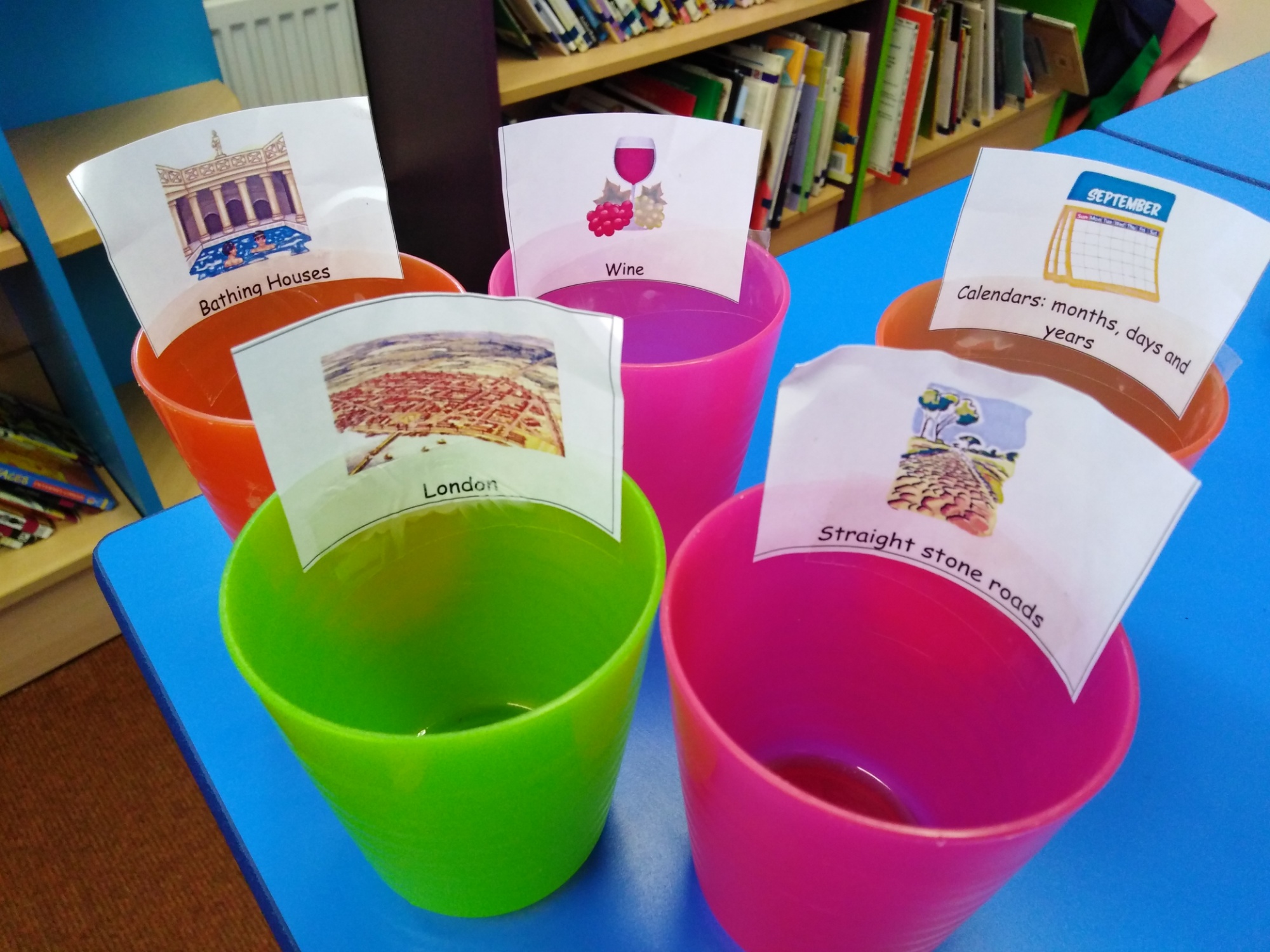 In joint 4th place, with 1 vote each: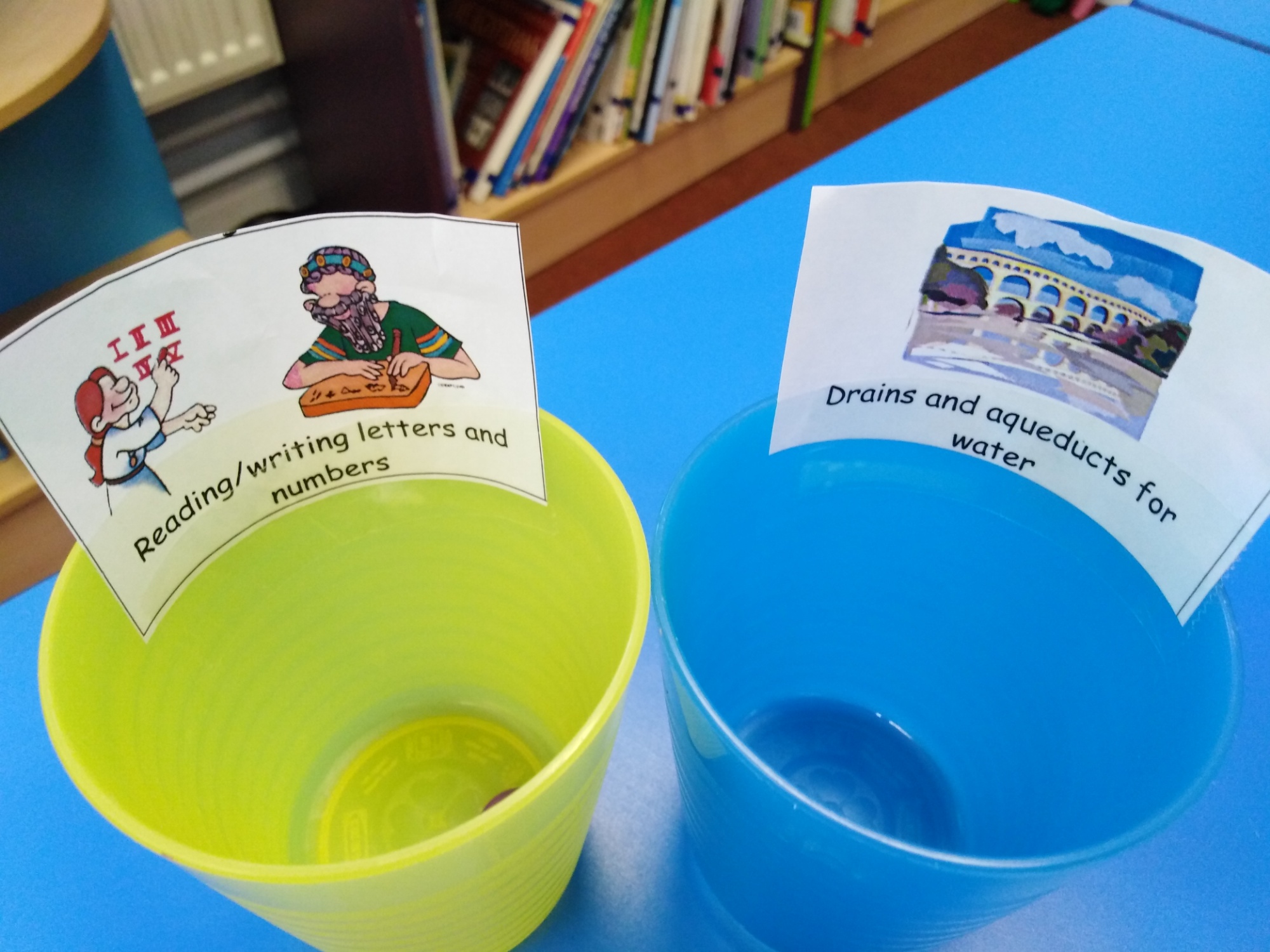 In third place, with 2 votes: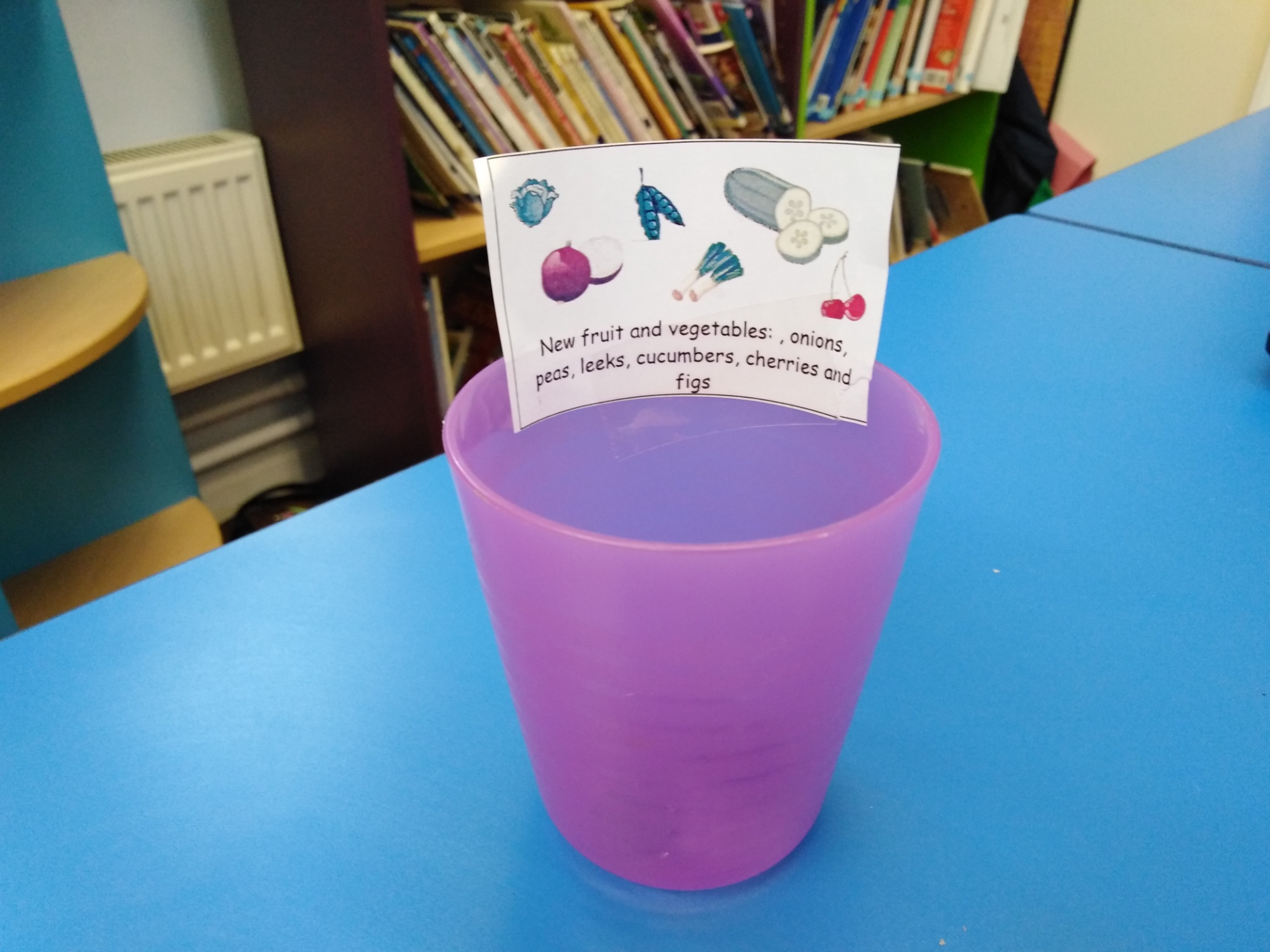 In second place, with 4 votes: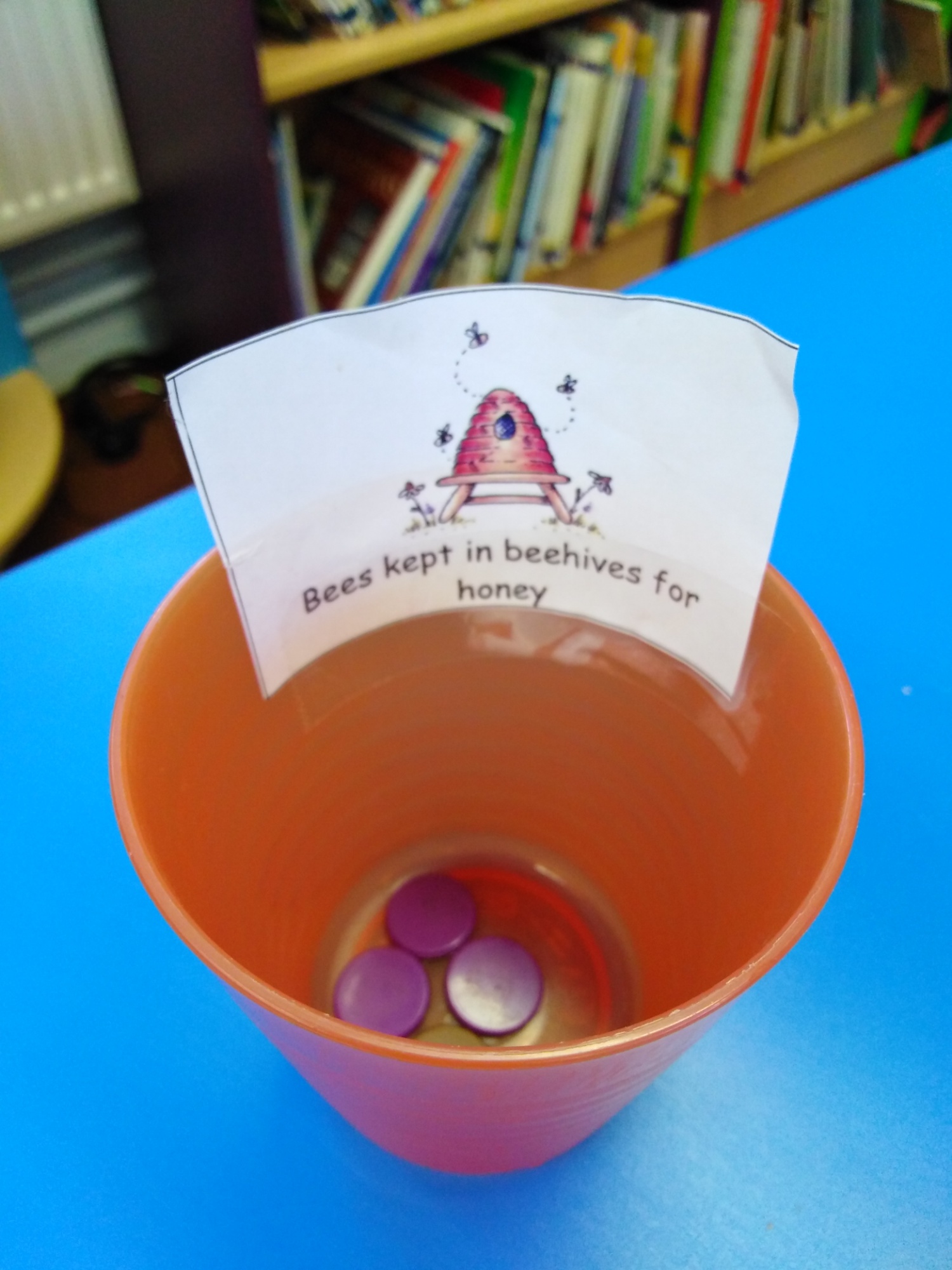 And in 1st place, with a landslide 14 votes: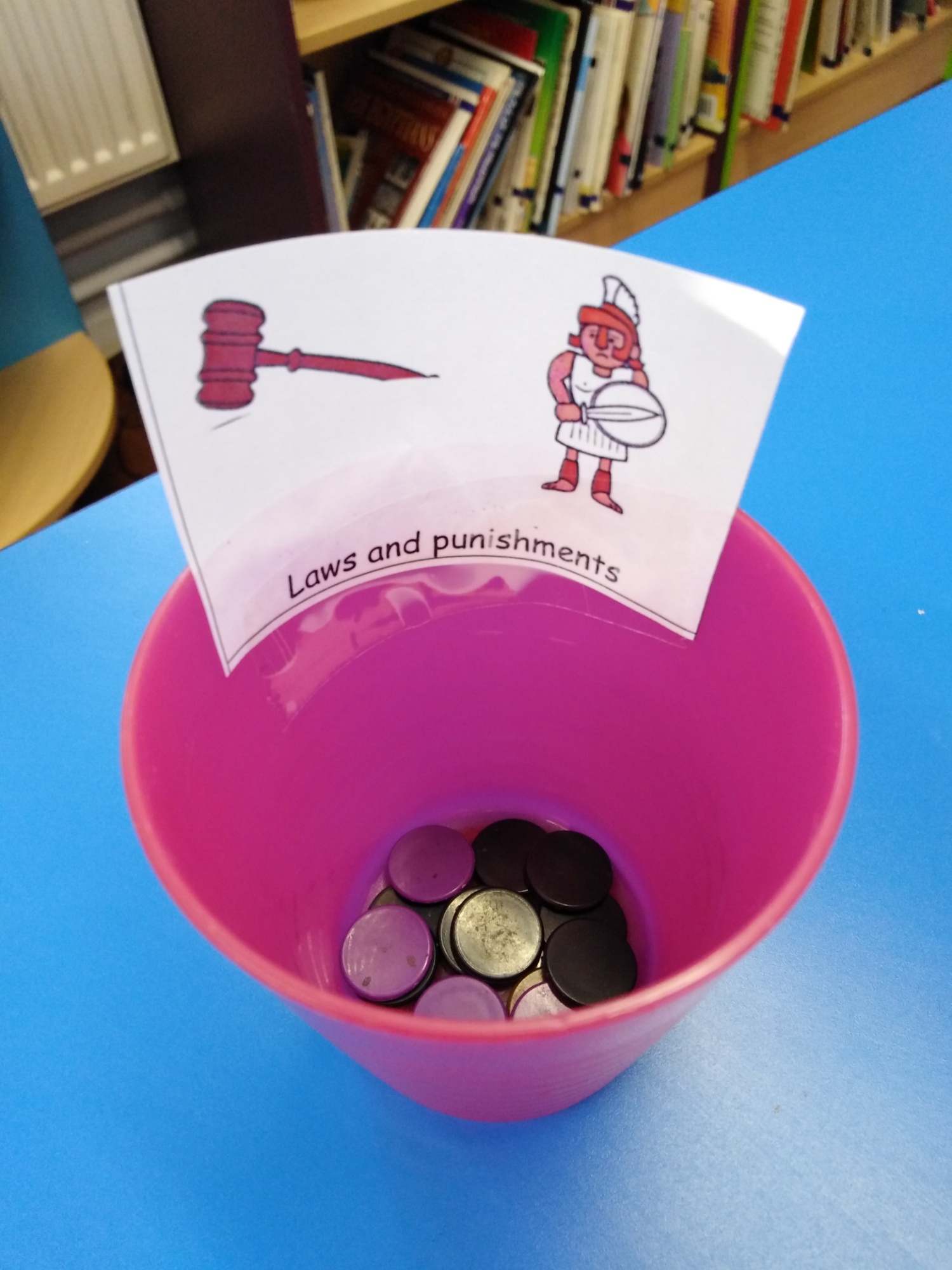 It was decided that laws were important, otherwise people would get away with doing bad things and this would be unfair on good, innocent people. Punishments also deterred people from doing bad things again and again, and allowed us to live our lives safely.
Do you agree with the court of Class 2?
21st June
Class 2 have worked really hard this week, and particularly enjoyed learning their new planets song! Here are the words below if you want to practice at home:
Mercury and Venus,
Our Mother Earth then Mars,
Jupiter and Saturn,
They're gas giants in the stars!
Uranus and there's Neptune
And now you've said them all,
Well Pluto used to be a planet,
Now it's way too small...
We also thought it would be nice to share this picture from our RE lesson where we had to jump for joy, it's so lovely it's going on our classroom door!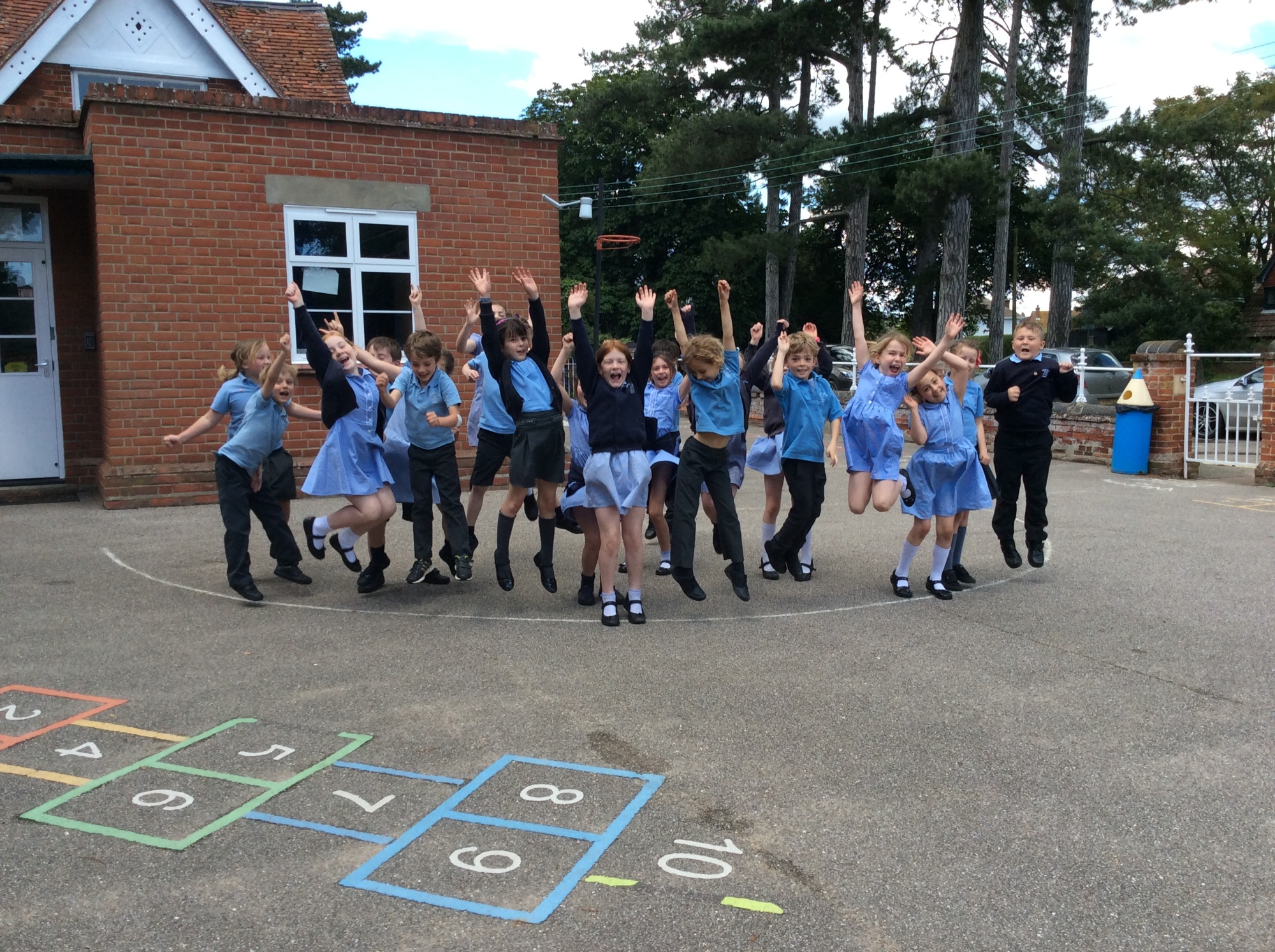 13th June
In a break away from the Romans, we learnt this week how how the Earth, Sun and Moon travel around each other. We found out that the Earth goes around the sun and the moon goes around the Earth. We had to draw and act this out on the playground - can you work out who is playing each celestial body?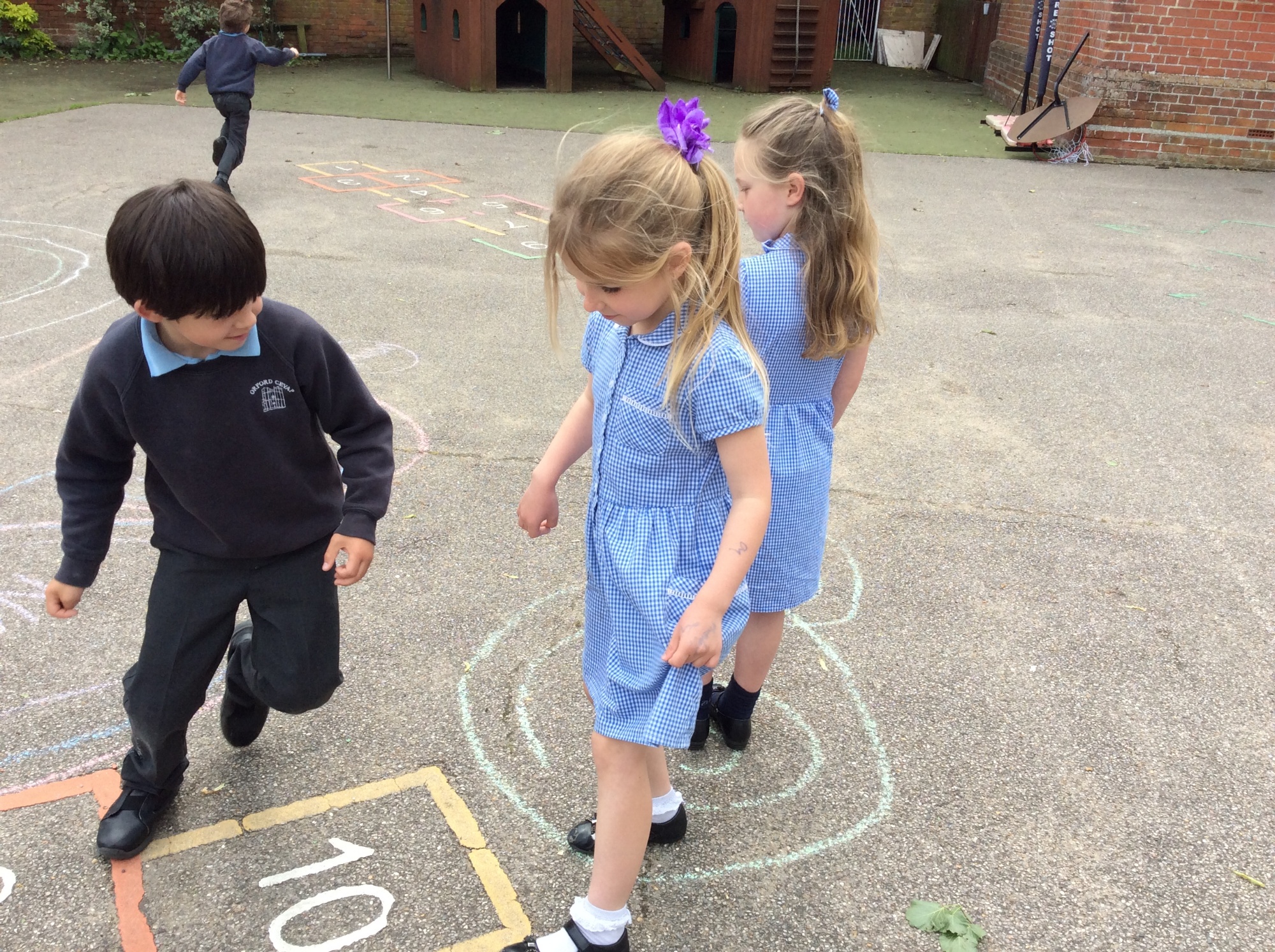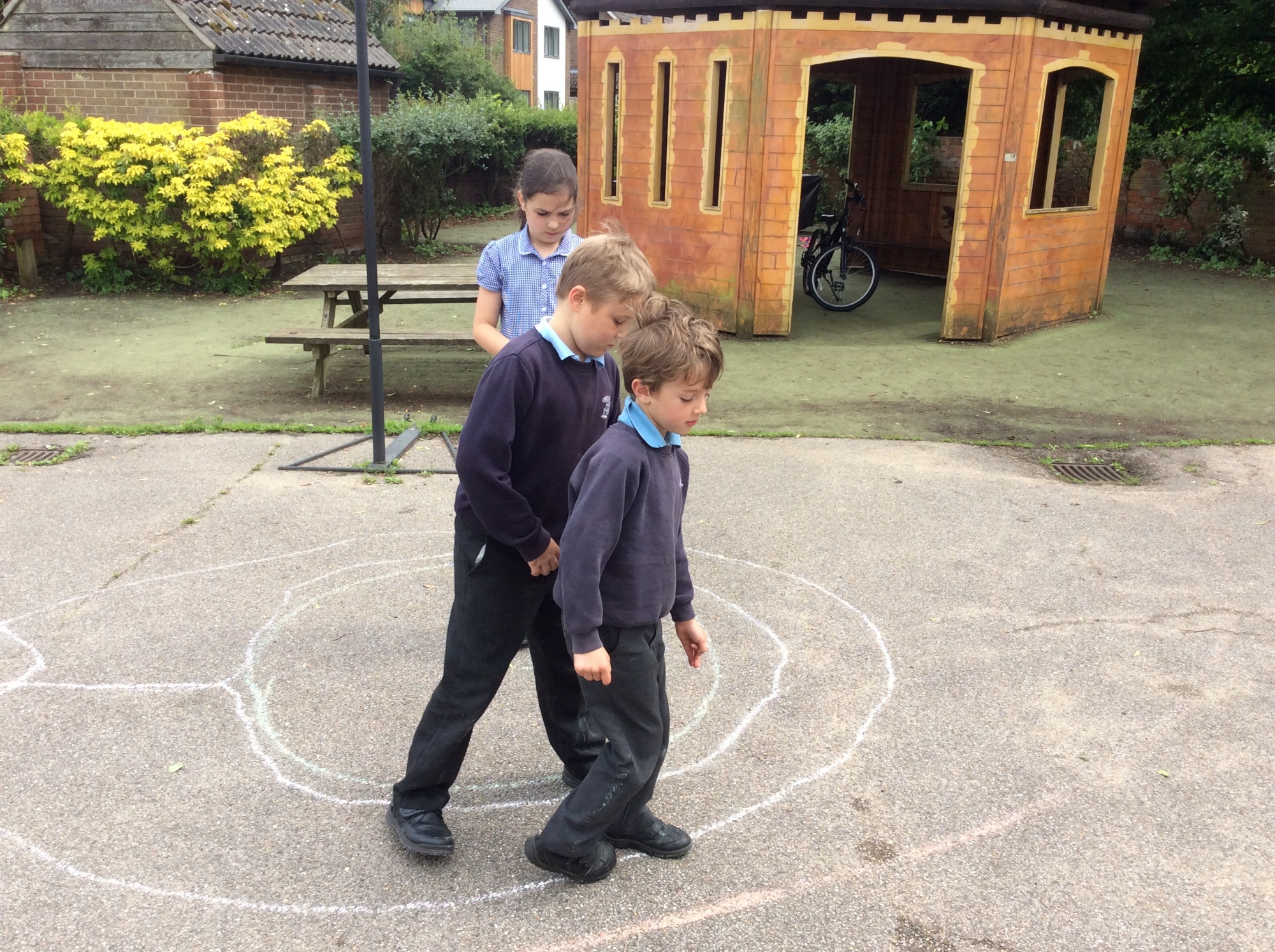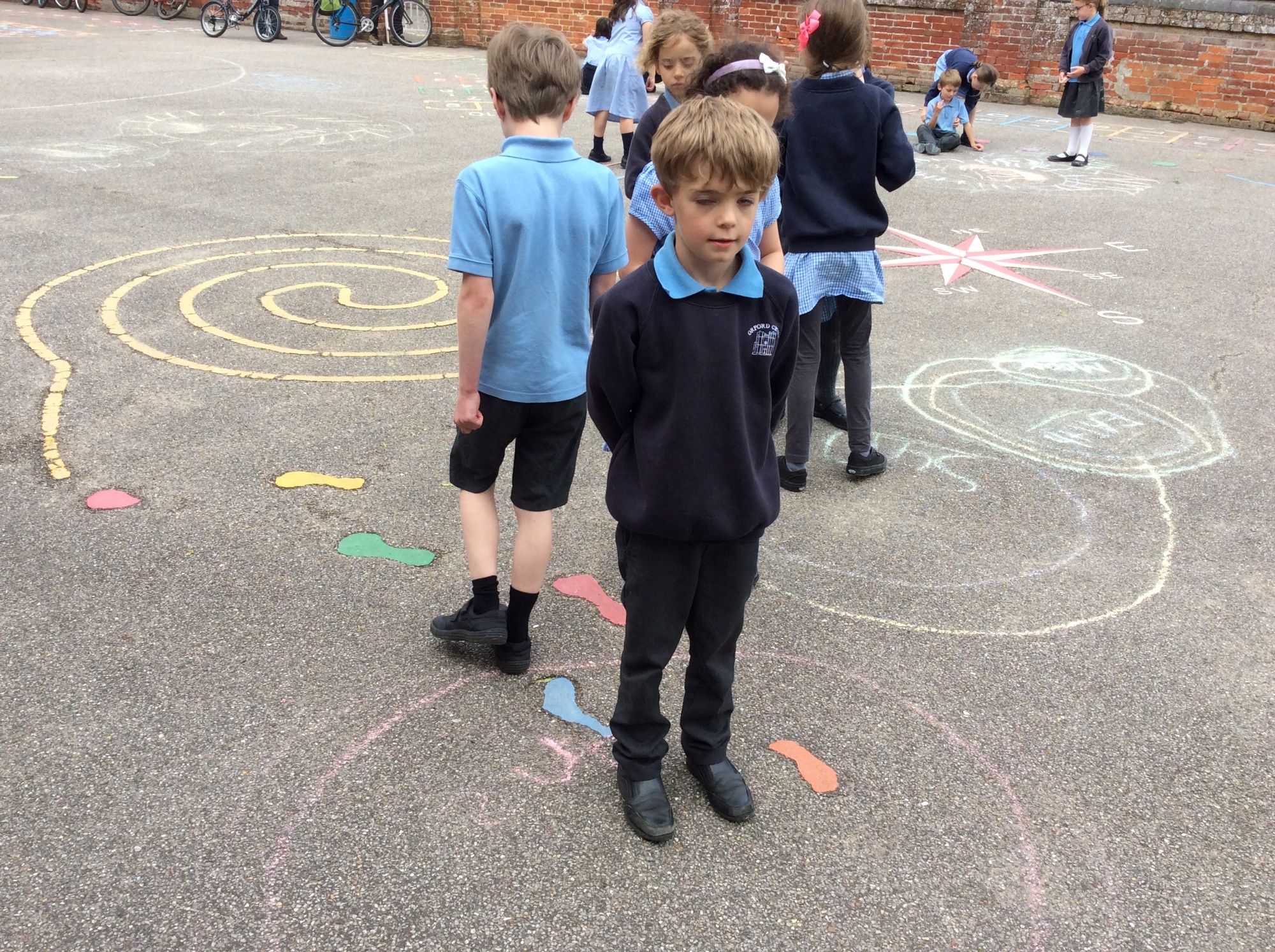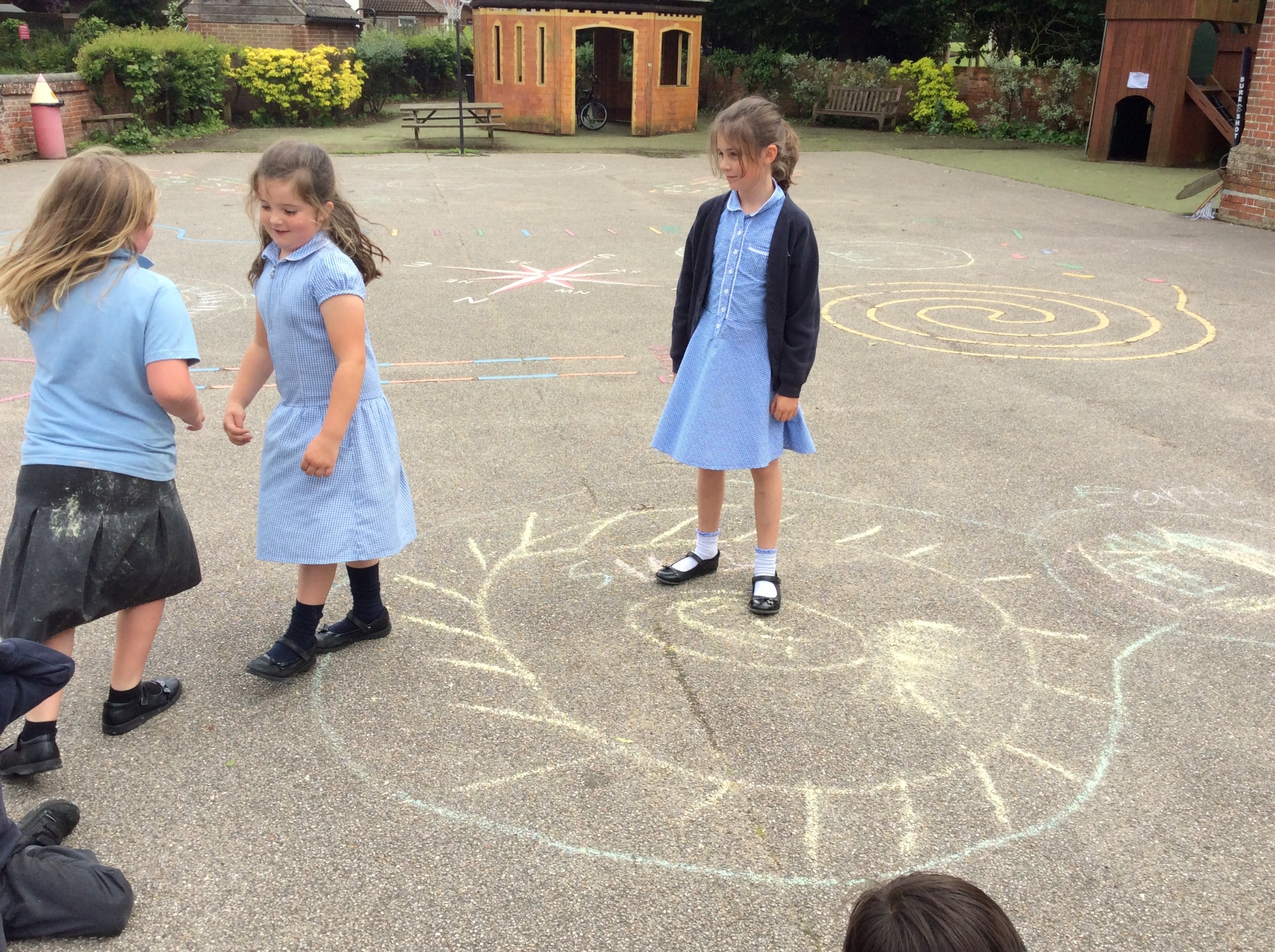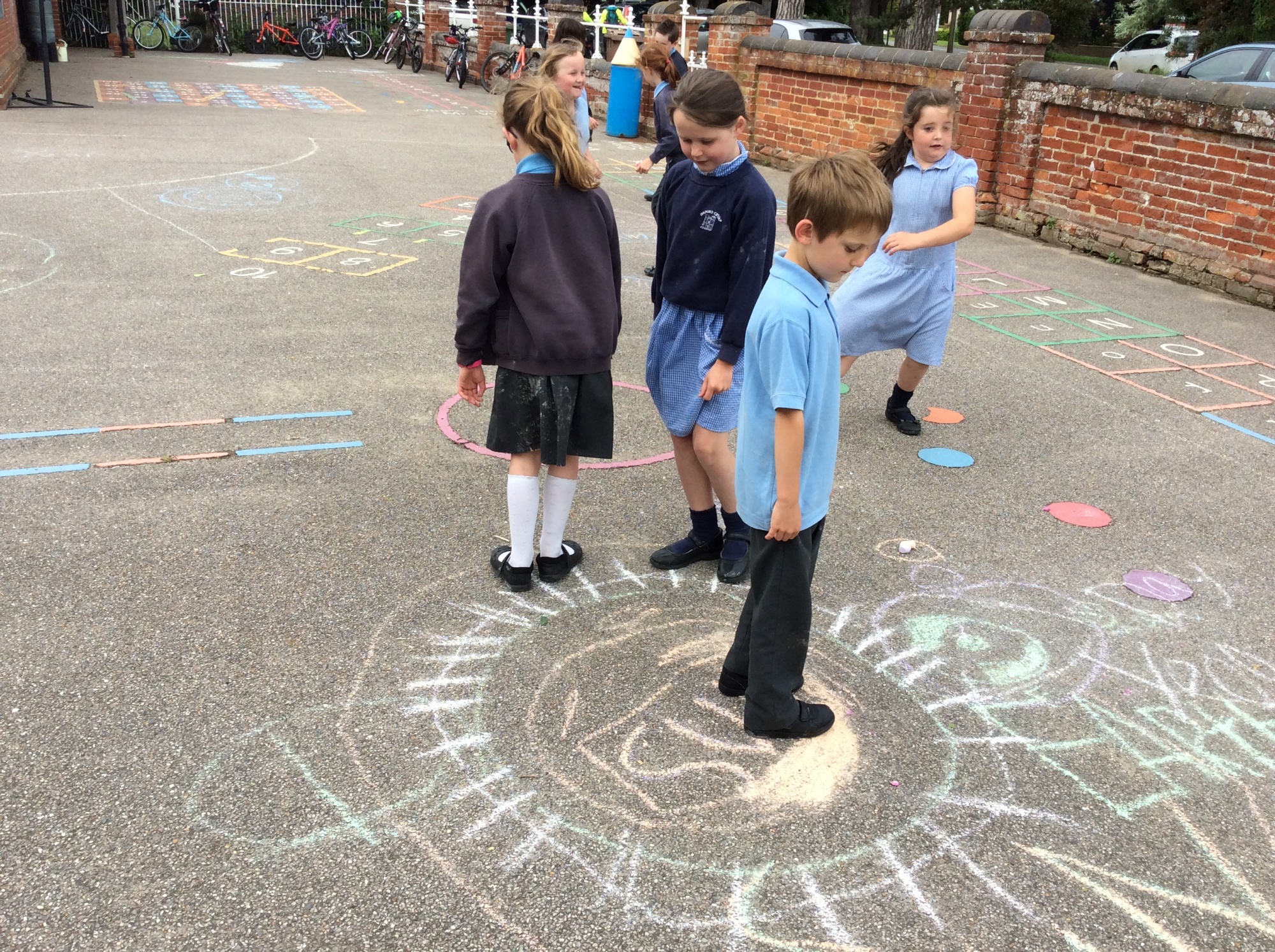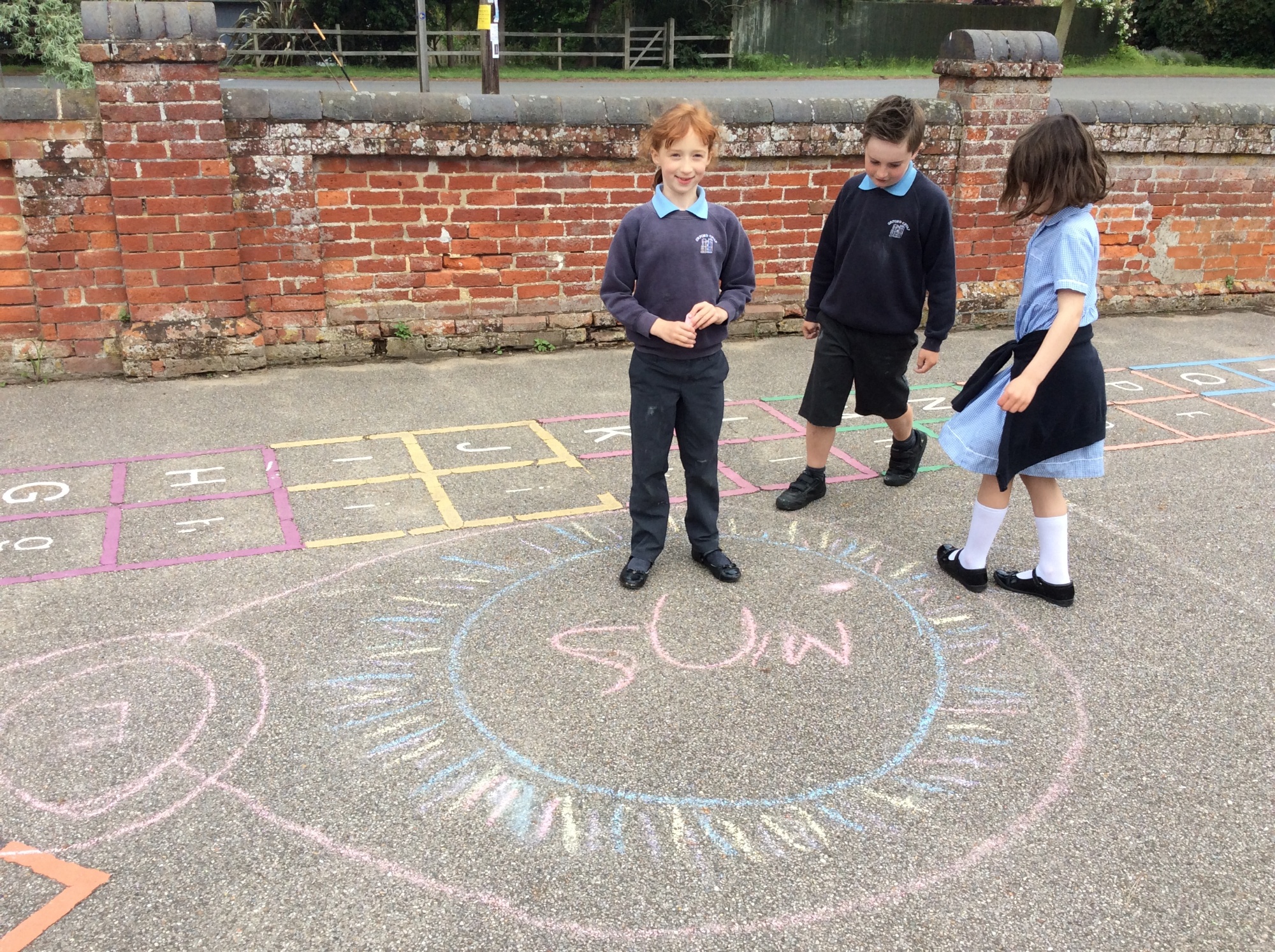 7th June 2019
Today we went to Colchester Castle to learn more about the Romans – we had a tremendous time!! Please click here have a look at the photo album for all the pictures! (You need to be on a computer to do this - not the app)
We started our tour by going underground because these curved foundations were the original part of the Roman Temple that stood in the same place before the Norman's built the current castle. We learnt about Roman Soldiers (James was all up for killing Celts but not walking 60 miles a day, or cooking his own dinner!) and Queen Boudicca's revolution. We also nominated a Celtic Tribe Leader (Bella) who had her head "chopped off" and put on a stick to warn other Celts!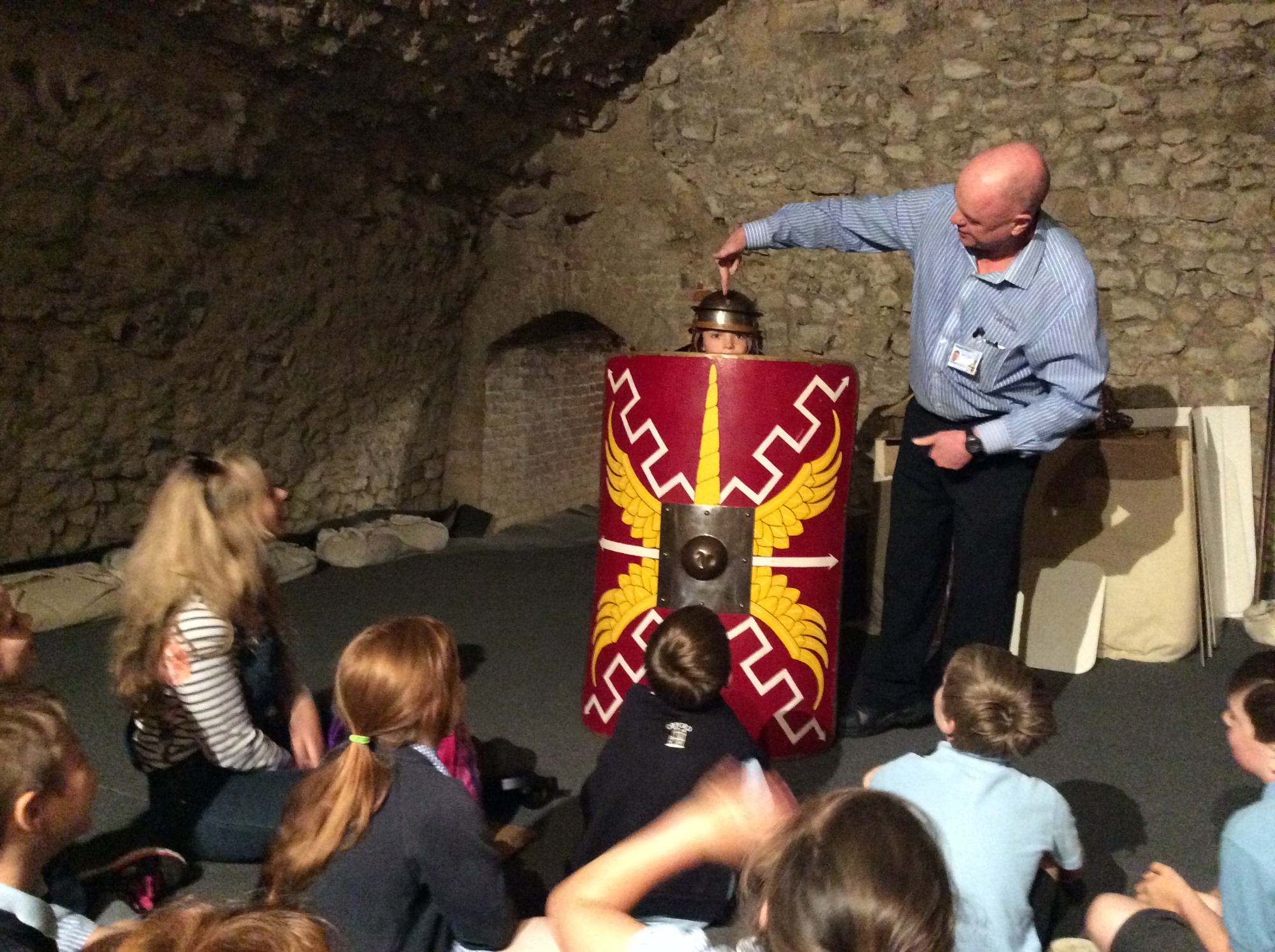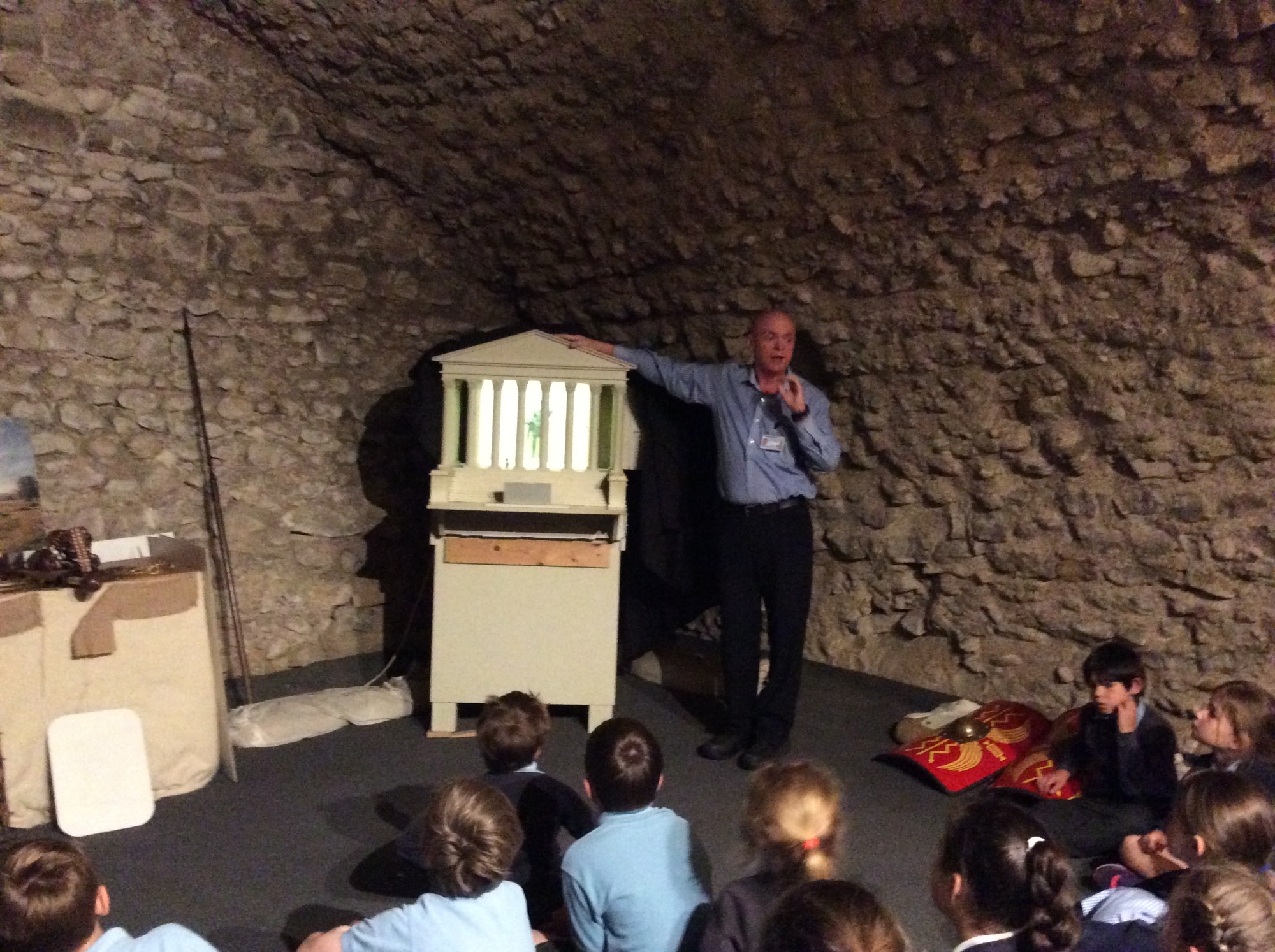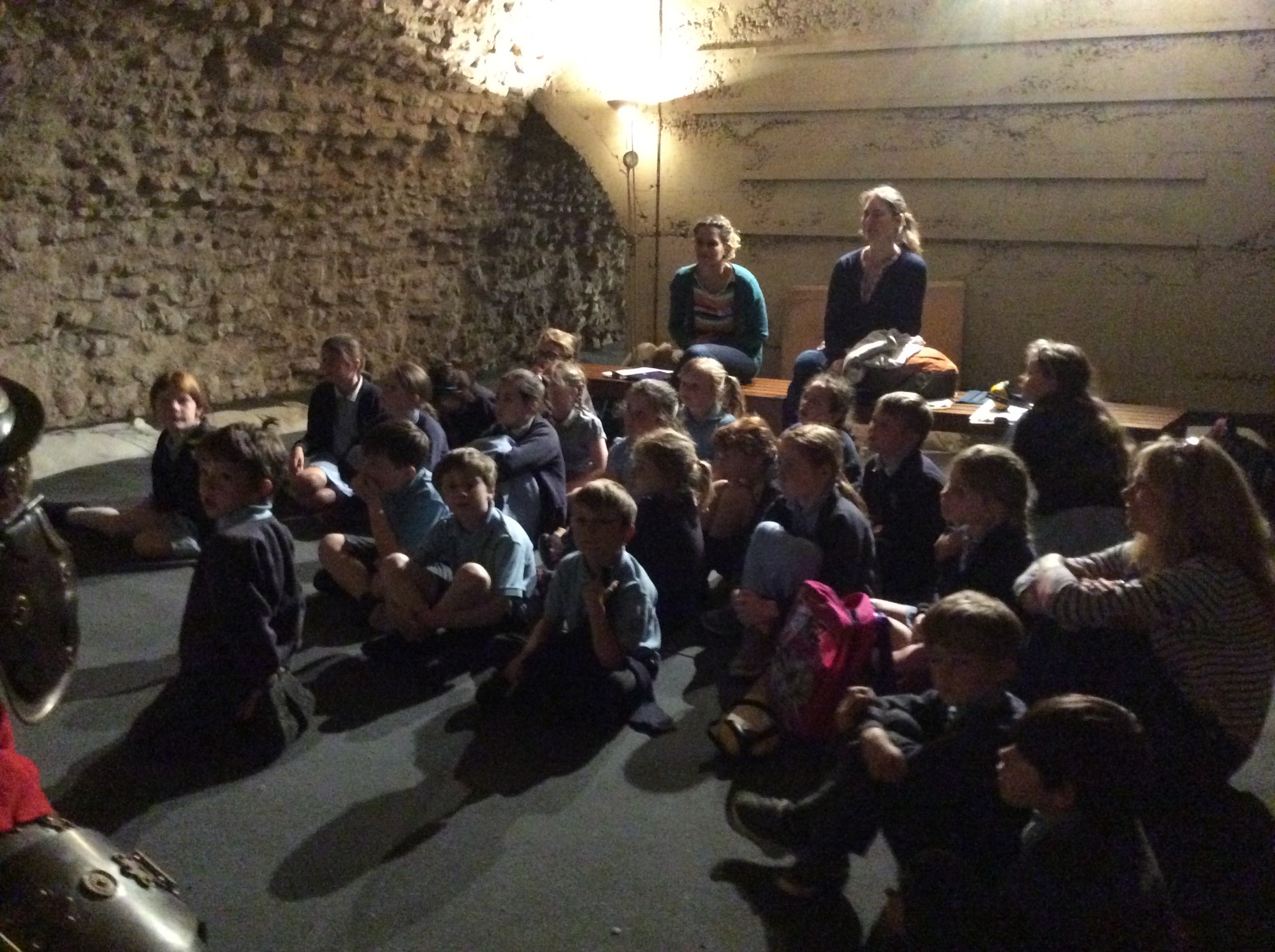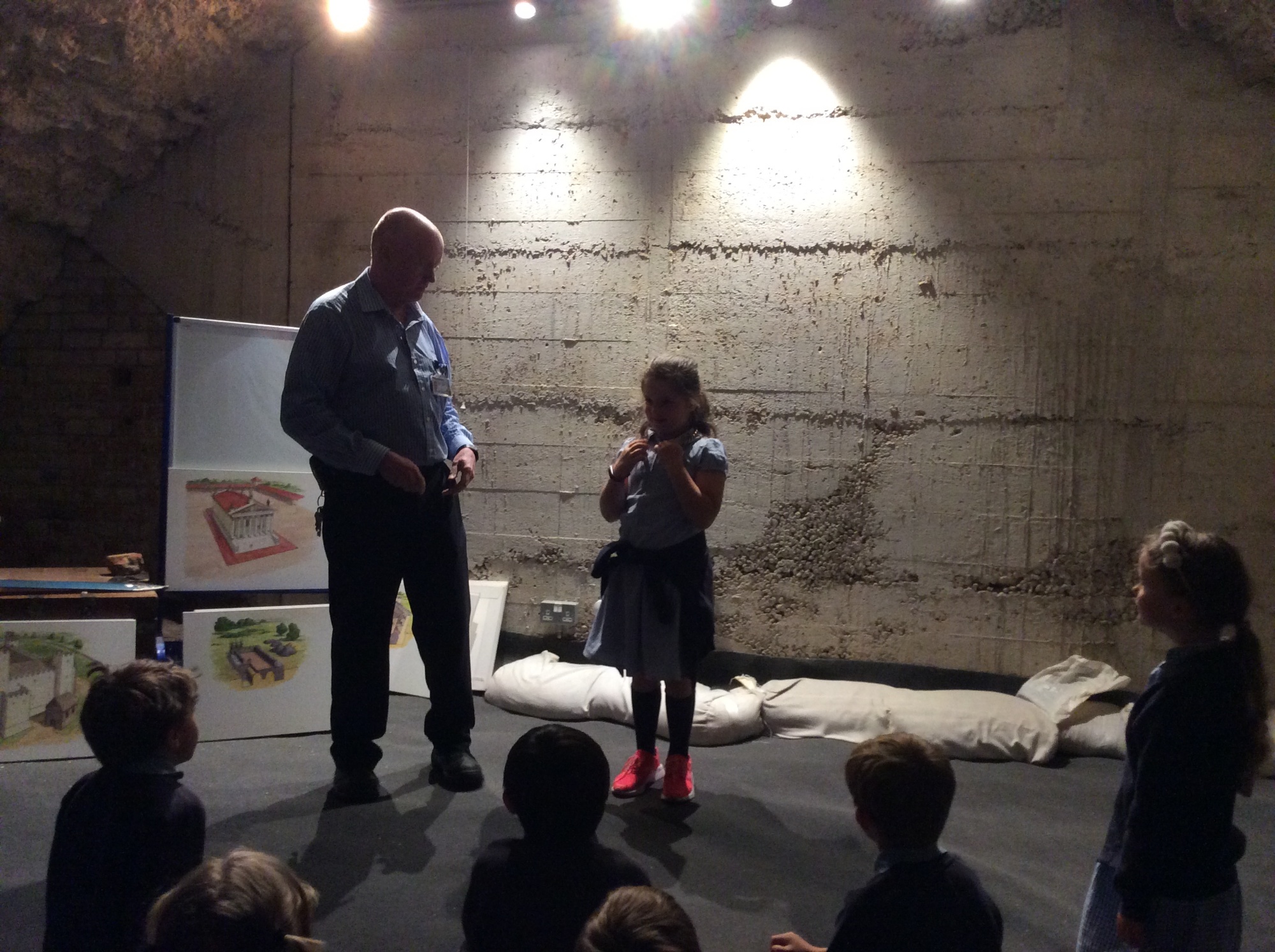 Later in the day we got to explore the Museum – a lot of us liked the dungeons, but we also enjoyed virtual chariot racing, dressing up as Romans, and looking at the really pretty mosaics which had been uncovered by archaeologists. If that wasn't enough, we also got to hold some Roman pottery and build a replica Roman villa to sit in.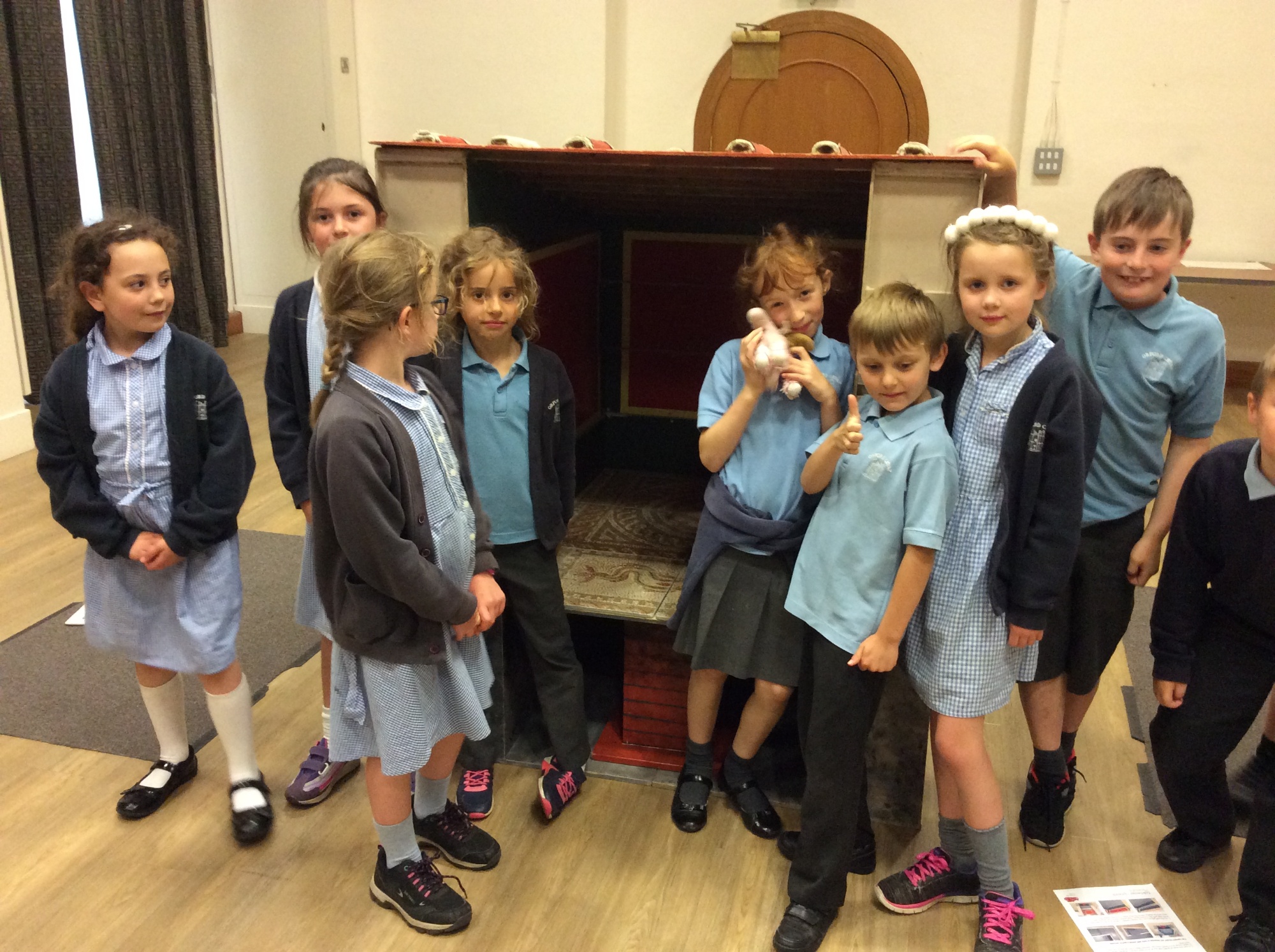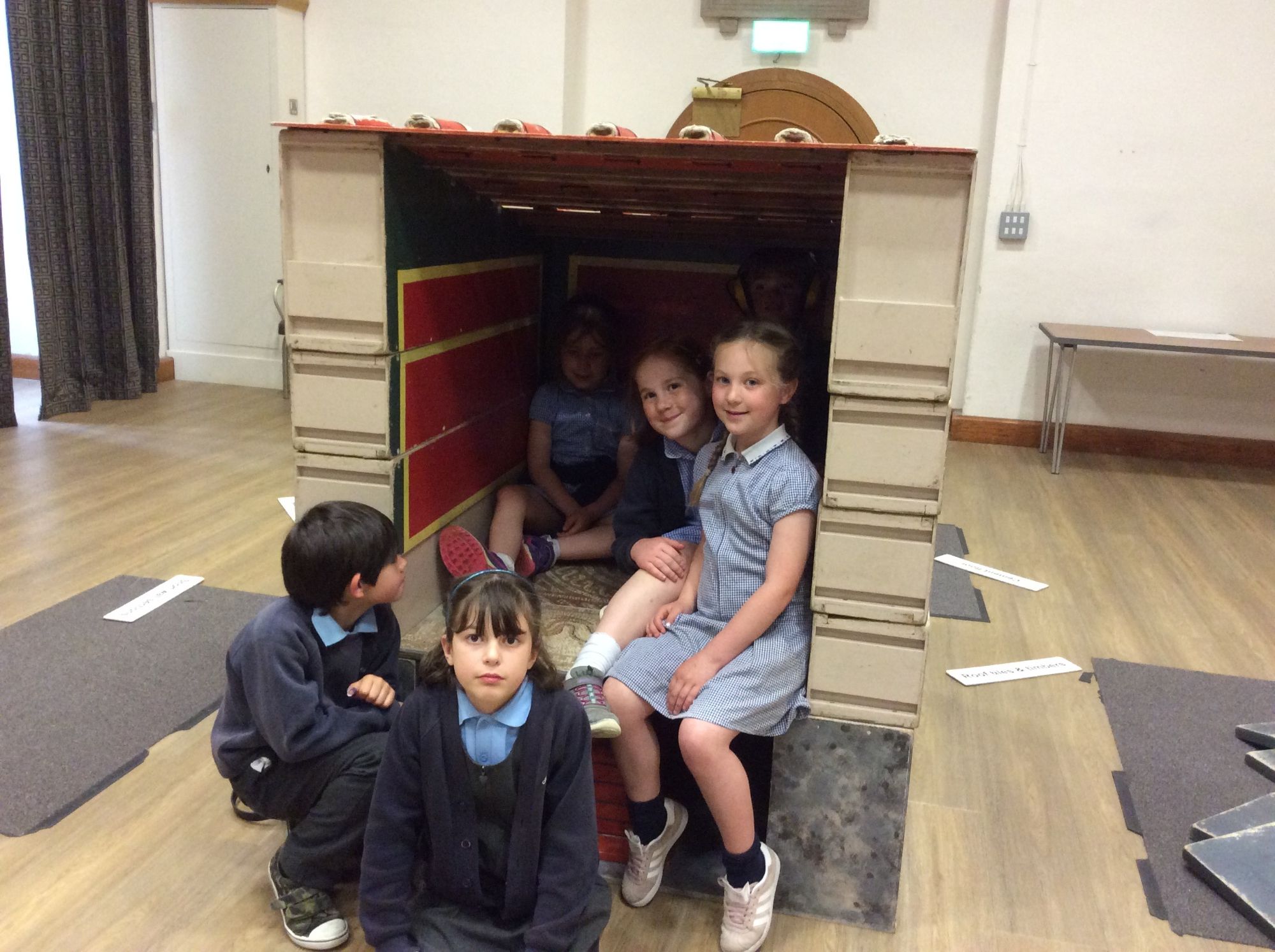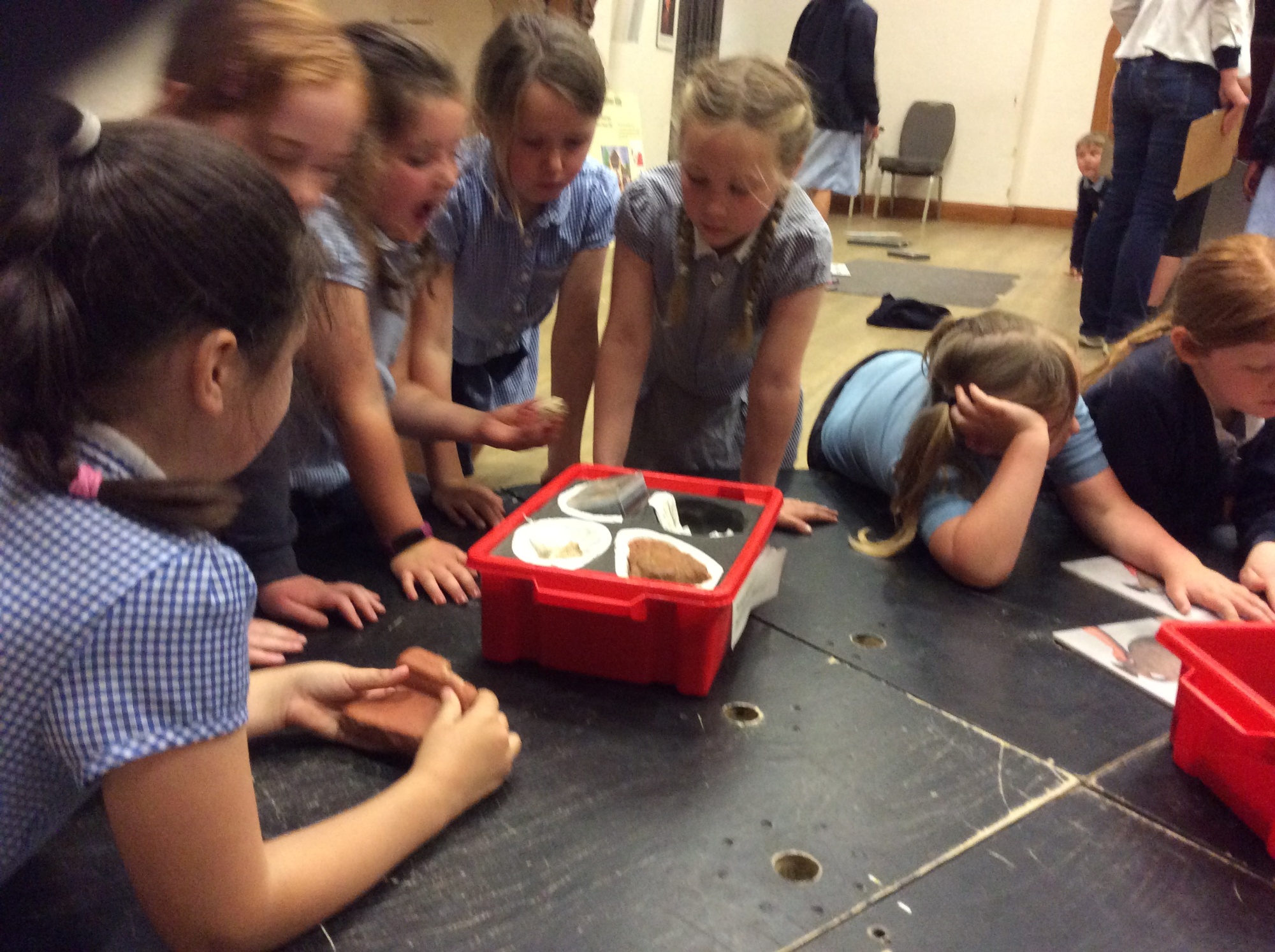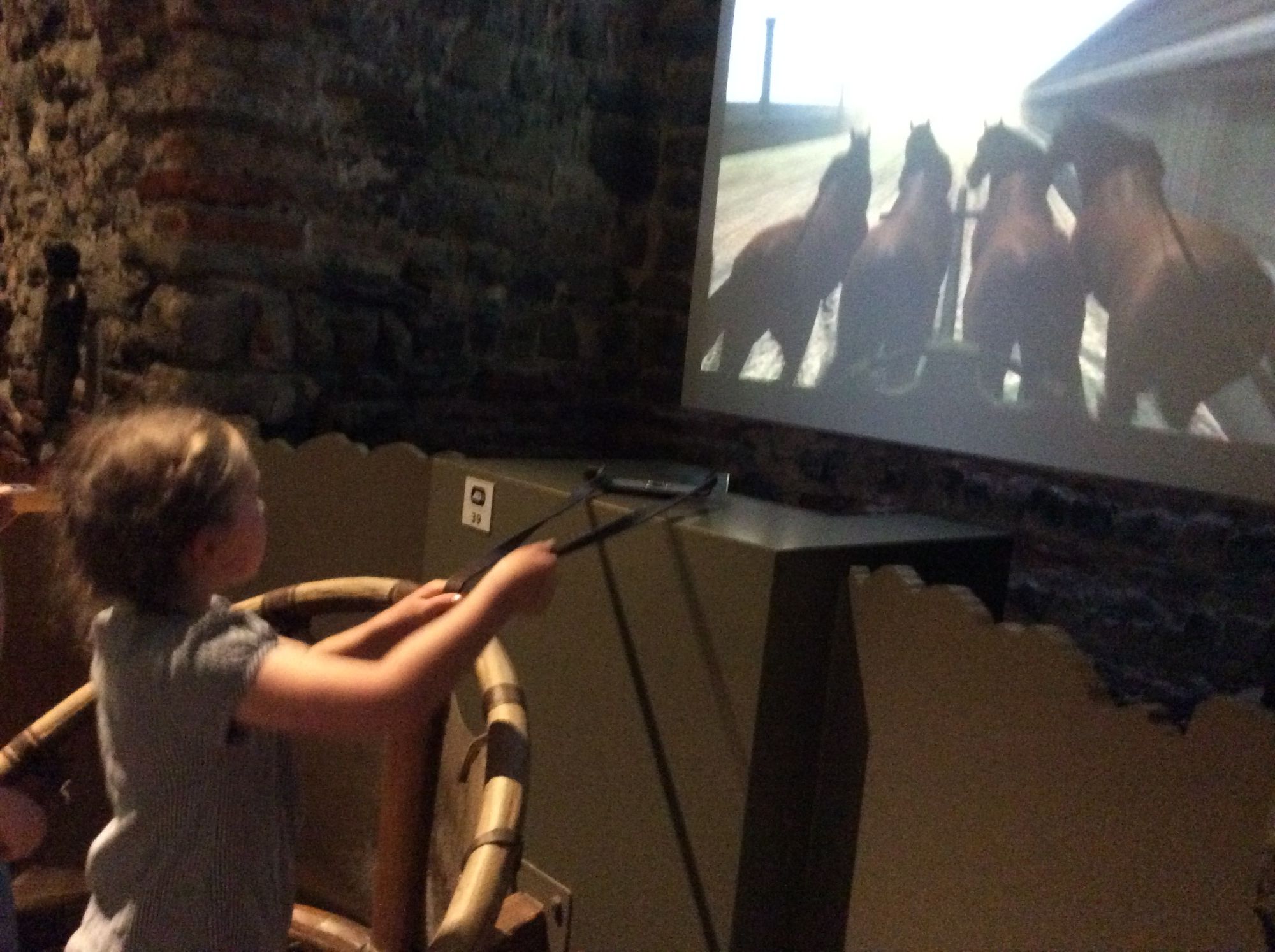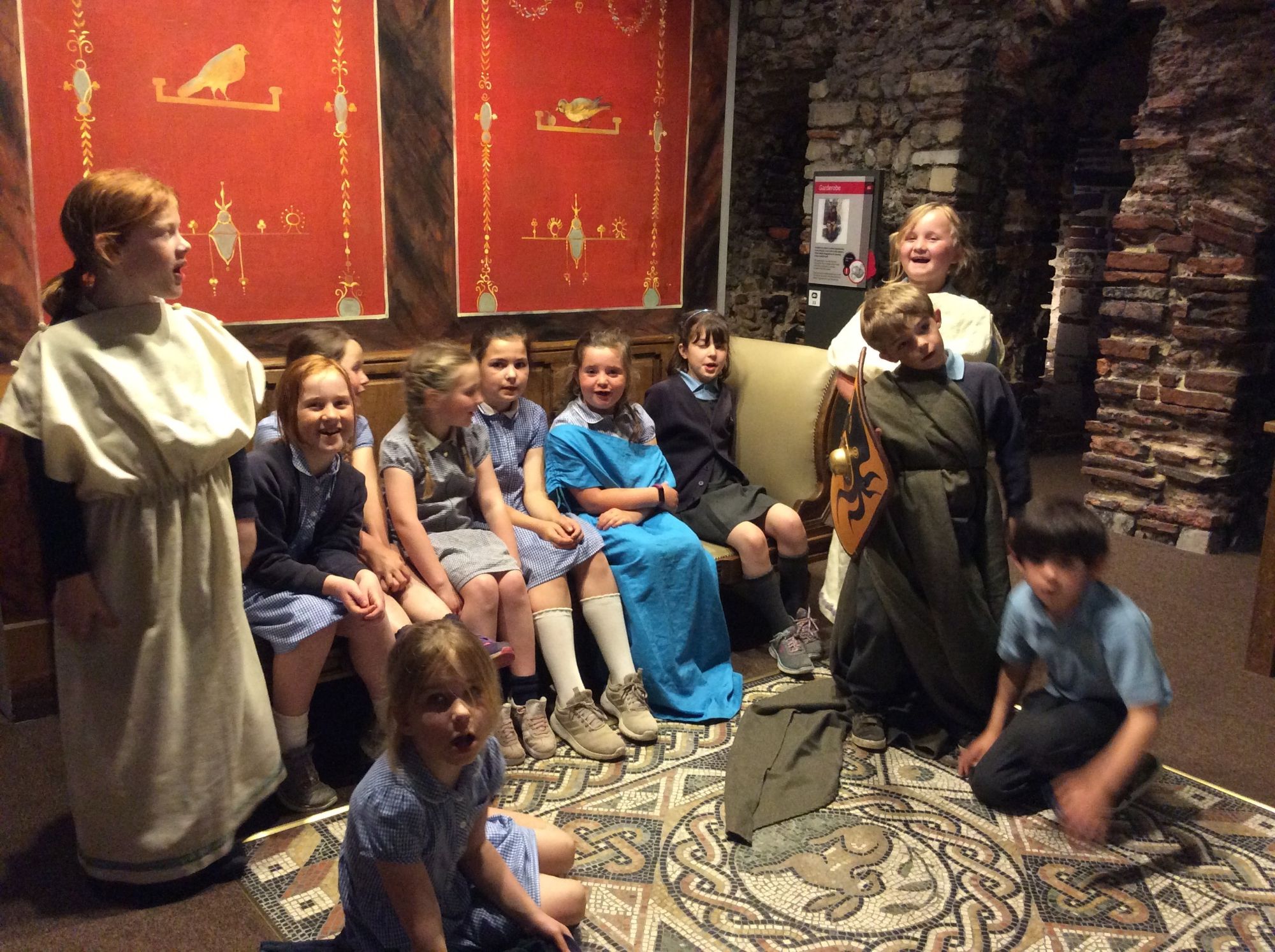 Children were interviewed as they got off, and some of the favourite parts included:
Dungeons
Celts covering their huts in animal poo!
Chariot racing
Lunch
All of it!
What a fantastic day to end a fantastic first week back! Thank you to Archie & Mimsie's mum and Rebecca's mum for helping out.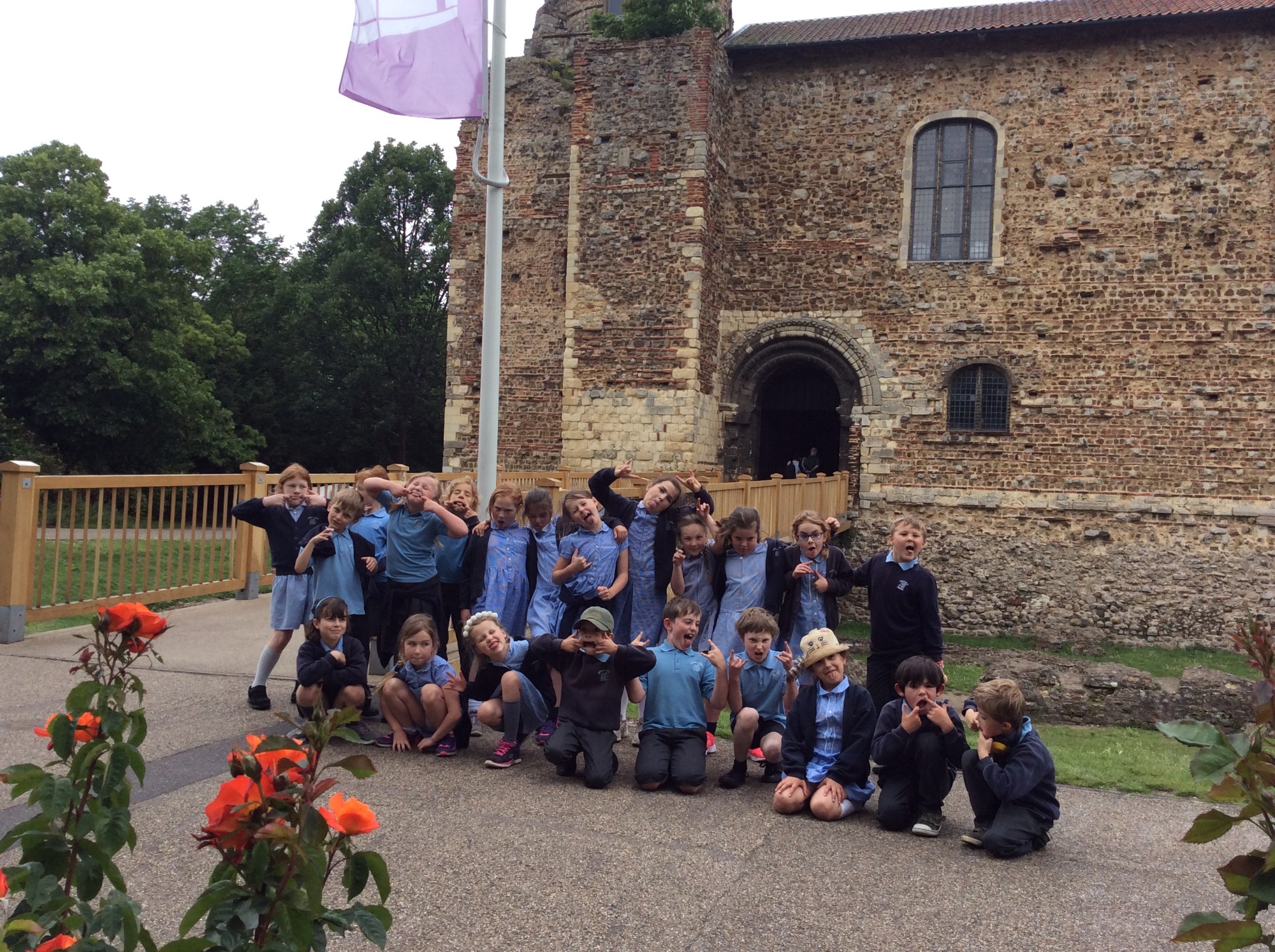 4th June 2019
It's only day 2 of the new term and already we've had an incredibly exciting time. I am sure that the children will tell you all about marvellous medicine day this afternoon, but we wanted to show you our Roman Shields we made. We looked really carefully at the patterns and symbols of real Roman Shields before recreating our own and used them to make army formations: The Tortoise, The Triple Line and The Wedge - can you work out which is which?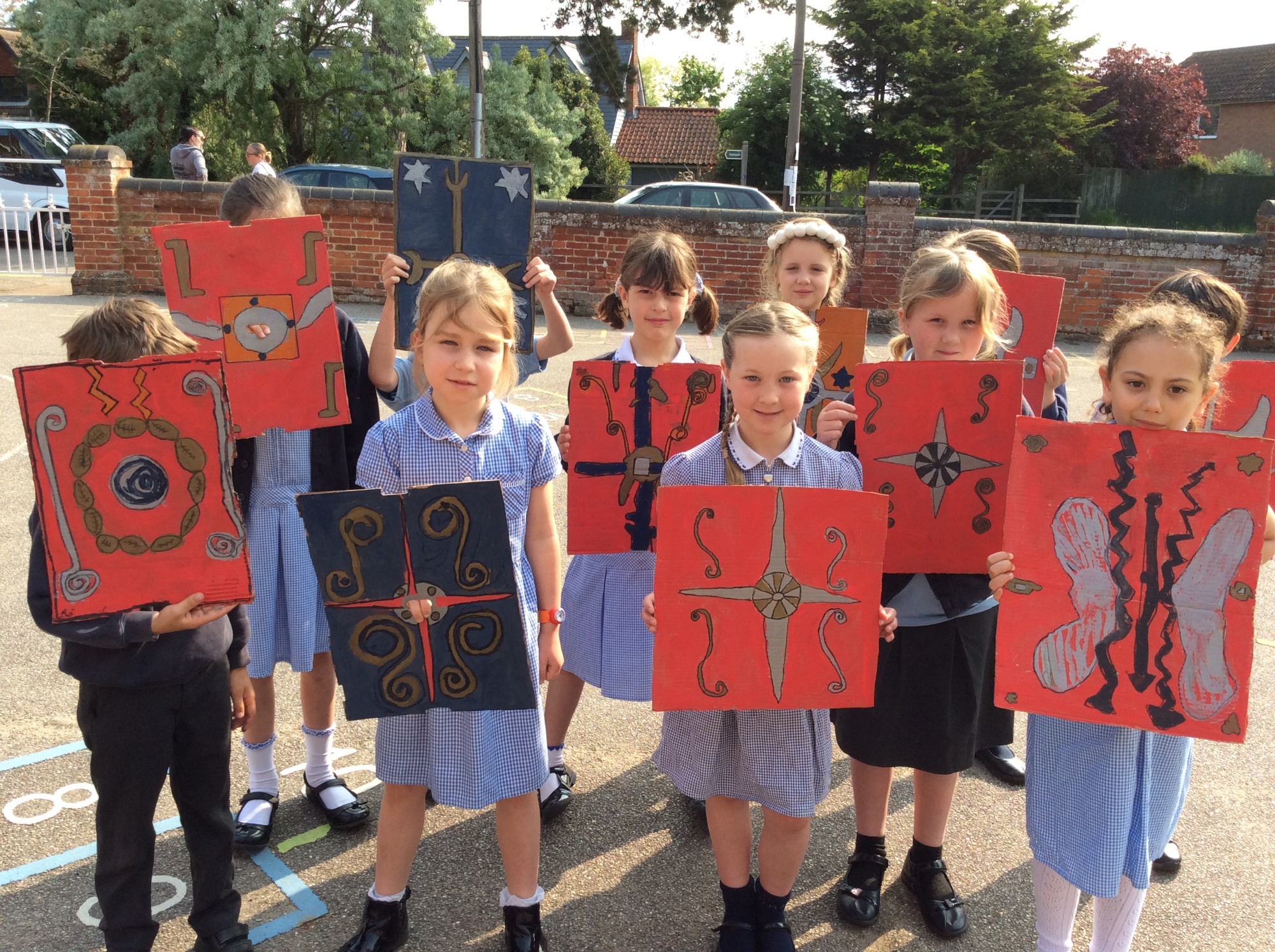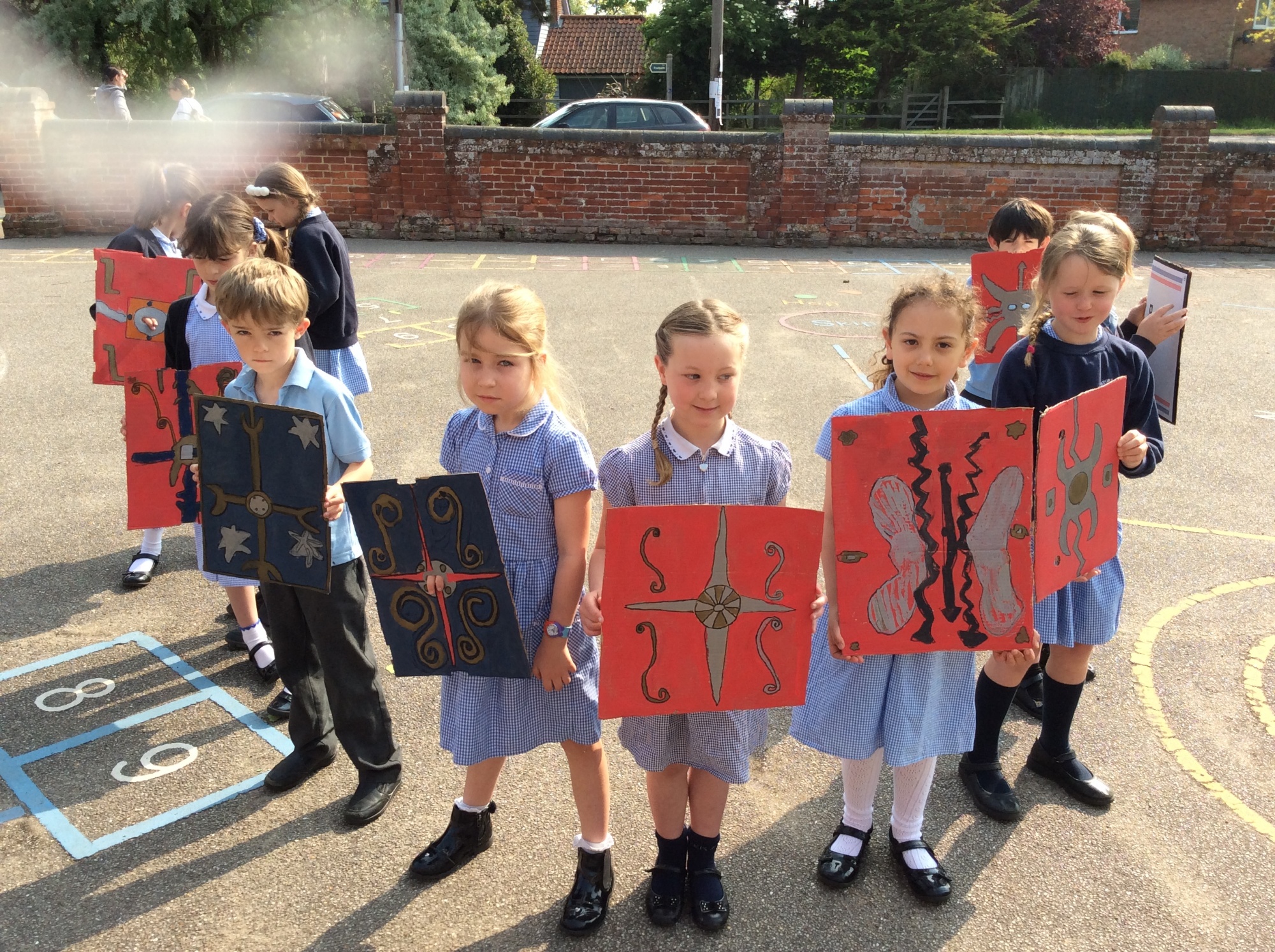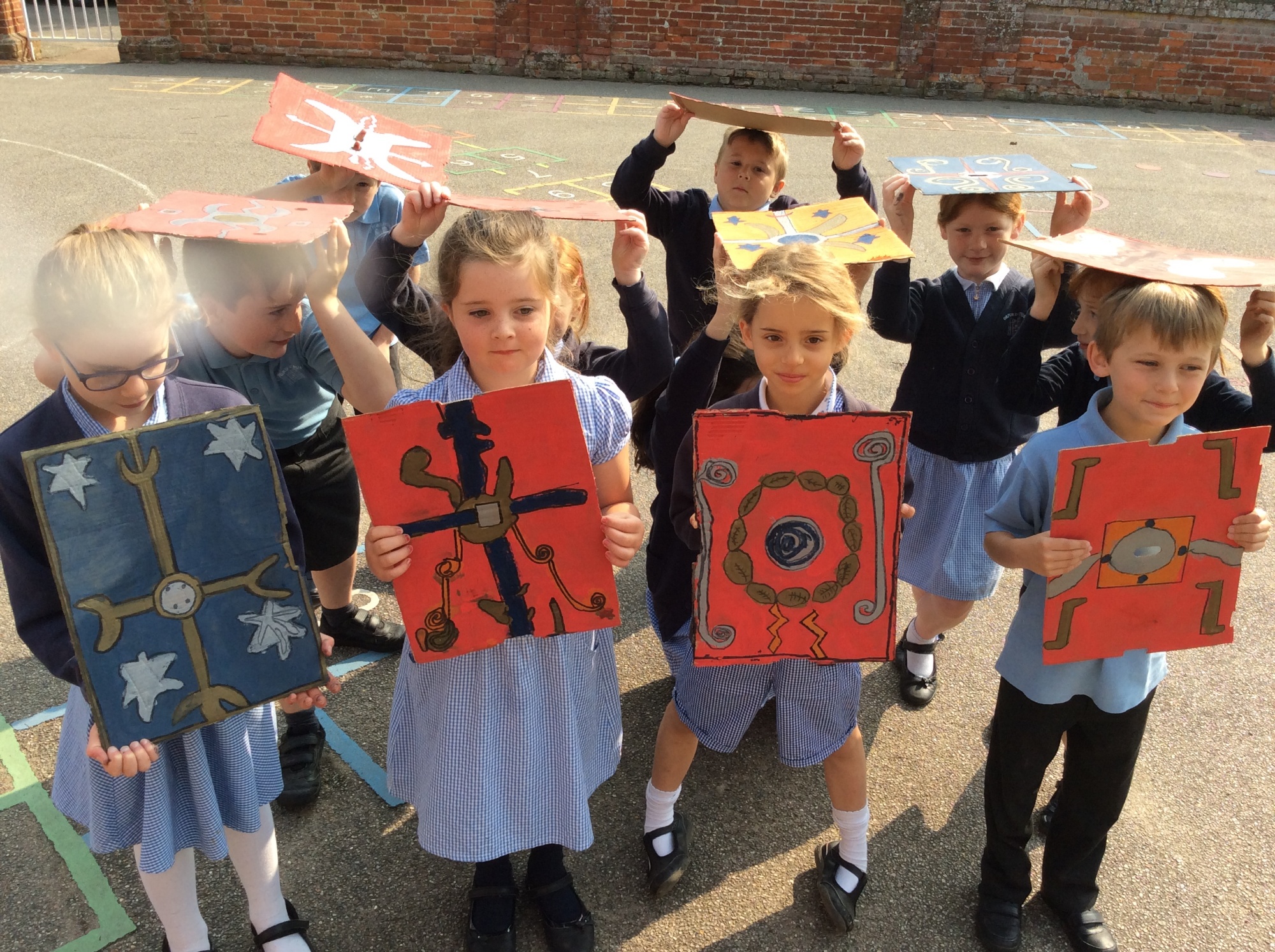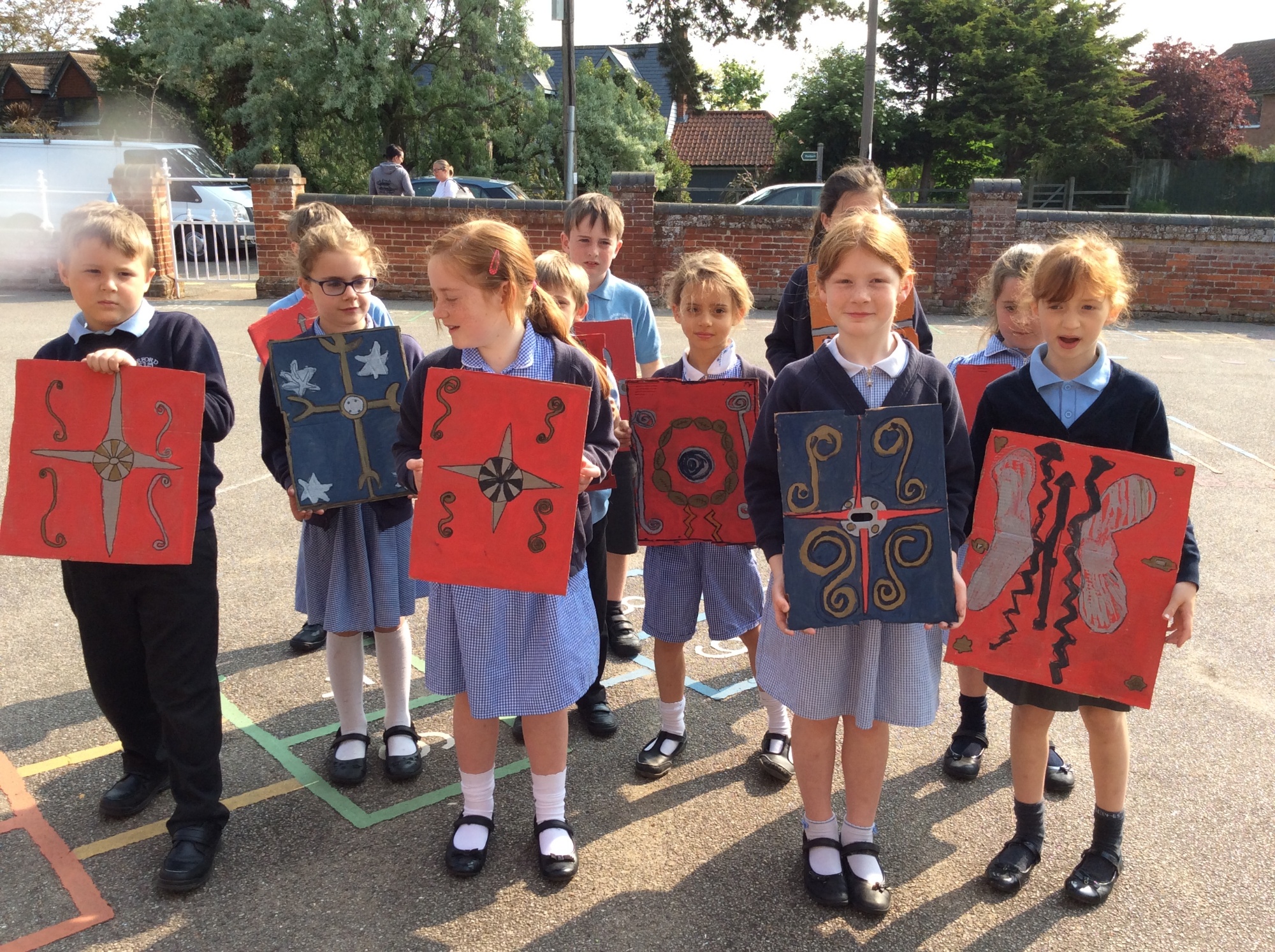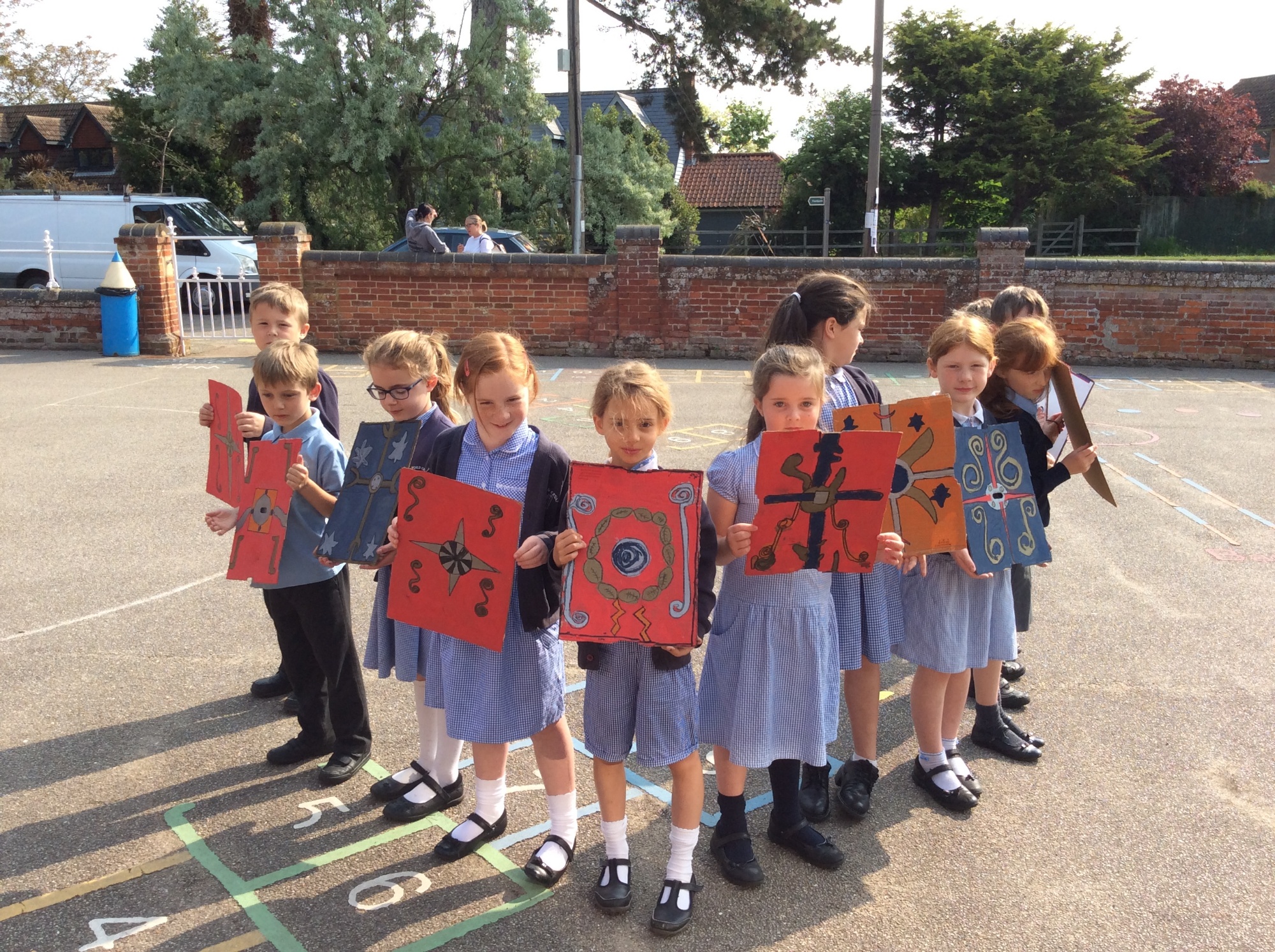 Spring 2019
29th March
We have had yet another busy week!
We started off by completing our Anglo Saxon moving boats (some complete with Anglo Saxon passengers, and of course, the all essential diving board?!) here we are, being very proud of our work: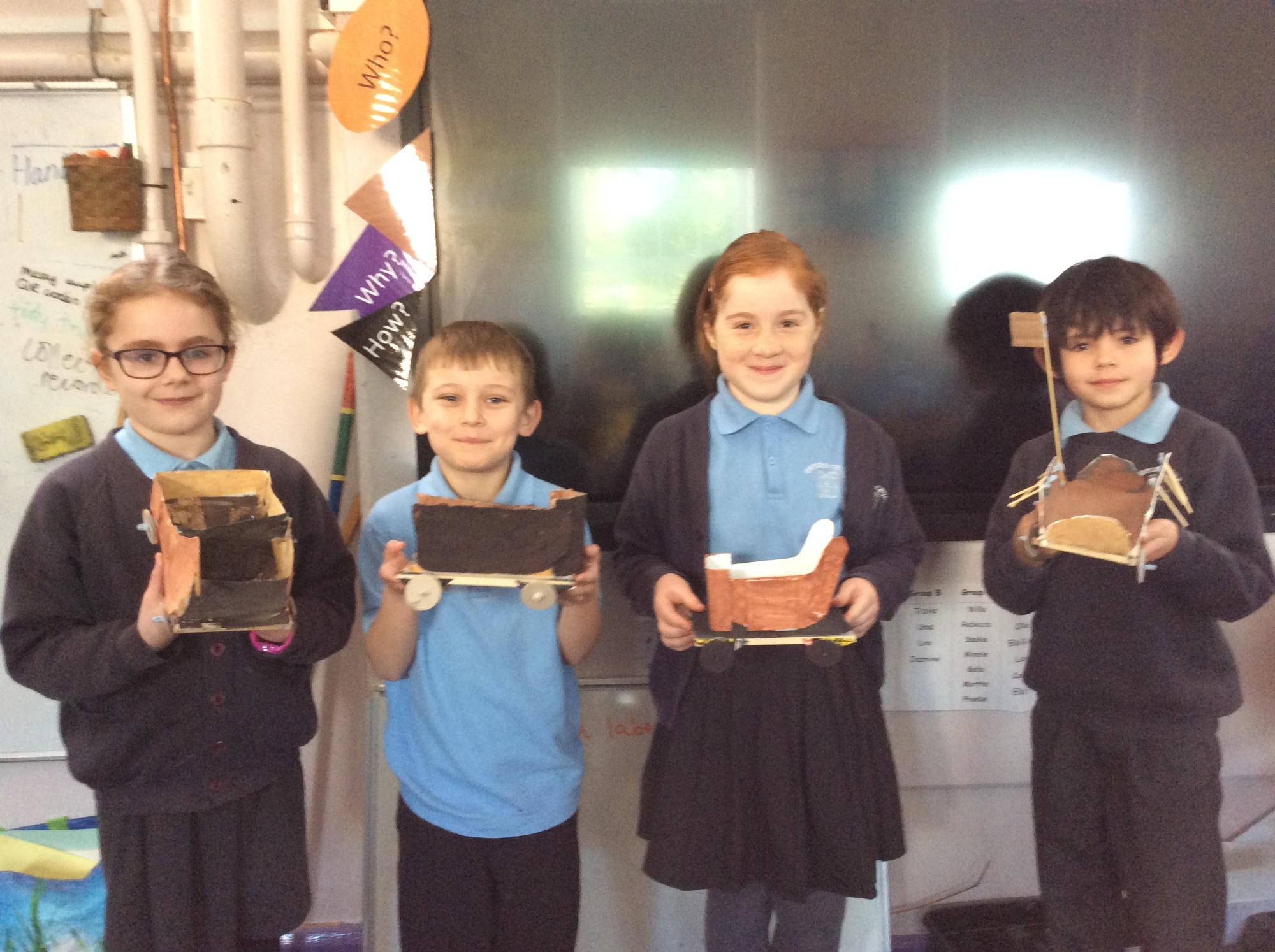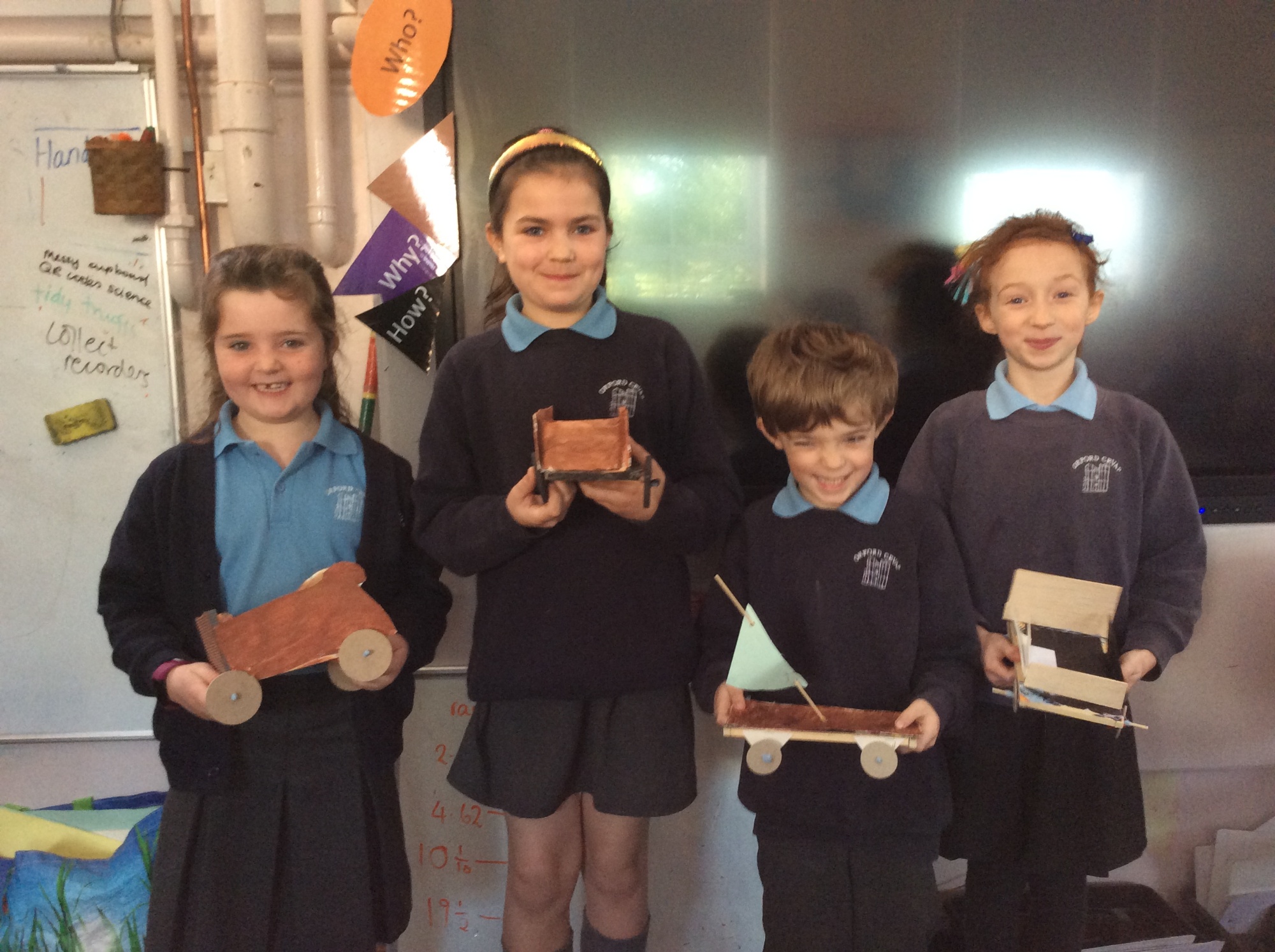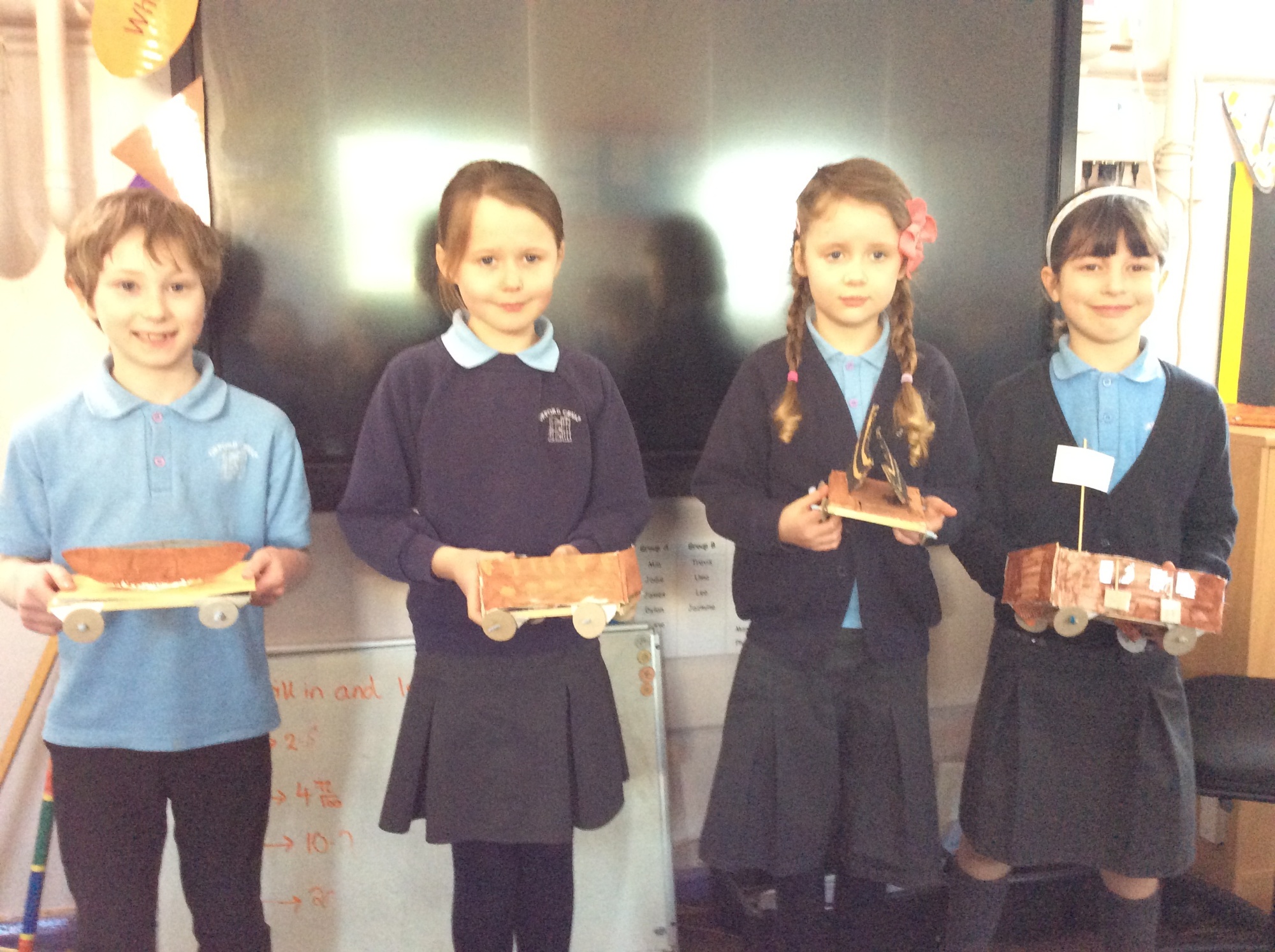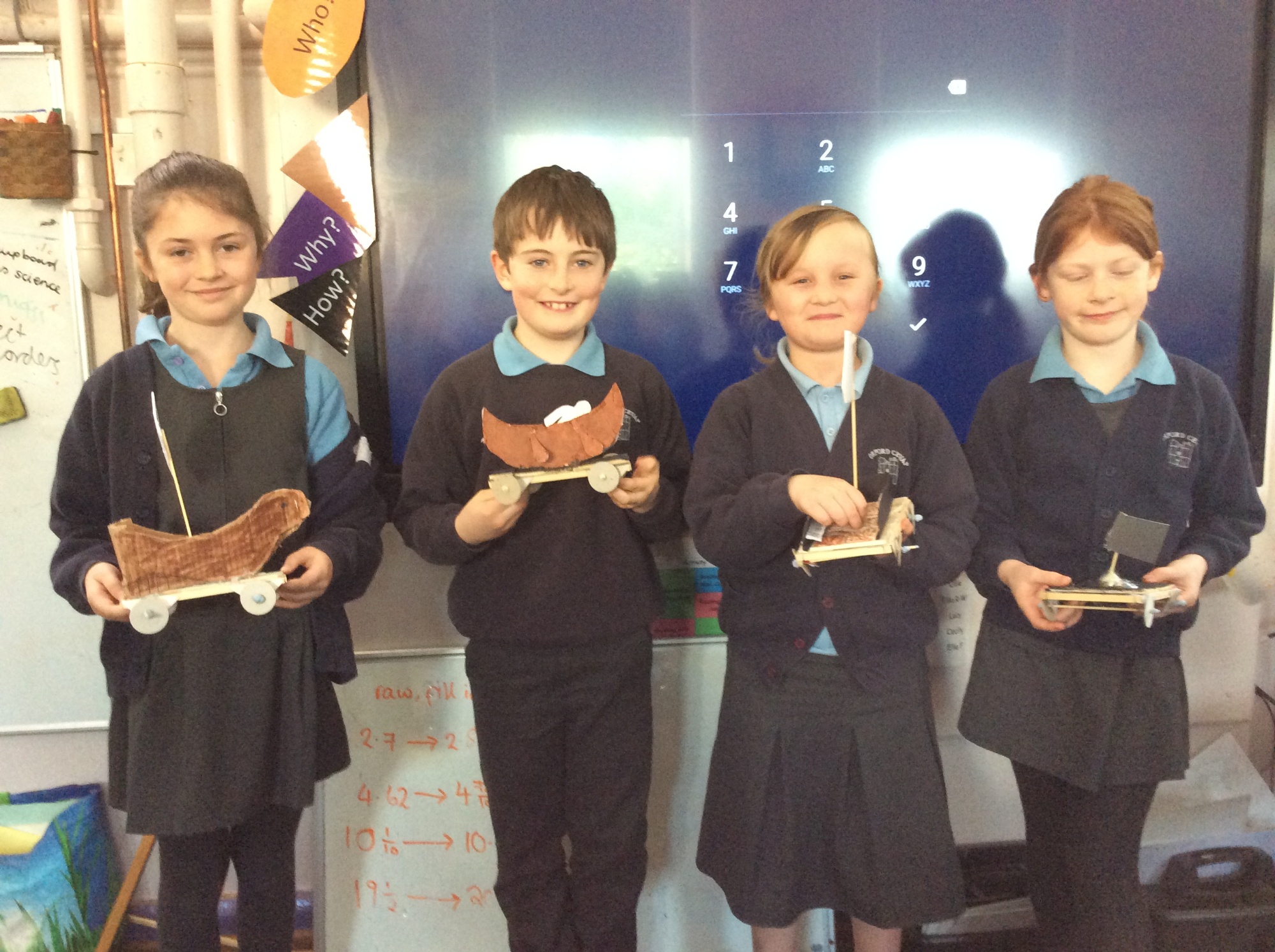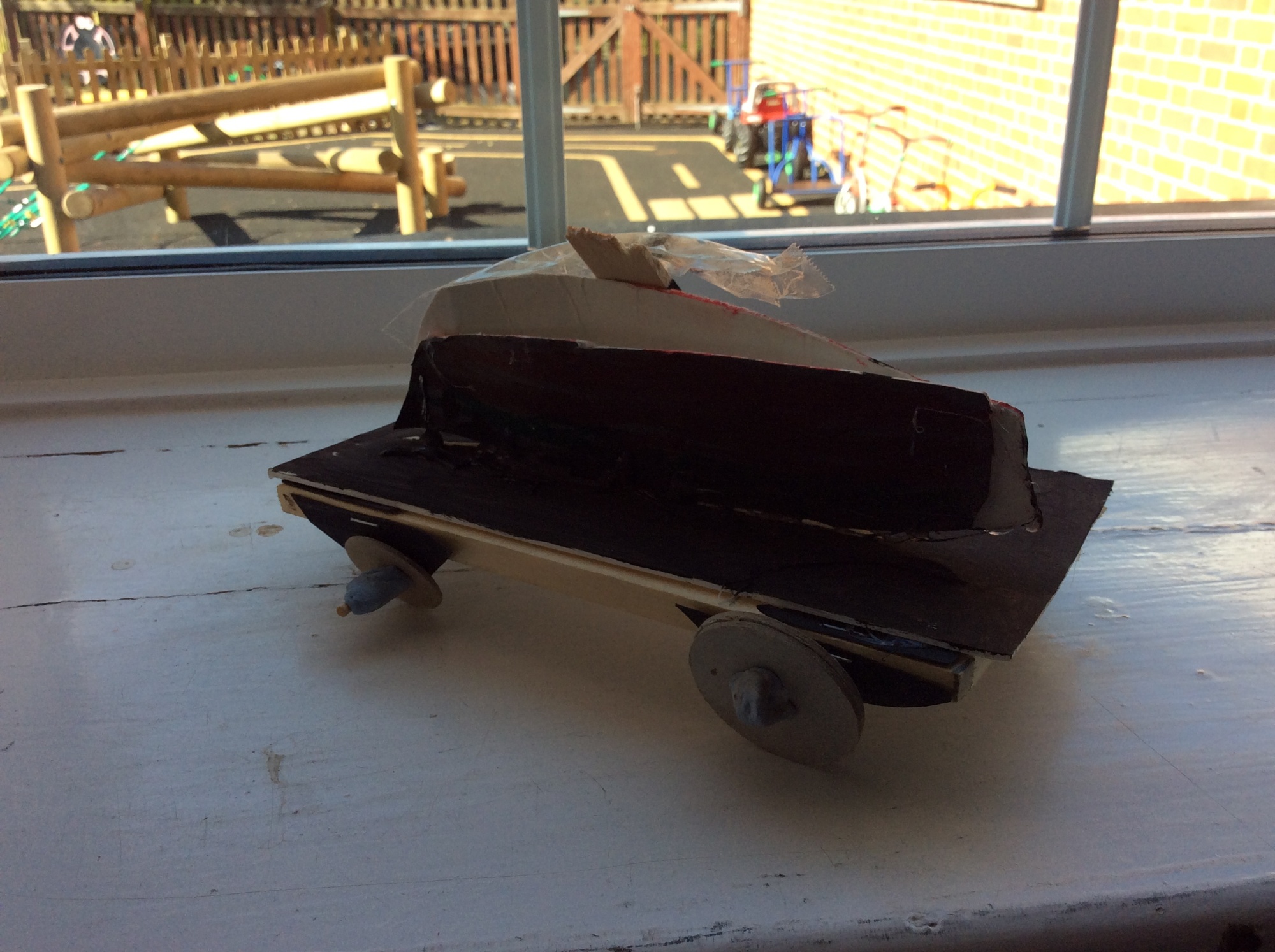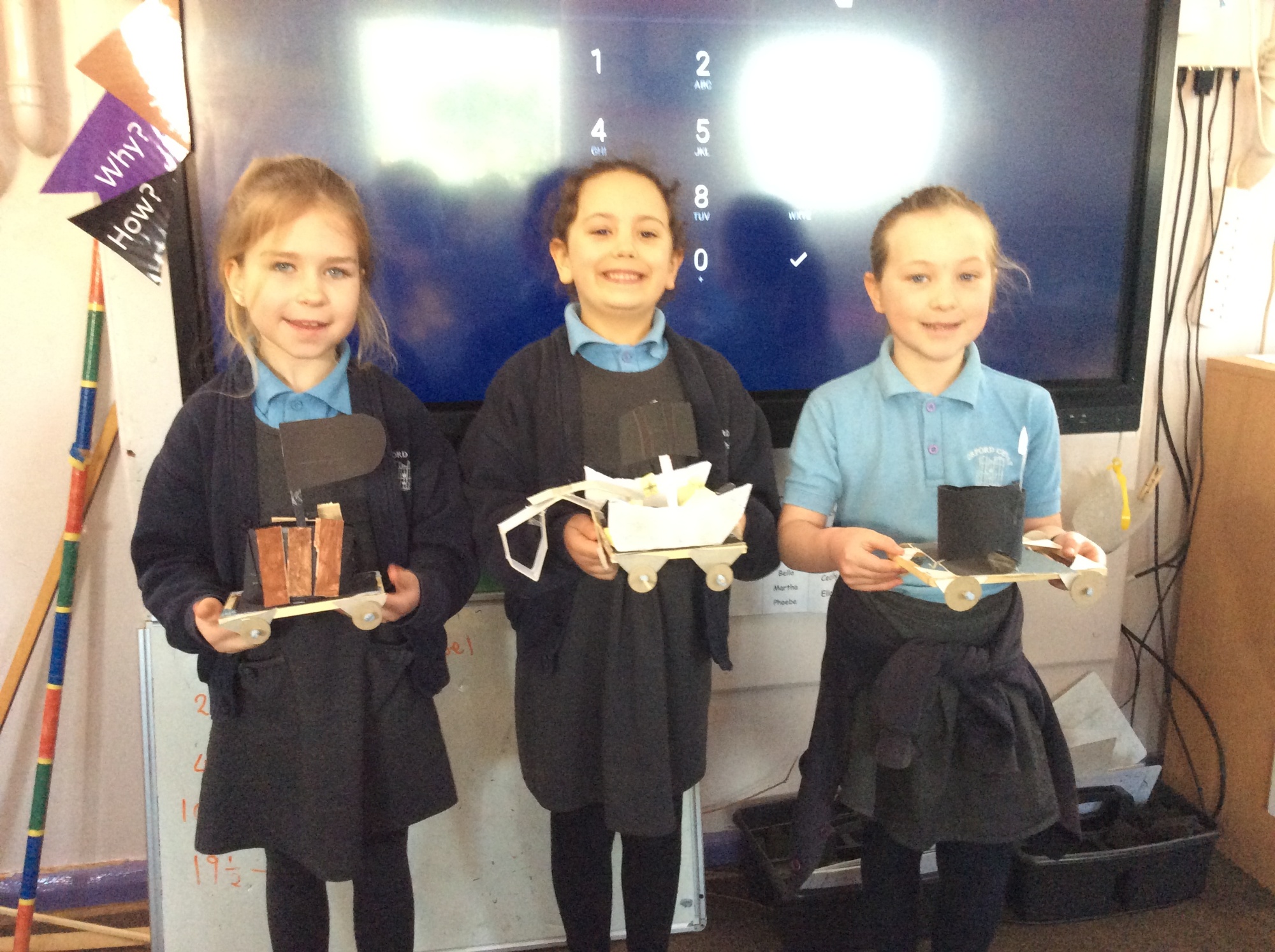 We have also finished our Anglo Saxon myths, made working string telephones, finished our fractions topic AND made some things for the Easter service next week! Children have taken home recorders and music tonight, please can they practice over the weekend and return by Wednesday at the latest.
Does anybody have a copy of How to Train Your Dragon 1 on DVD that class 2 could borrow next week (1st-5th April) please? Educational purposes of course!
If so, please let Miss Cannon or Mrs Smy know!
Also a reminder that recorders are being collected next week so must be in school by then.
22nd March
After all the excitement of Science week, you'd think this week would seem boring, but we haven't stopped! Well done to Leo, Willa, both Ellas, Archie, Ollie and Jamie for representing our school so well in the cross country on Monday.
We have finally finished learning our recorder songs for the Easter Service - we are sounding amazing! Please note I will be collecting in recorders soon, and they can stay in school until the performance.
We have also started making our Anglo Saxon moving boats, which are structurally sound, now just awaiting decoration. Hopefully they'll be ready to bring home next week.
If that wasn't enough, we're getting very close to writing our own Anglo Saxon myths. Today we practised writing introductions where we describe the characters and settings. Check out this brilliant example (written by a member of Year 2!!)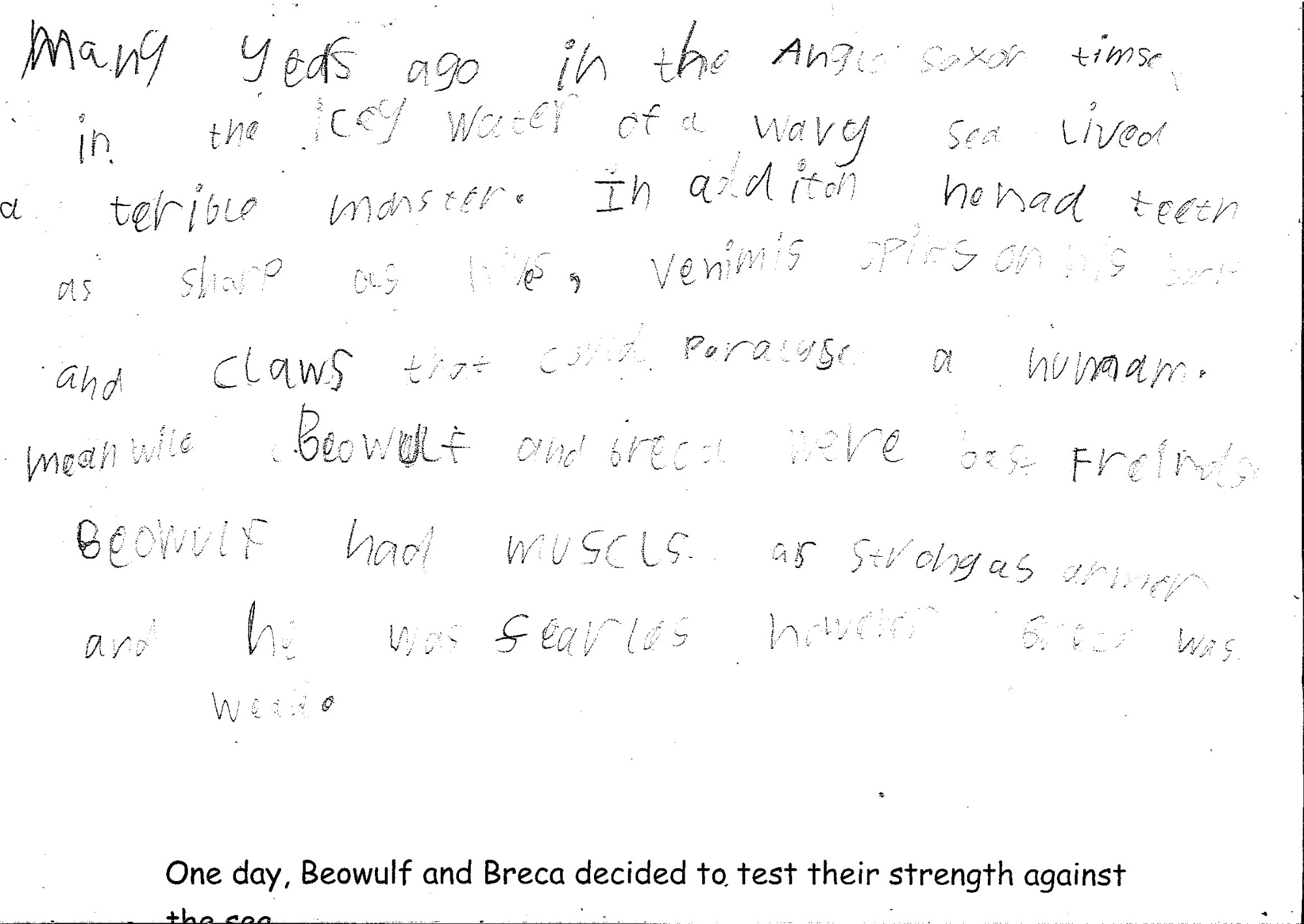 Translation: "Many years ago, in the Anglo Saxon times in the icy waters of a wavy sea, lived a terrible monster. In addition he had teeth as sharp as knives, venomous spikes on his back and claws that could paralyse a human. Meanwhile Beowulf and Breca were best friends. Beowulf had muscles as strong as armour and he was fearless however Breca was weak."
SCIENCE WEEK!
Wednesday
Sadly, there is no video update of today. Just a few midweek notices:
-Pencil cases etc. are not allowed in school at the moment. I will review the situation next Friday
-Please, please, please book a parent's evening slot if you haven't already, the link is here
-Tomorrow we are launching rockets!! Parents are welcome to view the finale from 2.15pm onwards on the playground/recreation ground. However, some parents have asked if they could come in and help beforehand - if you would like to, we never say no to help! We are constructing rockets from 1.15pm onwards
Thank you!
Tuesday
Wow! Our classroom is tight with 22 children in it - today we had 21 children and 23 adults, but we had a great time! Thank you to all the parents/carers/family members who came and took part in our Motion Makers workshop. Here's the next instalment of our Science Week video blog if you want to watch (or relive) the action!
Monday
Today, we received yet another letter from King Raedwald - we were under attack from the Vikings!! Luckily, Miss Cannon taught us about energy and motion, which helped us make our own catapults to shoot them down. Don't believe us?! Check out the video...
7th March
Last week, Classius Two-I-Us (our Anglo Saxon tribe name, if you were wondering) were sent another letter from King Raedwald: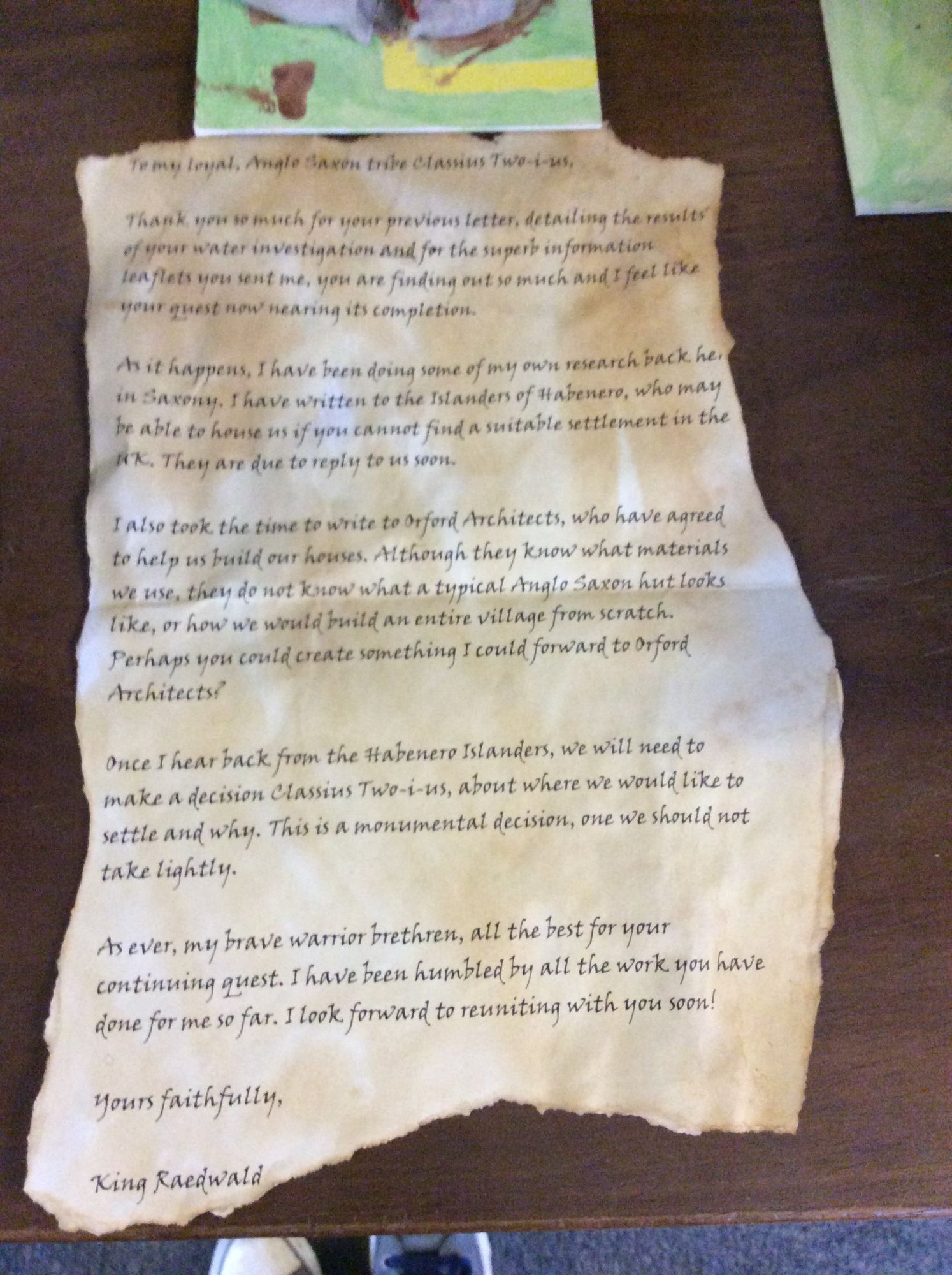 We had to build some Anglo Saxon house prototypes!
After some thorough research on materials, shape, structure etc., we set about making the base of our houses out of clay with sticks for support. We had to weave the walls, trying to keep them nice and tight so no air (or rain!) could get in. Our final job was to construct the roof, which could be tiled or thatched. This proved very fiddly and required a lot of patience and a steady hand.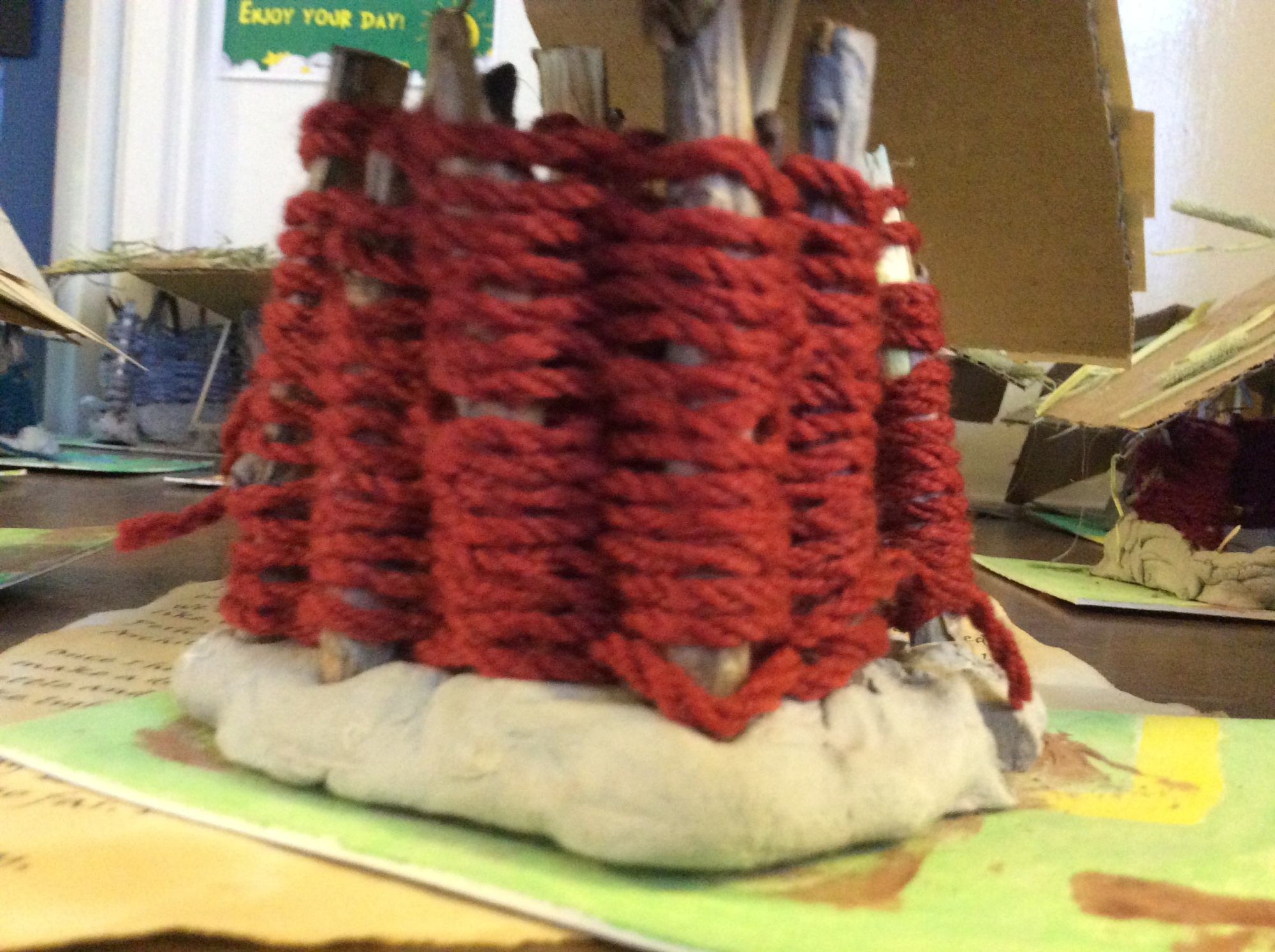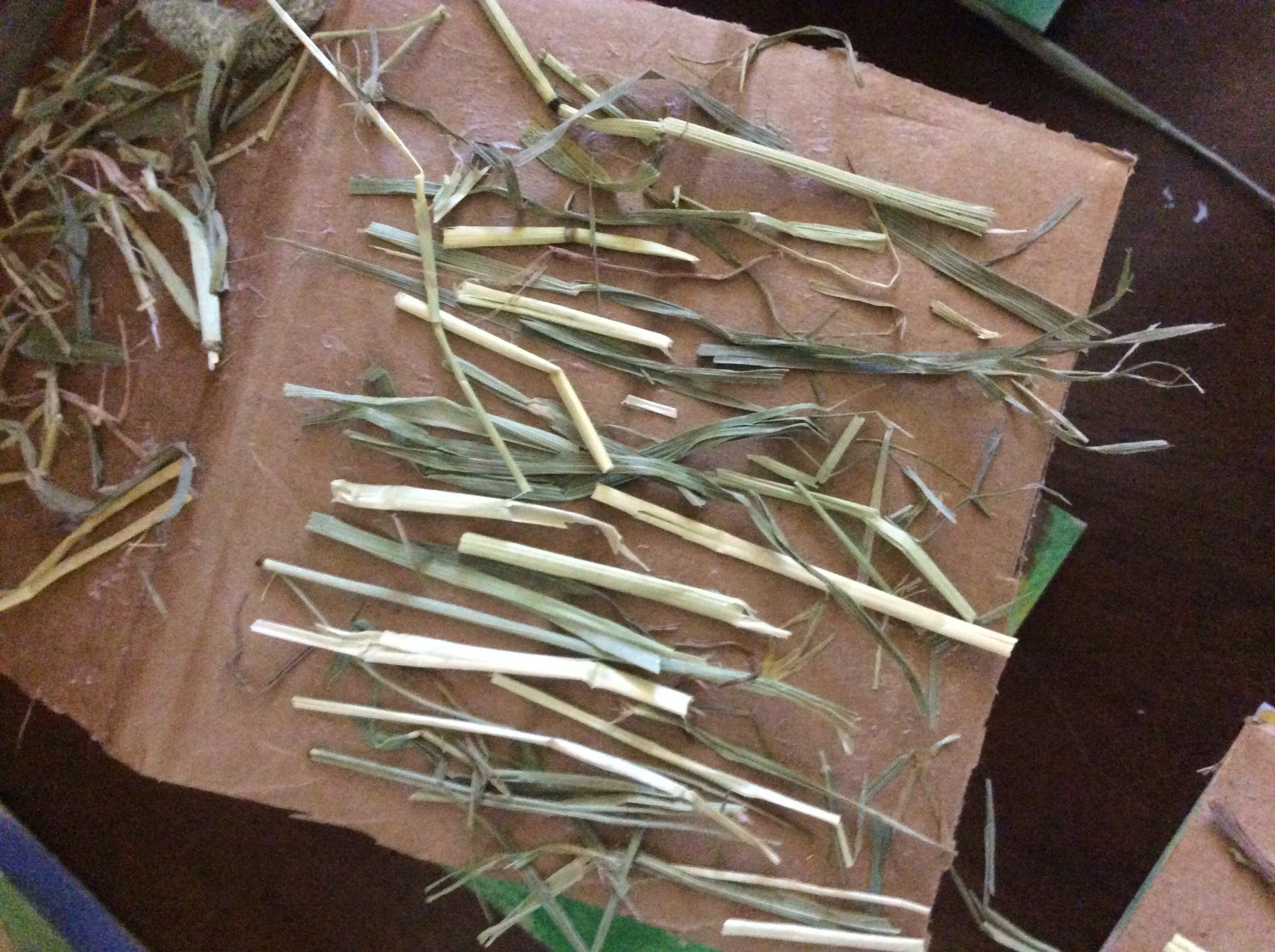 When in came to construction, we ended up using a supporting dowel to keep the roof in place.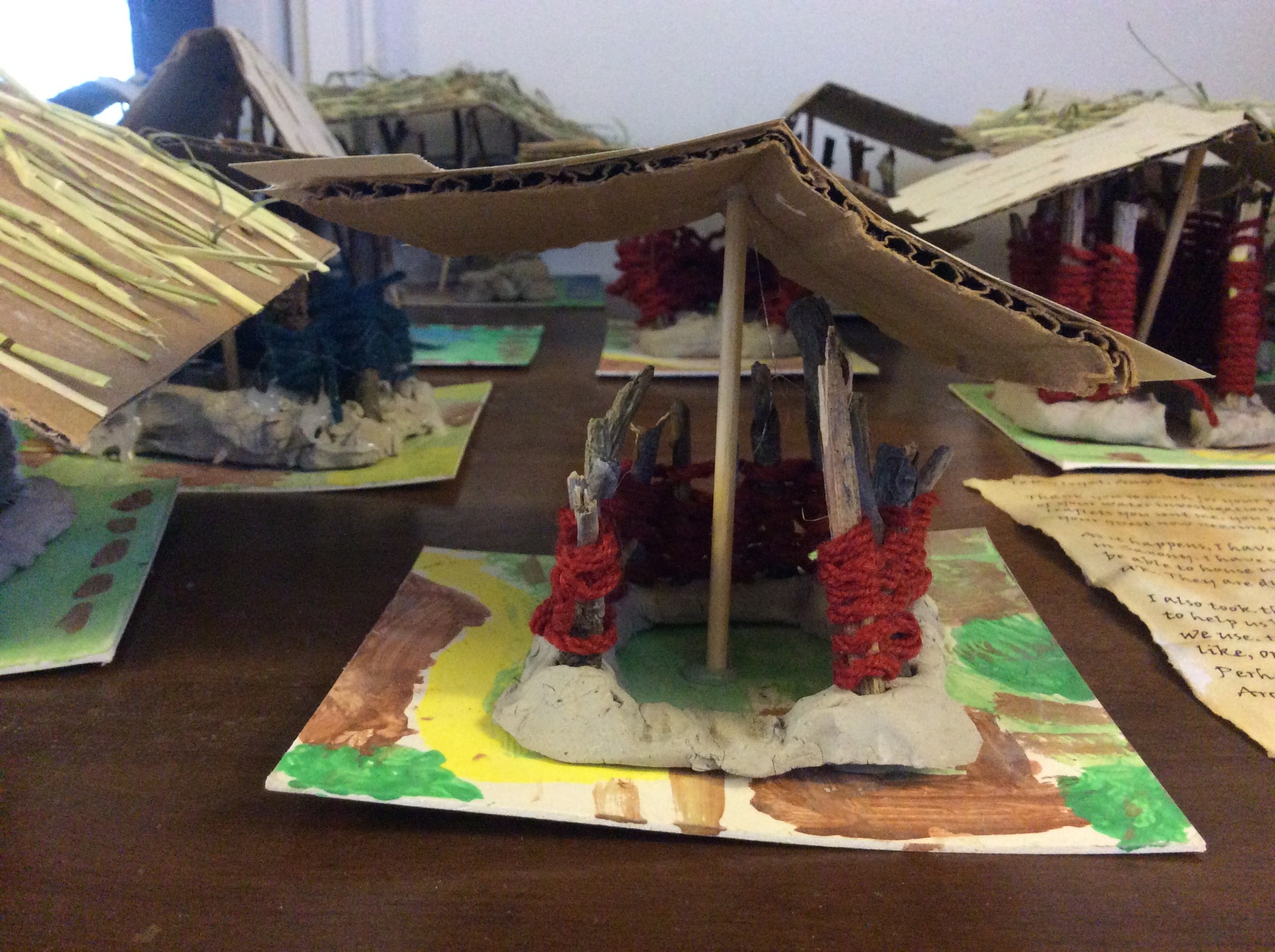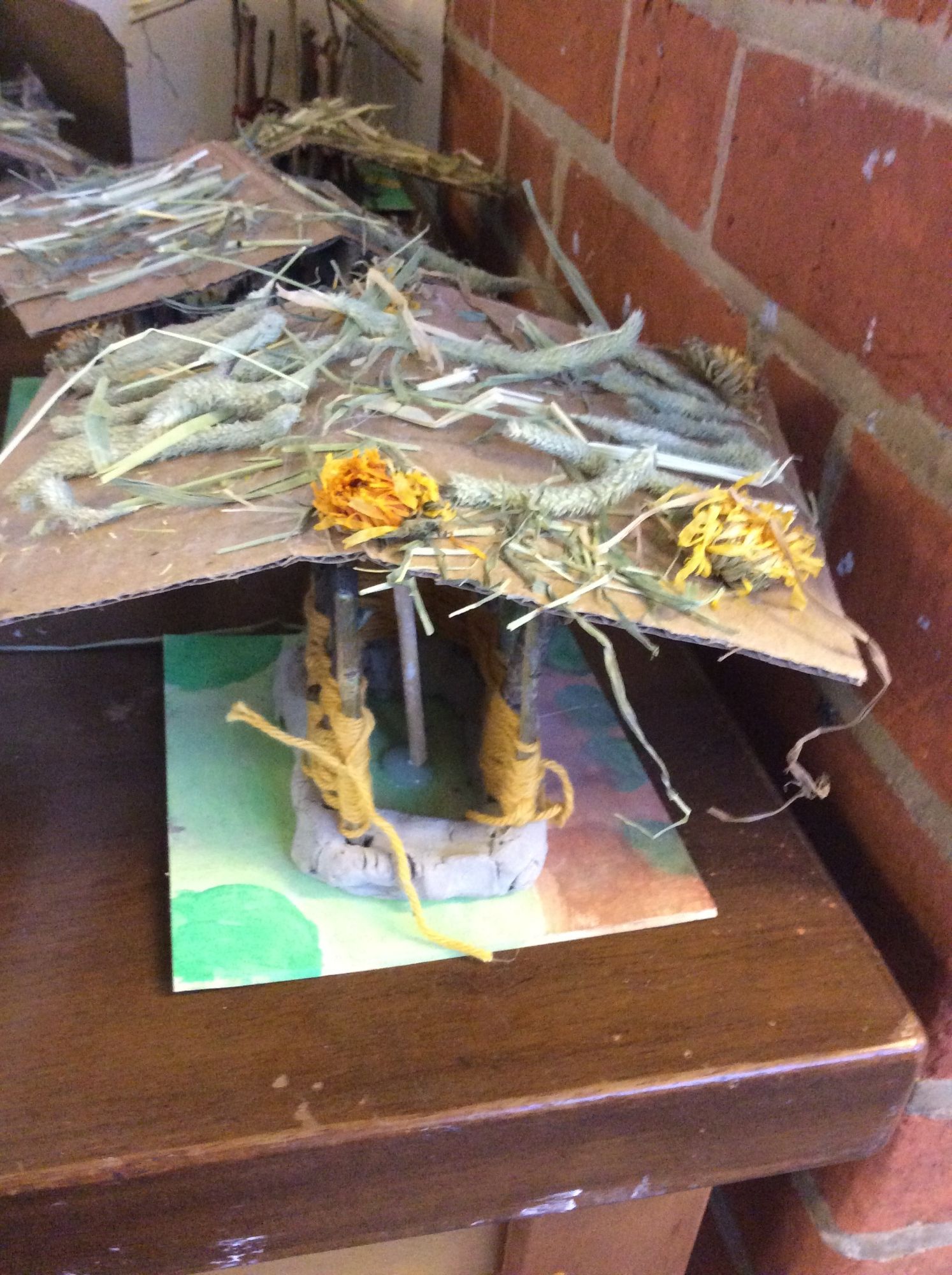 And here is our final, completed miniature village (Miss Cannon thinks they look AWESOME!):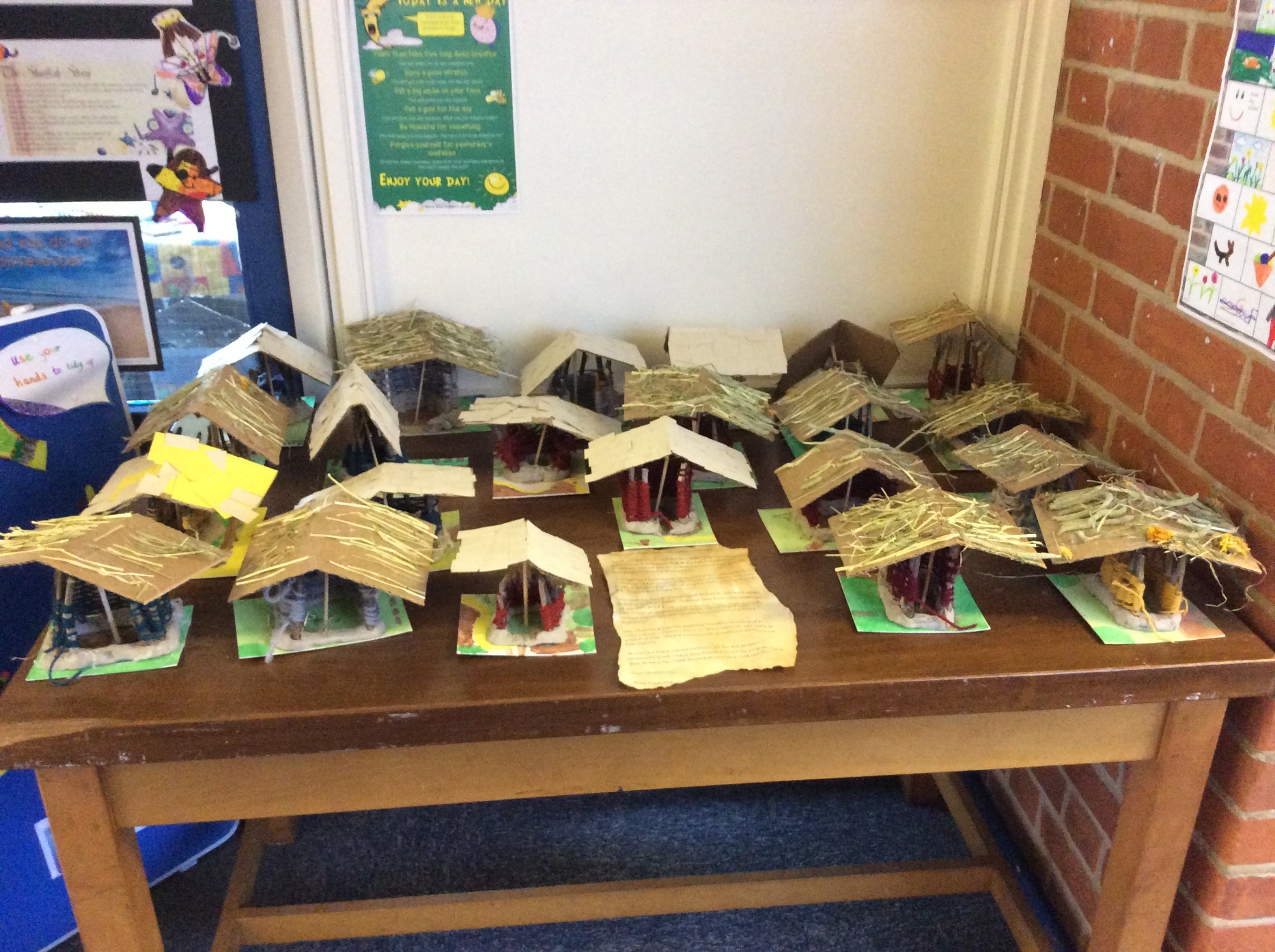 PLEASE REMEMBER THAT NEXT WEEK IS SCIENCE WEEK!
Class 2 parents are invited to join in our interactive workshop Tuesday afternoon from 1.45pm and then join in the whole school explosive experiment Thursday afternoon from 2.15pm on the rec. We look forward to seeing as many of you as possible!
1st March

Those of you who came to assembly this morning will know that we have started a new literacy topic all about myths and legends. We found out what the different features of a myth are, and we read the Anglo-Saxon myths about Beowulf.
We reneacted some scenes from the myths in the forest schools area, created cartoon strips of different parts of the story and Jamie, Jodie, Mia, Dylan and James all made this fatastic video: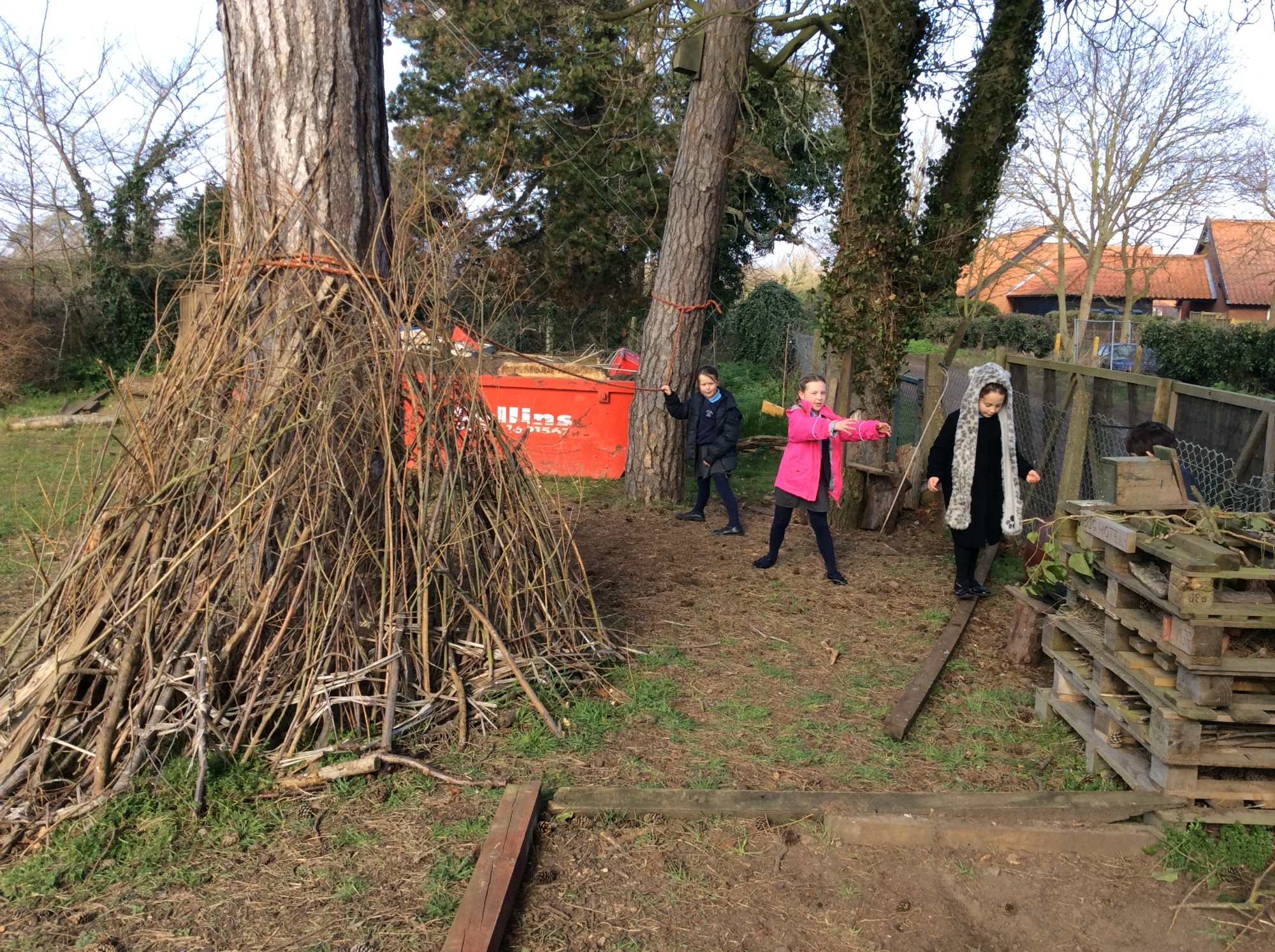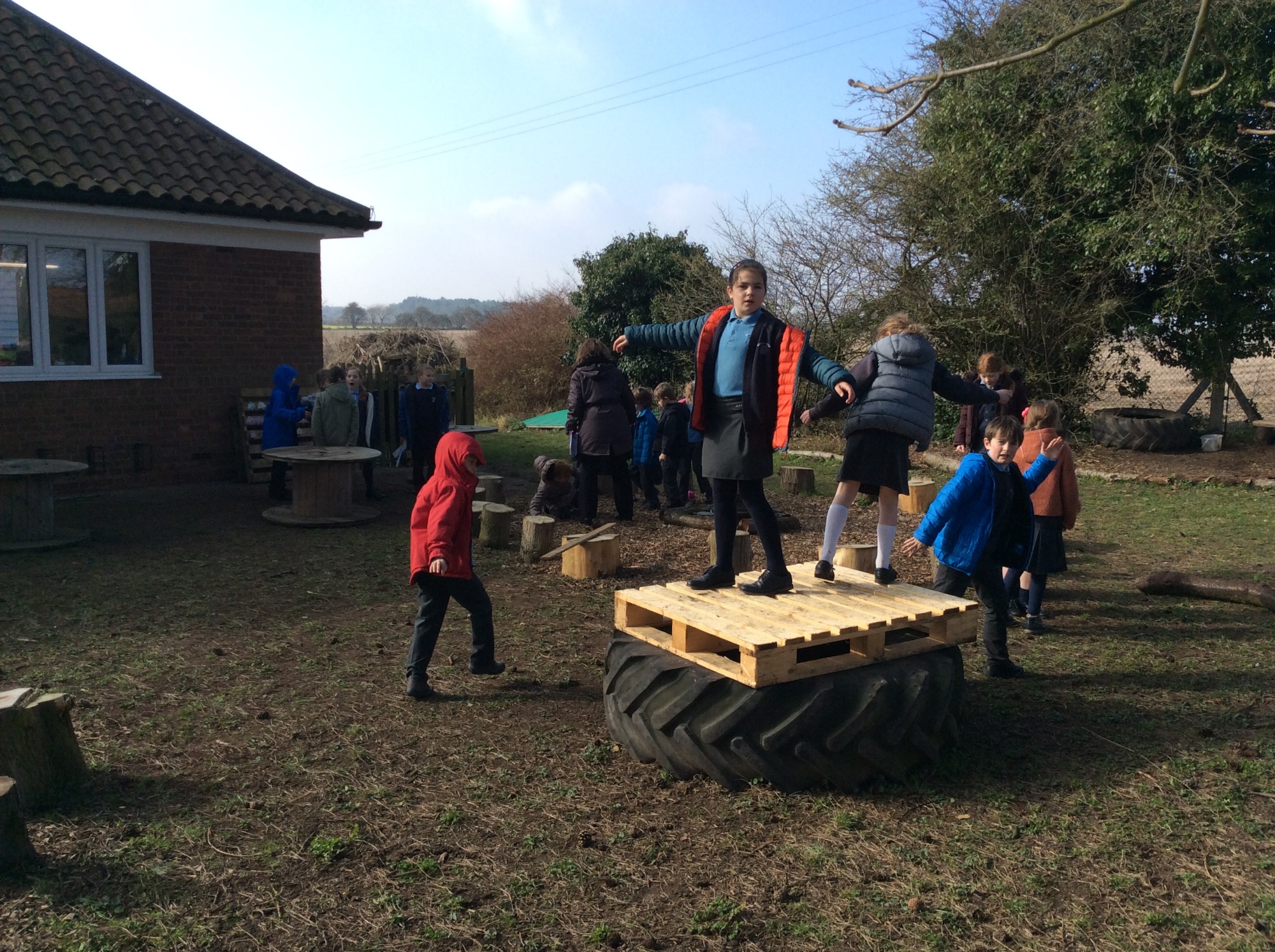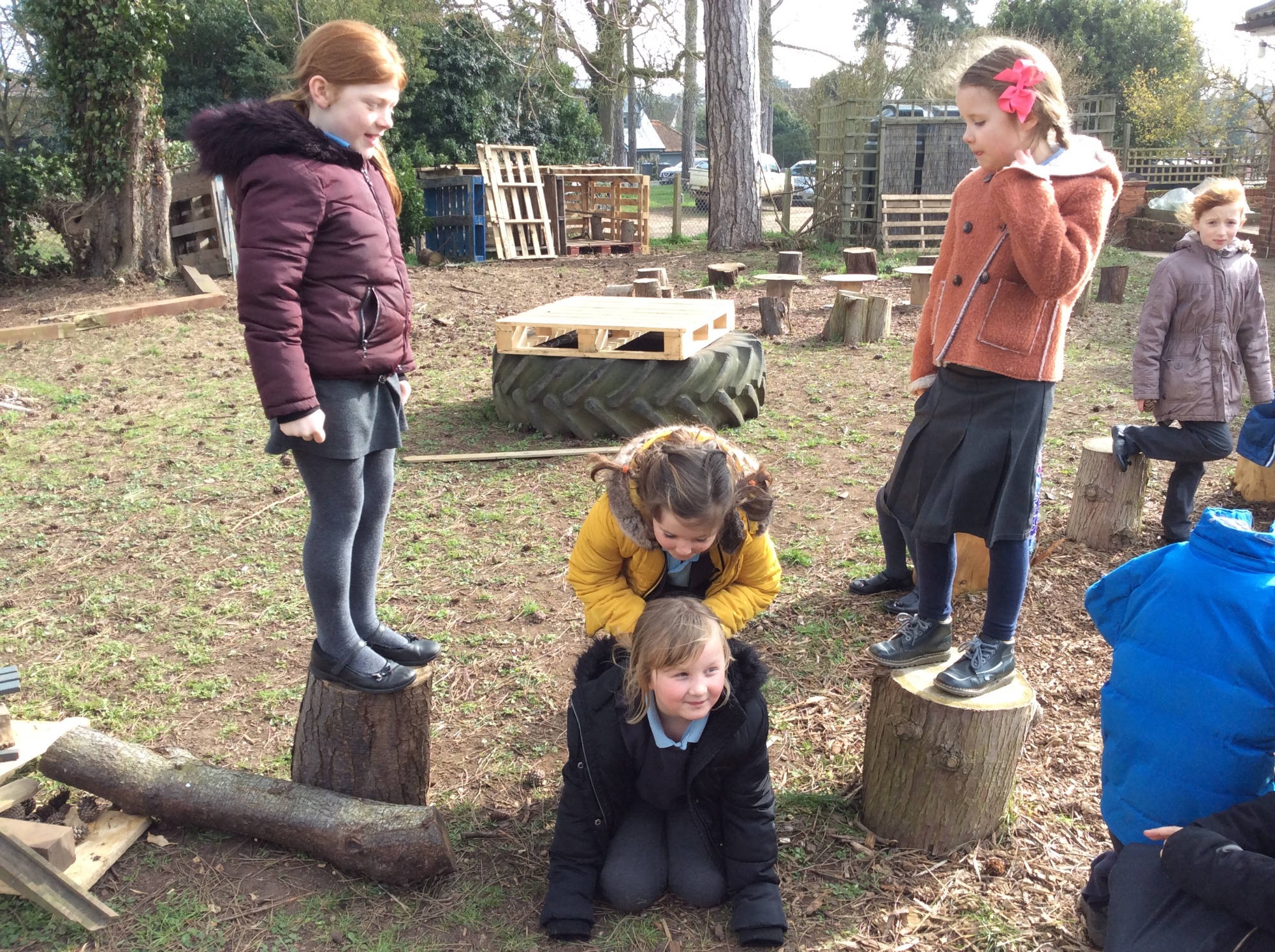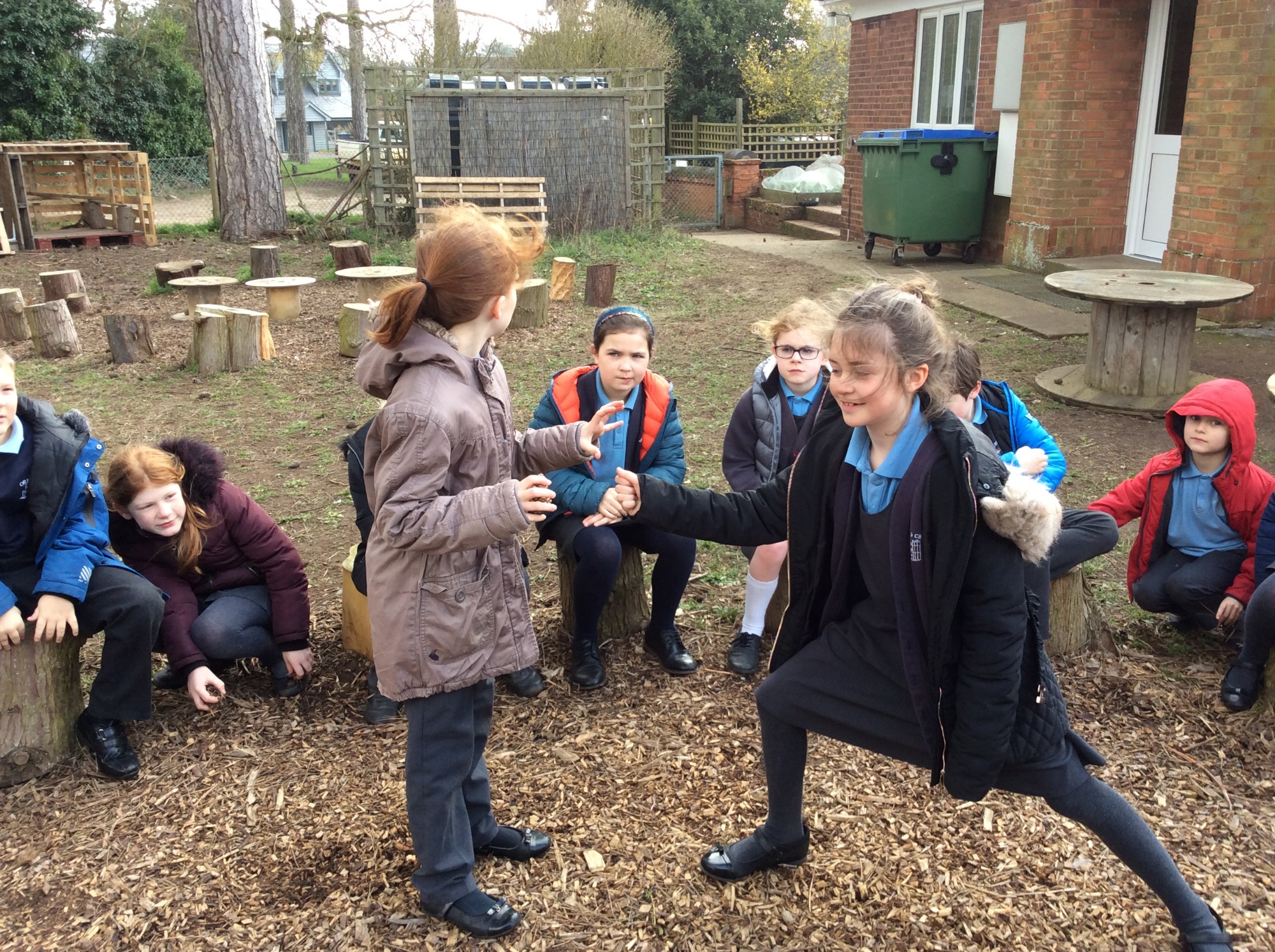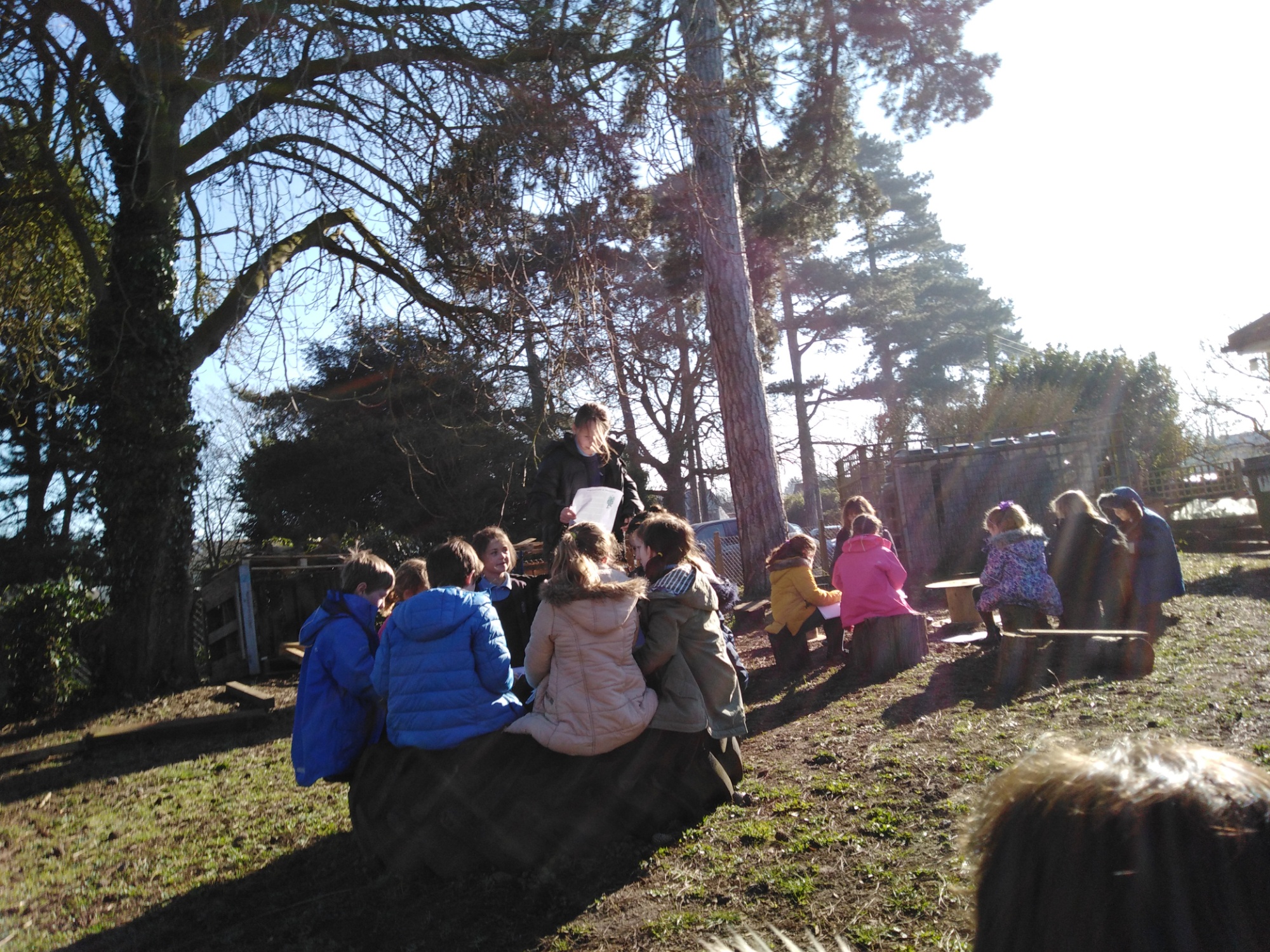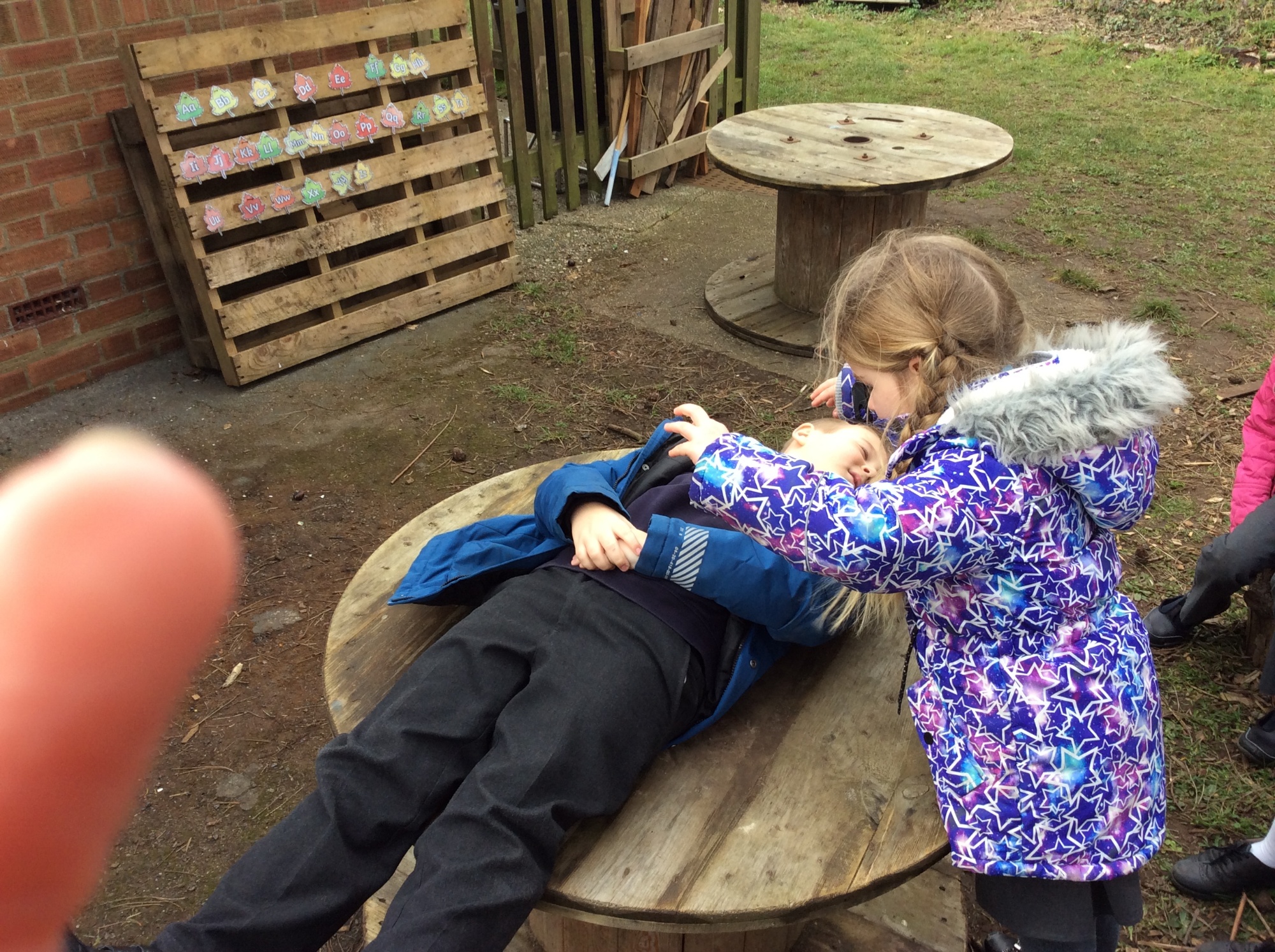 14th February
(Report by Ella R-W, Phoebe, Ella F and Martha)
Today we learnt how to get pictures off of the ipad onto the computer and we learnt how to put it on a folder. We took pictures of things we were proud of from this term and our favourite places around school. It could sometimes go a bit wrong but we all managed it.
Favourite Places Around School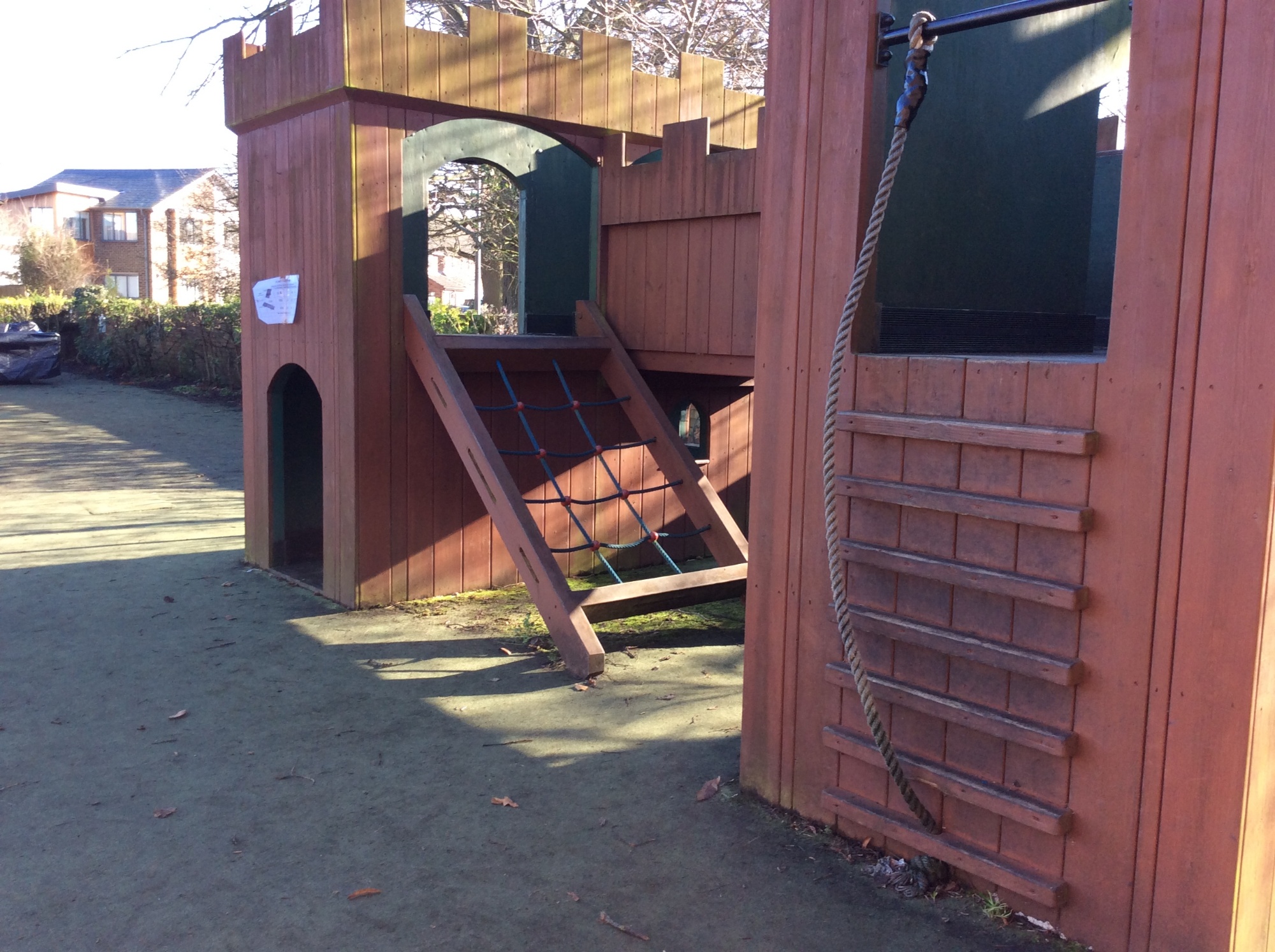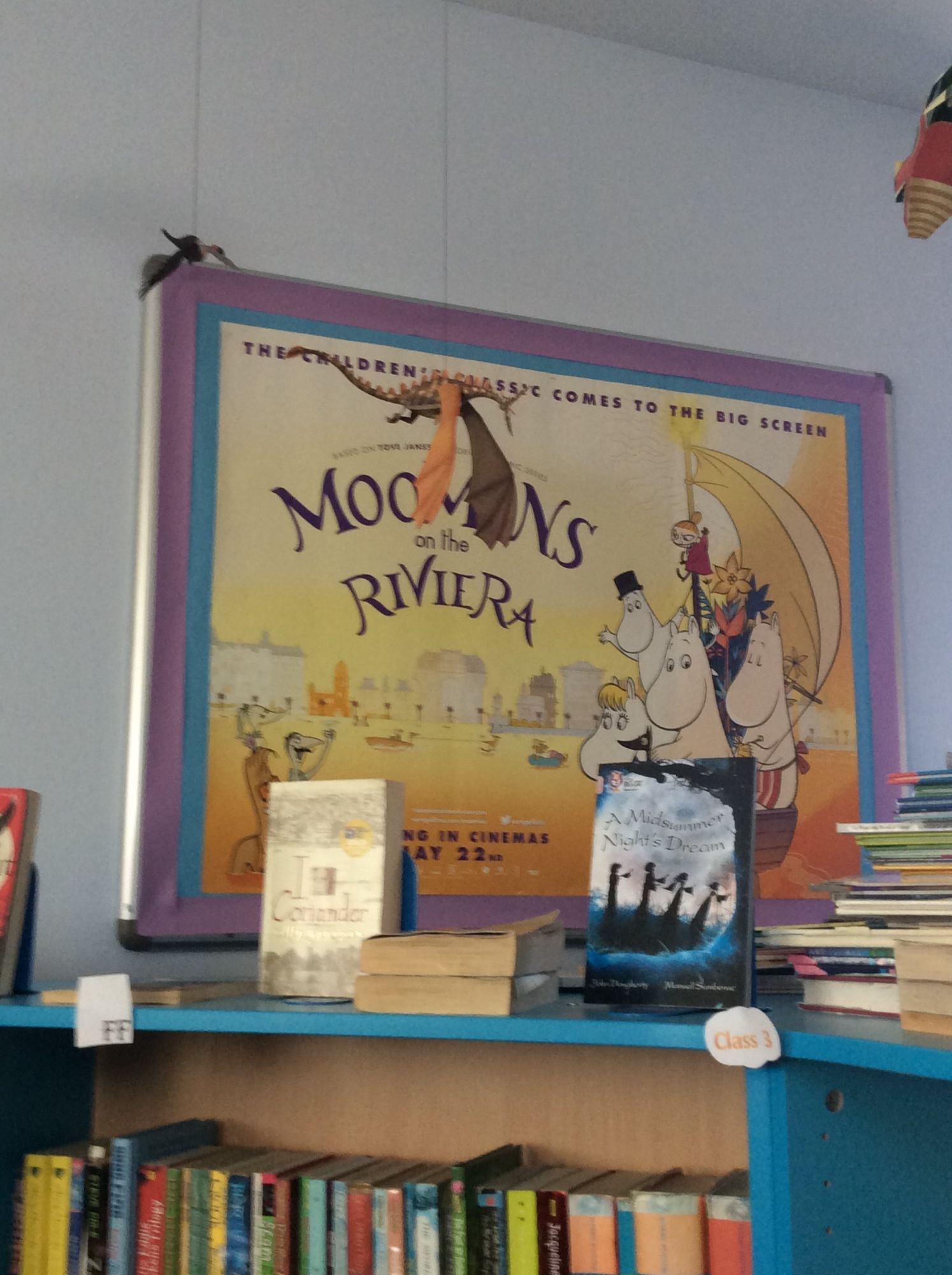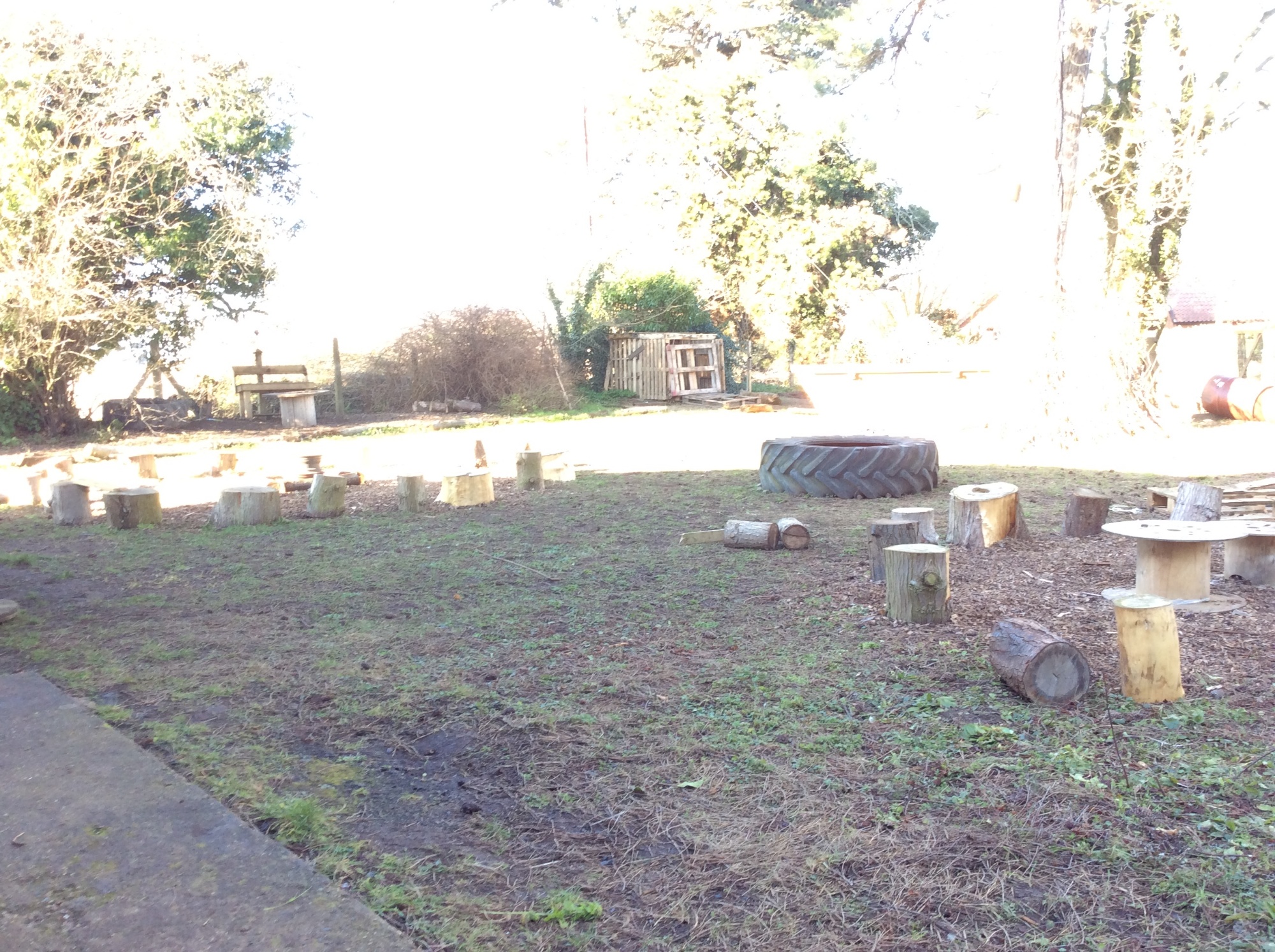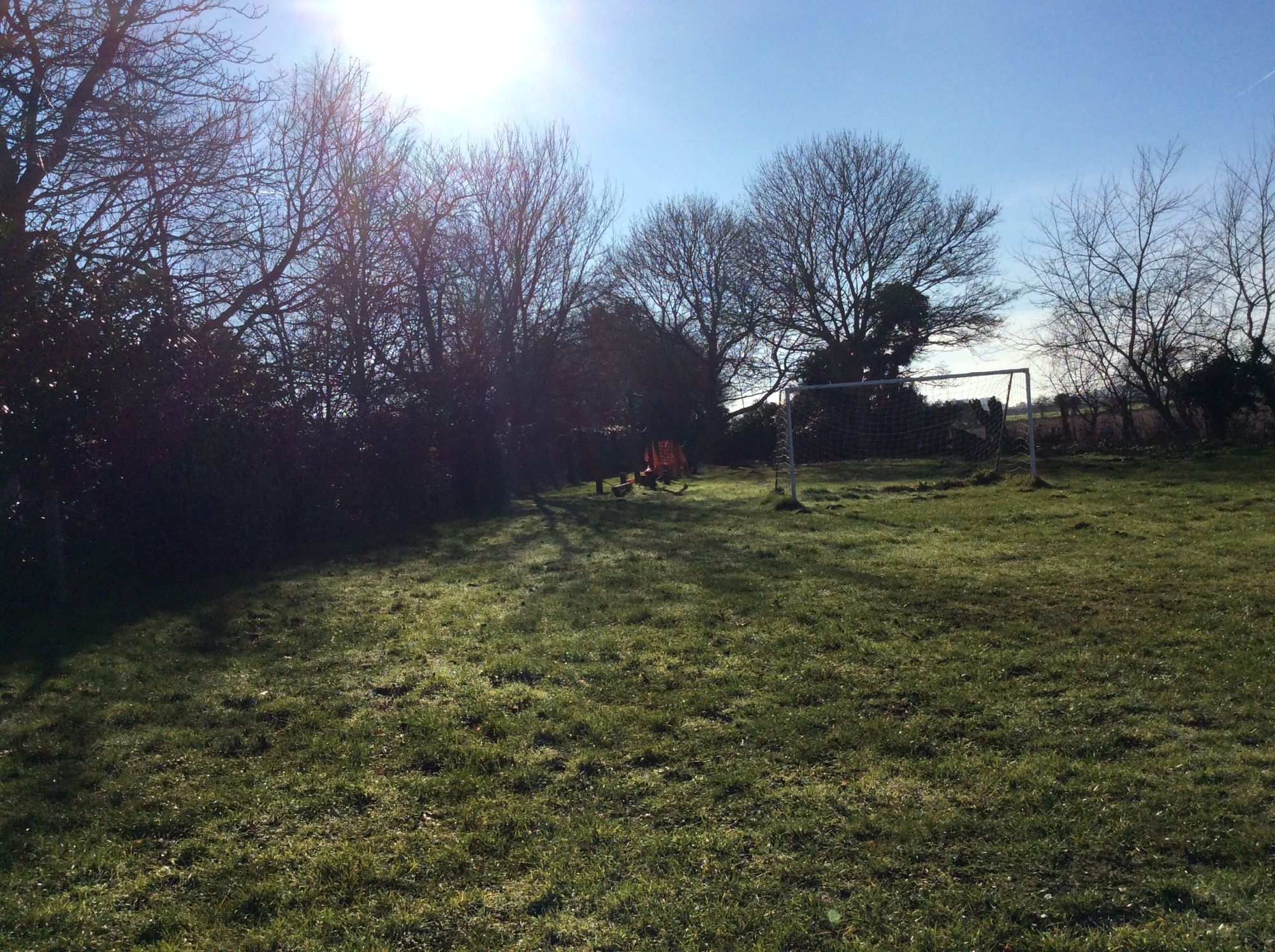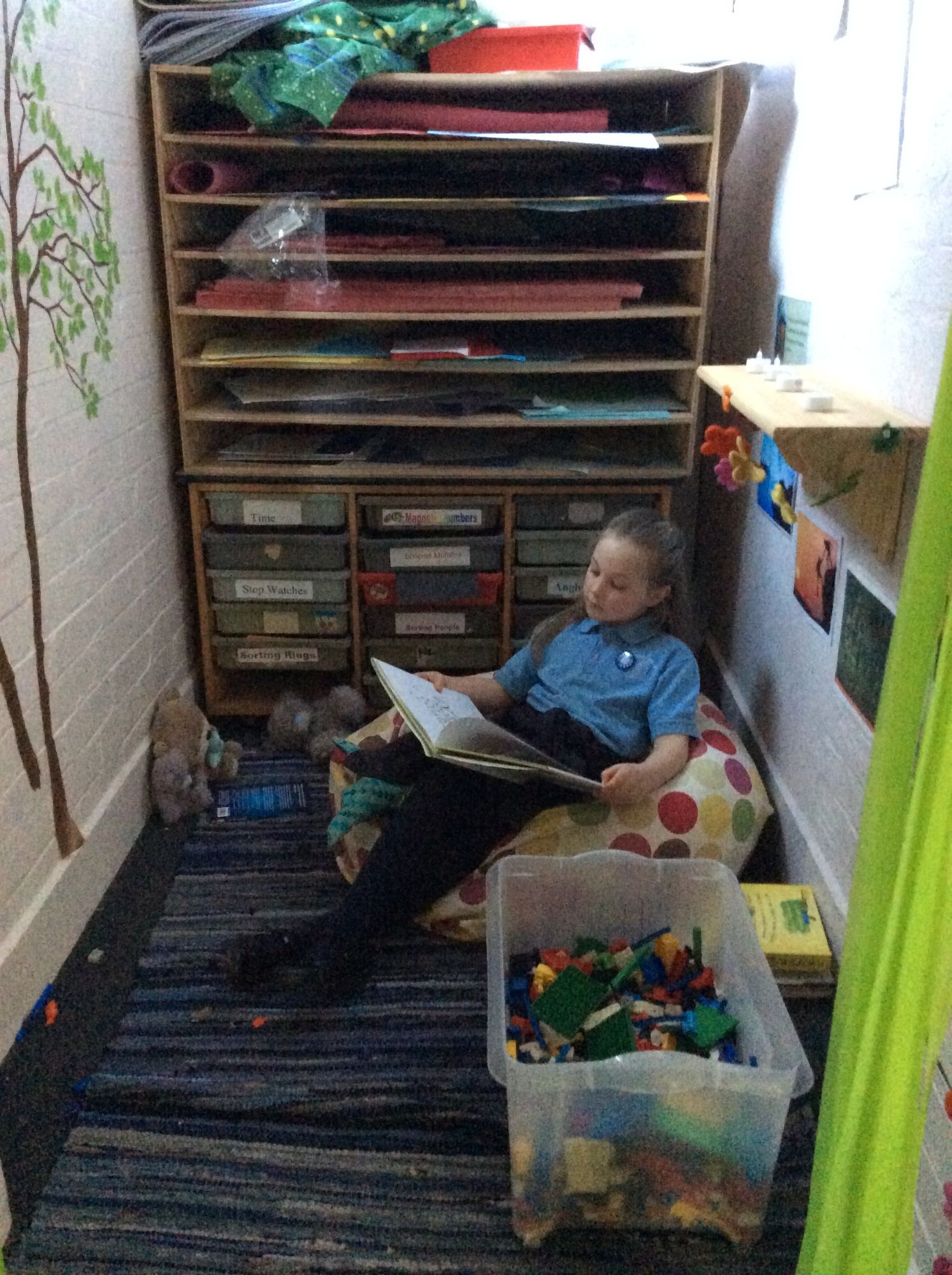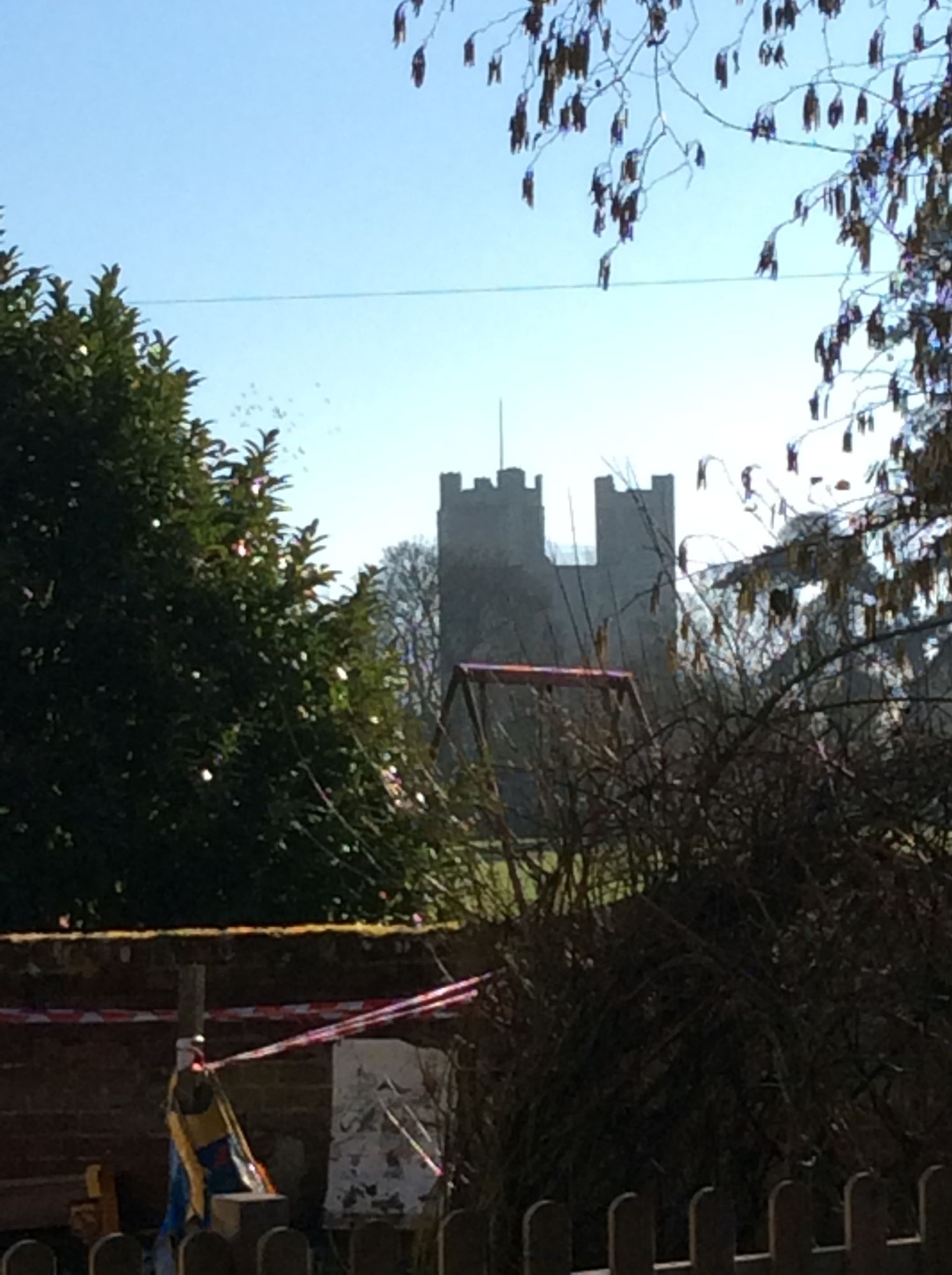 Work We Are Proud Of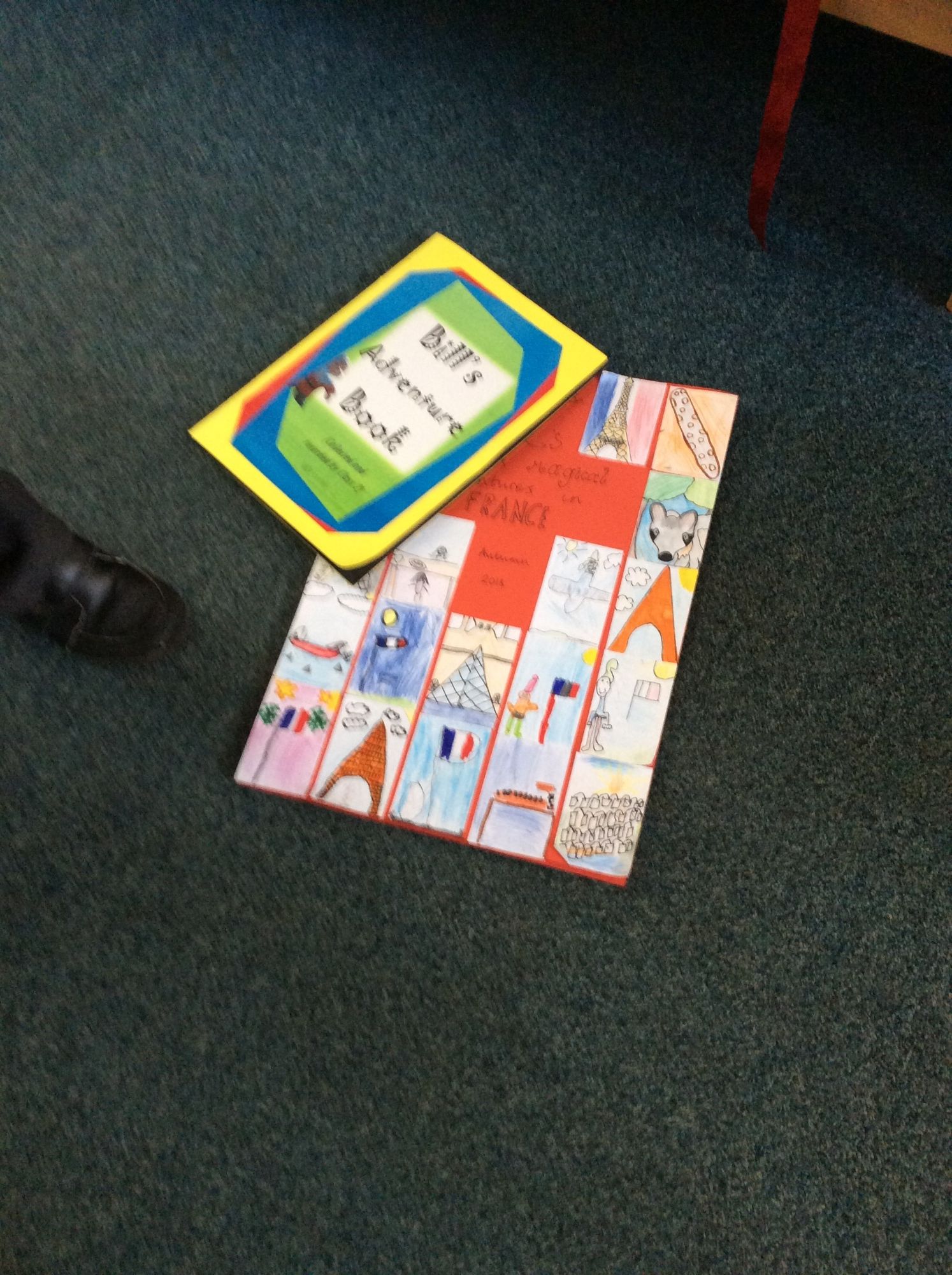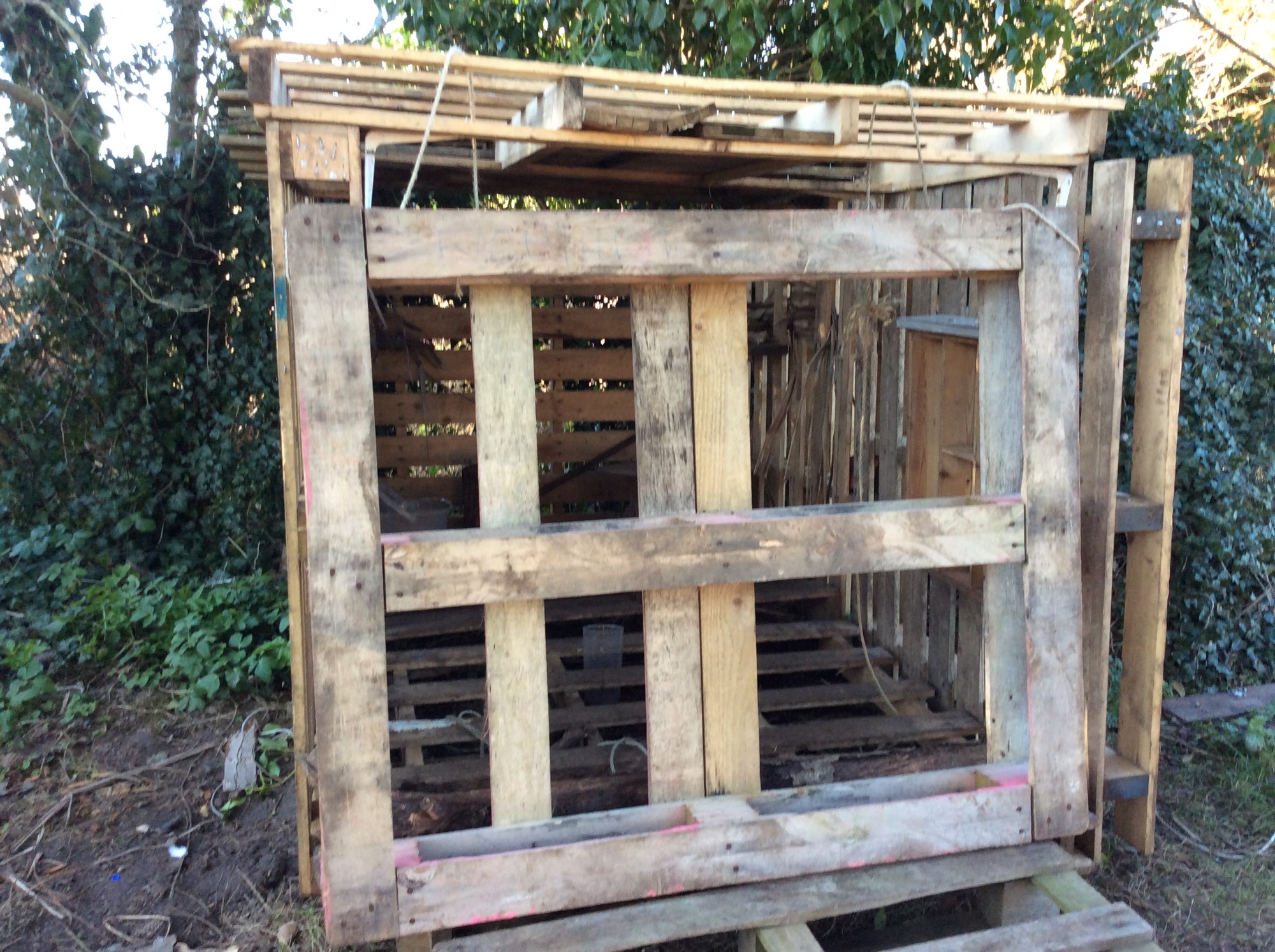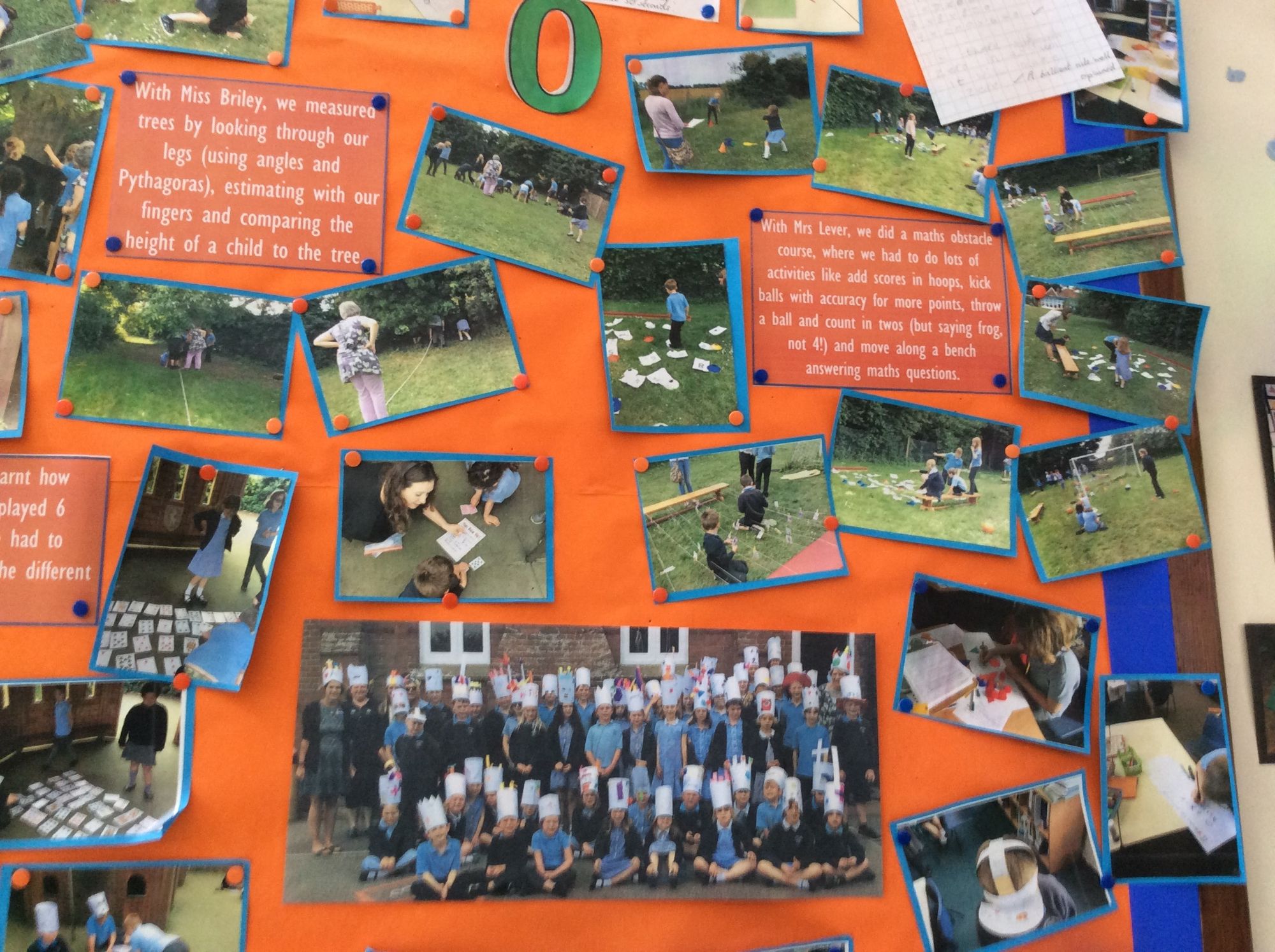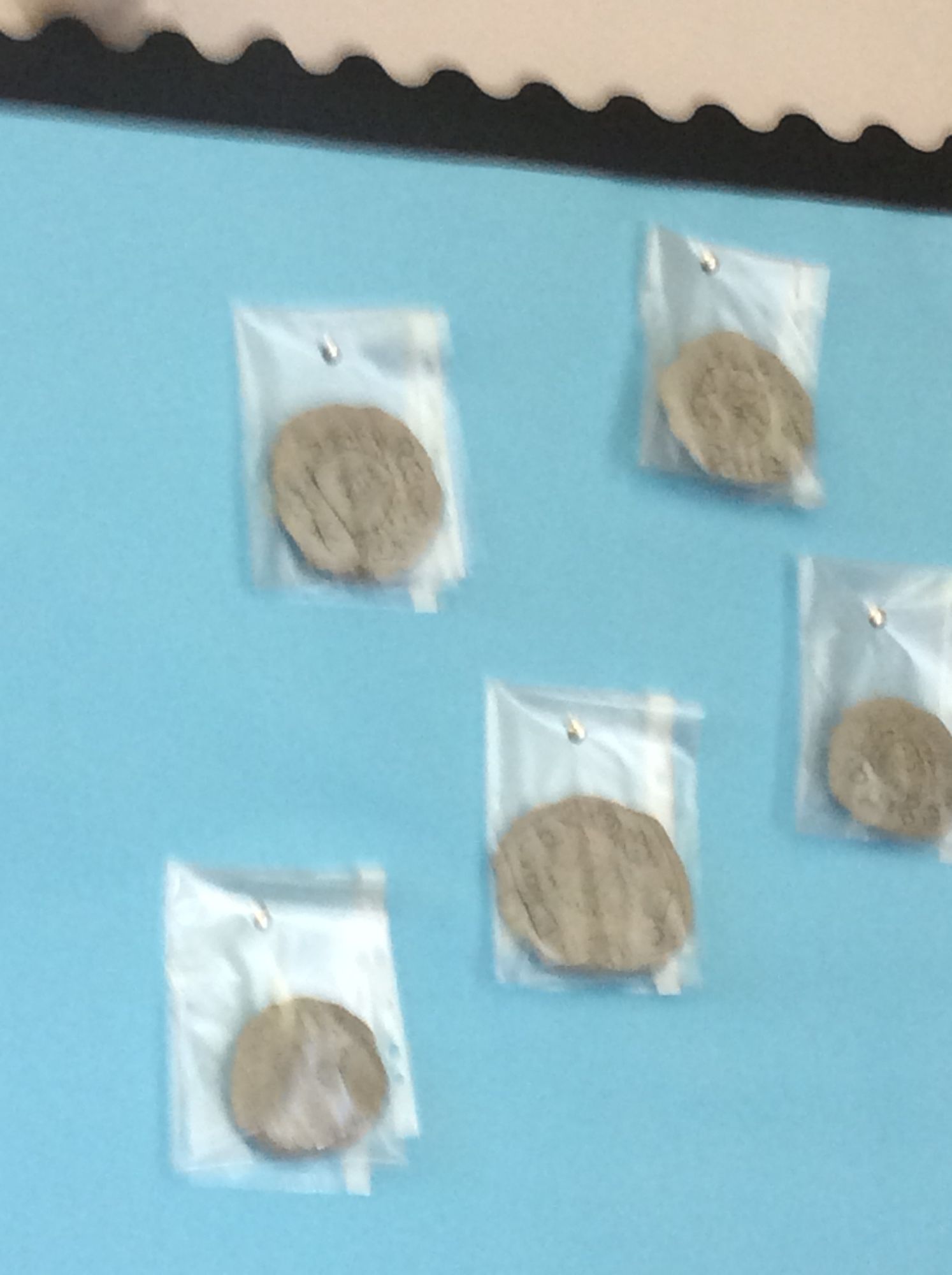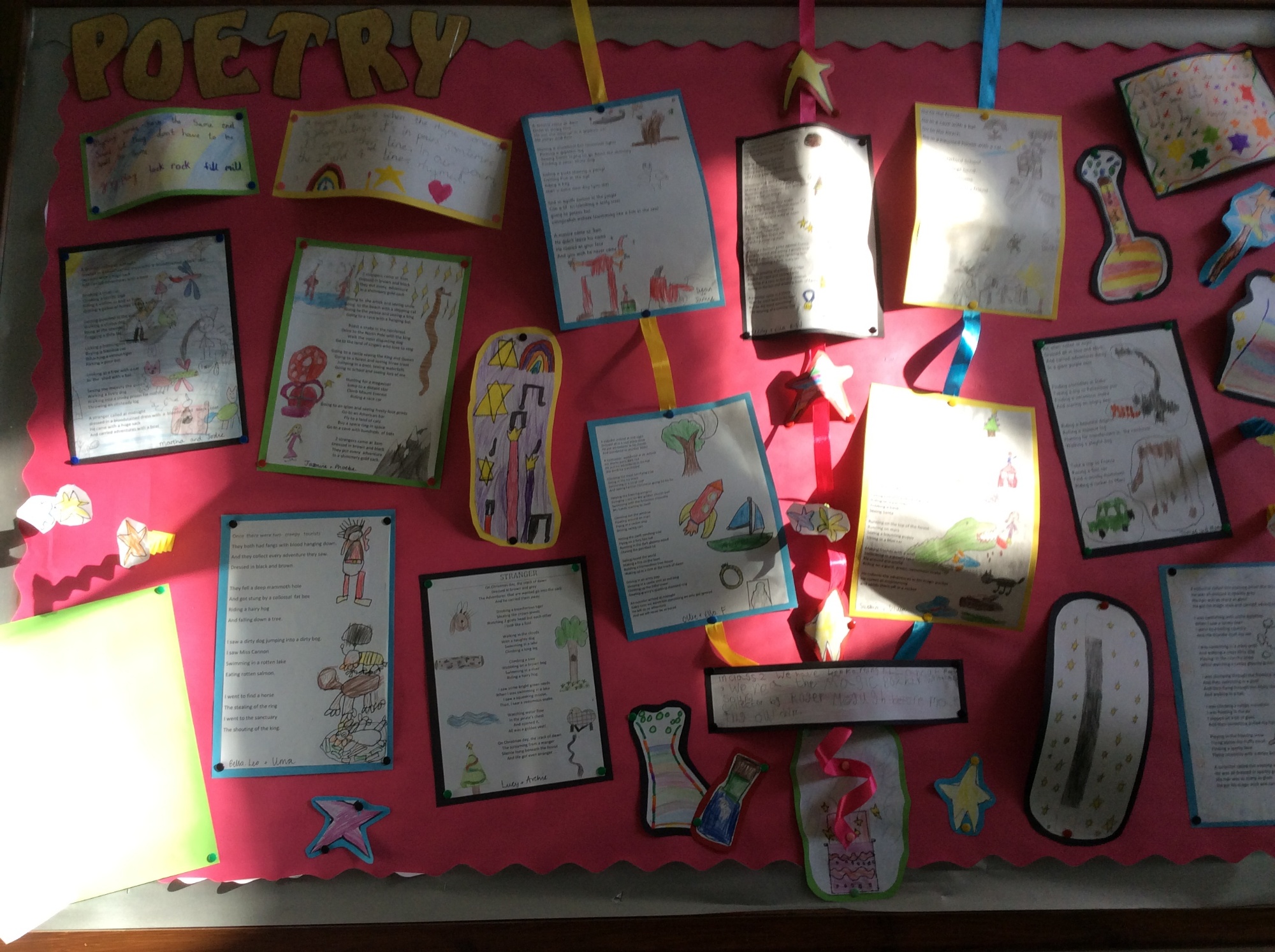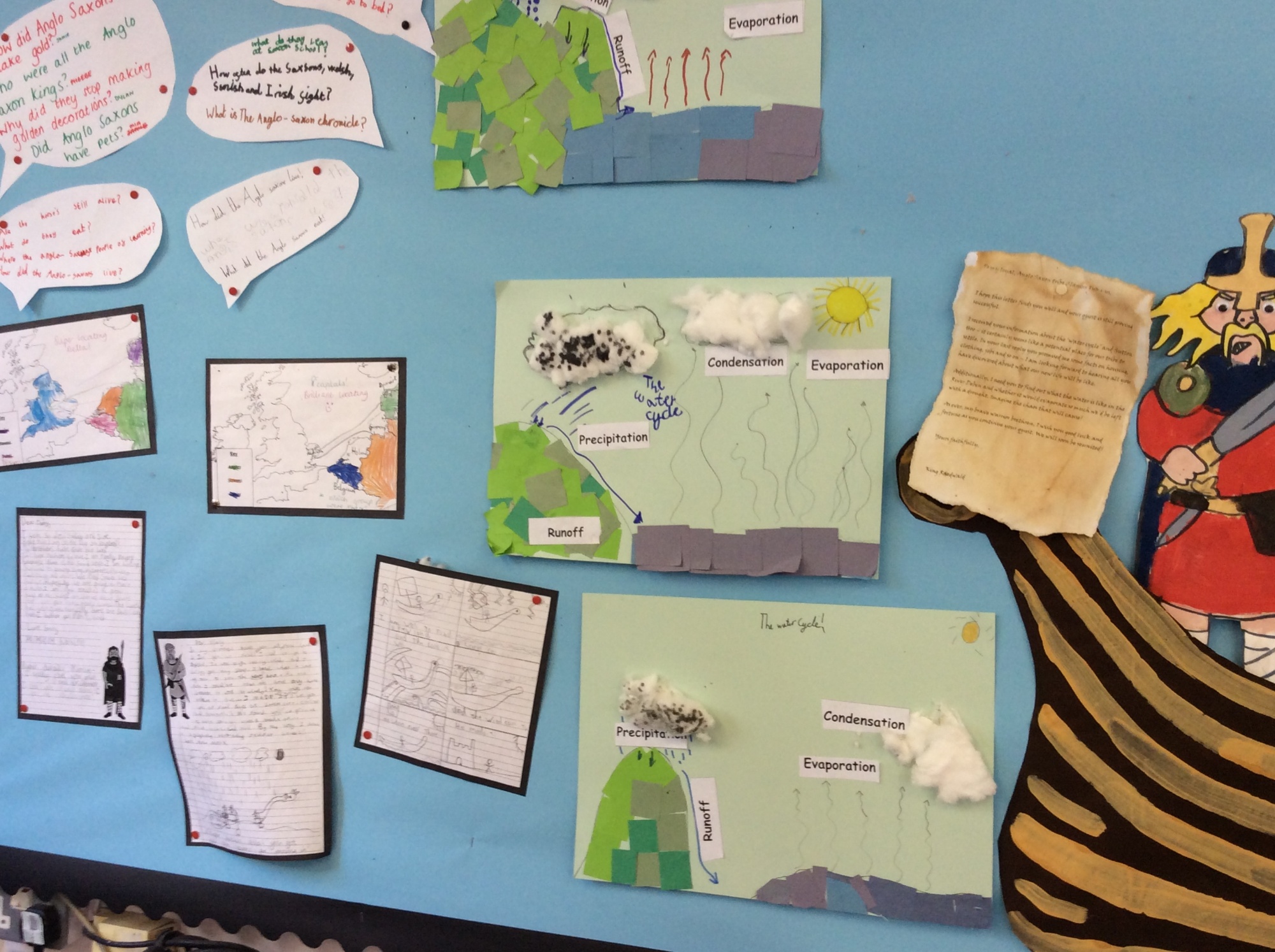 Miss Cannon says: Happy Half term if I don't see you tomorrow. In assembly first thing (8.45am) we are going to be sharing some of our recorder work - please come and see if you are free. Also check homework books tomorrow for an important letter - thank you!
8th February
This Tuesday was 'Safer Internet Day' so in our computing lesson this week, we took part in a lot of different activities involving asking for permission and consent. We also thought about all the different things we/our families use the Internet for:
Googling images and information
Asking Alexa something
Watching Netflix
Using youtube to watch, upload and subscribe to videos
Sending things on Whatsapp
Facebook/instagram/snapchat
Catchup TV
Buying things on Amazon
Playing and downloading games
After, we realised that to use these things we had to sign up, and sometimes pay, so we then thought about what personal information we should give our consent to sharing. Here were our results:
Blue = ok to share Yellow = ask your parents Red = not ok to share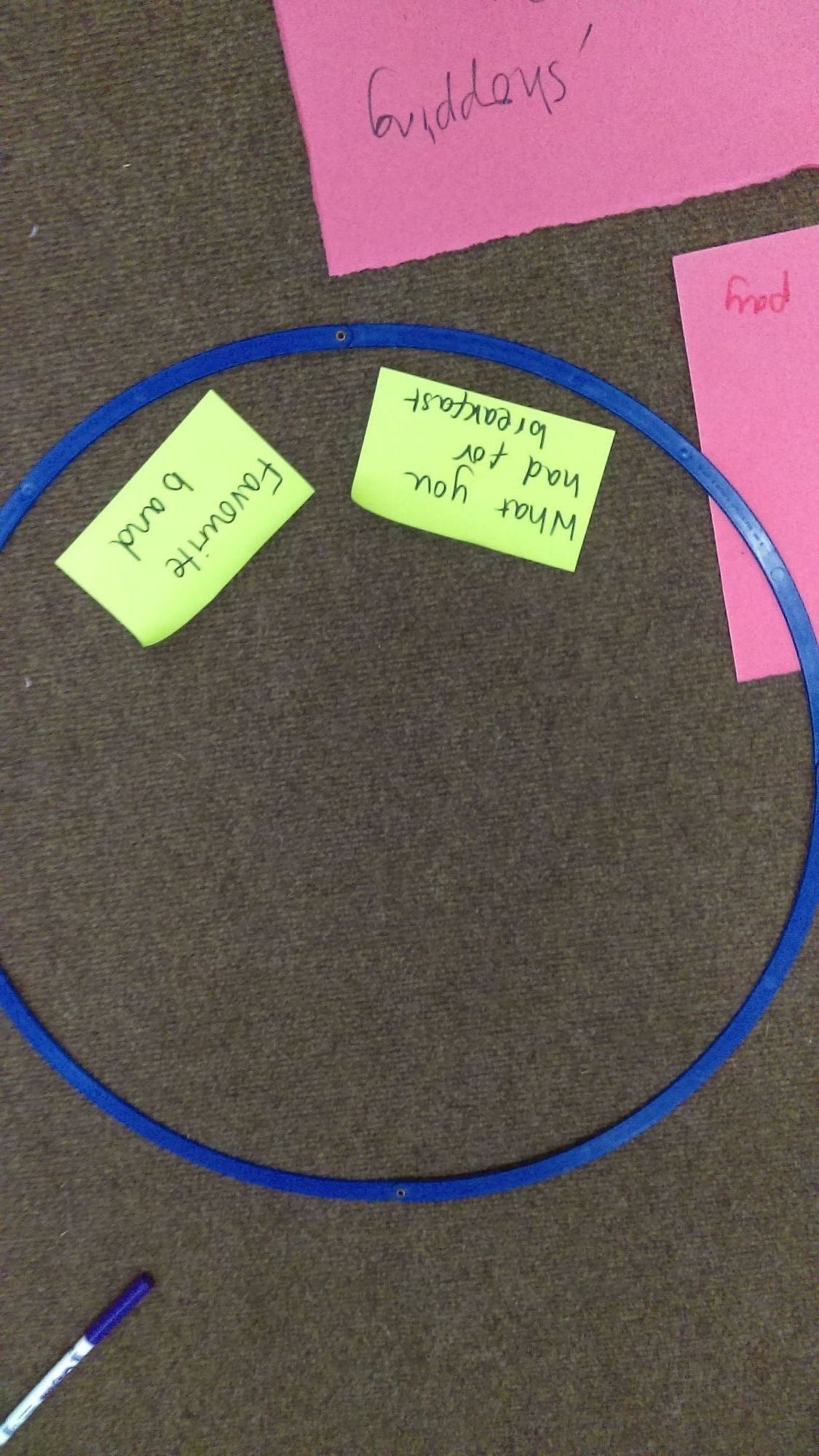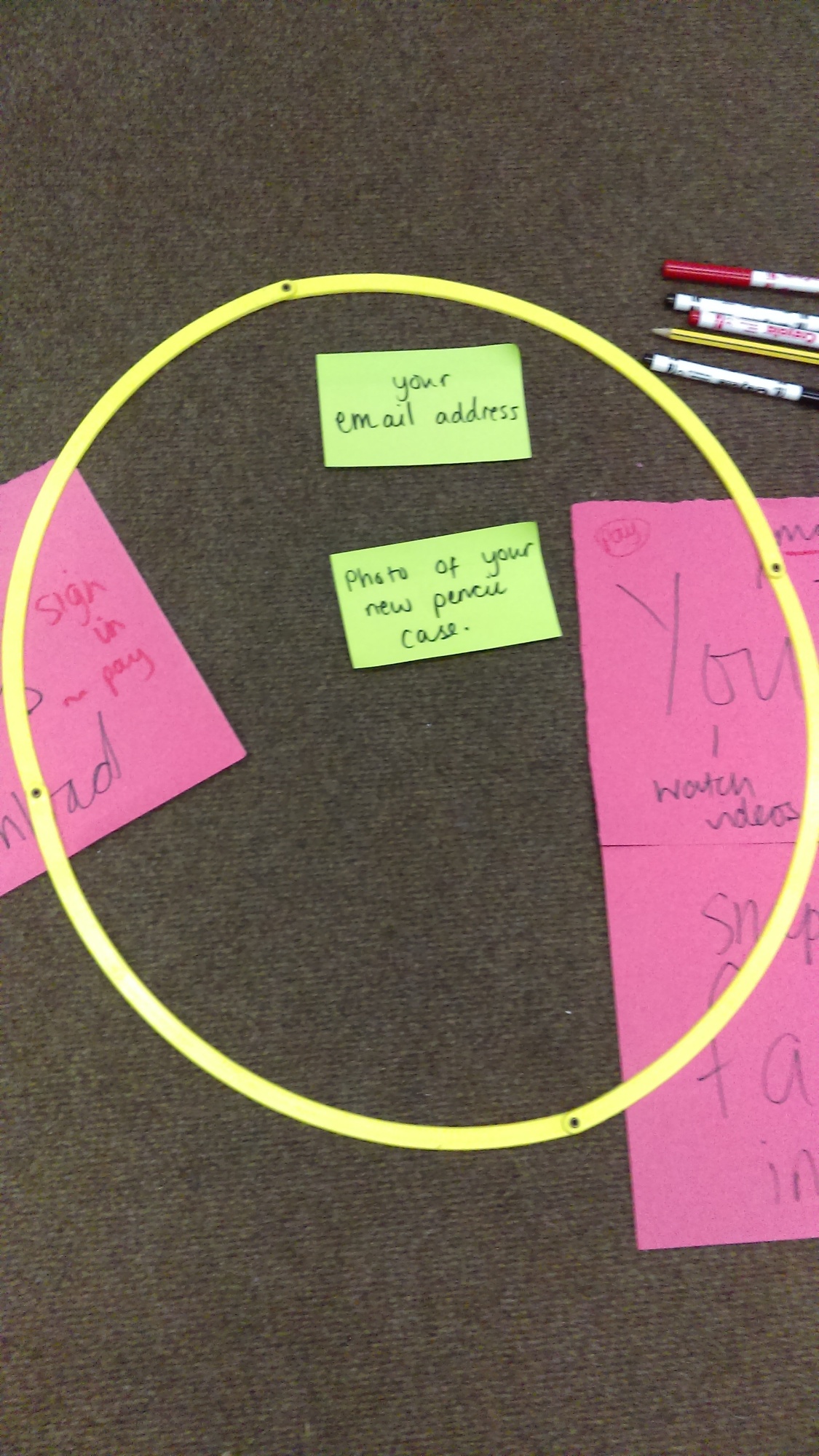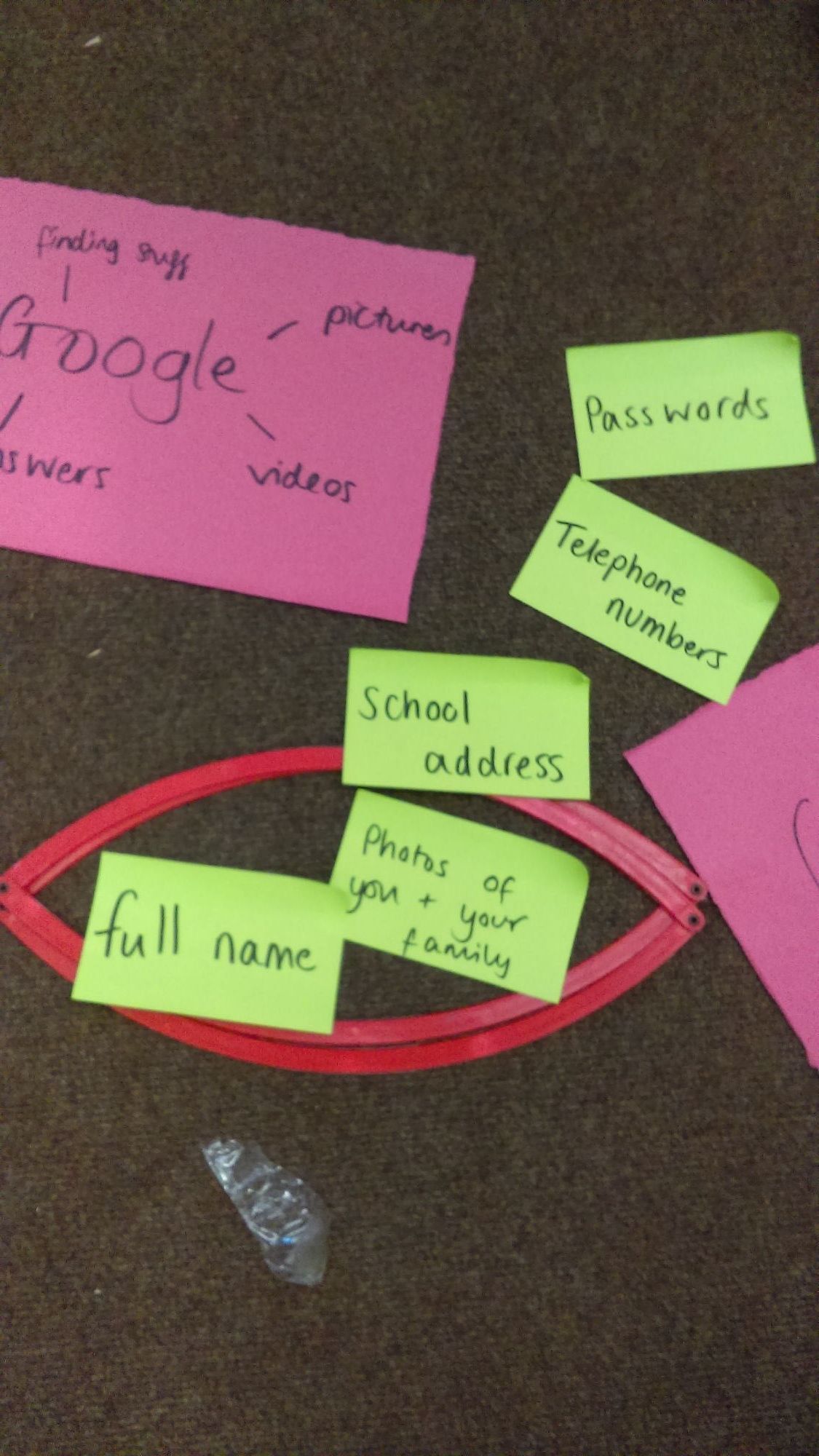 Please reiterate these messages at home with children. They were all very positive and 'clued up' about the dos and don'ts but we all know it is often a different story "in the moment".

31st January
We have been working very hard this week in literacy, researching and text mapping our Anglo Saxon fact files.
Topics include: Sutton Hoo, Kings, Food, Clothes, Beliefs and why they invaded. The children are all very knowledgeable about their topic and Miss Cannon is certain that next week there will be some superb writing from all the children.
Hopefully we will be able to share the finished products with you soon!
25th January
This week started with real excitement as we had our visitors in from Sutton Hoo. We got to handle some replica treasures; dress up as Anglo Saxons (including the helmet!!); guess the gender of the skeleton by what it was buried with; do brass rubbings on parts of the helmet and draw some of the artefacts. All the photos of the workshop can be found here.
We then went back to class and tried to map Sutton Hoo itself from ariel photographs and using co-ordinates. We already knew that King Raedwald was buried in mound 1 with his ship and lots of different treasures but we didn't know that in some of the other mounds were smaller ships, horses, warriors, executed people and children buried with their games!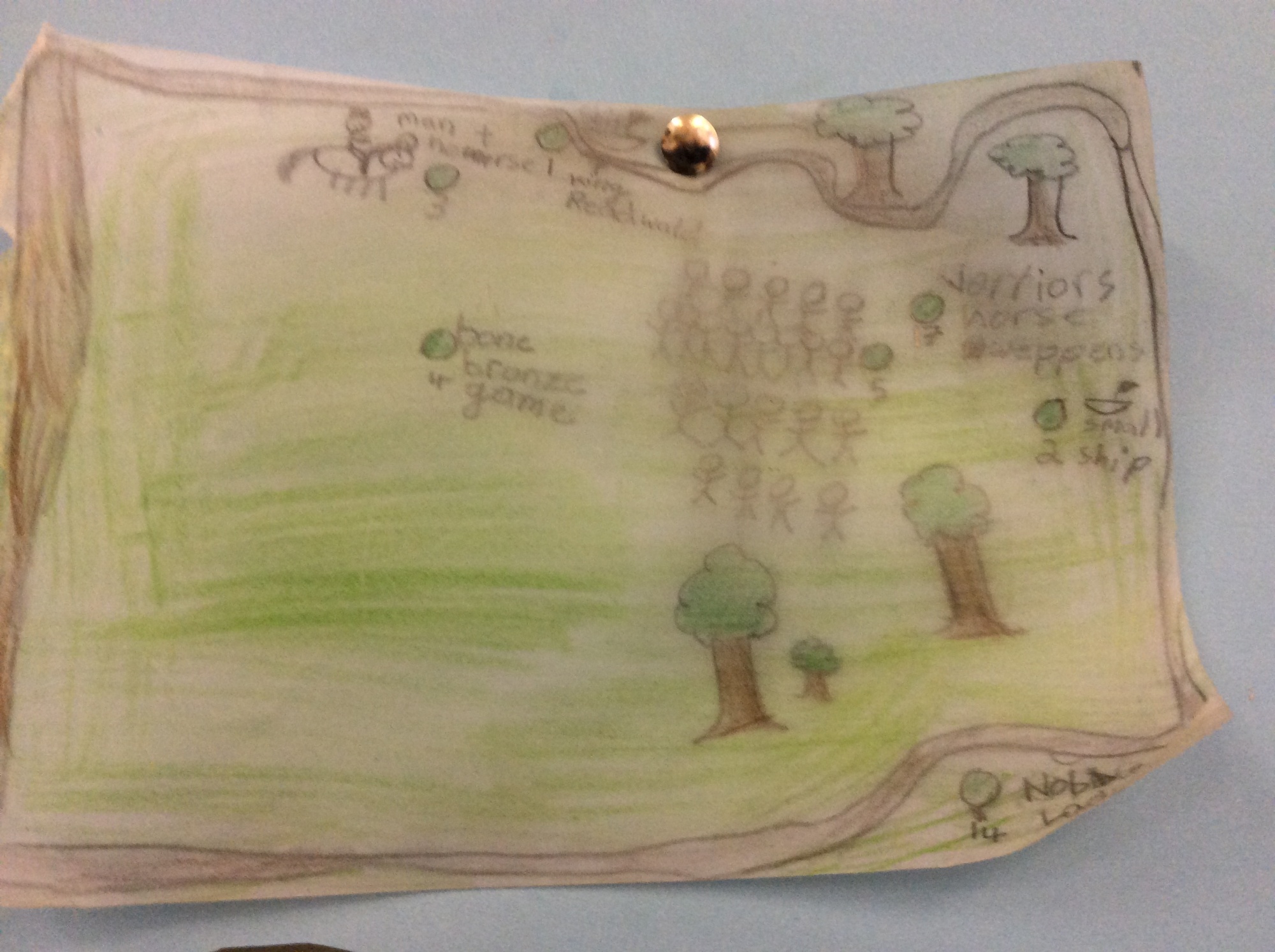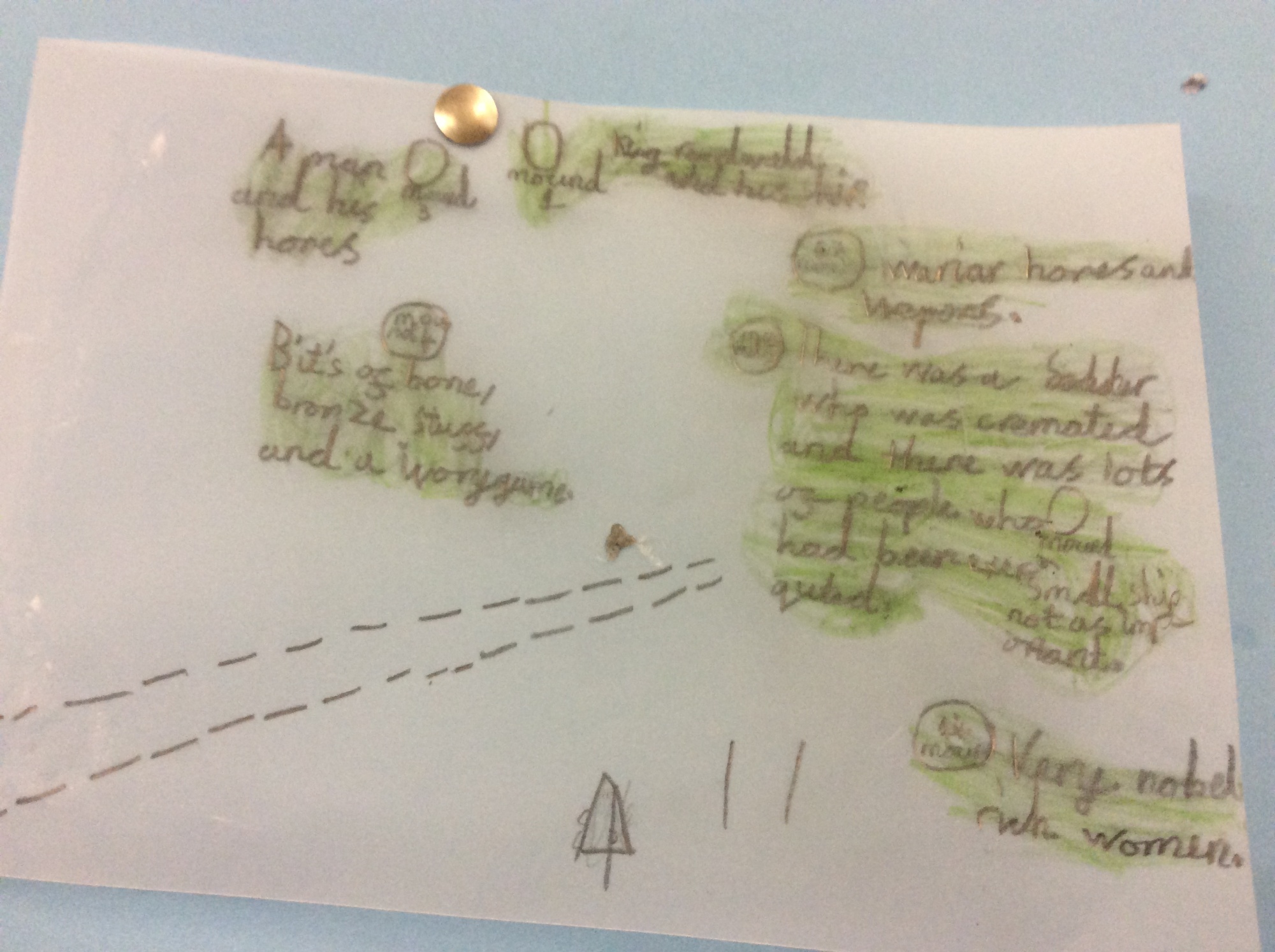 Then, to top it all off, we got our second letter from King Raedwald himself! He wanted to know what the climate was like at Sutton Hoo, and whether there was a fair balance of sunshine and rain. We then went on and learnt all about the water cycle, and reported back to him via our 3D diagrams, like this one: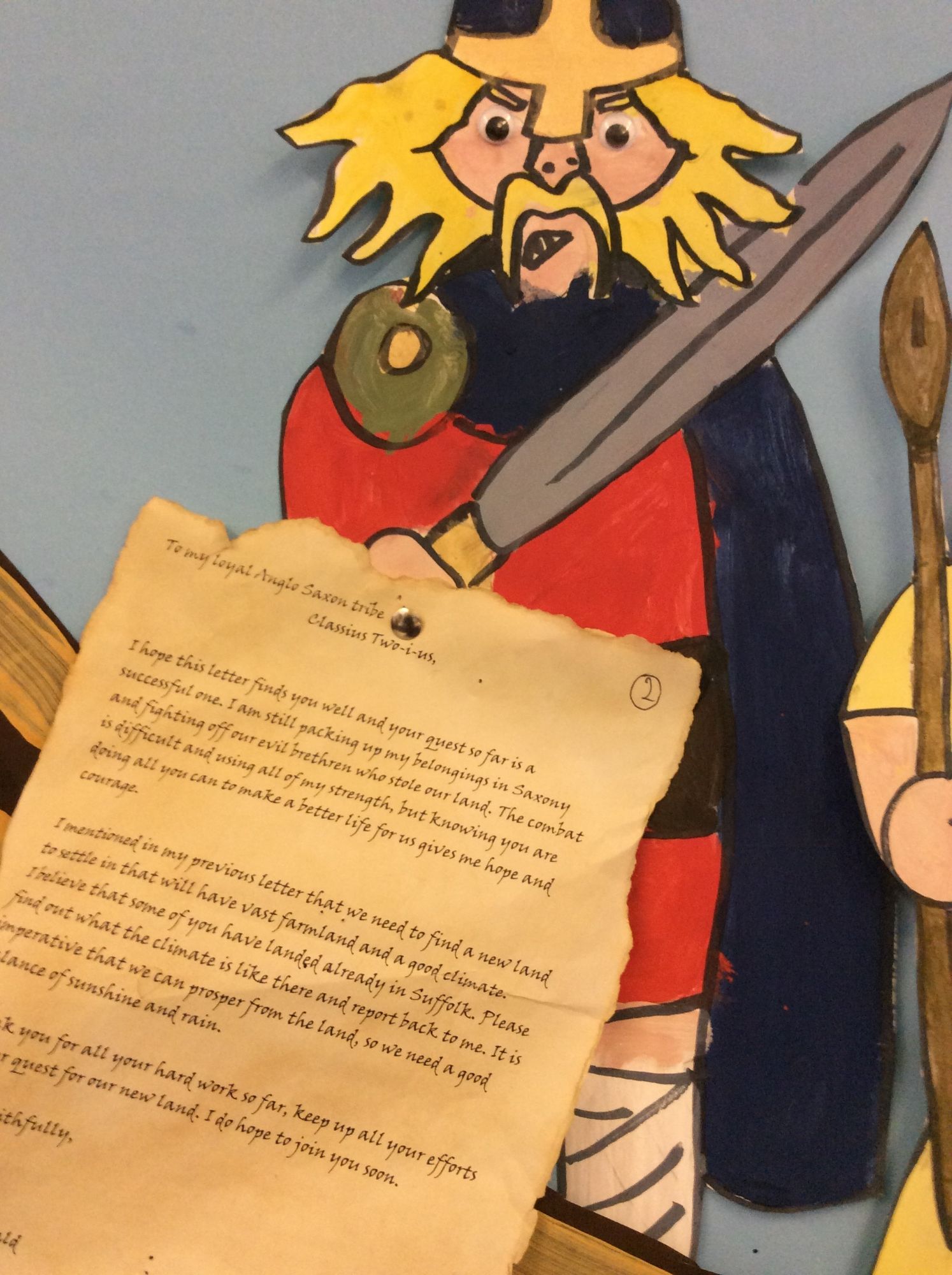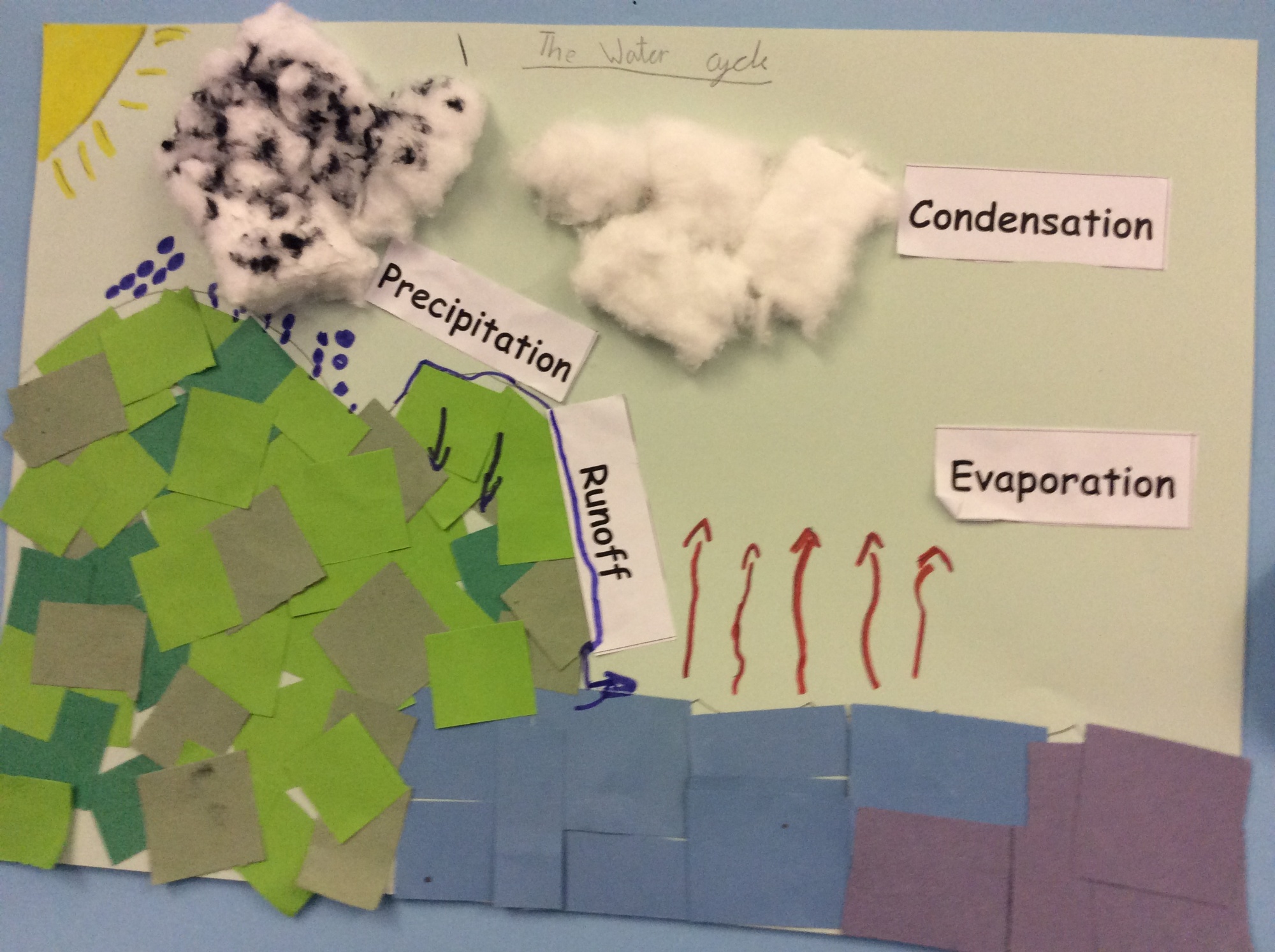 18th January
Today we started our gymnastics unit and were practising our jumping skills. We learnt what makes a good jump (bending knees, landing toes first, using our arms to balance) and practised before being let loose on some different stations: each station had different equipment and a whiteboard which told you how many feet to start and end on (e.g. 2->2 or 2->1 or even 1->1). On one station you had to go from 4 "feet" to 4 "feet" - there were some interesting solutions as you will see in the photos!
We are looking forward to seeing 22 Anglo Saxons on Monday (please see the letter on parent pay for some more pointers about dressing up) and please note that children will need recorders on Thursday next week, not Wednesday. Thank you!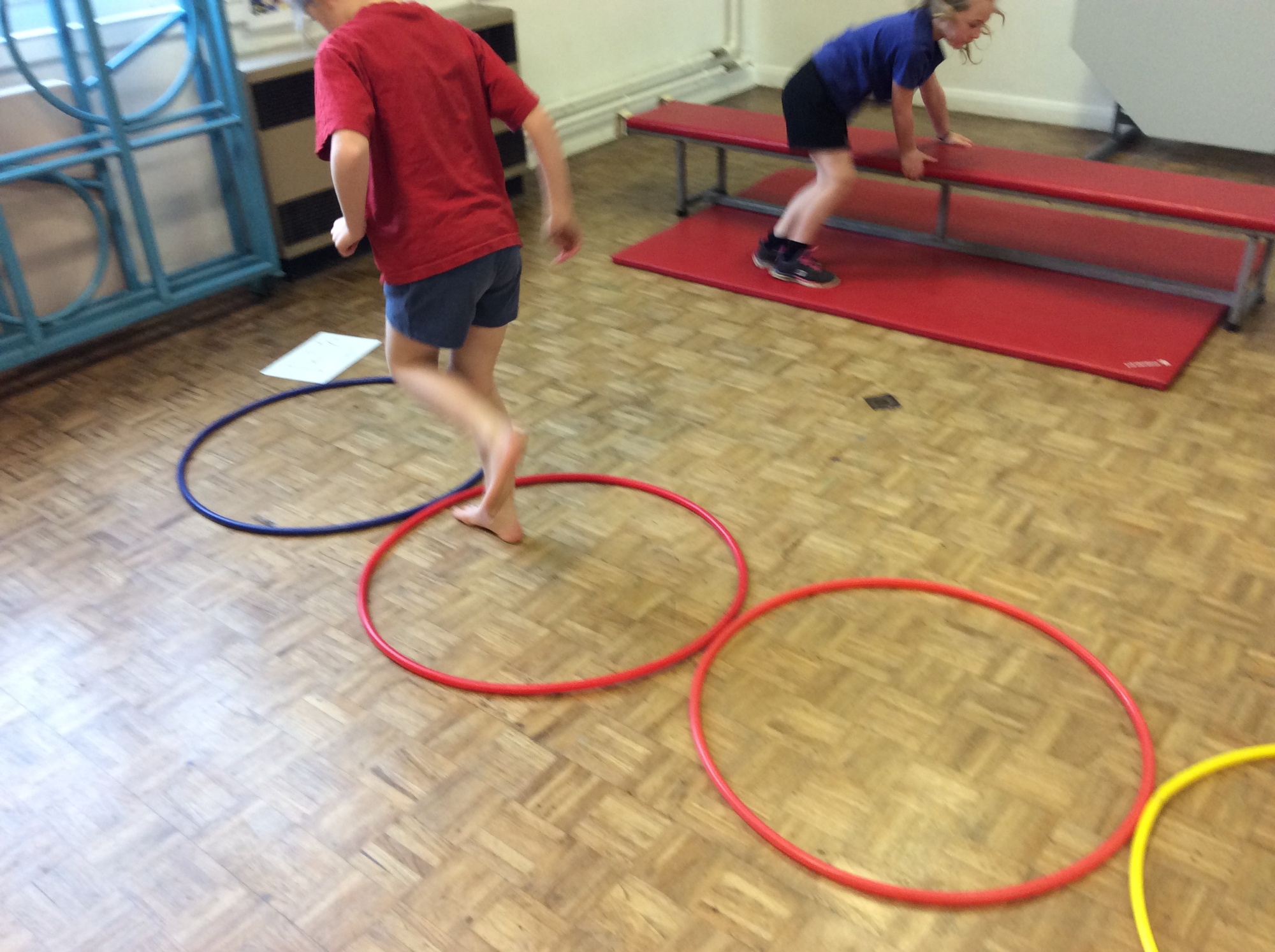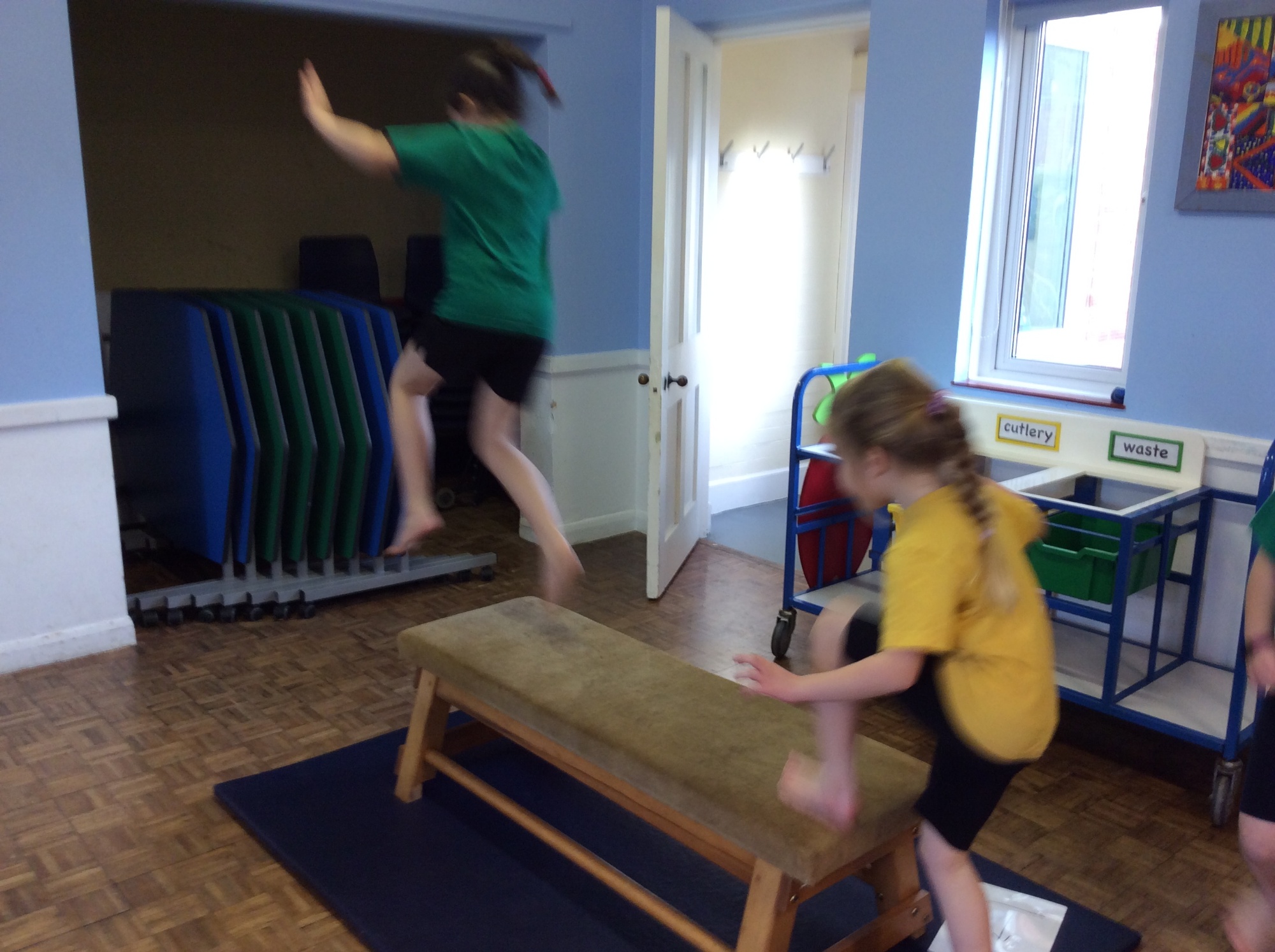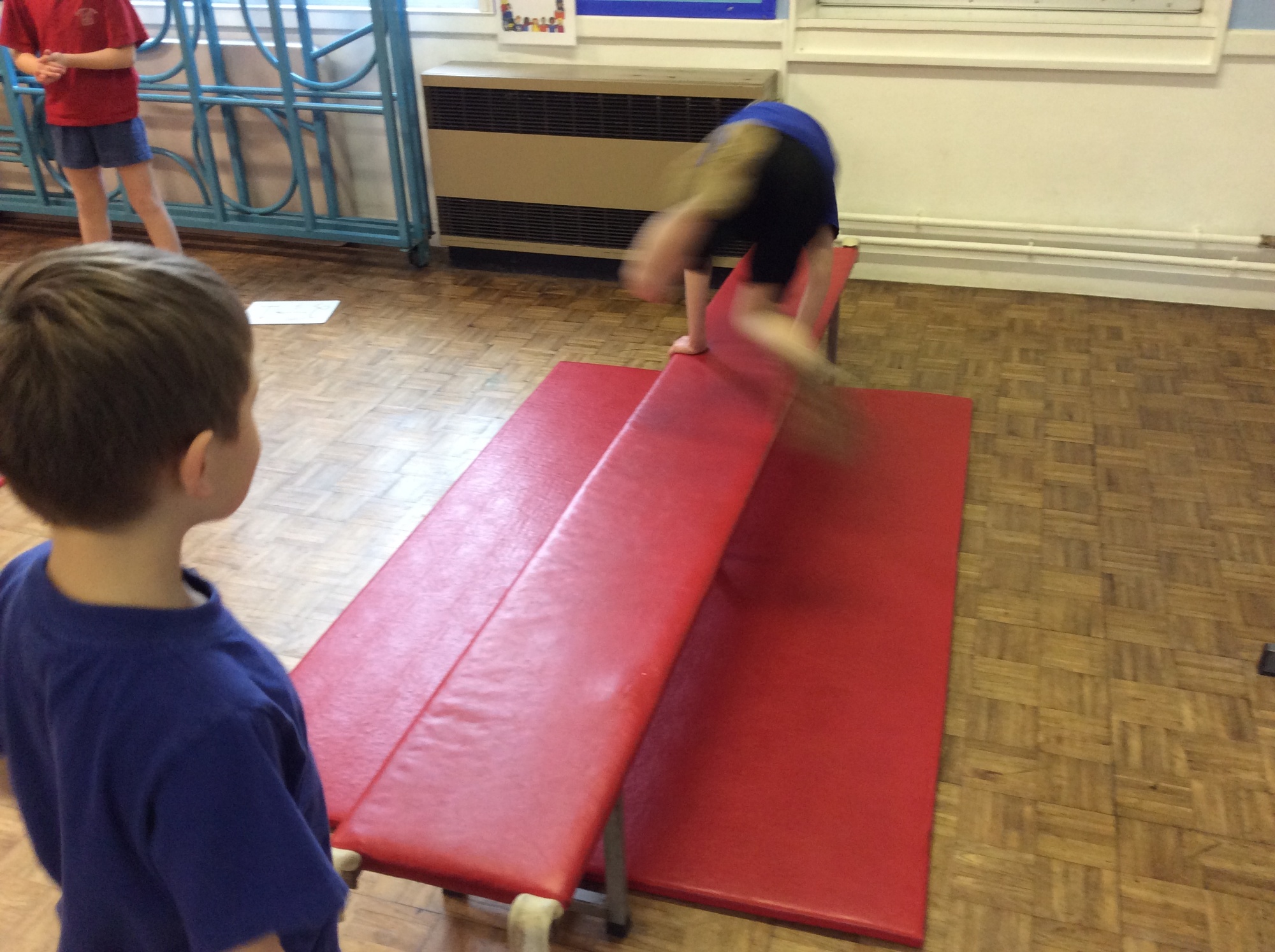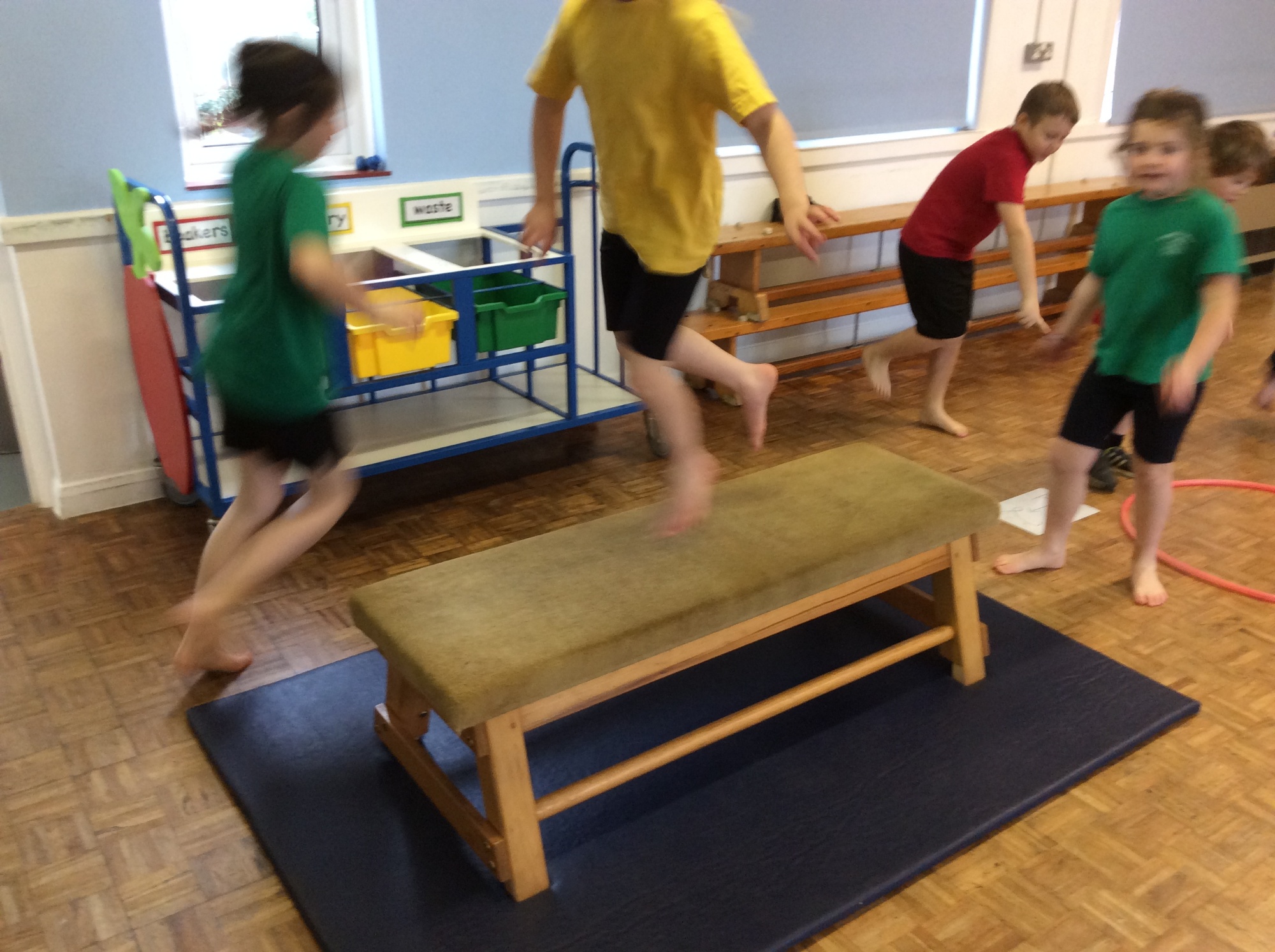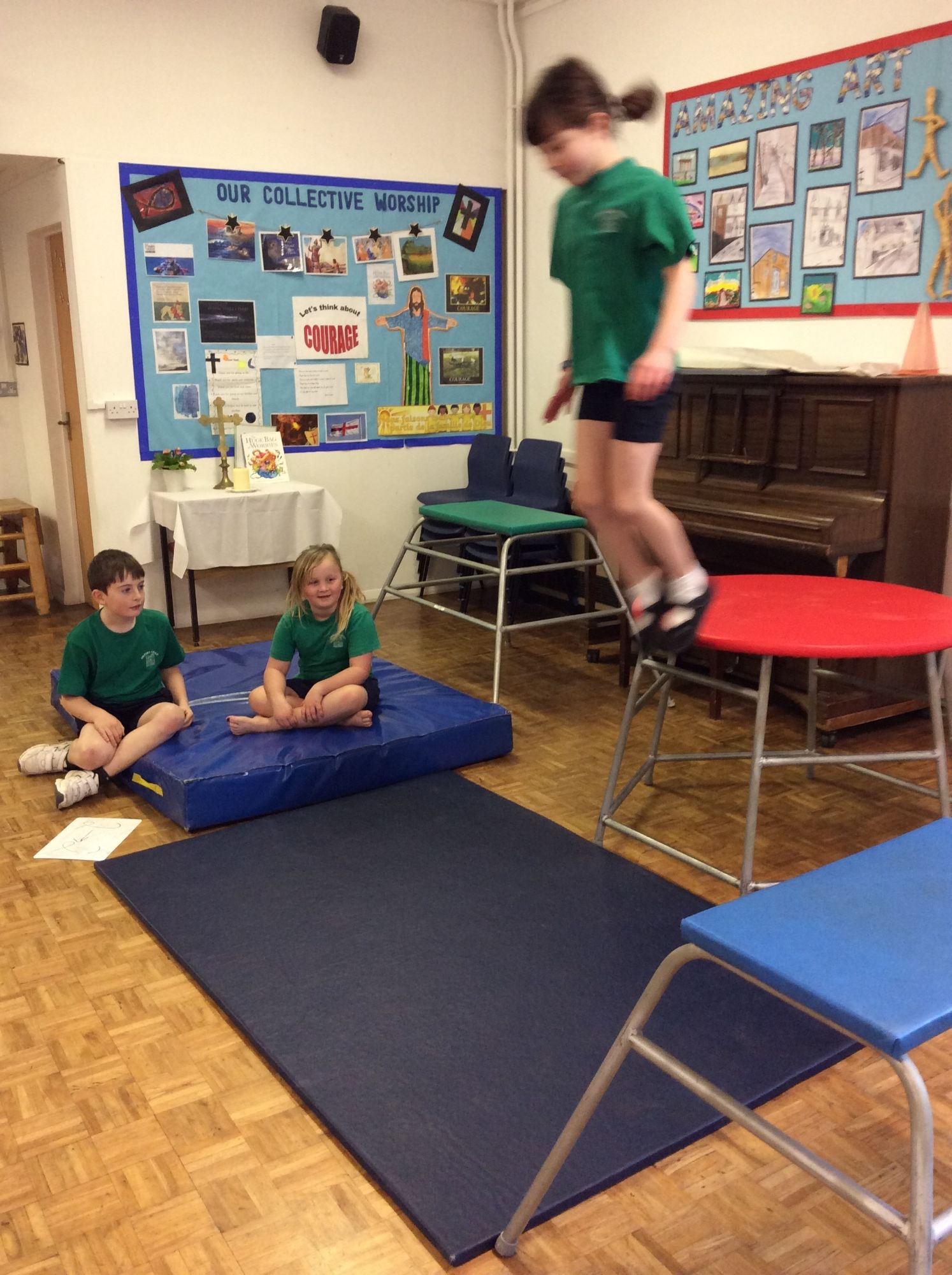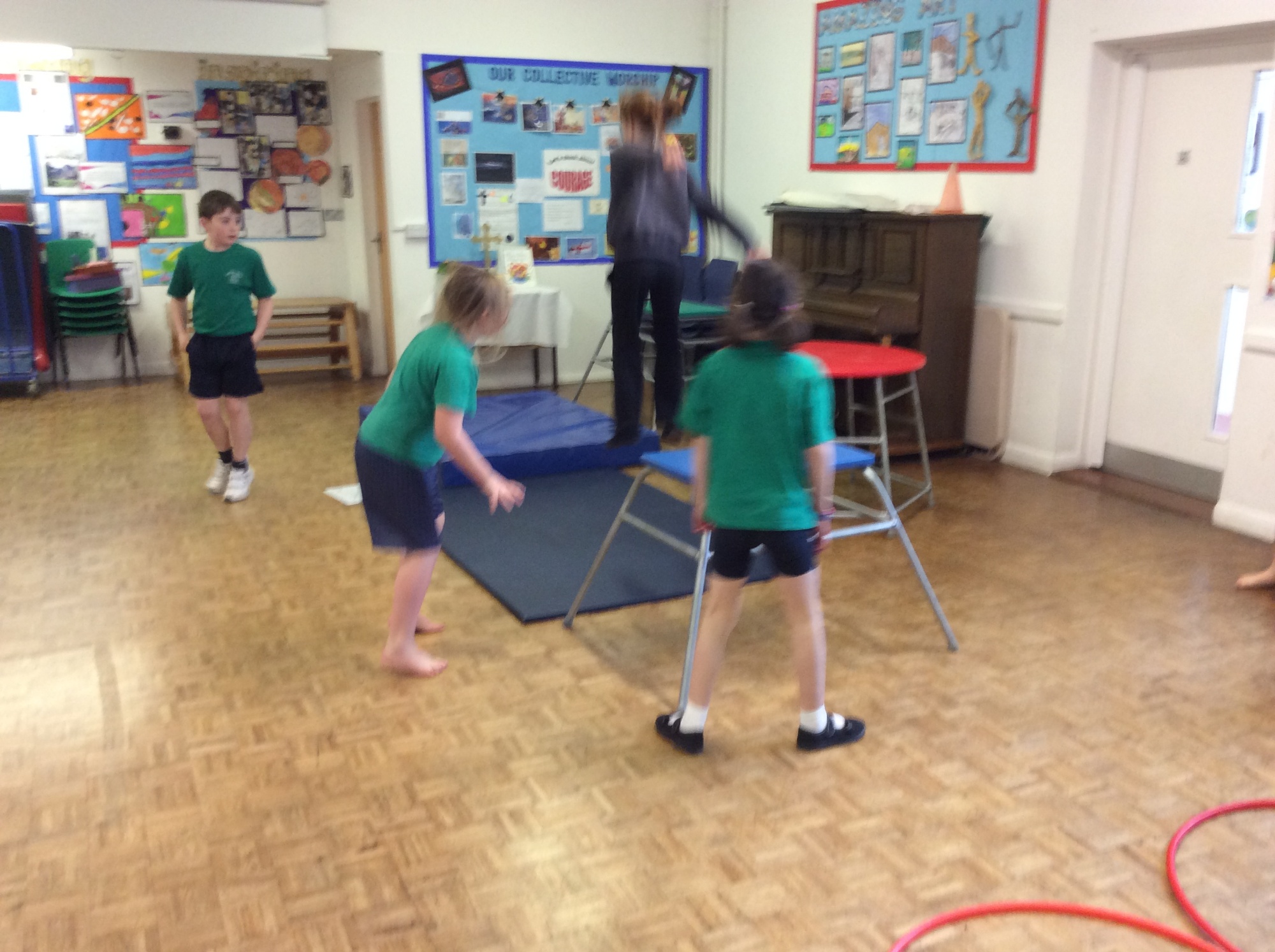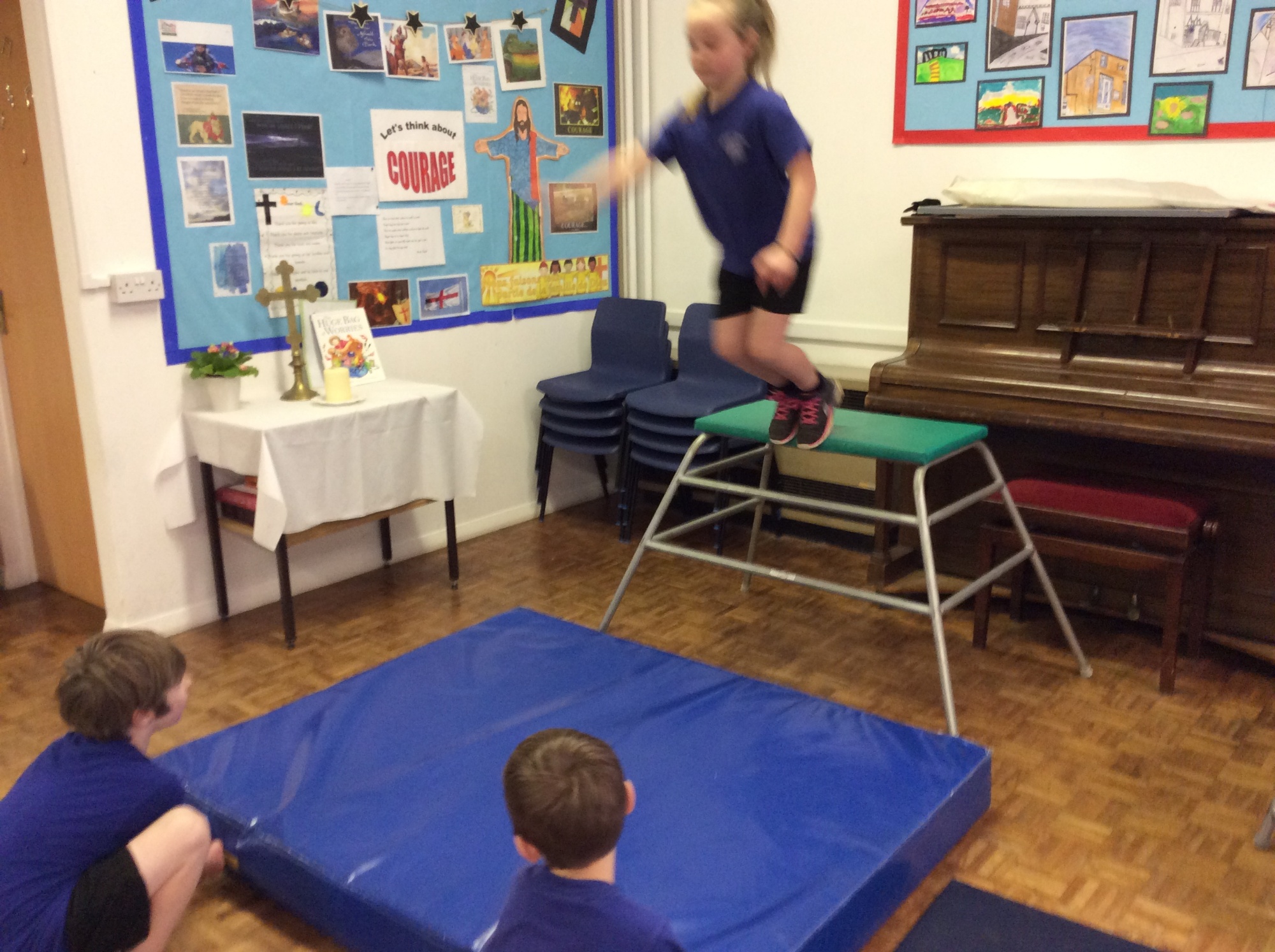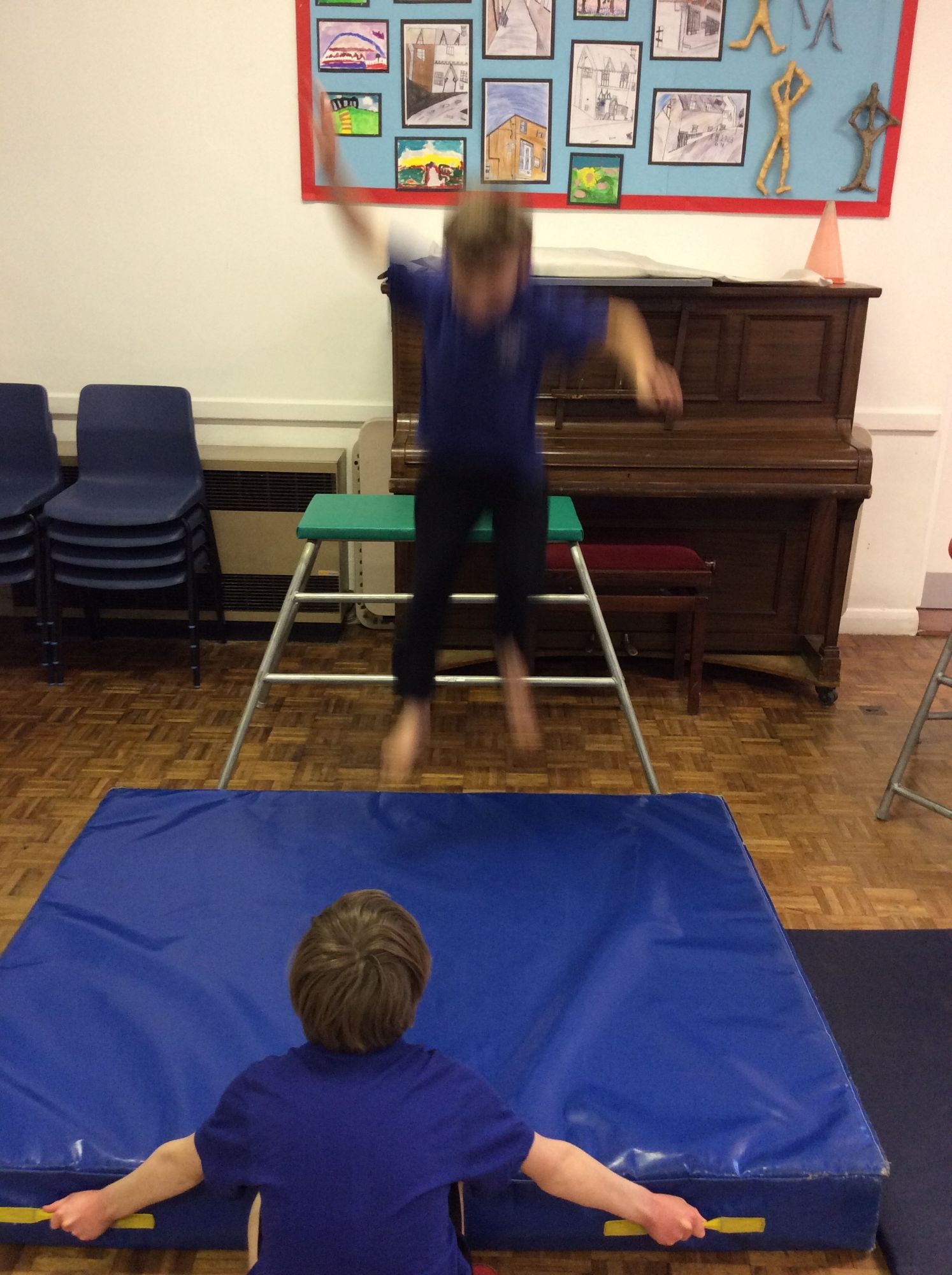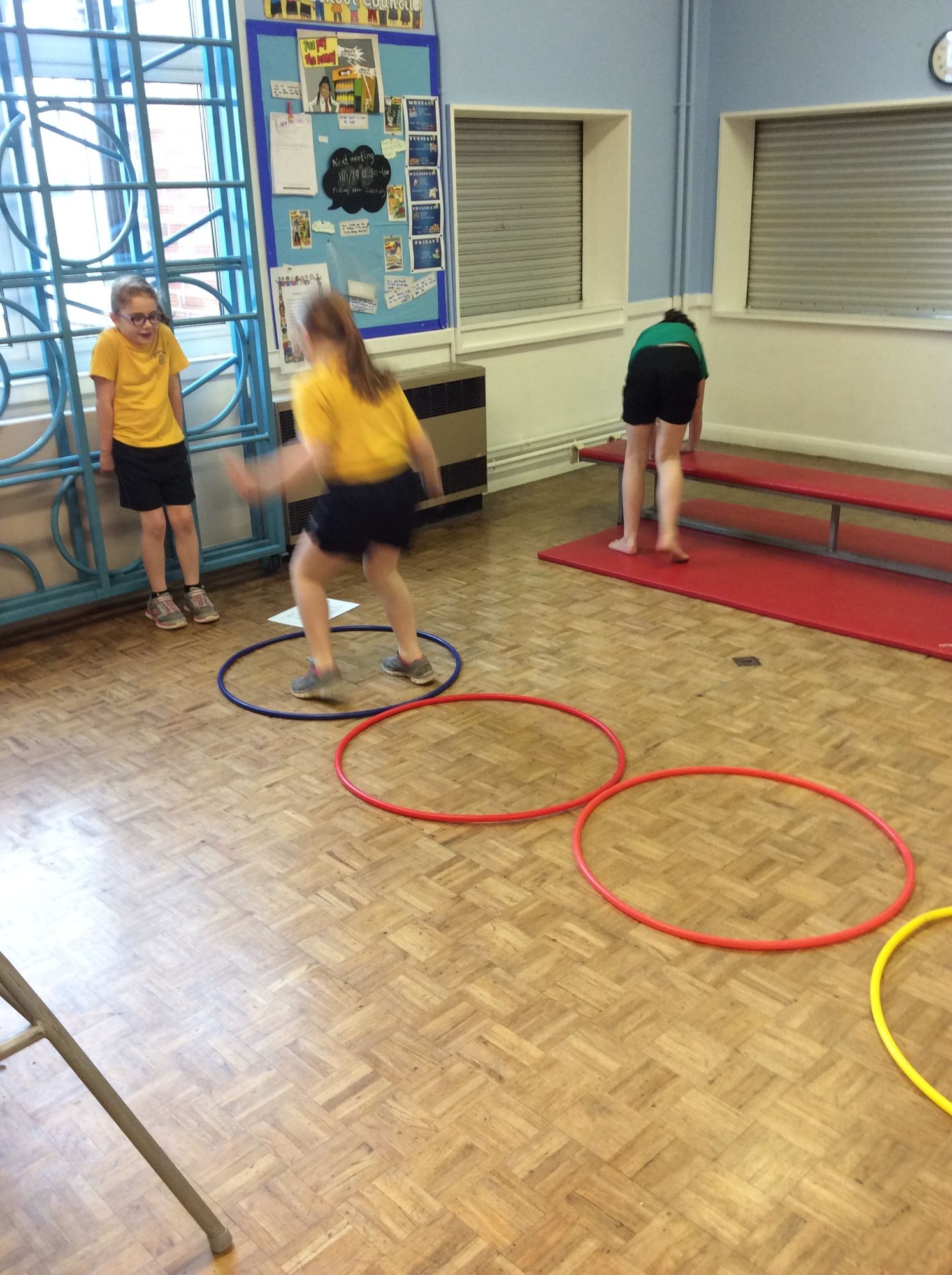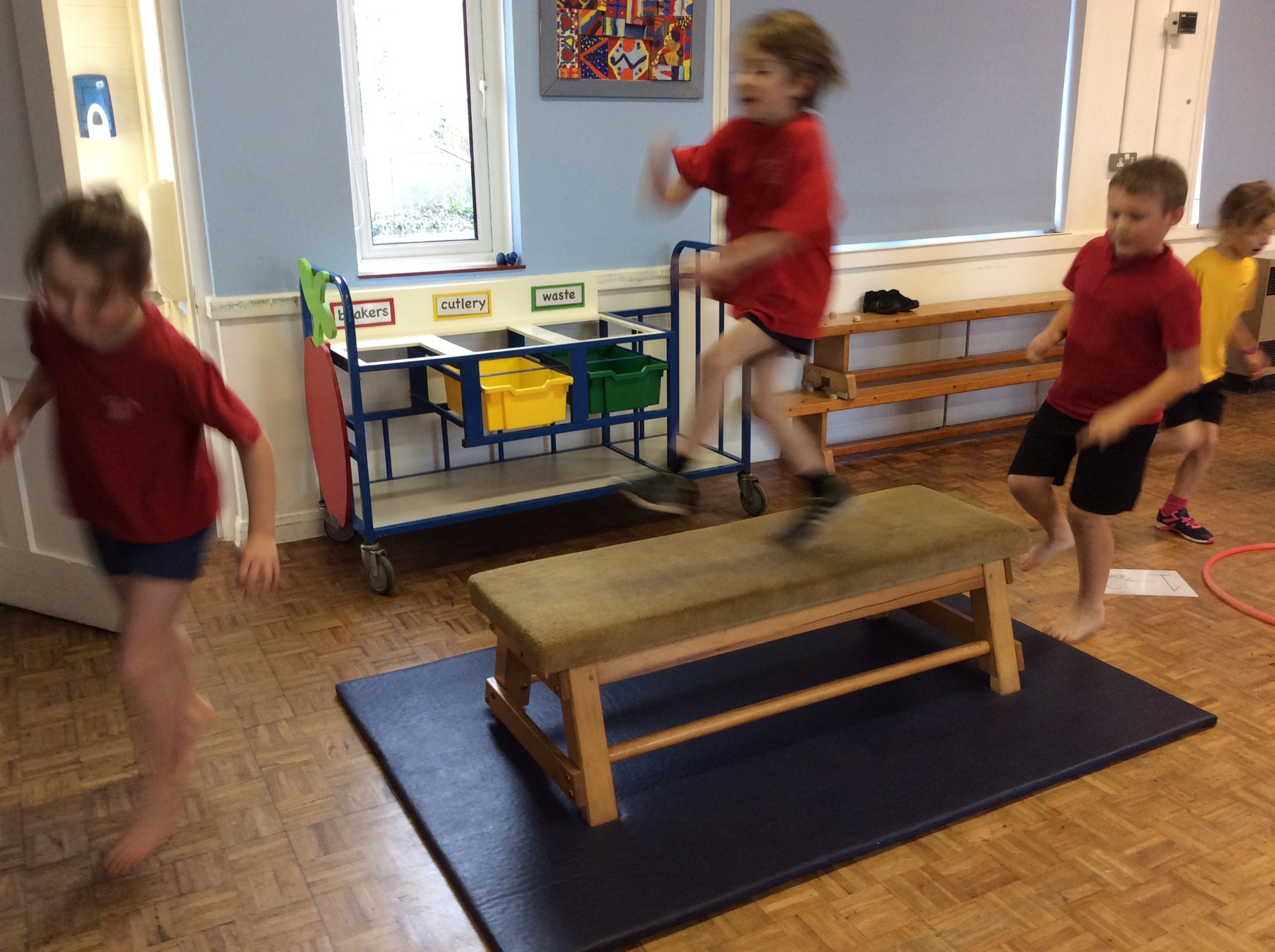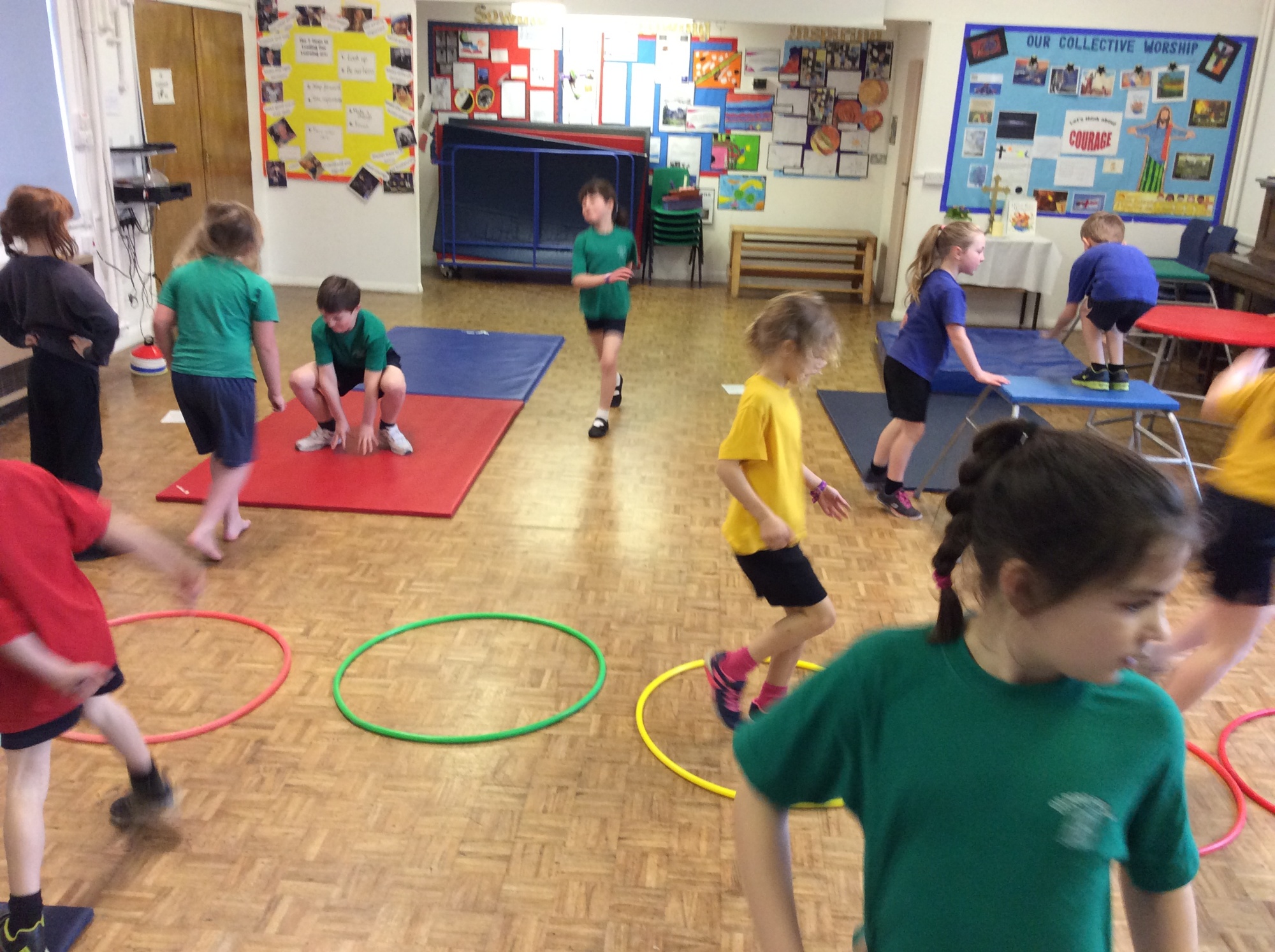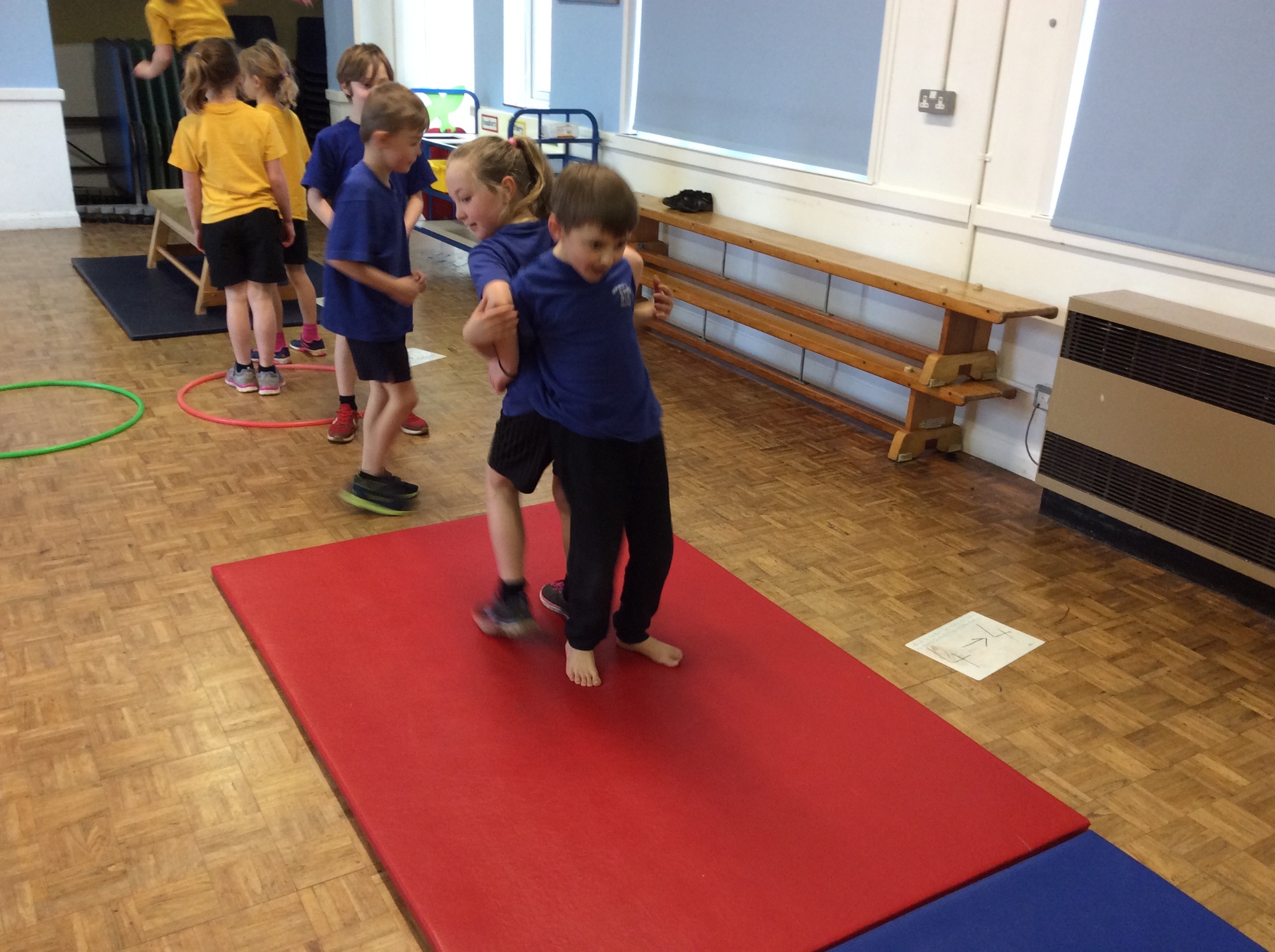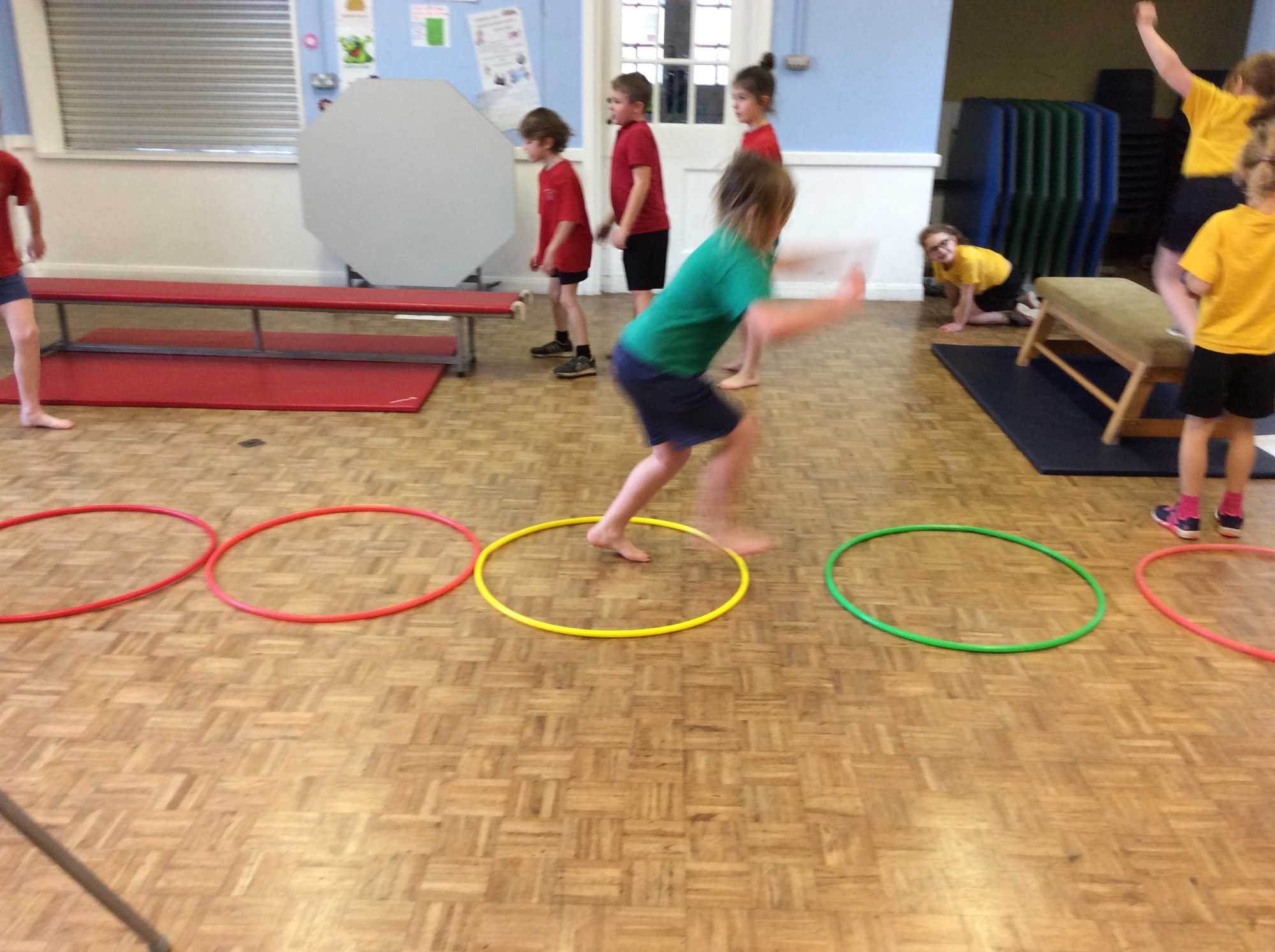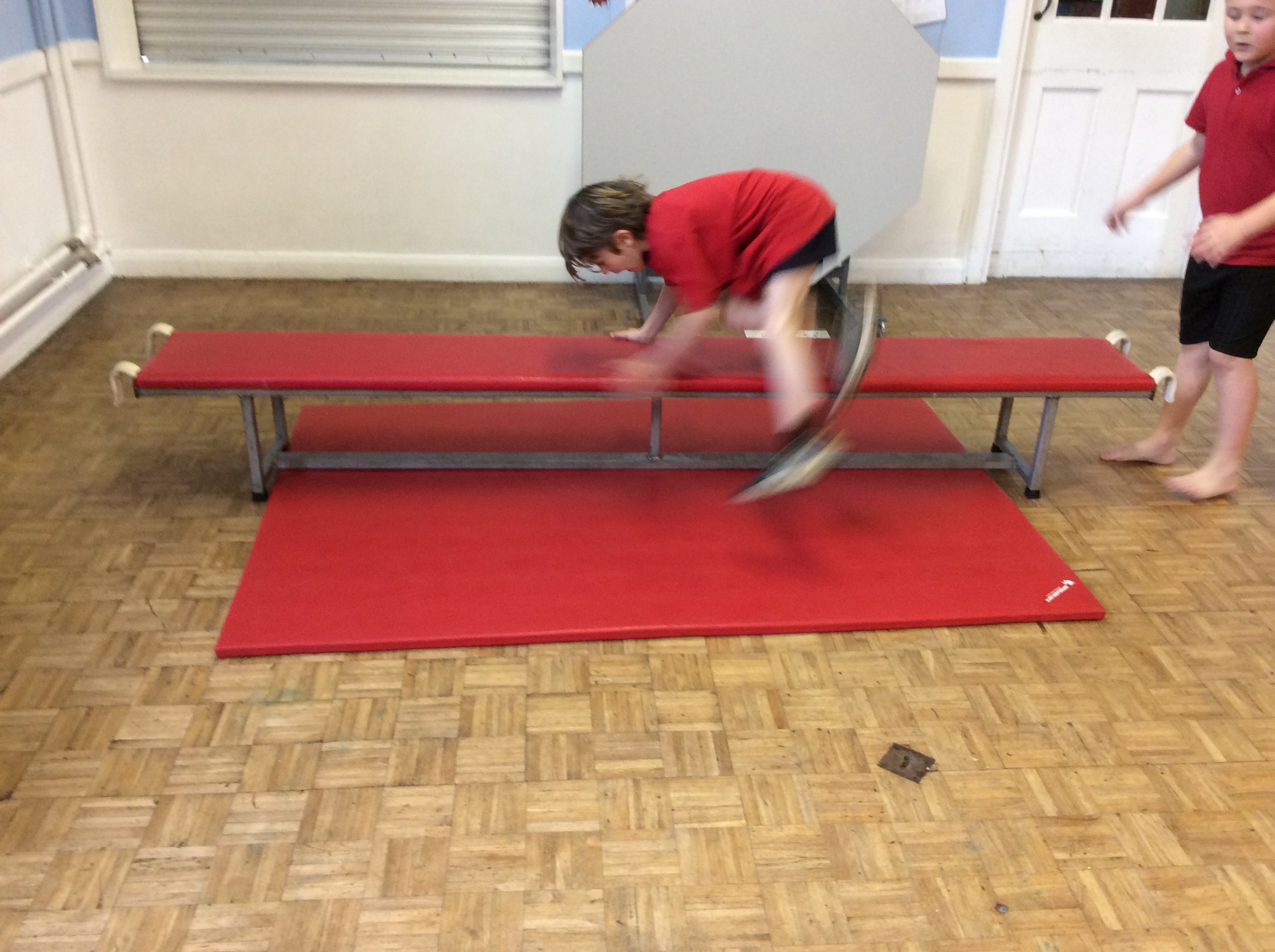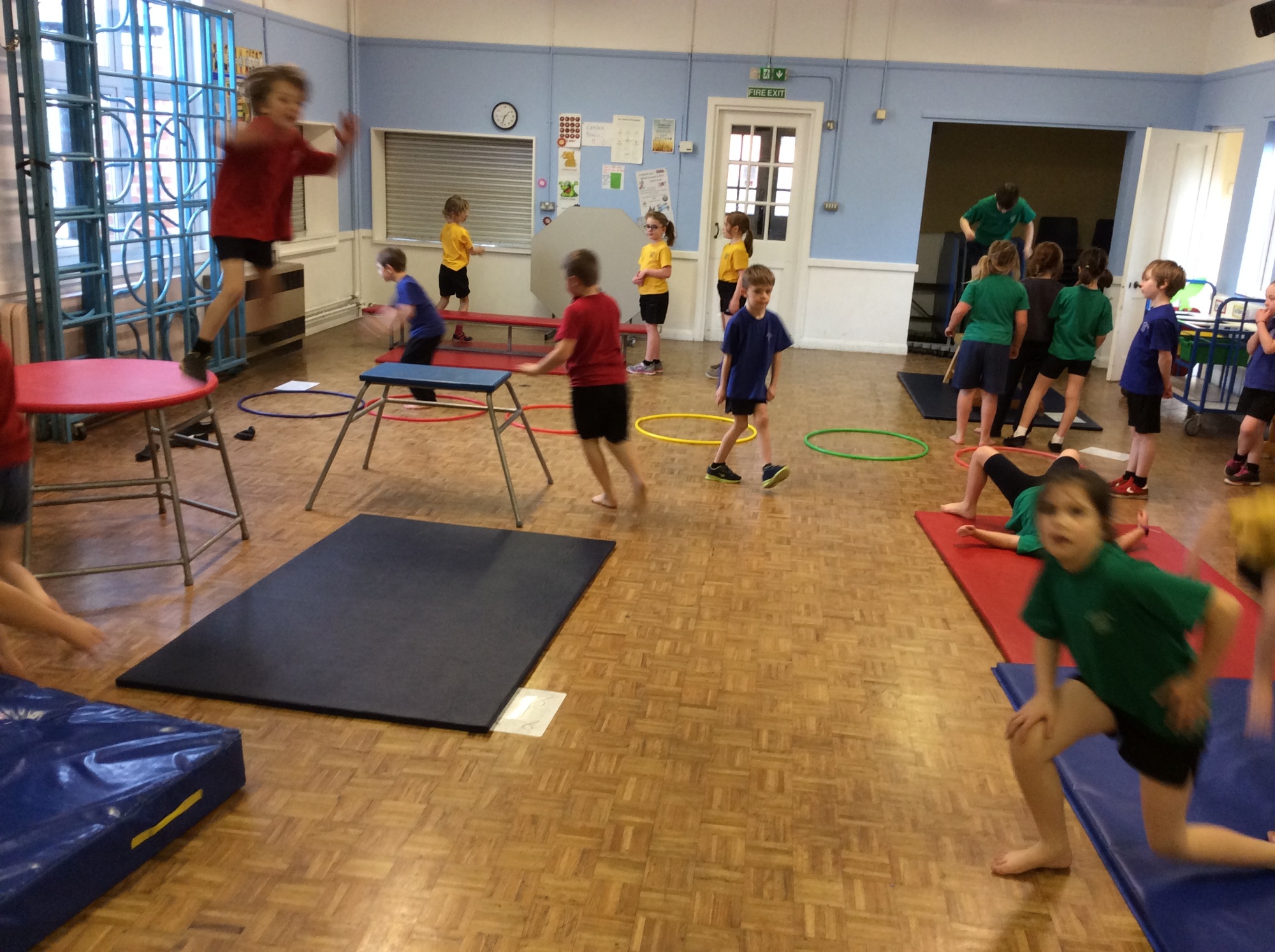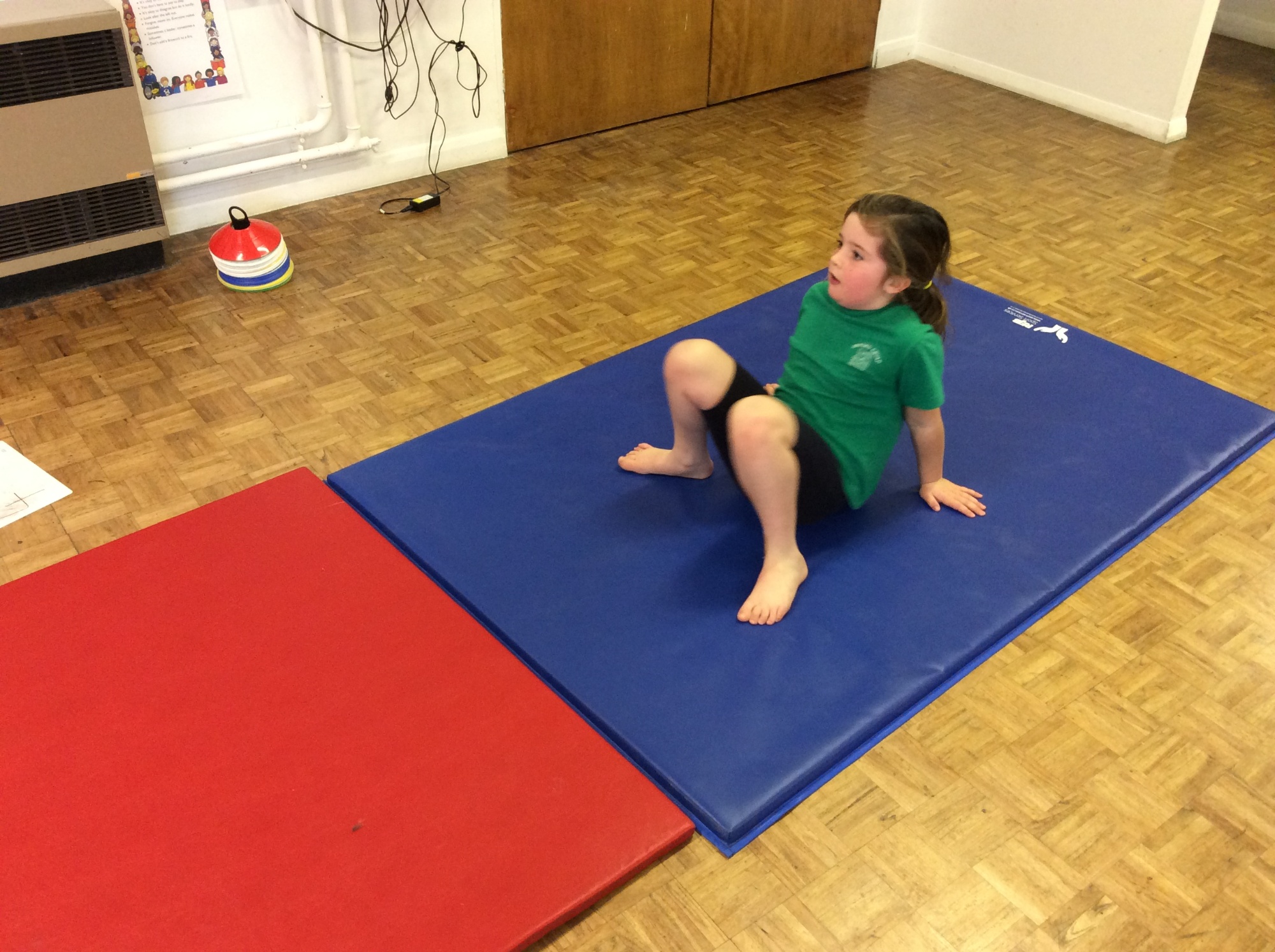 11th January
In science today, we started our new topic - all about solids, liquids and gases.
Here we are acting out what all the different particles do in each state, can you work out which is a solid, gas or liquid??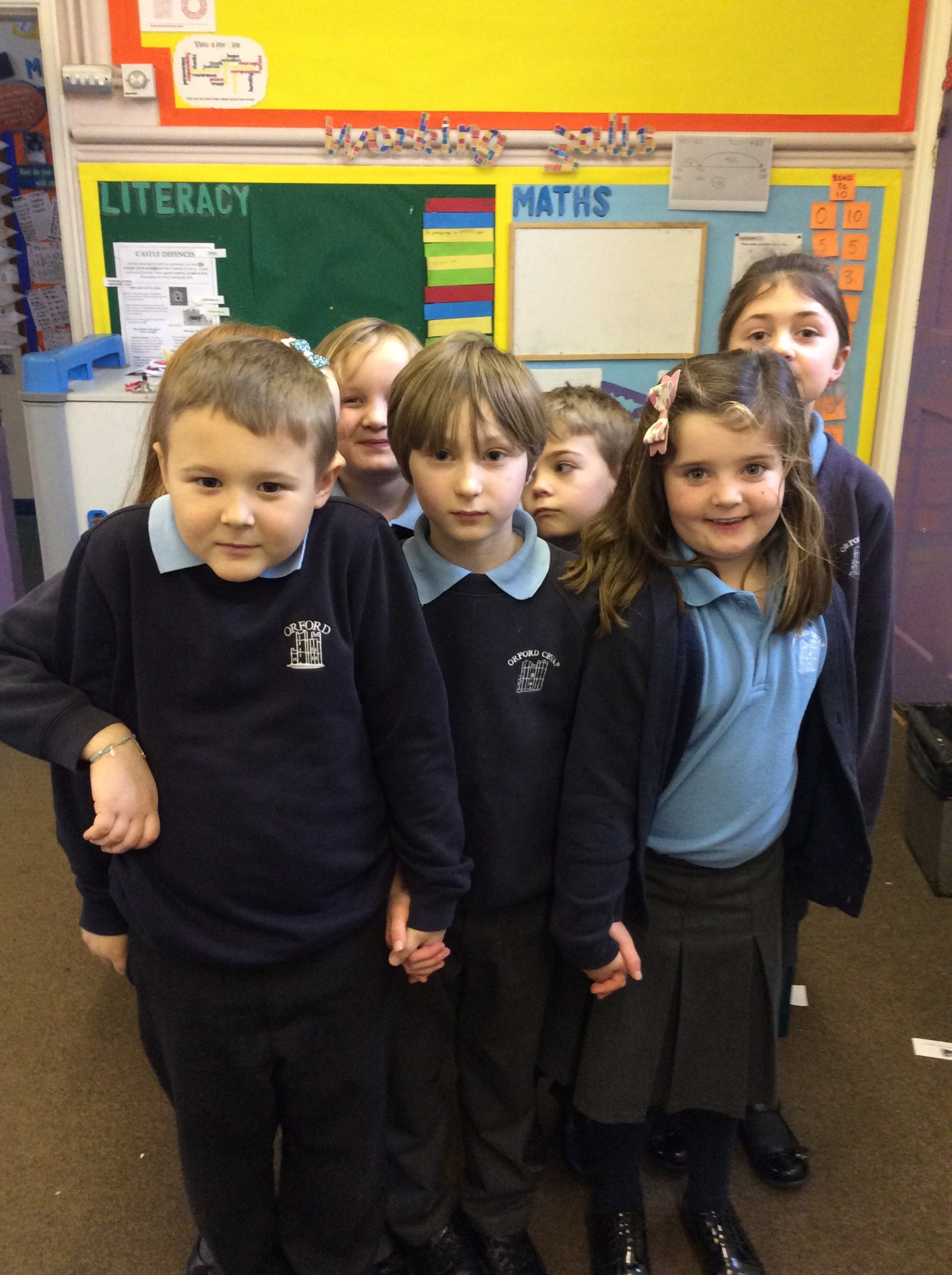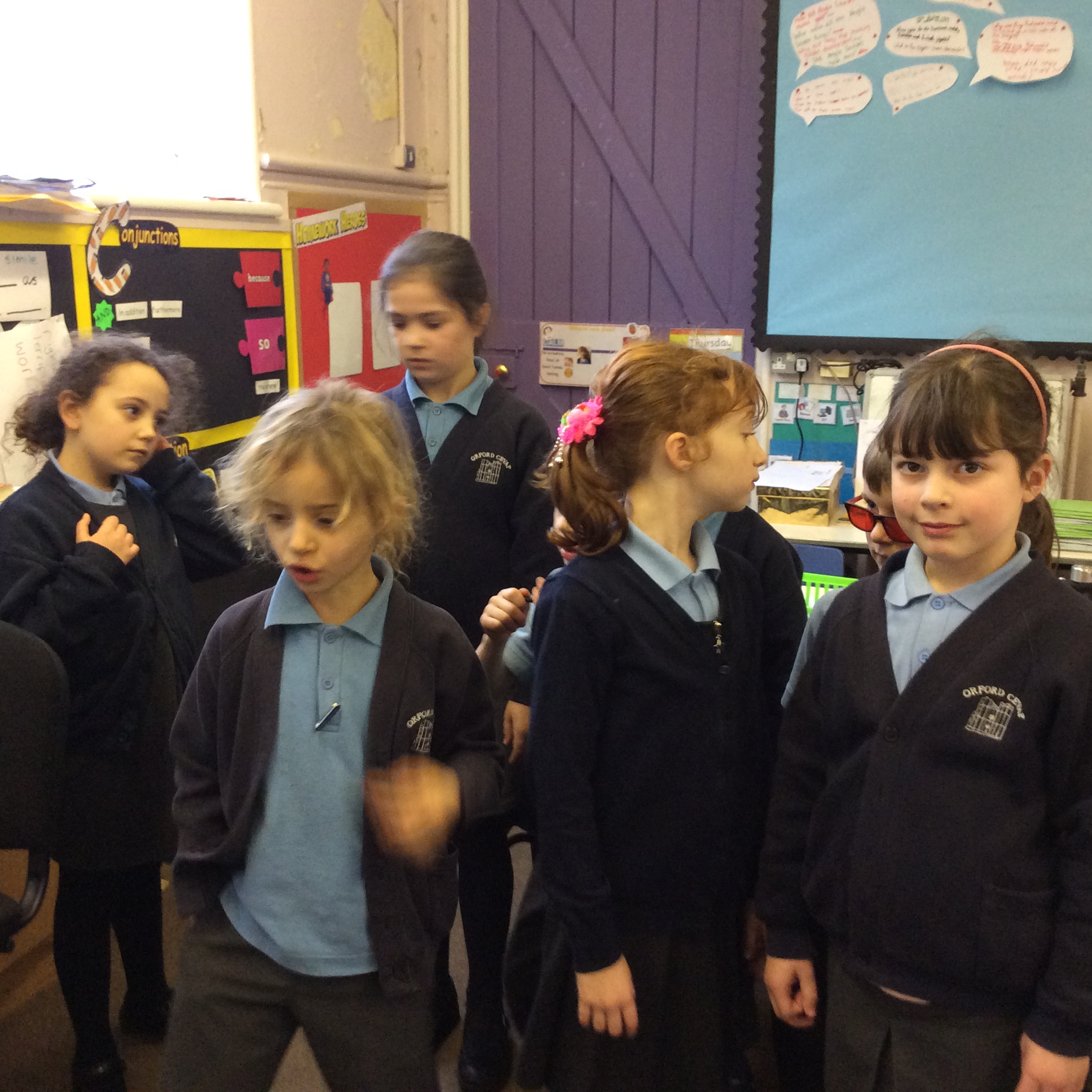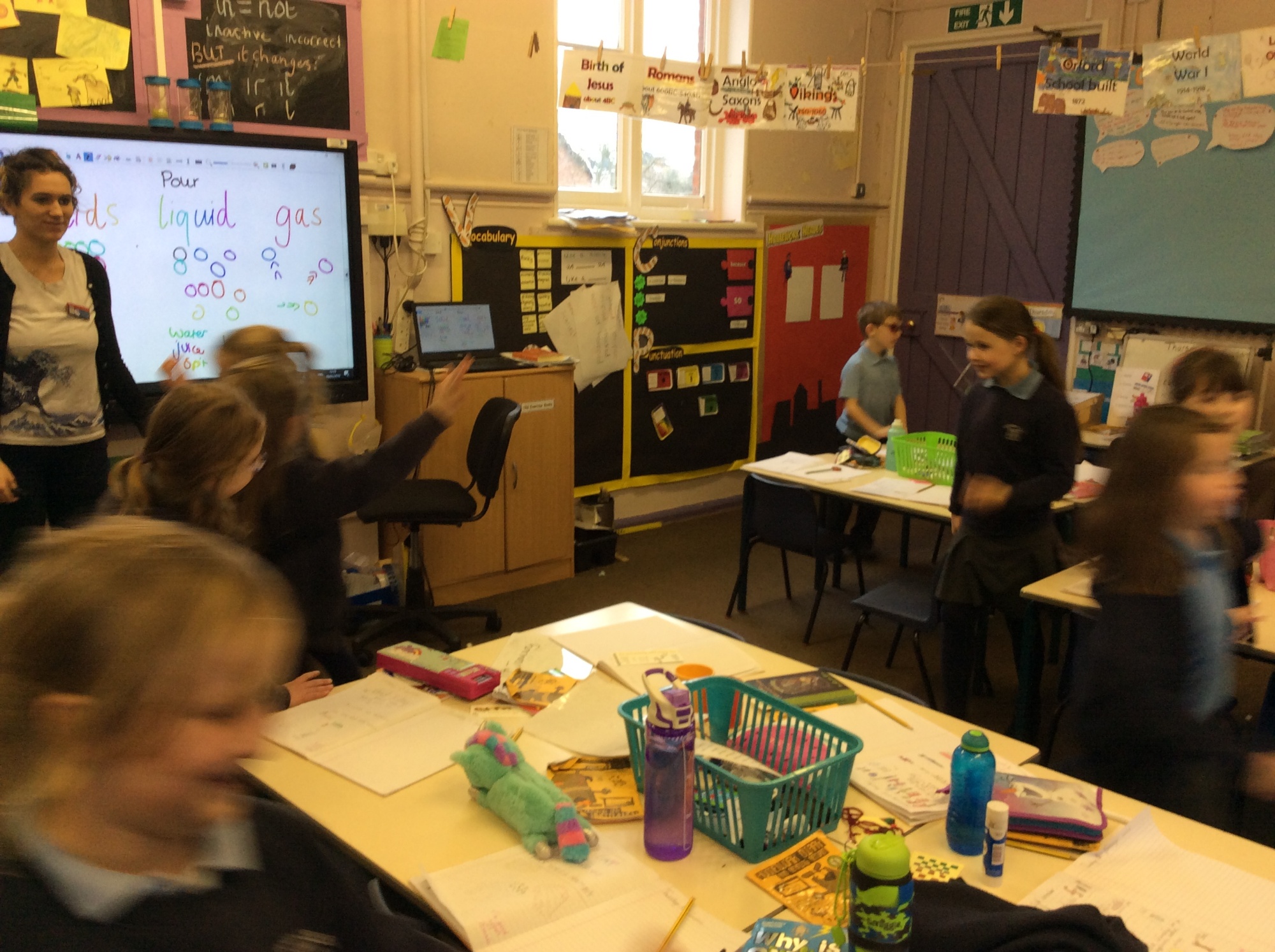 After sorting out lots of different objects into each category, we were given the challenge of deciding whether Jelly and Bubbles were solids, liquids or gases - ask class 2 what the answer is and why!
Please can recorders come to school tomorrow - we are playing in assembly!
Happy New Year to you all!
The classroom is up and running and ready for the children Monday, as well as for a new term of exciting learning! Please click on the 'curriculum overview' tab to see what we are going to be up to over the coming weeks.
Also, a letter was sent home before Christmas from Mrs Wells, telling you all about 'Parent Pay' - the new system we are using to charge for trips etc. in school. A letter regarding our class's educational visit at the end of January has been put on there this morning. If you haven't already signed up/logged in, please do so.
Have a lovely weekend - we cannot wait to see you all Monday....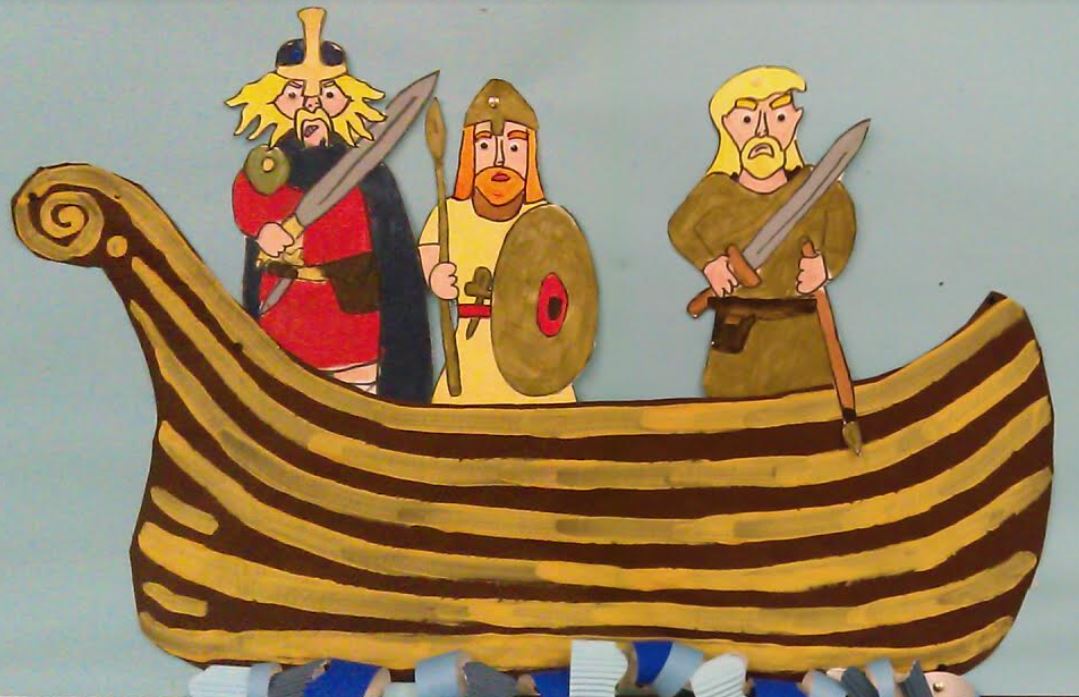 Autumn 2018
20th December
Merry Christmas everyone!! Well done to all members of class 2 who have worked phenomenally hard this term - Mrs Smy and Miss Cannon hope you all have a lovely holiday and look forward to seeing you in the new year!
Here's a picture of us rehearsing in the church for the Christmas service Wednesday:

13th December
We have had a very crafty couple of days here in class 2 - we have made some amazing mechanical Christmas cards (have a guess which one you might be receiving next week!!). The children had to design how they would look AND work, thinking about colours, materials and how to layer these up.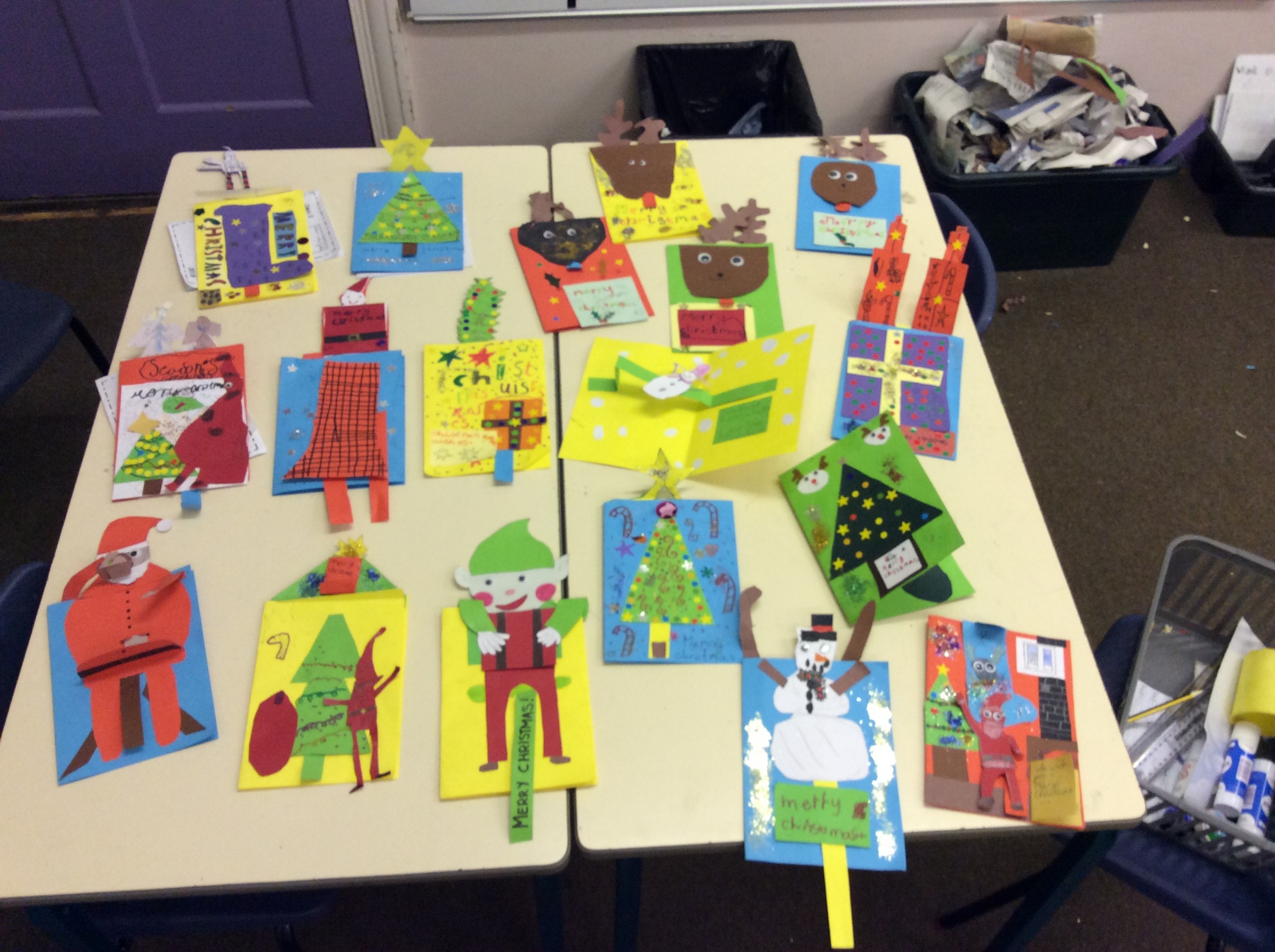 We also finished our RE topic this term by creating our own paper plate Nativity scenes. We have been studying the Nativity story and how God coming to Earth is so important to Christians. We had to pick the 4 characters we thought were the most important in the story and include them on our scenes. We used watercolour paint (some of us for the first time ever!!) to create a night time scene. They are currently drying outside the classroom and we've had a lot of compliments already - well done Class 2!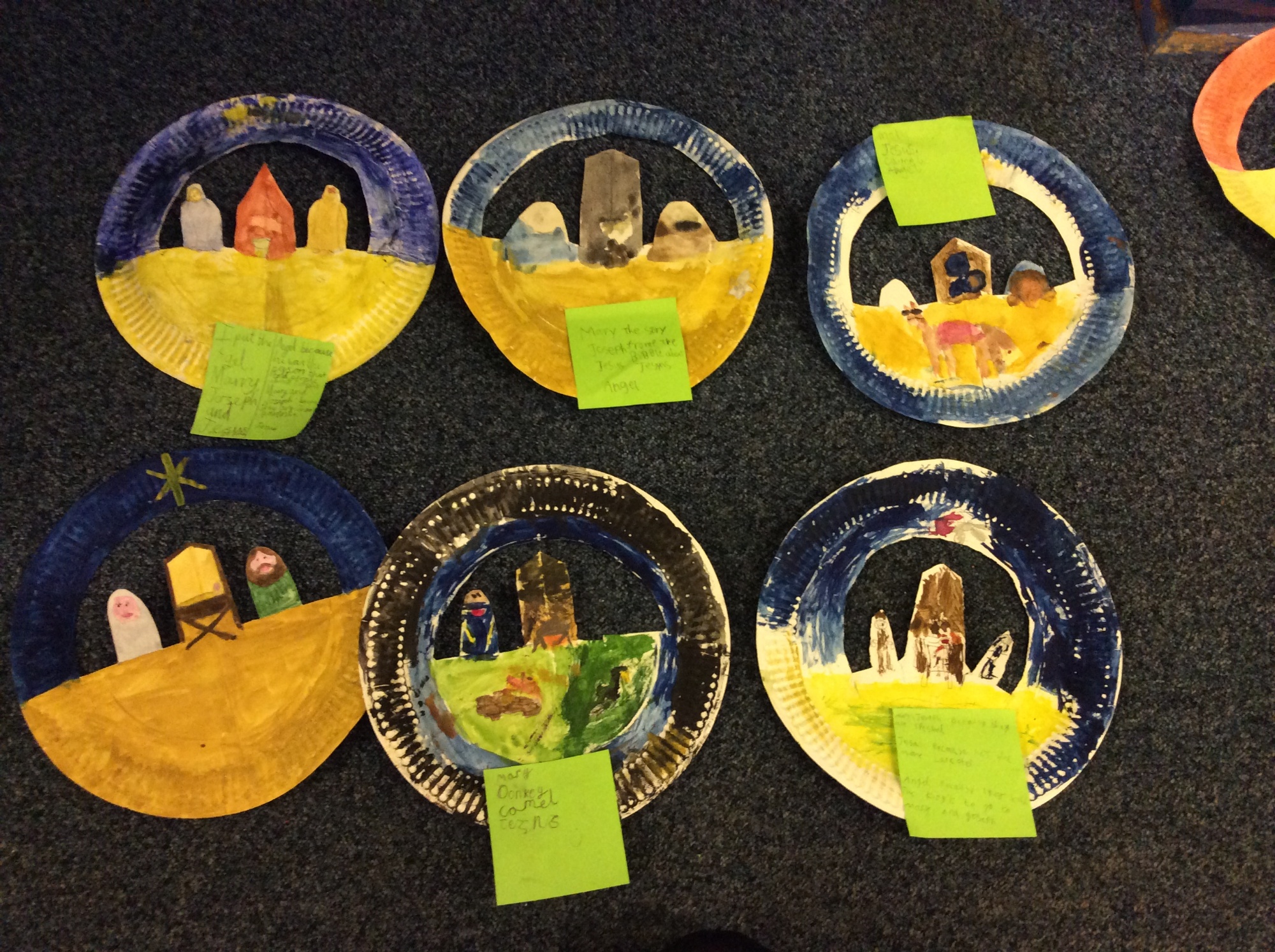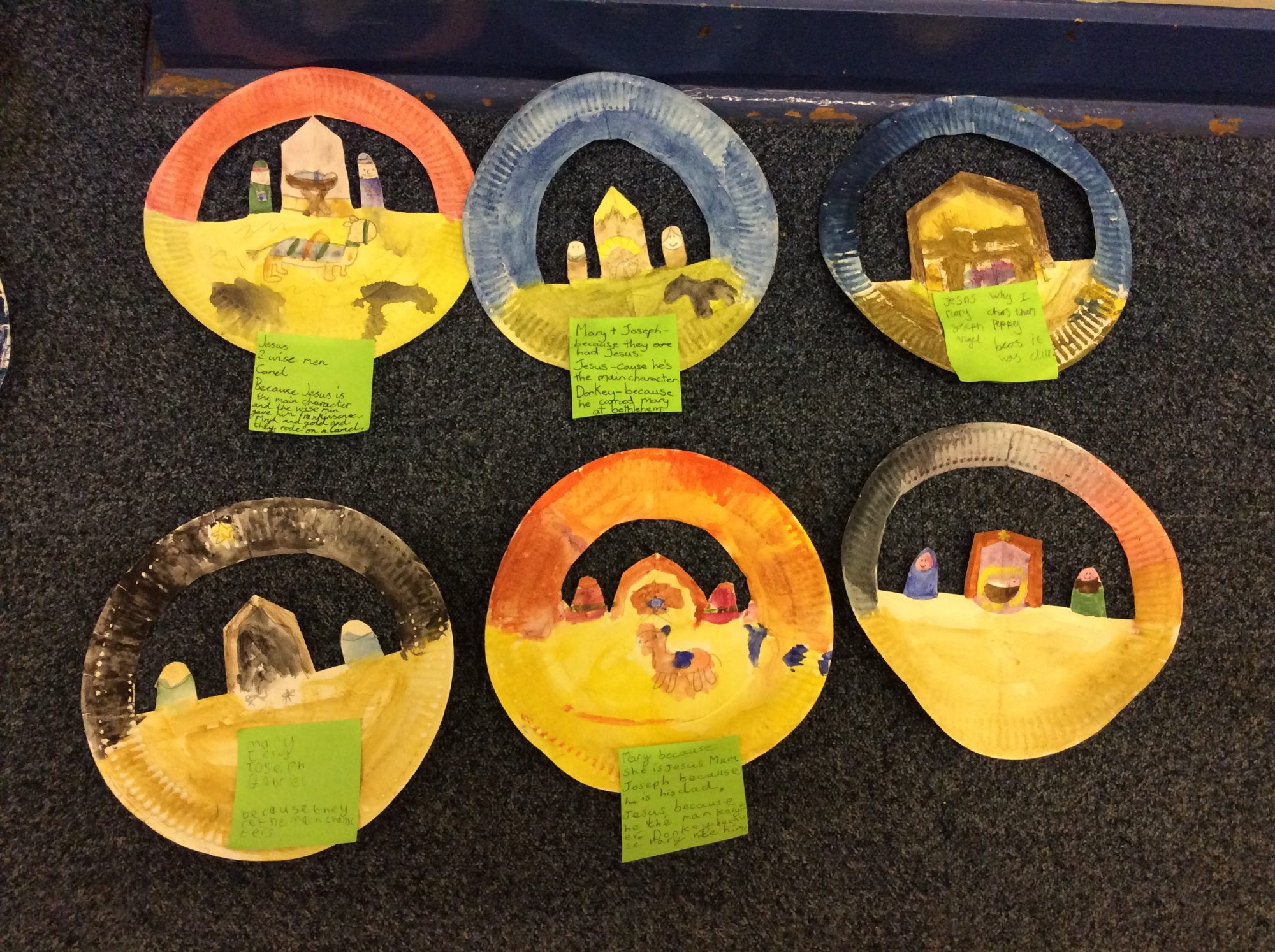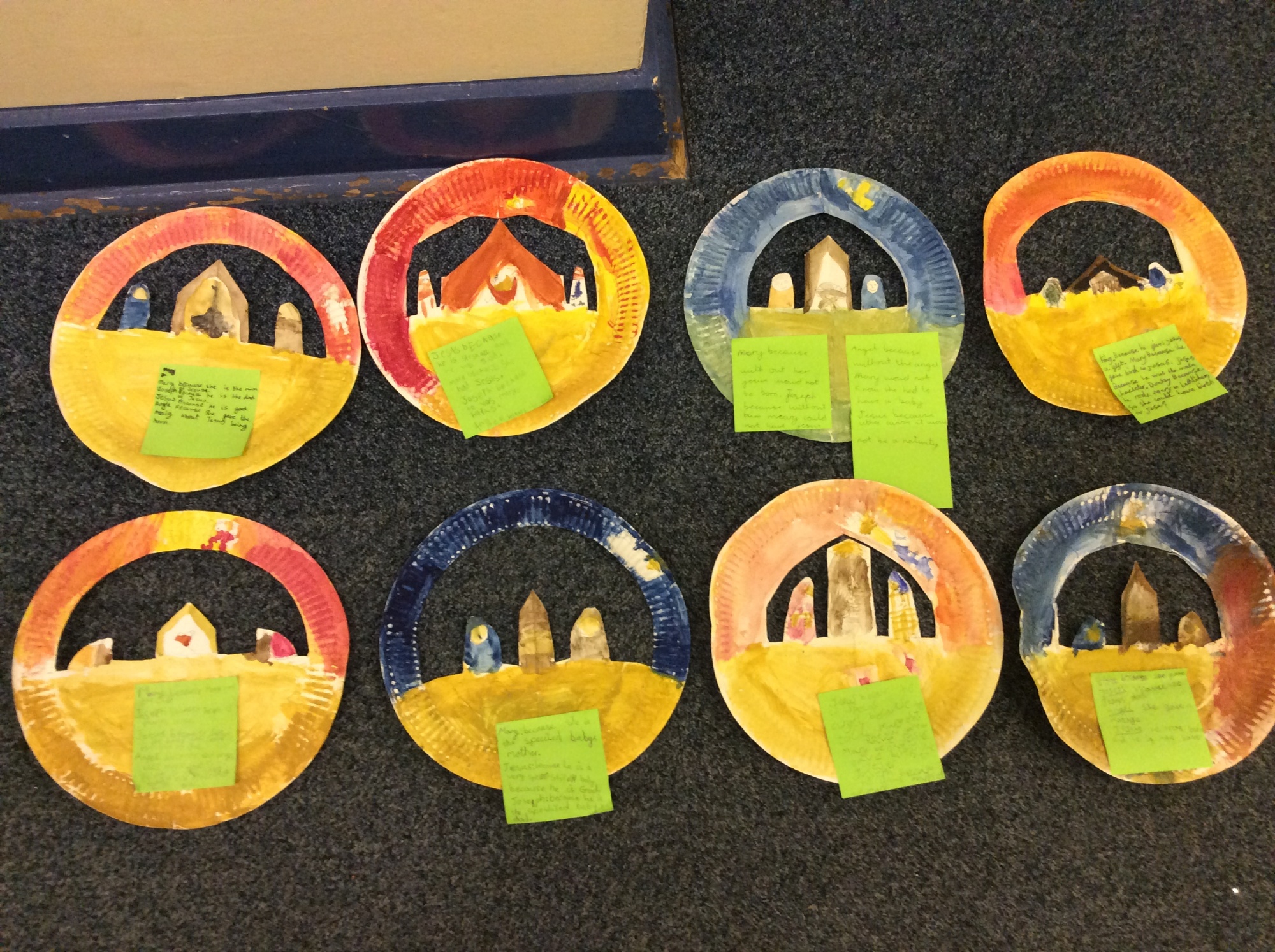 AFTER CHRISTMAS....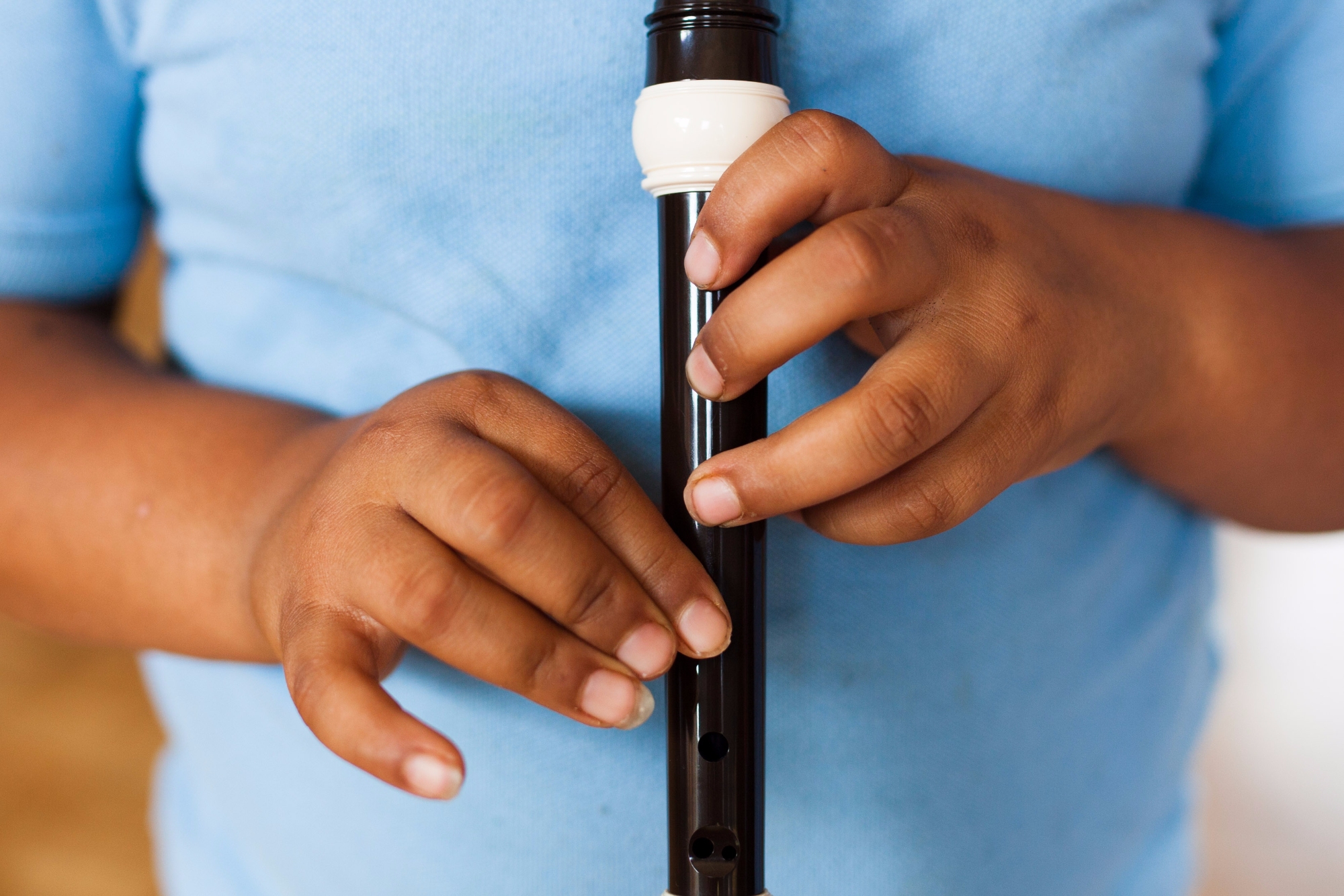 Class 2 will be learning the recorder!!! (And YES, we will be letting them take instruments home to practice!).
The school does have enough recorders for children to borrow one each, but if your child would prefer to bring their own in after Christmas, they are more than welcome as long as it comes in a named bag/case and they are responsible for looking after it.
7th December
In dance this term we have been working on mime, and began by looking at French mime, before trying out our skills. We have worked on facial
expressions, arm movements and using our whole bodies, as well as working at different levels. Do you think we met the brief in these Santa workshop mimes??
30th November
Those of you who managed to make celebration assembly this morning will have seen that we have collectively researched, created and finished our guidebook about France which we made for Bill the Gnome. Aptly named 'A Gnome's Magical Adventure in France' it has all the facts you'll ever need to know about the population, landmarks and physical characteristics in France. We worked really hard on the layout and made sure we kept each page colourful, clear and neat. Miss Cannon thinks we all stuck to the brief brilliantly!! What do you think??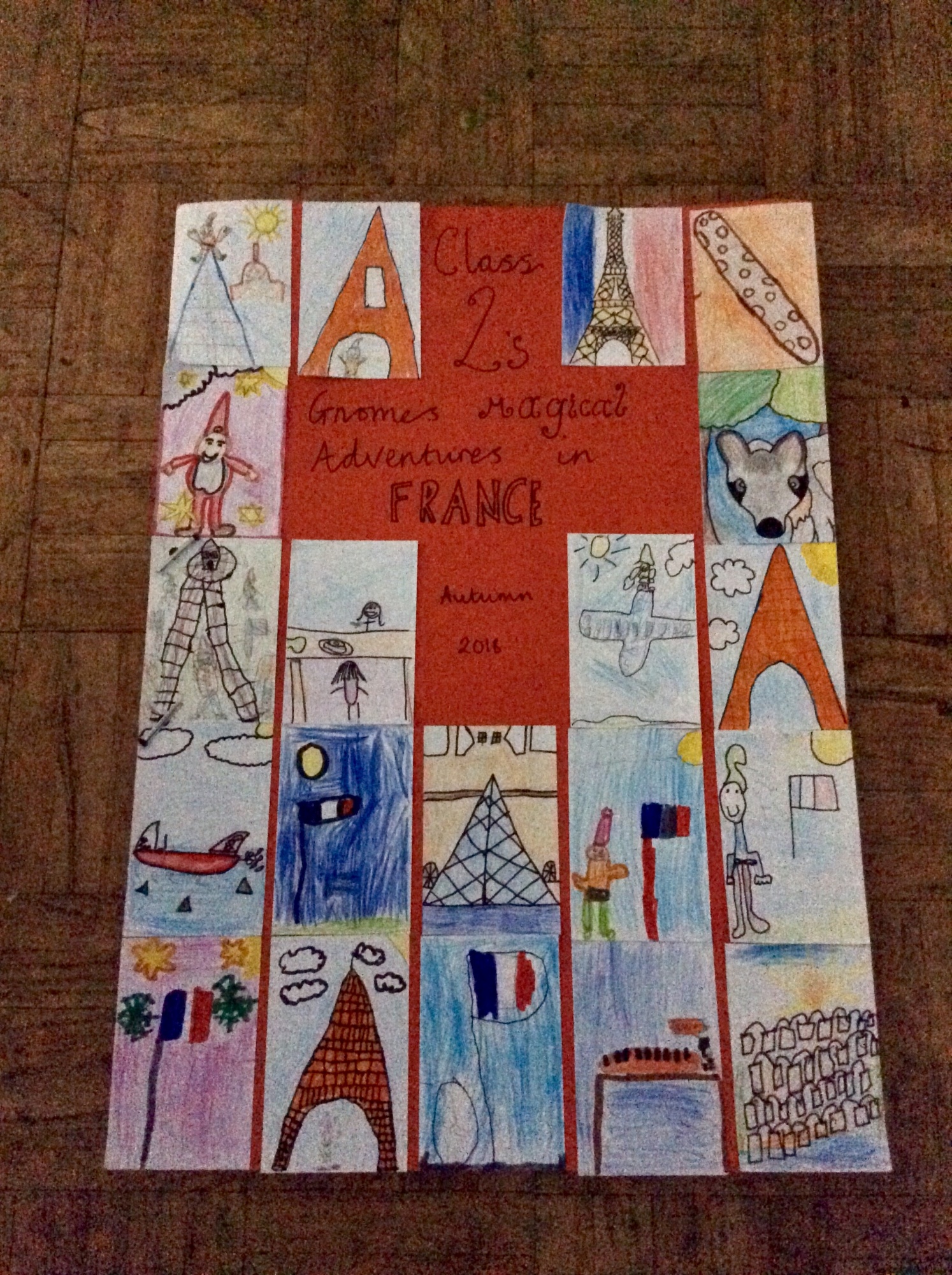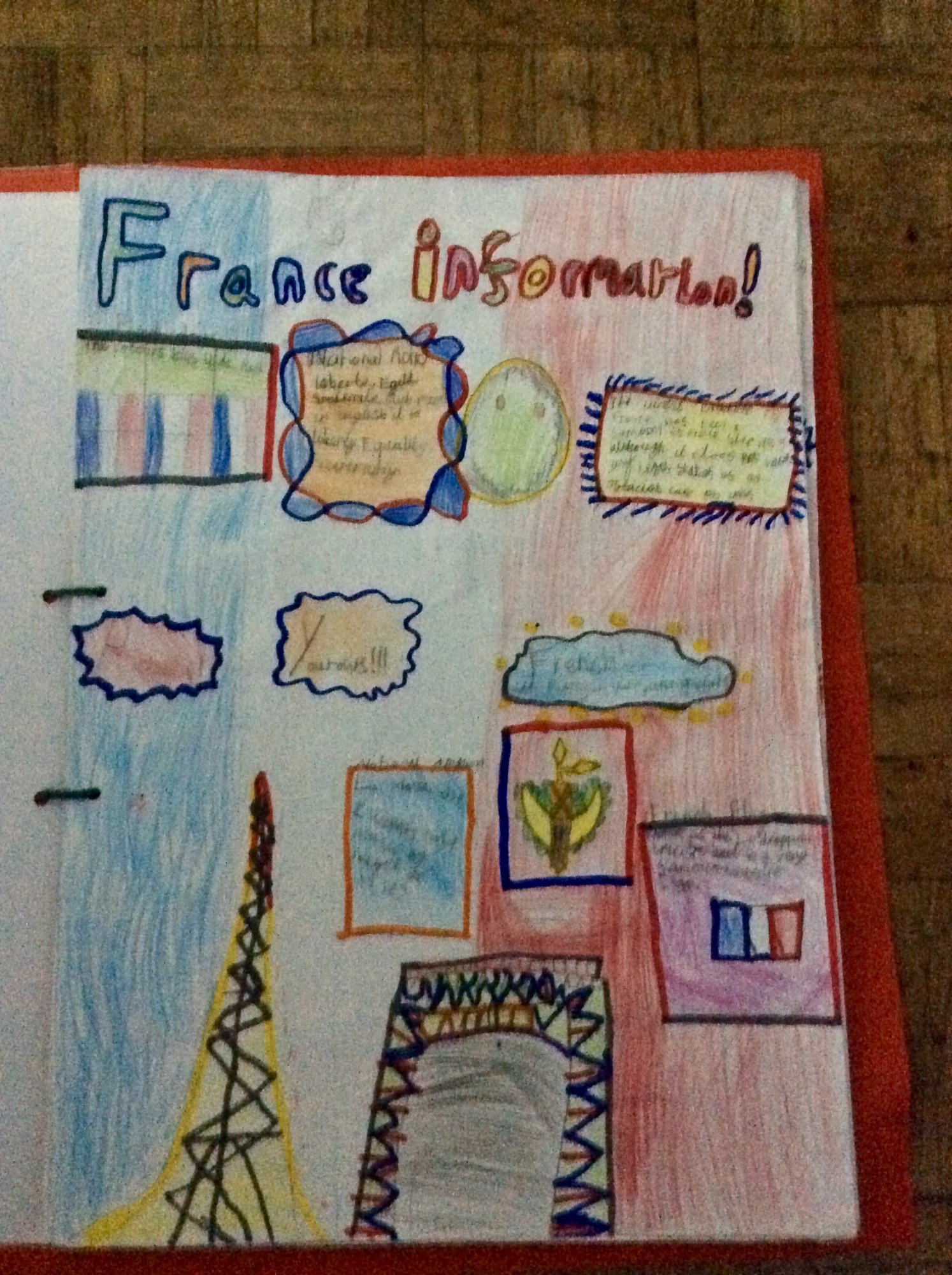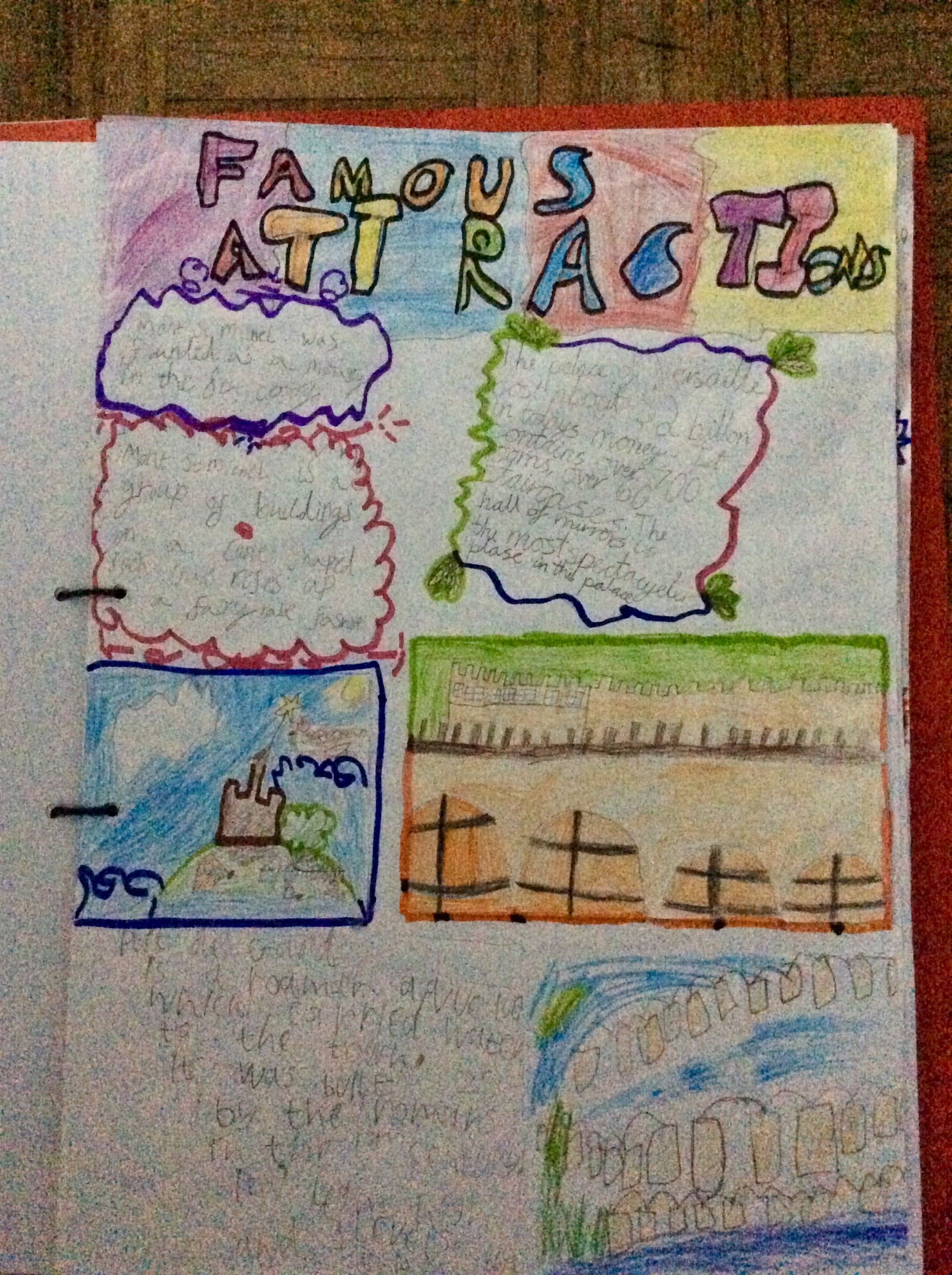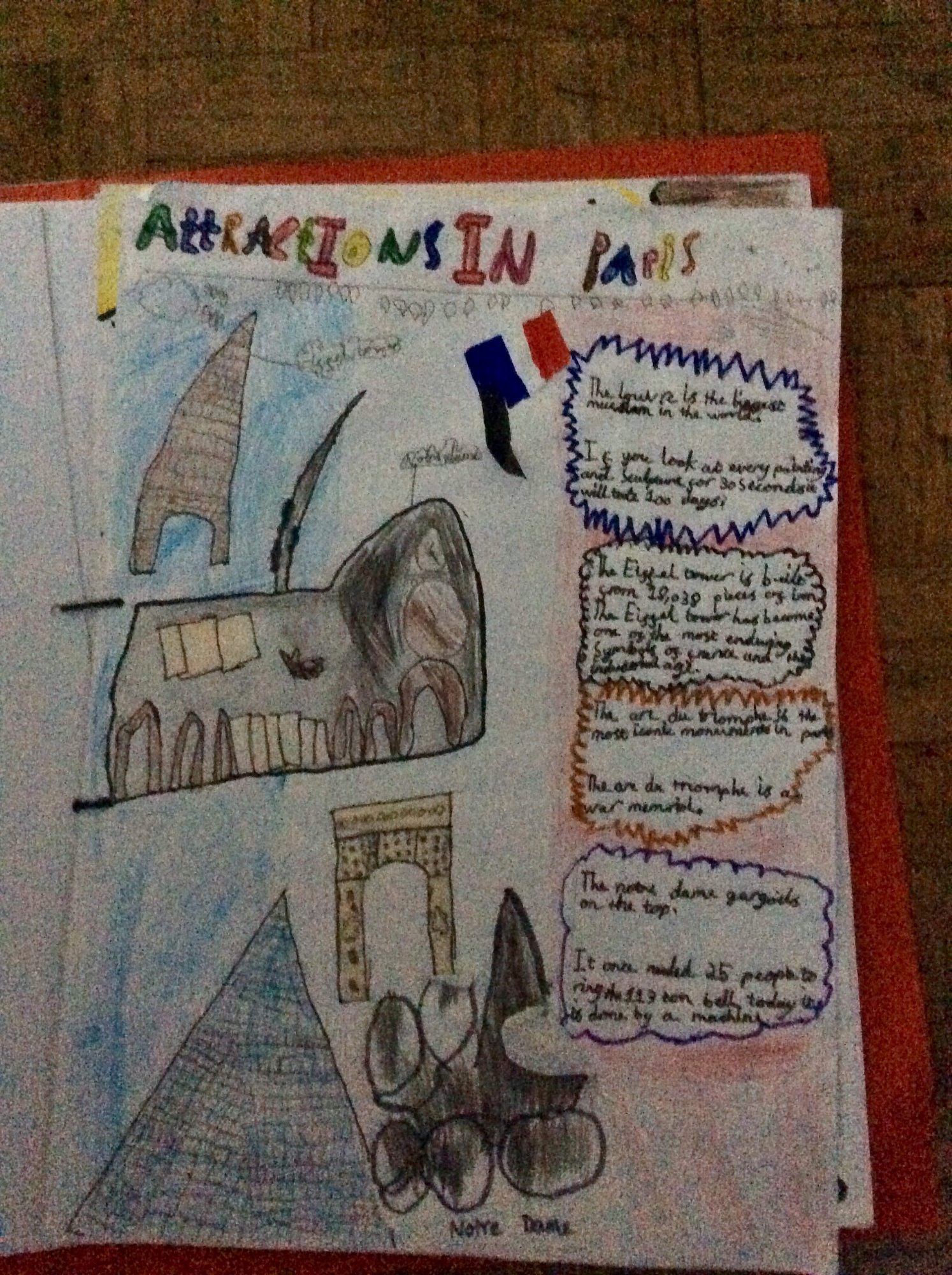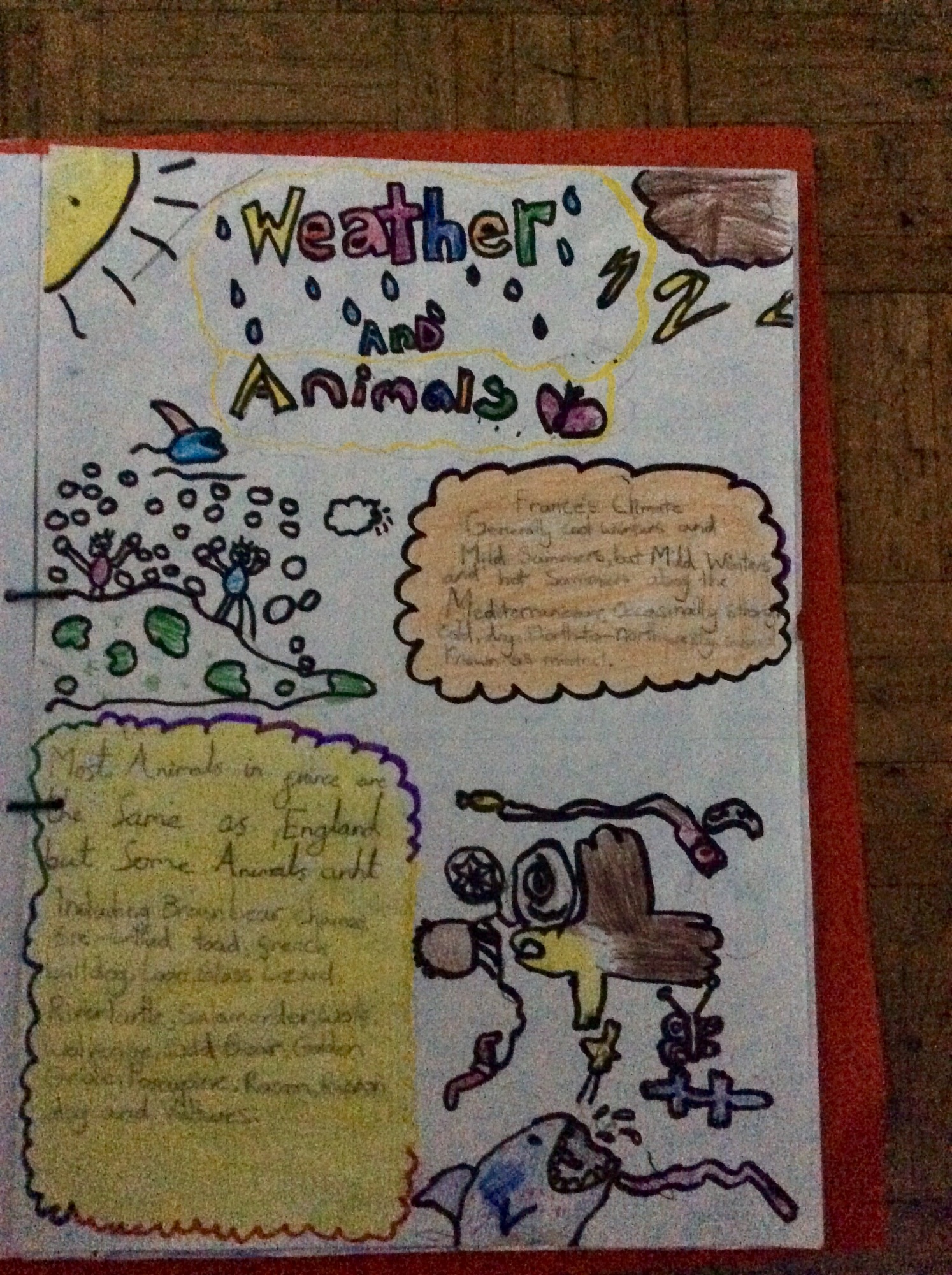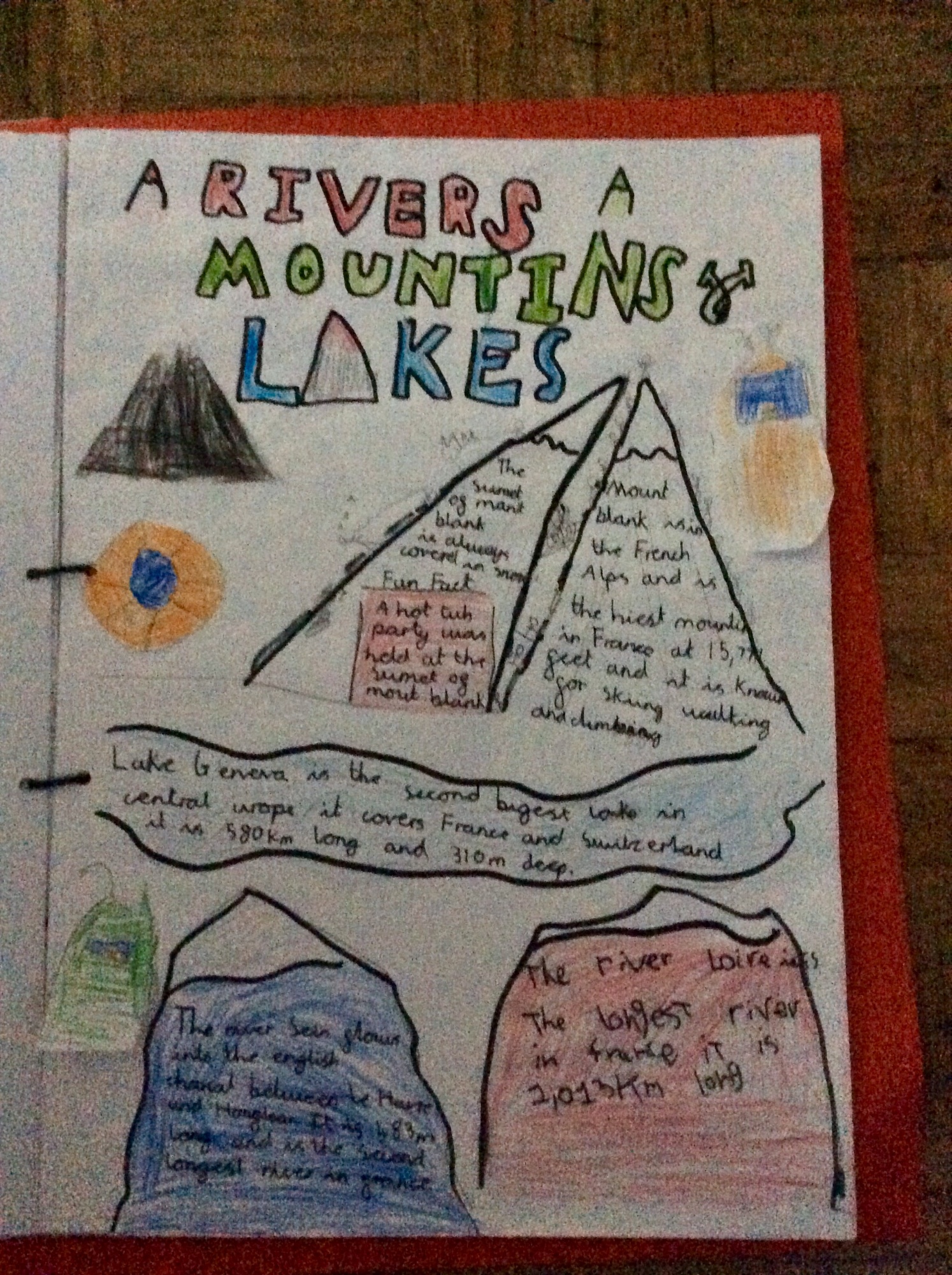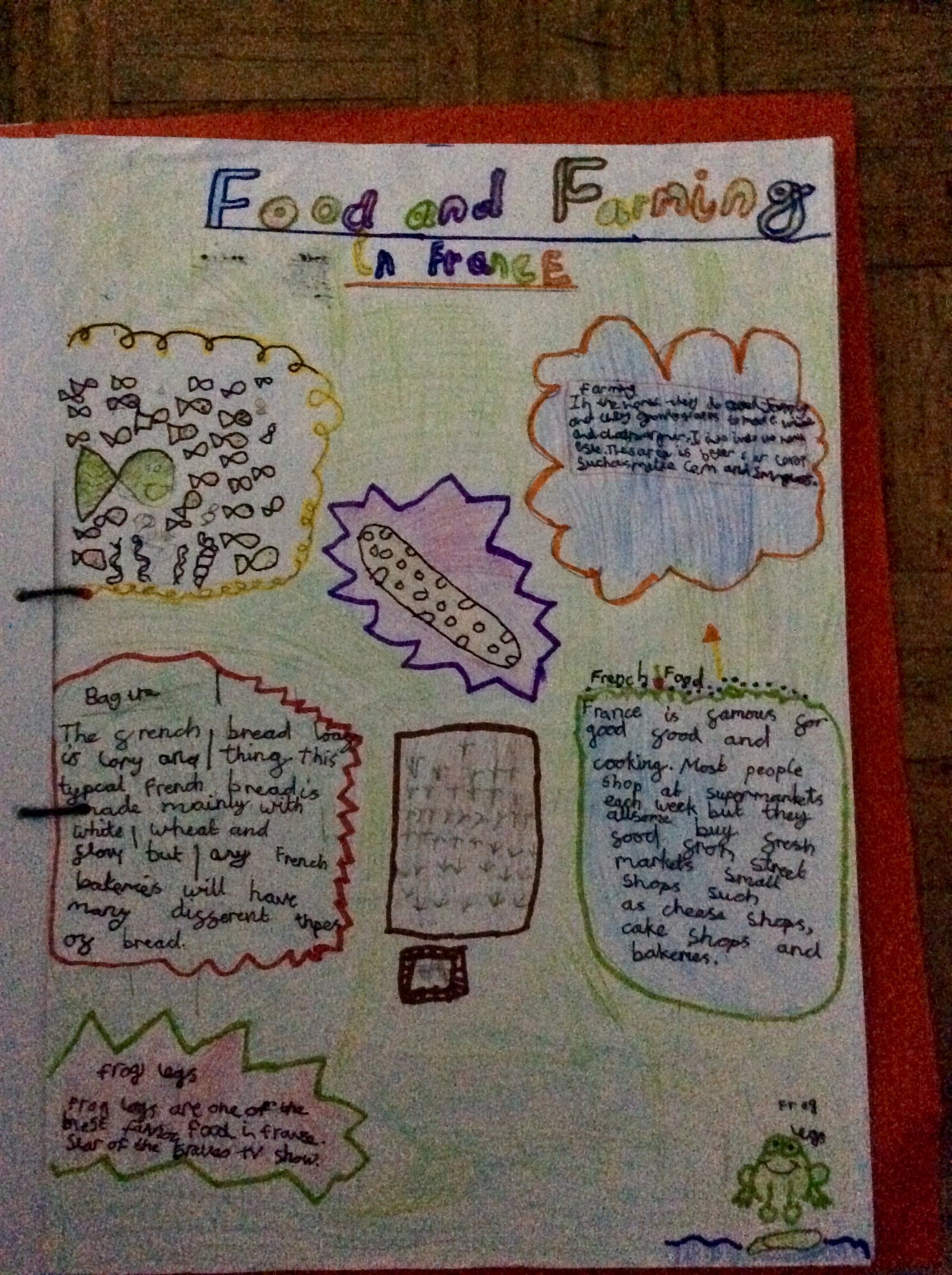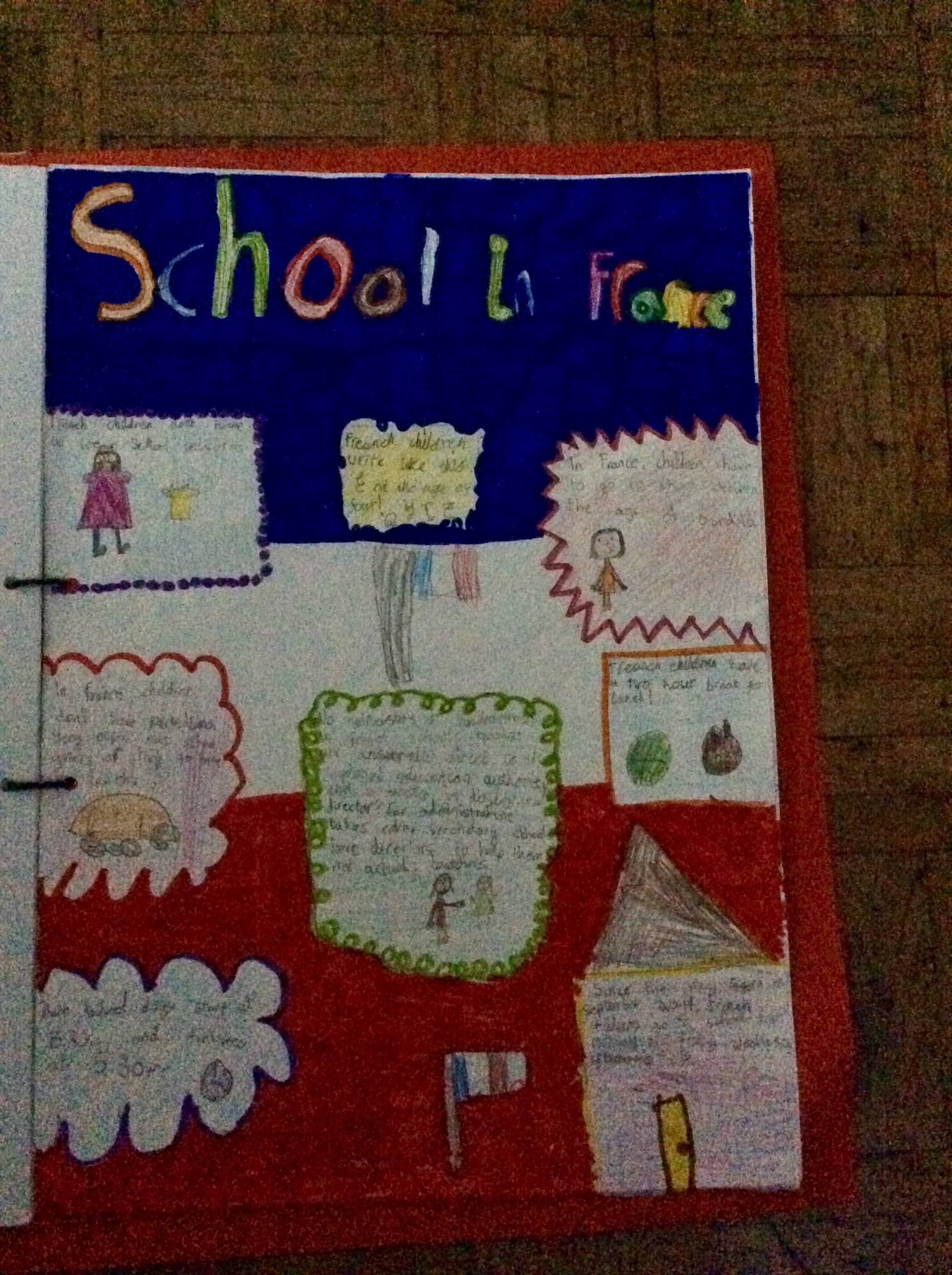 Stationery will be allowed back to school next week on a probationary basis.
23rd November
Please be aware that Class 2 children will not be allowed to bring their pencil cases to school for the whole of next week. We have had a lot of arguments and disputes over children touching, moving and hiding other people's property and it is distracting from learning. Water bottles will still be allowed. Miss Cannon will make a decision on Friday whether stationery will be allowed back the following week.
16th November
We have been working the last couple of weeks on poetry in our literacy lessons and have been reading Kit Wright's 'Magic Box'. We have worked really hard to think about similes, alliteration and other figurative language. Today we finished our poems - check out some of this super imaginative writing!
(In order: Ella RW Y4, Phoebe Y2, Rebecca Y3, Travis Y2)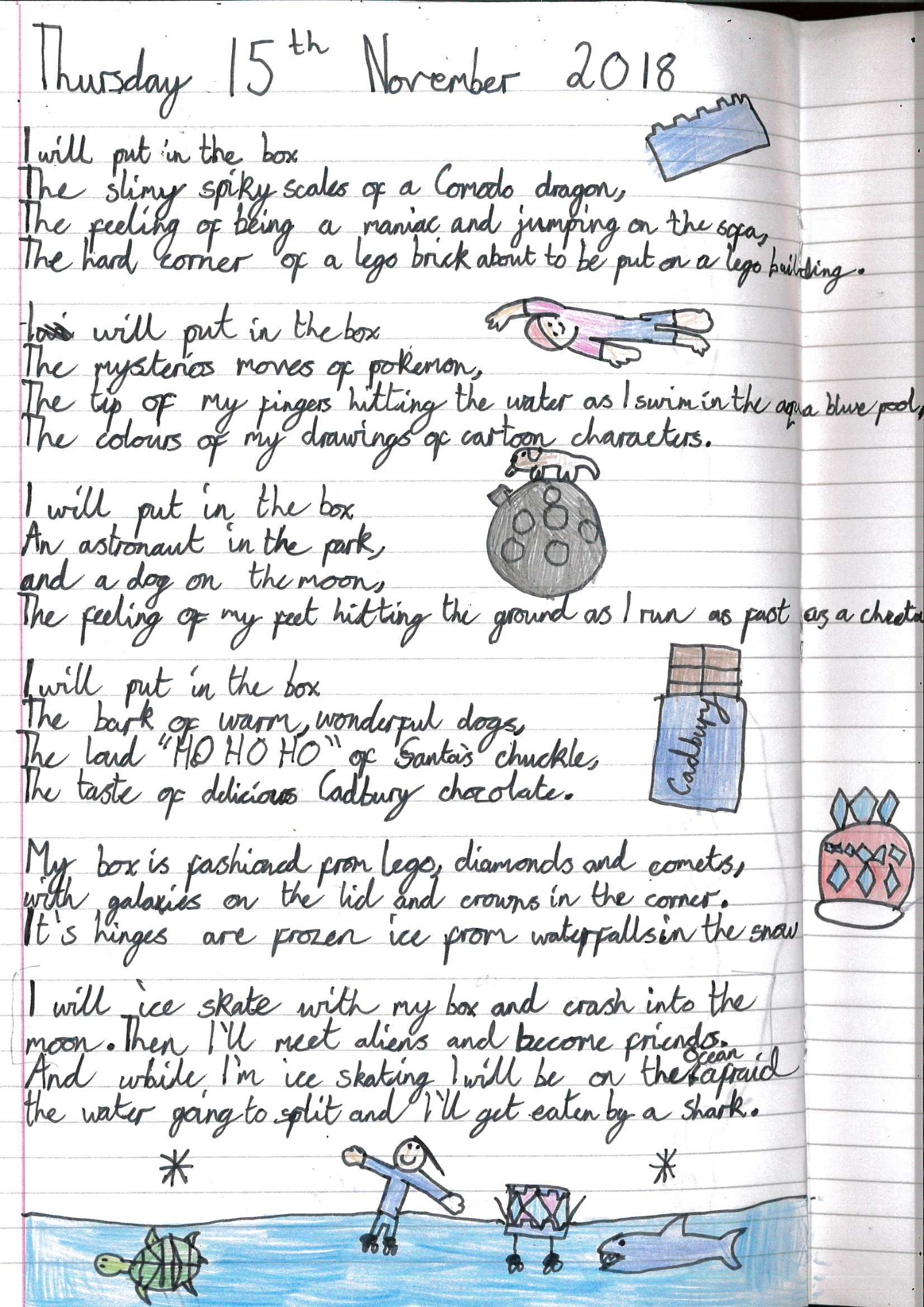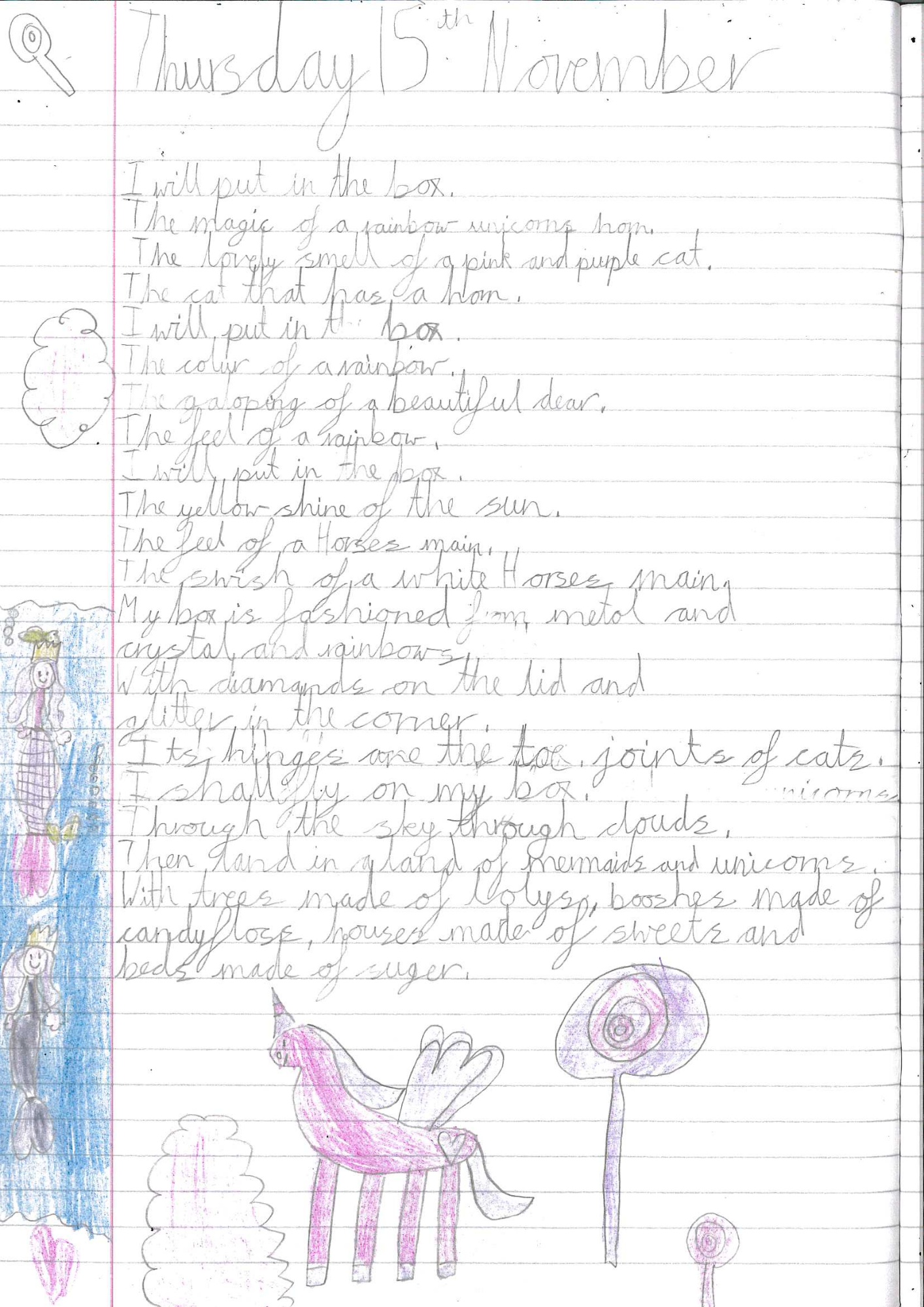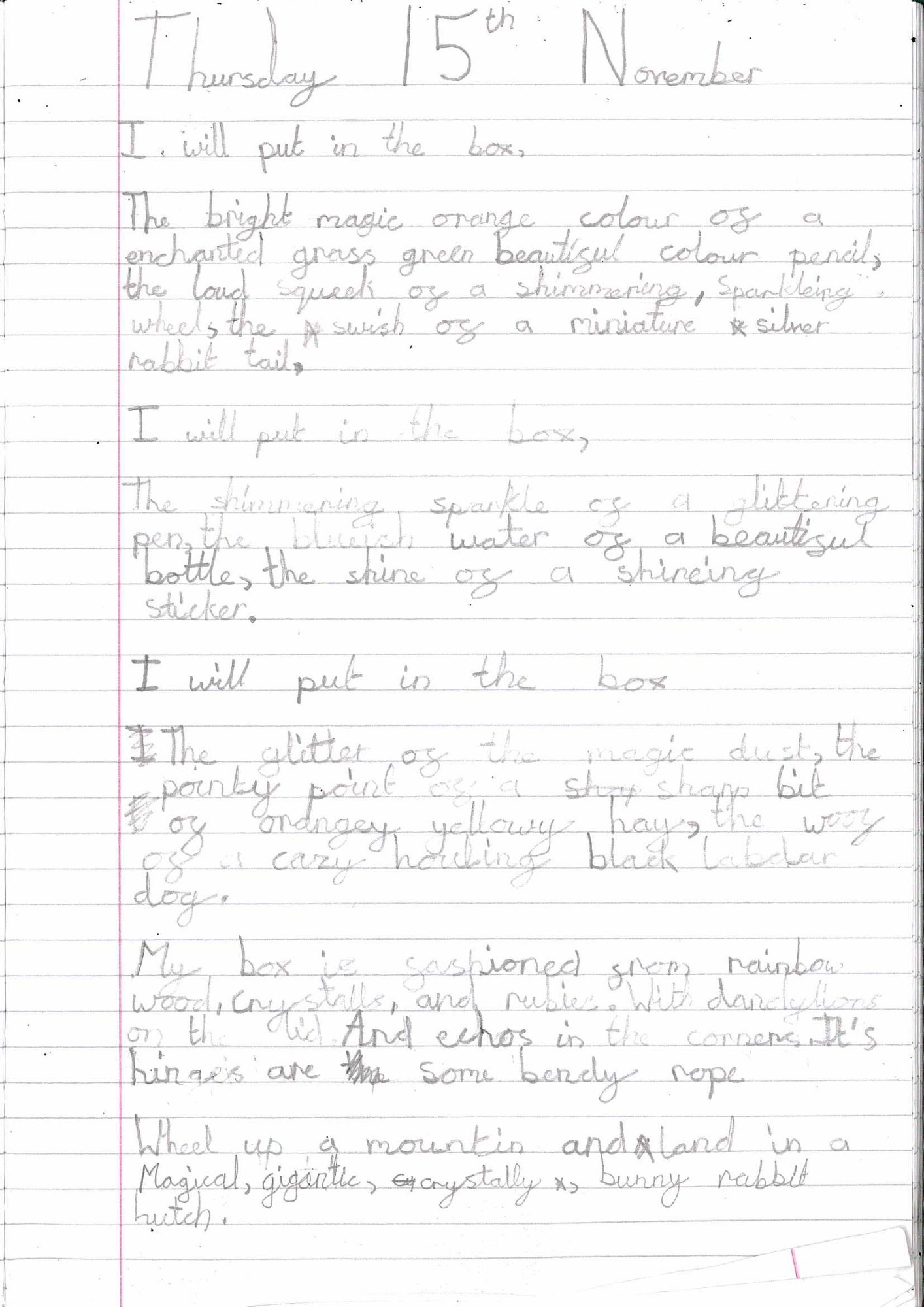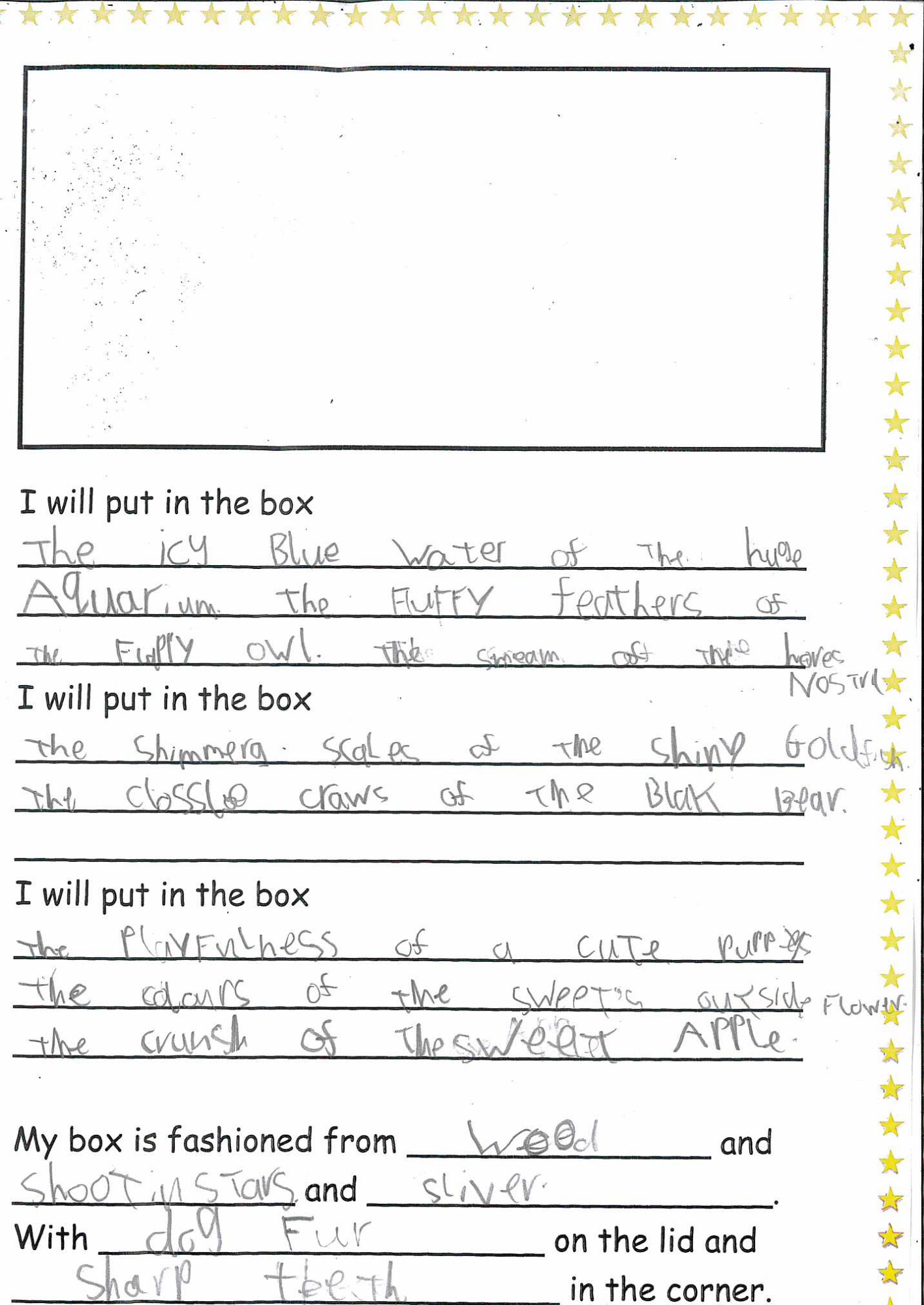 9th November
This afternoon, Class 1, Class 2 and the pre-school watched a short cartoon about remembrance Sunday and why we wear poppies at this time of year. We talked about some of the soldiers and what they did during WW1 and WW2, before taking part in some poppy craft activities: With Ms Wardale and the Pre-School team, some of us made a handprint wreath; with Mrs Booty in Class 1, some of us created collage poppies; and with Miss Cannon in Class 2, we made a field of poppies out of cupcake cases and wrote some messages on the back.
Later, we walked up to the church, where Janet Bishop, the lay reader, said some prayers and read us a WW1 poem. We laid our crafts around the font in the church for everybody to see at Sunday's service, and took the time to look at the memorial in the grounds, reading the names of all the soldiers from Orford who gave their lives.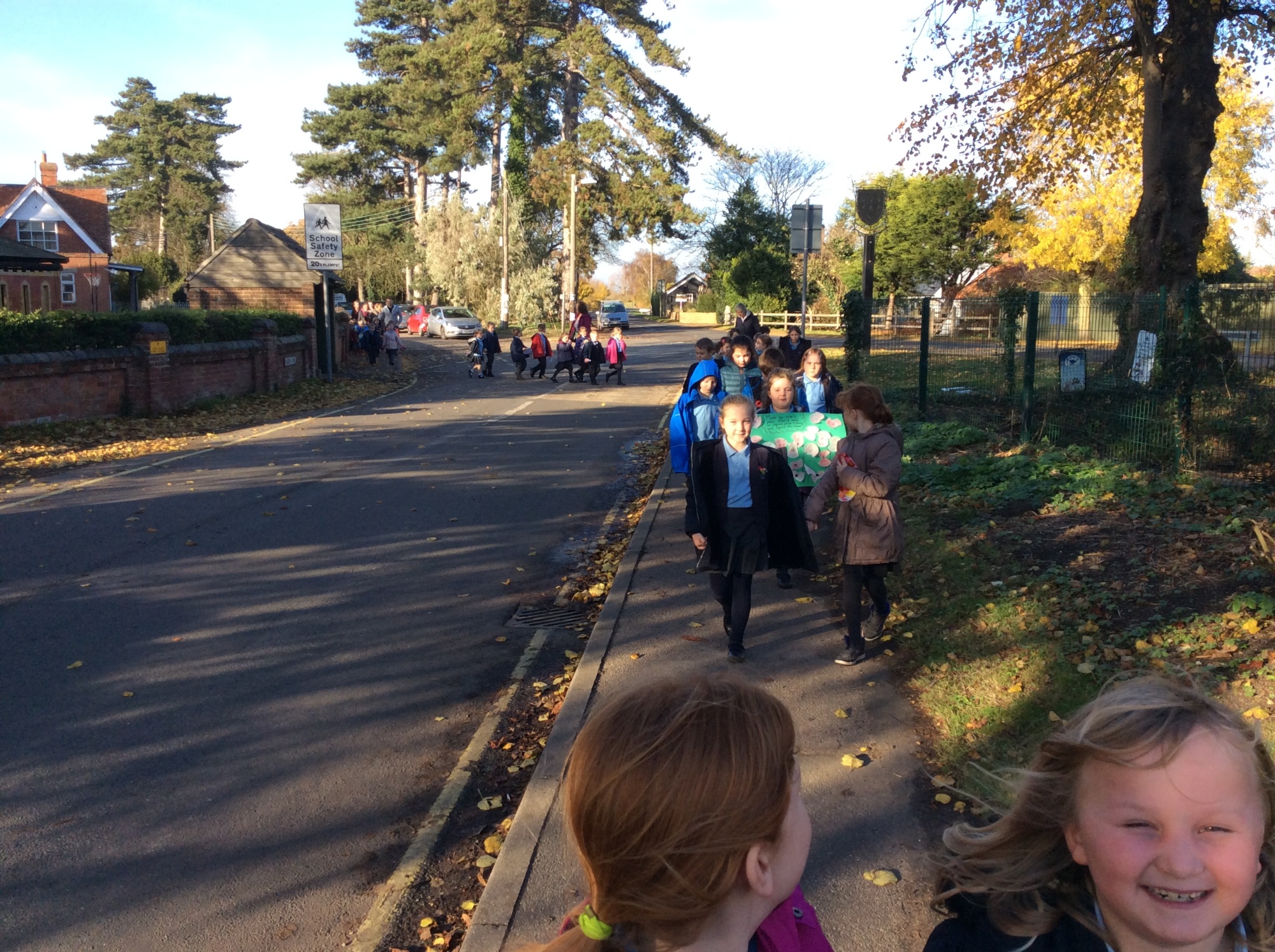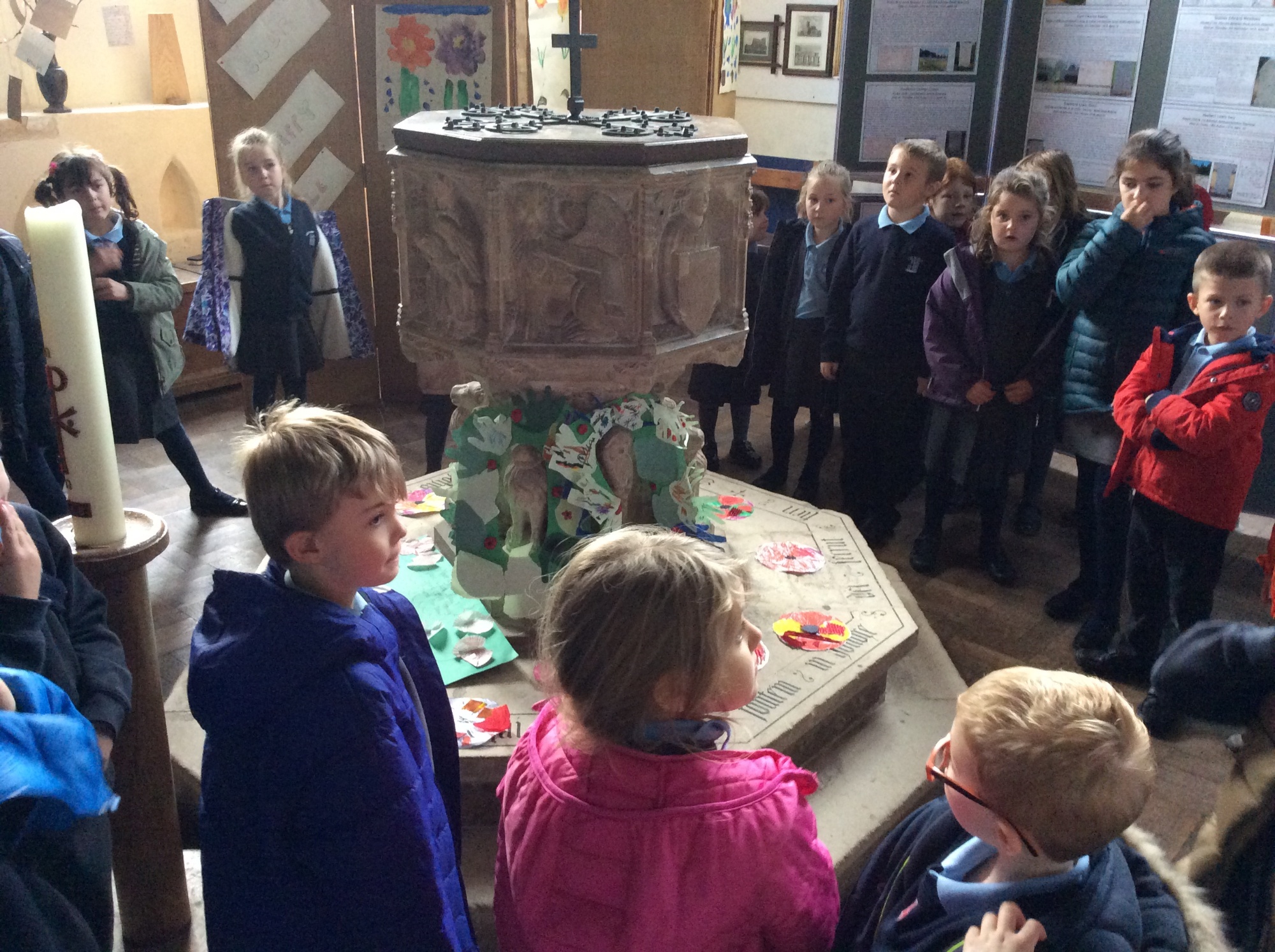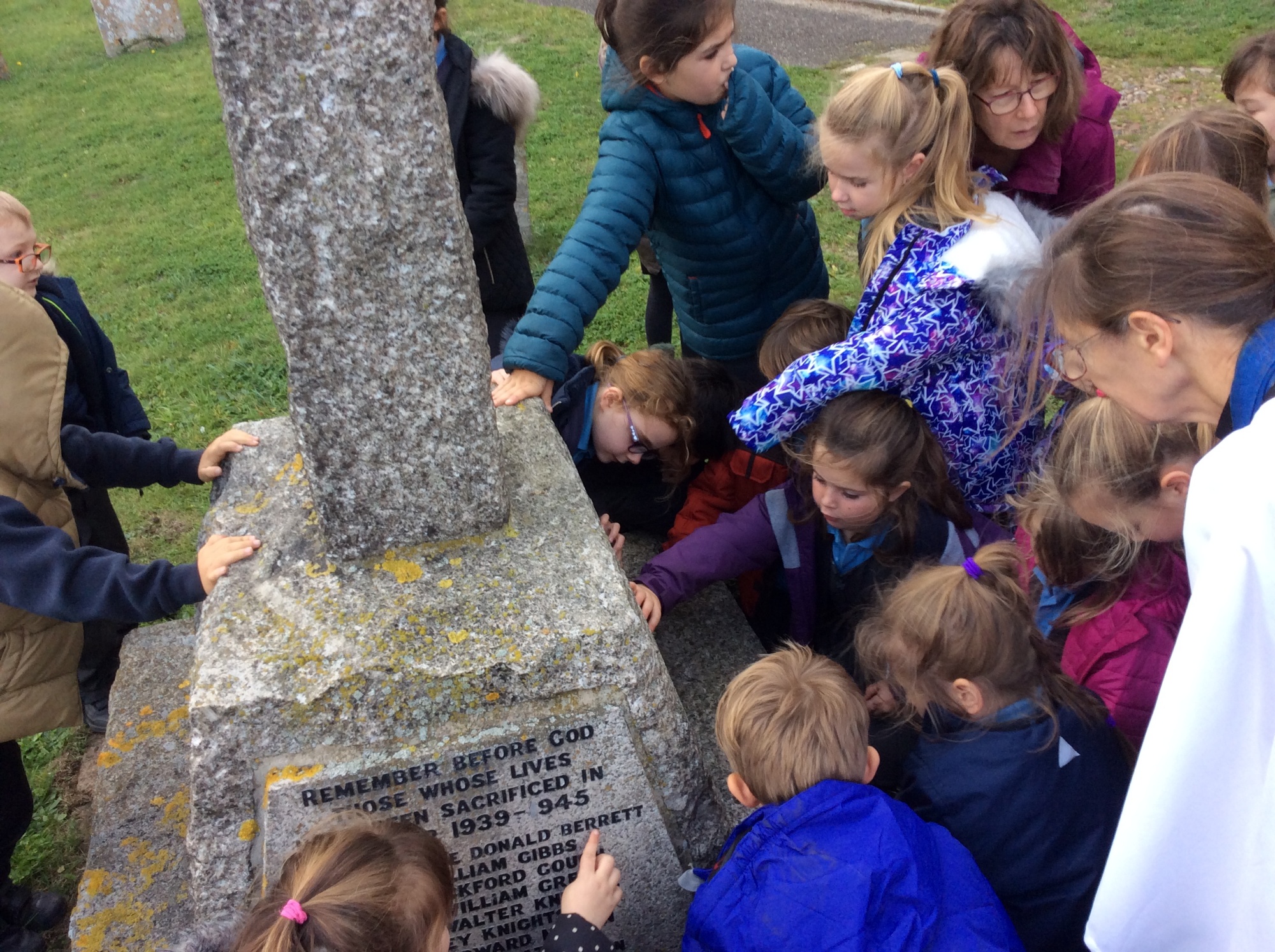 1st November
After the excitement of yesterday's trip to the cinema, we didn't think we'd be laughing so much we'd be crying, but that is exactly what happened in science this afternoon.
Our new topic is digestion so we began by naming the organs used in the process (rectum and anus were particularly hilarious!) and then we found out what each one did. We worked in groups to make a 3D diagram and had to explain the whole digestion process using scientific words like oesophagus and intestine. Next week, we are going to try and work out where exactly in our bodies these organs are!
19th October - HAPPY HALF TERM!
WOW - as if we hadn't already had enough of a busy term, this week has been jam-packed!!
First of all, 5 of our young ladies (Cecily, Willa, Ella F, Ella RW and Bella) went to Ipswich Town Football Club to play in an U9s girl's football festival. Their positivity was contagious and they approached every game with enthusiasm and gusto. They drew 4 games and lost one, but were all very low scoring, down to our super defence - well done girls, you were a credit to our class and school!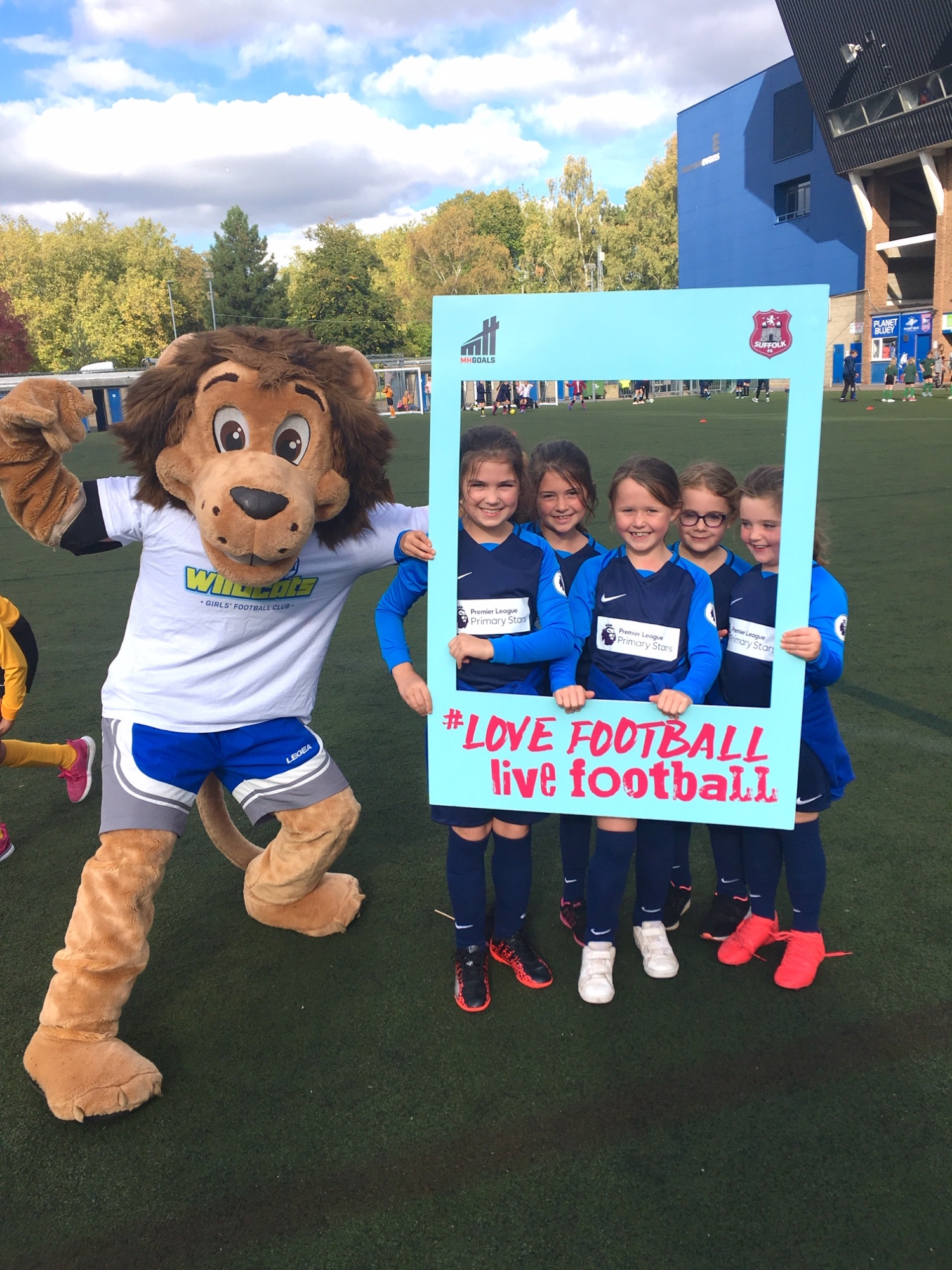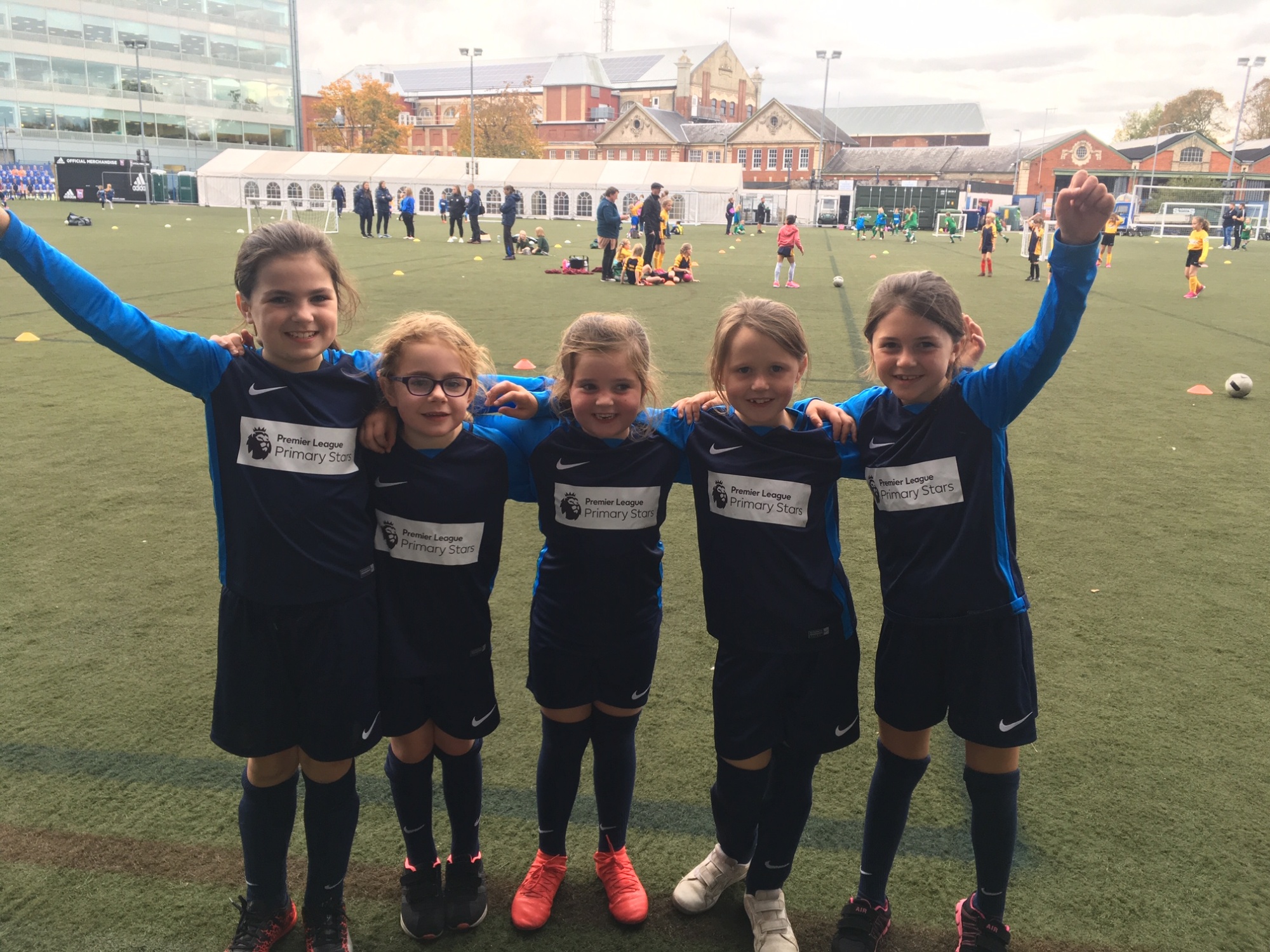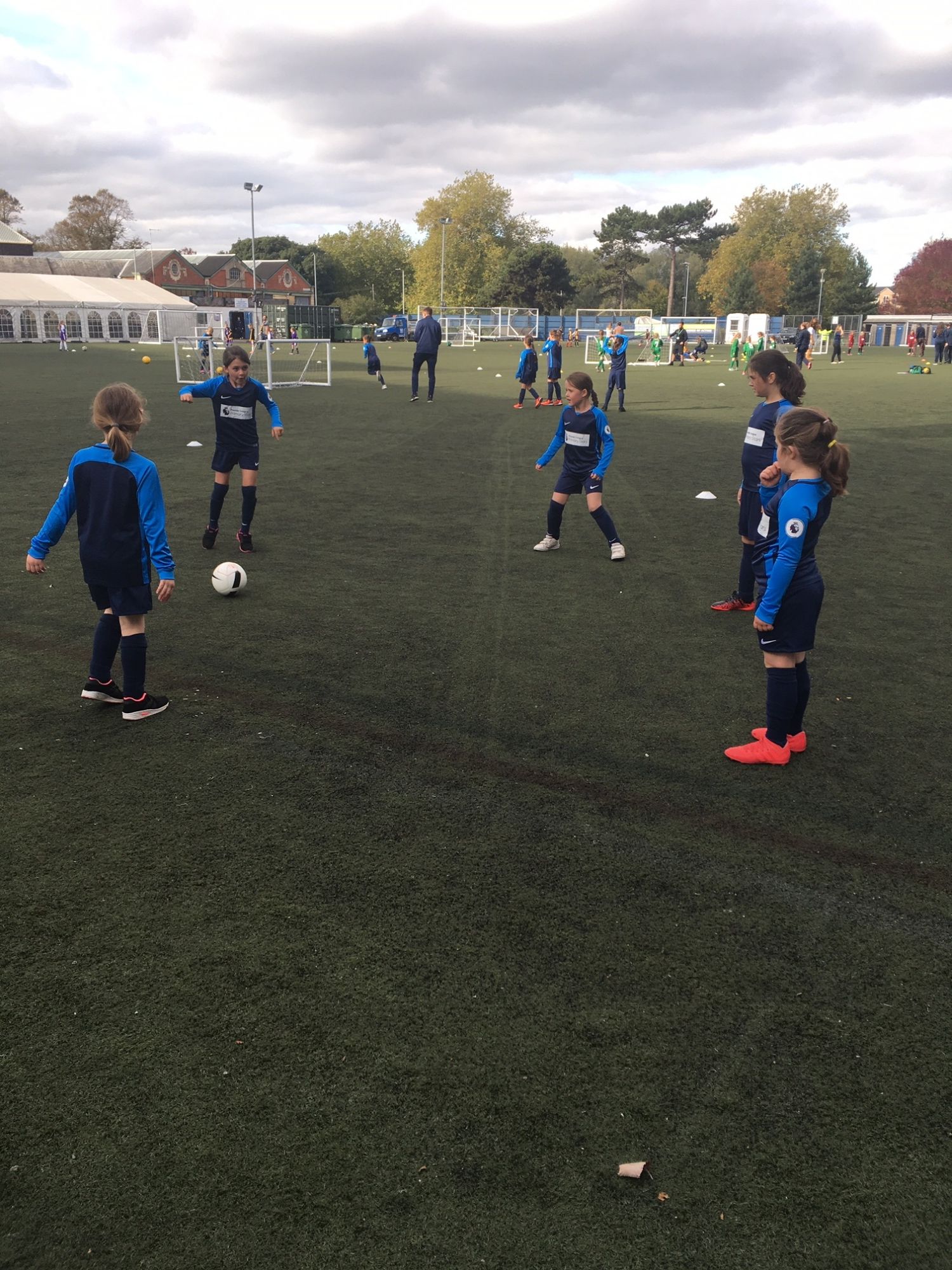 For those of you who missed it, we also performed a snippet of our Bugsy Malone dance in celebration assembly this morning. Here is a video of the full dance from our PE lesson last week:
And on top of ALL this, we finally finished our Bill the Gnome adventure stories. Hopefully the magic fairy (i.e. Miss Cannon) will get round to putting them up on display over half term so you can see and read them at Parent's Evening.
**Just a final notice that forest schools will start the second Tuesday after half term (i.e. 6th November).**
12th October
We have been working really hard in dance over the last few weeks to choreograph our own moves to 'You Give a Little Love' from Bugsy Malone. We are hoping to show a video and perform a snippet in celebration assembly next Friday - it would be really lovely to see as many of you as there as possible. The video we share will be posted on here after celebration assembly next week.
5th October
As part of national poetry day yesterday, we took part in two activities.
First, we looked at some Russian dolls and read Rachel Rooney's poem before drawing Russian dolls of ourselves and recreating parts of the poem. We noticed that the outside dolls were happy and well decorated but as you went further in, they got sadder and plainer.
After play, we watched and read another, much more popular, poem by Spike Milligan: On the Ning Nang Nong. We split into groups and learnt different parts, adding actions at the same time. We performed it in assembly this morning, but here is our practice run:
28th September
In literacy we have continued to work on our Bill adventure stories - looking at some dilemmas and resolutions Bill could face. We also have begun to learn how to add extra information using sticky words (like but, because, furthermore, so) and brackets. Today we played a game using brackets and made some really silly sentences. We were in A LOT of giggles - and to quote Year 4, "We never knew Literacy could be so fun! .....LITERACY!".
Harry (who likes swimming) met Heidi (she's shy) at a theme park (it's got loads of games).
JoJo (who loves TV) met Derrickina (who has a beard) at London (it was colourful).
Georgiana (who was dramatic) met Ty (who likes being a vet) at a roller coaster buffet (with a buffet stand of cake).
Amy (who trains horses) met Georgie (who has a moustache) at a trash can (there's loads of trash).
Patrick (who likes going to the pub) met Stephanie (who likes burping the alphabet) at a moustache fair (it had candyfloss).
21st September
Check out our SUPER science work!!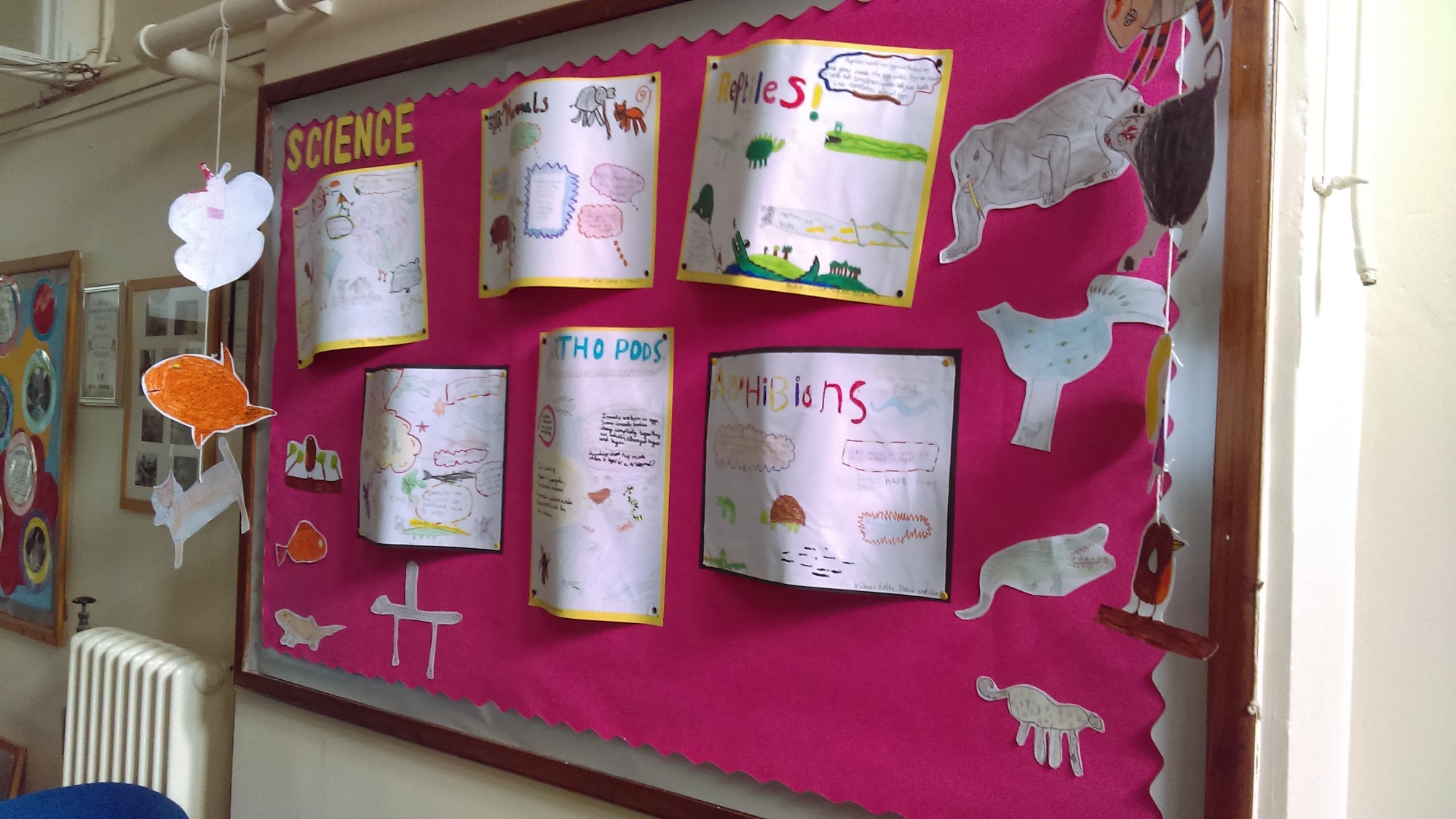 We have been learning about different types of animals in science and their habitats (all to help Bill when he goes off on his amazing adventures) and worked in teams to create posters about each one. We had to find out if they were warm or cold blooded, whether they are born by mothers or in eggs and what makes them unique. Our favourite fact was that amphibians are born with gills and then grow lungs as they get older!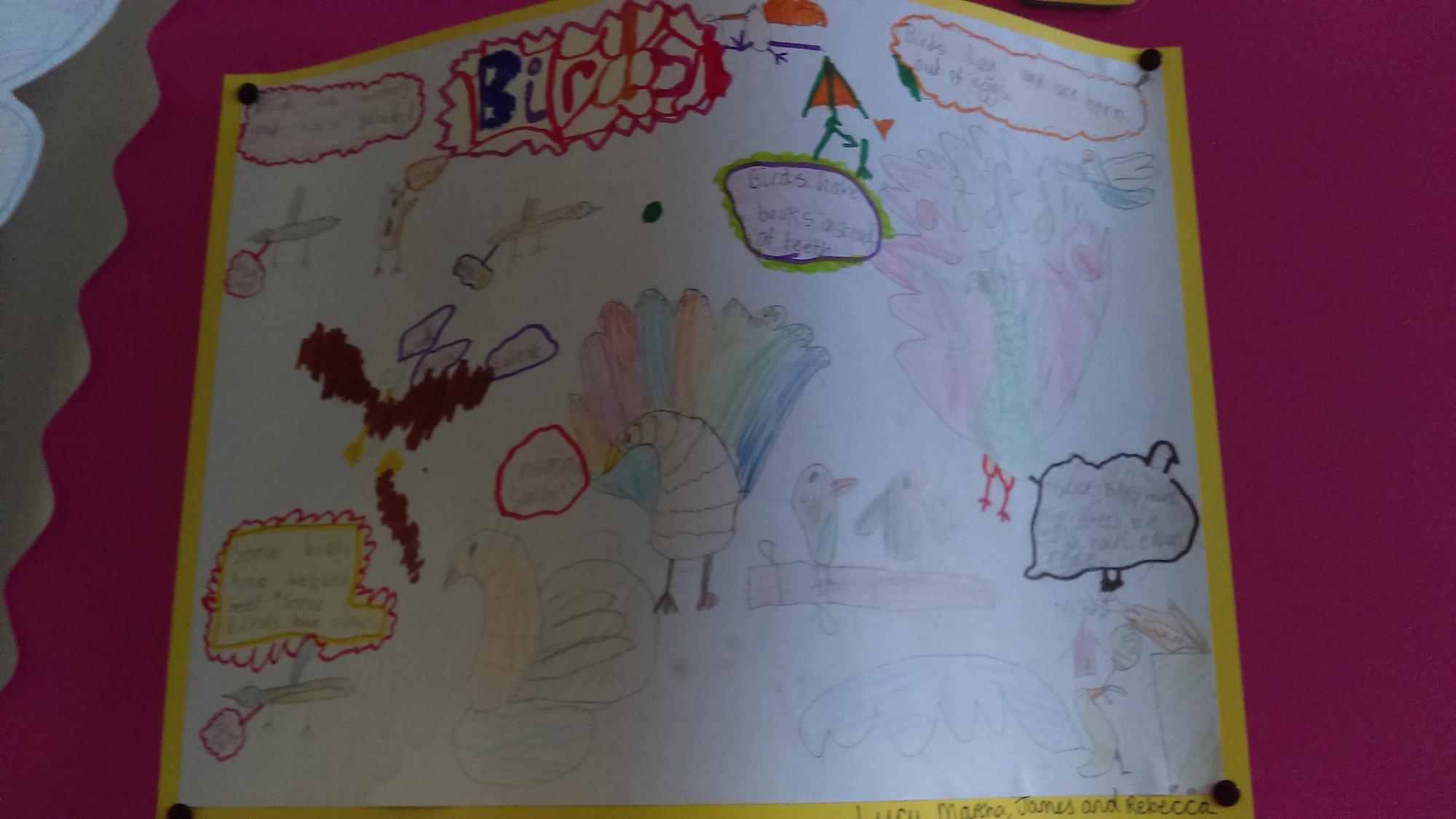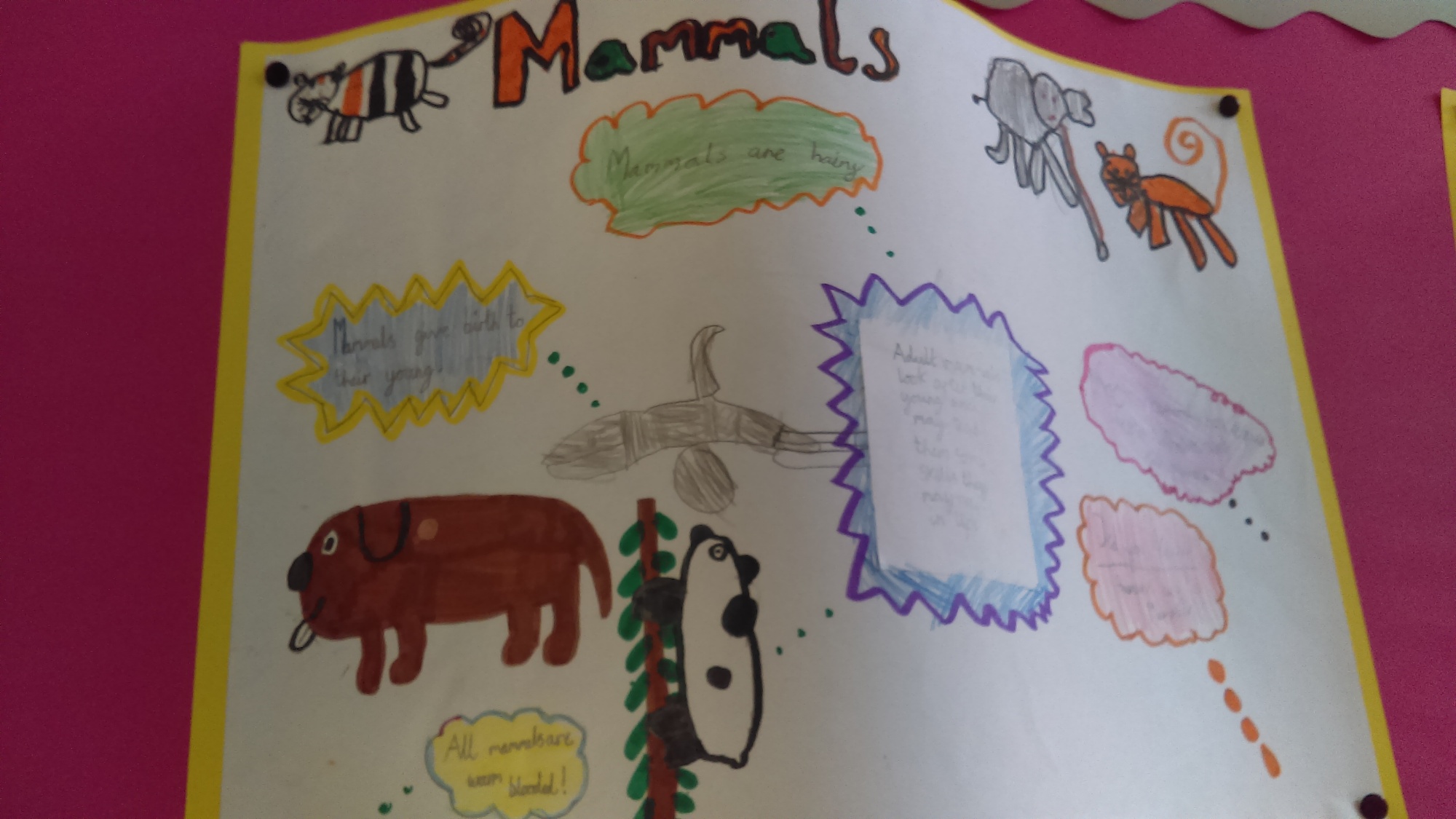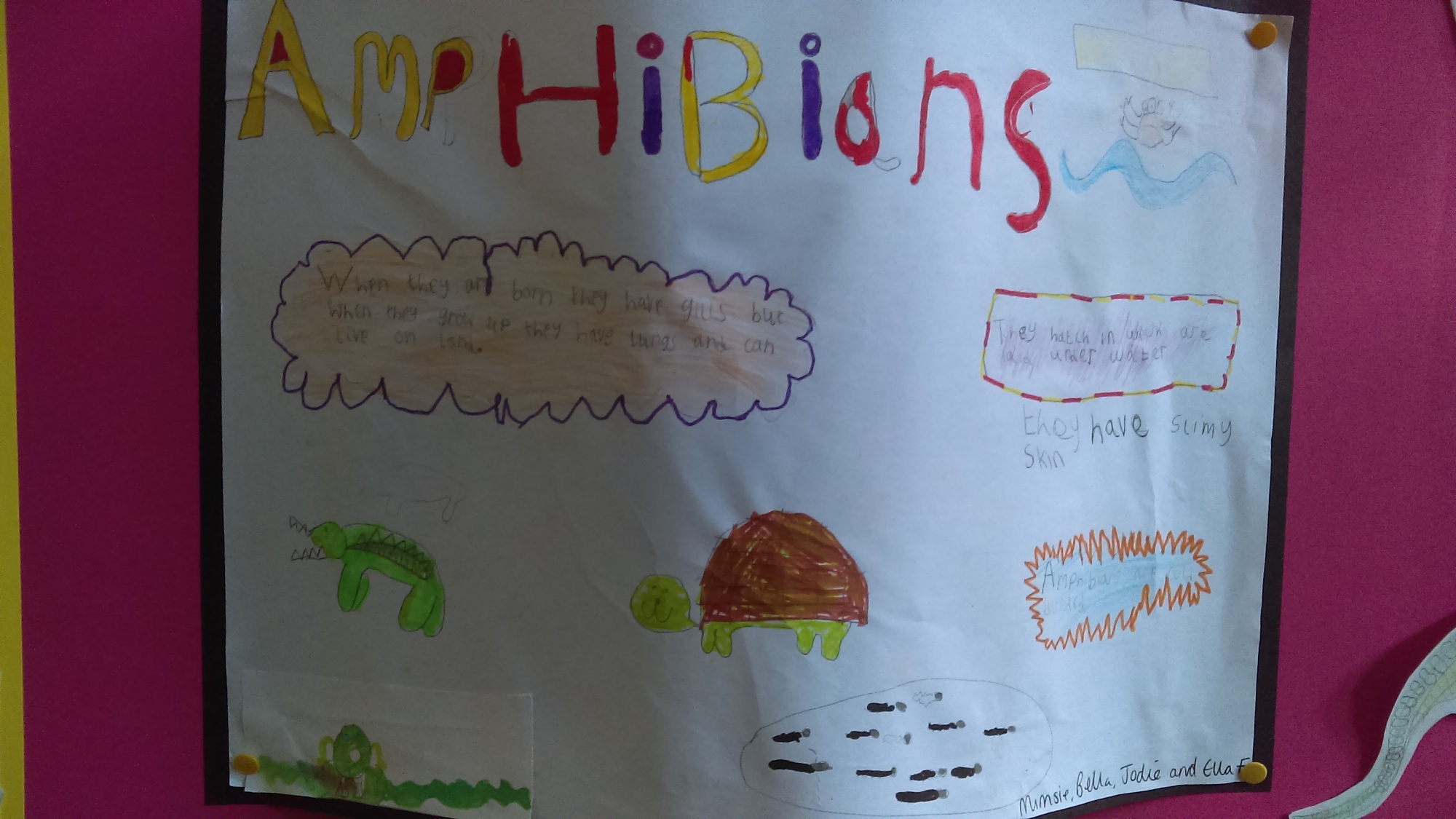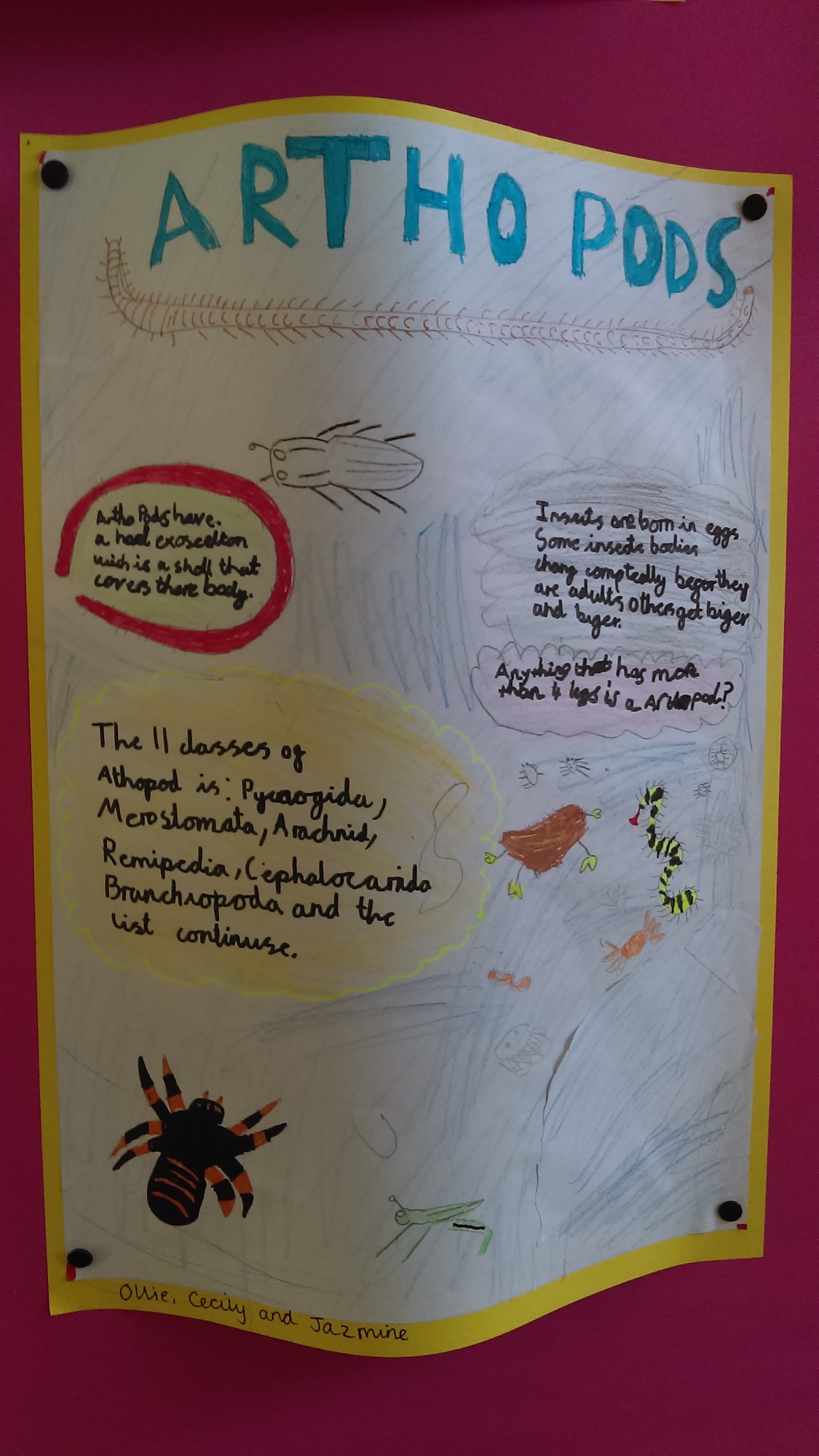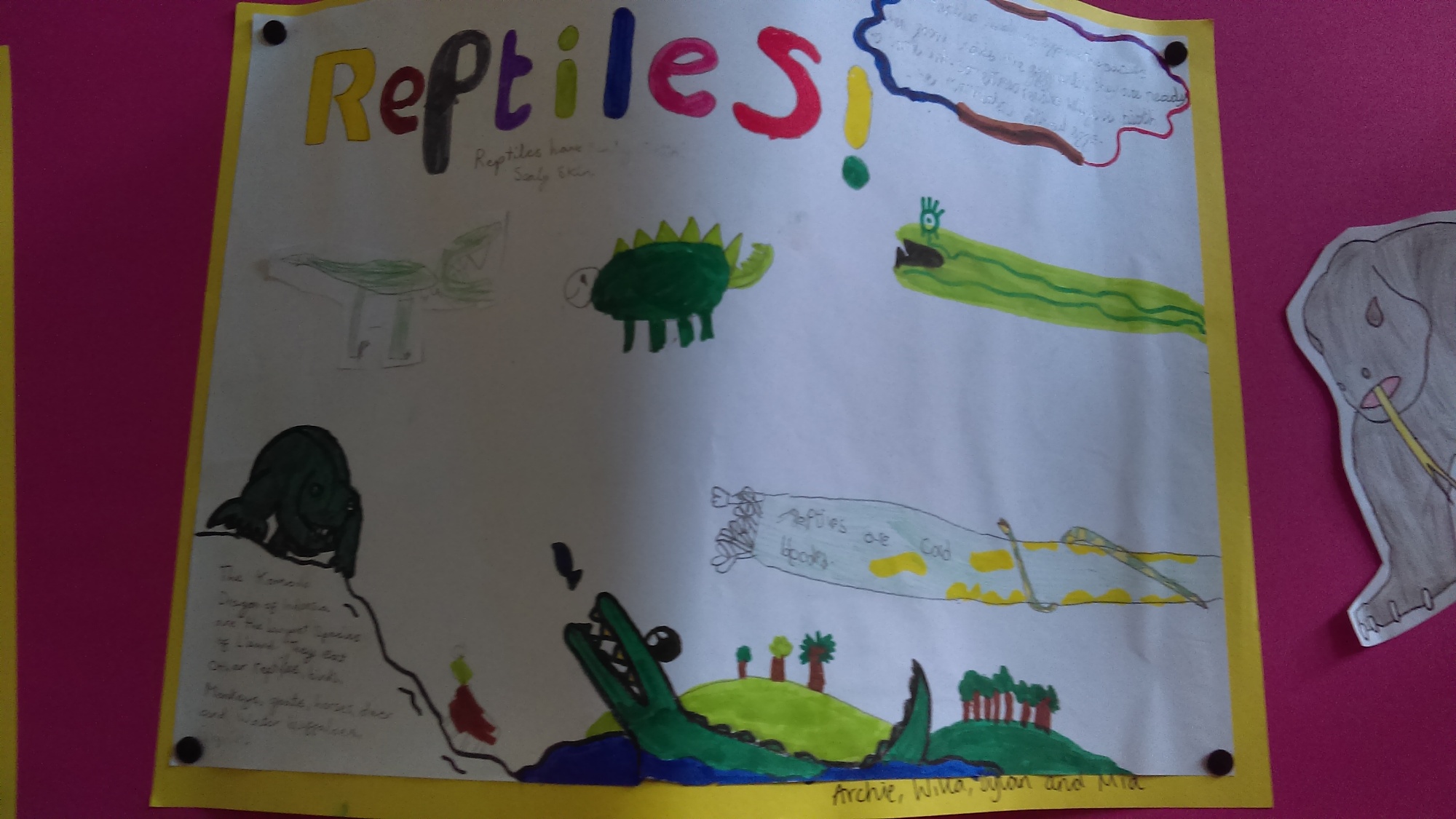 14th September
On Wednesday, Class 2 came in to school to find a JUNGLE in their classroom. Bill (our gnome mascot) had been exploring and sadly got his arm bitten off by a crocodile, but that didn't stop us brave explorers making our way through the jungle and writing some superb descriptions!
"The vines are like shiny snakes wrestling for the next branch to get to a tree." Saskia
"The brown, cheeky monkey swung on the zigzaggy python-like vines as the leaves danced. The water crashed as the dolphin played under the swift waterfall. I was tense as all the roaring animals surrounded me in the deep, nervewracking night" Ella F
"The animals make me feel like I want to scream inside of me, furthermore, the furry gigantic beasts are getting ready to pounce in their colossal cave. My blood turns cold. Sweat dripping down my spine." Archie
"I hear a splashing waterfall and piranha fish hitting out of the water and splashing in. But I just saw a beautiful pink fish emerging in the water." Leo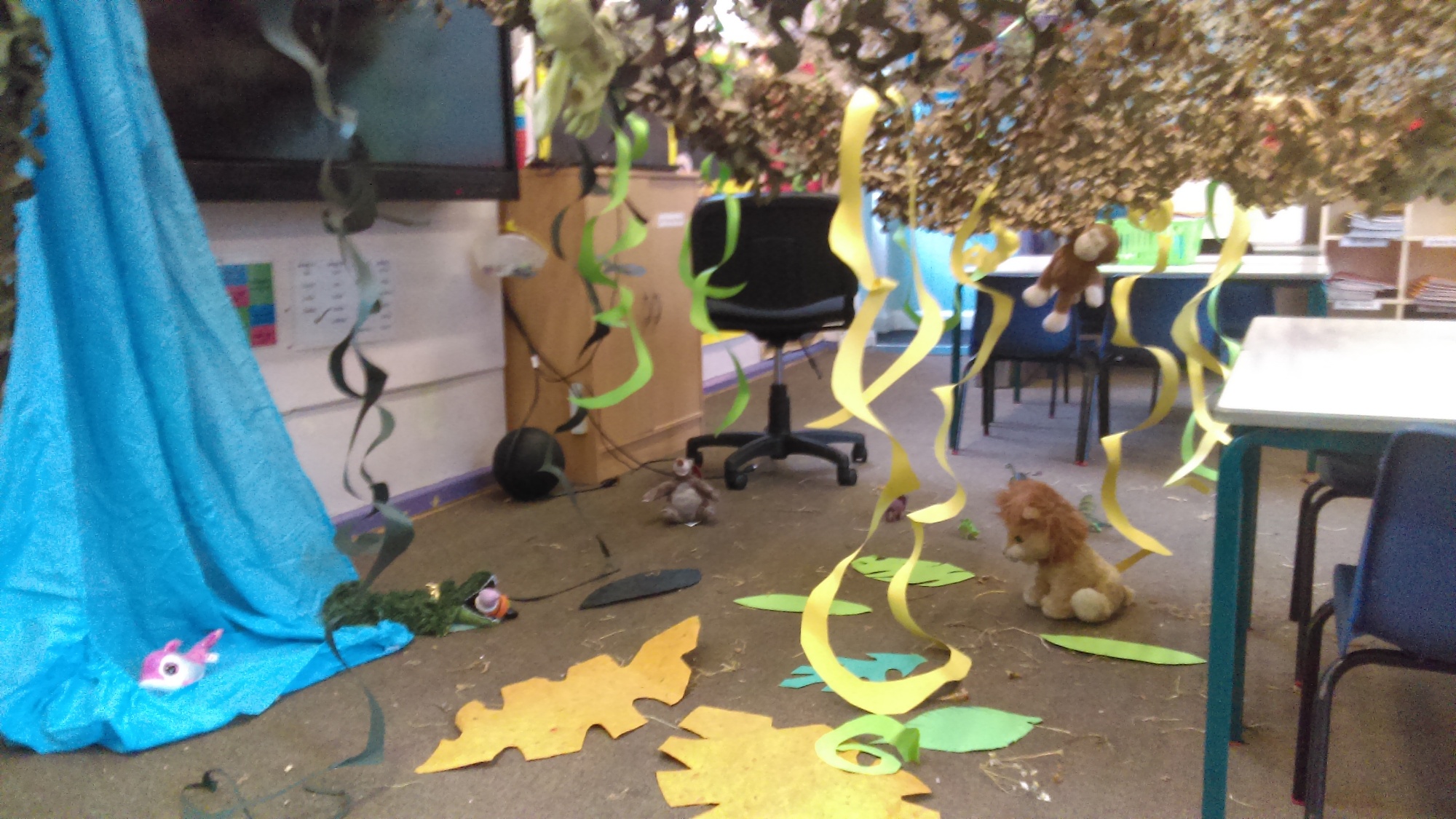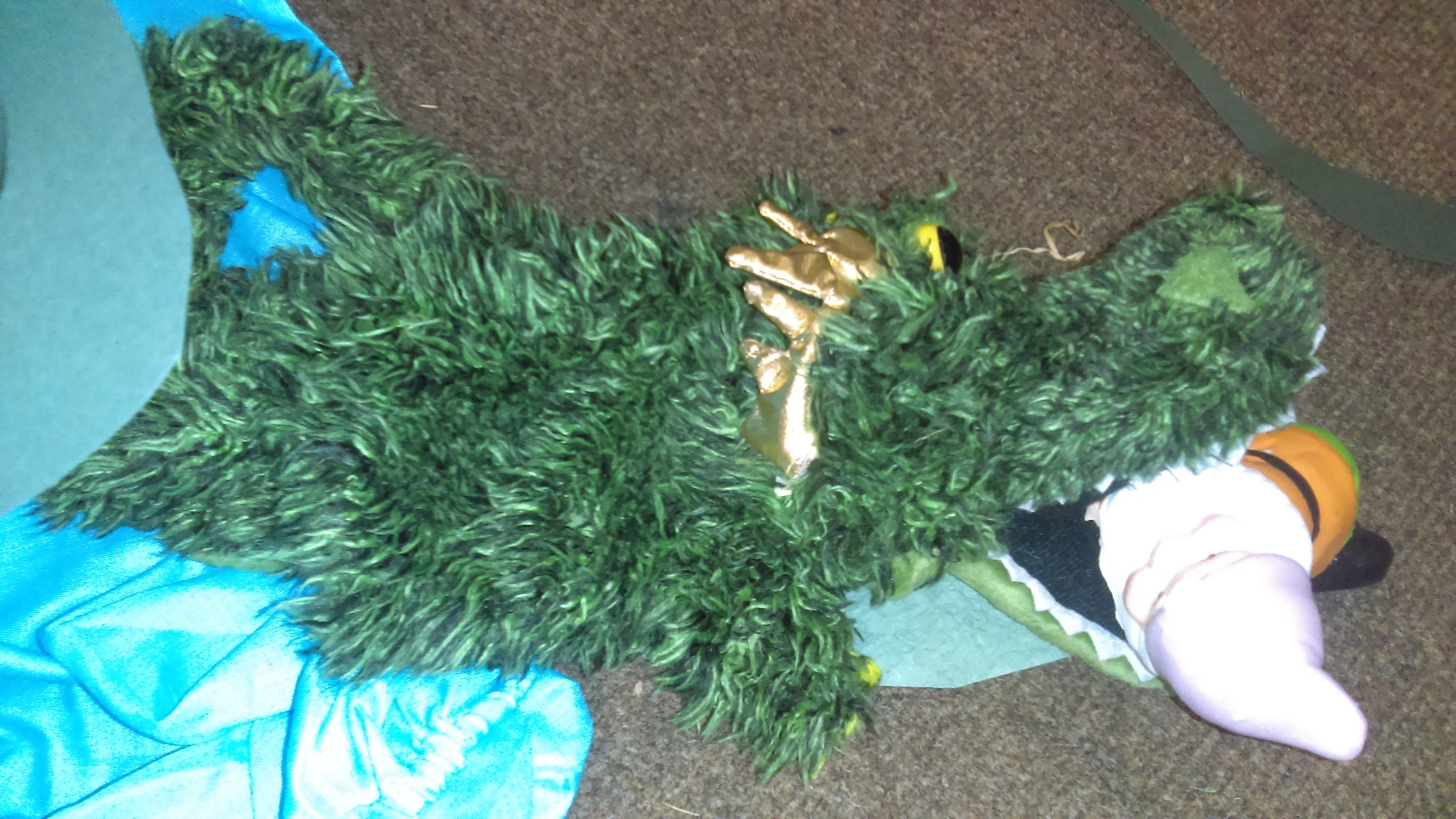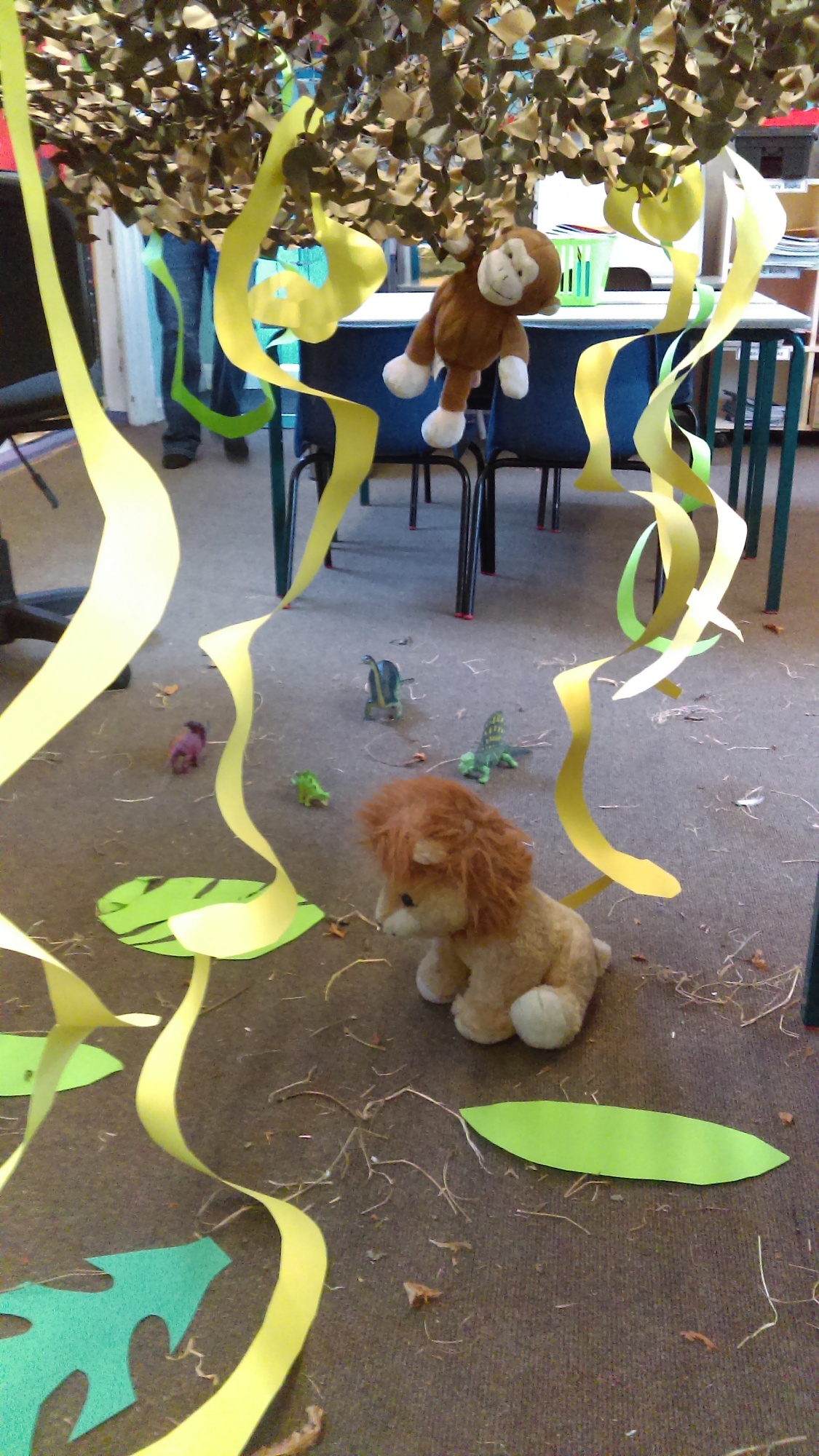 7th September
We have had a fantastic first week back in class 2, learning all about nouns, verbs, adjectives and adverbs in literacy as well as place value in maths. We have begun to learn about habitats in science and compass directions in geography.
Please take time over the weekend to look at our new curriculum overview on the other page.
Summer Term 2018
Wednesday 13th June 2018 - Visit to Leiston Long Shop
On Wednesday 13th June 2018, Class 2 visited Leiston Long Shop. We all became Victorians for the day and enjoyed a jam-packed program of activities to ensure that we fully experienced what it would have been like to work at the factory owned by Richard Garrett. Various volunteers (all also dressed in Victorian attire) acted in role to ensure our pupils really felt like factory workers.
In the morning, we all completed three activities:
The first was to produce plaques for Mr Garrett's machinery. This involved looking carefully at the machinery surrounding us as inspiration, then using carbon paper to transfer our designs onto foil. The picture below shows Keiron explaining to Mr Garrett how he was manufacturing the plaque!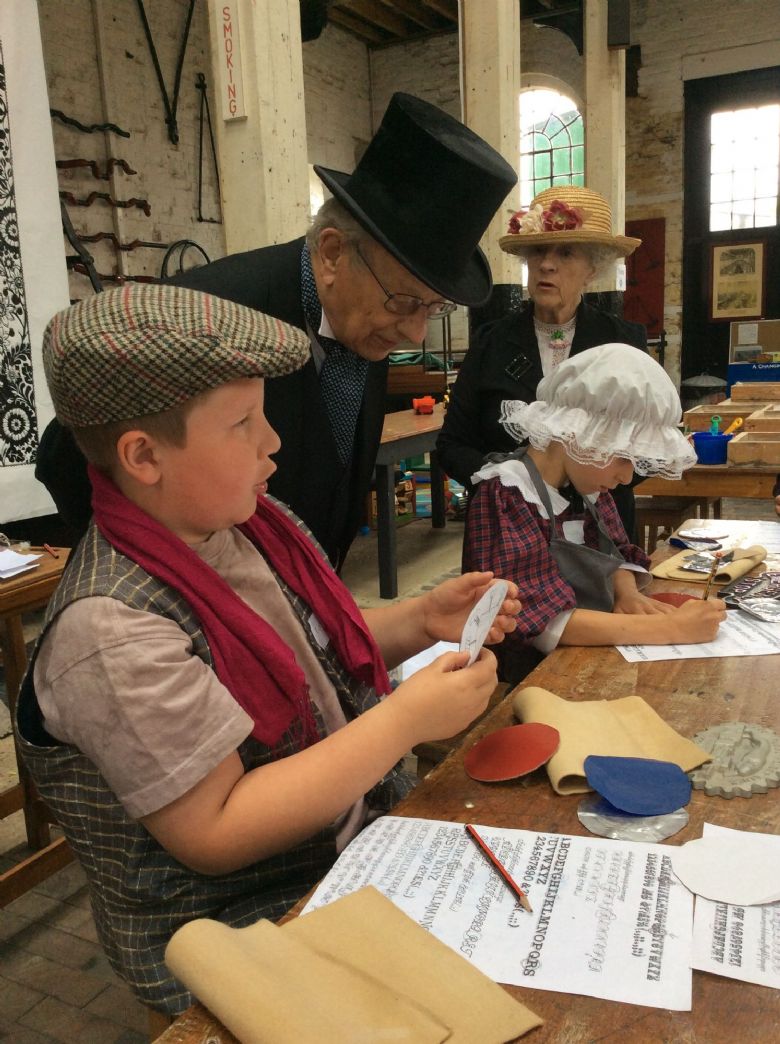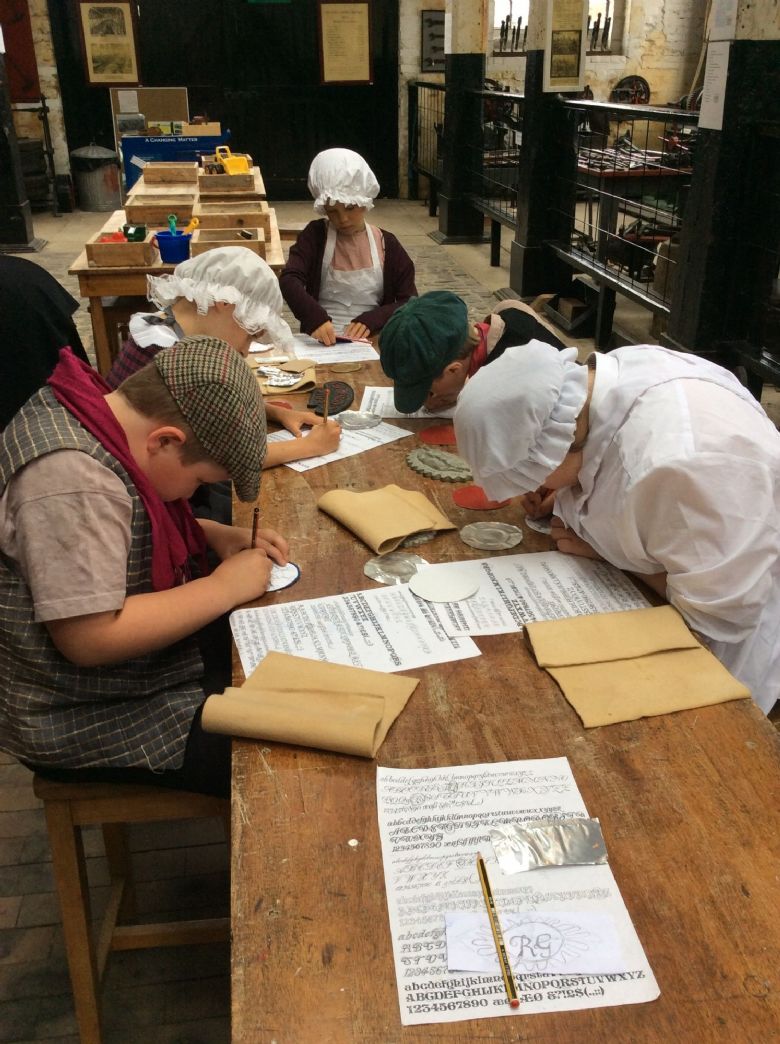 The second activity was to experience a session in the Clerk's Office, counting real Victorian pounds, shillings, pence and farthings. We tried writing with dip pens and saw how easily the ink could be smudged. Finally, we signed an Indenture agreeing to work for Mr Garrett and pay for our training!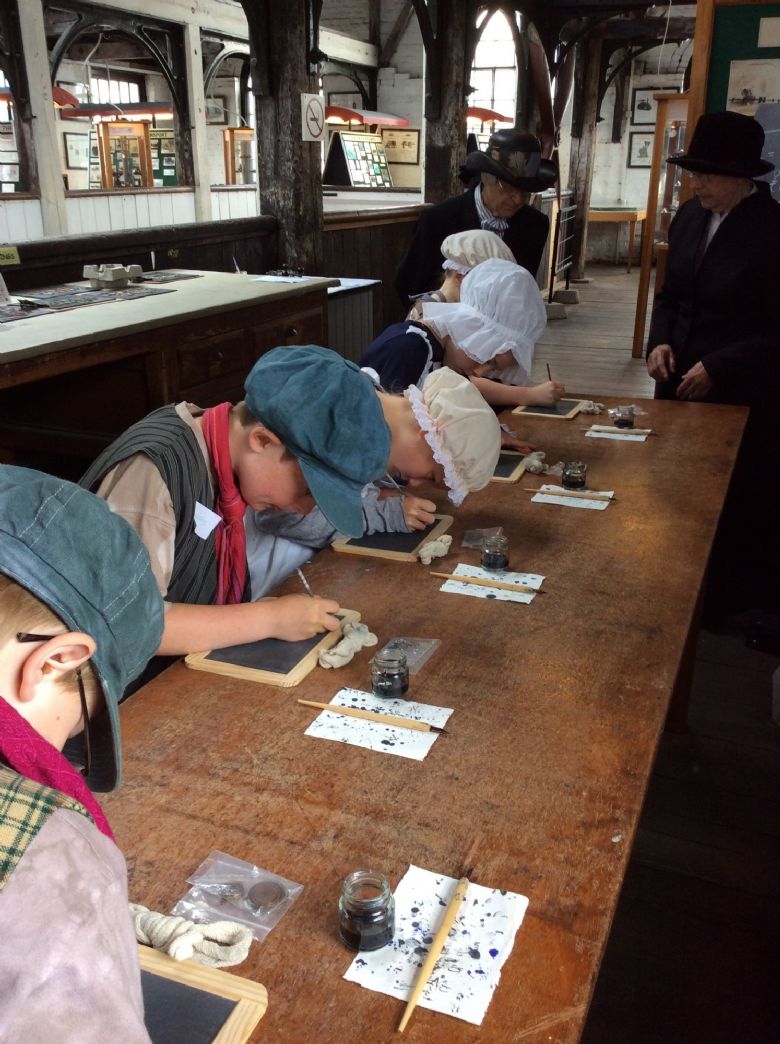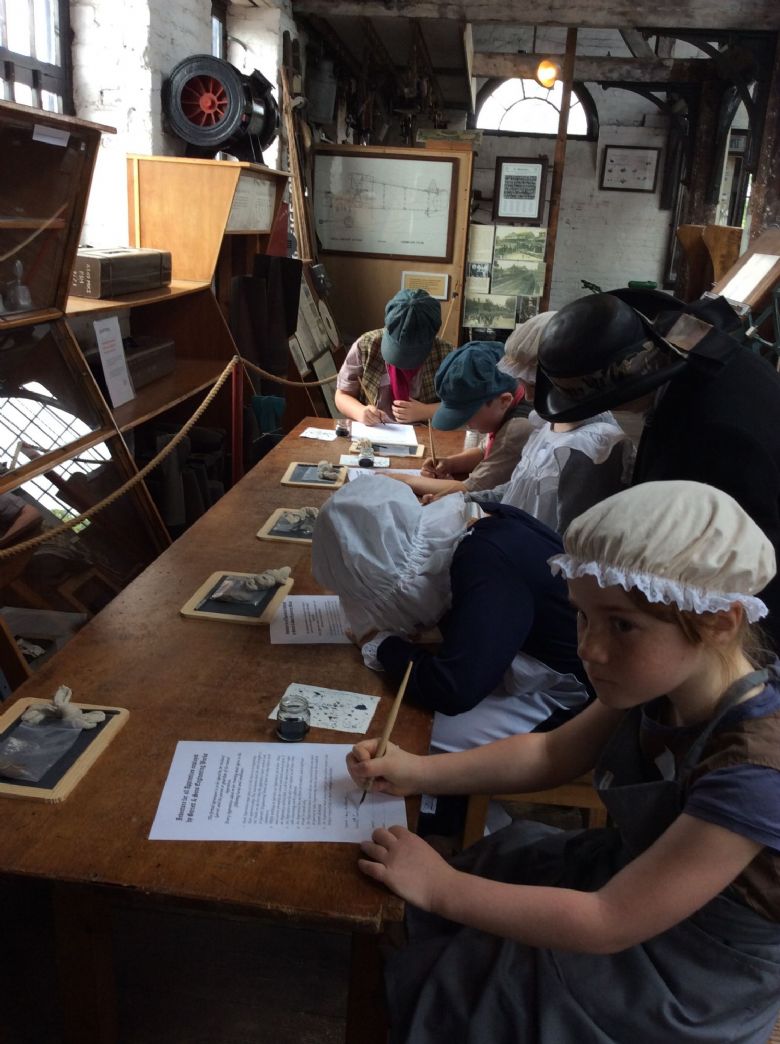 The third activity of the morning was to craft a small box to be used to contain nuts and bolts required for the manufacture of the machines. This took a lot of concentration, a lot of hammering and Mrs Reeve thought it also involved a lot of noise!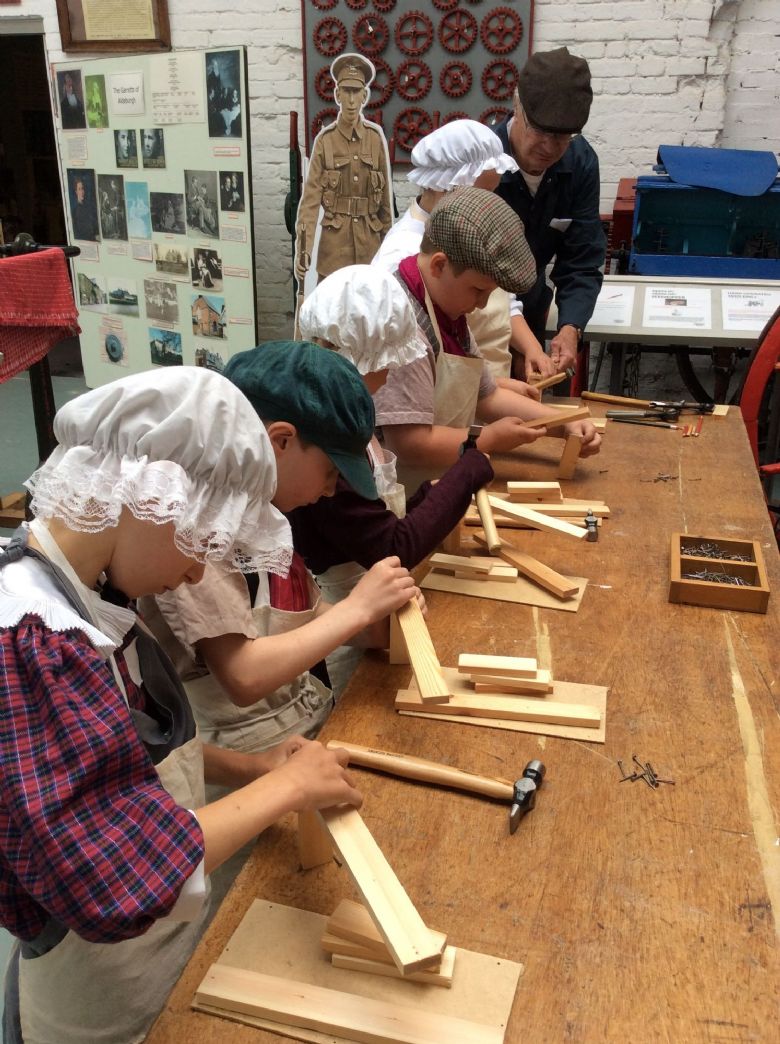 At the end of the morning, a very special visitor arrived at the factory - Dr Elizabeth Garrett Anderson (in the shape of another volunteer!). She told us about how she became the first female Doctor in the UK and about her life and experiences together with her sister, Millicent Garret Fawcett. (Who has recently had a statue commemorating her as an important figure in the cause for Women's Suffrage.) Dr Elizabeth Garrett Anderson was also the niece of Richard Garrett, the owner of the factory, whom she had come to visit!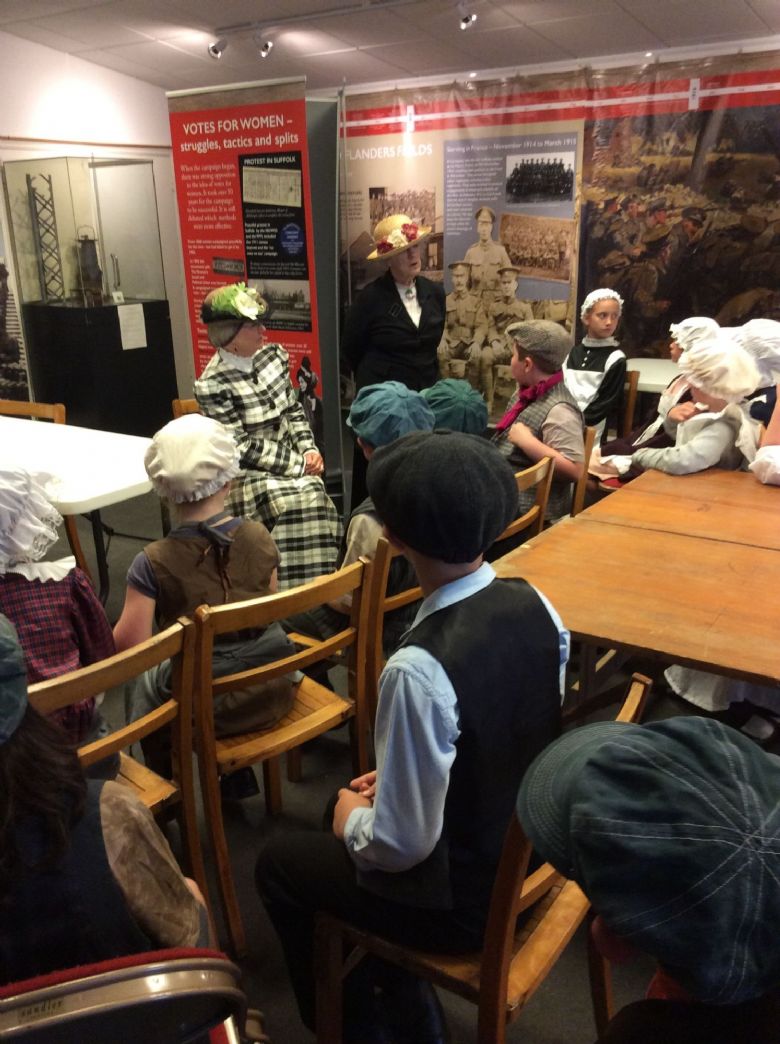 We enjoyed lunch in the gardens (thank you to all parents who supplied such great lunches as per our requests!) and then embarked on our afternoon sessions involving laying the correct place settings for a Victorian dinner table and becoming part of the household staff to wash aprons!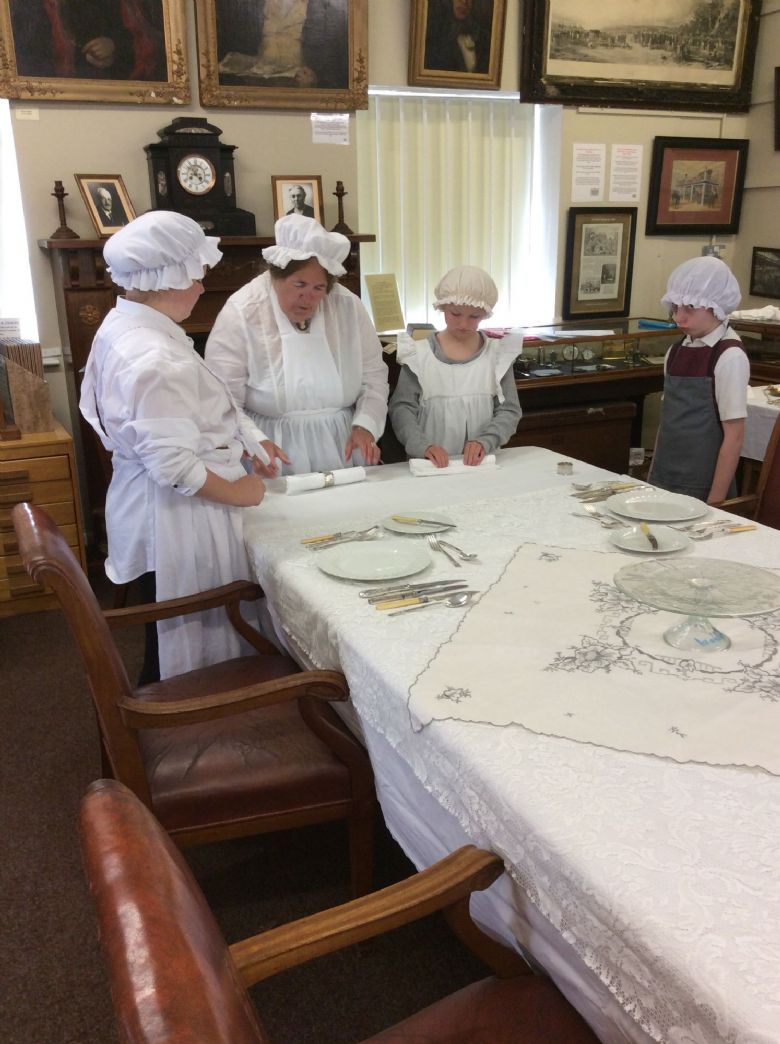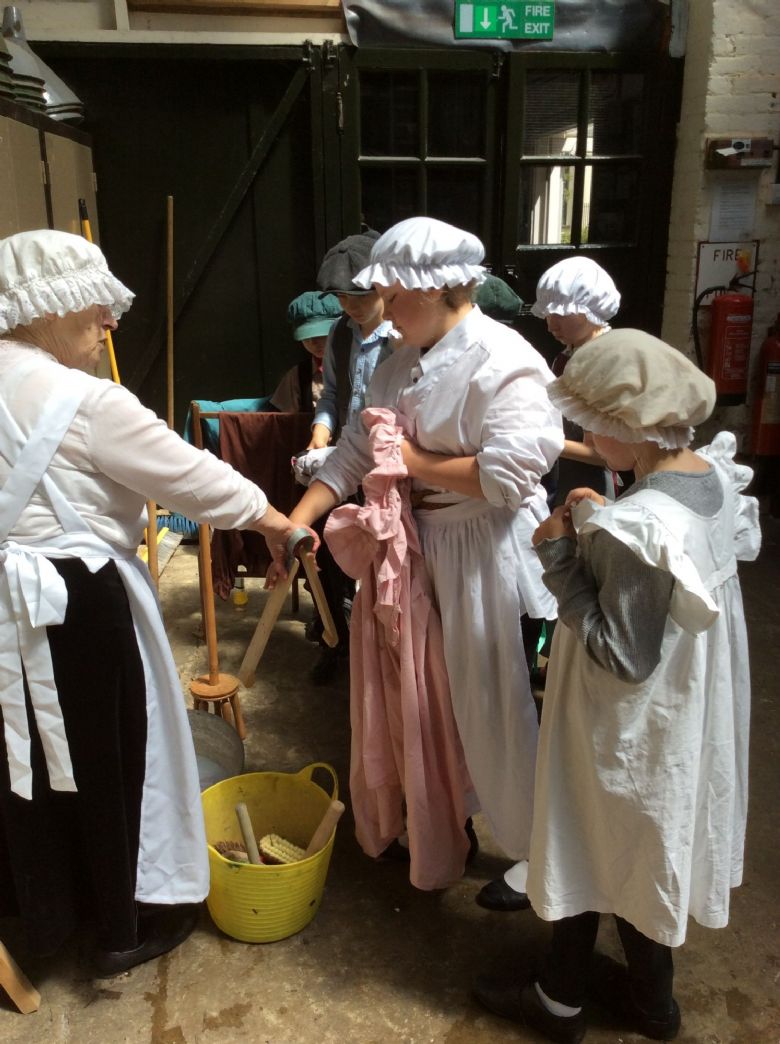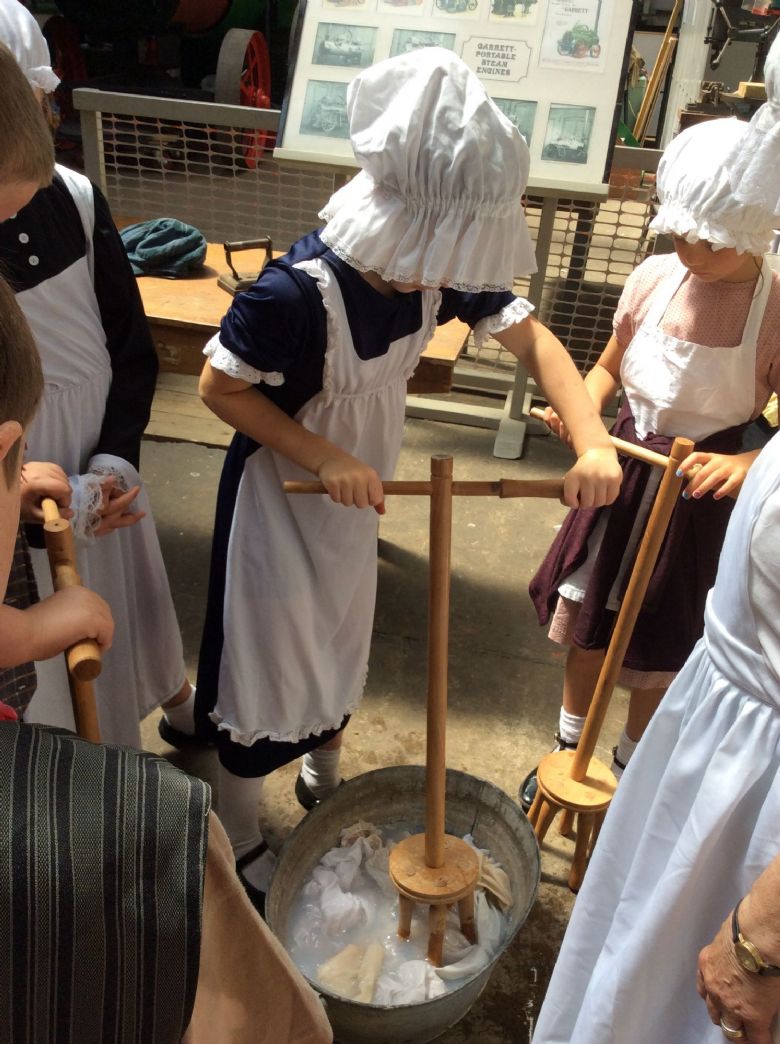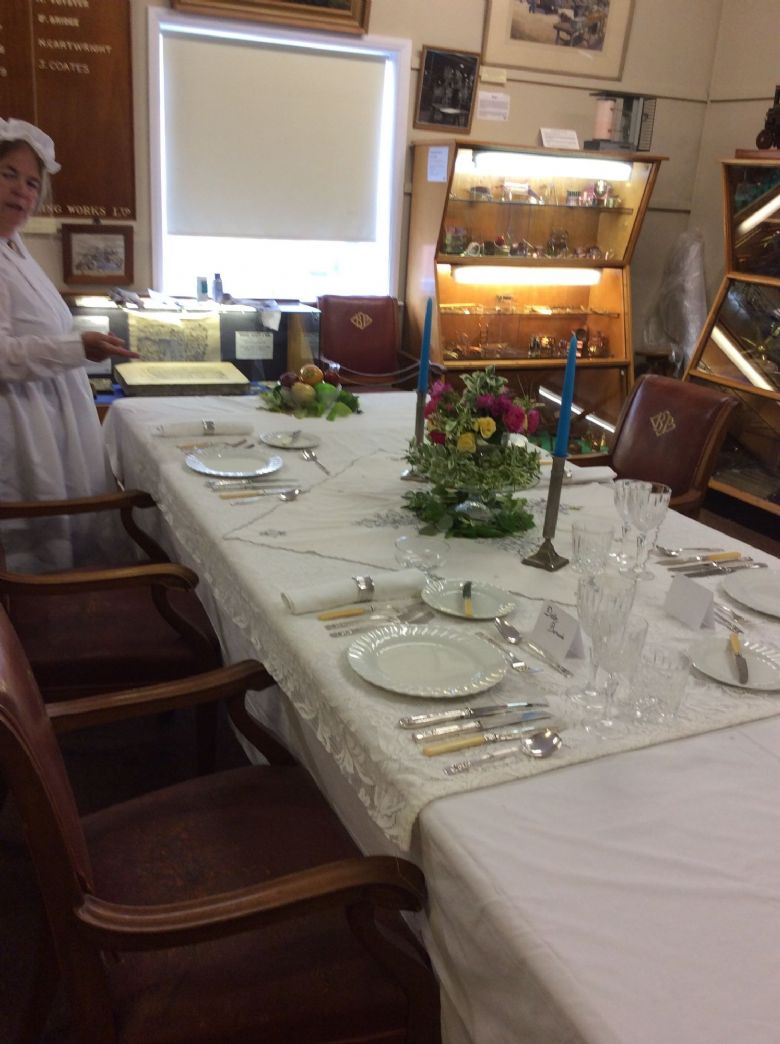 The Volunteers at the Long Shop were so impressed with our fantastic children that they have donated a small prize to the winner of the 'Design a Dolly Peg' Competition - (your child will let you know more). We are so grateful for their kind comments about our fabulous children but are also very proud of our Class for their brilliant behaviour, super learning and insightful questions during the day. A huge well done Class 2!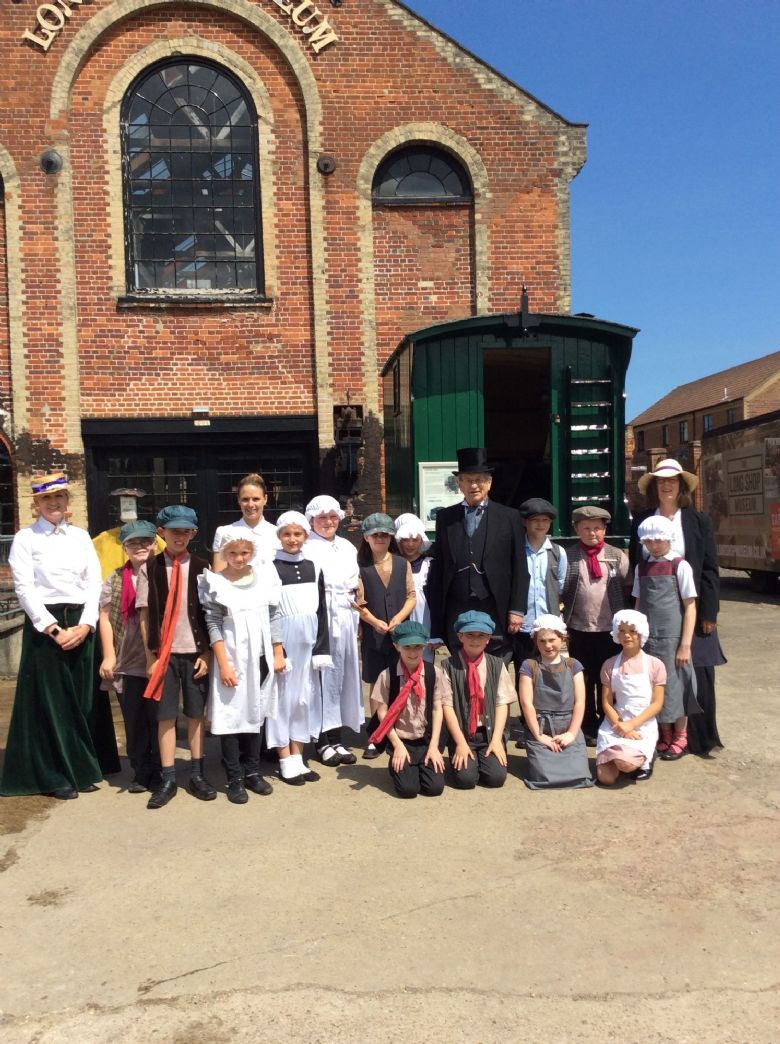 Thursday 19th April 2018 - School Farm and Country Fair
In the glorious sunshine of Thursday morning, Class 2 headed to Trinity Park for the School Farm and Country Fair. We had a fantastic day packed full of engaging and educational experiences. The children all seemed to really enjoy their day and all of the staff that accompanied Class 2 on the trip were really proud of the children and their behaviour throughout the day. We were very lucky to have a steward leading us around the show and our steward had a lovely local connection with the school living in the village.
We started off our day at the carrot show, an educational and humourous show all about carrots and how they are grown and harvested. The children learnt lots of interesting facts about carrots from this, why don't you ask them for a few?
We then learnt how to grow your own cricket bat, which was really interesting. Foskett Willows Ltd had made cricket bats for Freddie Flintoff and Ian Botham!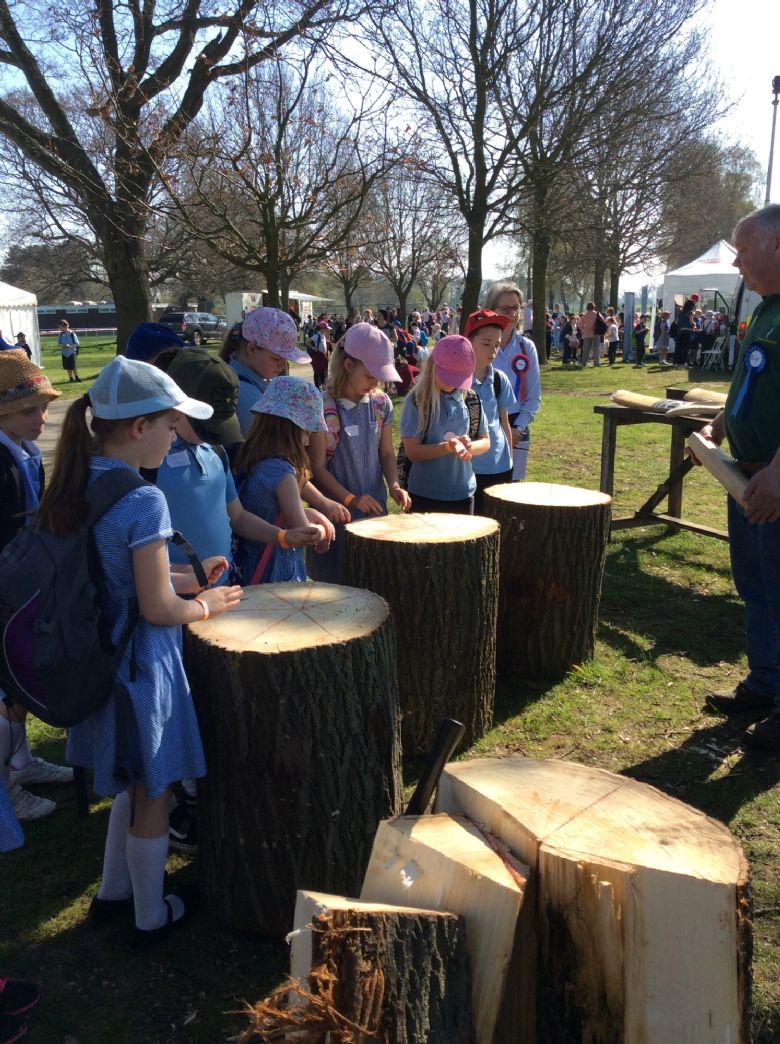 The Suffolk Beekeeper's Association showed us the vital role that bees play in pollination and how this helps us to produce the food we eat.
Next, we stopped at the Wild Meat Company, Sutton Hoo, Network Rail and The British Deer Society. During this time The East Anglian Air Ambulance landed in the show ring next to us. The children loved watching it land, it was very noisy!
A tractor and trailer ride was next. The children shouted at the driver to go faster! He kindly obliged, much to the delight of the children!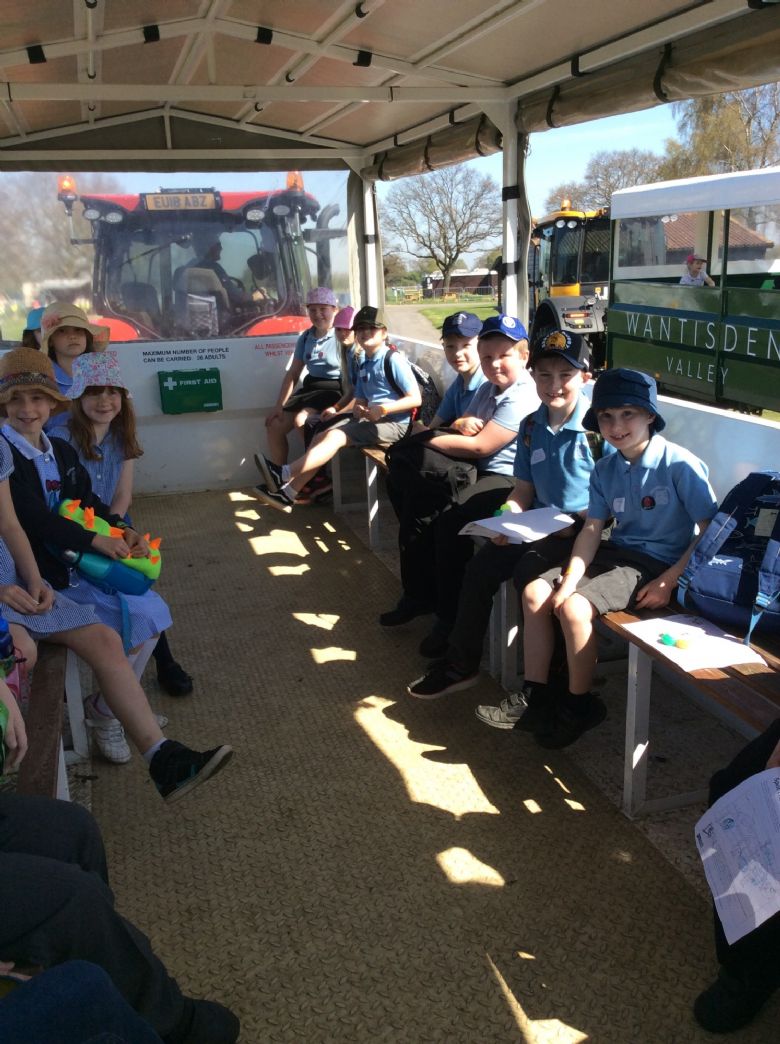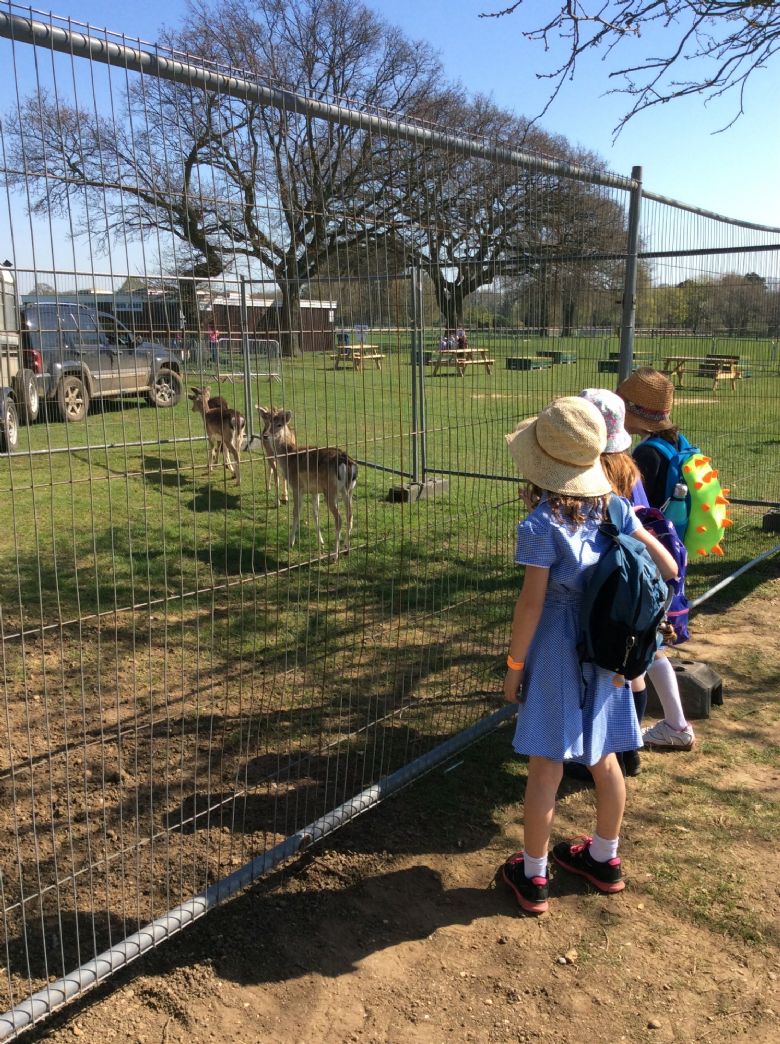 There was plenty of machinery to view, both old and new as we walked up to another demonstration ring to pitch up for lunch. There was a farrier shoeing horses next to the ring which we watched first. Then, in the ring was The Essex and Suffolk Hunt. The children got to go into the ring with the hounds.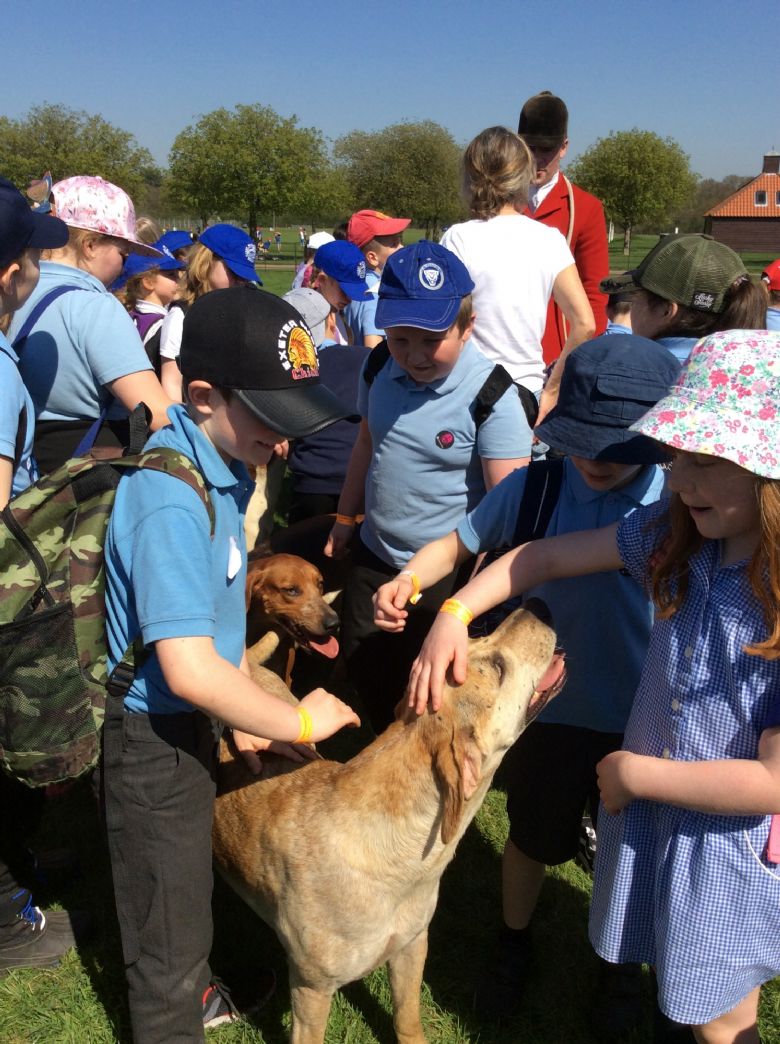 After lunch we went into the Livestock Zone. There was plenty to see and feel in this area. The children loved all of the cows (and calves), sheep (and lambs), pigs, goats, horses and (best of all I think the children would agree) ducklings!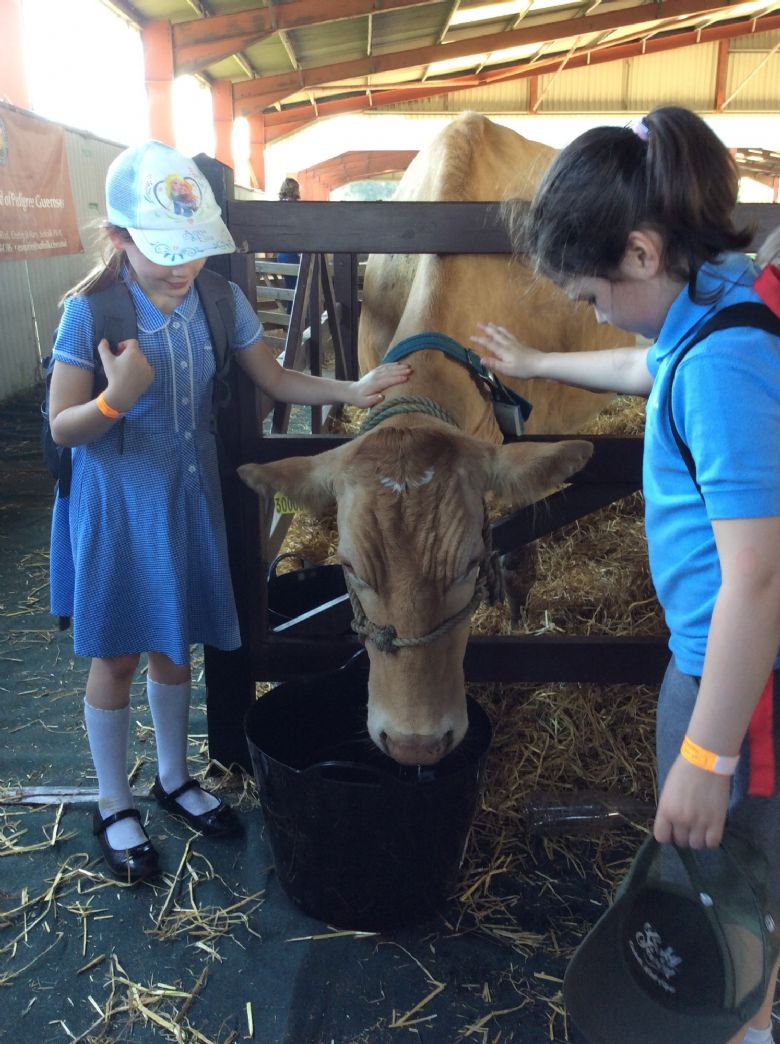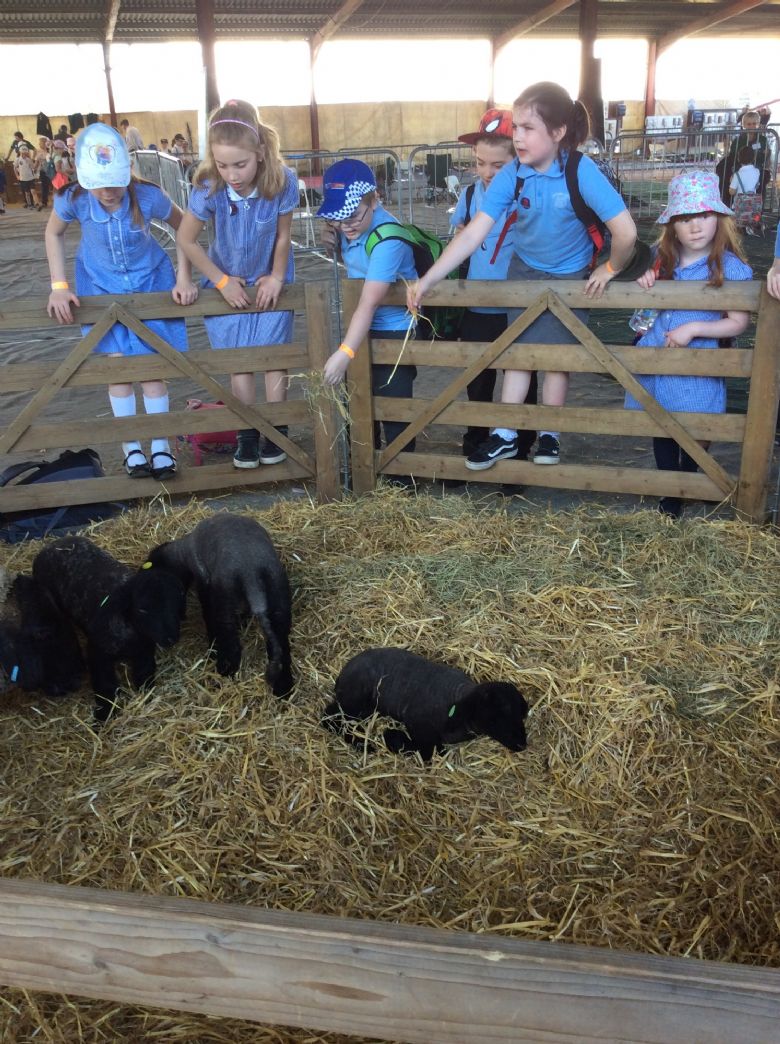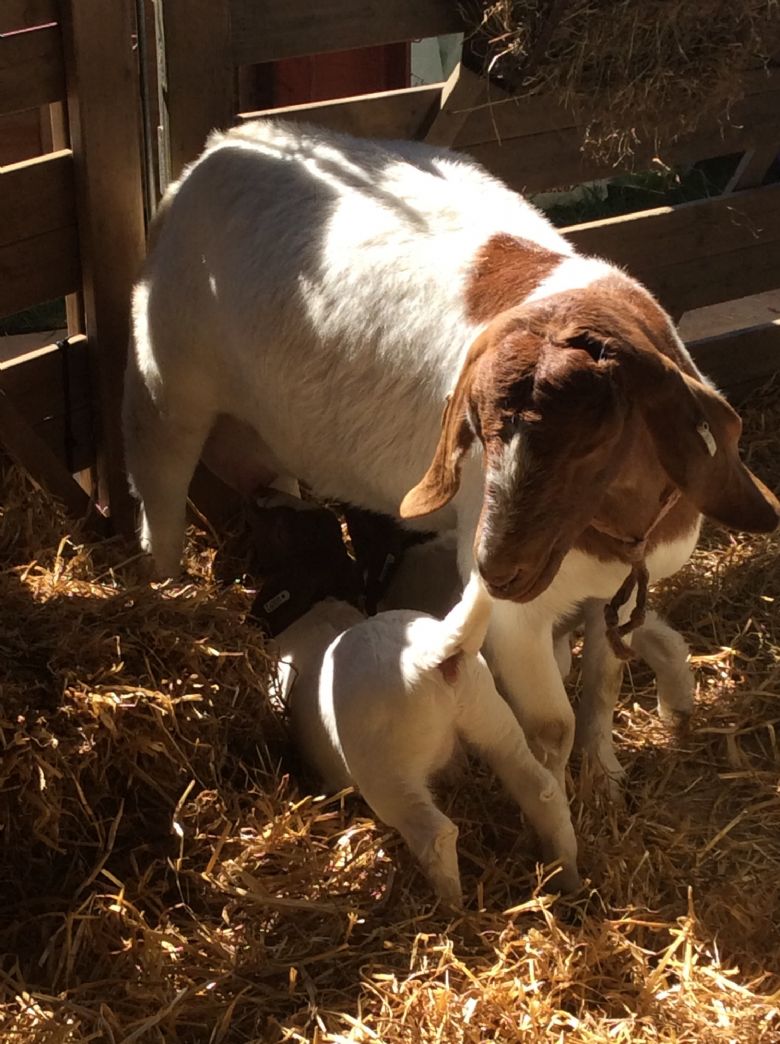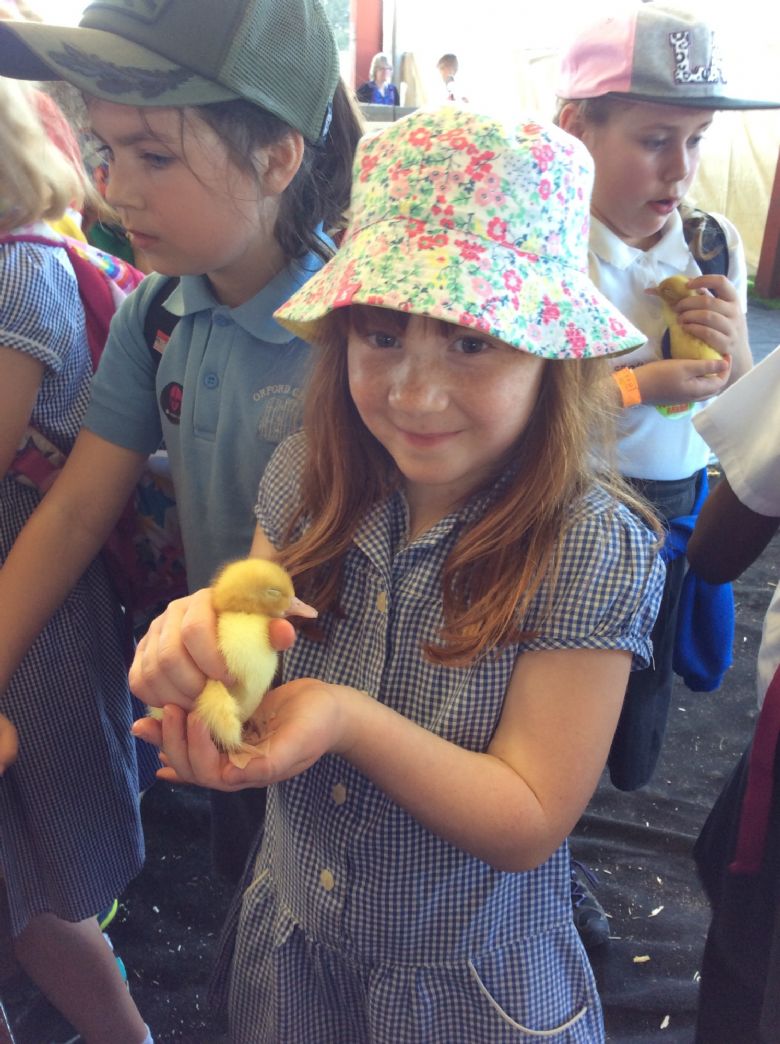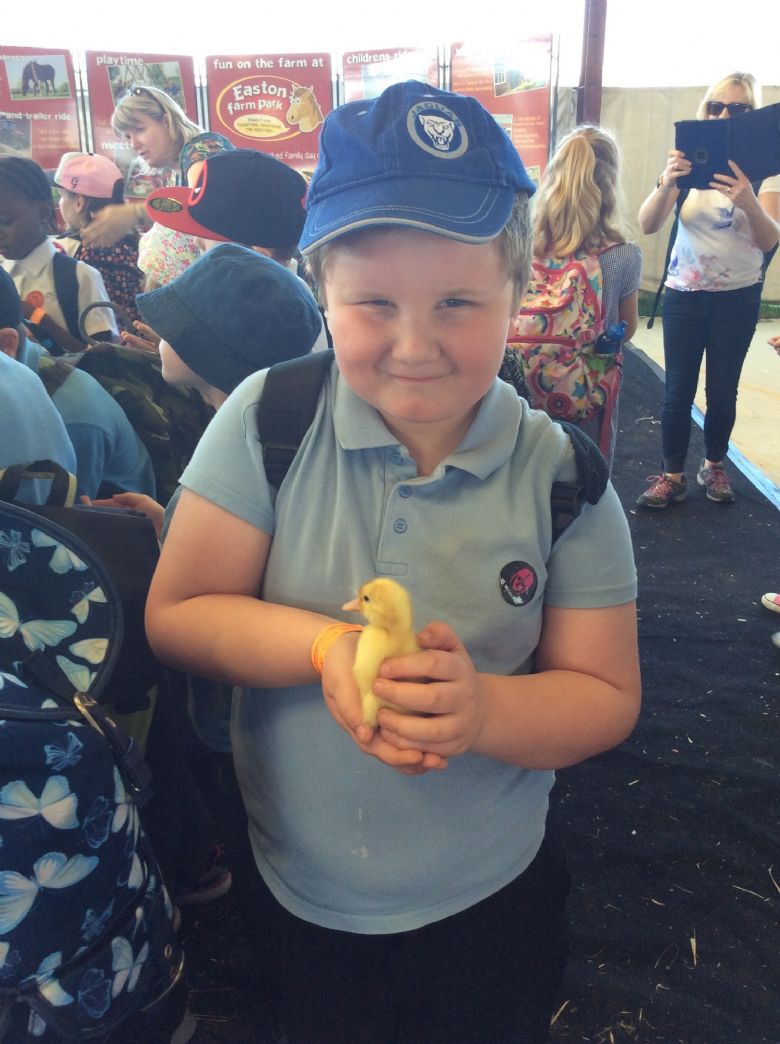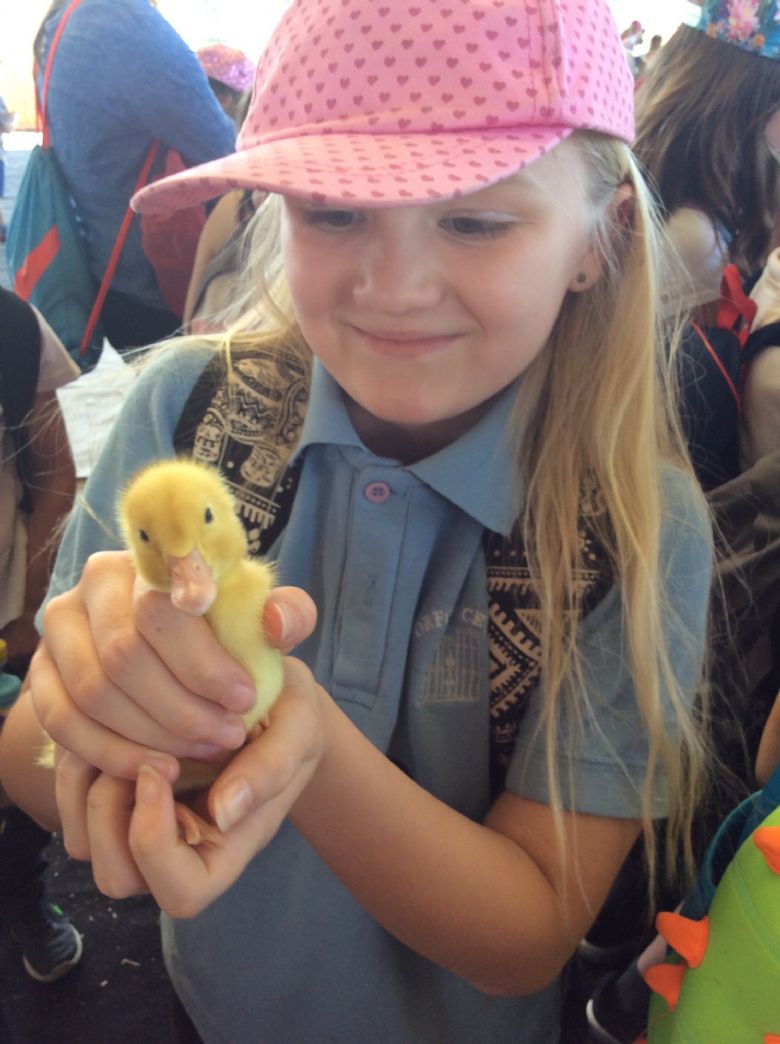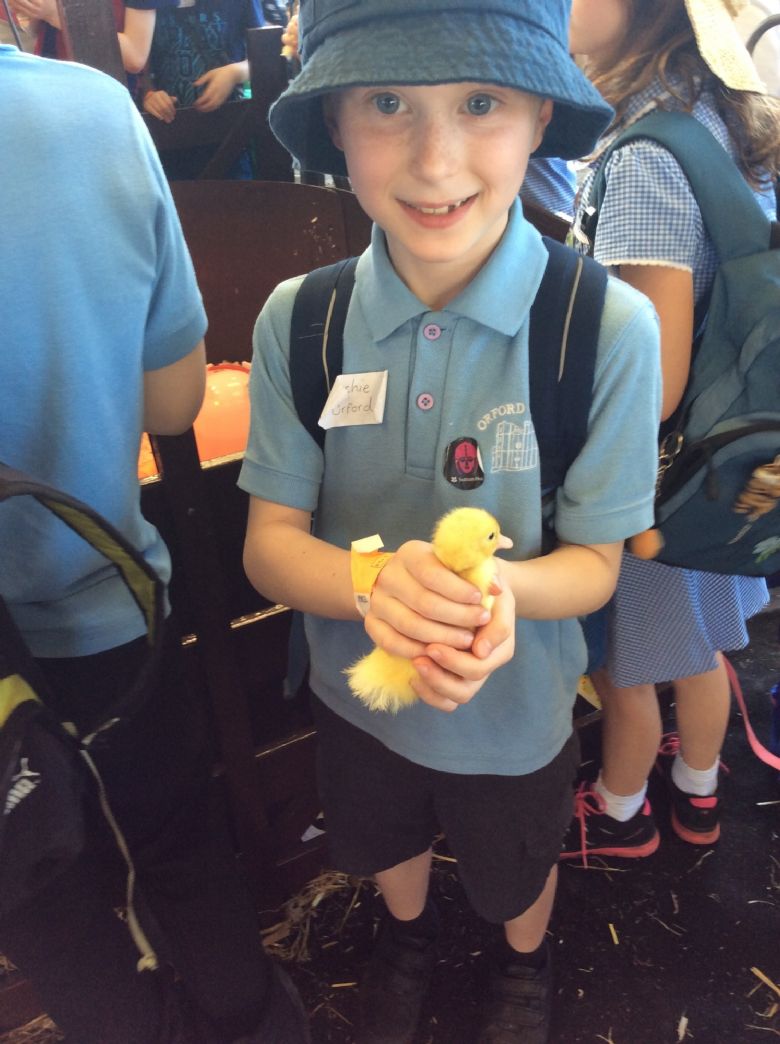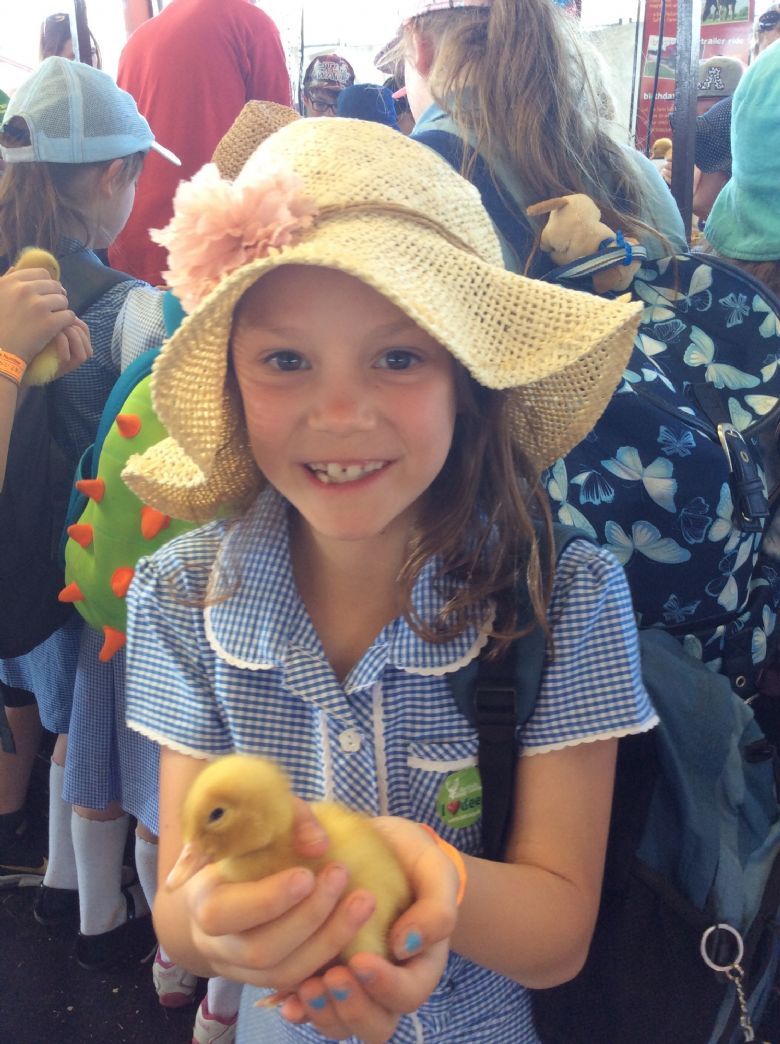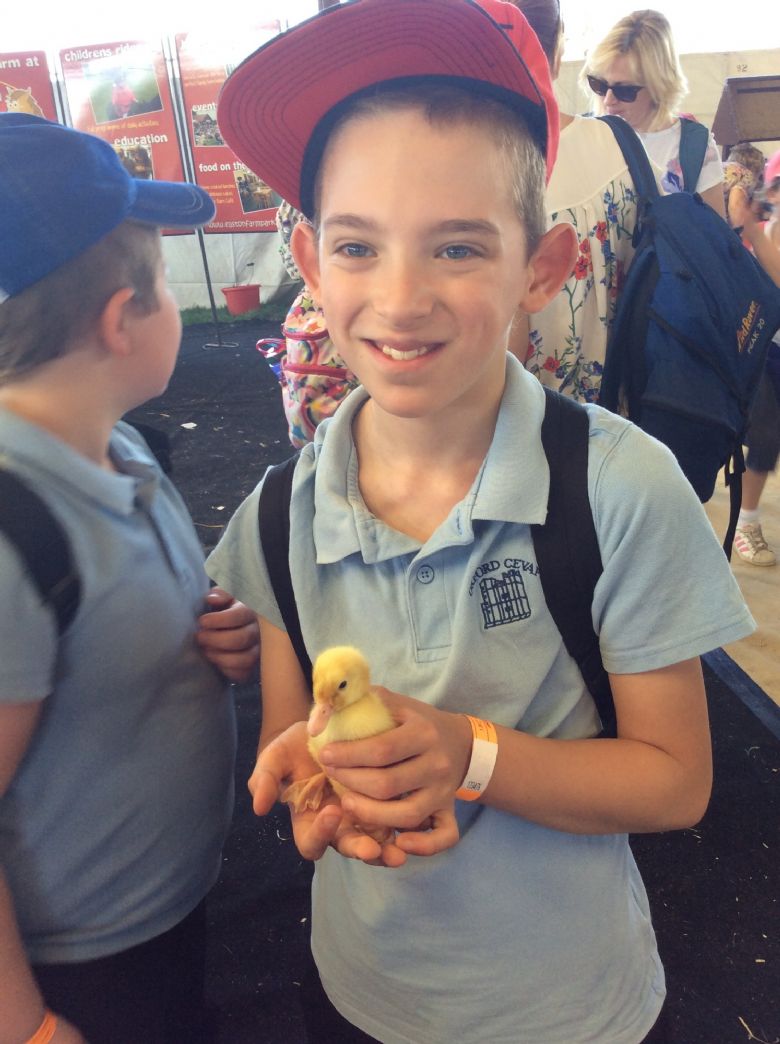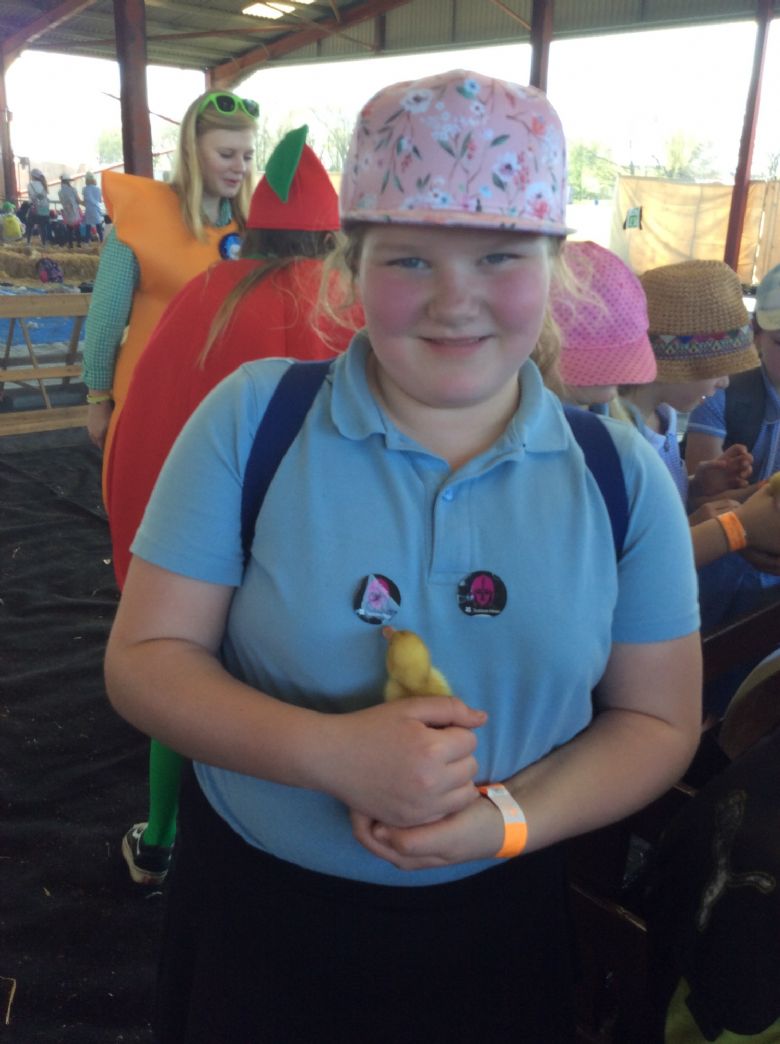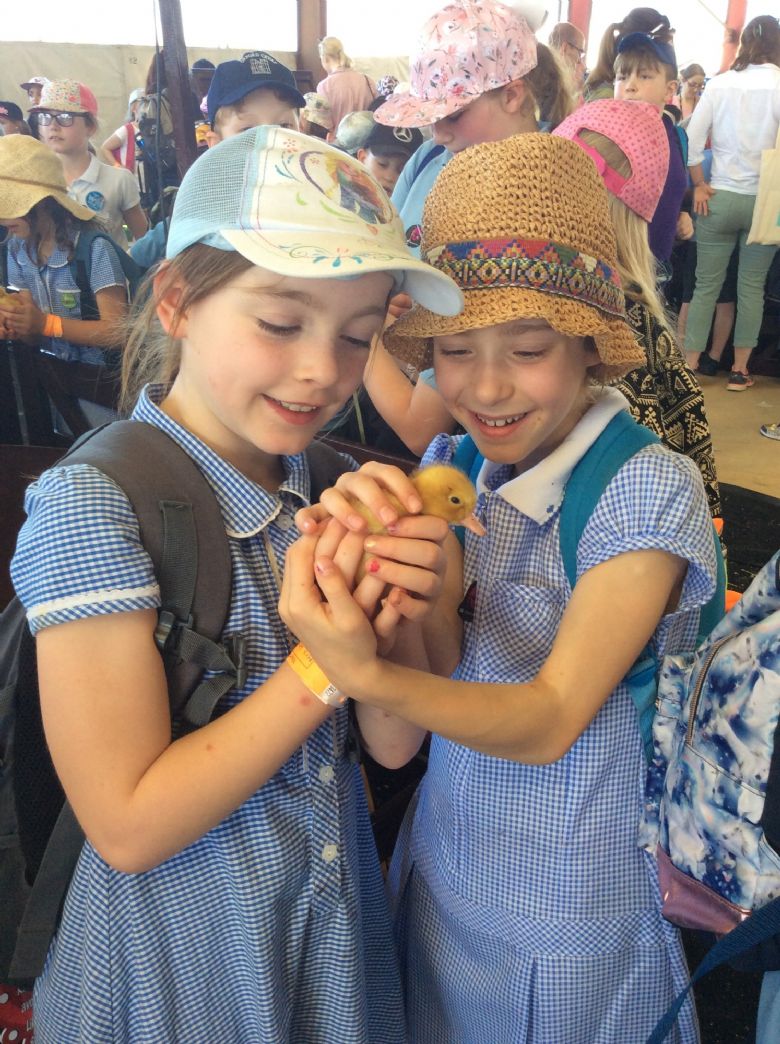 Whilst waiting for the final performance of the Sheep Show, we watched a falconry display in the ring. The day ended for us by watching The Sheep Show. It was a very humourous show where the children learnt about the different breeds of sheep, about the value of wool during the 15th - 18th Century, what wool is used for now and we saw a practical demonstration of how the wool is removed from the sheep. The show and our day ended by seeing the sheep dance!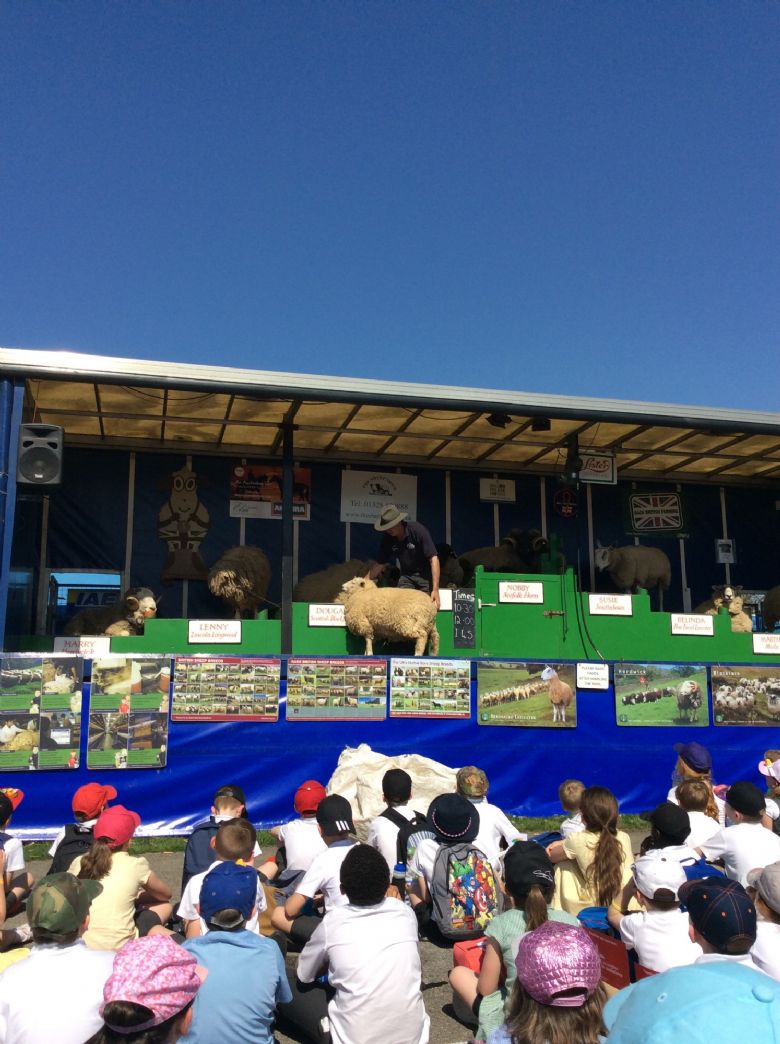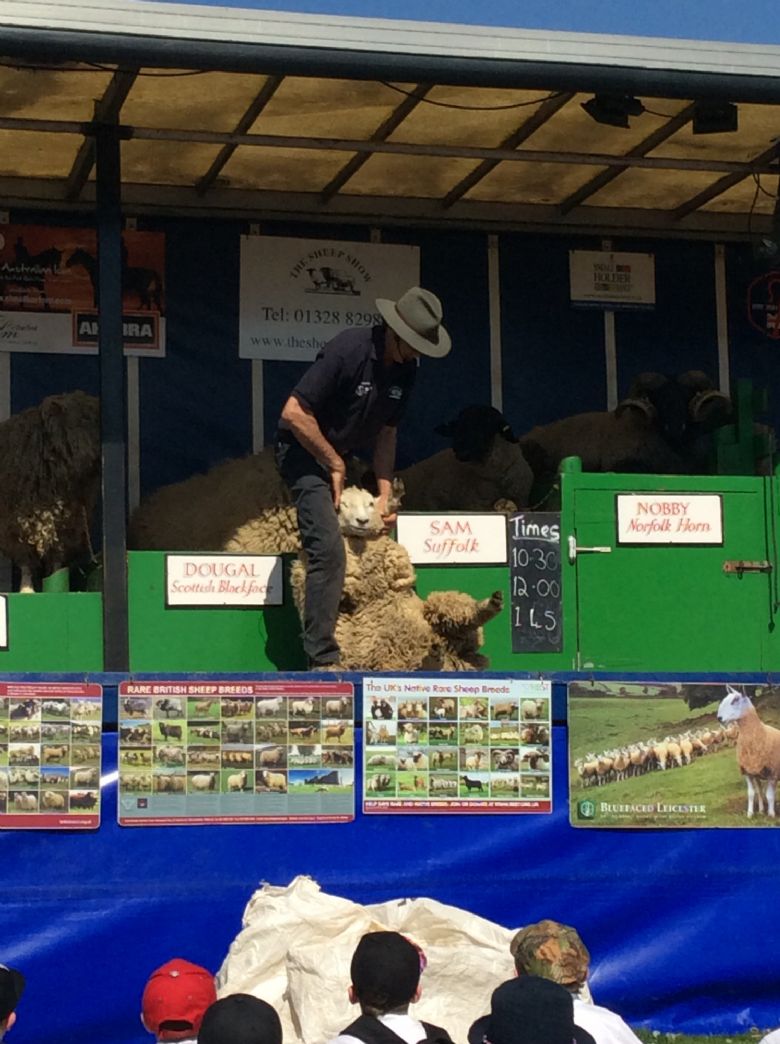 Overall, it was thoroughly enjoyable day for all which we will hopefully be able to bring back into the classroom to continue the learning!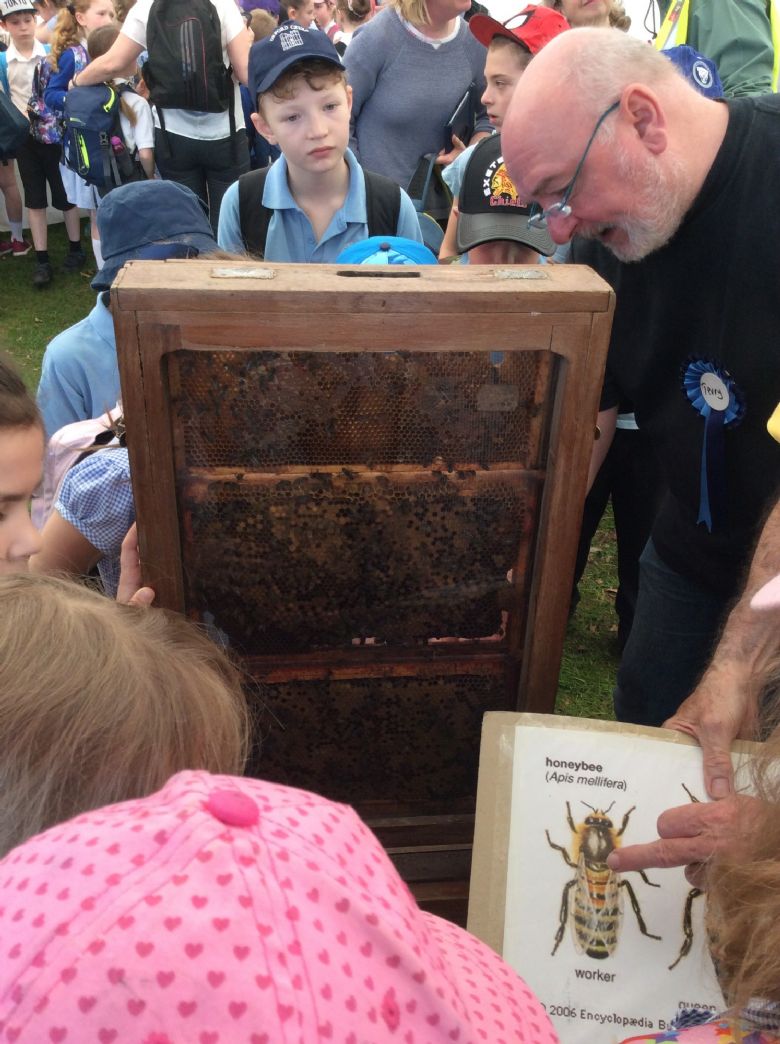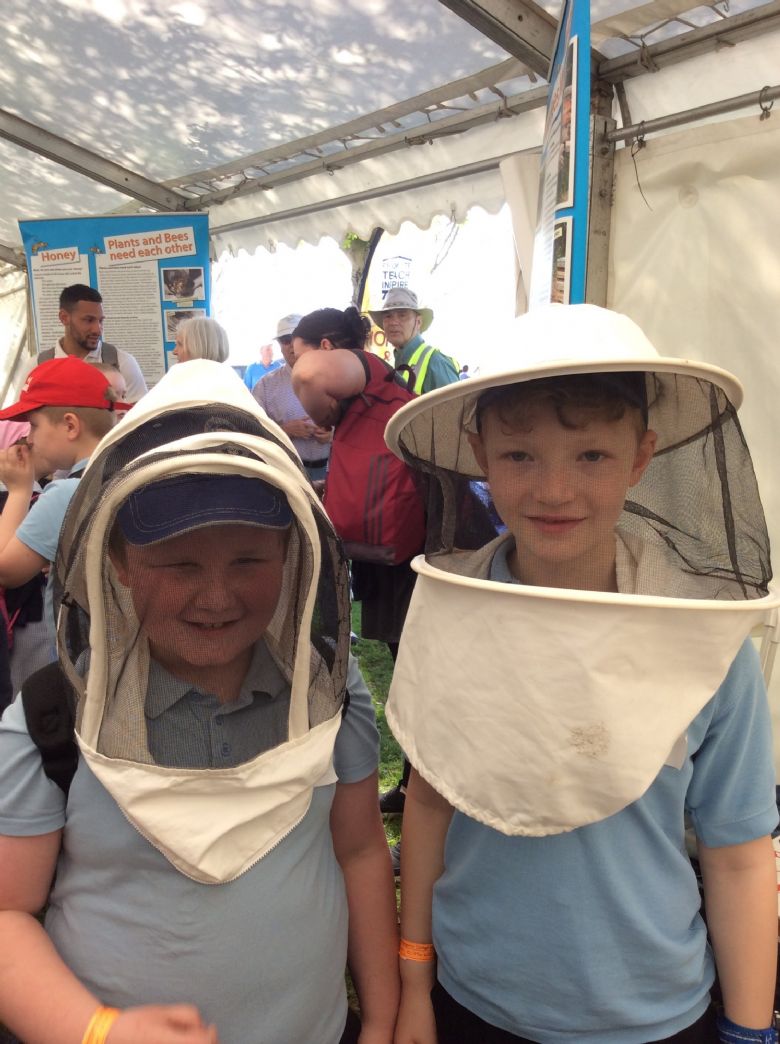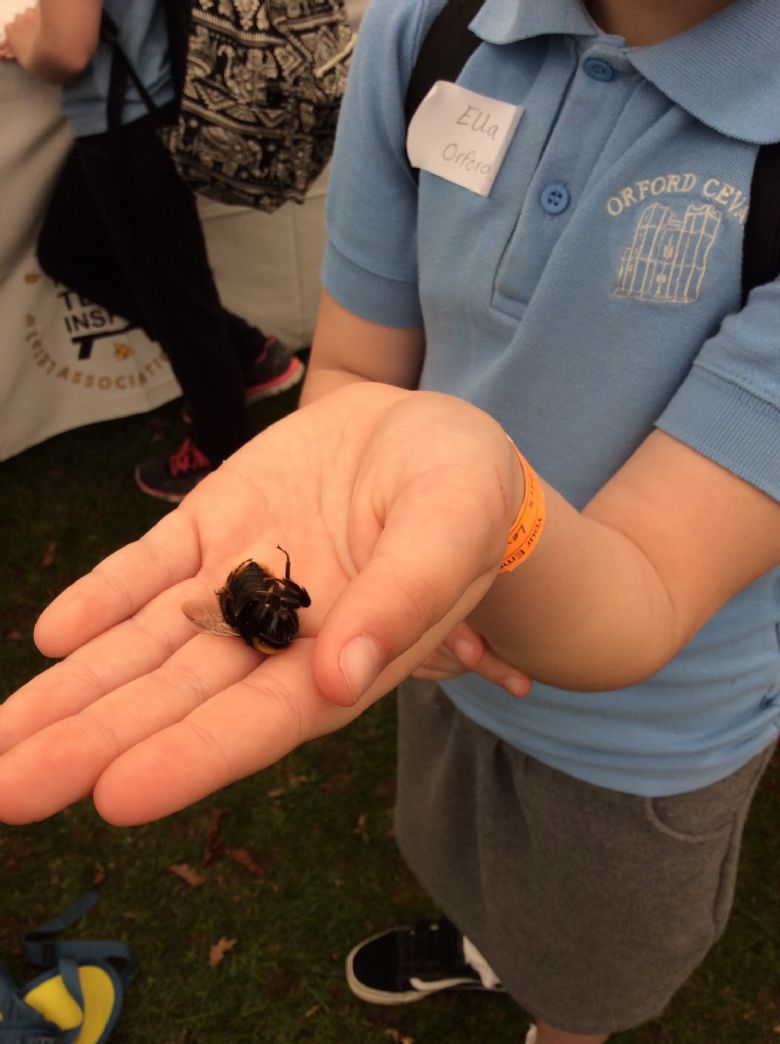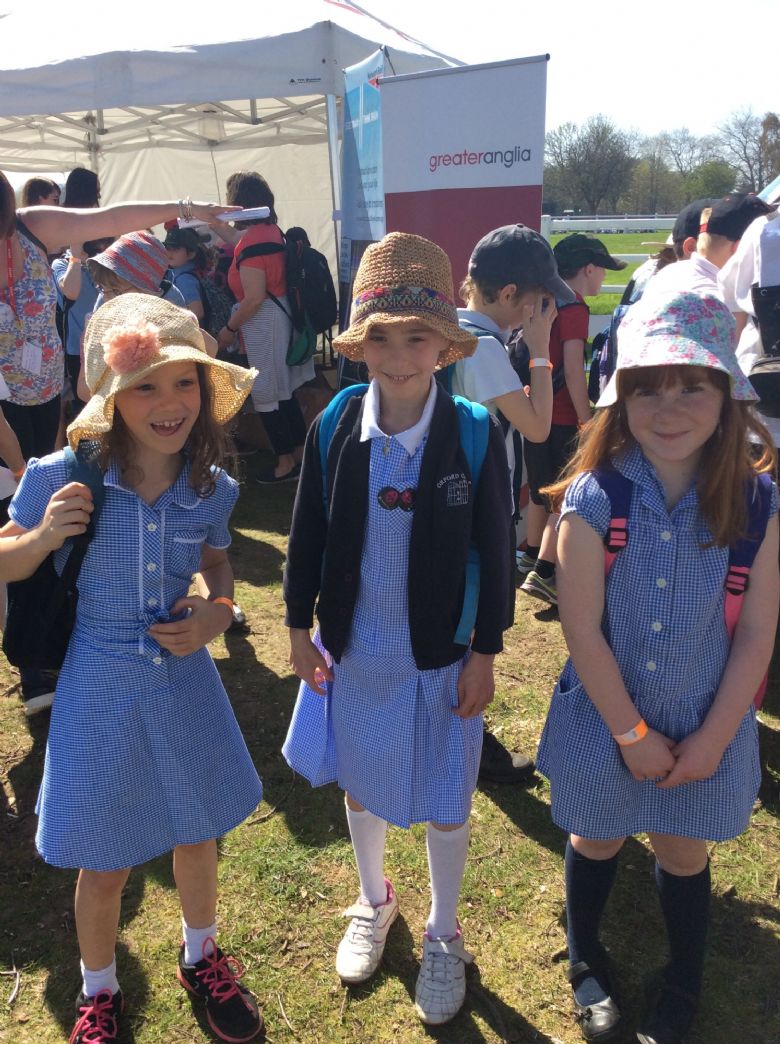 Spring Term 2018
Thursday 29th March 2018
After a term of hard work and fantastic effort from Class 2, we ended the term with a fun Easter themed activity. Class 2 had taken great care to weave paper baskets earlier in the week and on Thursday afternoon the children got to make use of their baskets by having to find them in an Easter hunt in the school gardens. When the children found their baskets they discovered that they had been filled with chocolate eggs!
Well done for a great term's work Class 2 - Enjoy!
Just to remind you all that it's Parents Evening on Tuesday 20th March. Please feel free to book an appointment to see Mrs Reeve and Mrs Lever via the school website.
The 'Beast from the East!'
On Monday 26th February 2018, Class 2 began work relating to 'The Beast from the East'. The children have been busy writing about what we did during the early half of the week and we hope to share their writing with you soon. This will be available on the newly created blog spot on the Class 2 page but the following pictures give you a preview of what happened when 'The Beast from the East' began to arrive in Orford......will there be a 'Beast from the East 2?! We'll have to wait and see!
.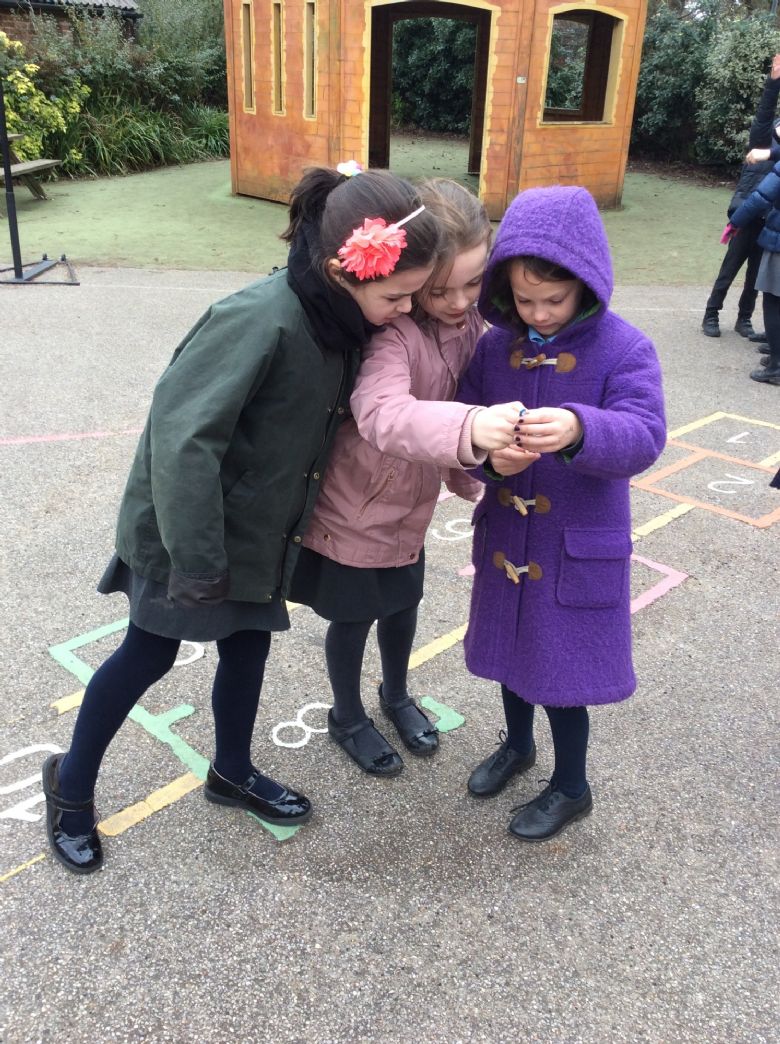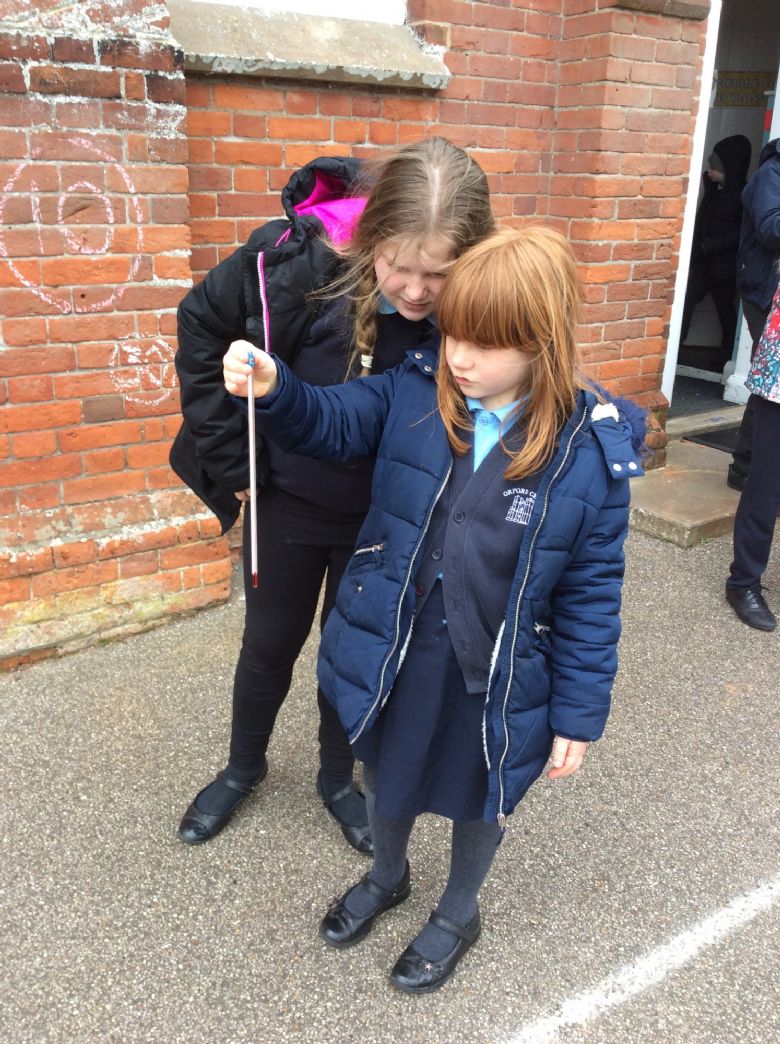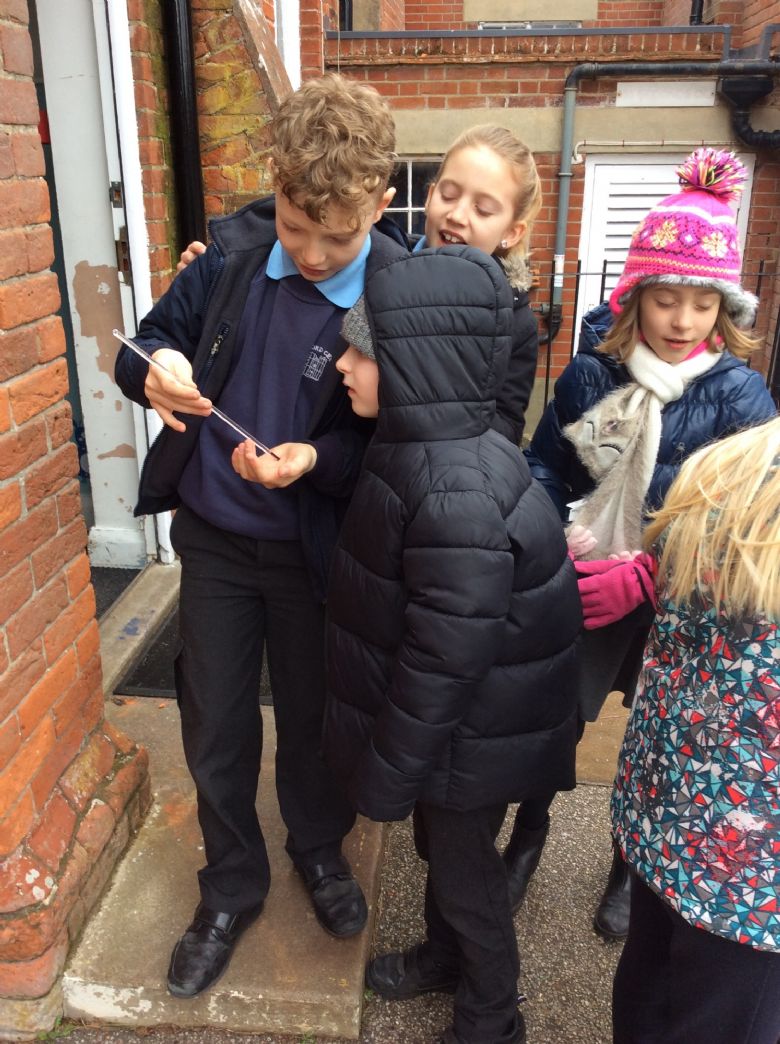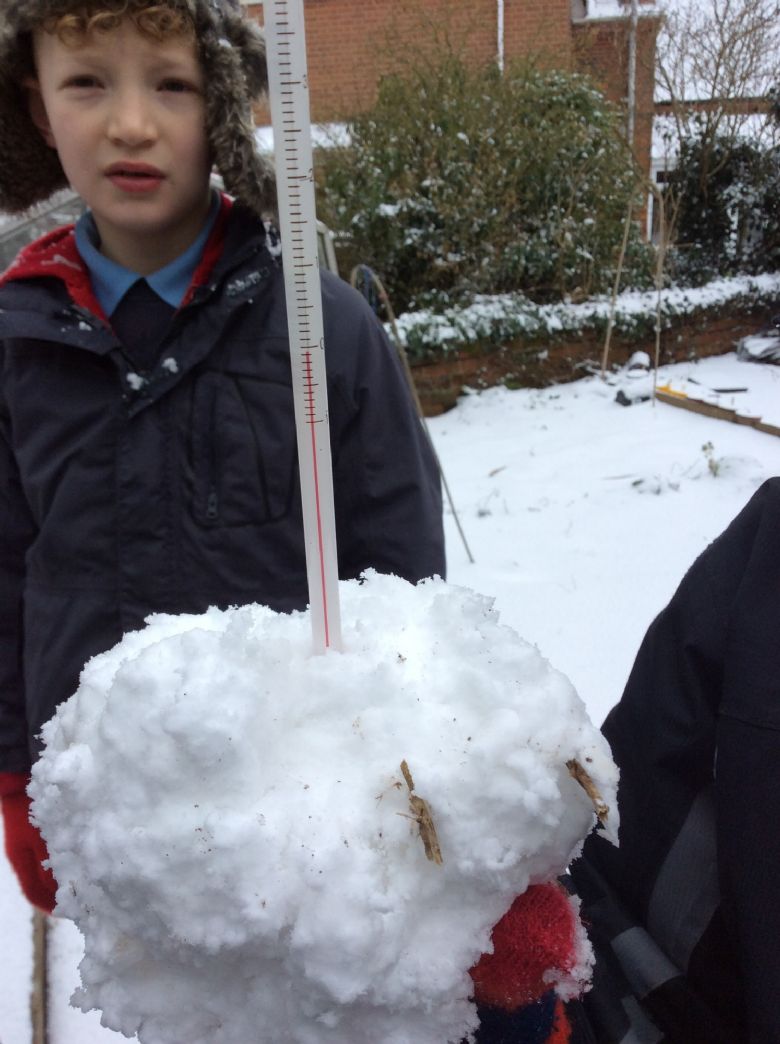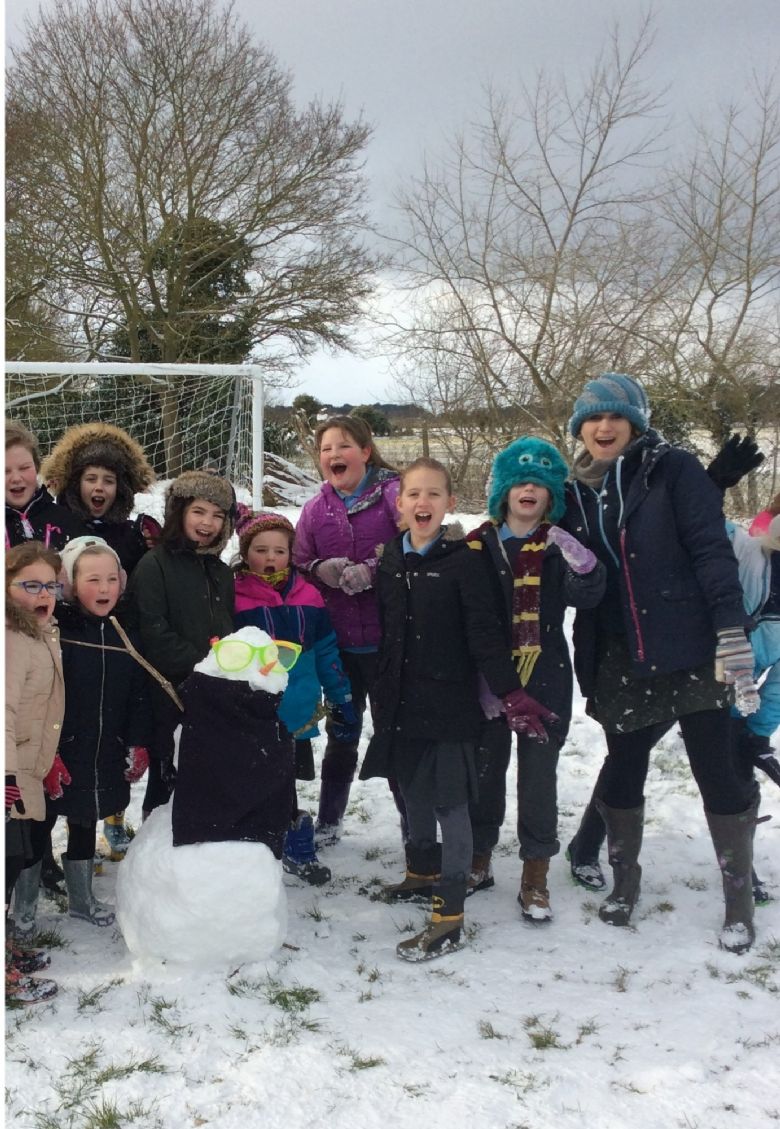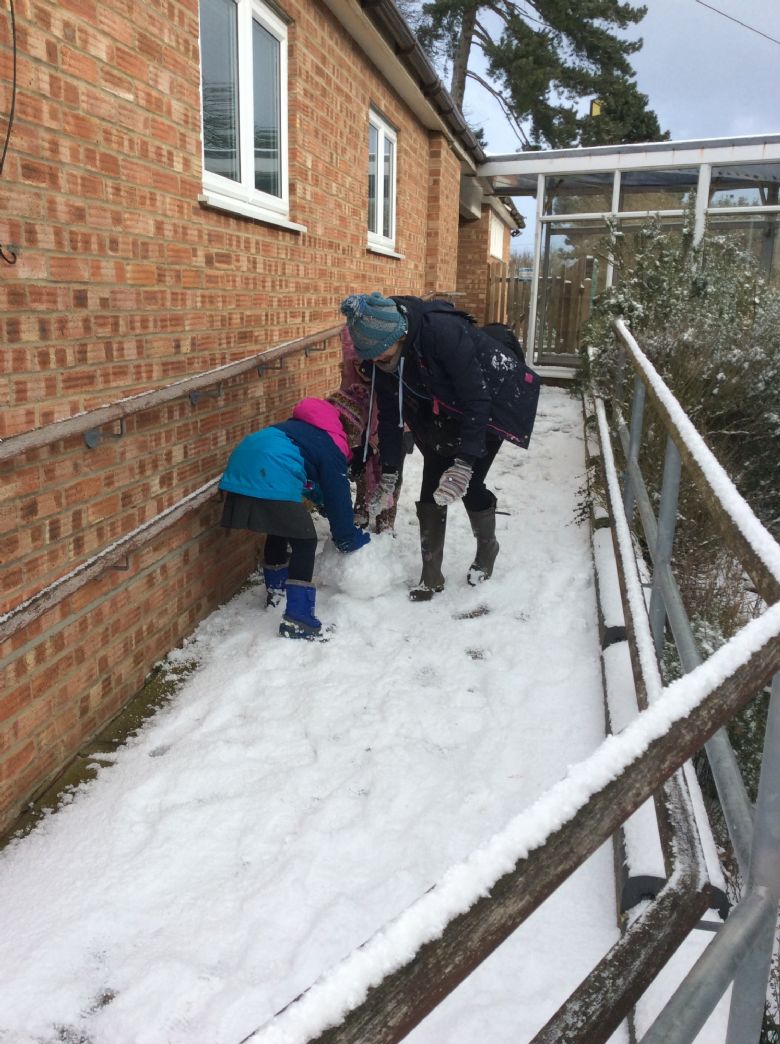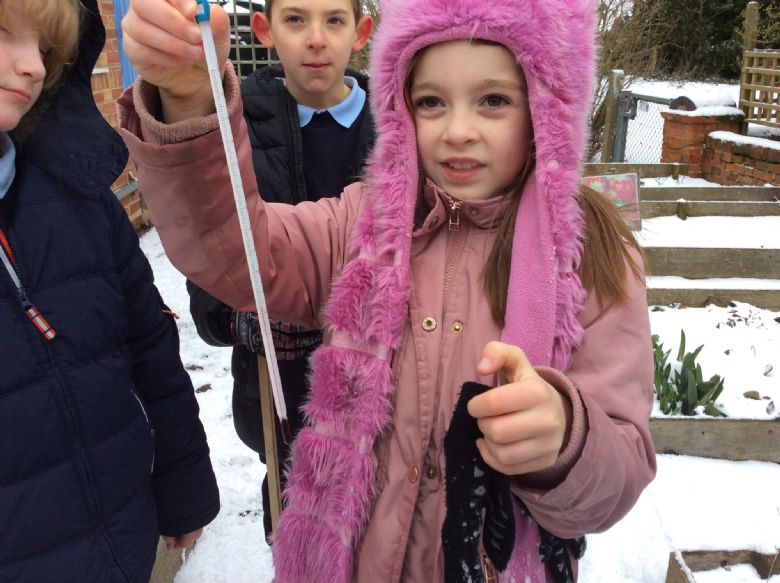 22nd February 2018 -What a week!
Class 2 have had a very exciting week this week, involving a visit from a local farmer and his tractor and a basketball competition.
On the morning of Thursday 22nd February local farmer Andy Rankin brought his large John Deere tractor into school as part of the 'Tractors in Schools' week organised by the Suffolk Agricultural Association. He arrived in his tractor at break time much to the excitement of the whole school who all wanted to go and have a closer look at the tractor. It was Class 2 who were the lucky class!
Andy came into the classroom to start with, with a basket full of goodies to share with the children. He talked to the children about the role of a tractor in food production and showed them some soil samples and also some of the foods that the crops which grow in our area go on to produce. The children enjoyed the guessing game of which crop went to make each particular food.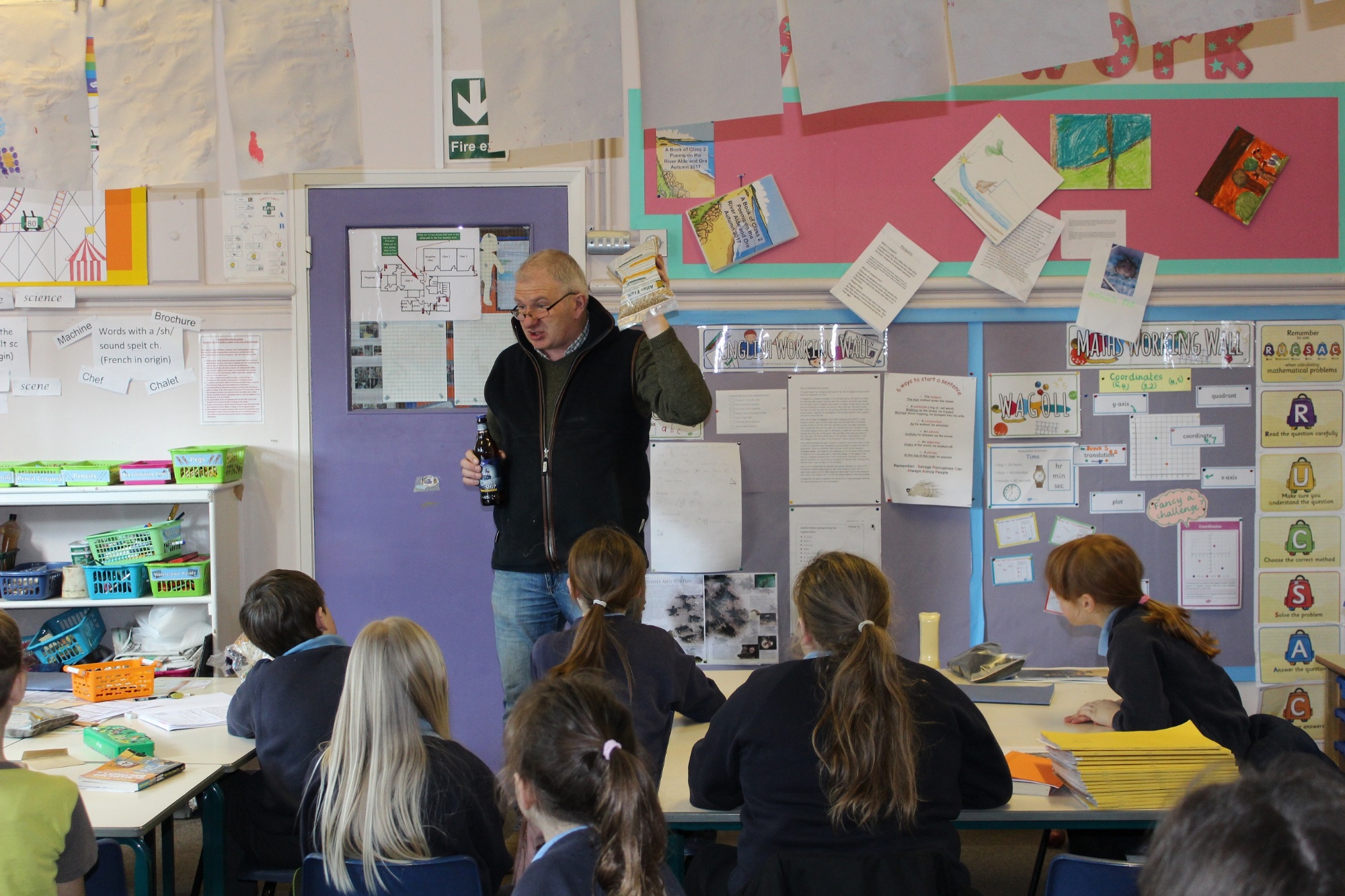 We then went outside to see his tractor and he explained what type of tractor it was and what essential things the engine needed to keep it running.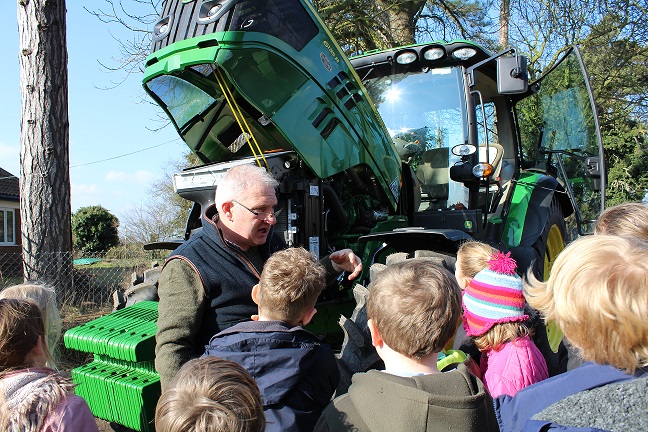 We looked at the enormous wheels before the children were fortunate enough to be able to climb up into the tractor cab and have a go in the driver's seat!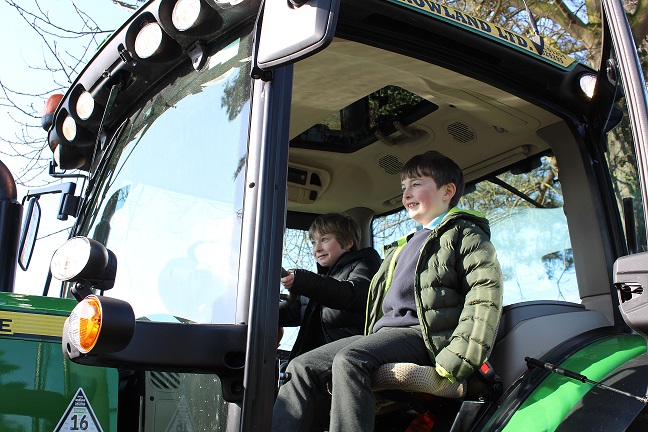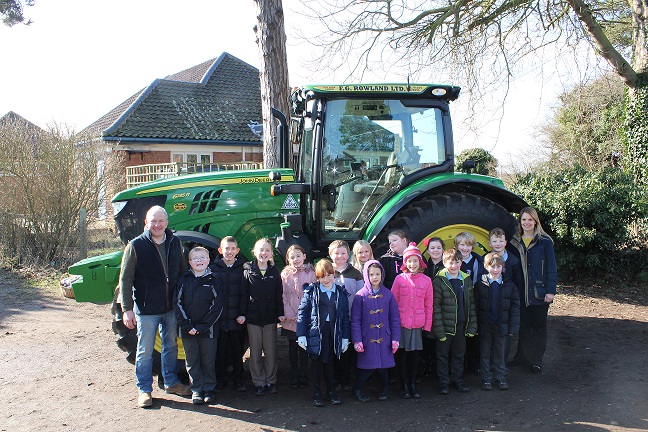 We all had a great time learning about the crucial role tractors play in our food production and are very grateful to Andy Rankin for giving up his precious time (and tractor) to talk to Class 2.
The exciting day didn't end there for some of the class as they got kitted up and headed to a Under 9's Basketball tournament at Inspire Ipswich.
This whole squad played fantasically well and showed great team spirit and sportmanship. They got better and better as the tournament went on and for their first ever basketball tournament they really did themselves proud. Well done!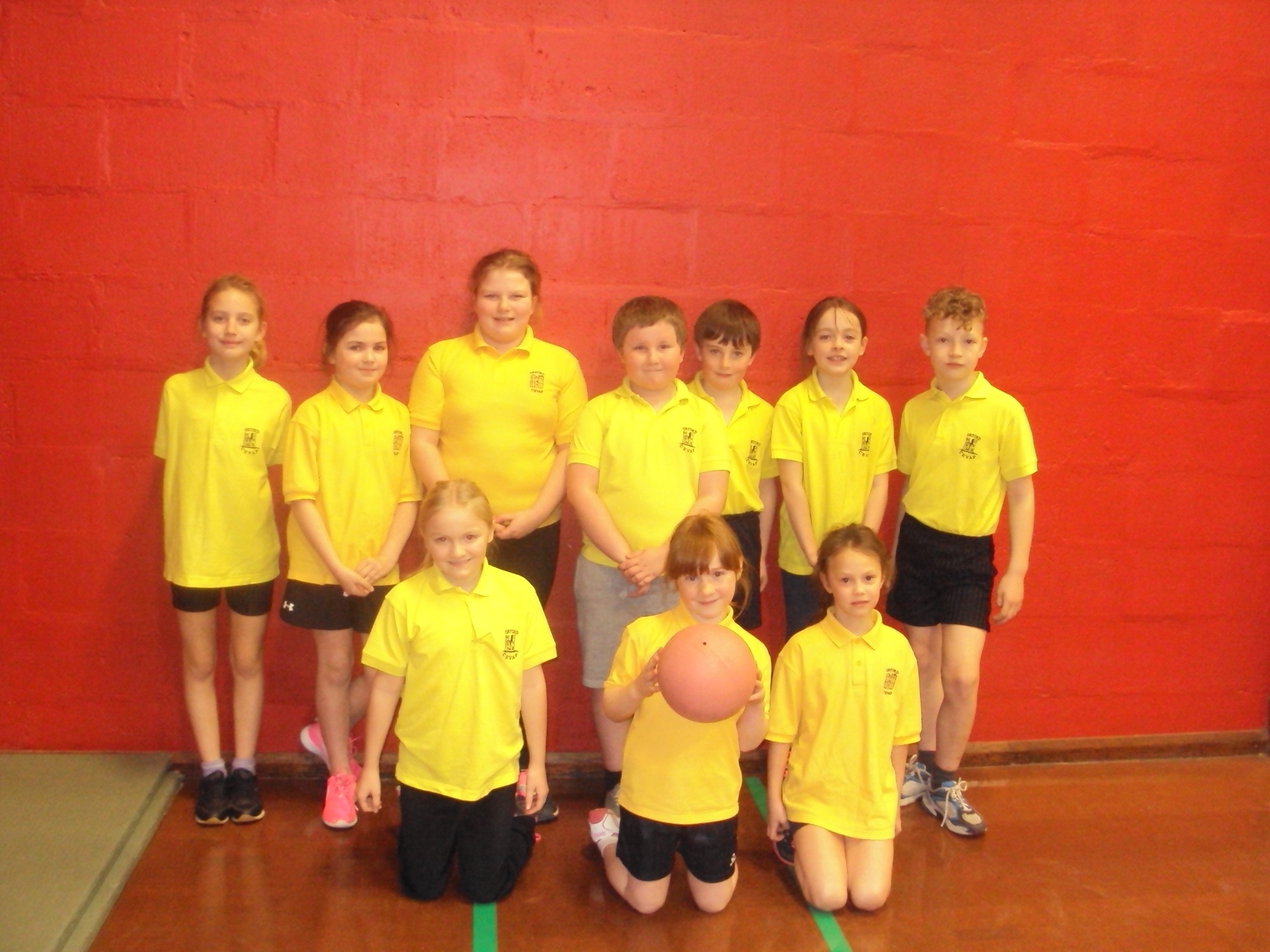 2018 u9's Basketball Squad.